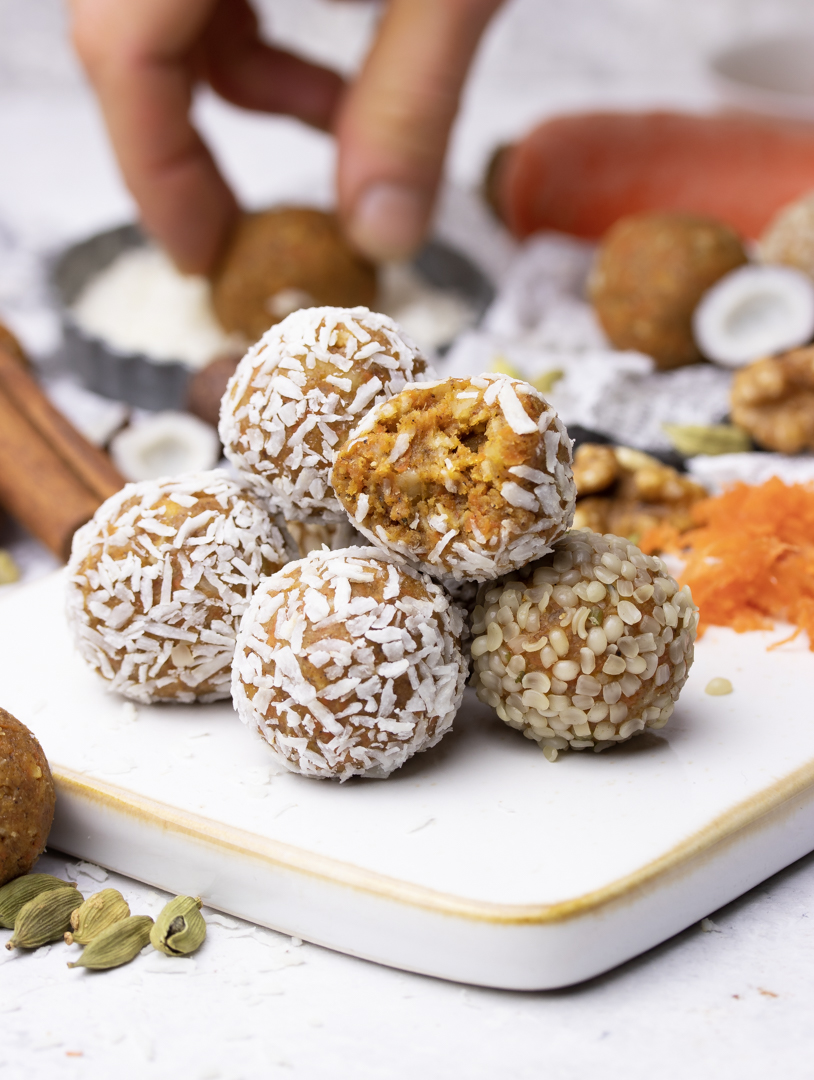 As a food blogger, there are some recipes you just have to make, like Snickers, Bounty, Peanut butter cups, and carrot cake bliss balls. That is just the way it is, if you get what I mean, haha. Anyhow, I often find "raw food" or no bake recipe to be either too filling and decadent due to enormous amounts of liquid sweetener and coconut oil or lacking in flavour. These cuties are jam packed with flavour and great ingredients while being perfect whenever you need some extra energy or your sweet tooth kicks in. Something I really tried to prohibit from happening was these bliss balls ending up like a soggy, wet mess because of the shredded carrot. Therefore, I added an extra step which is pressing out some of the liquid out of the carrot. Sometimes I feel like a total genius. (sarcasm) Honestly though, it truly makes a huge difference.
Hopefully, you will enjoy these bliss balls as much as my parents and I have. Enjoy!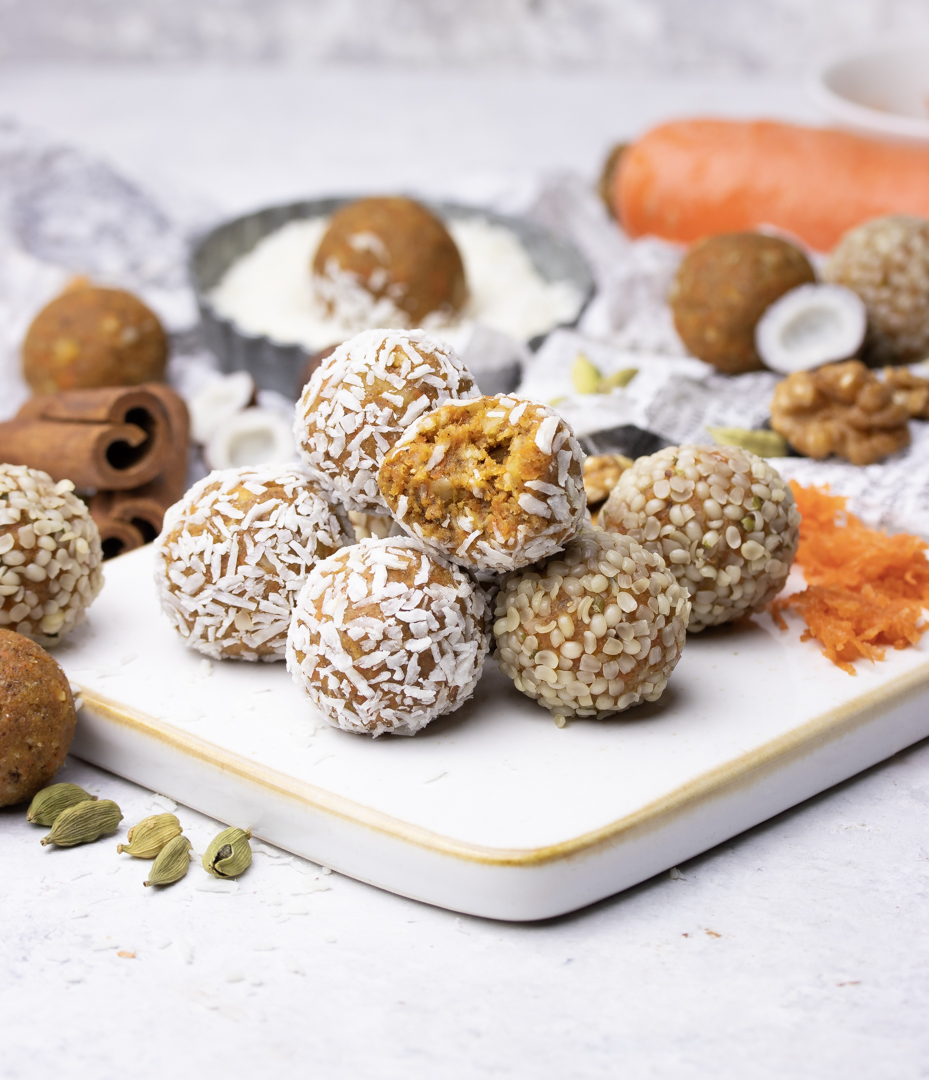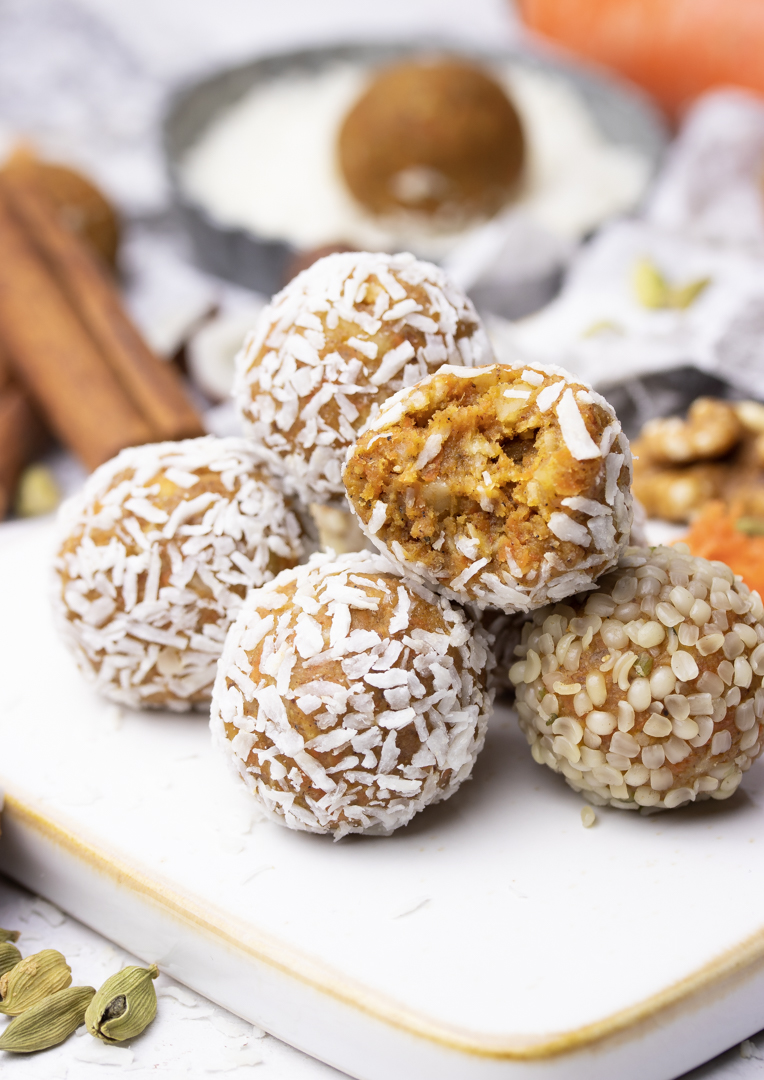 Print
Carrot Cake Bliss Balls
The classic flavour of carrot cake in the form of a bliss ball. It may be smaller in size, but the flavour has not been compromised with.
Around

60g

/ 2 oz worth of shredded carrot

80g

/ 2,8 oz pitted dates

2 tbsp

nut butter of choice

5 tbsp

oat flour

3/4 tsp

ground cinnamon

1/2 tsp

ground cardamom

1/2 tsp

ground ginger
A pinch of salt
A splash of vanilla extract

2 tbsp

shredded coconut
A handfull of walnuts
Extra shredded coconut or hemp seeds for rolling
Instructions
Take two pieces of paper towel and place the shredded carrot between them. Carefully press out as much liquid as you can. Doing this prohibits the bliss balls ending up like a wet mess, which most carrot cake bliss balls do.
In a food processor mix the dates, nut butter, oat flour, cinnamon, cardamom, ginger, salt, vanilla, and coconut until you get a nice rather dry dough. Add the walnuts and shredded carrot and pulse until just combined. Divide and roll the dough into 16 balls and roll in shredded coconut or hemp seeds. Enjoy! Store in an air tight container in the fridge.