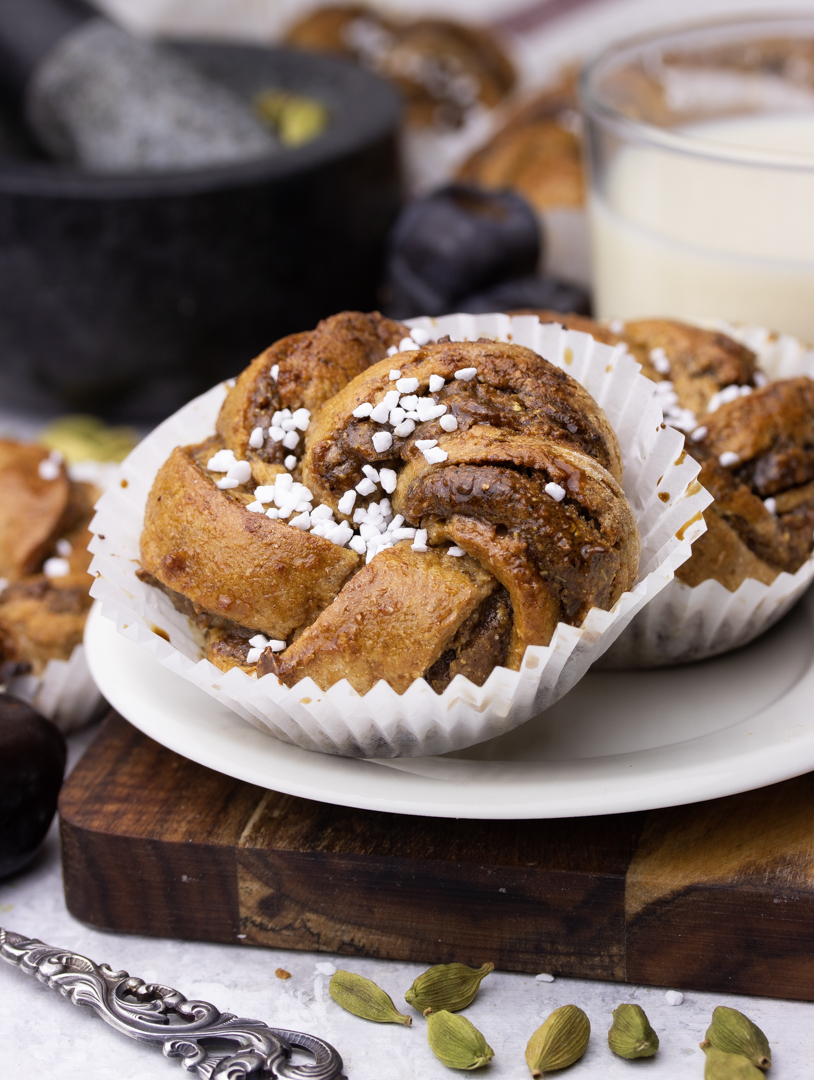 Guess what is just as delicious if not even more delicious than cinnamon buns? Cardamom buns! Cardamom buns are just as traditional Swedish as cinnamon buns. Cardamom is a spice commonly found in most traditional Swedish treats, like "semlor" or any other wheat bun related treat. It's also very common in Indian cooking, but as I'm Swedish I'm not very familiar with how to use it in cooking.
Anyhow, these buns are may look overly complicated by the way they're braided. Trust me though, as long as you're over three years old, I reckon you'll surprise yourself with what beautiful buns you can create. I believe in you! Also, I've provided you with some options, like the classic cinnamon bun log way, and a video.
Flavour wise, these buns are completely spot on. The filling is plentiful, creamy and tastes beautifully of caramel notes and loads of cardamom. I also made a sugar syrup to brush on the buns for some extra colour and sweetness, which is a technique I'm so so glad to have discovered. If you're not Swedish you may think that this recipe and cardamom sounds a bit odd, but I couldn't recommend giving a try more. If my rambling has not convinced you, hopefully the pictures below will. Enjoy!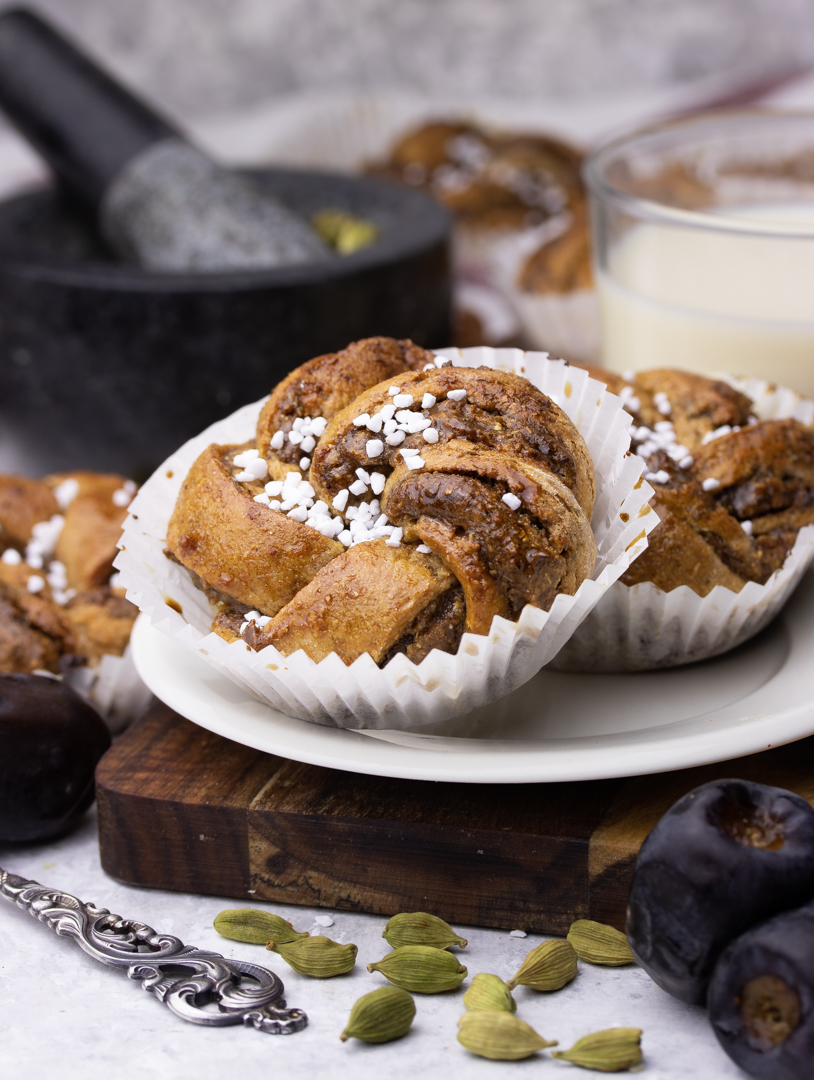 This GIF is not one of my greatest and my mum called it a "bun massacre" when seeing it. However, I still find that it shows the beautiful braiding of the bun and filling very well.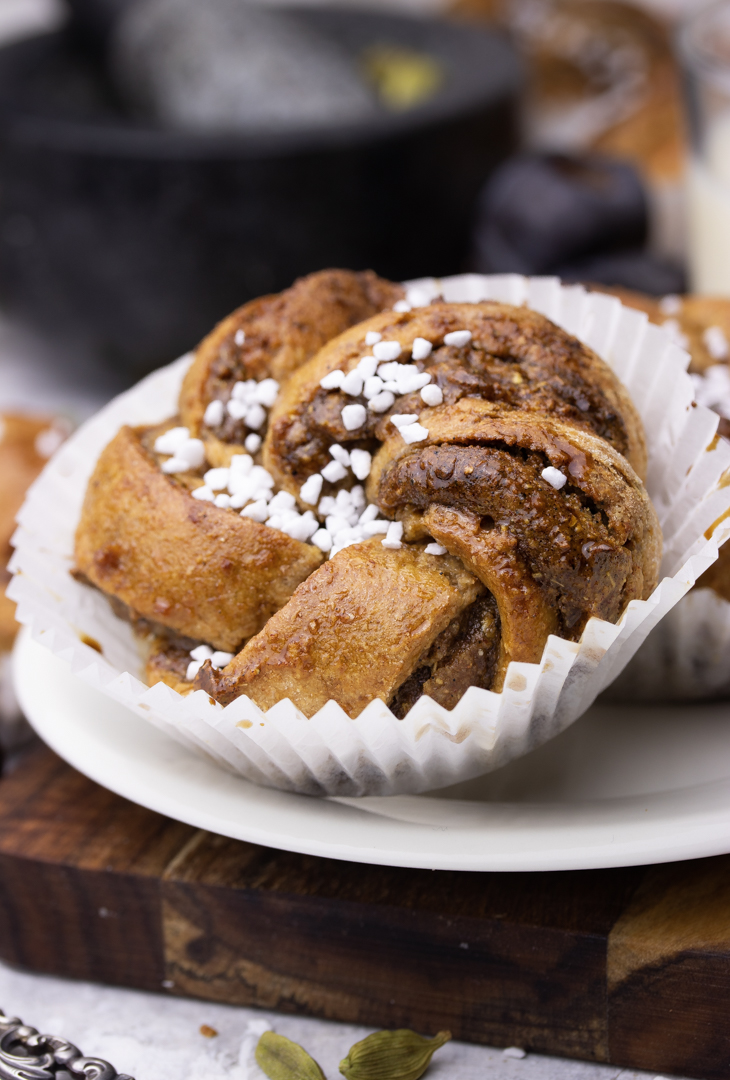 The video is showing how I braided and shaped the buns. Of course, it's much easier if you do it using two hands, but I had to do it single-handedly not to cover the shot.
Print
Classic Swedish Cardamom Buns A.K.A. Kardemummabullar
A classic Swedish treat found all over the country from supermarkets to fancy bakeries as it's that loved by the whole country. These can both be braided into beautiful knots or into classic cinnamon rolls.
Dough
2

dl / 1 cup minus 3 tbsp milk of your choice

15g

/ 1/2 oz melted margarine or oil of choice

2

,5 tbsp liquid sweetener of choice

8g

/ 0,28 oz dried yeast or

25g

/ 0,88 oz fresh yeast, crumbled*
∼240g / 8,5 oz whole grain flour**

1 tsp

ground cardamom
Filling
150g

/ 5,3 oz pitted dates

4 tbsp

nut butter of choice

3

–

4

tbsp ground cardamom

1

,5 tbsp water

2 tbsp

oat flour (to thicken the filling)

1/2 tsp

salt

1 tsp

vanilla essence
Sugar "syrup" for brushing***
3 tbsp

water

20g

/ 0,7 oz coconut sugar
Topping
Optionally some pearl sugar for topping
Instructions
Prepare a baking pan with 16 muffin or bun liners.
Start with the dough. In a microwave safe bowl or in a medium sauce pan, combine the milk, oil/margarine and liquid sweetener. Warm in the microwave or on the stove until luke warm.
In a large bowl mix the luke warm liquid and fresh yeast*.
Start mixing in 2 dl / 0,75 cups flour, then continue adding a tablespoon of flour at a time until the dough starts to pull away from the bowl.
Form a ball out of the dough and flour well. Let proof while you make the filling.
To make the filling, mix all the ingredients smooth in a food processor.
Preheat the oven to 175°C / 350°F. On a well-floured surface (you need more flour than you think, trust me) roll out the dough into a large rectangle, mine was 35 x 45 cm / 14 x 18 inches.
There's many ways to twist and shape buns, but I'll be explaining one way (that can be seen in a video above) here, but in the notes I'll have linked some other ways. Cover the rectangle with the filling. Fold one side over the other and briefly roll the pin over the folded dough.
Using a pizza slicer or a sharp knife cut the rectangle crosswise to and even amount of 1 cm / 1/2 inch thin strips. Lay the strips with the cut side facing up. Start to twirl together by lifting one side over the other, to form a twist/braid. Always keeping the cut sides facing up. Then fold the ends together to create a bun. In the beginning, the buns will look a bit weird, but as you go you'll just get better and better.
Transfer the buns to muffins liners and let proof under a tea towel for 60-90 minutes.
For the sugar syrup, place the water and coconut sugar in a small sauce pan and heat on the stove over medium heat until the sugar is dissolved.
Brush half of the sugar syrup on top of the buns and bake for around 15 minutes. Take them out and brush on the rest of the syrup, then bake for an additional 3-5 minutes. Take out, top with pearl sugar, let cool, and enjoy!
Notes
*If you use dried yeast, mix and let it sit and active with the first 2 dl / 0,75 cups of flour for ten minutes before mixing the wet and dry. **As the gluten is a vital part of the bread, I do not and can not recommend using gluten-free flour. ***You could skip the sugar "syrup", but you'd miss out on how much prettier and slightly sweeter it makes the buns.
Different ways to shape buns: The classic log way, twirling and twisting, or the very professional bakery way explained in this recipe
Keywords: Cardamom buns, Swedish, kardemummasnurror, vegan, healthy, baking