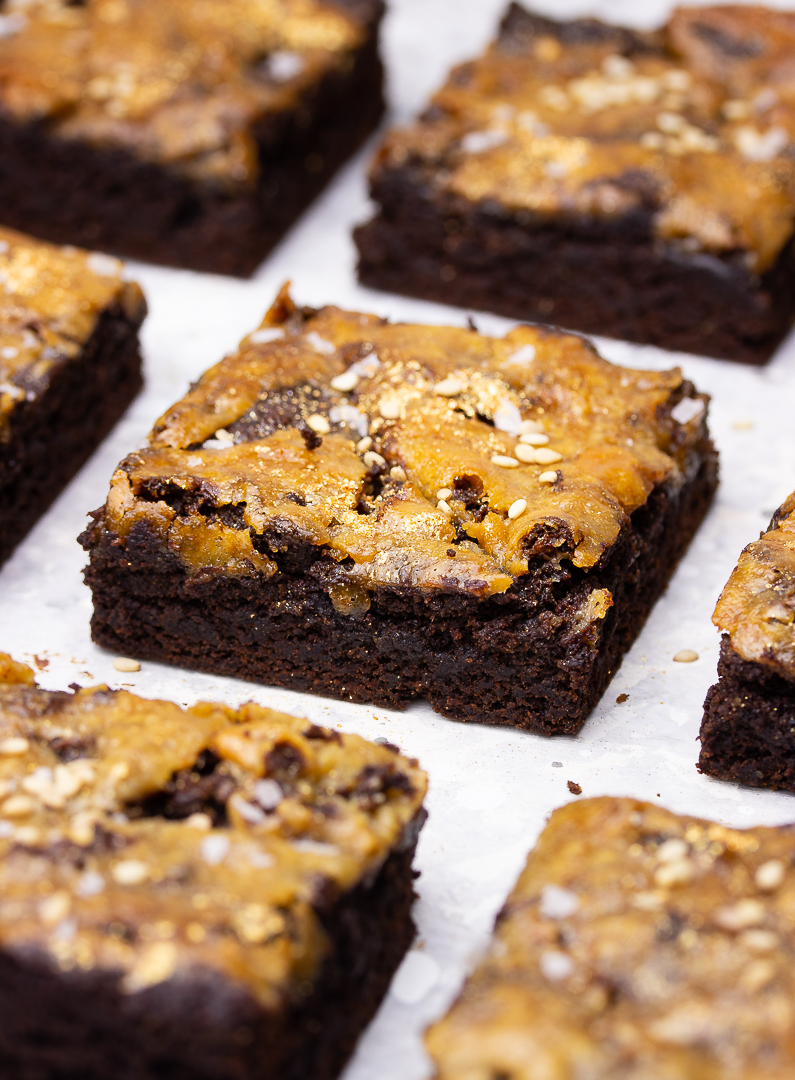 Helllooooo golden gorgeous! Yes, I actually sprinkled some edible gold powder, not actual gold though, on top of these to make them even more pretty. Sorry not sorry for doing that though!
On another note, it was way too long ago since I made brownies. I have gotten all caught up with my cake recipes every since I finally unlocked the secret and recipe for the perfect chocolate and vanilla cake. Anyhow, these brownies are to say the least extraordinary. They're an improved version of my perfect healthy brownies, which I have also updated, as the beautiful chocolatey brownie flavour is paired with salted caramel and tahini in this recipe. I have used my absolute favourite salted caramel sauce recipe, which I have used in loads and loads of recipes, to give these brownies that extra mouth-watering piazzas. Likewise have I added the nutty, slightly bitter tahini to balance out the sweetness in the brownies and caramel and to add an extra delicious, sophisticated element. I kind of also made these for my mum, who adores everything that has to do with sesame seeds, and a friend of mine, Bea, who's allergic to nuts.
What I also love about these brownies is that it's a matter of just putting a bunch of ingredients in a food processor, mix some caramel sauce in a bowl, put together, bake, and voilà. Basically, they're really easy to make. Plus, these bad boys is the kind of treat you can even eat for breakfast and serve to anyone as they're date sweetened, oil-, gluten, nut-, and refined-sugar free, and vegan.
Oh my! I almost forgot to mention why I have put the extra "caramelised" before "caramel" in the name of this recipe. It's because the tahini caramel on top goes all caramelised and crispy when baked in the oven. YUUUUM! Seriously, if I haven't convinced you to make these yet, I don't know what I'm even doing here. I think I'll let the pictures take over from here. Enjoy!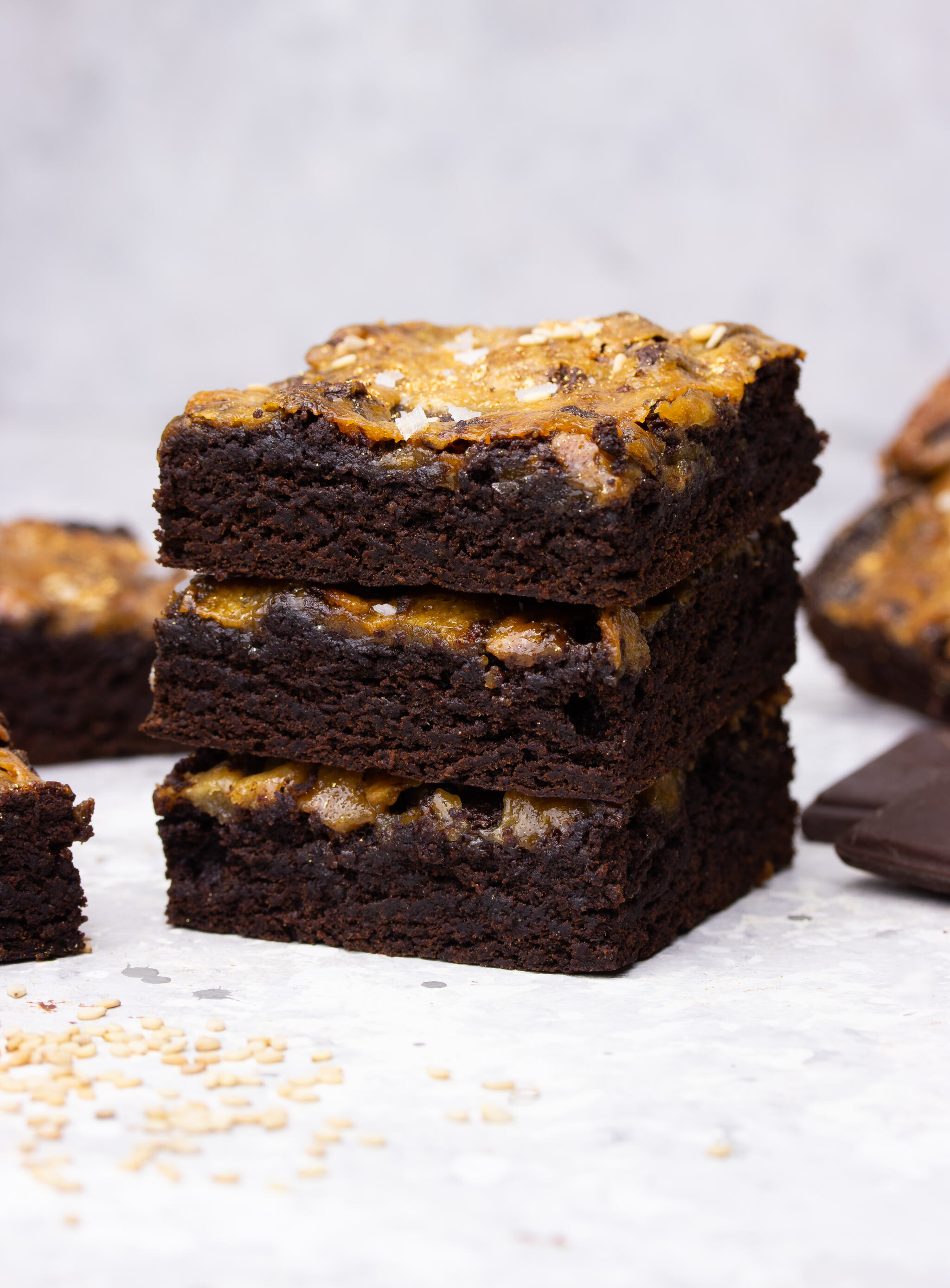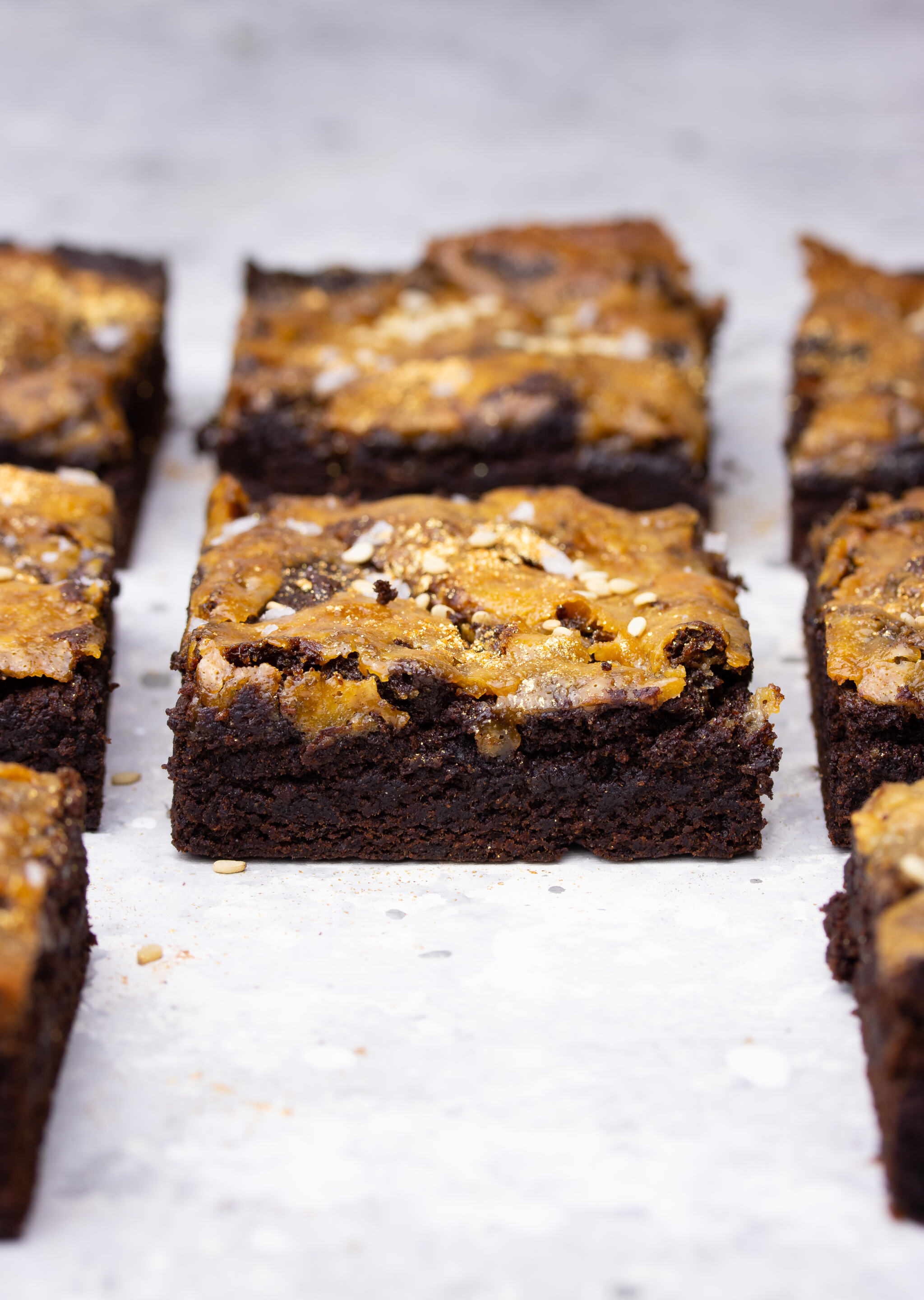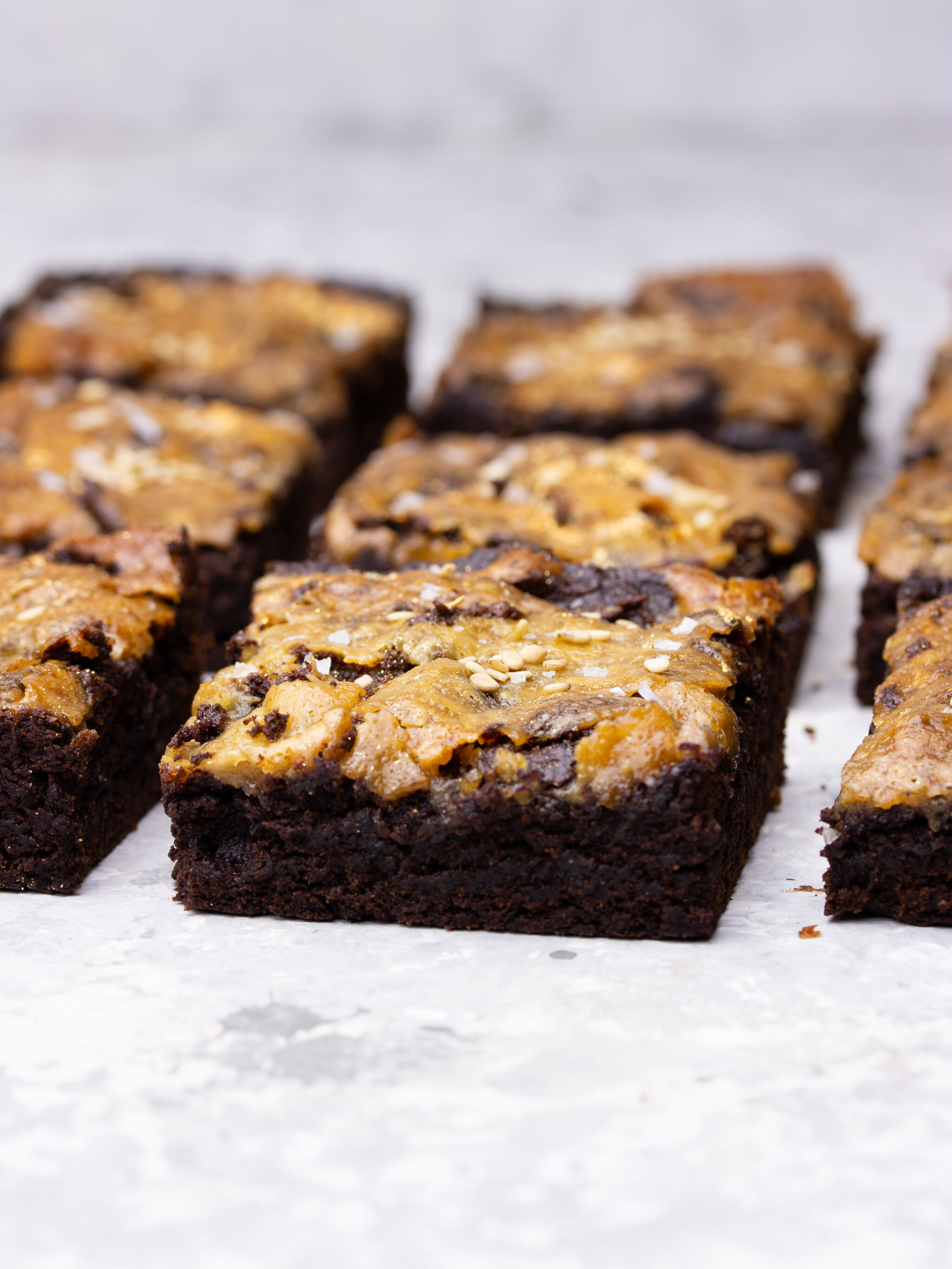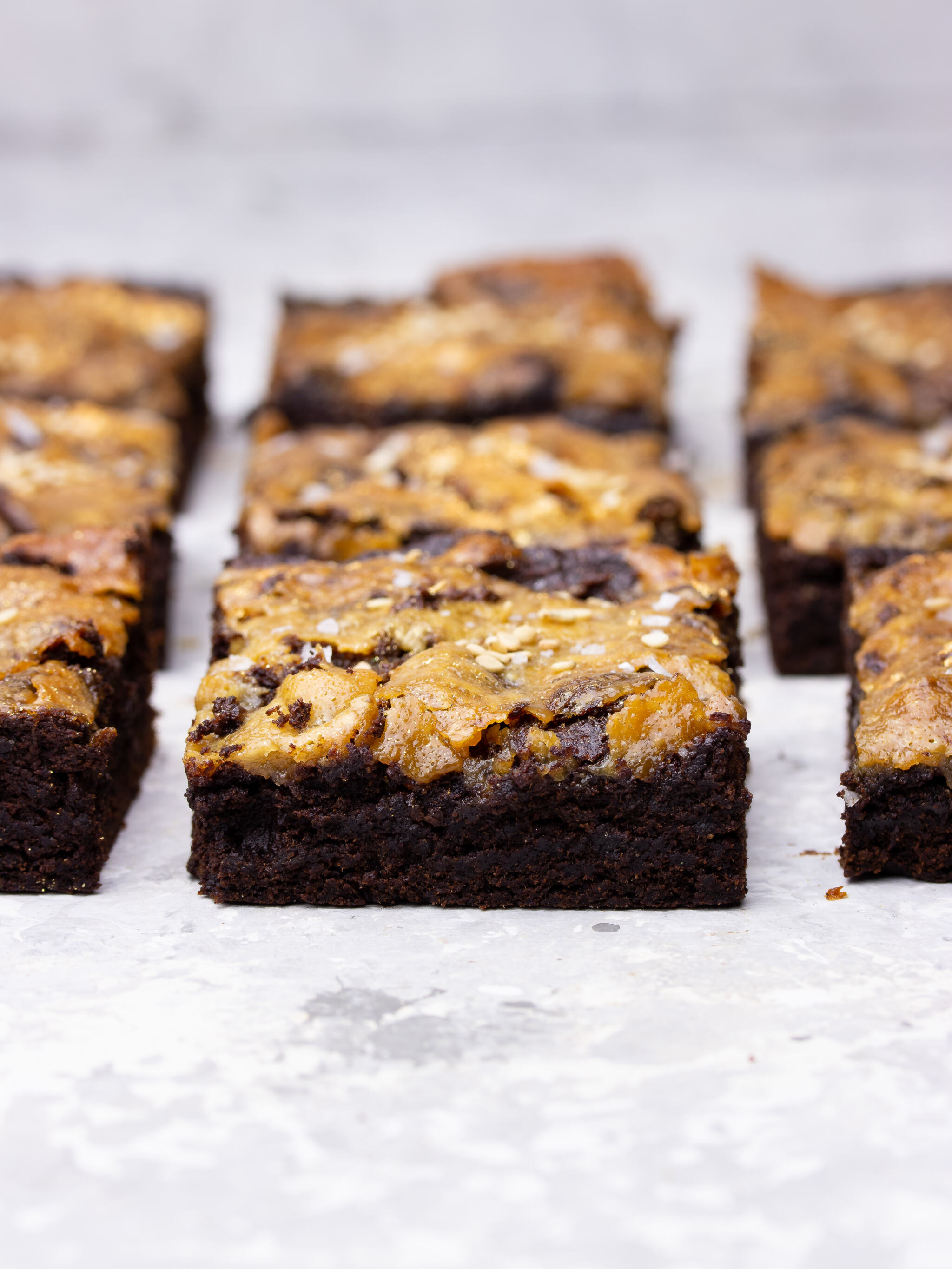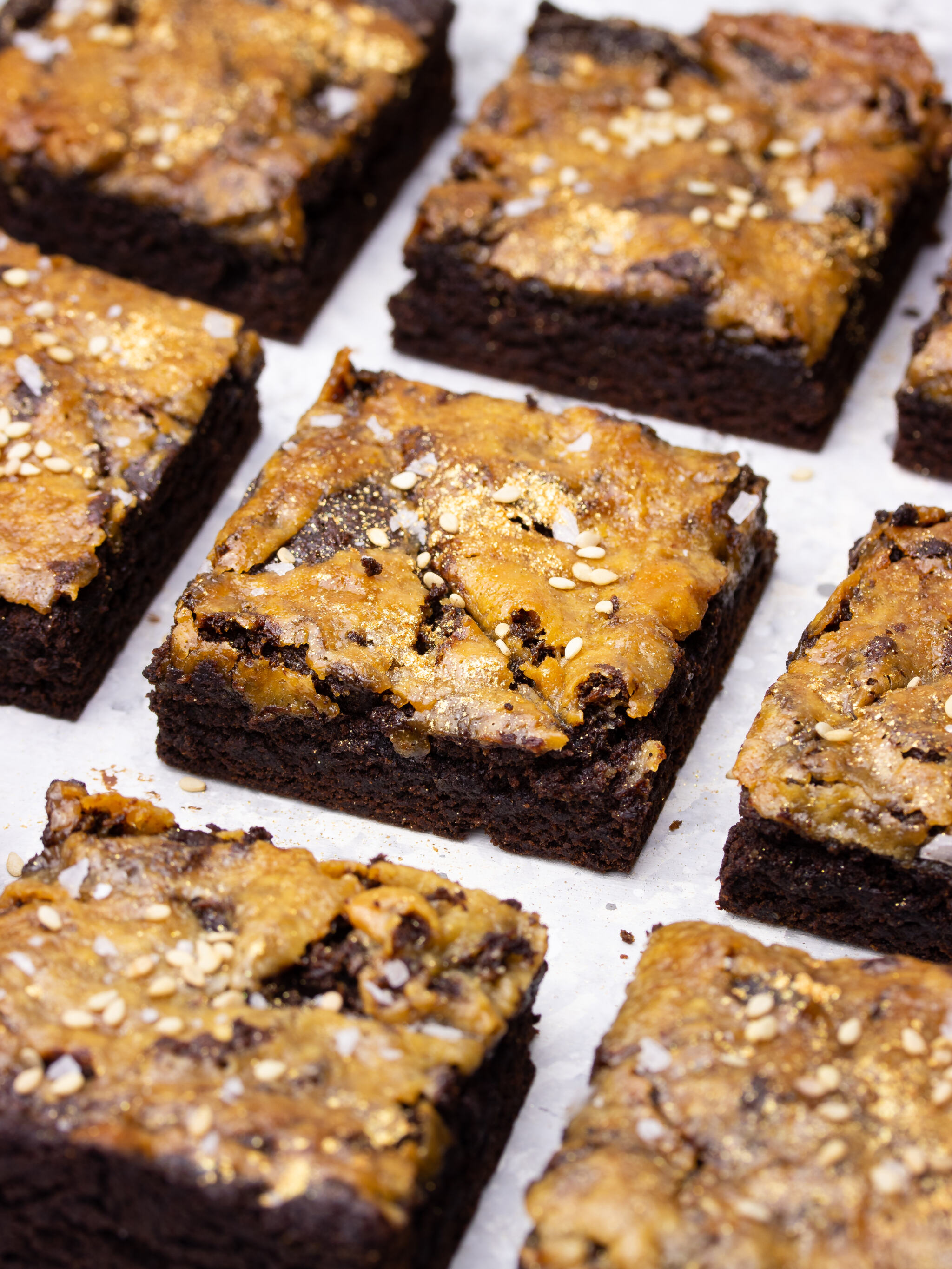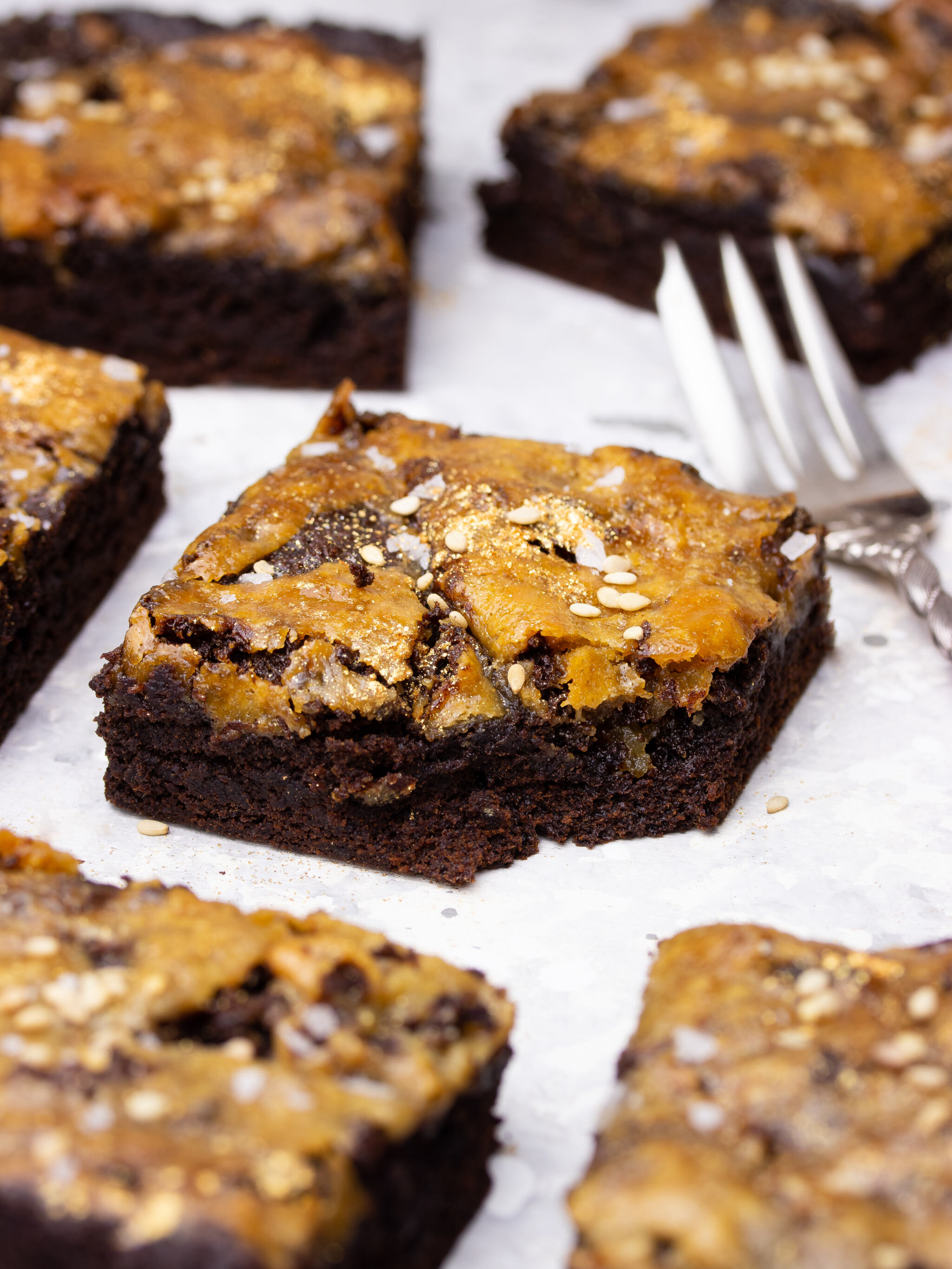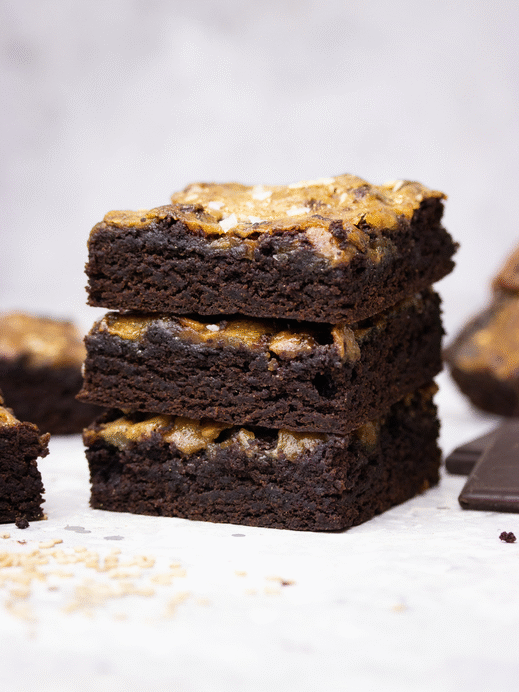 Print
Chewy Salted Caramel Tahini Brownies
These are chewy, gosh-darn delicious brownies that are both super easy to make as well as moreish yet sophisticated with its delicious flavour and tahini & salted caramel combination.
Brownies
200g

/ 7 oz pitted dates

2 tbsp

tahini, preferably hulled and white

1/2 tsp

vanilla extract

30g

/ 1,1 oz cocoa powder

20g

/ 0,7 oz oat flour

1 tsp

baking soda

1/2 tsp

baking powder
A hearty pinch of salt
Tahini caramel sauce +  topping
2 tbsp

tahini, preferably hulled and white

2 tbsp

liquid sweetener of choice
A hearty pinch of salt

1/2 tsp

vanilla extract
Extra salt, sesame seeds or edible gold powder for topping
Instructions
Preheat the oven to 150ºC / 300ºF and prepare a brownie pan by greasing and lining it with parchment paper. My brownie pan was 15×15 cm / 6×6 inches.
In a food processor, process the dates, tahini, and vanilla until smooth. Add the rest of the brownie ingredients and process until combined. If too dry, add a splash of water. Transfer to the prepared pan and flatten out using a wet spatula or your hands.
In a small bowl, combine all the ingredients for the caramel sauce. Dollop and drizzle the caramel sauce onto the brownie. Create a swirly pattern by running a knife through the caramel and upper layer of the brownie. Bake for 35 to 40 minutes until firm and chewy. Let cool, cut up, and enjoy!
Keywords: Tahini, brownies, salted caramel, vegan, gluten free, healthy, refined sugar free, without oil