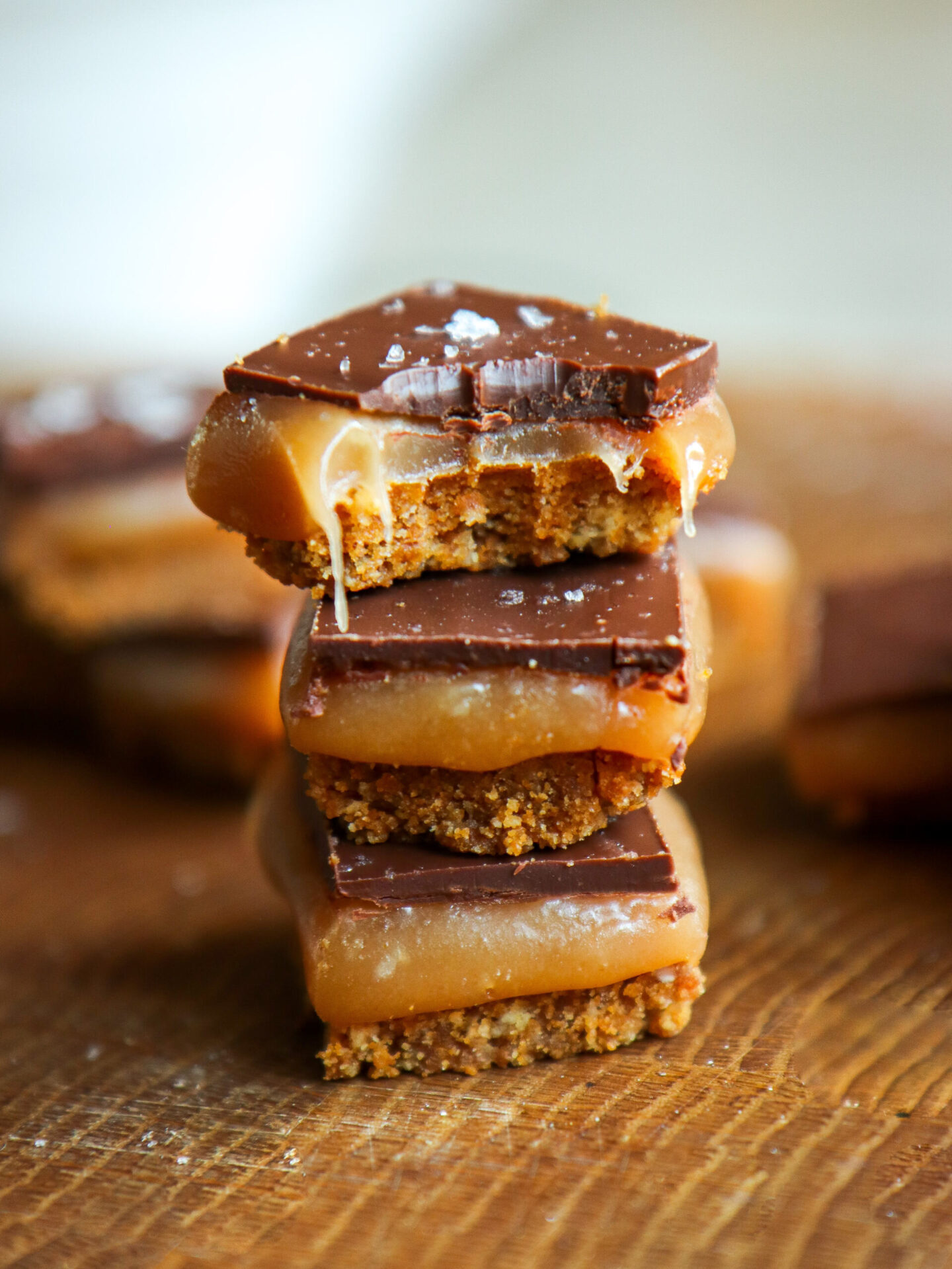 This, this is the good stuff, guys!
This is a mouth-watering piece of goodness consisting of a biscoff biscuit crust bottom, a heavenly and perfectly chewy and gooey brown butter caramel, and a smooth chocolate topping. They're just perfectly sinfully delicious yet wonderfully balanced and not over the top in any way. They're truly the best kind of bite you can imagine, and is not even worthy of comparing to a Twix. Worth mentioning is that the caramel is the same as in my Brown Butter Pralines 2.0. In this recipe, it has just simmered for a little bit longer to get a sliceable and chewier texture. This is for when you don't have the patience, skill or need to make pralines but still want to enjoy that brown butter caramel goodness.
On another note, you may have noticed I don't post as often. This is because I'm only posting when I have something new to share as a result of baking out of inspiration. Honestly, I've mostly baked my protein banana bread and protein chocolate cake (not posted yet) recently. Those two have kind of been staples for breakfast and snacks for quite some time. Hopefully, I'll get around to sharing what I made to Easter, which is a whole other story with many ups and downs and broken hand-painted chocolate eggs. Woopsie! The photos of this recipe are not really to my liking quality wise since they were taken very quickly in bad lighting and I don't have all my gear due to moving. However, they were too delicious to not share!
Anyhow, if you're reading this I'd like to share that I recently got my dream part time job! I study full time biotech engineering, but as my summer job and weekend job, I'll now be working in a chocolate and candy shop! It's called Ahlgrens Konfektyr and they sell exclusive chocolates, pralines, and all the candy you can imagine. Working at Ahlgrens is really so much fun especially since I get to give adults the feeling of being a kid in a candy shop! People usually are overwhelmed when entering the shop for the first time by all the options and the pure goodness and smell of chocolate. It's always very cute and I tell them they have all the time in the world and I'll help them as much as they need.
Enough said, I hope you're all doing amazing and enjoy!
Print
Brown Butter Goodness Bites with Biscoff Crust & Chocolate
A mouth-watering piece of goodness consisting of a biscoff crust bottom, a heavenly and perfectly chewy and gooey brown butter caramel, and a smooth chocolate topping. The bite of your dreams!
Author: Hanna
Yield:

20

bites

1

x
Cracker Crust
150g

/ 5,3 oz biscoff, digestive or other graham cracker

50g

/ 1,75 oz butter
Brown butter caramel
100g

 / 3,5 oz butter

50g

 / 1,75 oz whipping cream, 40% fat

50g

 / 1,75 oz water

150g

 / 5,3 oz caster sugar

25g

 / 0,9 oz glucose syrup

100g

 / 3,5 oz water
A hearty pinch of salt, preferably flaky
Chocolate topping
100g

/ 3,5 oz chocolate of choice

1/2 tbsp

of neutral oil
Instructions
Line a pan with parchment paper. Mine was 22cm x15cm.
Crush the biscuits by crushing them in a zipped top bag with a rolling pin or food processor or blender to grind them up.
Melt the butter. Mix the butter and crushed biscuits in a medium bowl. Transfer to the prepared pan and press and flatten using a spatula. Make sure the bottom is compact. Let set in the fridge.
For the brown butter caramel, start browning the butter in a medium sauce pan.
Once browned, add the cream and 50g water.
In another pan, stir together the sugar, glucose, and additional water. Bring to a boil over medium heat until it starts to become amber-coloured. The cream mixture should be kept warm on low heat. Keep attention and be careful with the sugar mixture since sugar can get very hot.
Once amber, add the cream mixture to the sugar while whisking in one directions. Cook for an additional 3-4 minutes. Test every now and then to see when the caramel is done. I do so by taking some on a spoon and then placing it in the freezer till luke-warm. It shouldn't be too liquidly but chewy yet gooey. Then cool using a water bath until about room temperature and pour over the bottom. Tap to smooth out. Let set up in the fridge for 1-2 hours.
Lastly, carefully melt the chocolate in the microwave and once melted stir in the oil. Spread the chocolate on top of the caramel and let set for 30 minutes.
Once set, slice up and enjoy!
Keywords: brown butter, caramel, twix, homemade, hemmagjord, hembakat, bakat, brynt smör, kola, butter, biscoff, graham, bottom, chocolate, choklad, bitar, slices, bites, dessert, recipe, recipes, smörkola, gluten free, glutenfri, kolabitar, caramel slices, godis, fika, efterätt