I never share a recipe I'm not entirely happy with and therefore all I love all my recipes. However, this recipe started as fun idea I got from Instagram but ended up being my new all time favourite EVER. Seriously, the cookie cups turned out perfectly crispy, kind of like the waffle cones you have when eating ice cream but waaaaay better. So not only are these more delicious than waffles cones since they're chocolate chip cookies, but they're also a great alternative if you or a friend is gluten-intolerant, vegan or simply enjoys a more wholesome alternative.
Anyhow, this recipe truly was an epic success. They take like 10 minutes of active time (as long as you're not a blogger who takes lots of photos while making them, hehe), and the reward for the time spent is more than triple folded. I just imagine making a bunch of these for a dinner party. People will be all like: "Wooow", "You must have spent so much time making these", and "So ambitious!" while you know they're pretty darn easy to make. Ooooh, I just came up with the most ridiculous and perhaps even messy idea. What if you'd drink milk from these? Well, the cookie will soak up some of the milk and get all milky and delicious, but it may make a mess and the cups aren't that big. Hmmm…
Anyhow, I definitely hope you give these a try because otherwise you're missing out big time. Enjoy!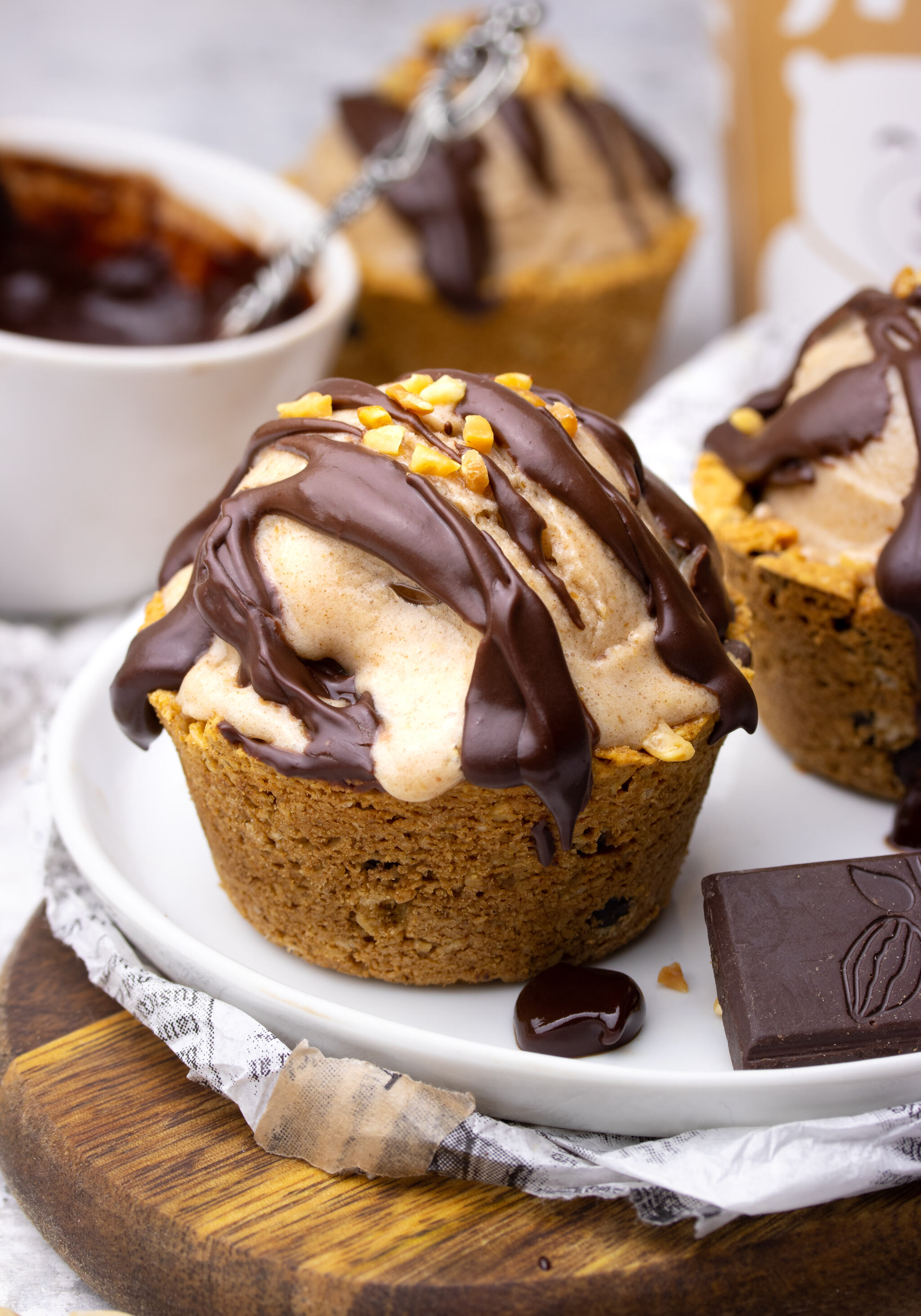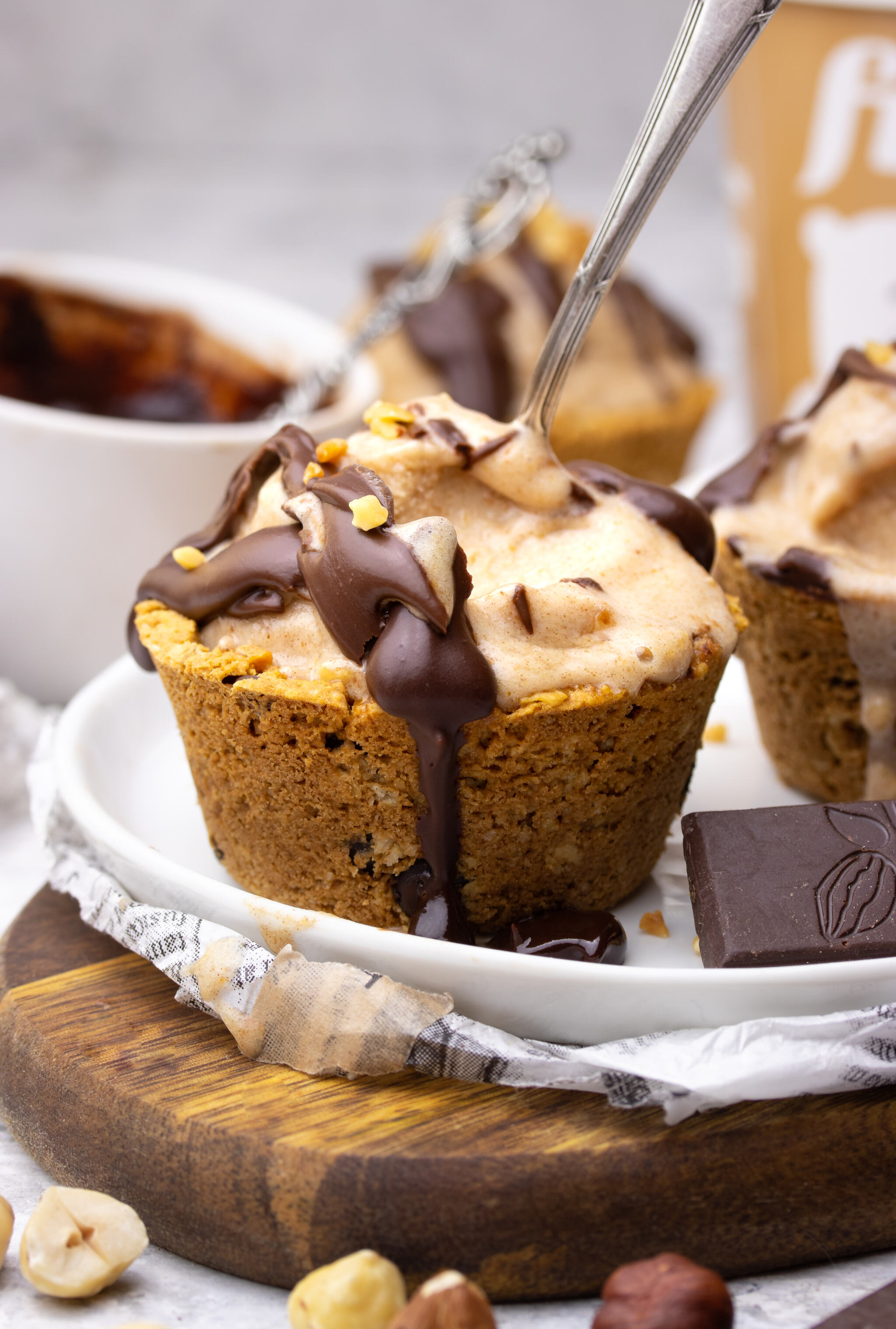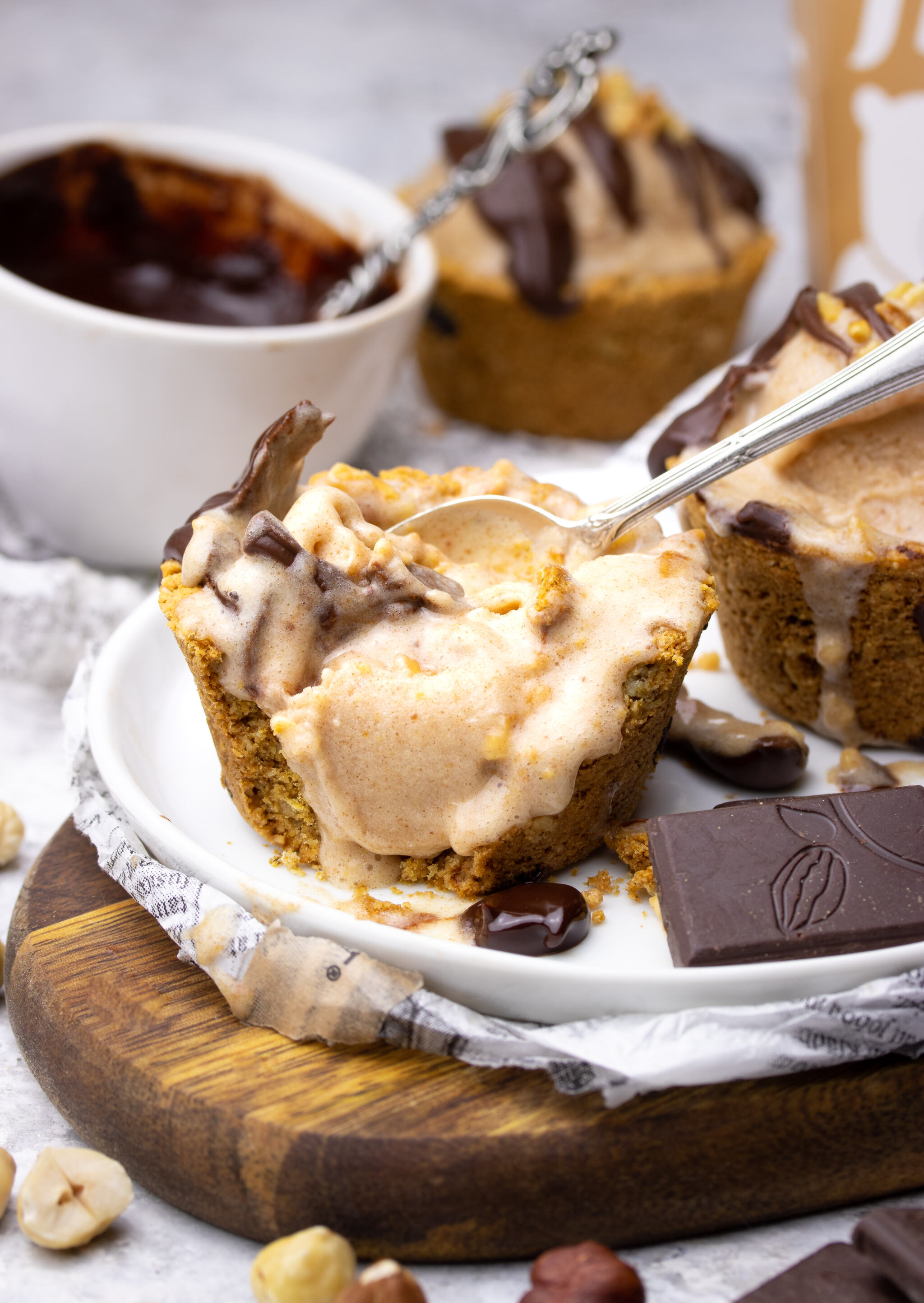 Print
Vegan Chocolate Chip Cookie Cups with Ice cream
There is simply no better way to eat your ice cream than in a chocolate chip cookie cup. Seriously, these are far superior to waffle cones and such since these are easier to make, gluten free, wholesome, vegan, and they have chocolate chips. Case closed, guys!
Author: Hanna Ekelund
Total Time:

30 minutes

Yield:

4

cookie cups with ice cream

1

x
Cookie cups (half a batch of my Nostalgic Oatmeal  Choc' Chip Cookies)
50g

/ 1,75 oz flour (I used

15g

almond- and

35g

oat flour)

30g

/ 1 oz rolled oats

1/4 tsp

baking soda
A pinch of salt
A handful or two of chocolate chips or roughly chopped chocolate

2

,5 tbsp liquid sweetener of choice

1

,5 tbsp nut butter of choice
A splash of vanilla extract

1 tbsp

water
About

1 pint

's worth of ice cream of choice*
Melted chocolate for drizzling
Instructions
Preheat the oven to 150ºC / 300ºF and prepare a muffin tin by greasing four muffin "cups".
In a large mixing bowl, mix the dry ingredients and chocolate.
In separate a small bowl, combine the liquid sweetener, nut butter, vanilla, and water.
Add the wet to the dry ingredients and stir until you get a nice combined dough. Divide the dough into four balls and place into the greased "cups". Press evenly onto the bottom and sides of each cup.
Bake for 18-22 minutes or until golden. Remove from the pan, let cool, fill with ice cream, drizzle with some chocolate (more gracefully than me), serve, and enjoy!
Notes
*I used Nutty Caramel ice cream from Frill but you can use both nice cream or other delicious ice cream of choice.