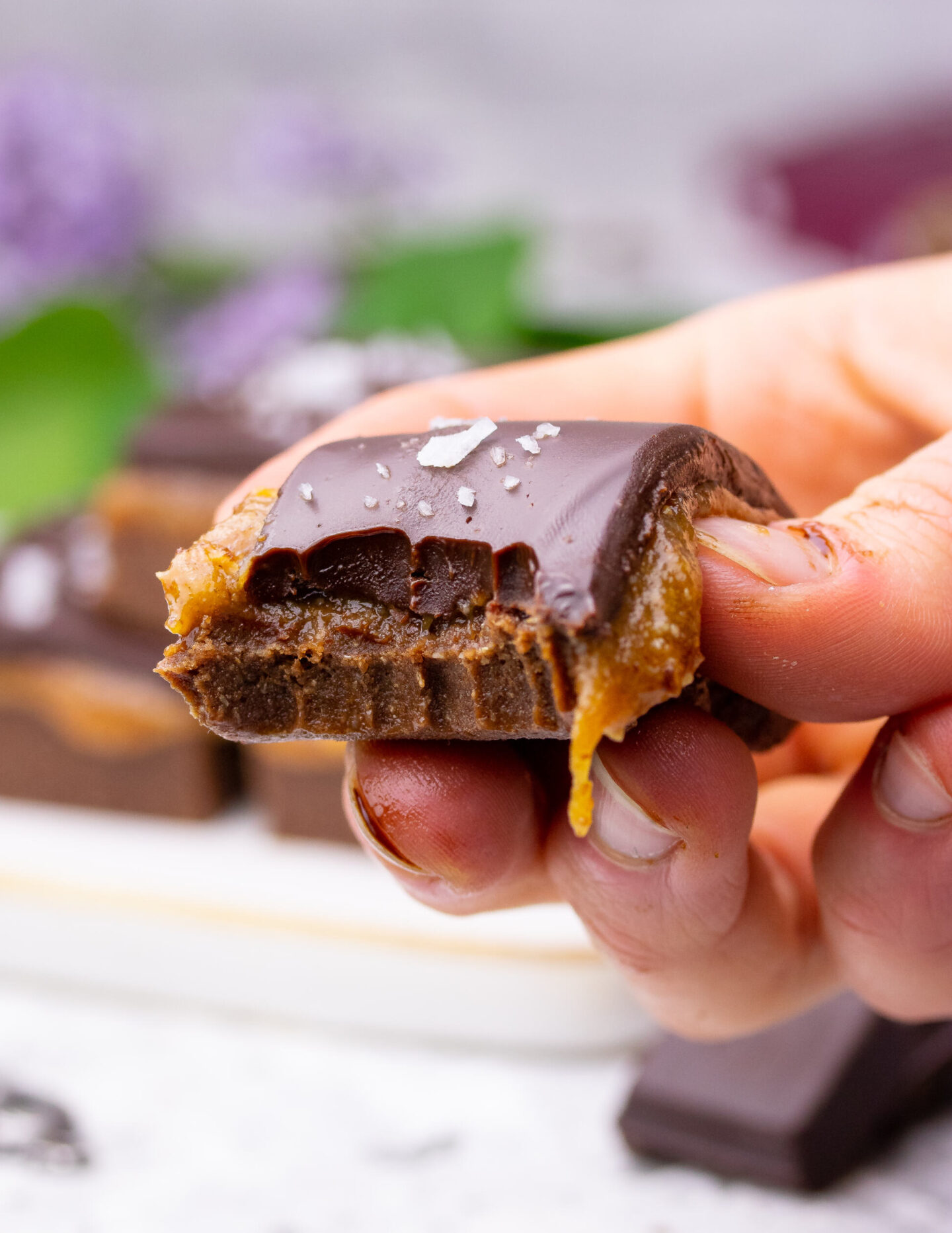 Oh. My. God! Look at that teeeextuure, guys! These may look a bit like a sticky (but delicious) mess, but that's only because when left in room temperature they become very sticky and messy. The reason behind why I actually want them to be sticky messes in room temperature is that when you pop one straight from the freezer in your mouth you will experience the most amazingly delightful melt-in-your-mouth sensation. Yuuuuum!
Anyhow, we all know Mars bars. They're chocolate covered treats consisting of two layer, caramel and chocolate nougat. When I did some research, as I always do, I found that making a super authentic and more wholesome version of nougat would not be possible as it consist of 98% sugar basically. However, I am mighty proud of the chocolate nougatish base I developed for this recipe as it serves as a great chewy chocolatey base. I almost forgot to mention, the caramel layer is based on my favourite salted caramel recipe, which I use in a ridiculous amount of recipes, but made thicker to not make too much of a mess. Then we have the ganache. Oh my, I love that ganache recipe. It's super simple and almost fool proof as long as you heat the ingredients together at the same time. It's firm, chocolatey, and so frickin' delicious!
Moving on, some of my recipes take a few attempts before I'm happy with them. My first attempt at making these were a massive fail. The nougat base was tasteless and went rock-solid in the freezer, while the salted caramel went literally everywhere. Not to forget, the ganache split and was almost also rock-solid. That was a total disaster, haha. Luckily, these bad boys are so so so much better and on a completely different planet compared to my first attempt.
Lastly, these are the kind of treats everyone can enjoy regardless of dietary preference or allergies. They're vegan, gluten- and nut-free, and made with pretty darn wholesome ingredients. What more can you wish for? I myself loved having these in the freezer ready whenever you need an extra boost of energy or your sweet-tooth hits in. I reckon I've rambled enough now, hehe. Enjoy!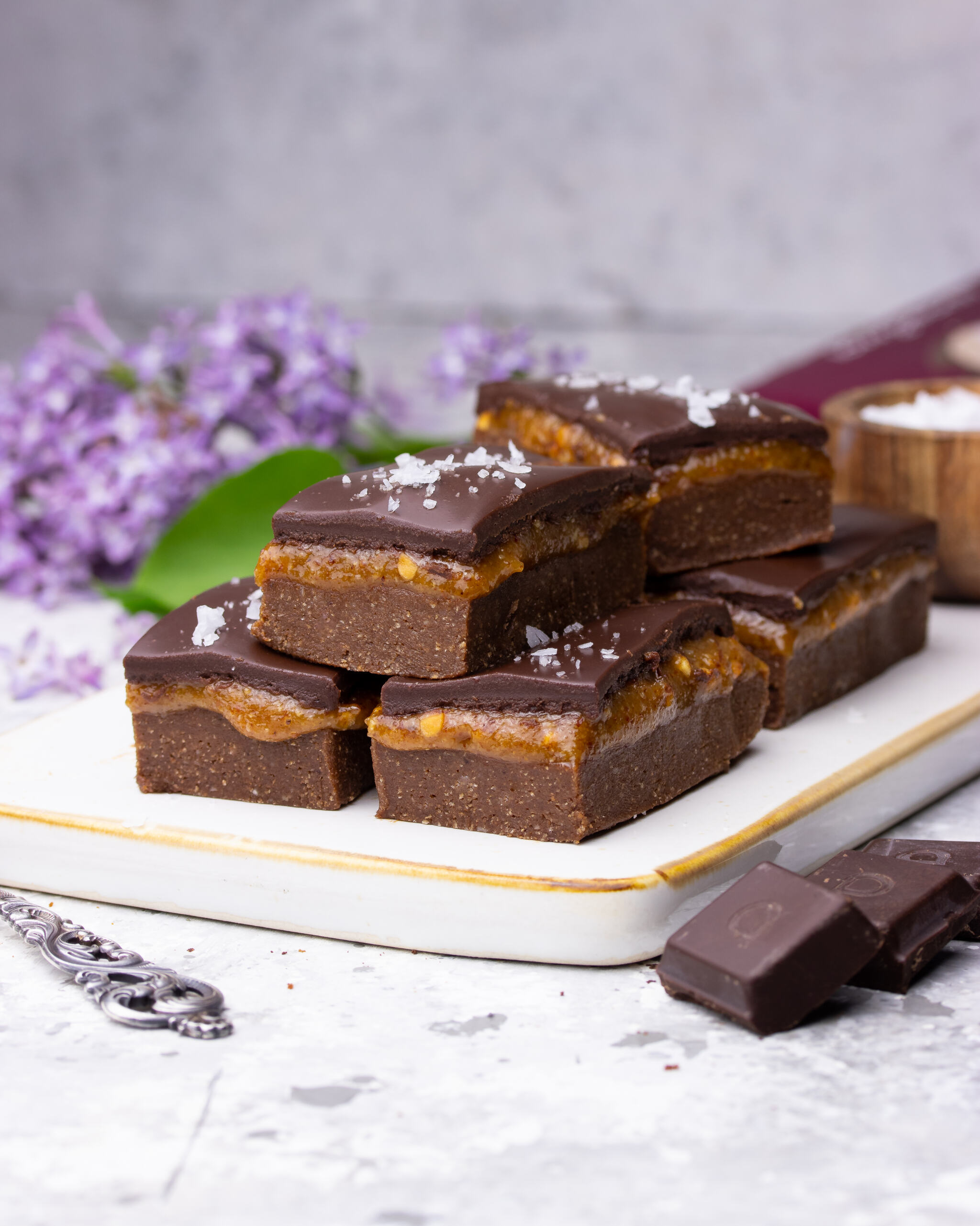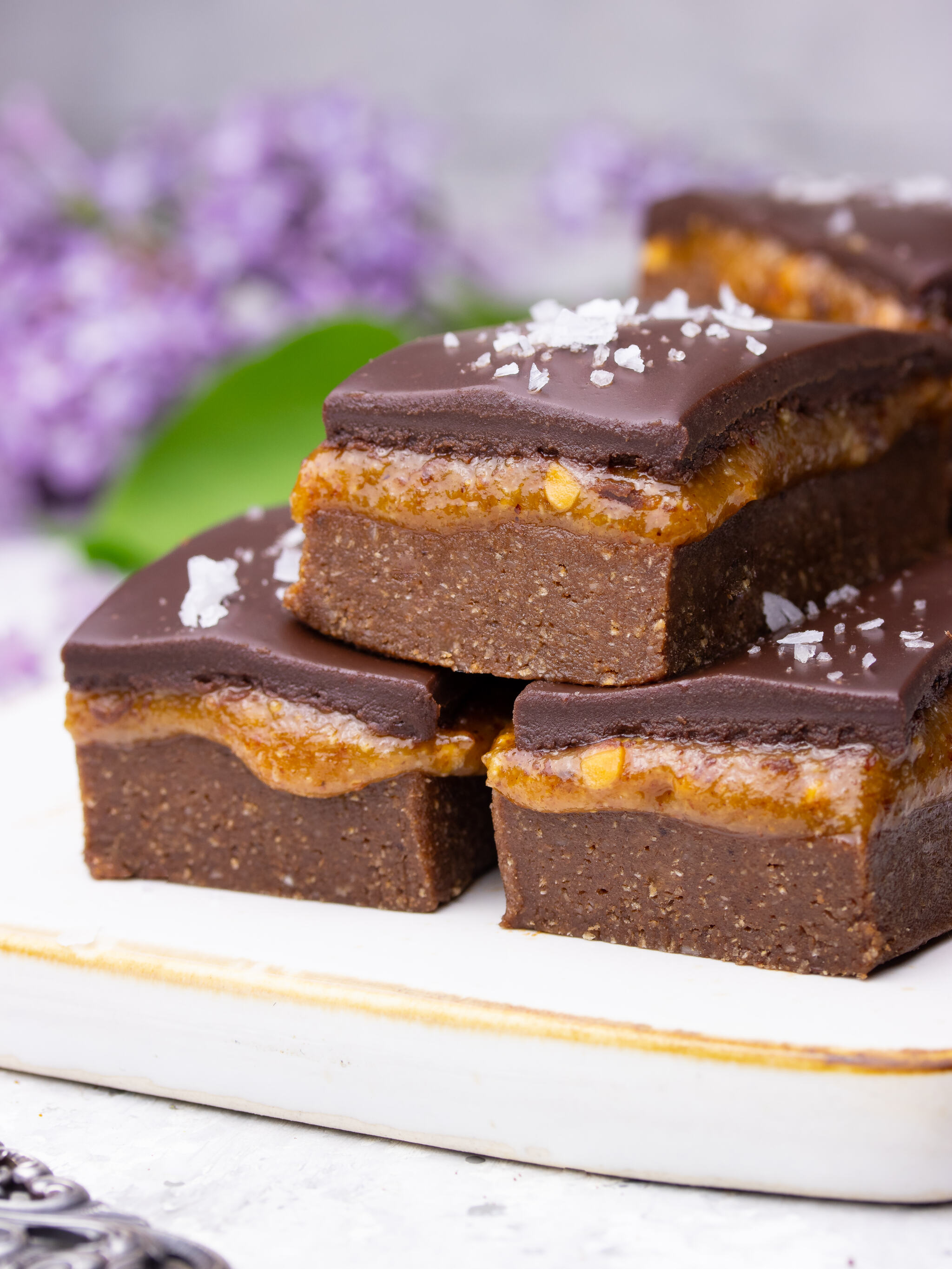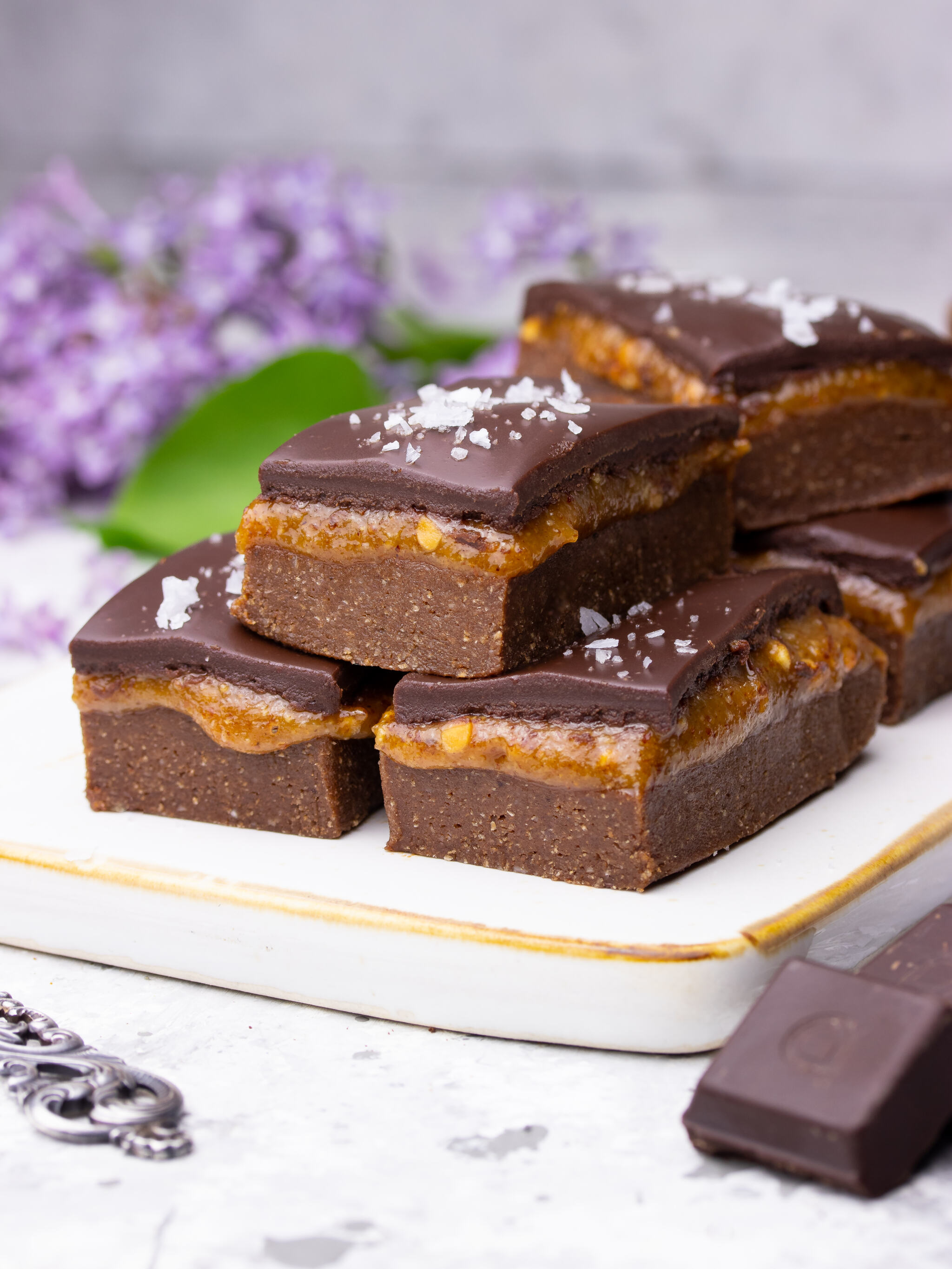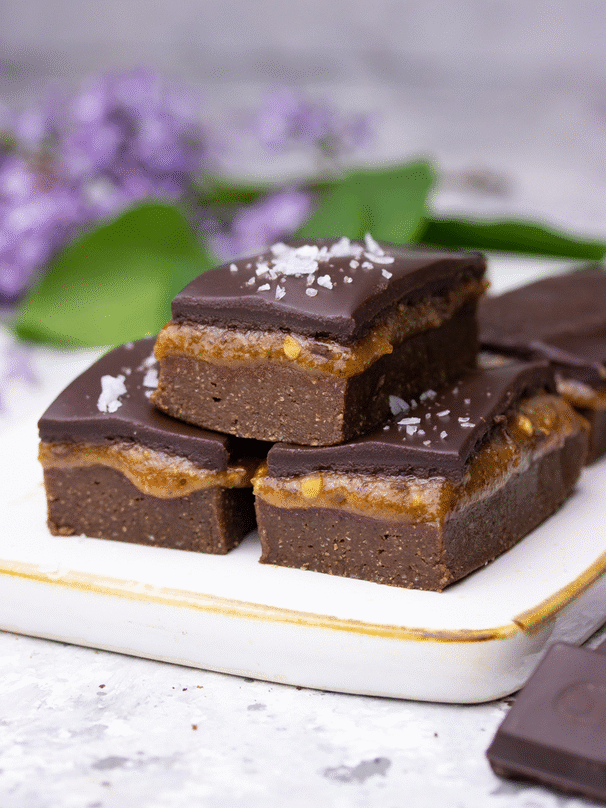 Yes, I ate a Mars bar with a cake fork. Haha, I only did it for the GIF, okay. I'm not quite that weird. Or am I?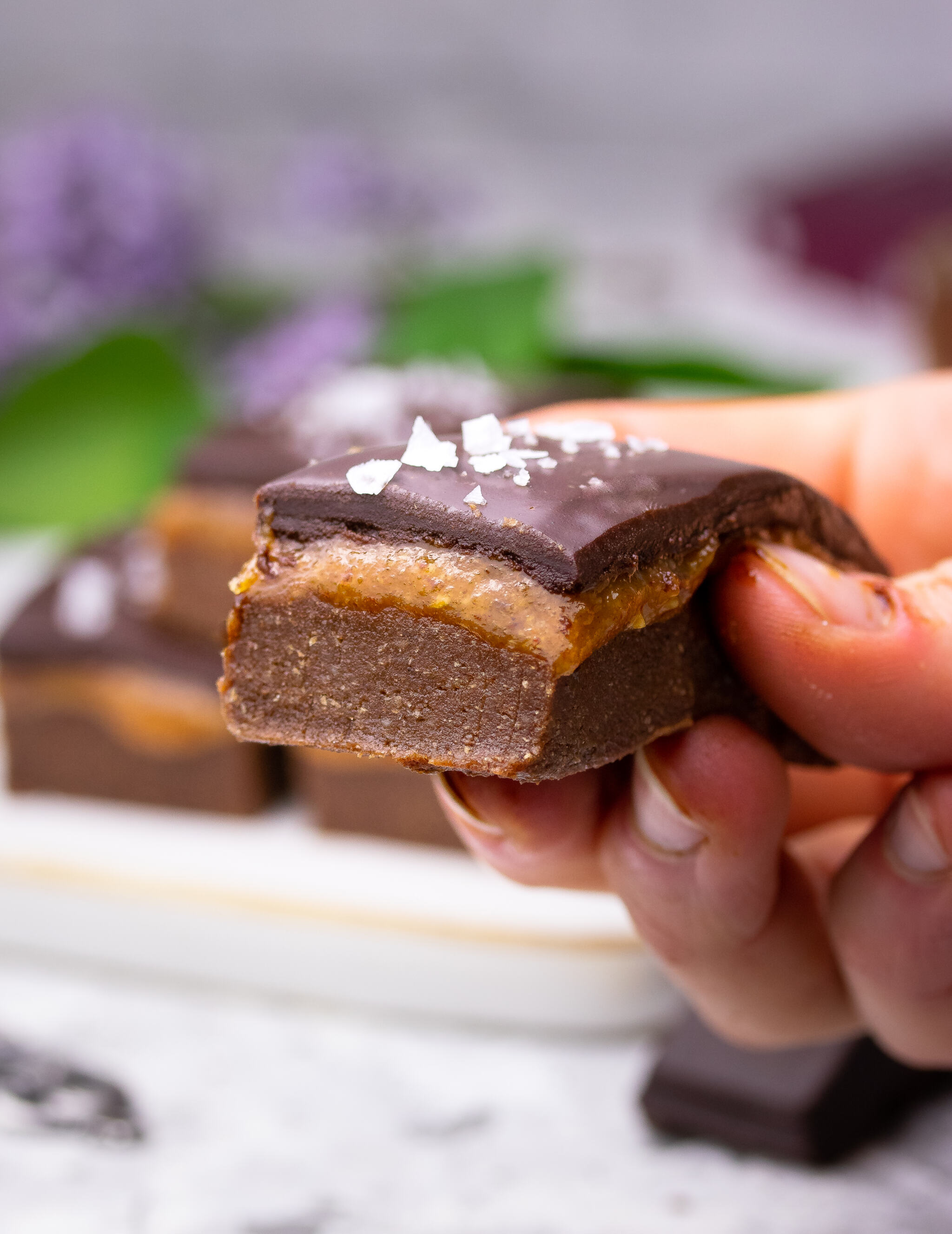 At this point, the bars had become completely room temperature and we're very messy (still delicious though) to deal with, hehe.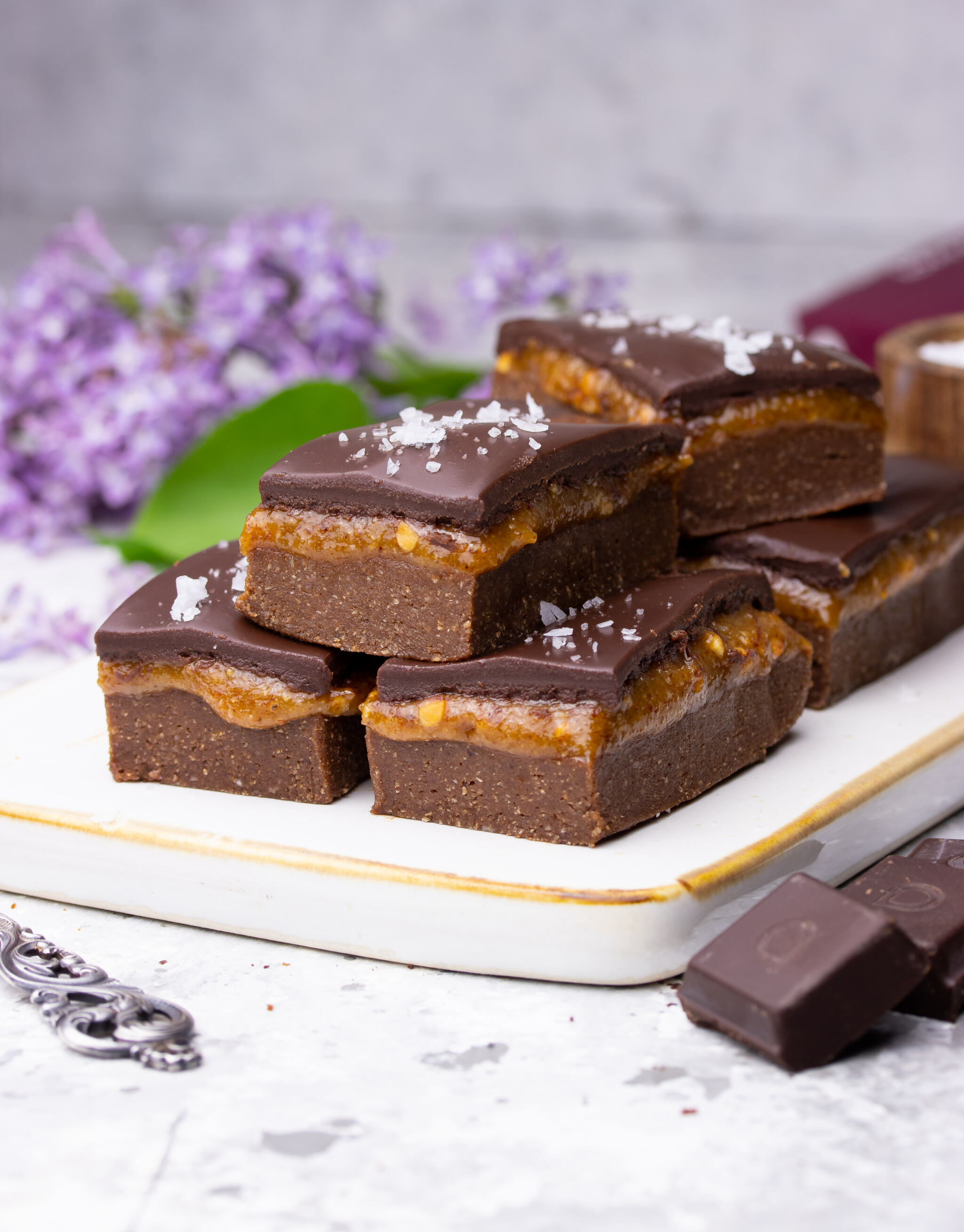 Print
Fudgy Melt-in-Your-Mouth Mars Bar Squares
The classic Mars bar consisting of chocolate delicious chocolate nougat and salted caramel has gotten a proper maker-over and is now vegan and pretty darn wholesome. Plus, the melt-in-your-mouth sensation of these bars are so say the least divine. 
Chocolate nougat base
100g

/ 3,5 oz pitted dates

2 tbsp

nut  or seed butter of choice

30g

/ 1 oz melted dark chocolate

60g

/ 2,1 flour nut or oat flour (I used half almond- and half oat flour.
A hearty pinch of salt
A splash of vanilla essence
Caramel*
3 tbsp

liquid sweetener of choice

100g

/ 3,5 oz nut or seed butter of choice

1/2 tsp

salt

1/2 tsp

vanilla essence
Chocolate Ganache
80g

/ 2,8 oz dark chocolate broken into pieces

2 tbsp

liquid sweetener

1 tbsp

water
A hearty pinch of salt
Instructions
Line a square dish with plastic wrap or parchment paper. My dish 10×10 cm / 4×4 inches.
In a food processor combine all the ingredients for the nougat base to a firm dough. If too dry and crumbly, add a little bit more melted chocolate. Transfer the dough to the pan and press out into an even base layer.
In a small bowl, combine all the ingredients for the caramel and evenly spread on top of the base. Place in the fridge and let firm up for at least three hours.
Prepare the ganache by placing all the ingredients in a small microwave safe bowl. Microwave on low to medium effect for 30 second intervals until the chocolate has almost completely melted. Once melted enough, mix until you get a smooth ganache. Evenly spread on top of the caramel layer and let set. Once the ganache has set, cut the square into 12 equal bars, and enjoy.
Notes
To achieve the perfect melt-in-your-mouth experience these are quite sticky and hard to deal with when in room temperature. Preferably store and serve them straight from the freezer. *Can be subbed with an equal amount of date based caramel
Copying and posting this recipe without permission from author is strongly prohibited.