Honestly, marble cake is the absolute best cake ever in my opinion. I love chocolate, but something about the contrast between vanilla cake and chocolate cake that makes marble cake even better than pure chocolate cake. Matter of fact, ever since I was a wee little girl marble cake has been my favourite. Speaking of mini Hanna who couldn't speak a word of English, the Swedish word for marble cake is tigerkaka which means "tiger cake". As you can probably guess, the tiger part is because of the stripes of the marbled effect.
Moving on, I don't know why but marble cake is one of those treats that are very easy to make and very classic yet kind of sophisticated. I think it's because of the beautiful marbled look (which I kind of failed making, hehe). Also, it's a very photogenic cake. The classic Swedish way to bake it is in a bundt cake pan, but I thought it'd be more fun in the shape of a loaf. Plus, if you make it into a loaf you can toast a slice and eat it like a piece of toast with some nut butter. How delicious! You know what I just remembered. This cake should (haven't tried it myself) freeze really well. Ooooh, imagine just having a bunch of prepared slices of marble cake ready to be toasted or warmed up in the microwave and then perhaps covered with nut butter or melted chocolate. Oh my daaaays, that would be delicious!
Lastly, this cake is for literally everyone. If you're a person who has problems deciding between to flavours like vanilla and chocolate, this cake is for you. If you're a gluten-free vegan, this cake is for you. If you're into "healthy", refined sugar- or oil-free dessert, this cake is for you. If you like delicious cake, this cake is for you!
Seriously, you should try making this cake if I may say it myself. In the interim, enjoy!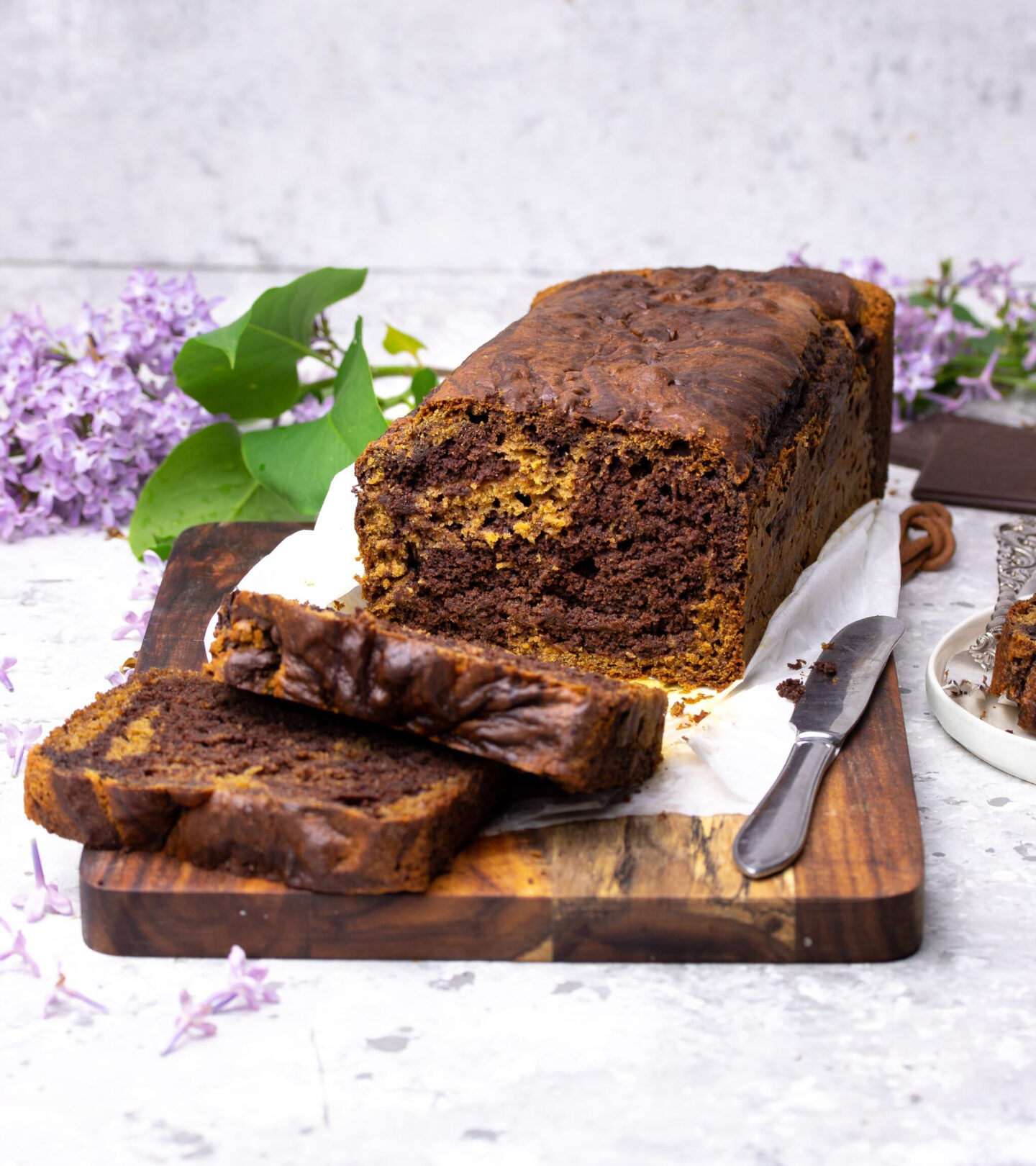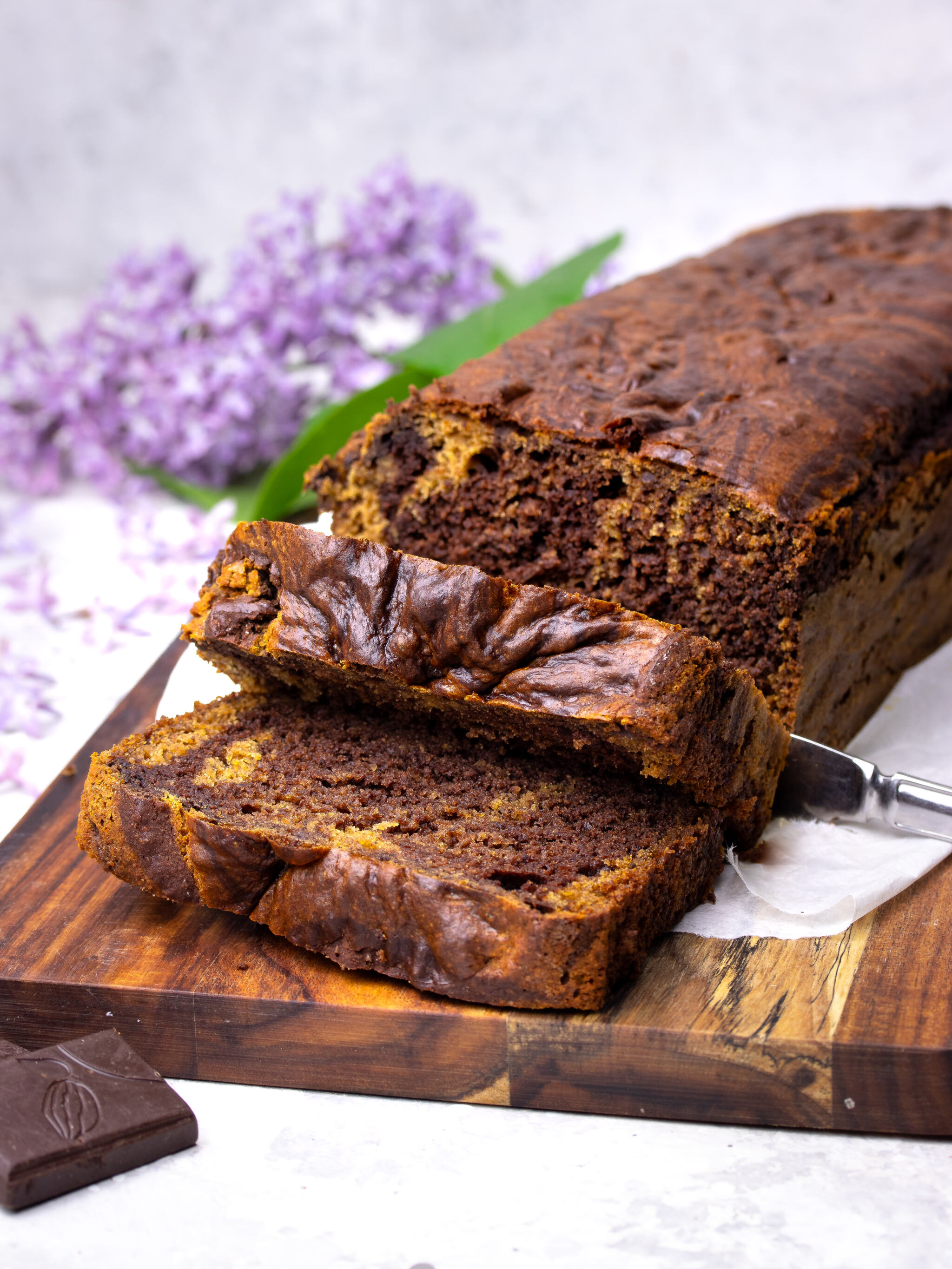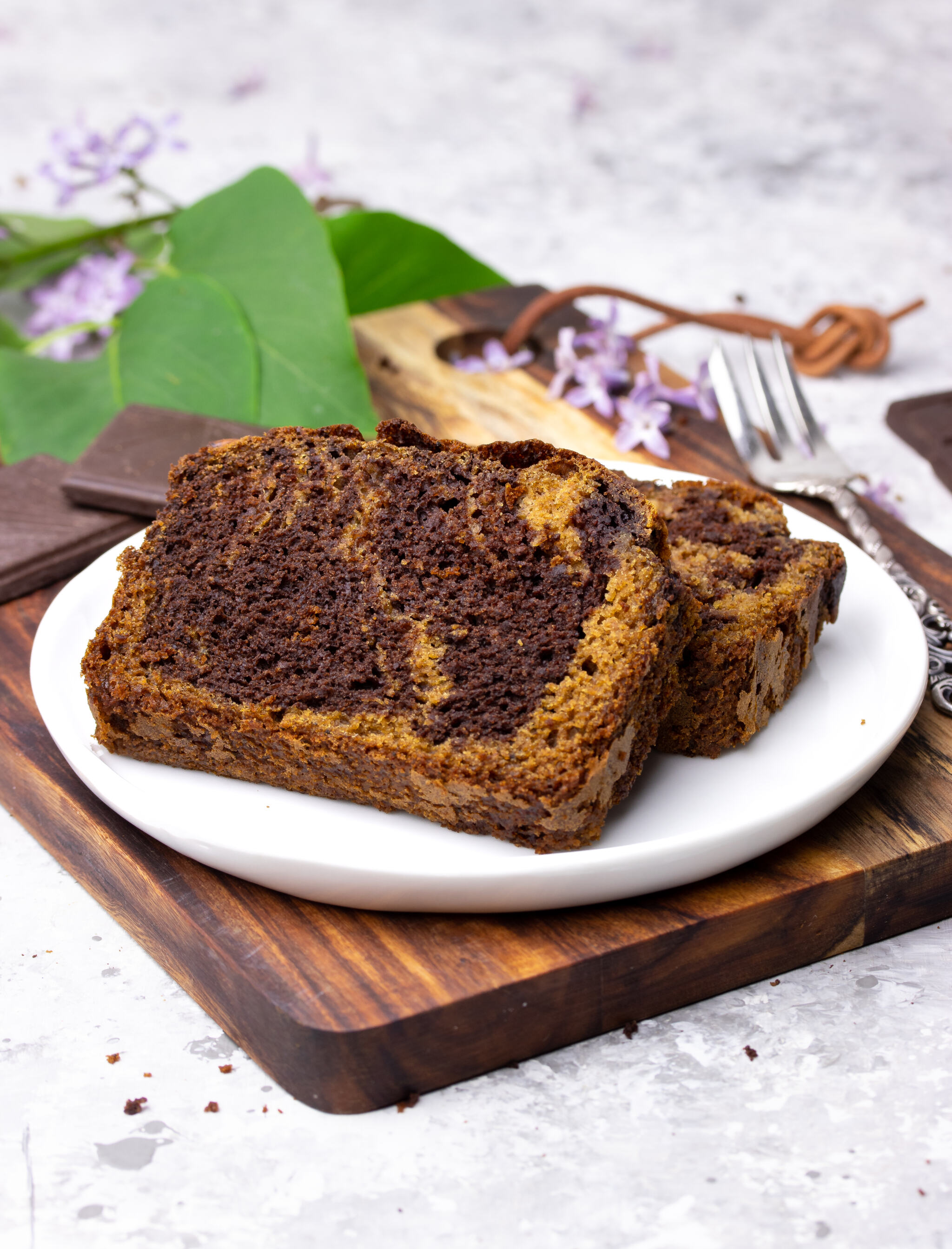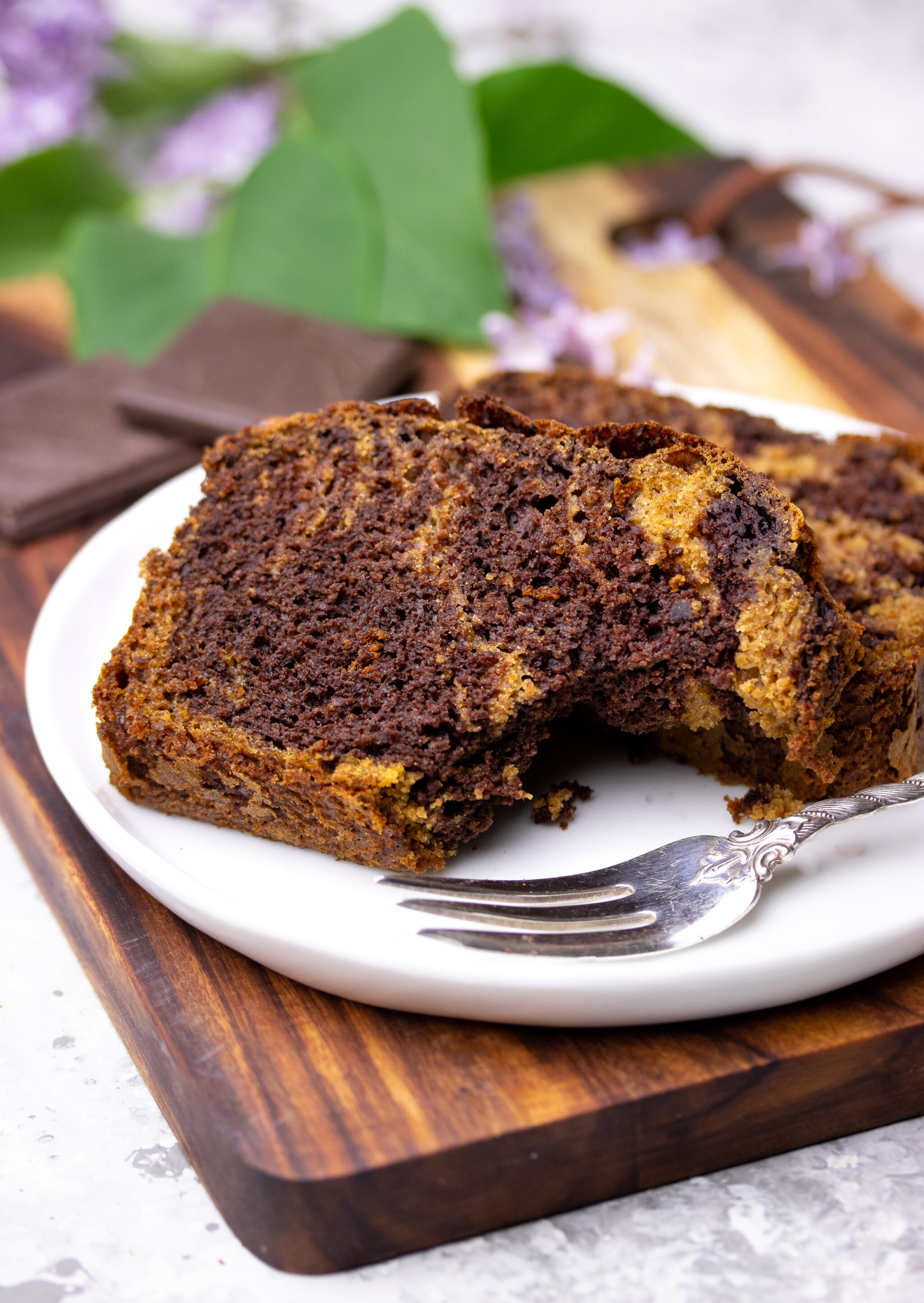 Guess who took these seriously sexy-looking photos? My dad did while standing on a super high chair. For your information, I have the best dad ever. < 3
Print
The Best Vegan Marble Cake
This Marble Cake fluffy, moist, and delicious yet wholesome, vegan, and really easy to make. It simply can not get any better.
100g

/ 3,5 oz oat flour

90g

/ 3,2 oz buckwheat flour

1

,5 tbsp milled flax or chia seeds

2

,25 tsp baking powder
A hearty pinch of salt

300

ml / 1 cup plus 3 tbsp milk of choice

75g

/ 2,6 oz coconut sugar or other granulated sweetener

100g

/ 3,5 oz pitted dates (I peeled mine for looks)

60g

/ 2,1 oz nut butter of choice

1 tsp

vanilla extract

4 tbsp

cocoa powder

1

,5 tbsp extra milk of choice

1

,5 tbsp liquid sweetener or more milk of choice

3 tsp

baking soda

3 tsp

white balsamic vinegar
Instructions
Preheat the oven to 160ºC / 320ºF. Grease and line a one liter bread loaf tin with parchment paper.
In a large bowl, mix the oat flour, buckwheat flour, milled flax seeds, baking powder, and salt.
In a blender, blend the milk, sugar, dates, nut butter, and vanilla smooth.
Add the wet to the dry and mix until just combined. The batter should thicken within the matter of a couples of minutes.
Divide the batter into two bowls, and each half should weigh about 370g / 13 oz. Stir in the cocoa, extra milk, and liquid sweetener into one of the batters.
Do the following steps as quickly as possible. In two small bowls, put 1,5 tsp of baking soda. Add 1,5 tsp vinegar to one of the bowls then quickly transfer to the vanilla batter and stir in. Transfer about half of the vanilla batter to the loaf tin. Quickly repeat the baking soda steps with the chocolate batter and transfer all of it to the pan. Top with the remaining vanilla batter. Run a knife through the batter and create a swirly pattern to create a marbled effect.  Bake for 35-40 minutes or until a toothpick runs clean. Let cool, cut up, serve, and enjoy!
Keywords: Marble cake, vegan, gluten-free, healthy, cake