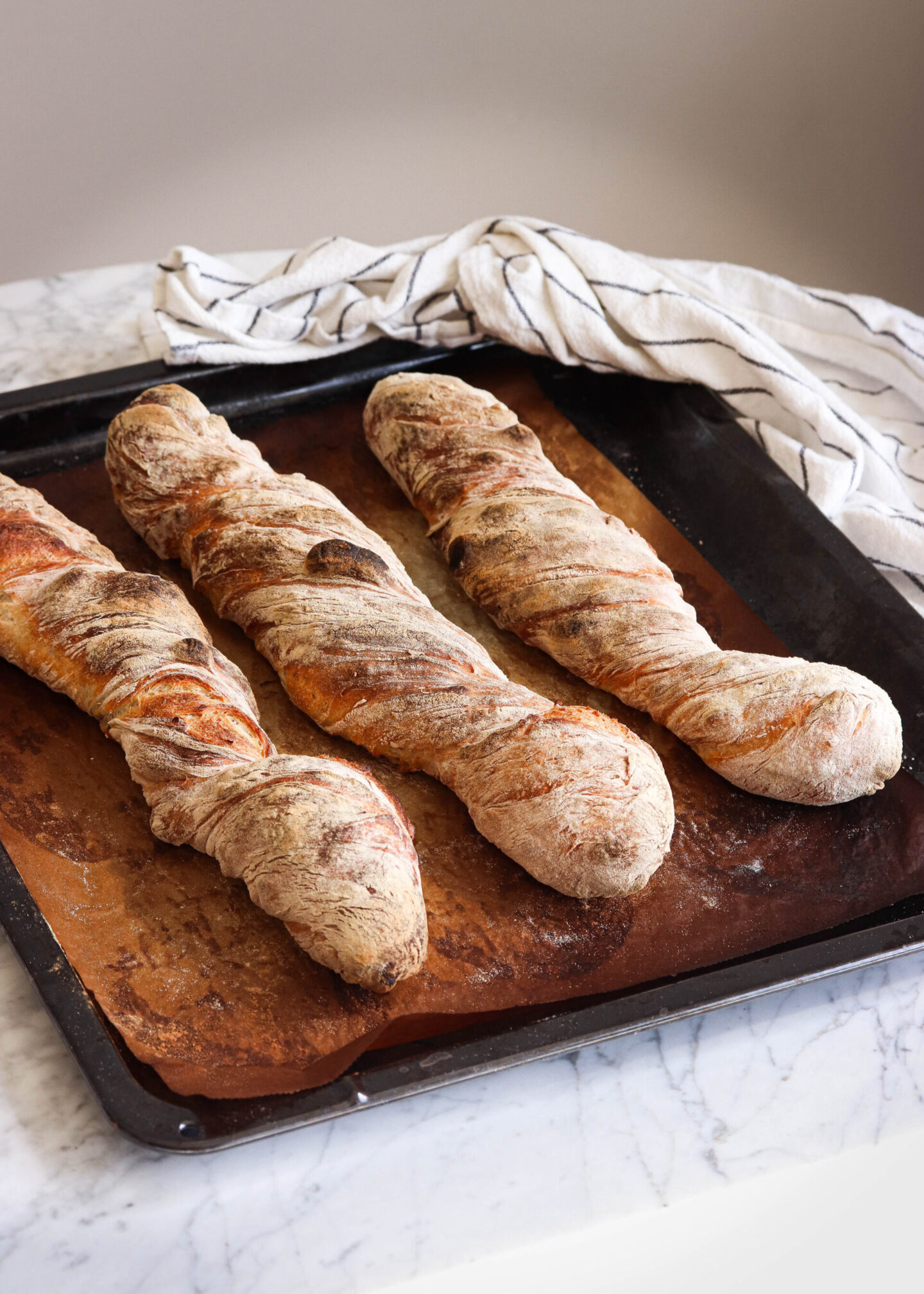 If you only knew how many times I've made these baguettes the past three months. I've made this to impress dinner guests (who gave me way too much praise so I almost started to blush), surprise a loved one with a nice dinner, give away as a thank you present, and made some simply for my own consumption. These seriously are bakery quality bread, but homemade and for 1/6 of the price as well. I honestly haven't bought my own bread since December 2020, and while writing this it's April 2021. I started my sourdough starter back in January.
This is the method I follow to create my sourdough starter:
Mix 1/2dl of each rye wholegrain flour and water in an airtight jar.
Place somewhere warm, like above the fridge or just room temperature, for 24h. Then pour out most of the content in the jar. Add and mix in another 1/2dl wholegrain rye flour and water.
Repeat for 3-5 days until the starter starts to smell like honey and a bit acidic.
After 3-5 days, you can start using it for baking, but it also from now on needs to be fed more often to stay alive. You feed it by pouring out most of the content, and then adding 1/2dl wholegrain rye flour and water. However, if you keep it in the fridge, it only needs to be fed 1-2 times a week to stay alive. Note that before baking, feed your starter a few hours before. There's lots of different opinions and methods on how to create, feed, and when to feed your starter before using it to bake. I recommend doing some research of your own if you'd like. It truly is fun!
Now you know how absolutely amazingly delicious these cuties are, I must mention that making these is super easy, but takes quite a lot of time. The labour is next to zero, but you need to let the dough proof for 6-10 hours to let the gluten form as well as the sourdough to develop its amazing flavour. Also, letting it proof for so long gives the bread those big but not too big airy bubbles and a lightness to the bread. With that said, I really hope you try this recipe since it really is life changing!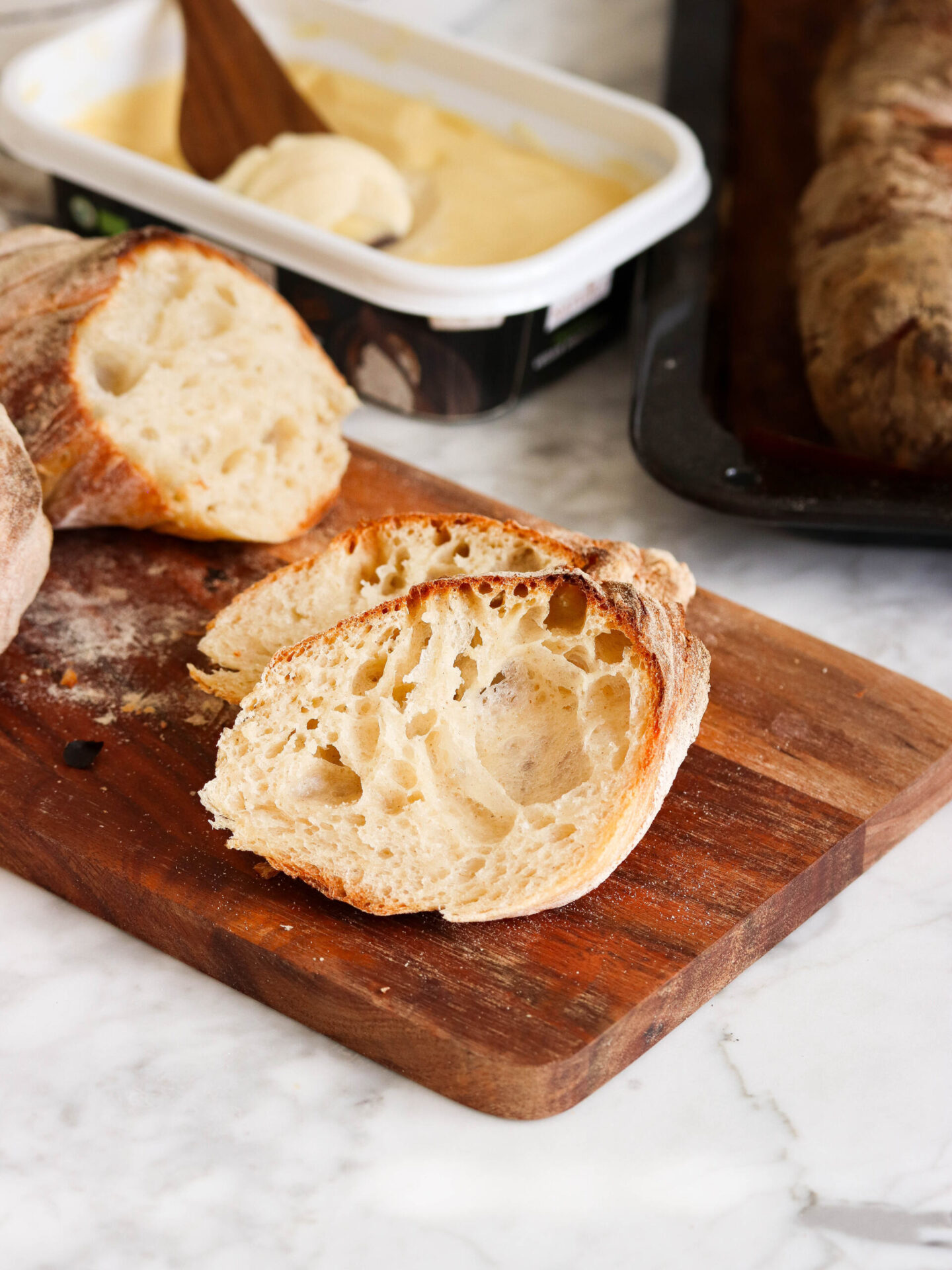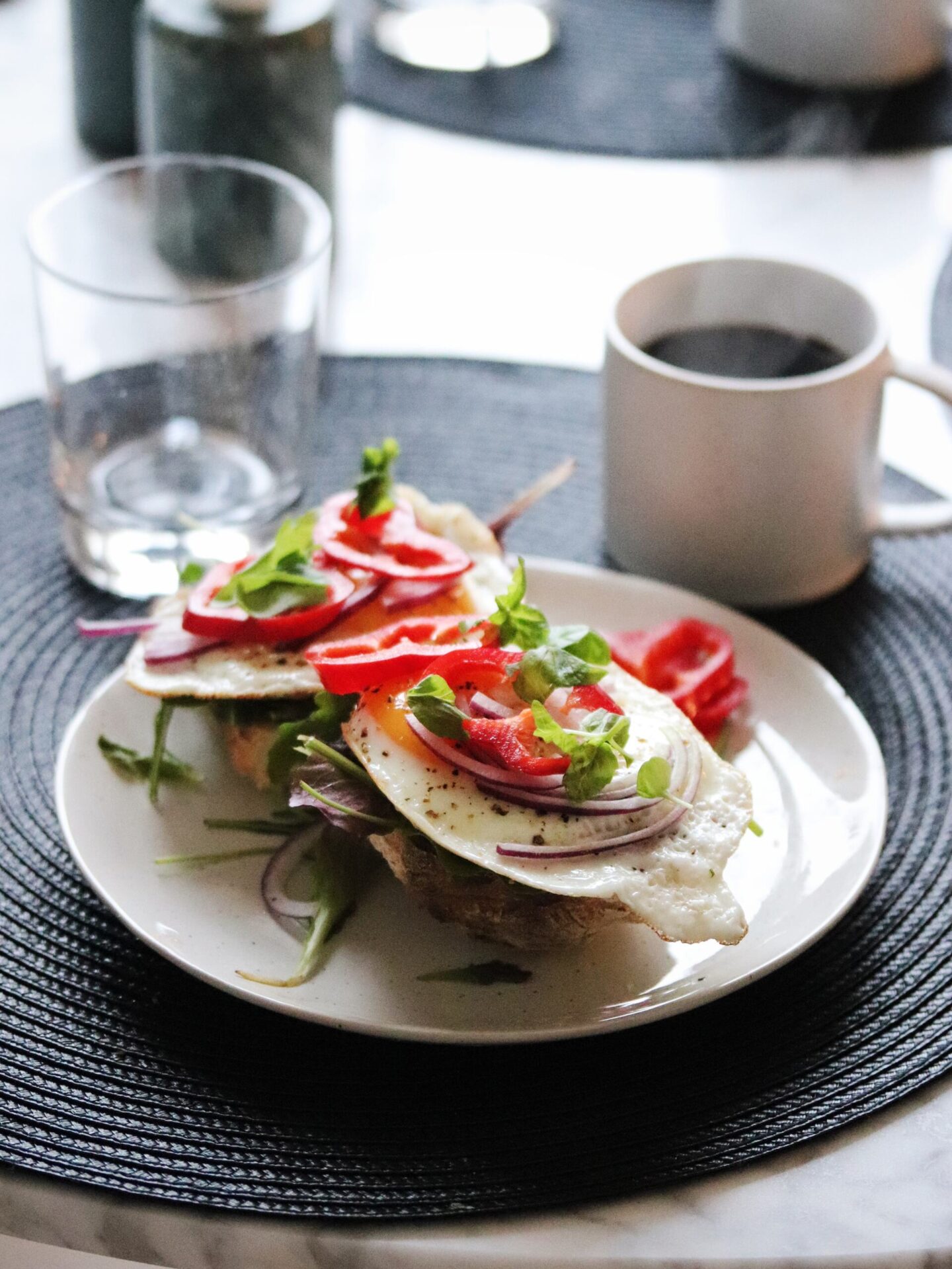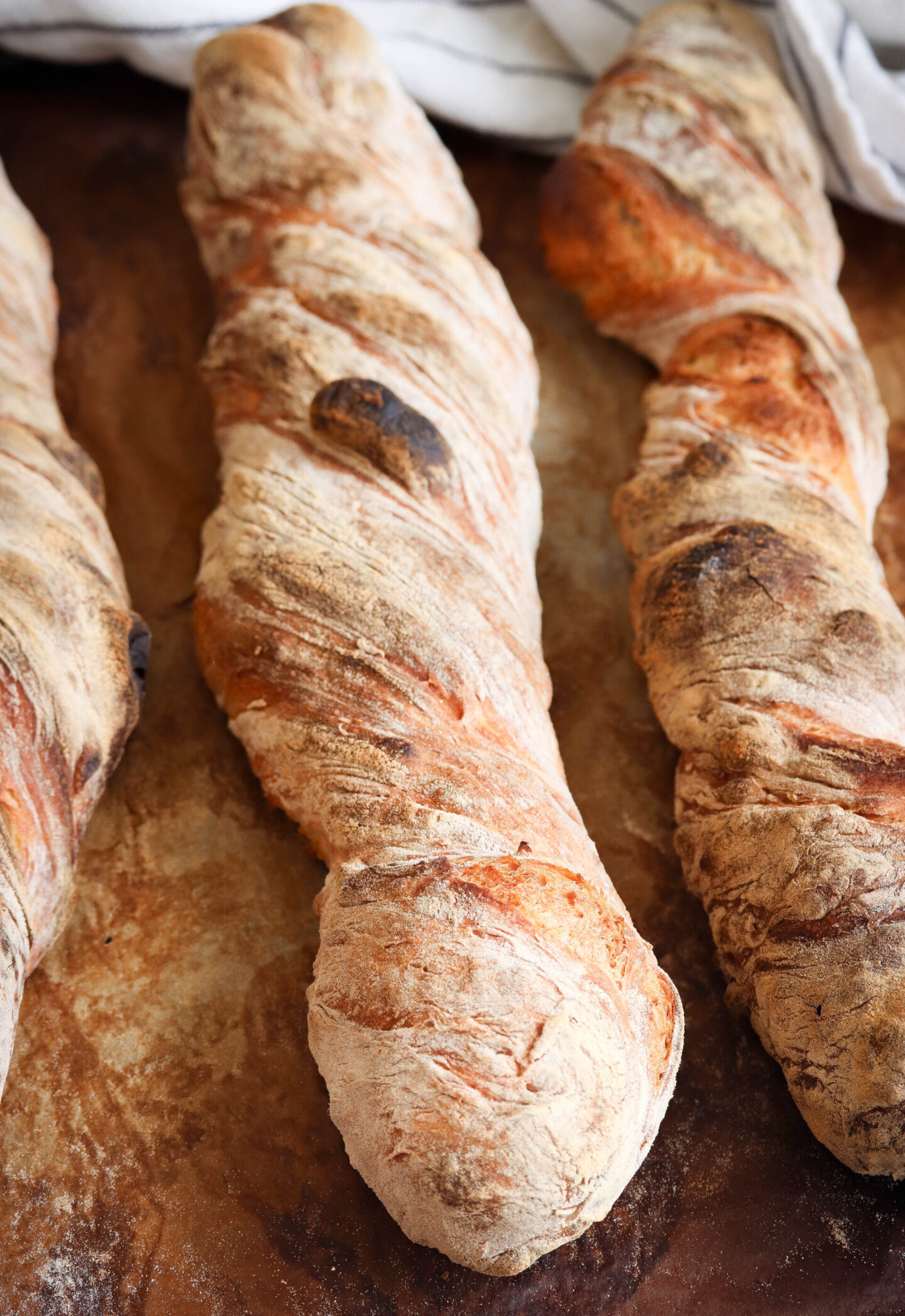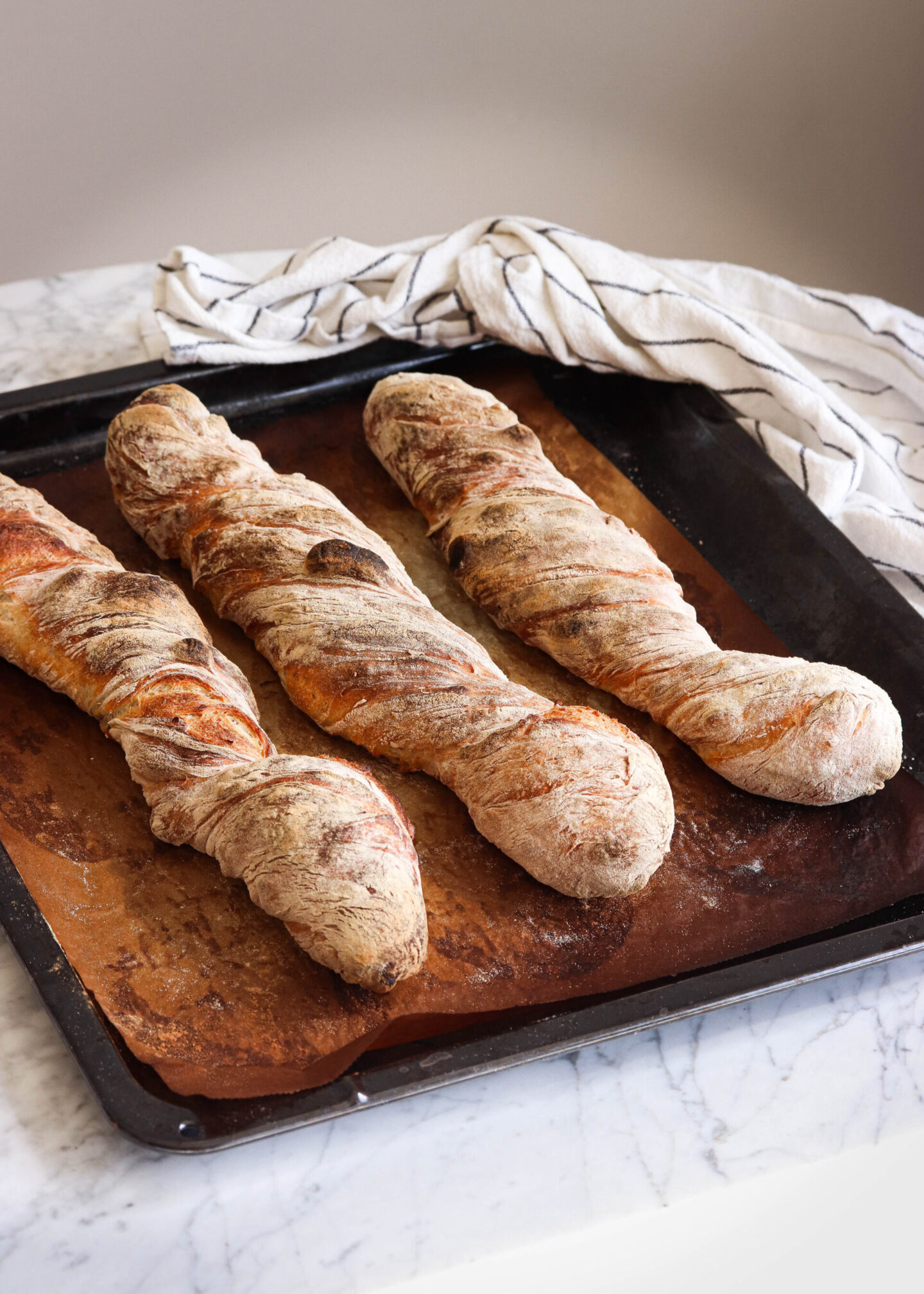 You can also make buns using this recipe. Instead of cutting the dough into strips, simply cut into rectangles/squares and bake for a shorter time.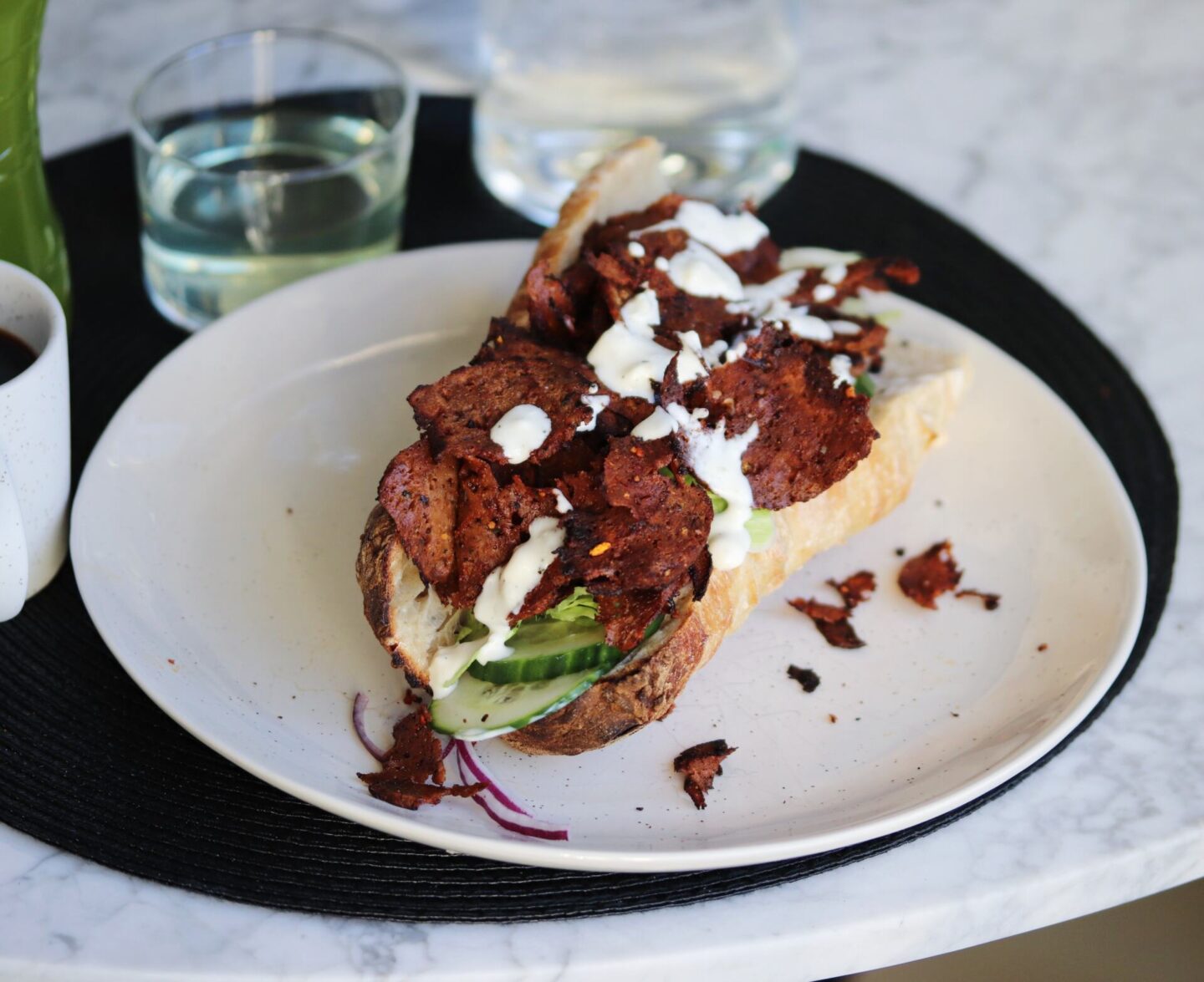 How about using the baguettes to make some epic sandwich like this breakfast of champions consisting of vegan seitan kebab, veggies, and garlic yoghurt sauce.
This is how you shape the baguettes after the dough has finished the main proofing
Print
The Perfect (and Easy) Sourdough Baguette
If you only knew how many times I've made this recipe already! It's simply the definiton of high reward low effort baking. These baguettes are just as perfect to make for your the weekend breakfast, mid week dinner, to bring with you on outdoor adventures as to impress your dinner guests or a loved one for dinner or as a present. These stay good up to a week, but are absolutely at their best a pair of hours after baking.
Author: Hanna
Yield:

2

-

3

baguettes

1

x
350g

/ 12,3 oz water

2g

/0,07 oz (yes, only 2g)

fresh

yeast

50g

/1,75 sourdough starter (fed a

2

–

3

hours before baking)

450g

/15,8 oz flour*

1

,5 tsp (10g) salt
Instructions
In a large mixing bowl, stir together the water, yeast, and sourdough starter.
Add the flour and salt, mix until uniform. The dough should and will be very sticky and quite wet. Cover the mixing bowl and let proof in room temperature 6-10 hours perhaps over night, depending on your room temperature.
Transfer the dough to a well (more than you think) floured surface. Fold the dough into a package/rectangle by stretching one side of the dough and folding it onto the dough. Repeat for all four sides. Let rest for 40-60 minutes.
Preheat the oven to 250°C/480°F and line a pan with parchment paper.
Using a knife (I use a "dough scraper", my best purchase ever), cut the rectangle into two to three strips. Carefully, take on of the dough strips and twist it and stretch it slightly before placing it on the prepared pan. Repeat with the remaining dough strips. Bake for 15-20 minutes or until it has gotten A LOT of colour. Don't be afraid of getting a lot of colour on your baguettes. It's what gives the bread taste. Take out, let cool for about 15-20 minutes (important!!), slice up, and enjoy!
Notes
*I used Manitoba Cream a higher protein flour, but you can switch out at least 15% of the flour to a wholegrain alternative. Haven't tried with a higher percantage whole grain, but wouldn't surprise if it worked with more as well.
Keywords: Sourdough baguette, homemade, easy, long proofed, sourdough, baguette, over night, simple