"Seitan, what's that?", you may be thinking. Seitan originally is made from washed wheat flour dough until only the gluten is left and you get this bouncy, firm dough. It's traditional in Buddhist tradition since it's an alternative to meat. Nowadays, you can buy vital wheat gluten online, so no need for any washing and that whole process. I bought mine at Happy Vegan, a store located in Gothenburg in Sweden.
"So is it any good?" I personally am a big fan of it. It's super easy to flavour with what ever you like, and doesn't have the same soy after taste some people aren't the biggest fans of. I've used it for many different dishes. One of my fav ways to use the seitan is to slice it thinly and fry it with kebab spices and then eat it like classic kebab or gyros, perhaps in a wrap or with roasted potato fries, veggies, and a garlic yoghurt sauce.
"It sounds expensive" It's sooo much more affordable and cheaper than the meat substitutes I've encountered. When I did my calculations for the kg price for the seitan it was at most 40kr/kg, but it of course depends on your ingredients. Perfect to meal prep as well since it holds up to 14 days in the fridge.
"Well, it's gluten and not healthy" If you think gluten is unhealthy (as long as you're not celiac), that's on you, but the end product of this recipe has 31g (!!) of protein per 100g, which is A LOT and great if you're an active person like me. Worth mentioning though is that gluten does lack a sufficient amount of a pair of the essential amino acids. However, as long as you include other protein sources and foods, you should be more than okay!
"Okay, but is it complicated?" Nah, it's as simple as it gets! Mix wet and dry separate, add wet to dry, mix until a uniform dough, make into sausage, bake, cool, enjoy!
By now, I hope you're all convinced by the holy seitan as I am, enjoy!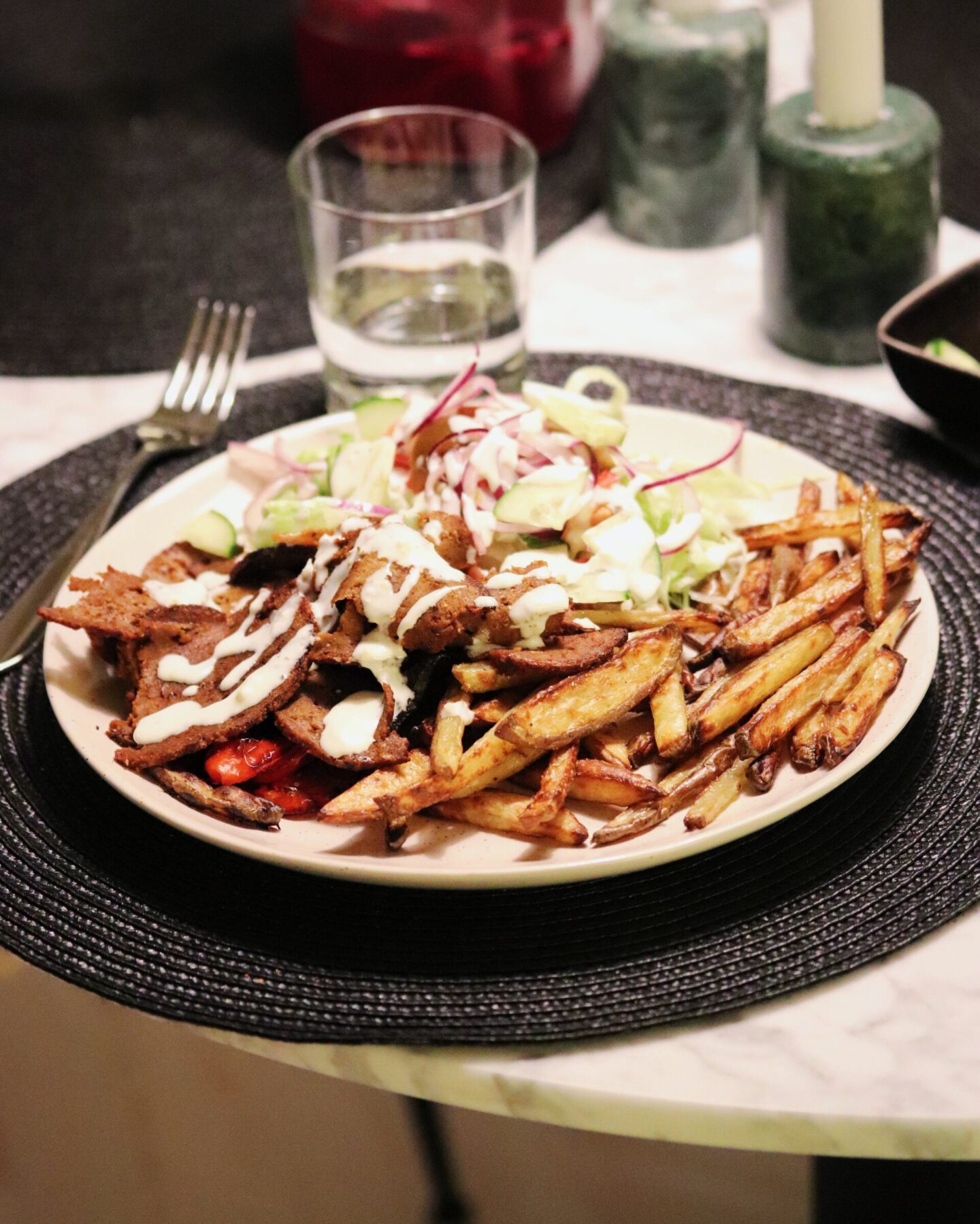 The seitan served like a classic Swedish "kebabtallrik" with potato fries, veggies, and garlic yoghurt sauce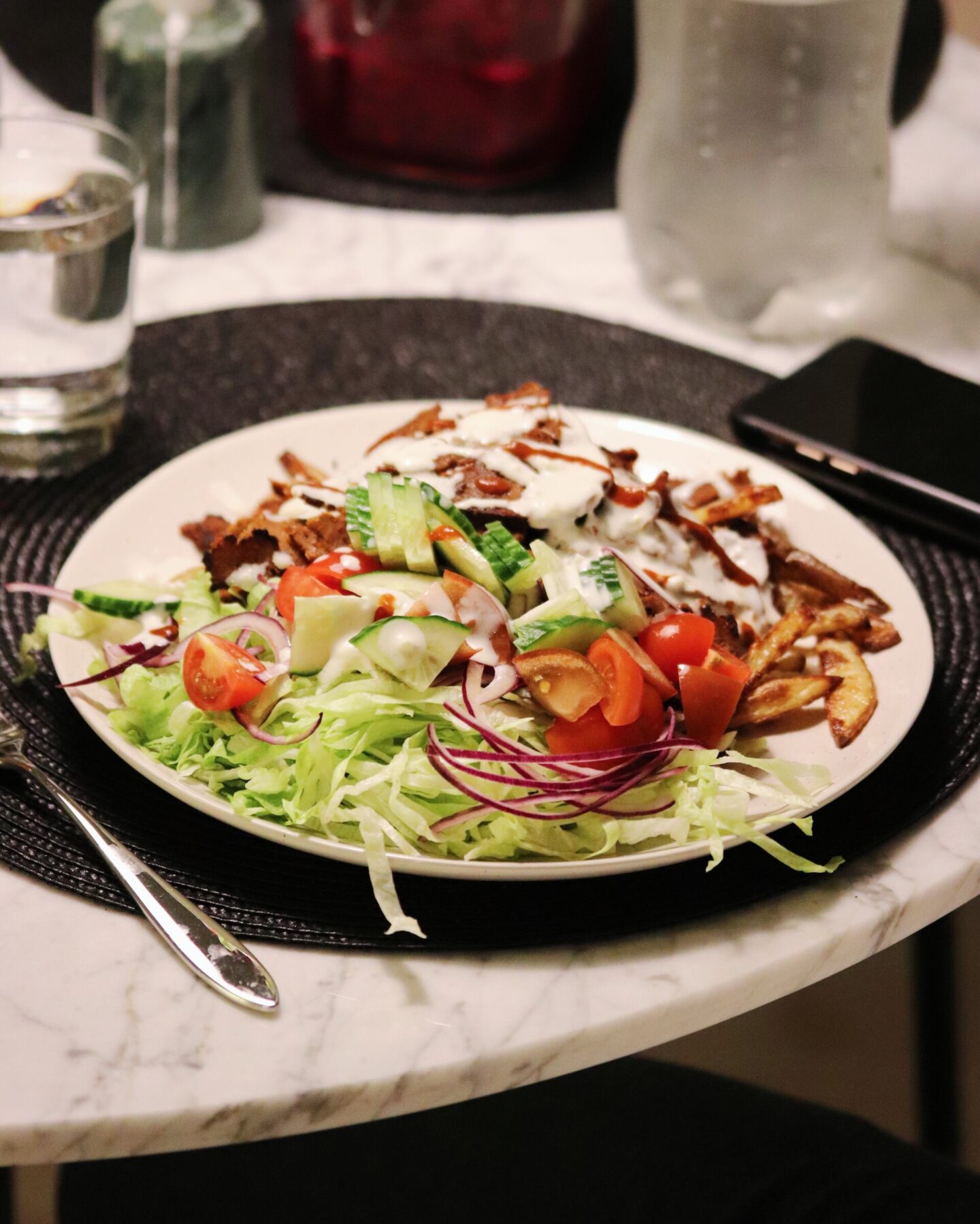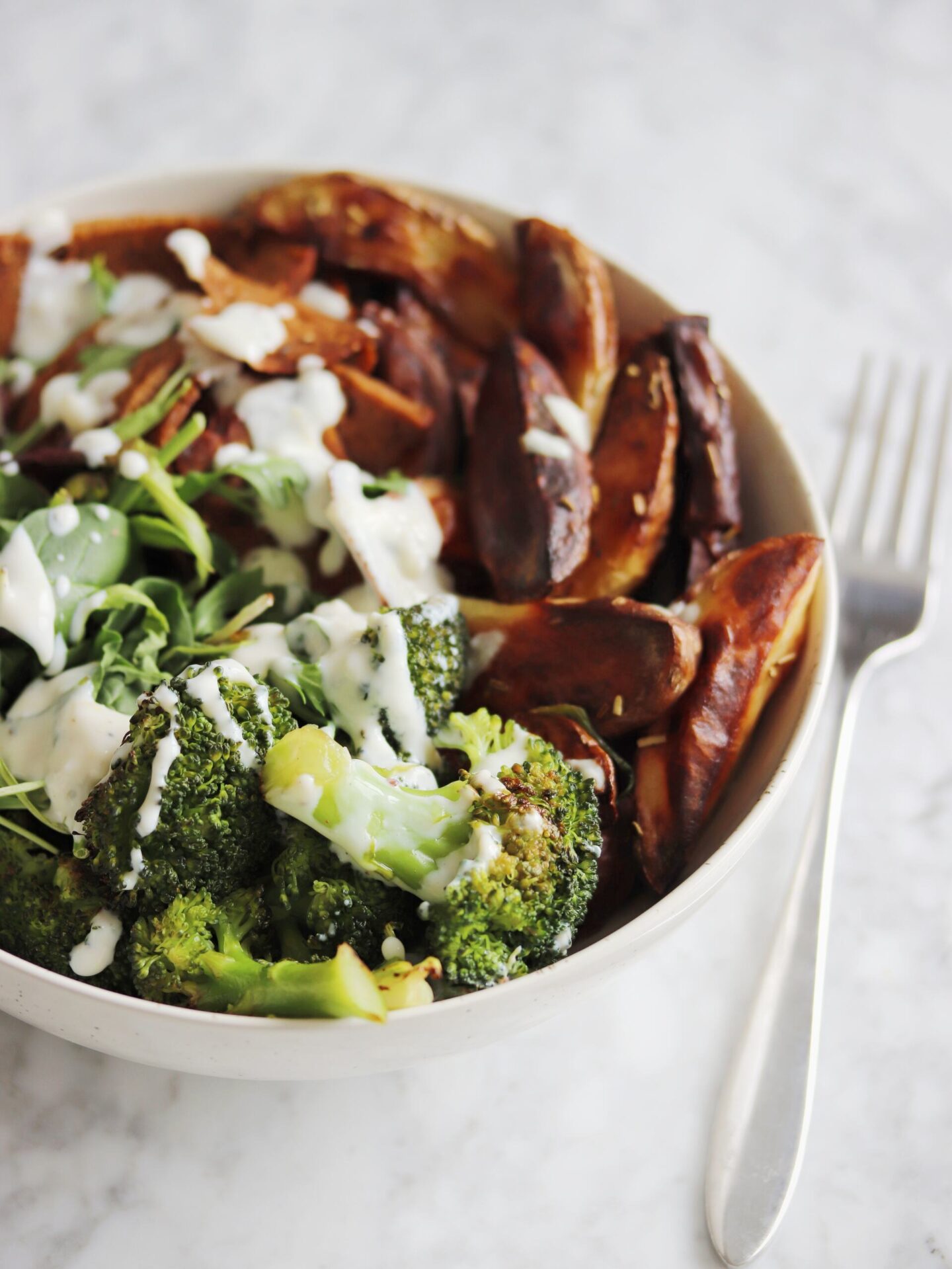 Here's a quick lunch I whipped together with some left overs and pan fried seitan.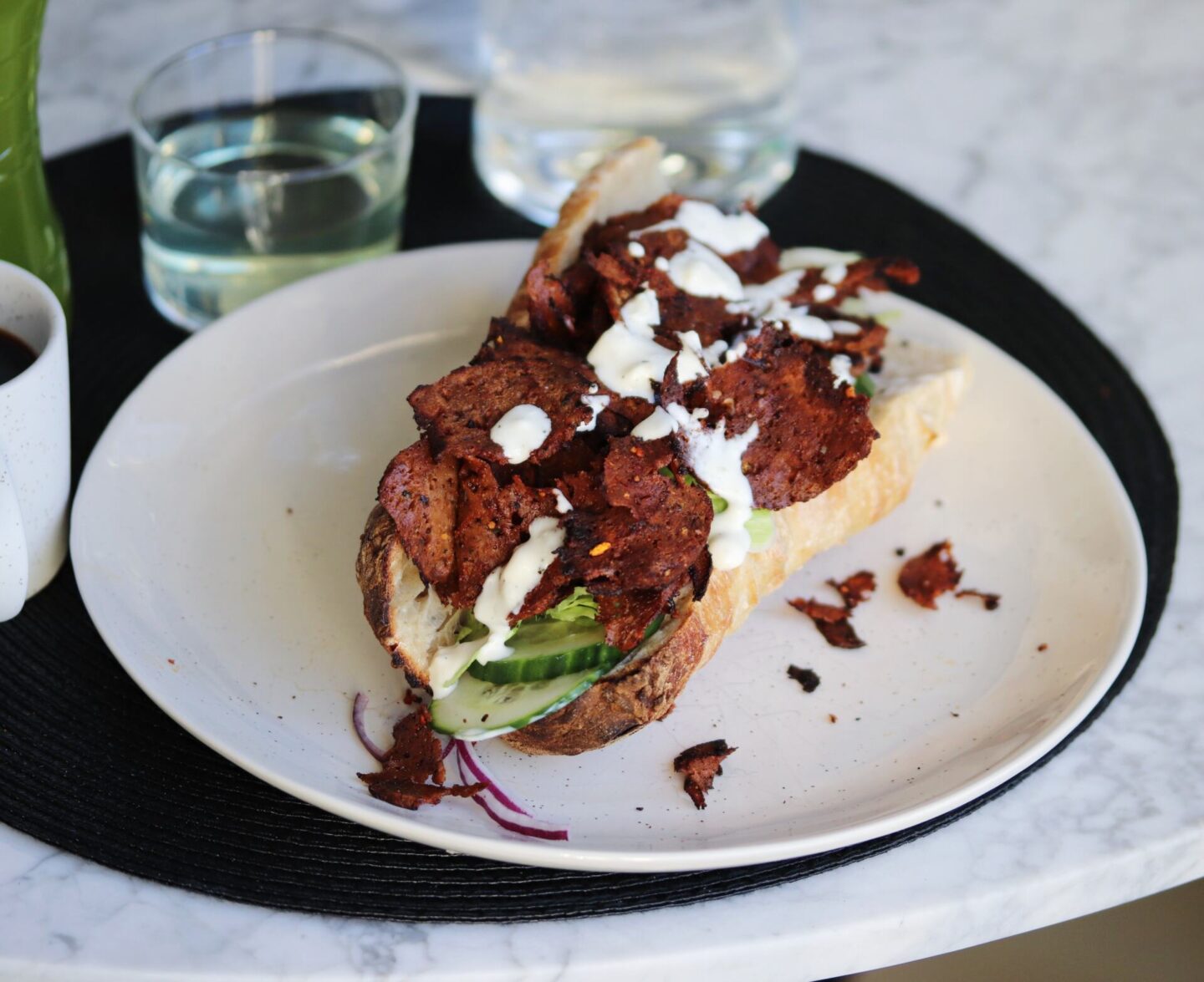 Homemade sourdough baguette filled with classic kebab veggies, seitan kebab, and a light garlic and lemon yoghurt sauce. Perfect breakfast to get your day going!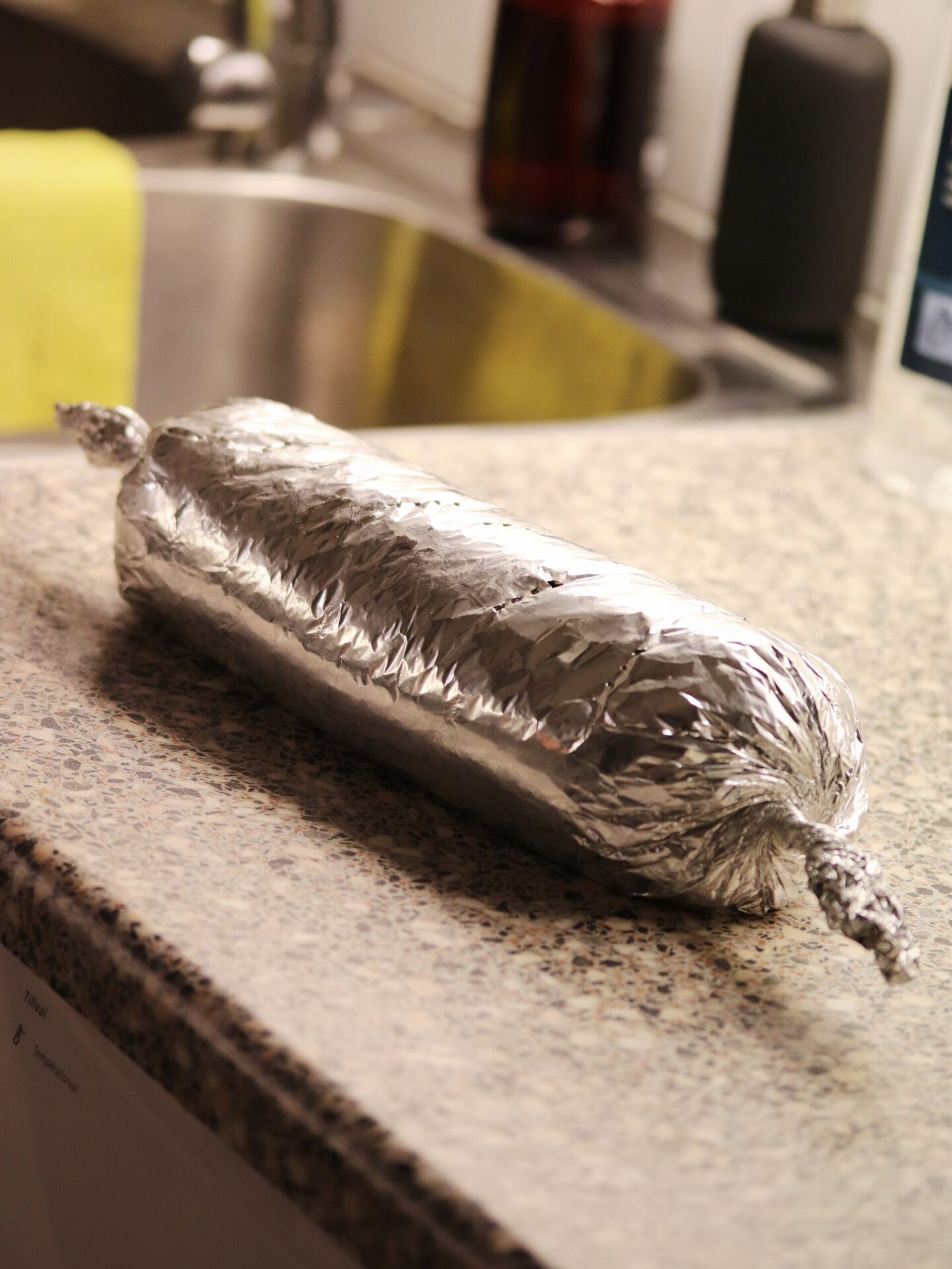 This is how your log should look like before baking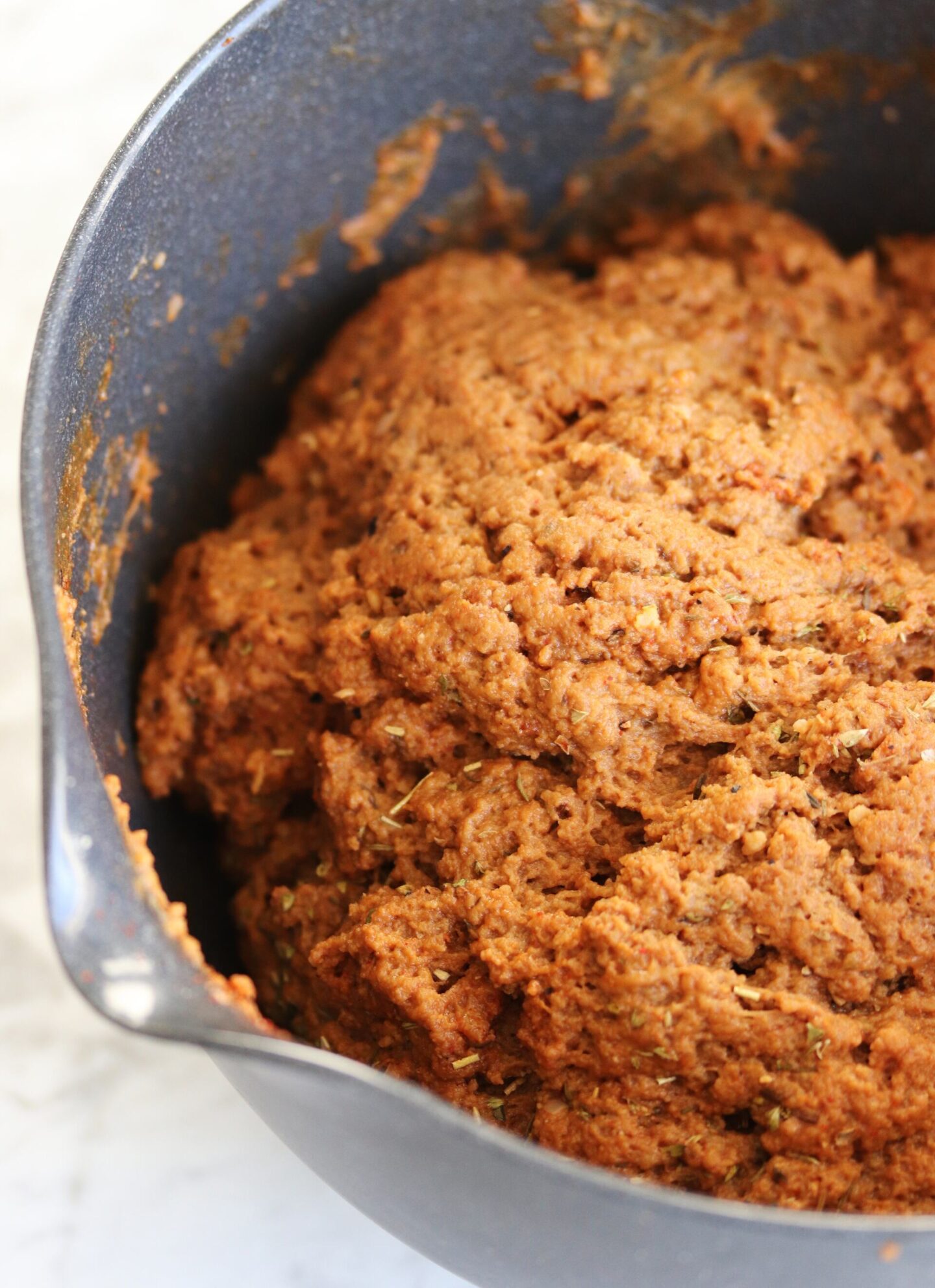 This is the texture the dough has before baking. Filled with all the spices and delicousness!
Print
Simple Homemade Vegan Seitan – Perfect for Shavings
It's afforable, cheaper than any meat substitute I've encountered, nutitious, has 31g of protein per 100g (the only reason why I included the nutitional values), and most importantly delicious! Not to forget, super easy to meal prep and keep in the fridge ready to be sliced up eaten cold or warm. Perfect for making vegan and protein rich kebab or gyros as well!
Author: Hanna
Yield:

1200g

log

1

x
Diet:

Vegan
500g

/ 17,6 oz vital wheat gluten

20g

/ 0,7 oz nutritional yeast (can probably be omitted)

750g

water / 26,5 oz +

2

stock cubes of chocie

2 tbsp

soy sauce

2 tbsp

apple cider vinegar

2 tbsp

neutral oil

1 tbsp

tomato paste

1 tsp

salt

2

cloves minced garlic
All the spices you'd like to the taste, for example thyme, rosemary, black pepper, oregano, smoked paprika, dijon mustard, miso paste, chilli paste, and such
Instructions
Preheat the oven to 175°C/350°F.
Mix the wet and dry in two separate bowls. Add the wet to the dry and mix until combined. Knead only for a few minutes till it feels a little bit more bouncy.
Transfer the dough to a piece of aluminium foil and try to shape in to a log. Wrap VERY tightly with the help of two to three sheets of aluminium foil. Twist the ends, see picture above for indication of how the wrapped log should look. Use a fork and pierce a few holes in the wrap to help the moisture to escape when baking.
Bake for 1,5 hours till it's firm. Let cool completely before opening, preferably over night.
For making kebab or gyros shavings, use a sharp knife cute into thin shavings. Heat a pan with a little bit of oil, add the seitan, and prefered kebab/gyros spices. Fry till warm, it can get dry if you cook it for too long. Serve and enjoy with prefered kebab/gyros toppings and sides.
Nutrition
Serving Size:

100g

Calories:

180

Fat:

3

Carbohydrates:

7

Protein:

31
Keywords: vegan kebab, vegan gyros, seitan, homemade seitan, vegan protein, healthy, easy