During summer, there's two things Swedes are completely obsessed with. Those two things are strawberries and new potatoes. Both's season is very short and the volume is rather limited. Any sane Swede as well will tell you that there are not better strawberries than Swedish since they're the juiciest, freshest, sweetest, and basically best in all ways. You probably think the same about your country's most loved produce. Anyhow, since Swedish strawberries and strawberries in general are basically sacred to me, I've always thought using them in baking and heating them up is such a waste. However, all the beautiful pictures on Instagram of different baking bloggers, mostly American, making beautiful treats with strawberries made me give it a try. Oh my, I'm so glad that I gave it a shot.
The filling in these crumble bars is like your childhood's best strawberry jam, and it caramelises around the edges in the most wonderful way. YUM! One of the reasons why I absolutely adore crumble bars in general is because they're just as delicious as a regular crumble/crisp, but way easier to transport and eat. That's why I have some many crumble bar recipe like this with Blueberries, this one with Pear & Salted Caramel, and this one with Raspberries & Peanut Butter. What more to love about these is that they're, as basically all my recipes, suitable for everyone regardless of allergy or preference since they're vegan, gluten free, on the wholesome side, and gosh darn delicious.
Anyhow, I have now become a new person, a not anti-baked-strawberry one to be exact. Regardless if you love anything with strawberries or are not sure about baked strawberries, you must try these as they too delicious to miss out on. Enjoy!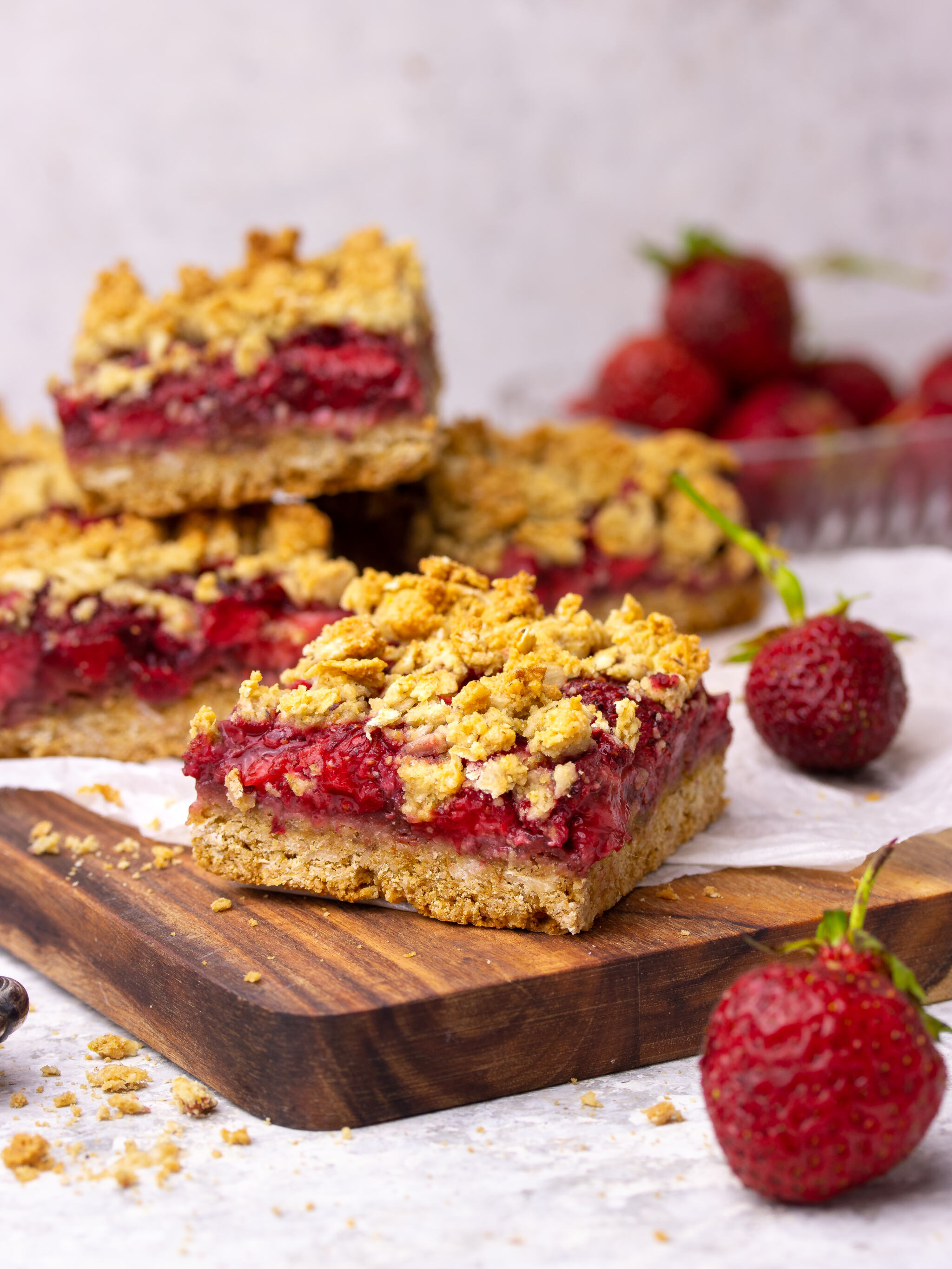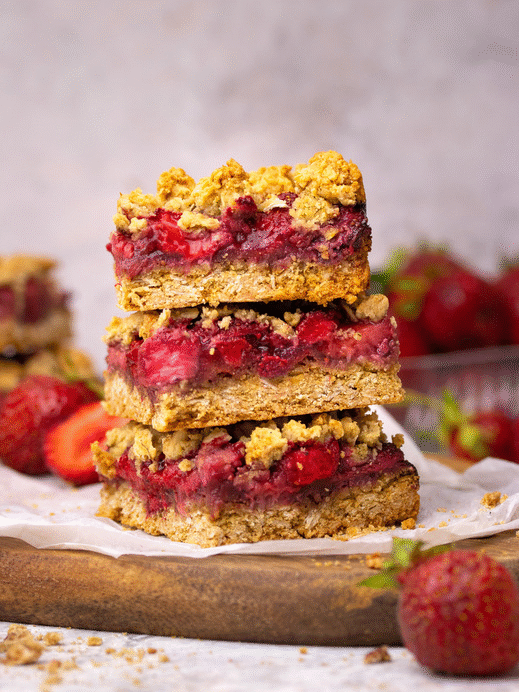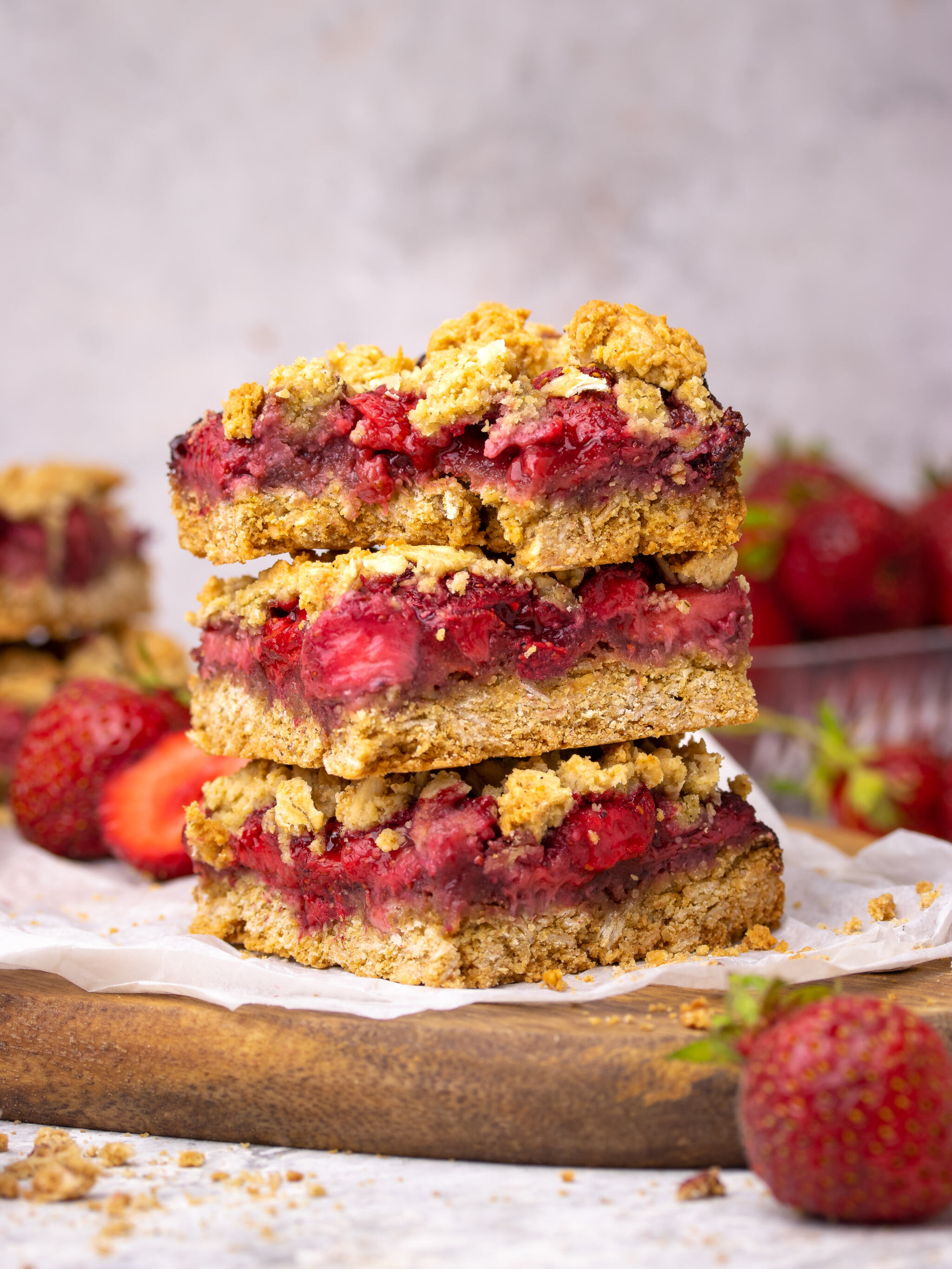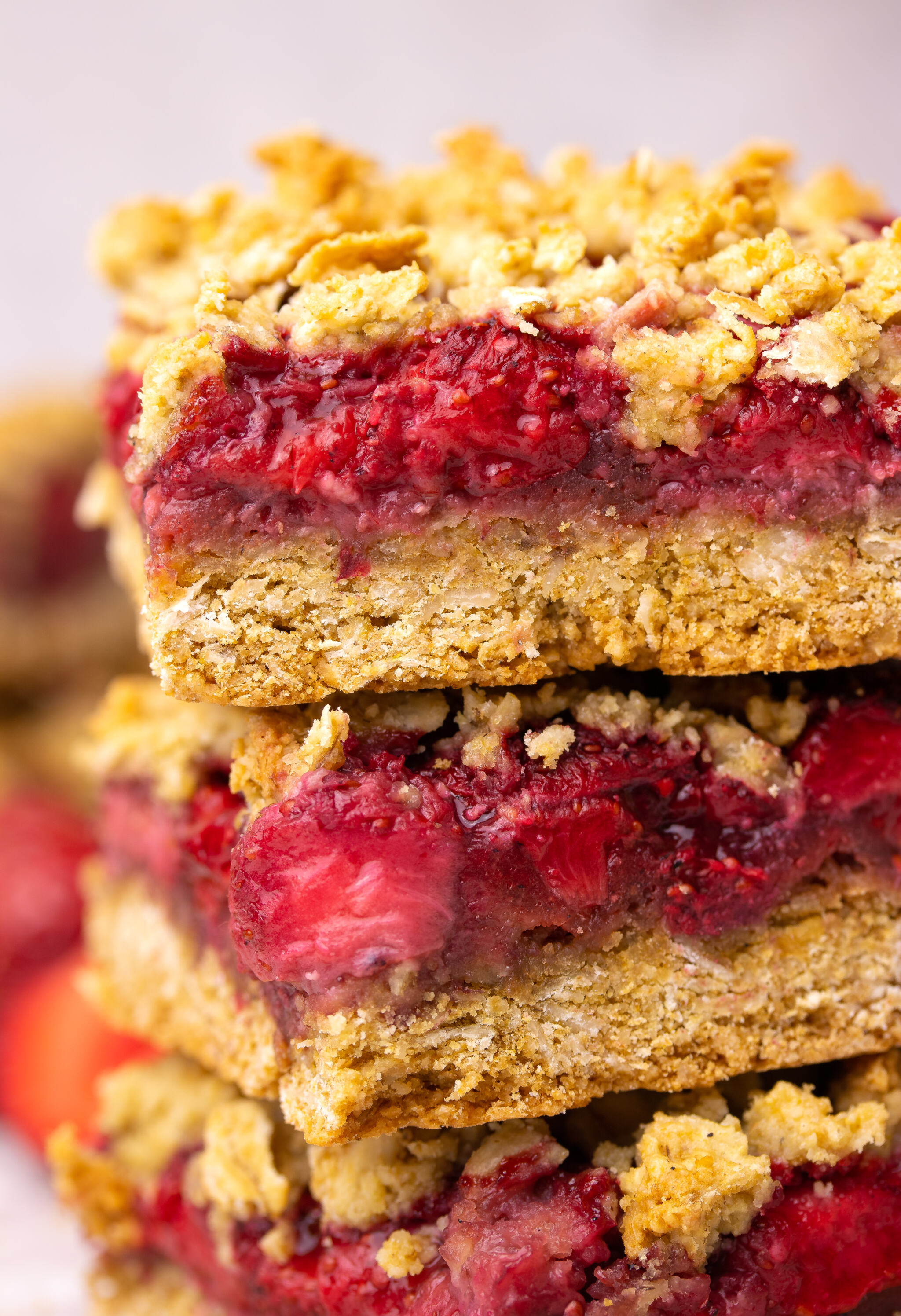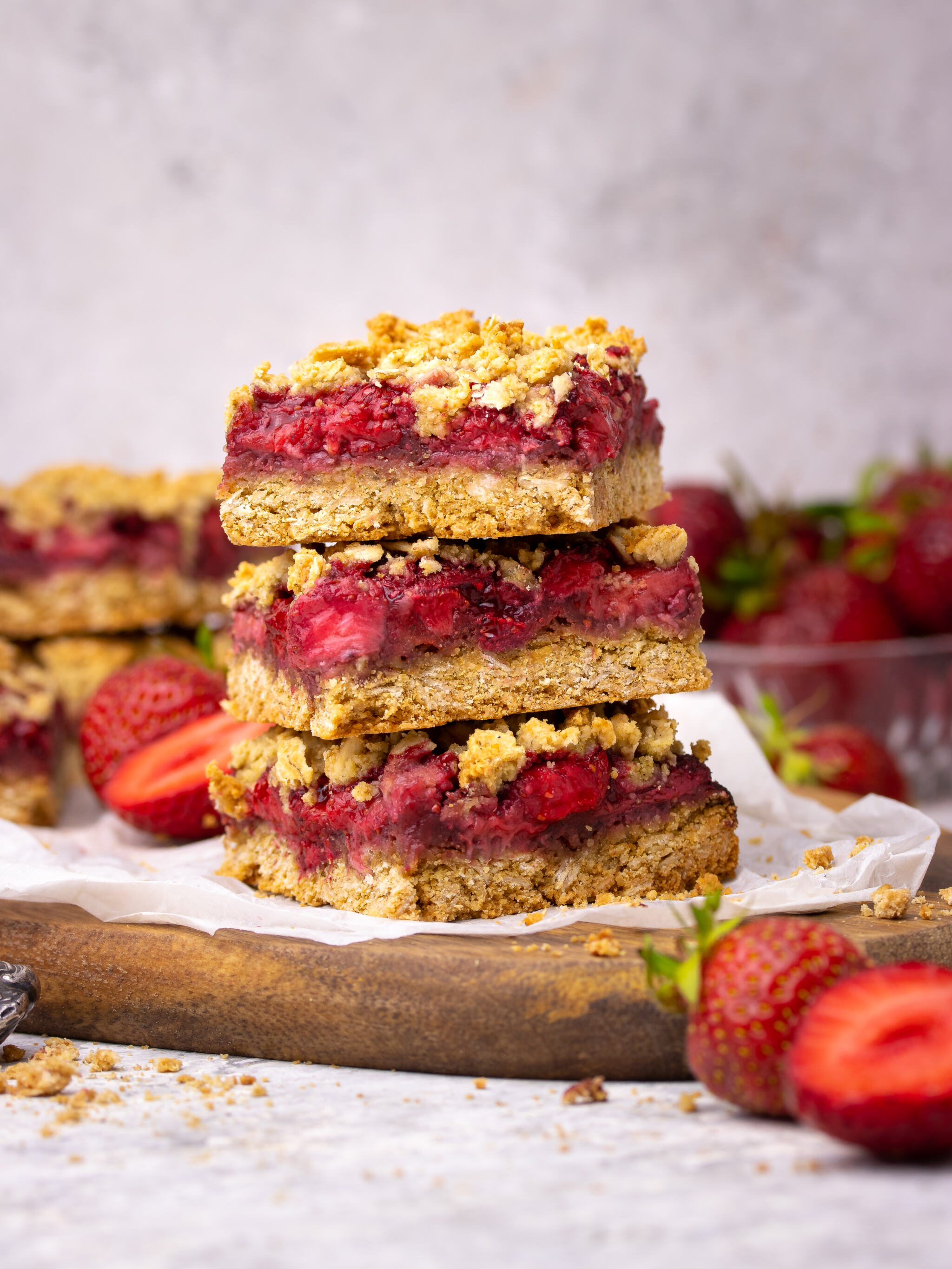 Strawberry Crumble Bars
Strawberry Crumble in a form that is not only more delicious but easier to bring with you and eat.
Author: Hanna
Yield:

9

hearty bars

1

x
Bottom and topping
100

g / 3,5 oz rolled oats

125

g / 4,4 oz flour (I used 35g almond- and

90g

 oat flour)

3/4 tsp

 baking soda
A pinch of salt

4 tbsp

 cashew butter (or other nut butter)

6 tbsp

 liquid sweetener of choice

1/2 tsp

 vanilla essence
Filling
350g

/ 12,5 oz fresh strawberries, quarted or halved*

2 tbsp

coconut sugar or a couple of well mashed dates

1 tbsp

cornstarch
Optional

1 tsp

ground cardamom
Instructions
Preheat the oven to 150ºC / 300ºF and prepare a square pan by greasing and lining it with parchment paper. My pan was 18×18 cm / 7×7 inches.
In a medium bowl, put the rolled oats, flour, baking soda, and salt. Using a large wooden spoon or such, give the dry ingredients a mix.
In a separate small bowl, combine the nut butter, liquid sweetener, and vanilla. Add the mixture to the dry, and using your hands crumble together.
Transfer 2/3 of the crumble to the prepared pan. Press and spread out the crumble evenly to all corner. Prick it all over with a fork and bake for 20 minutes or until golden.
For the filling, place the strawberries, corn starch, and coconut sugar and stir together until the strawberries are fully coated. Transfer and evenly scatter the filling onto the baked bottom. Top with the remaining crumble and bake for another 35-40 minutes. Take out, let cool and set slightly, cut up and enjoy.
Notes
*If you want to use frozen strawberries I recommend following this recipe for the filling
Keywords: Strawberry Crumble bars, crisp, vegan, gluten free, healthy, jordgubbspaj