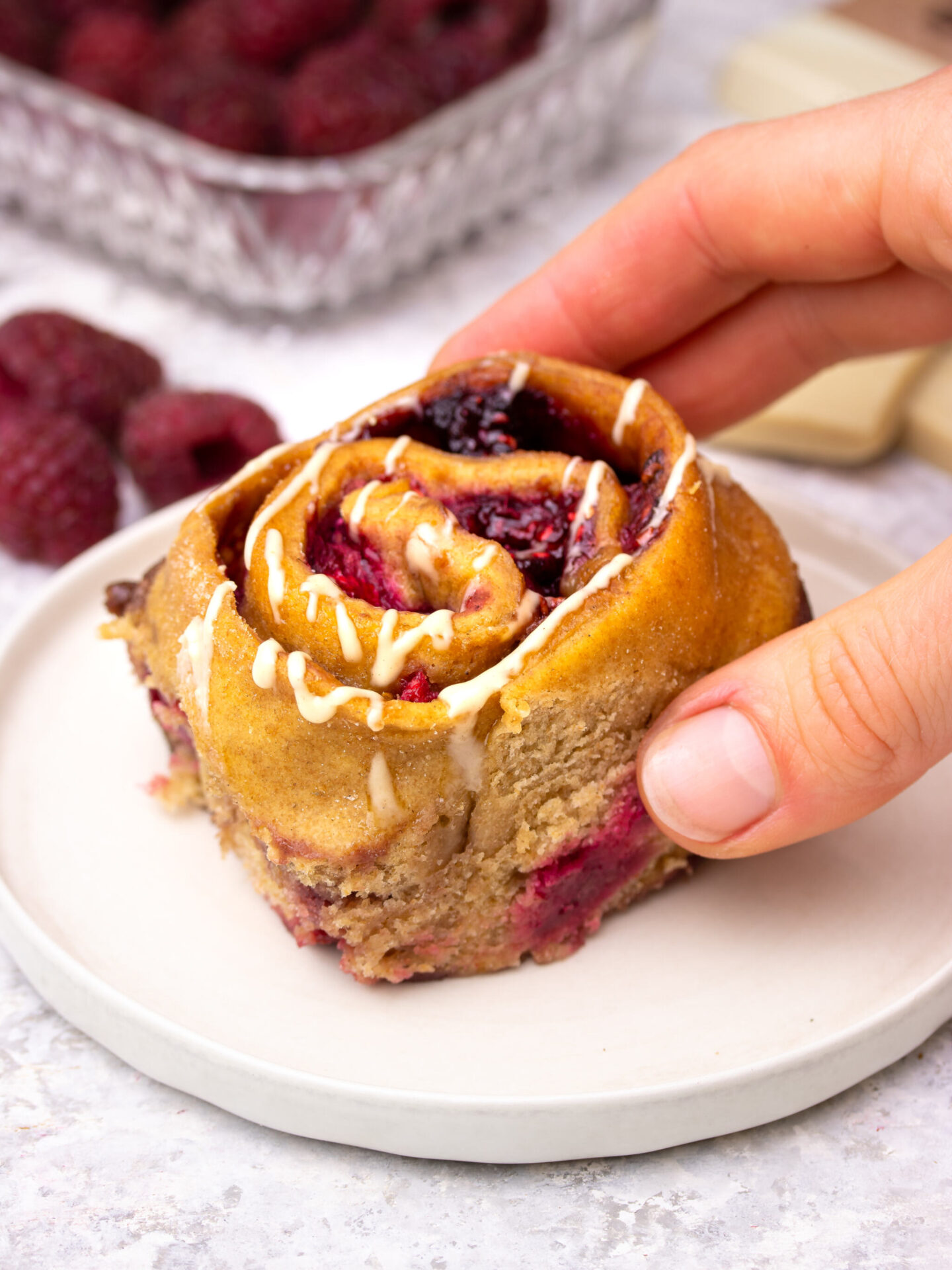 Let me tell you, these rolls are filled to the absolute rim with spectacular flavour. Similar to when you take a bite of a perfectly ripe fruit, these burst out in the most delicious and non-messy way. We all know that raspberries on their own can be pretty sour and too tart, but in combination with some beautiful white chocolate to balance out the sourness they are perfect.
Honestly though, I have never been a big fan of any chocolate under 60% cocoa on its own. However, I love combining sweeter chocolates with fruits and berries to balance out the flavour. Therefore, I couldn't be happier to say that I created this recipe in collaboration with iChoc. I reckon many of you have seen their products before since they're readily available at larger supermarkets all around Europe. As mentioned, I don't really like plain white chocolate but I must admit when shooting the pictures for this recipe I couldn't help myself than to nibble on some of this chocolate. As you can see there are small black dots in their White Vanilla chocolate and that's because of the vanilla bean, which also is an indication of great quality.
Moving on to the recipe, I find these cuties to be perfect for literally any occasion. They're made with good wholesome ingredients so you can easily have this as a super quick breakfast or snack for some good fuel and energy or when your sweet tooth hits you. I haven't tried it myself, but I can imagine them being great to store in the freezer. Then you can just microwave them for a few seconds and voilà, heaven within seconds. What's also great is that you can make these all year around, even though they feel extra seasonal around summer time, since I made them with frozen raspberries which is both more inexpensive and available all year around. Hooray! I think I've rambled enough now and will let the mouth-watering pictures below take over from here. Enjoy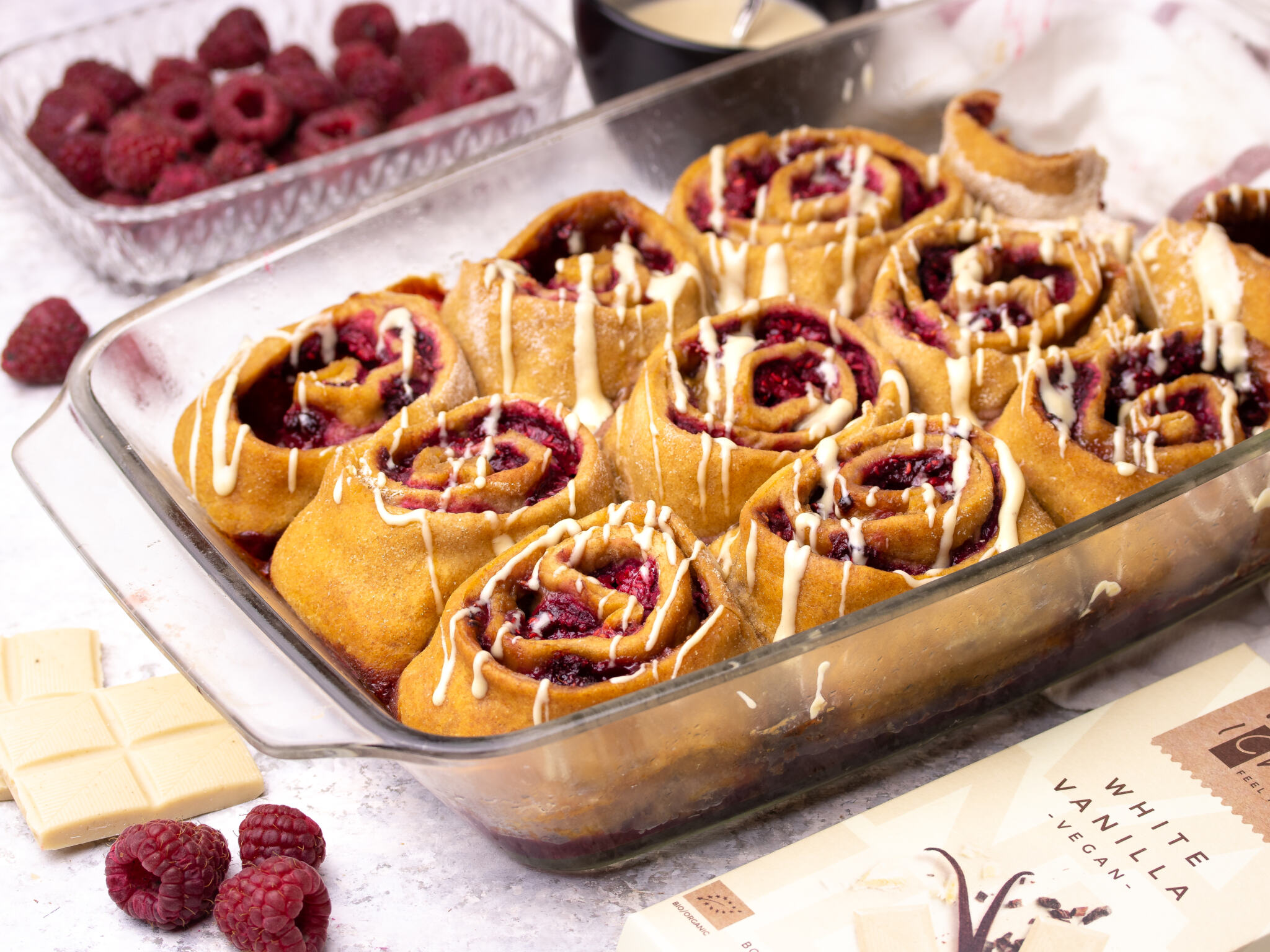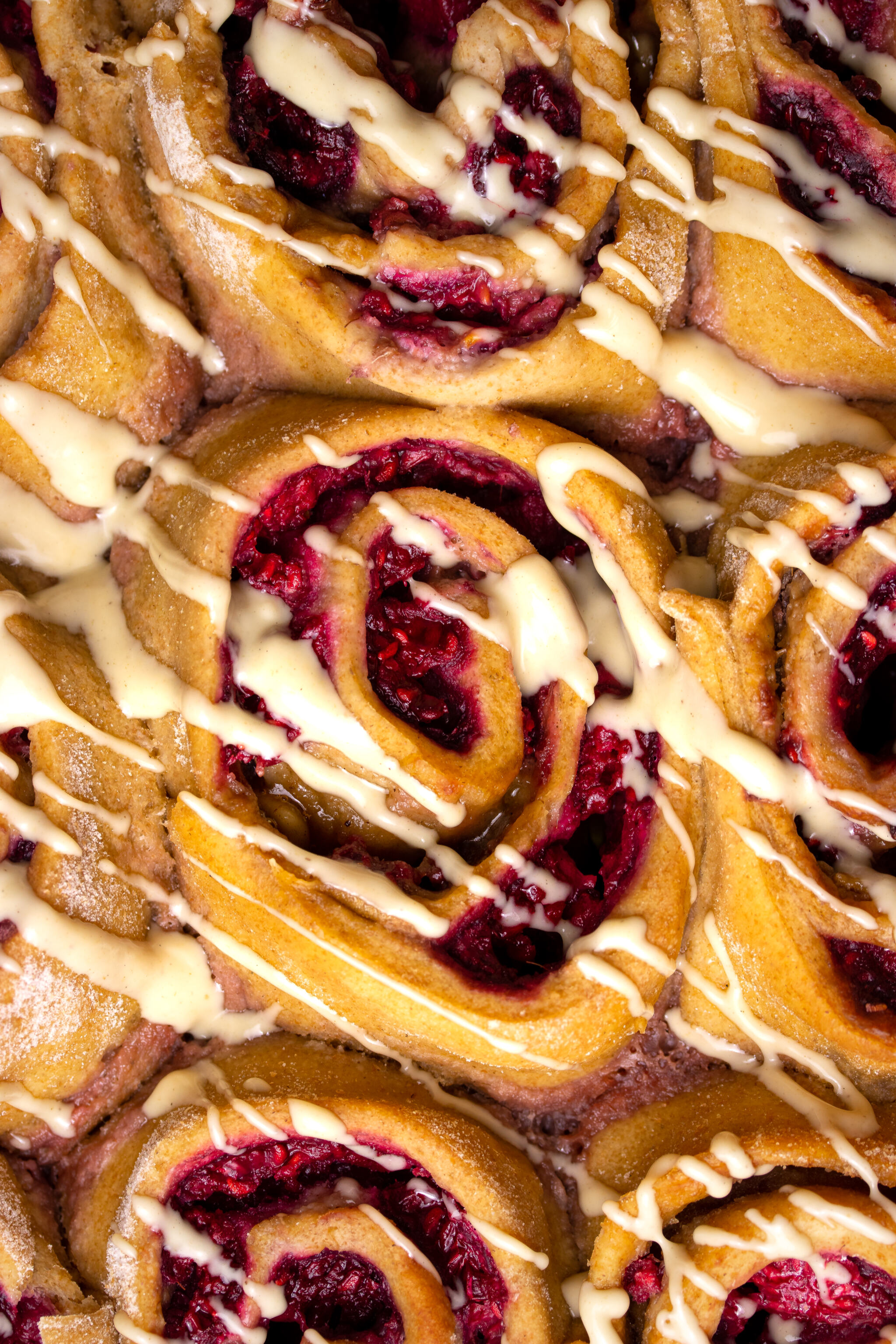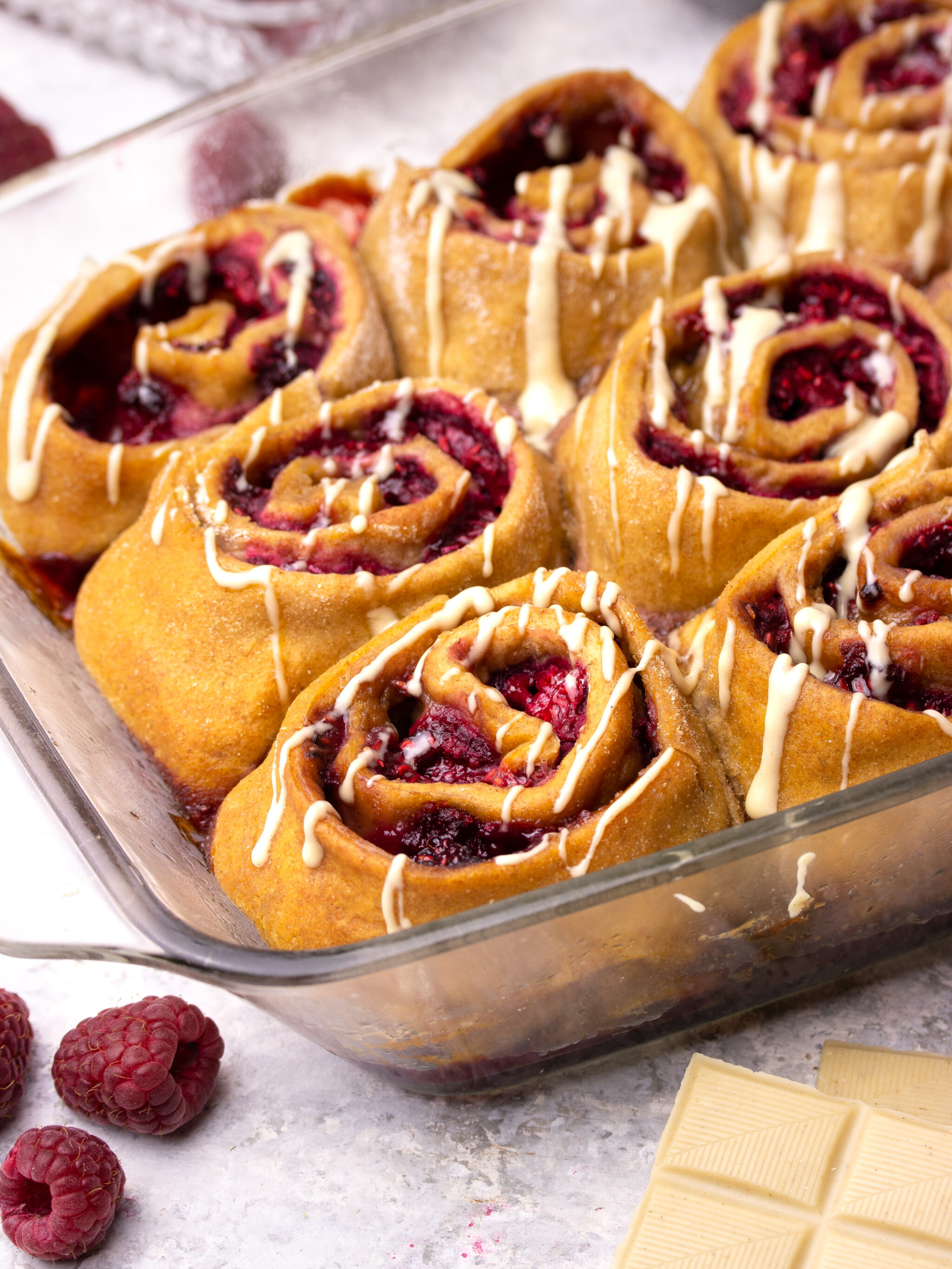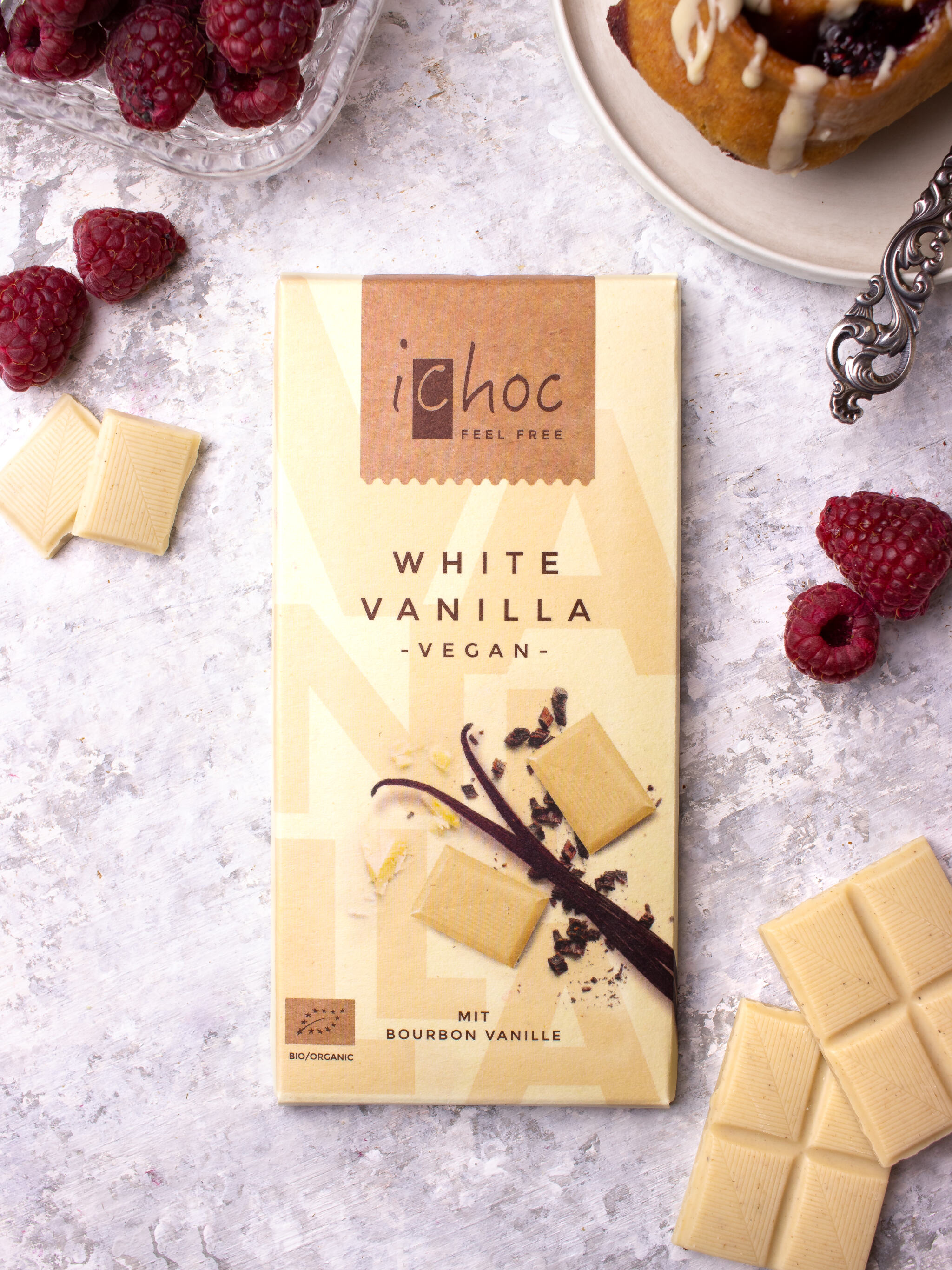 I can not be the only one who adores beautiful packaging? Seriously, this chocolate is so athletically pleasing it's almost ridiculous.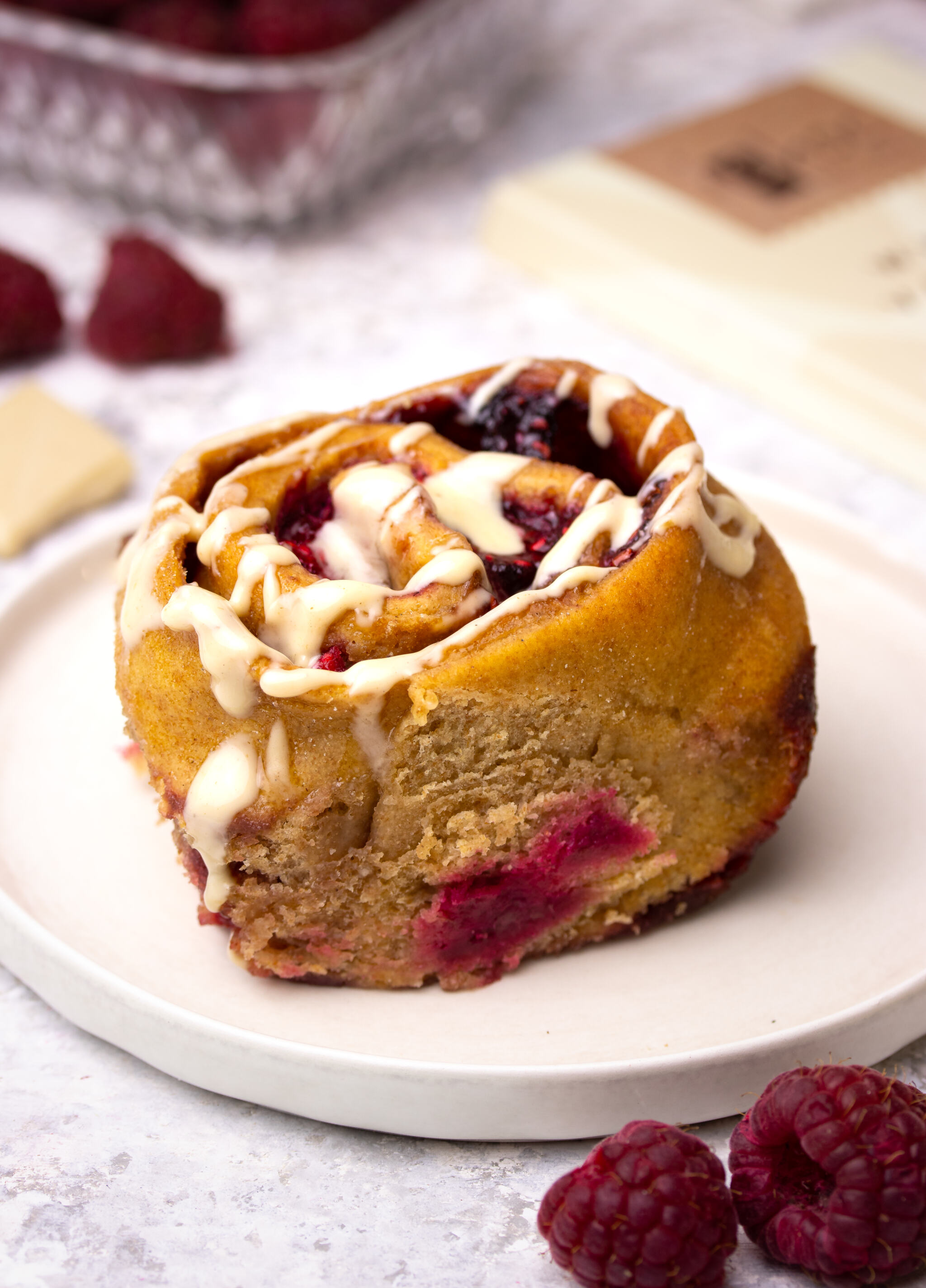 Helloooo gorgeous filling!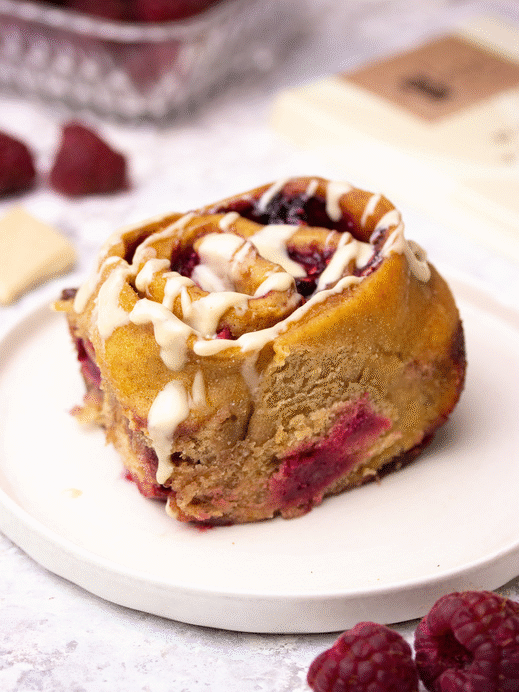 Here's some behind the scenes while making the buns. The pictures may now be as pretty as my other ones, but I hope they help you get an idea of what to do while making them.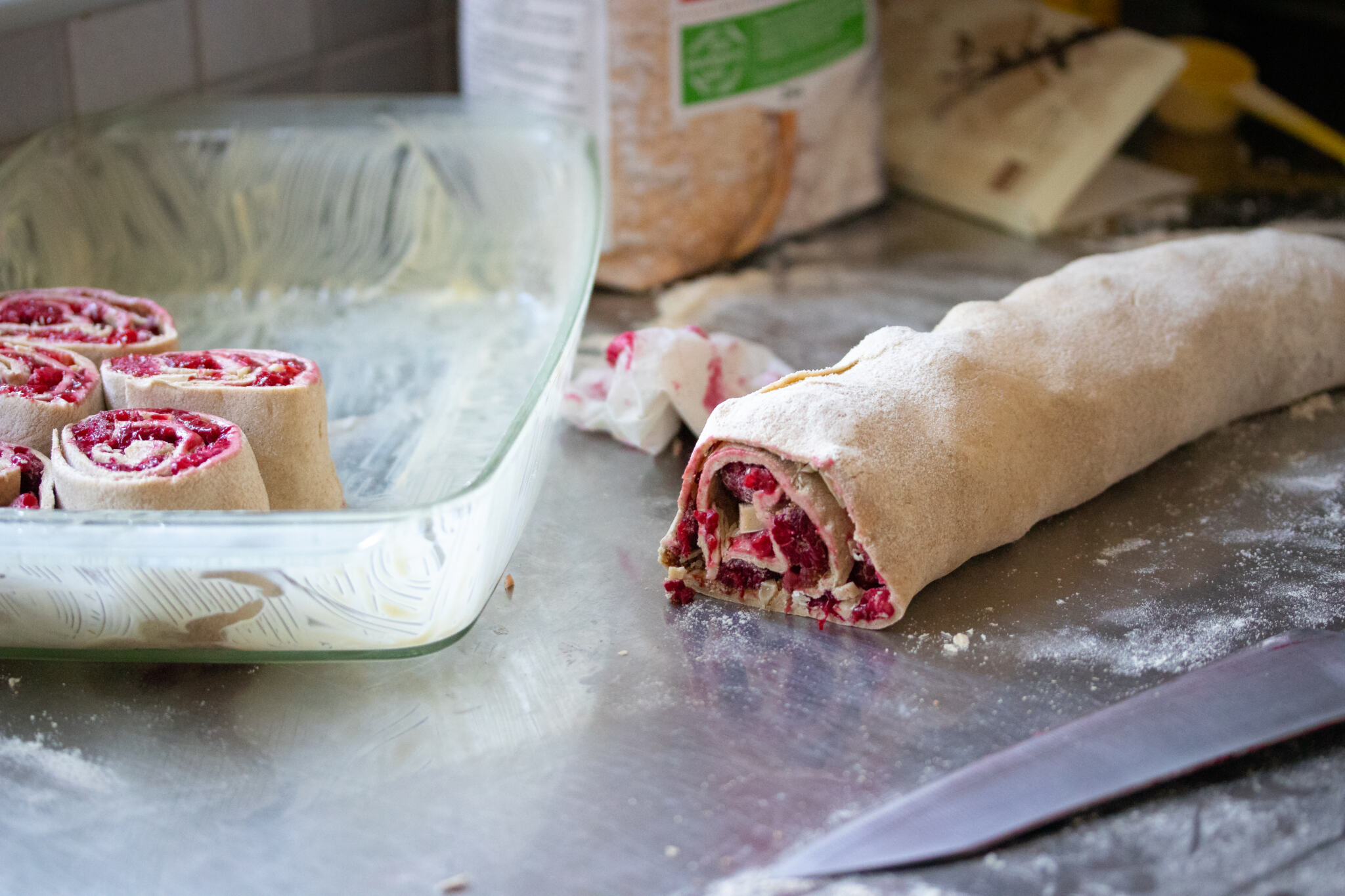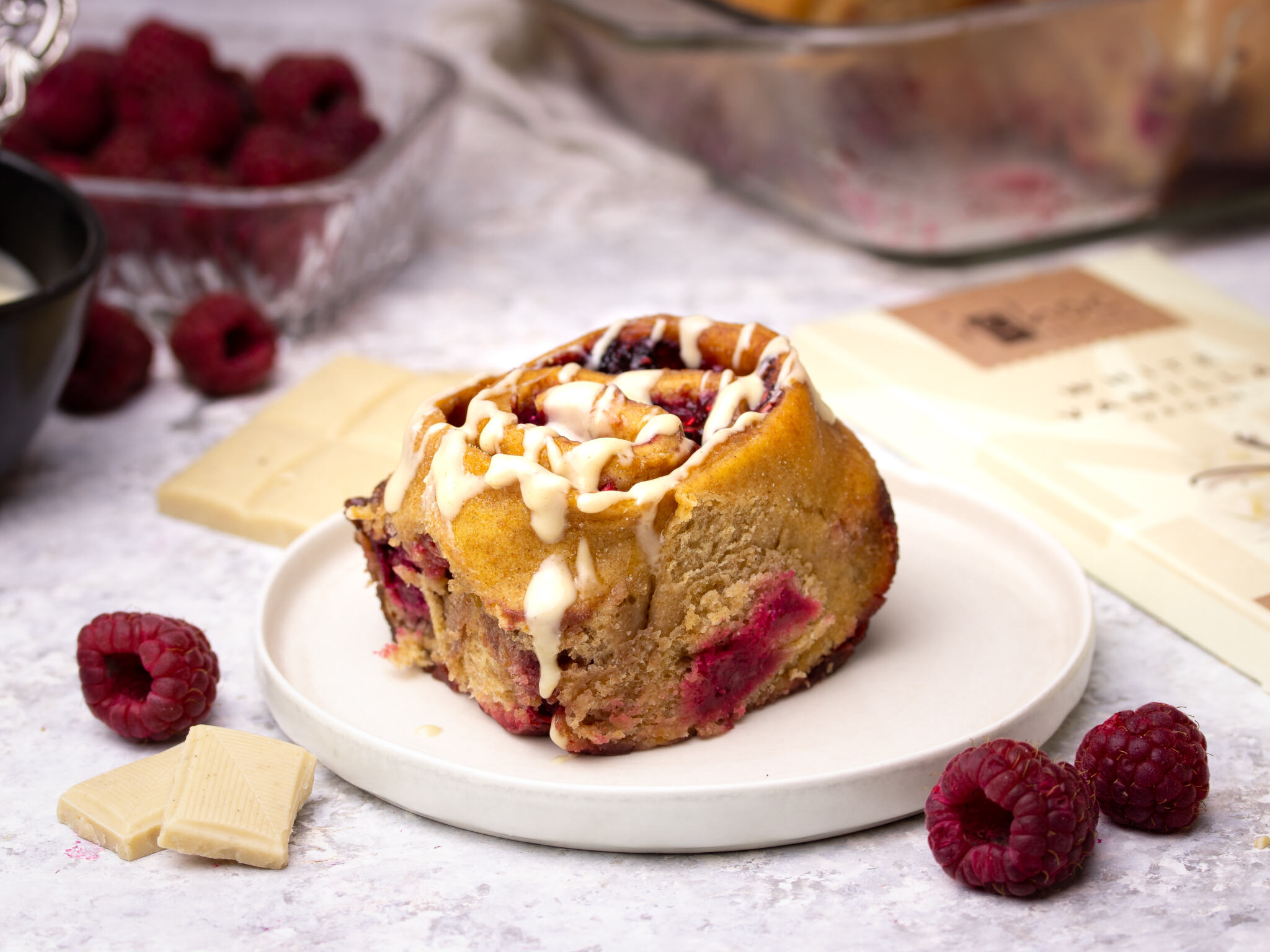 Print
Raspberry & White Chocolate Sweet Rolls
Fluffy, hearty buns filled with joy and delicious soft baked raspberries combined with vegan white chocolate to create a beautiful balance of flavours.
Dough
2

 dl / 1 cup minus 3 tbsp milk of your choice

15

g / 1/2 oz melted margarine or neutral oil

3 tbsp

coconut sugar or other granulated sweetener

25

g / 0,9 oz fresh yeast, crumbled, or

8

g / 0,3 oz dried yeast*
Approximately

250g

/ 8,8 oz whole grain flour**
Filling & topping
400g

/ 14 oz frozen raspberries

3

–

5

tbsp coconut sugar or other granulated sweetener

1

,5 tbsp corn starch

80g

rouhgly chopped iChoc White Vanilla Chocolate + around 50g melted for drizzling
Instructions
Prepare and grease a lasagne pan or something similar in size.
Start with the dough. In a microwave safe bowl or in a medium sauce pan, combine the milk, oil/margarine and liquid sweetener. Warm in the microwave or on the stove until luke warm.
In a large bowl mix the luke warm liquid and fresh yeast*.
Start mixing in 2 dl / 0,75 cups flour, then continue adding a tablespoon of flour at a time until the dough starts to pull away from the bowl.
Form a ball out of the dough and flour well. Let proof while you prepare the filling.
For the filling put the frozen raspberries, sugar, and cornstarch in a bowl and mix until the raspberries are coated. 
On a well-floured surface (you need more flour than you think, trust me) roll out the dough into a large rectangle, mine was 35 x 45 cm / 14 x 18 inches.
Evenly scatter the filling and chopped chocolate on to the rectangle. Roll into a tight roll and using a sharp knife cut it into 12 even buns.
Transfer the buns to the prepared lasagne pan and let proof under a tea towel for 60-90 minutes. Preheat the oven to 160°C / 320°F. 
Bake for 25-30 minutes or until golden and beautiful. Drizzle with a hearty amount of melted vanilla white chocolate, serve, and devour.
Notes
*If you use dried yeast, mix and let it sit and active with the first 2 dl / 0,75 cups of flour for ten minutes before mixing the wet and dry. **As the gluten is a vital part of the bread, I do not and can not recommend using gluten-free flour.
This recipe was created in collaboration with amazing iChoc
Keywords: Sweet rolls, vegan, healthy, whole wheat, raspberry, white chocolate