Gooseberries, krusbär in Swedish, is something I've never baked with before. I've seen it in the supermarket during summer and in the garden of some relatives. Until now I've thought gooseberries are a little bit weird. Their insides are soft and sweet but the skin is very sour. Despite that I decided to create some delicious treat using them since I have decided to embrace the summer season and all its produce. So here we are after a butt ton of research with an amazingly delicious seasonal cake using fabulous gooseberries and a changed attitude towards gooseberries.
So as you probably can guess, you need something sweet to balance out the tart- and sourness of gooseberries. Guess what's sweet and deliciously paired with gooseberries… Coconut, caramel, cardamom! All the c:s! Cardamom is optional but definitely worth seeking out and a must in all Swedish baking. Anyhow, coconut as you know has a beautiful sweetness to it. Coconut in combination with a sweet caramel sauce simply is the perfect element to balance out the flavour of this cake. In Sweden, we would call the topping tosca, which basically is a caramel topping of any kind often combined with slivered almonds or desiccated coconut.
Anyway, I must say that I'm mighty proud of this cake. It's fluffy, moist, and the flavour combination is spot on. Not to forget, this cake is for everyone as long as you like delicious treats as it's vegan, gluten free, and pretty healthy as well. I don't know about you, but I personally love challenging myself and coming up with new ideas, and this cake truly was a success! Lastly, I hope that you give this cake a go regardless if you have a gooseberry bush in your garden or can find it in your local supermarket or farmer's market. Enjoy!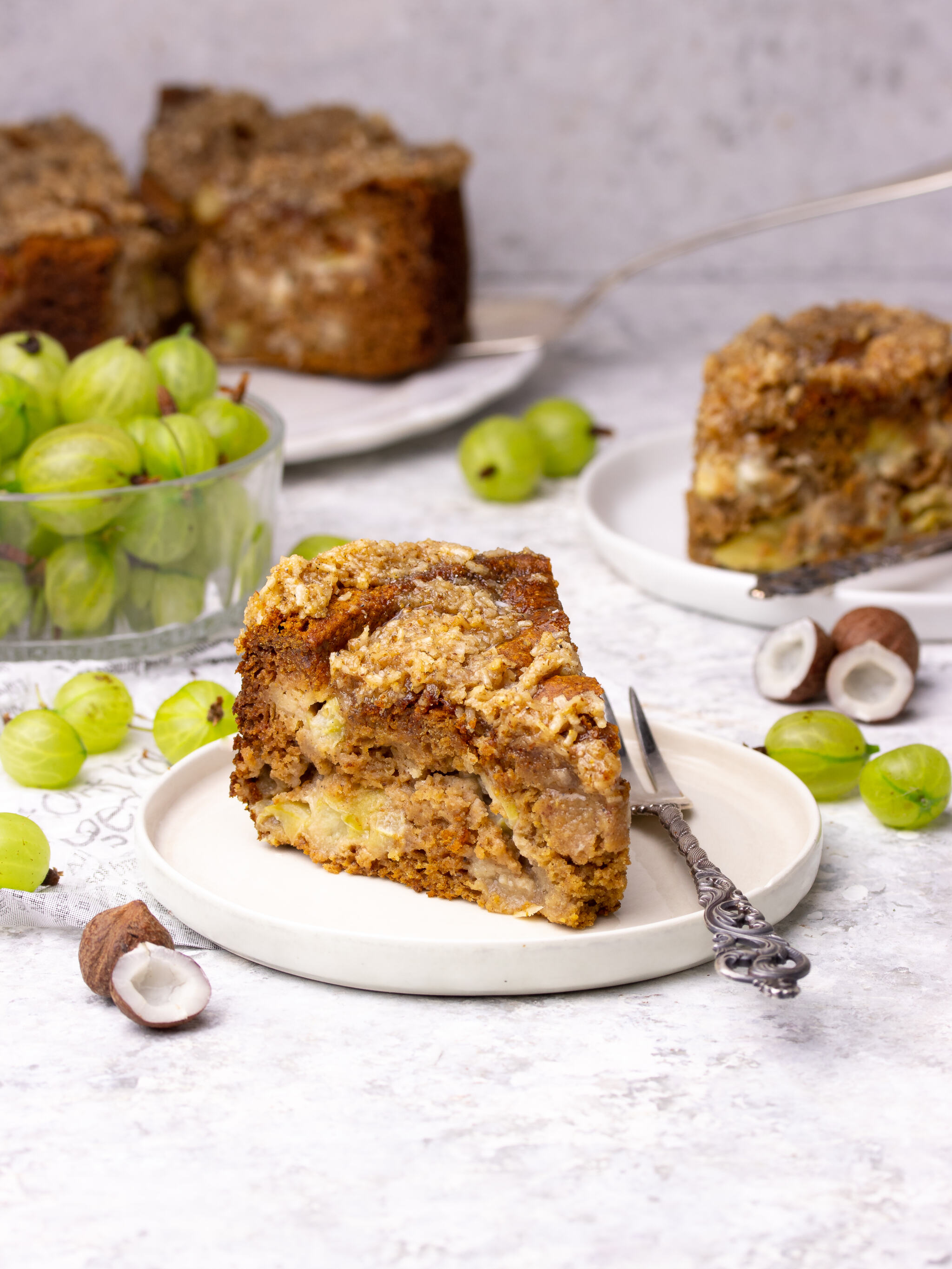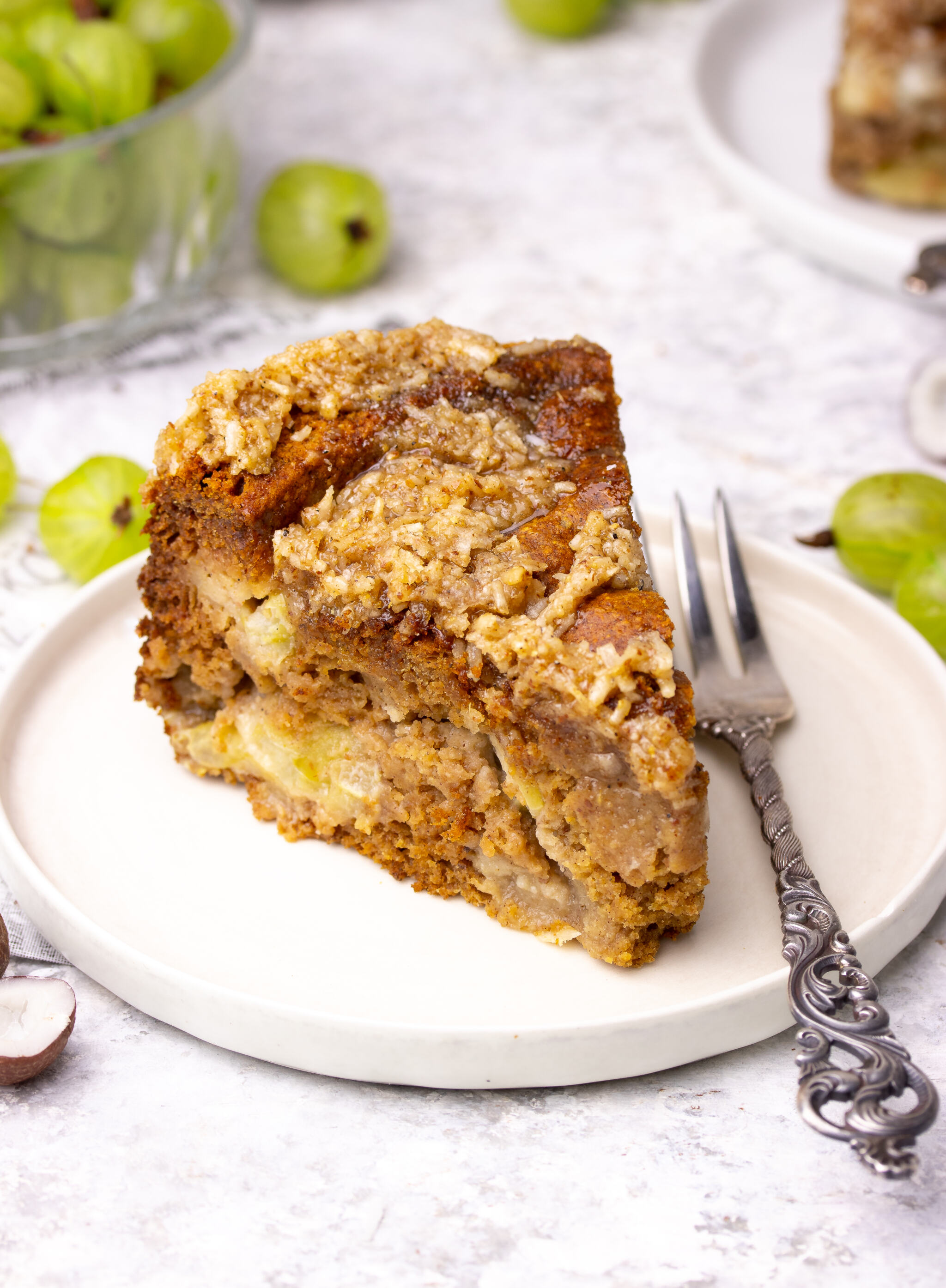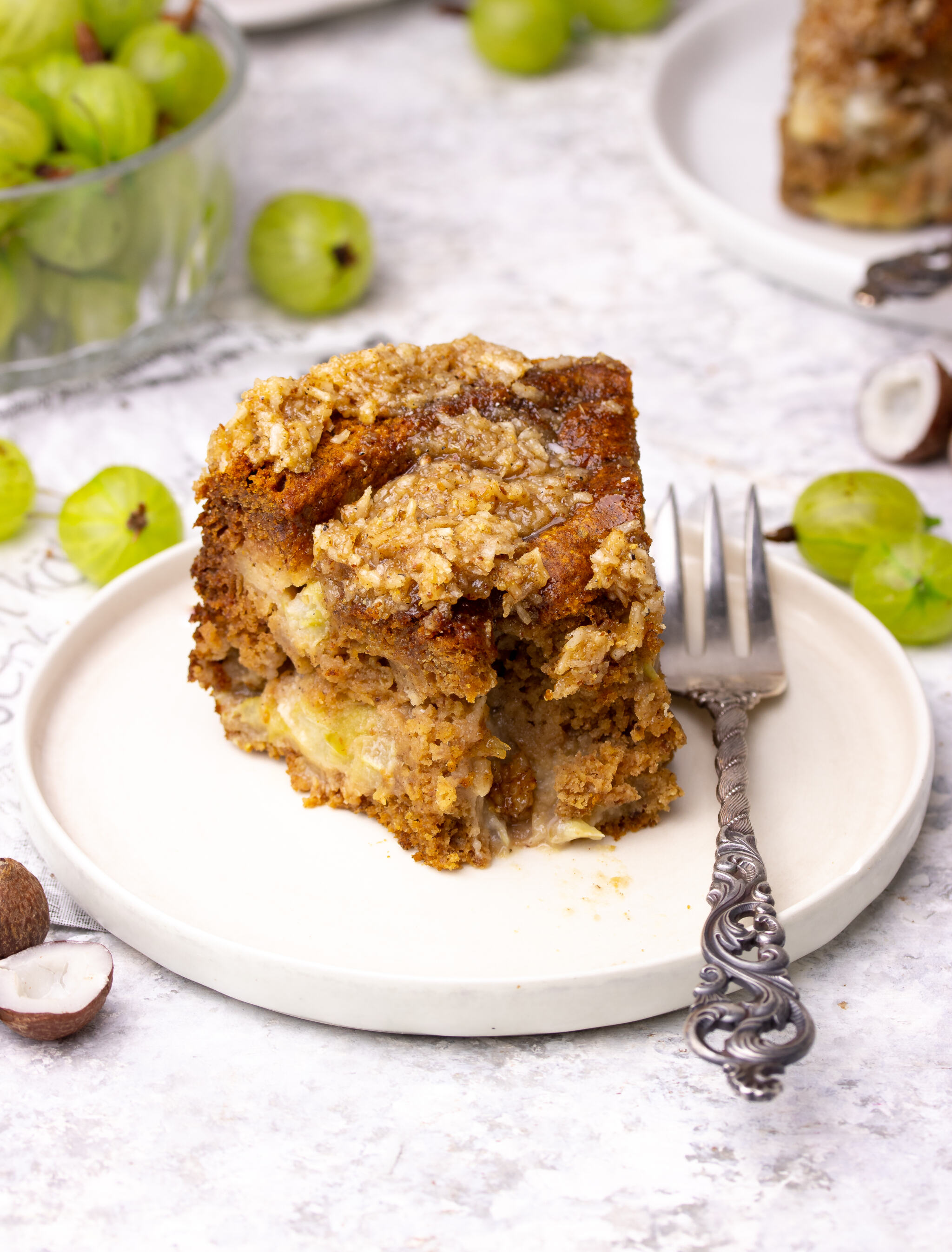 Print
Gooseberry Cake with Coconut & Caramel
Gooseberries have a wonderful soft &sweet inside and a sour skin. Therefore, combining gooseberries with sweet coconut, caramel, and cardamom really is a winning combination especially in a fluffy delicious cake.
Author: Hanna
Yield:

8

–

10

servings

1

x
100

g / 3,5 oz oat flour

90

g / 3,2 oz buckwheat flour

1

,5 tbsp milled flax or chia seeds

2

,25 tsp baking powder

1 tbsp

baking soda
A hearty pinch of salt

300

ml / 1 cup plus 3 tbsp milk of choice

60

g / 2,1 oz coconut sugar or other granulated sweetener

100

g / 3,5 oz pitted dates (I peeled mine for looks)

60

g / 2,1 oz nut or seed butter

1 tbsp

white balsamic vinegar*

1 tsp

 vanilla extract
Around

250g

/ 8,8 oz topped and tailed gooseberries
Coconut Caramel Topping
4 tbsp

liquid sweetener

2 tbsp

nut or seed butter
A hearty pinch of salt

1/2

–

1

tbsp ground cardamom (optional)

1

dl / heaping 1/3 cup desiccated coconut
Instructions
Preheat the oven to 150ºC / 300ºF, prepare and grease a baking pan. My pan had a diameter of 18cm / 7 inches which yielded a thick and nice cake. If you use a bigger pan you can bake the cake at 160ºC / 320ºF and adjust the baking time.
In a large bowl, mix the oat flour, buckwheat flour, milled flax seeds, baking powder, baking soda, and salt.
In a blender, blend the milk, sugar, dates, nut butter, vinegar, and vanilla smooth.
Do the following steps as quickly as possible. Add the wet to the dry and mix until just combined. Fold in half of the gooseberries.
Transfer to the cake pan, top with the remaining gooseberries slightly pressing them into the batter, and bake for 25-30 minutes.
While the cake is baking, prepare the coconut caramel topping. In a small bowl, combine the sweetener, nut butter, salt, and cardamom to a smooth caramel. Stir in the coconut.
Once the cake has baked for 25-30 minutes, take it out of the oven. Quickly top with dollops of the coconut caramel (it doesn't spread in the oven) and bake for 10-15 additional minutes or until a toothpick uns clean. Take out, let cool, serve, and enjoy!
Notes
*You can probably use another kind of vinegar, but since I've not tried any other myself I can not promise the same results.
Keywords: Gooseberry cake, vegan, healthy, gluten free, summer dessert