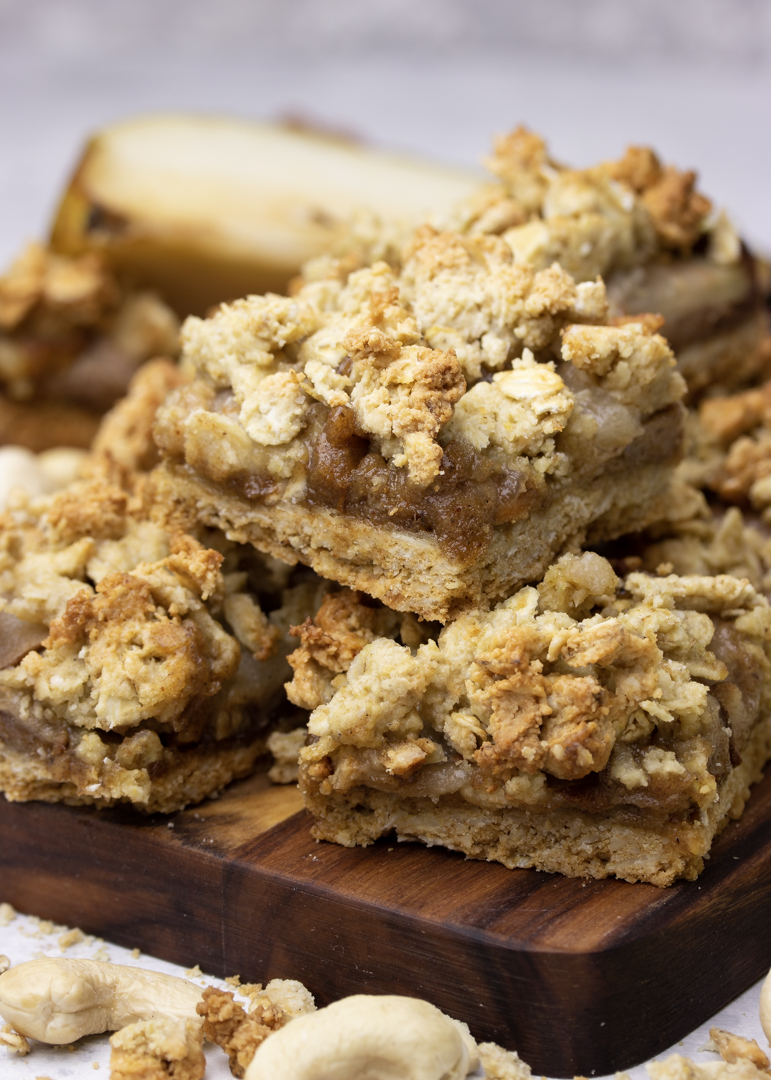 You know a recipe was a success when your mum ask you to make another batch that she can bring to work and your grandmother makes approving sounds when trying it. Honestly, I think that basically says it all, haha. Moving on, I've felt the need to create at minimum one recipe not including chocolate for once as basically 90% of all my recipes include chocolate in some way. Usually, when I eat a dessert or treat without any chocolate or cocoa element, I always feel as if something's missing. (Yes, I'm such a chocoholic. You're talking to someone who can basically eat cocoa powder BY THE SPOON. Yup, that's me.) However, when trying these cuties, that are a spin off of my Peanut Butter & Raspberry Crumble Squares, I did not miss my beloved cocoa. What a shocker! These crumble bars combine the ooey gooey goodness of salted caramel and sweet pear with a perfectly sweet, nutty and just enough crumbly while still keeping together crumble pie. Simply YUM!
Enough said, enjoy!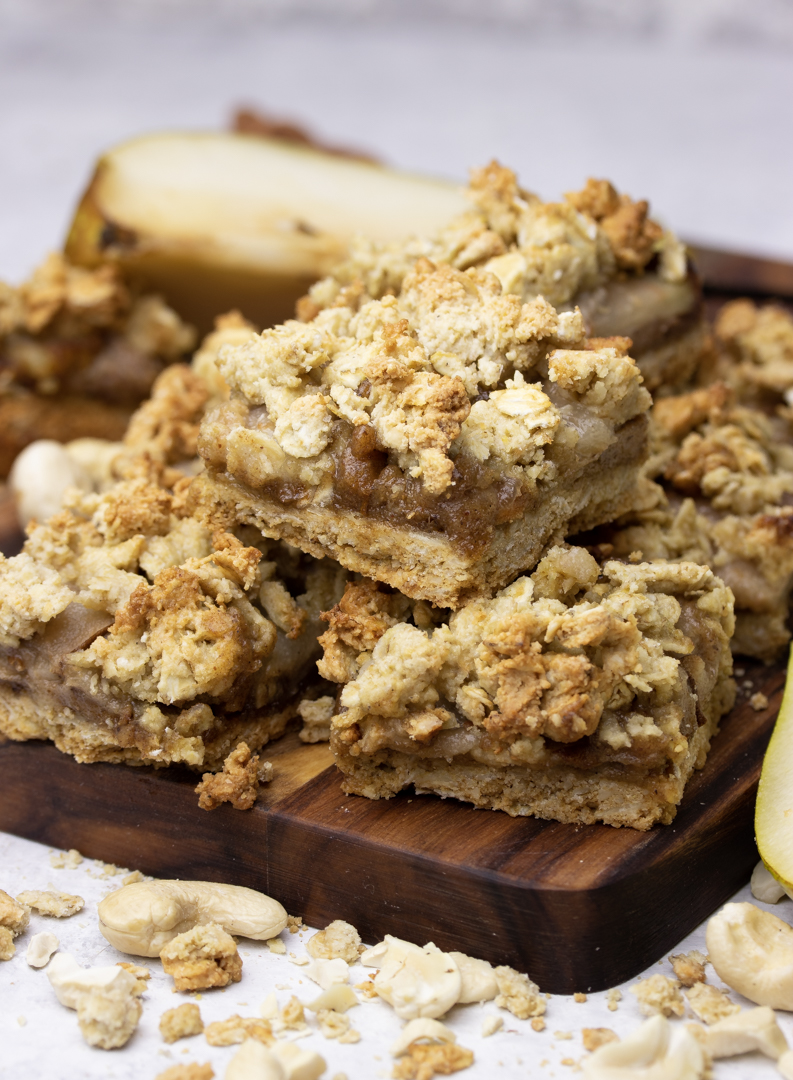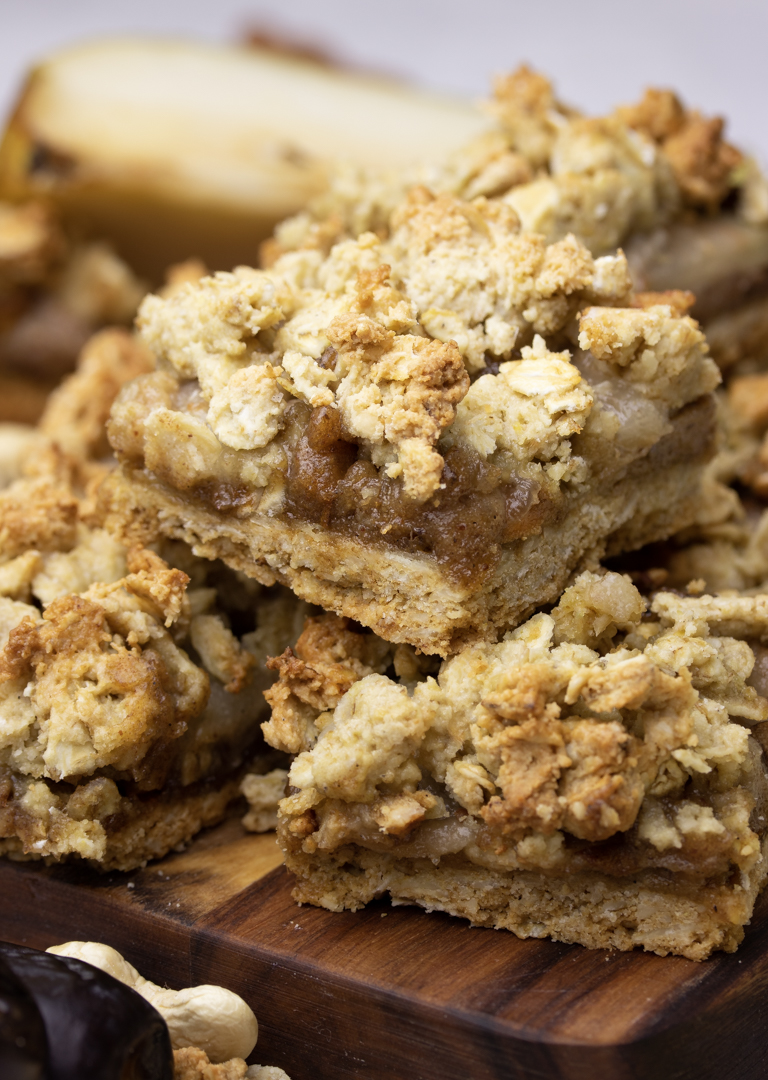 Print
Pear & Salted Caramel Crumble Bars
The combination of sweet pear and salted caramel truly is ground breaking esepcially in the form of a delicious crumble bar.
Pie crust and topping
100g

/ 3,5 oz rolled oats

125g

/ 4,4 oz flour (I used

1/3

almond- and

2/3

oat flour)

3/4 tsp

baking soda
A pinch of salt

4 tbsp

cashew butter (or other nut butter)

6 tbsp

liquid sweetener of choice

1/2 tsp

vanilla essence
Filling
150g

/ 5,3 oz pitted dates

2 tbsp

nut butter of choice

2 tbsp

water

1/2 tsp

vanilla extract
A hearty pinch of salt
Around

1

and a half / 450g / 1 pound's worth of 1 cm / 1/3 inch thick pear slices
Instructions
Preheat the oven to 150ºC / 300ºF and prepare a square pan by greasing and lining it with parchment paper. My pan was 18×18 cm / 7×7 inches.
In a medium bowl, put the rolled oats, flour, baking soda, and salt. Using a spatula or such, give the dry ingredients a mix.
In a separate small bowl, combine the nut butter, liquid sweetener, and vanilla. Add the mixture to the dry, and using your hands crumble together.
Transfer 2/3 of the crumble to the prepared pan. Press and spread out the crumble evenly to all corner. Prick it all over with a fork and bake for 20 minutes or until golden. Let cool for 10 minutes.
For the filling, blend the dates, nut butter, water, vanilla, and salt into a smooth caramel sauce. Transfer and evenly spread the caramel onto the baked bottom. Lay and arrange the sliced pear on top of the caramel and finish by topping with the remaining crumble. Bake for another 20-30 minutes, depending on how thick your bars and filling are. Take out, let cool and set slightly, cut up and enjoy.
Keywords: Crumble, crisp, bar, vegan, pear, salted caramel, easy, gluten free, healthy