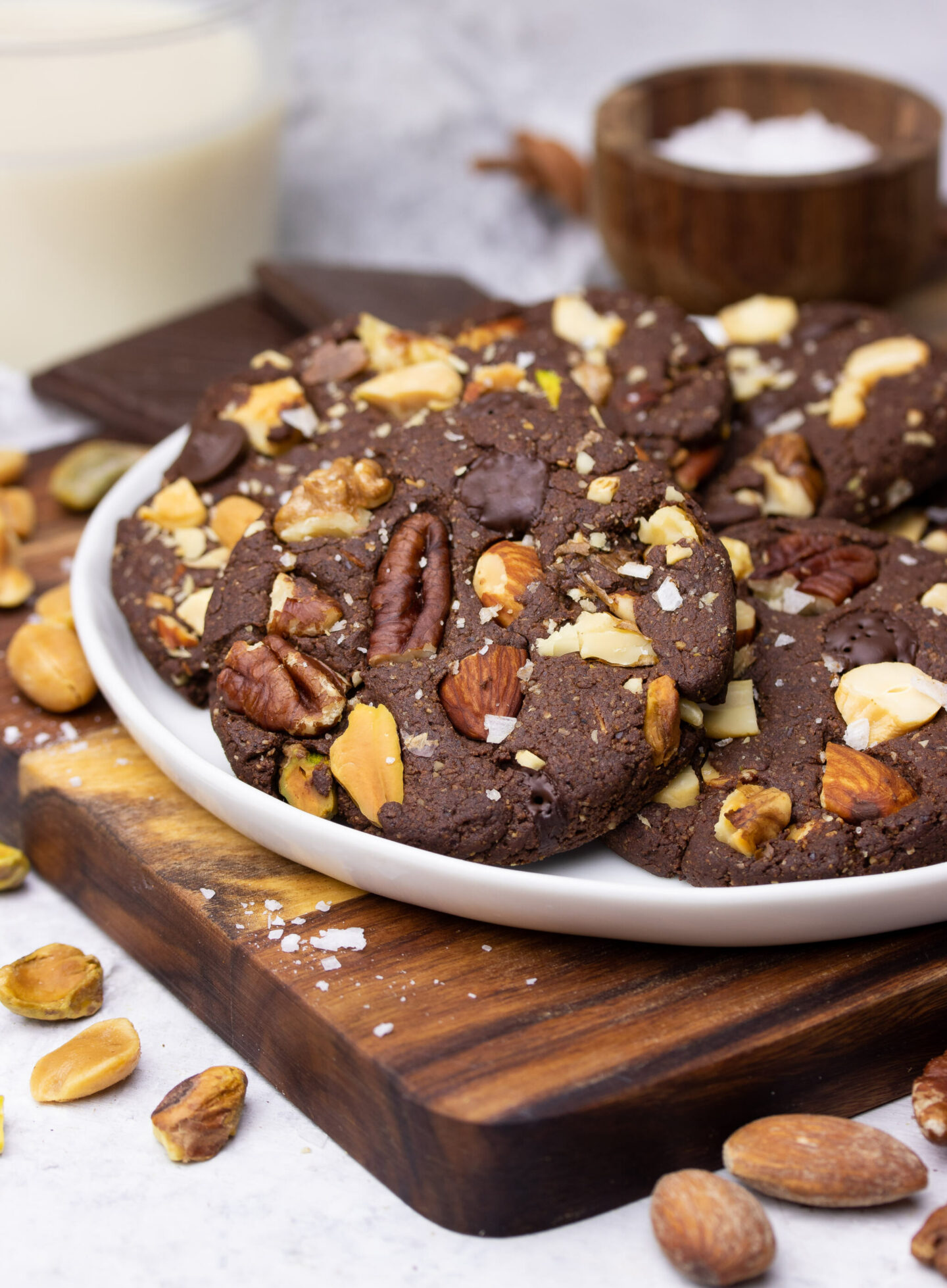 What makes the perfect chocolate cookies even better if not more chocolate and loads of delicious assorted nuts? As an official nuttyholic and nut lover, these cookies are basically all my dreams coming true. The combination of chocolate cookies with extra chocolate chips, peanuts, hazelnuts, cashews. pecans, pistachios, walnuts, and my absolute favourite roasted almonds is the ultimate and most delicious combination. At least as long as you're not allergic to nuts.
The cookies themselves are chewy, soft, crispy, and packed full with goodness both ingredient and flavour wise. They're made with wholesome ingredients like whole grains and dates. Honestly, they're the kind of cookie you could even have for breakfast. It took me A LOT of testing to get my recipe for chocolate cookies right, but it was worth the three years of testing. I almost forgot, the addition of nuts also contribute with a nice amount of not only amazing flavour and texture but also loads of healthy fats.
Moving on, the second best fact about these after for their taste is that they're pretty darn easy to make. Just pop the ingredients in a food processor, shape into cookies, add nuts, bake, and devour. Doesn't that just sound amazing? It's because it is amazing if I may say it myself, hehe. Enough rambling on my behalf, and I'll let the pictures speak for themselves. Enjoy!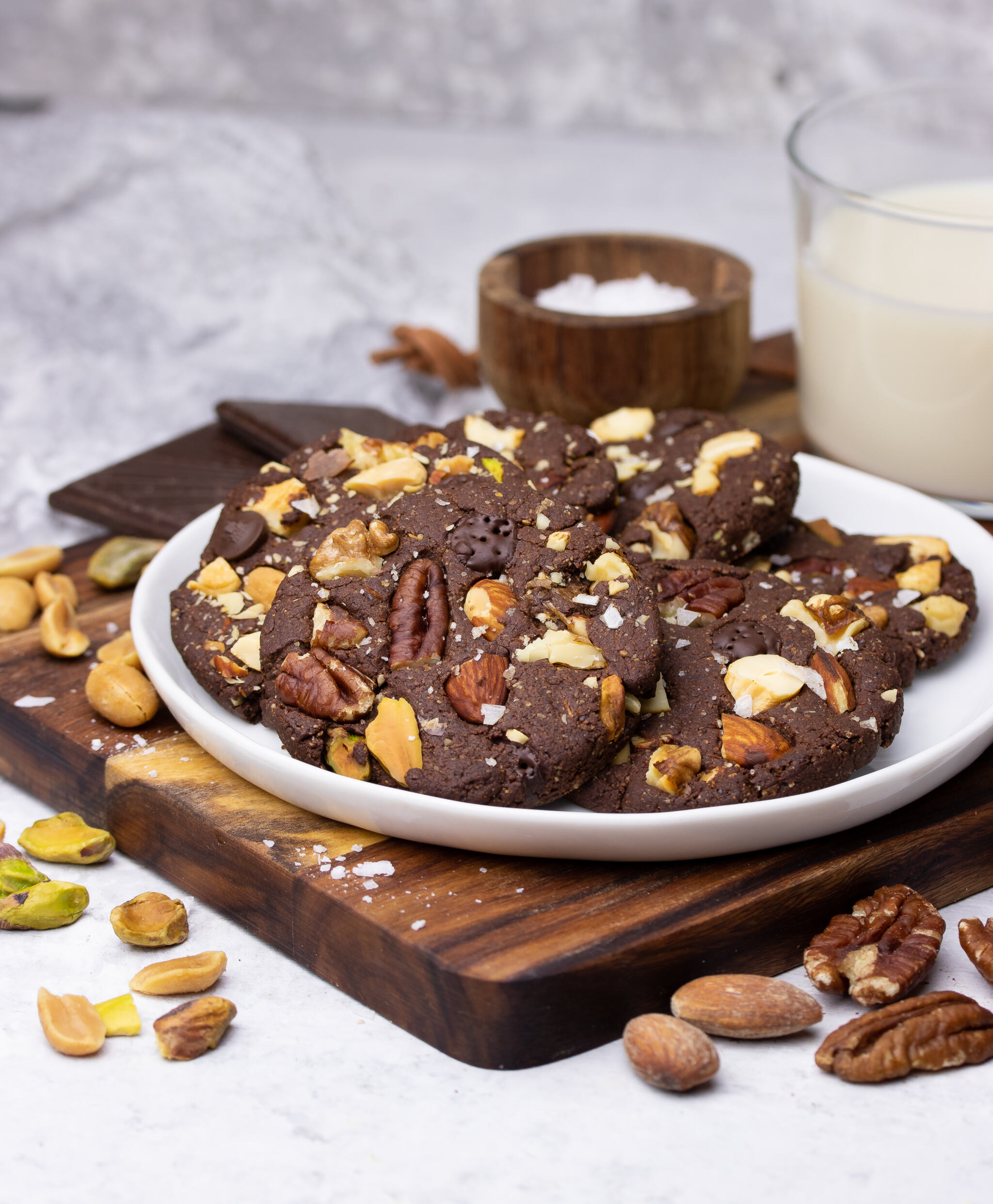 Print
Nuttyholic's Double Chocolate Cookies
The best way to make the perfect chocolate cookies even better is by adding lots of roasted nuts and more chocolate!
60g

/ 2,1 oz pitted dates

30g

/ 1 oz oat flour

30g

/ 1 oz nut flour of choice (I used almond & hazelnut) or more oat flour

1

,5 tbsp cocoa powder

1/2 tsp

baking soda
A hearty pinch of salt
A splash of vanilla extract

20g

/ 0,7 oz melted dark chocolate
A handfull of chocolate chips or roughly chopped chocolate
Two hands-fulls of roughly chopped nuts and seeds of choice
A few pinches of course salt for topping
Instructions
Preheat the oven to 150ºC / 300ºF and prepare a cookie pan by lining it with parchment paper.
In a food processor, blend the dates, flours, cocoa, baking soda, salt, and vanilla until you get a nice firm, moist but not sticky nor dry, dough. Then, while running the food processor, add the melted chocolate to the dough and mix until combined. If too dry, add a splash of water. Mix in the chocolate chips/chopped chocolate and the nuts to the dough.
Divide and shape the dough into eight balls and place on the prepared cookie pan. Using your hands, preferably slightly wet, shape the balls into around 1 cm / 1/3 inch thick cookies. Optionally top with a pinch of course salt. Bake for 12-16 minutes. Let cool and enjoy!
Keywords: Chocolate cookies, chewy, nuts, double chocolate, vegan, gluten free, healthy