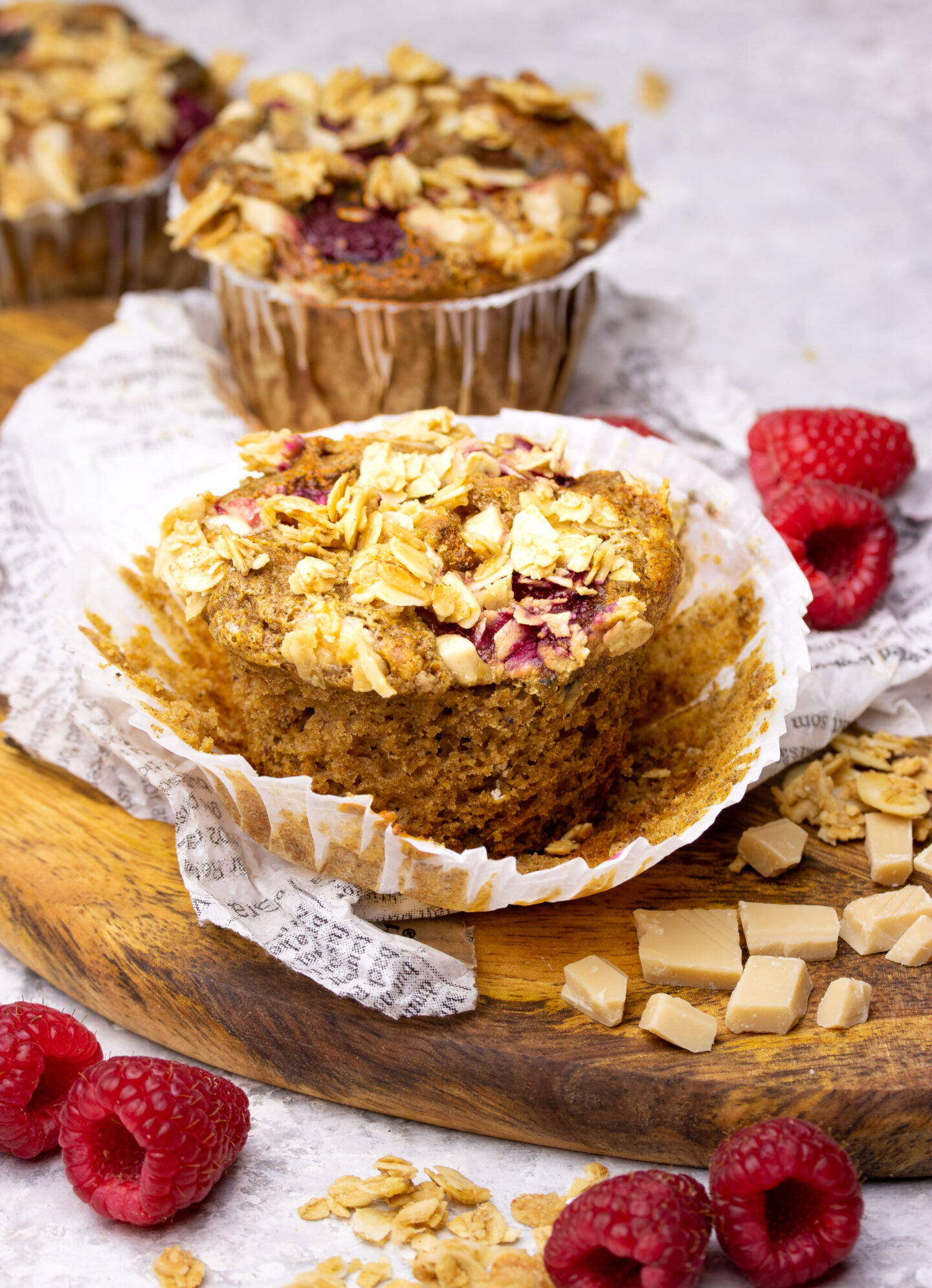 You may have noticed a theme in my recipes. The truth is, I simply make recipes combining two to three flavours that together make the most delicious flavour combination. I basically go: "What is a delicious flavour combo", and then come up with a recipe or concept from that idea. After seeing lots of beautiful pictures of streusel topped muffins on Instagram, I decided to make some of my own. Most streusel muffin recipes combine apple and cinnamon, like a classic apple streusel, but I wanted to make something with berries. So why not raspberry and white chocolate? This is the winning combination we are working with:
Fresh, seasonal, slightly sour raspberries
Sweet, gooey white chocolate
Crispy, nutty streusel
I myself do not like white chocolate (or even chocolate with less than 60% cocoa) by itself, however, in combination with slightly sour berries it's absolutely perfect. Then with the addition of streusel, you get this really nice boost of nuttiness and a contrast in texture. Gosh, I almost forgot to talk about the actual muffins! I use this basic cake recipe for so many treats simply because it's so gosh darn great. These muffins are fluffy, perfectly sweet, vegan, and really easy to whack together. Plus, they're refined sugar-, oil-, and gluten-free if you're into that.
So there you have it guys. Now, you have absolutely no excuse not to make these, sorry. But in the meantime, enjoy!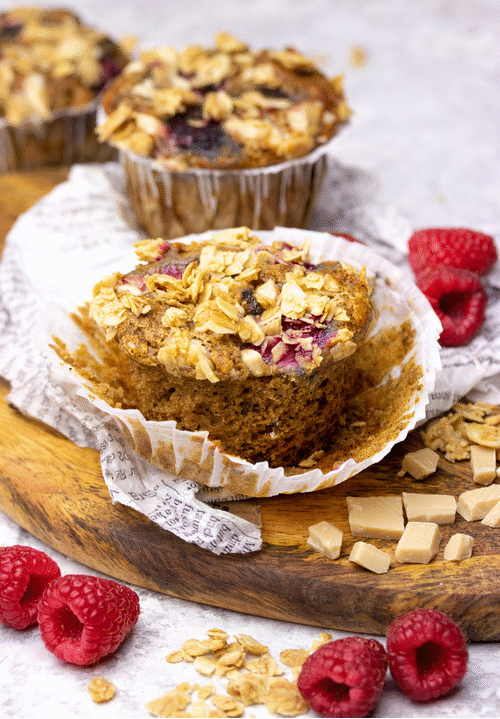 As always, I attempt to eat something you shouldn't eat with a fork with a fork. However, it slightly charming and satisfying to see someone making a slight mess, am I right?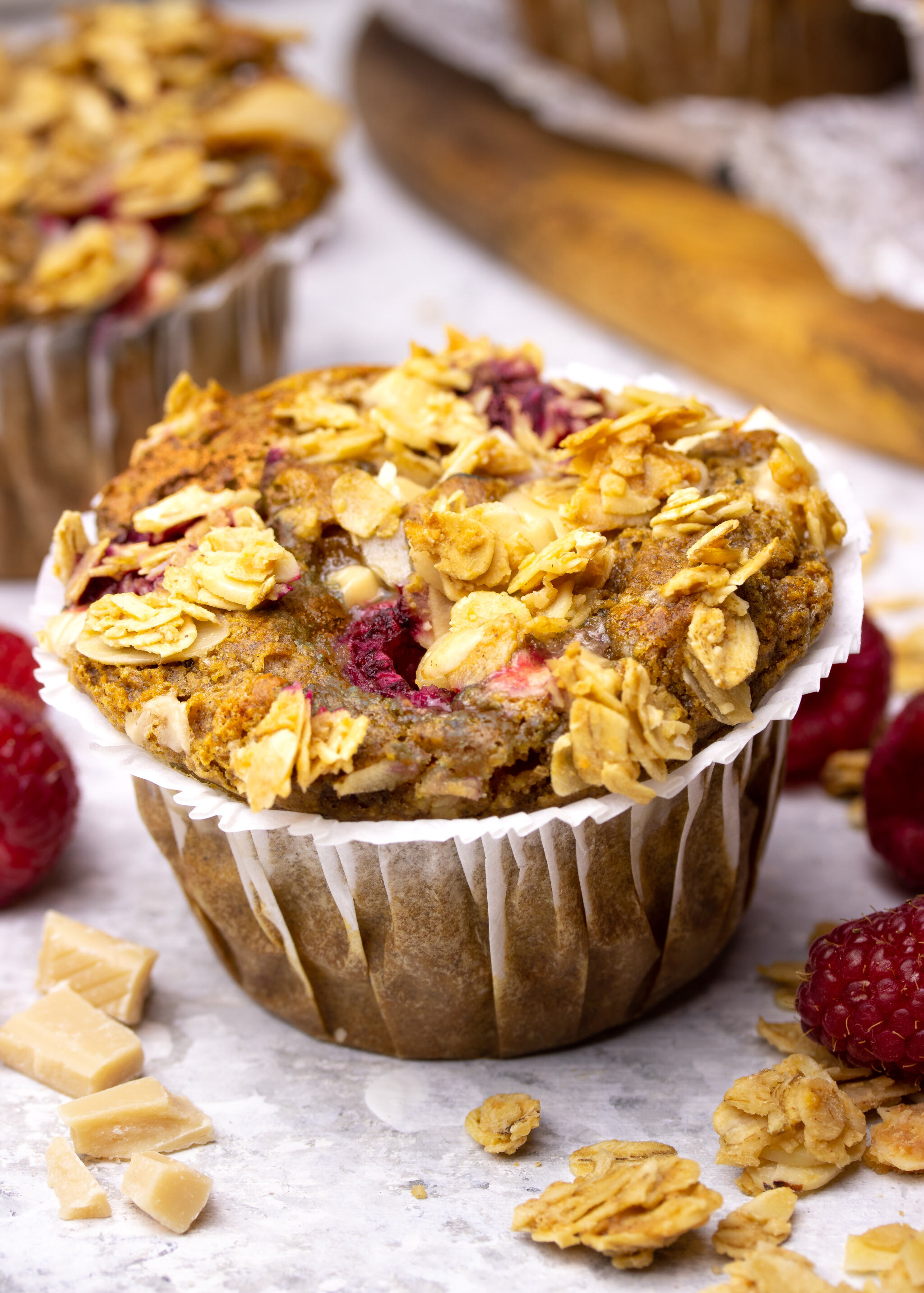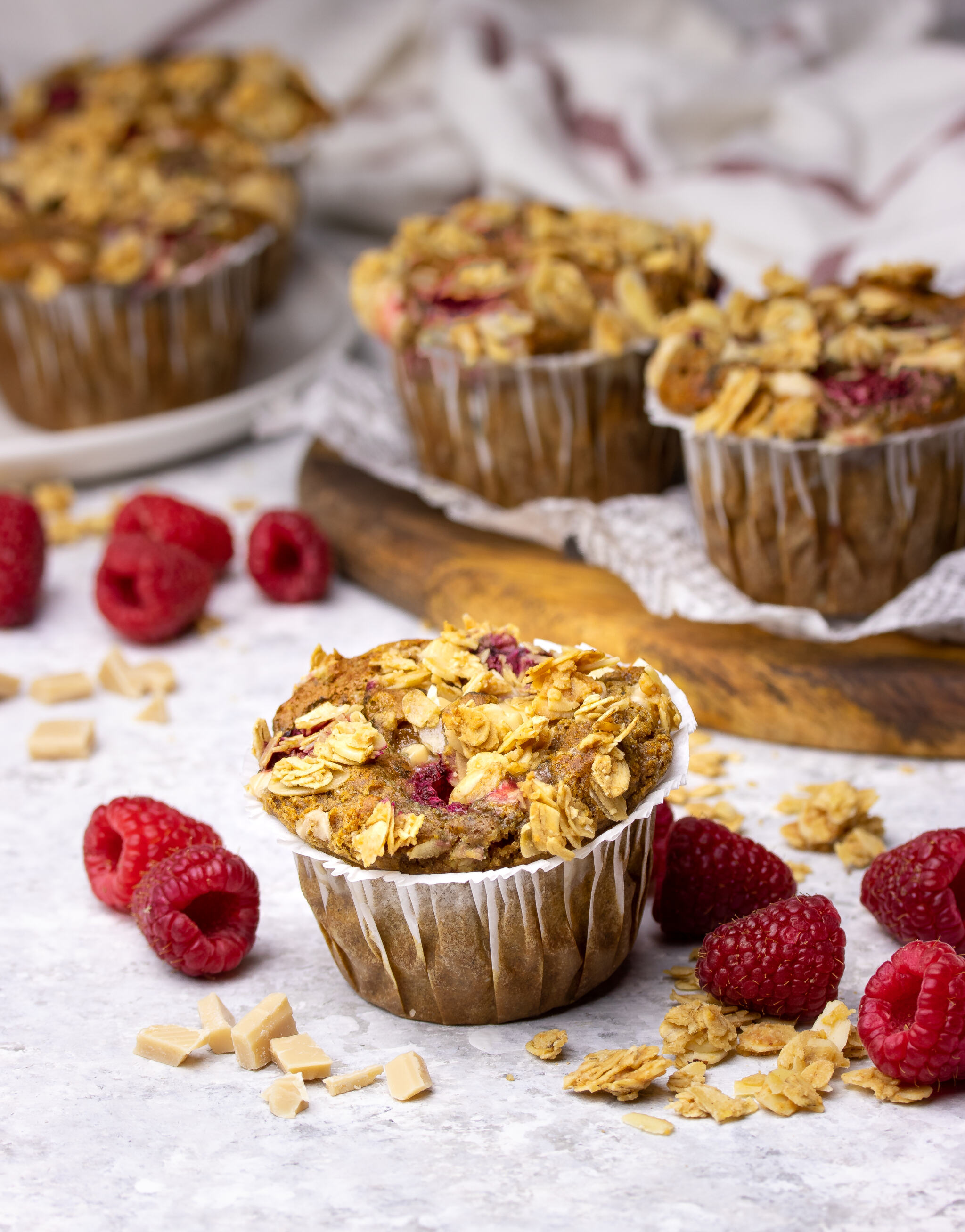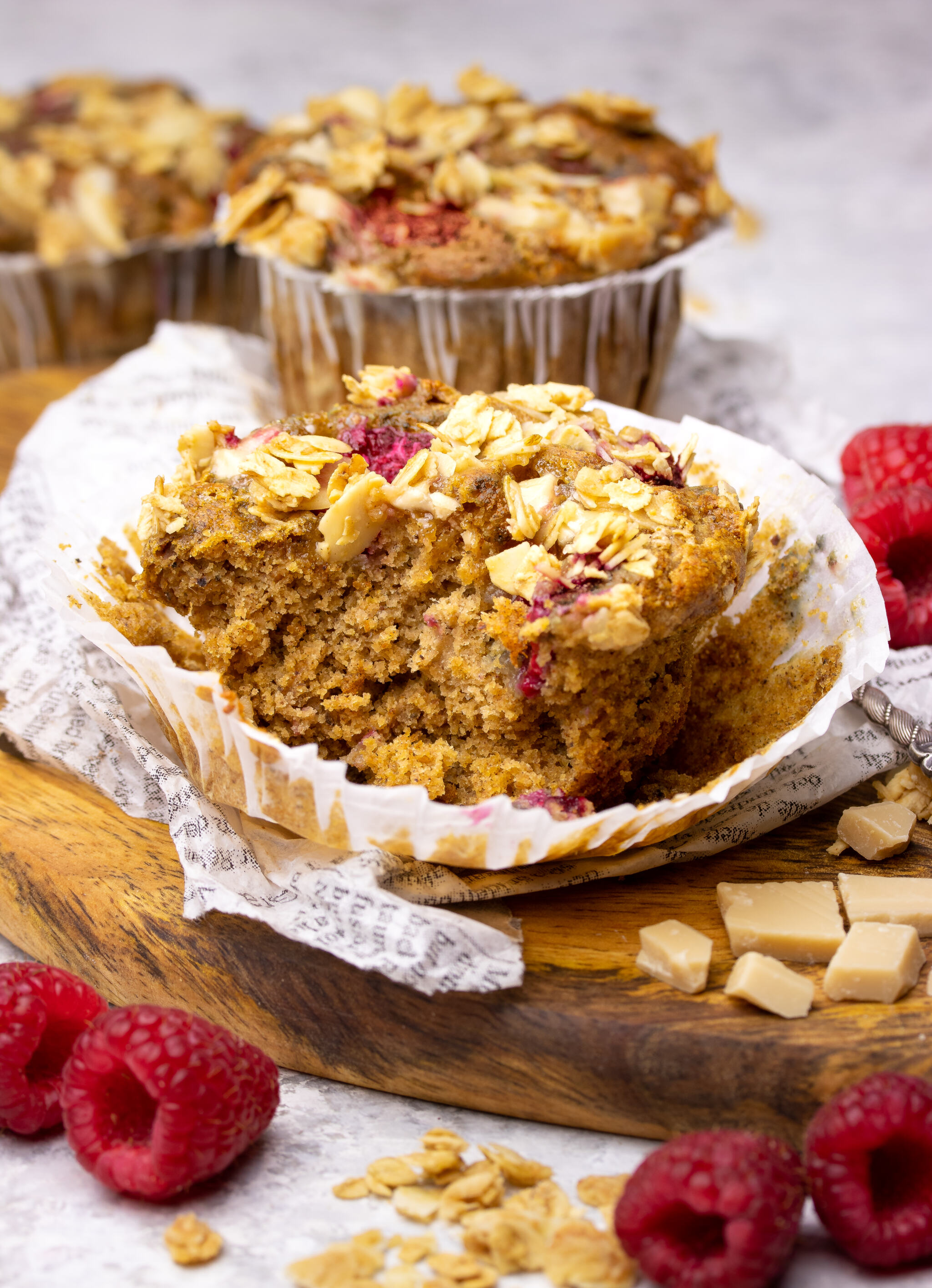 Print
Vegan Raspberry Streusel Muffins with White Chocolate
The combination of softly baked fresh raspberries, gooey white chocolate, and a nutty crunchy streusel truly is a winning combination especially in a muffin.
Streusel
30g

/ 1 oz rolled oats

20g

/ 0,7 oz slivered almonds or more rolled oats

2

,5 tbsp liquid sweetener of choice

1/2 tbsp

nut butter of choice
A hearty pinch of salt
Muffins
65g

/ 2,3 oz oat flour

60g

/ 2,1 oz buckwheat flour

1 tbsp

milled flax or chia seeds

1

,5 tsp baking powder

2 tsp

baking soda
A hearty pinch of salt

200

ml / 1 cups minus 3 tbsp milk of choice

40g

/ 1,4 oz coconut sugar or other granulated sweetener

60g

/ 2,1 oz pitted dates

40g

/ 1,4 oz nut butter of choice

2 tsp

white balsamic vinegar

1 tsp

vanilla extract
Topping
100g

/ 3,5 oz raspberries, fresh or thawed from frozen
About

50g

/ 1,75 oz roughly chopped white chocolate of choice
Instructions
Preheat the oven to 160ºC / 320ºF. Grease or line a muffin pan with paper muffin liners.
In a small bowl, combine all the ingredients for the streusel.
In a large bowl mix the oat flour, buckwheat flour, milled flax seeds, baking powder, baking soda, and salt.
In a blender, blend the milk, sugar, dates, nut butter, vinegar, and vanilla smooth.
Add the wet to the dry and mix until just combined. Quickly divide the batter between the muffin liners. Do not fill the liners over 2/3 full. Top with the white chocolate, stick 3-5 raspberries into each muffin, and finish off with the streusel. Bake for 18-20 minutes. Take out and let cool.
Notes
The muffin may go black around the raspberries since the juices from the raspberries react with the baking soda or such. Also, the streusel will become less crunchy after a few days, but the muffins are good to eat for at least a week in my experience.
Keywords: Muffins, white chocolate, gluten free, raspberry, streusel, vegan, healthy