Okay, I'm not Austrian but Swedish, however, I do still enjoy Mozart kugeln (balls). Mozart balls actually is a rather common Christmas gift over here in Sweden, and I had it when I was in Vienna a couple of years ago. Anyhow, I think it's a fabulous treat for any occasion. It takes a little bit of time to make, as it consists of four layers, counting the chocolate. However, taking the time and making the effort to make these is so worth it. When I come to think about it though, I reckon you can easily make these within half an hour, which is faster than many other treats and recipes.
Anyhow, I made these balls of deliciousness to share the recipe with you guys for Christmas. Trust me on this one, I'll definitely make these again and bring to my family Christmas dinner, simply to impress all my relatives with how delicious these are. I can't wait to see my relatives faces when they taste these. Surprising people with how something made out of simple wholesome ingredients can taste so good is one of my favourite things to do. Also, my grandmother, who has type 1 diabetes, will not have to worry about her blood sugar too much when tasting these as they're basically only made out of nuts, dates, and chocolate. It's a treat for anyone, anywhere, at any time!
In conclusion, you definitely should make these. As always, I'm sending you lots of love and enjoy!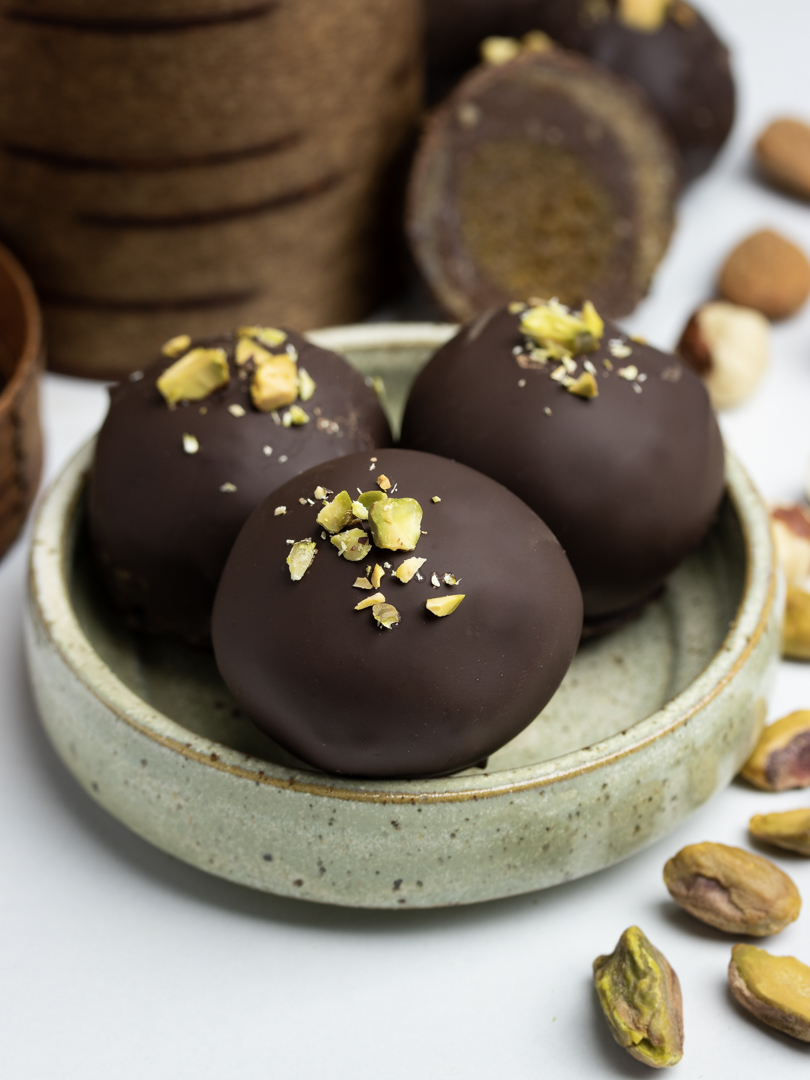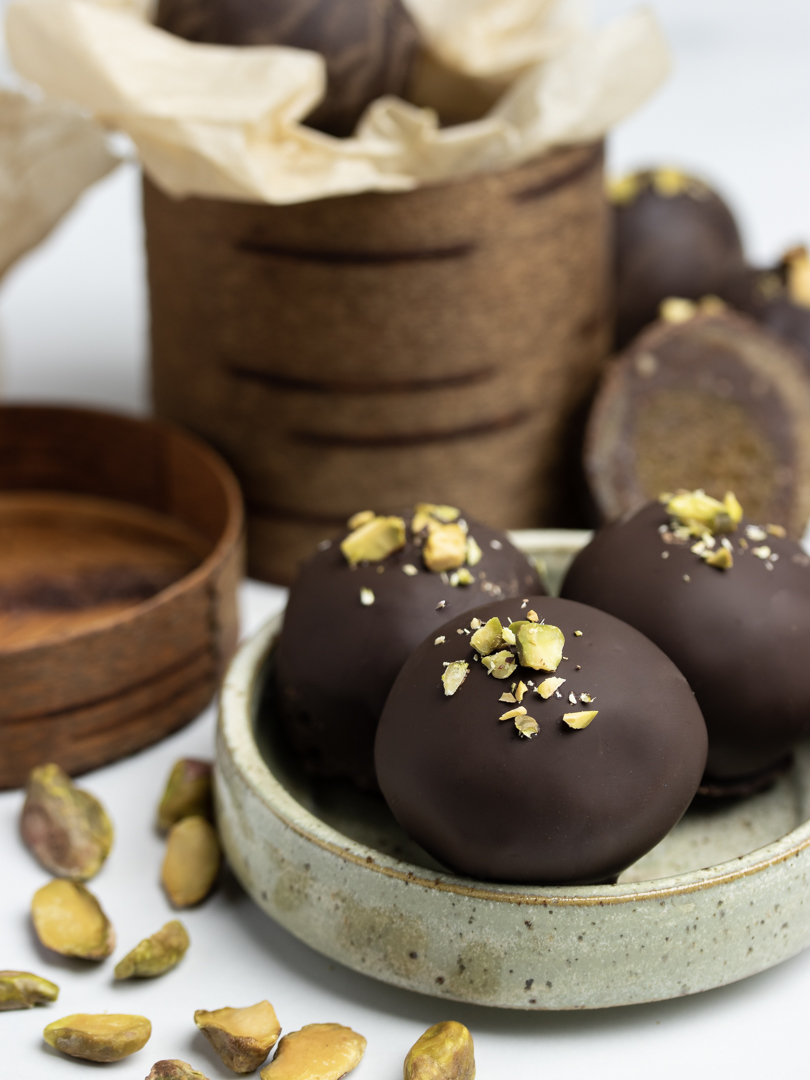 I'm getting more and more into making short videos and clips for my recipes. I know they're by no means perfect, but hopefully a bit of fun at least. 🙂
Here is a video showing how I assembled the Mozart balls. Hopefully this video will help and make more sense than my try at trying to explain how to assemble them down in the directions.
And here I show how I assembled the Mozart balls but with the Nougat Spread. Note that I did not chill the spread enough and it was out in room temperature for too long. the assembly won't be as messy for you if you just chill your spread properly. 🙂
Print
Homemade Mozart balls
Mozart kugeln consists of four layers, pistachio, nougat, marzipan enclosed in chocolate. Now you can make these classic treats at home in a renewed vegan and healthy way.
Pistachio middle
40g

 / 1,4 oz pistachios

50g

/ 1,75 oz pitted dates
A pinch of salt
Nougat*
50g

/ 1,75 oz dark chocolate, melted

50g

/ 1,75 oz hazelnut butter, or other nut butter

25g

/ 0,9 oz hazelnut, almond or coconut flour
A pinch of salt
Marzipan
100g

/ 3,5 oz pitted dates

50g

/ 1,75 oz almond flour
A pinch of salt

1/2 tsp

vanilla powder
Melted chocolate for dipping
Instructions
If you're using Welloteket's Nougat spread, make sure to let it chill in the freezer for at least half an hour.
For the pistachio middle, use a food processor or powerful blender and process the pistachios until they becomes a fine meal. Add the dates and salt, and process further until it becomes a smooth "dough". Line a cookie pan, plate or something like it with parchment paper or plastic wrap. Divide the pistachio dough into ten small balls. Place the balls onto the prepared plate and let chill in the fridge.
If you're making your own nougat, simply mix together the melted chocolate, nut butter, nut flour, and salt in a small bowl. Let set in the fridge until the mixture is mouldable, which takes around 15 minutes.
For the marzipan, start by quickly cleaning your food processor or blender. Put the dates, almond flour, vanilla, and salt in your food processor/blender and process until you get a smooth and firm "dough". Divide into 10 equally sized balls and let them chill in the fridge.
If you would rather like to watch how to do the following two steps, there are two videos of me showing how to do it above! While you let the marzipan chill, take the pistachio balls and nougat out of the fridge. Regardless of what kind of nougat you use, take around a teaspoon of the nougat and create a flat circle. Place a pistachio ball in your nougat circle and fold the sides of the circle and shape a bigger ball. Do this to all the pistachio balls.
Take the marzipan out of the fridge. Take a marzipan ball and shape it into another flat circle and fold the sides and shape an even bigger ball. Do this to all the other pistachio nougat balls.
Lastly, dip your balls in the melted chocolate, let set and enjoy!
Keywords: Mozart kugeln, balls, Christmas, treats, sweets, candy, vegan, gluten free, healthy