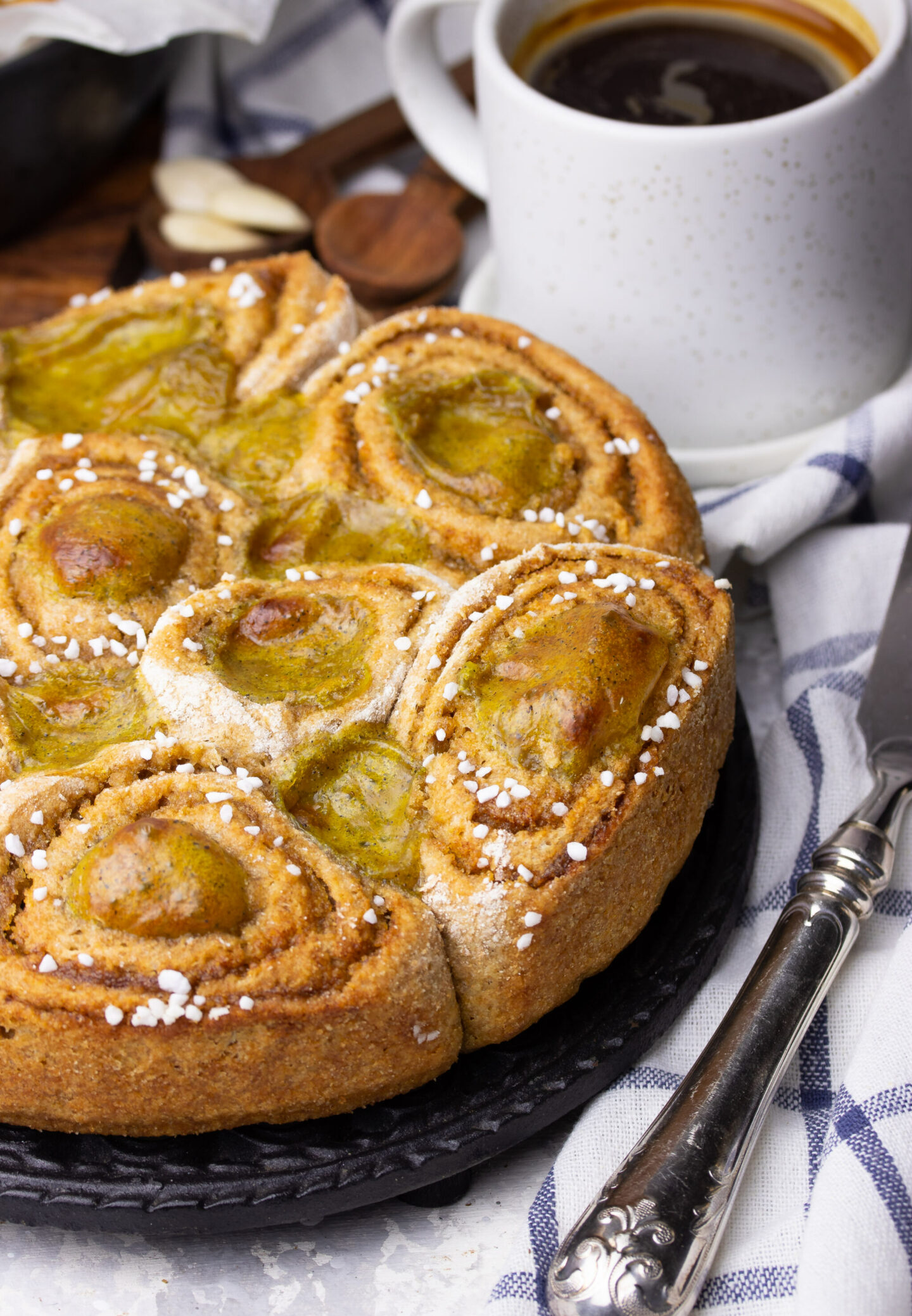 Honest to God, guys, I am so into making classic Swedish treats at the moment. It's just so nice to go back to my roots and share my probably slightly exotic Swedish food culture with you! So, I know the recipe is quite long, and there are many elements to it. However, trust me on this. Every minute spent making it is really worth the mouth-watering, delicious, decadent result. Plus, you can make a double batch, freeze it, and voilà. You've got yourself some epic treats that can be thawed or reheated in the microwave any time you're in need of a sweet, hearty, wholesome treat. At least that's what I did.
Okay, let's move on to what these buns of deliciousness actually are. So butterkaka basically means "grumpy cake", but has more to do with the German word for butter, which also it butter (but read with a German accent), than a cake being on a bad mood. These buns are like american cinnamon buns baked together in a pan then usually sliced into cake slices or pulled apart. I myself loooved butterkaka as little, but do not remember exactly what the filling was. When I did some research and Googling, I found that there seems to be two sides when it comes to what the filling should be. Either you make it with a sweet almond paste, a.k.a. mandelmassa, or vanilla custard. I decided that more is the merrier and made these with both fillings, which I reckon was a very good decision since they turned out amazing.
Anyhow, this is the kind of recipe that would definitely make my great grandmother, who I have been told was just as much of a baker as I am, mighty proud. If you haven't heard of the Swedish phenomenon of fika then you definitely need to do some Googling right now, especially since many of my recipes are actually based on Swedish fika tradition. I truly hope you give this recipe a go and remember that every minute spent making it is truly worth it. Enjoy some proper Swedish food culture!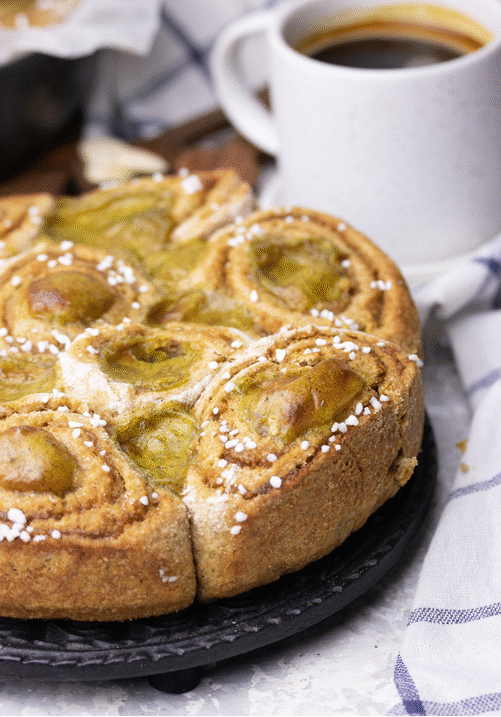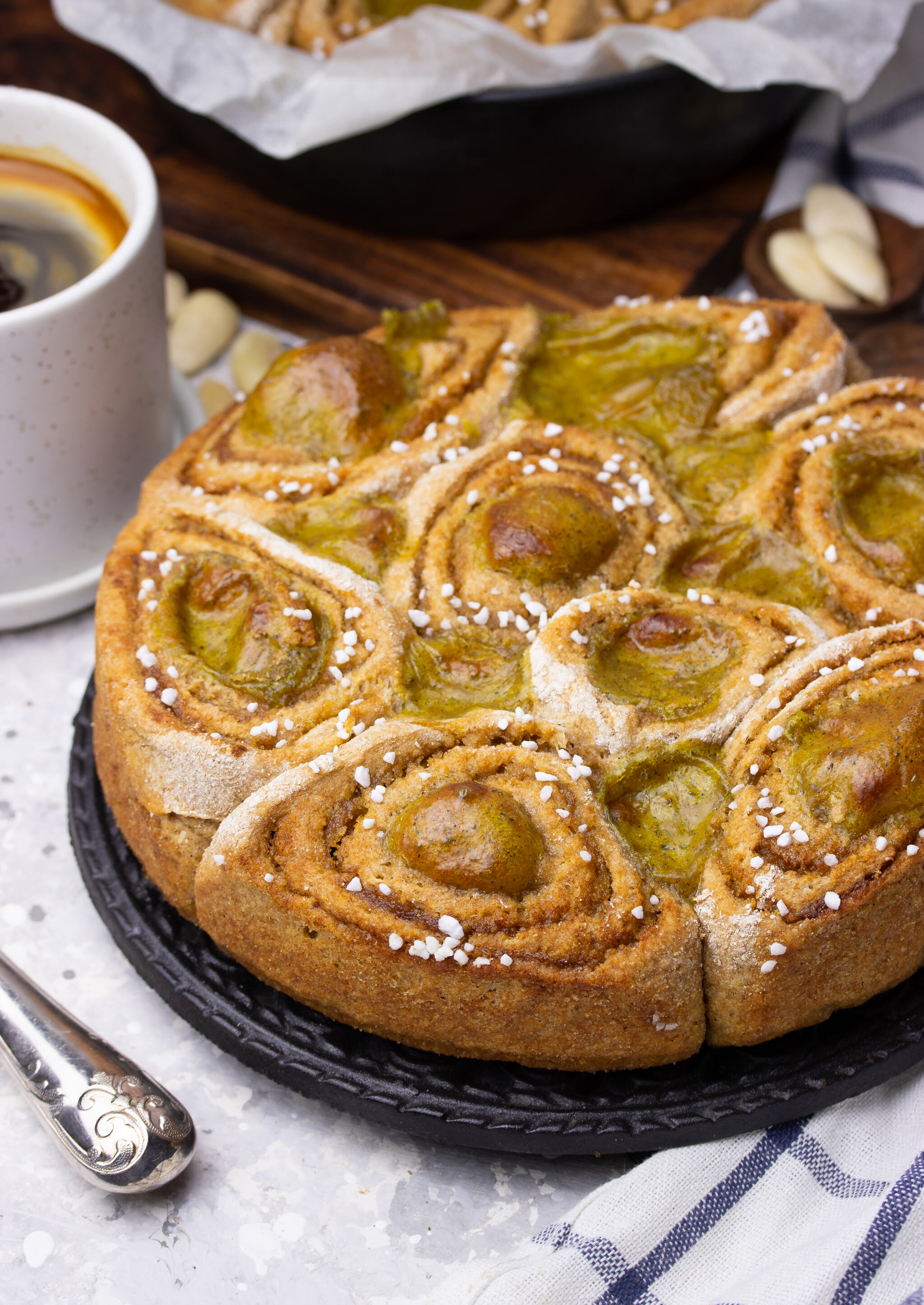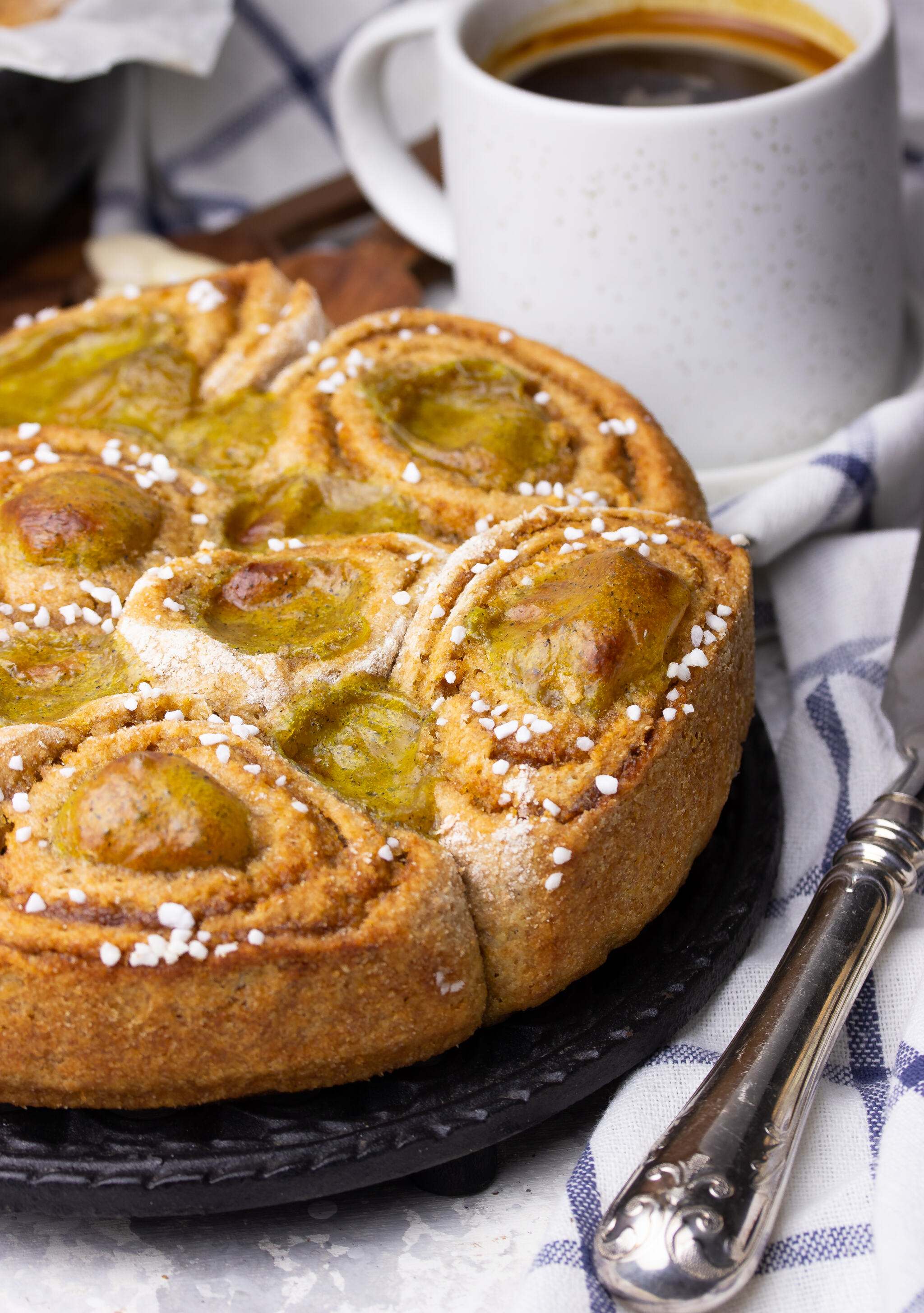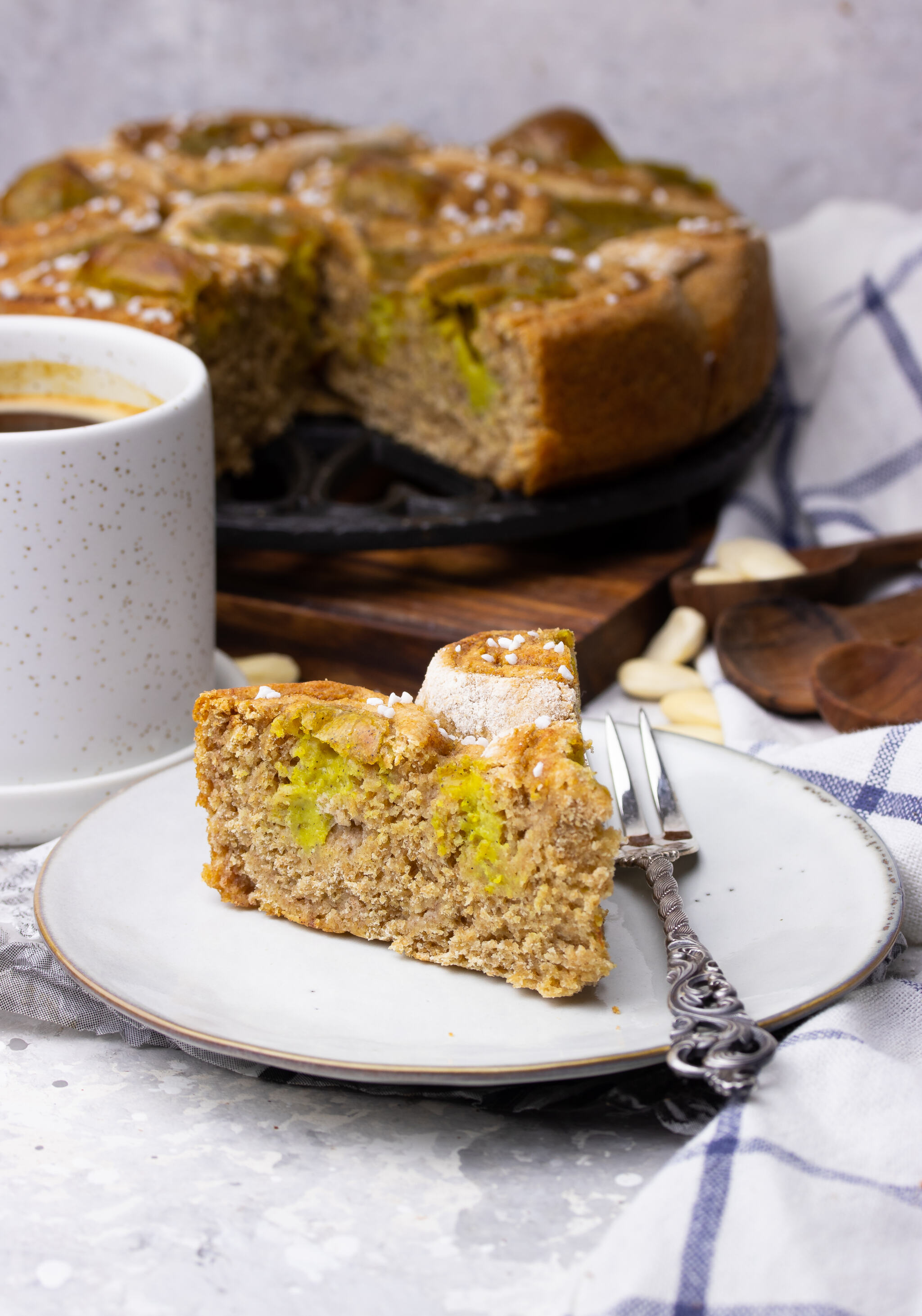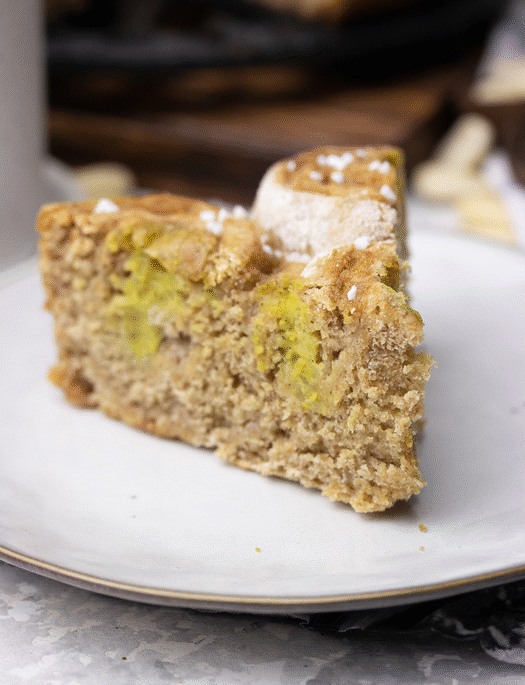 Yes, I am using a fork to eat a bun. Yes, it's weird. Yes, I definitely recommend eating it with your hands like a true Swede.
Print
Butterkaka – Swedish Sweet Almond Filled Buns with Vanilla Custard
These classic Swedish buns are filled with not only one delicious filling but two! These almond and vanilla custard filled buns can be pulled apart like sticky buns or sliced into fancy cake slices. Seriously, every minute spent making this is worth it.
Vanilla Custard
1

,25 dl / 1/2 cup milk of choice

1 tbsp

corn starch

1

,5 tbsp liquid sweetener of choice

1/2 tbsp

cashew butter for extra creaminess

1/4 tsp

vanilla bean powder
A hearty pinch of salt
A pinch of turmeric for colour
Filling
150g

/ 5,3 oz pitted dates (I peeled mine just for looks)

50g

/ 1,75 oz almond flour

1

,5 tbsp water

1/2 tsp

salt

1/2 tsp

vanilla essence
A few drops of bitter almond aroma
Dough
2

dl / 1 cup minus 3 tbsp milk of your choice

15g

/ 1/2 oz melted margarine or oil of choice

2 tbsp

liquid sweetener of choice

8g

/ 0,28 oz dried yeast or

25g

/ 0,9 oz fresh yeast, crumbled*
∼300g / 10,6 oz whole grain flour**
Topping
Optionally some pearl sugar for topping
Instructions
Prepare a large cake tin by greasing and lining it with parchment paper.
Start with making the custard. In a mug whisk together half the milk and the cornstarch completely smooth.
Add it along with the rest of the ingredients in a small sauce pan. Heat over medium heat until it start to bubble and thicken. Whisk continuously to make sure it doesn't burn. Let it cook until it doesn't appear to thicken more. Let cool in the fridge and stir every once in a while so it doesn't get clumpy.
For the filling simply mix all the ingredients for the filling smooth in a food processor.
Move on to the dough. In a microwave safe bowl or in a medium sauce pan, combine the milk, oil/margarine and liquid sweetener. Warm in the microwave or on the stove until luke warm.
In a large bowl mix together the luke warm liquid and fresh yeast*.
Start mixing in 2 dl / 0,75 cups flour, then continue adding a tablespoon of flour at a time until the dough starts to pull away from the bowl.
Form a ball out of the dough and flour well.
Preheat the oven to 160°C / 320°F. On a well-floured surface (you need more flour than you think, trust me) roll out the dough into a large rectangle, mine was 30 x 40 cm / 12 x 16 inches.
Evenly spread the filling on the rectangle. Roll into a tight log and cut using a sharp knife into 10 evenly sized buns. Place the buns in the prepared cake tin, top with pearl sugar, and let proof for 30-60 minutes.
Using you fingers create small pits in the middle of each bun and in where the buns meet. Either transfer the custard to a piping bag and pipe into the pits or use a spoon and fill the pits. Bake for 30-35 minutes or until the buns have an inner-temperature of 85°C / 185°F. Take out, let cool, slice up, and enjoy!
Notes
*If you use dried yeast, mix and let it sit and active with the first 2 dl / 0,75 cups of flour for ten minutes before mixing the wet and dry. **As the gluten is a vital part of the bread, I do not and can not recommend using gluten-free flour.
Keywords: Butterkaka, Swedish, fika, vegan, recipe, healthy, buns, wholewheat