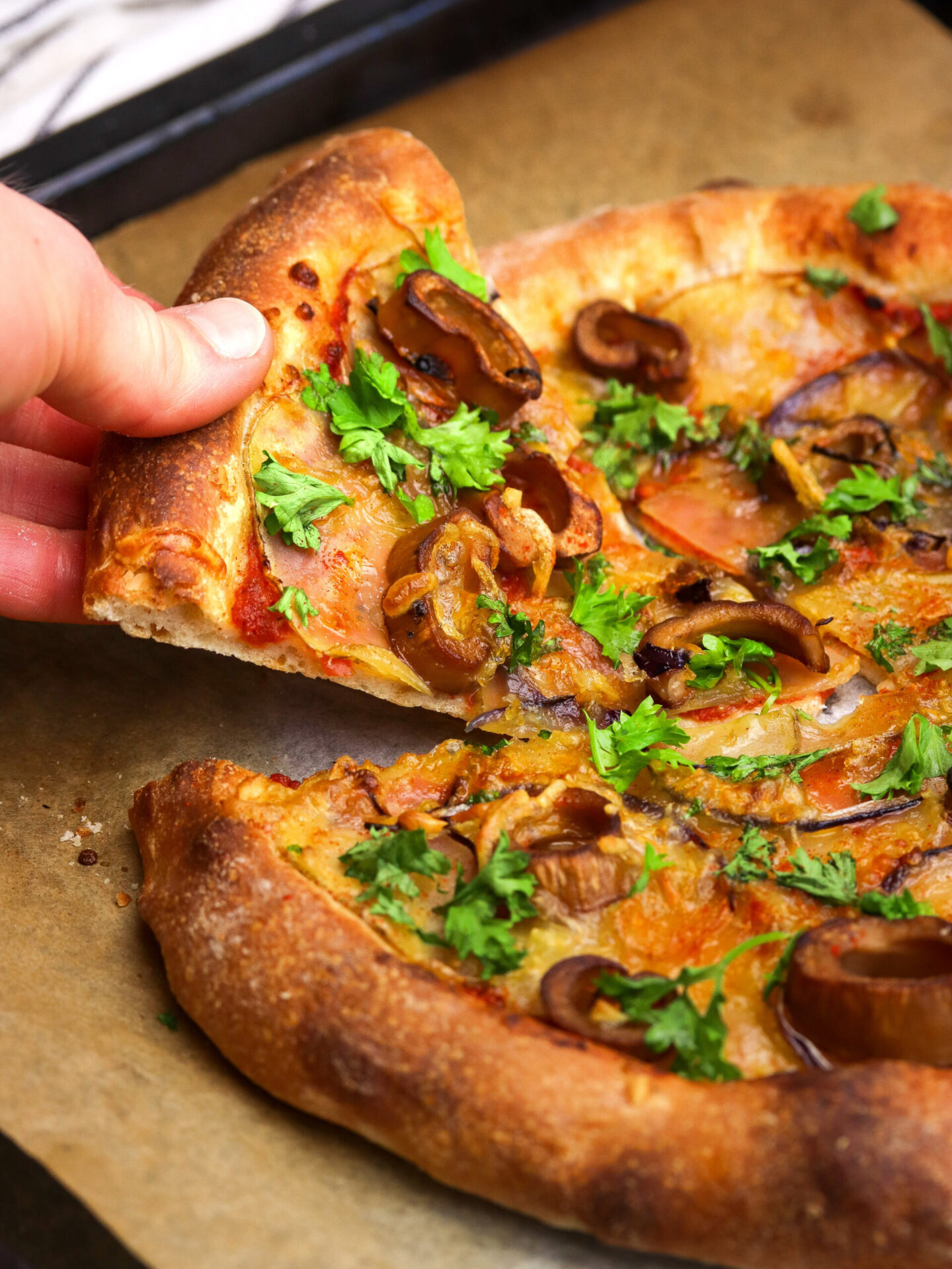 As the second recipe in collaboration with Nature's Charm, I'm sharing my best pizza dough recipe with a Malloquin fusion as topping. The toppings is a pizza version of a Mallorquin dish called Calamares De Gallega, which consist of  fried potatoes and octopus topped with smoked paprika and sea salt. Here I've used Nature's Charm's VEGAN calamari (!!) that's made of mushrooms marinated to get that fishy flavour. Once fried up crispy or put in a dish like this pizza, they really come to their place and will definitely satisfy your seafood cravings. Such a cool and delicious product to be working with! Also, it's the calamari that makes this pizza EPIC!
Moving on, I've been on making a great pizza dough for months now! The pizza dough is chewy, easy to make since it doesn't require any excess kneading, and perfect after a many months of experimentation! I've chosen to bake it at 225C / 450F because I've found that to work best in my oven. If I had max temperature, around 275C/550F, the crust would burn and the restof the pizza was uncooked. However, if you have a pizza stone or any other methods you prefer, you do you!
With that said, enjoy!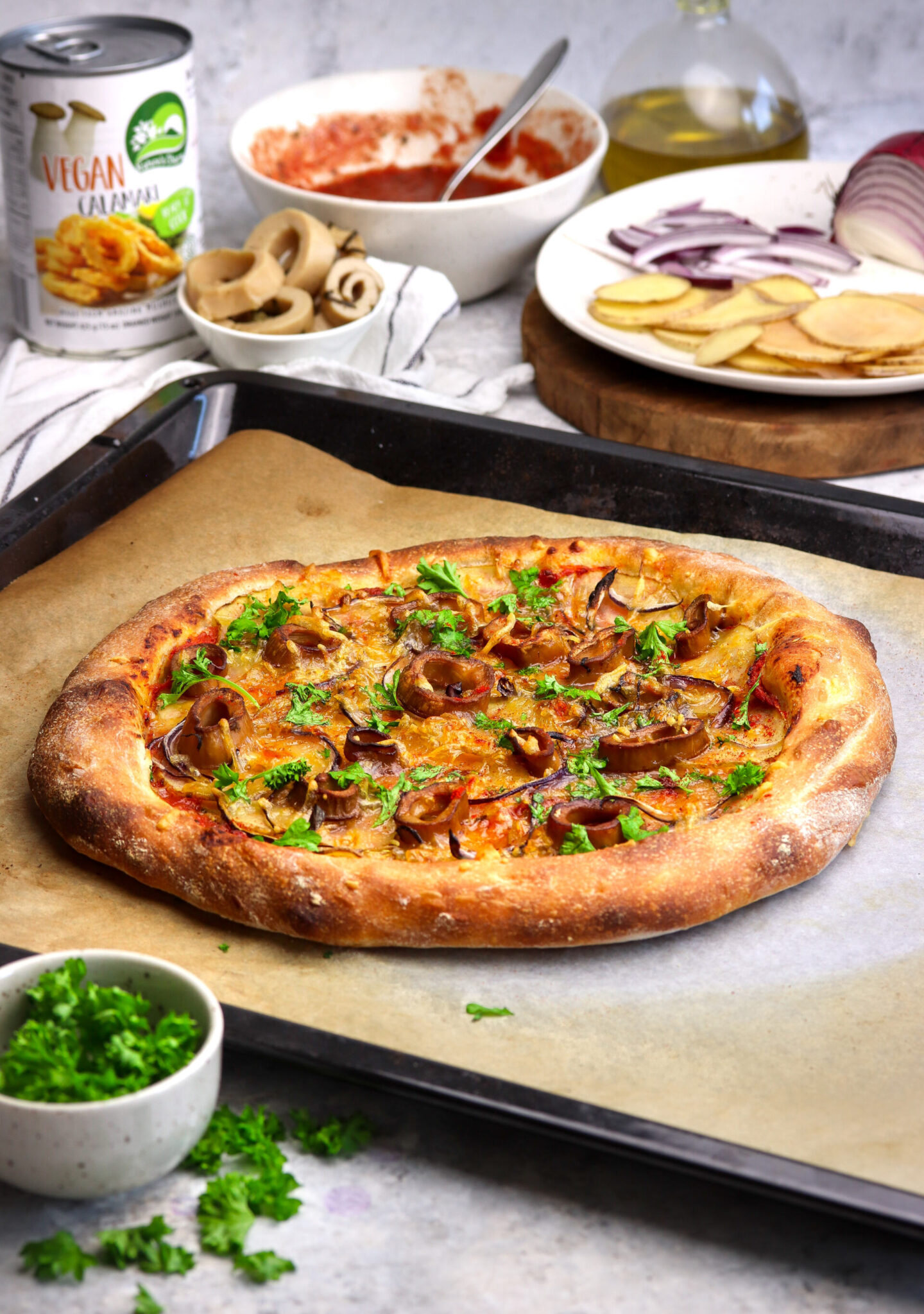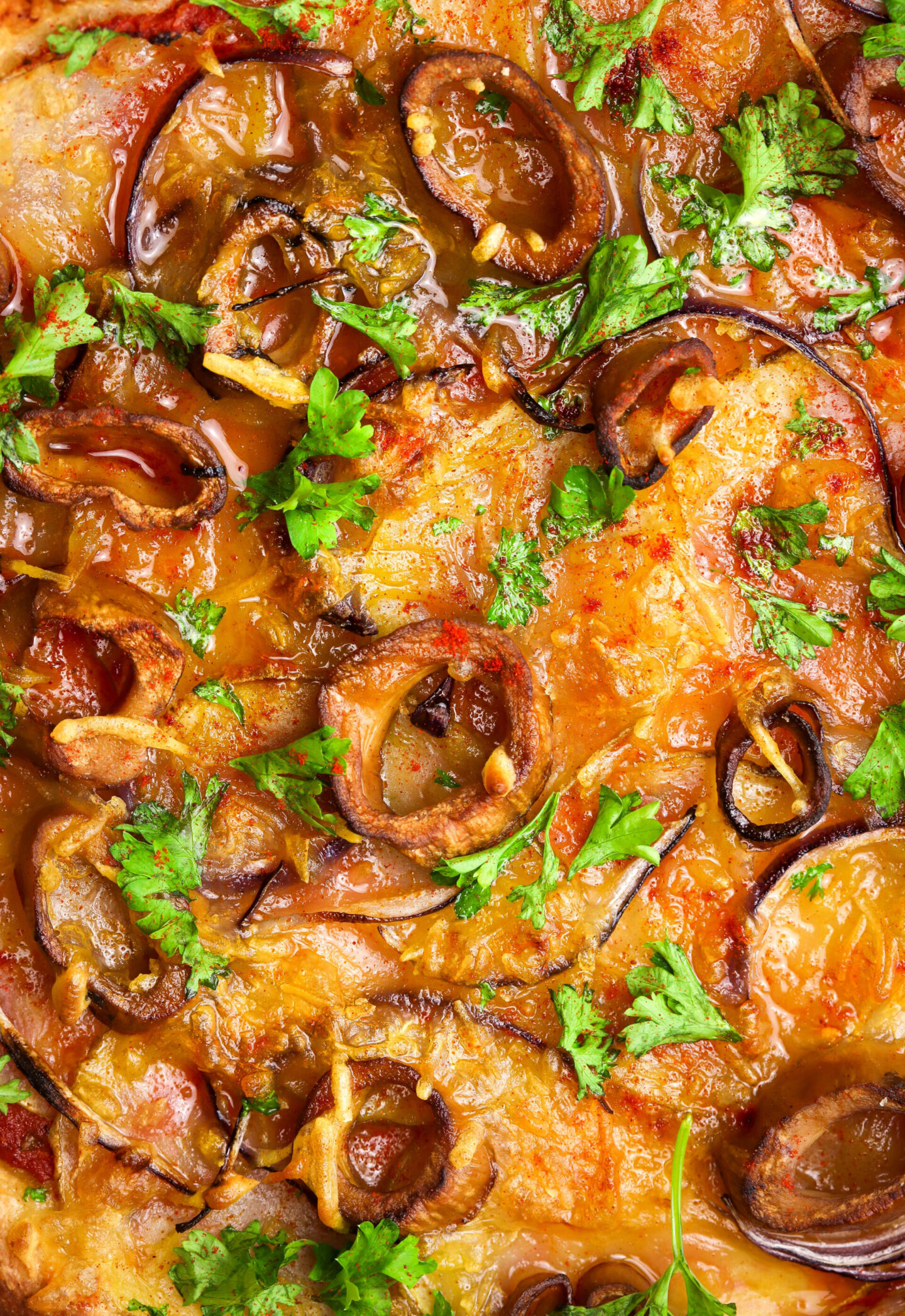 You got to have one of those sexy close up shots, am I right?
Nature's Charm's VEGAN Calamari (!!)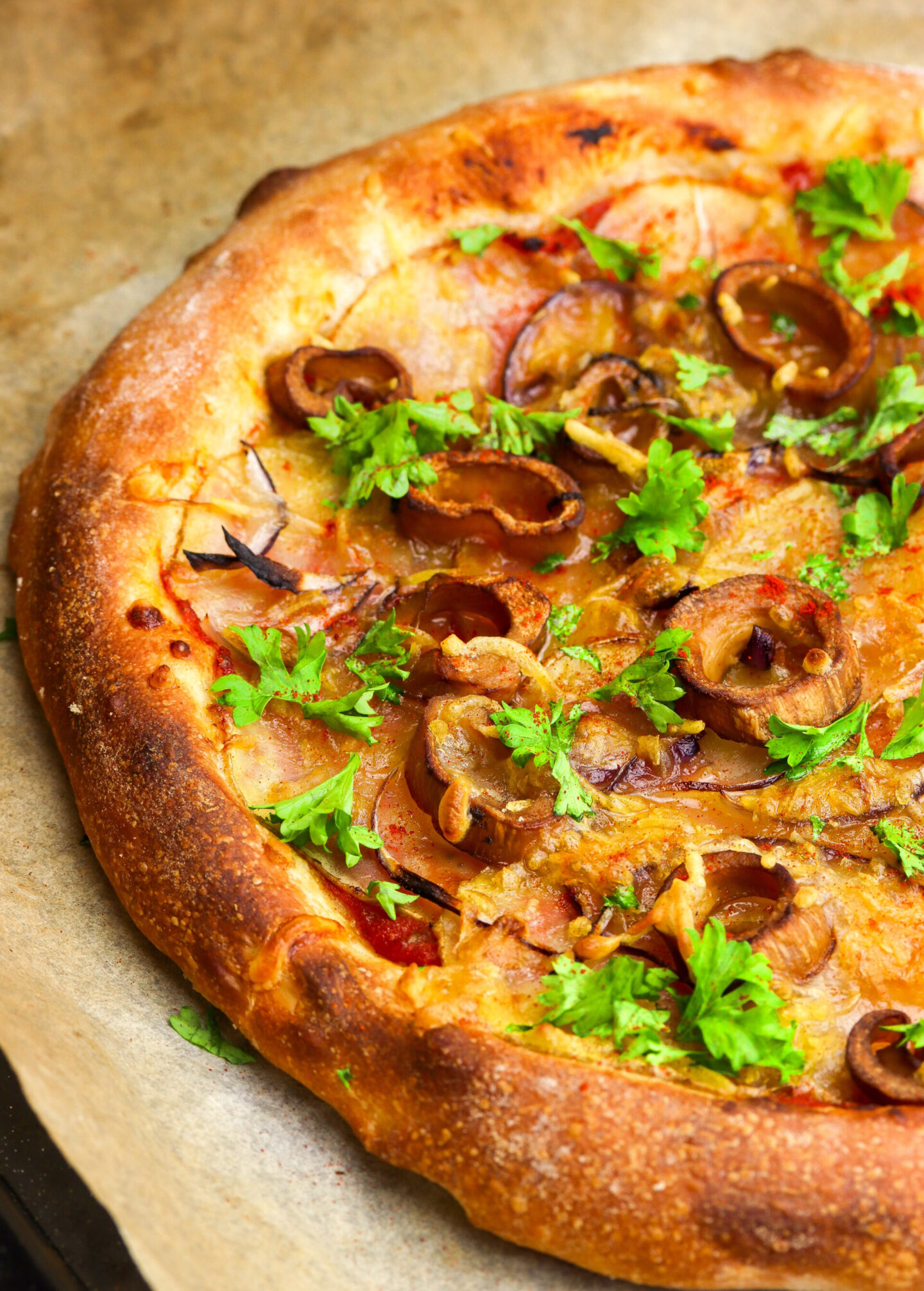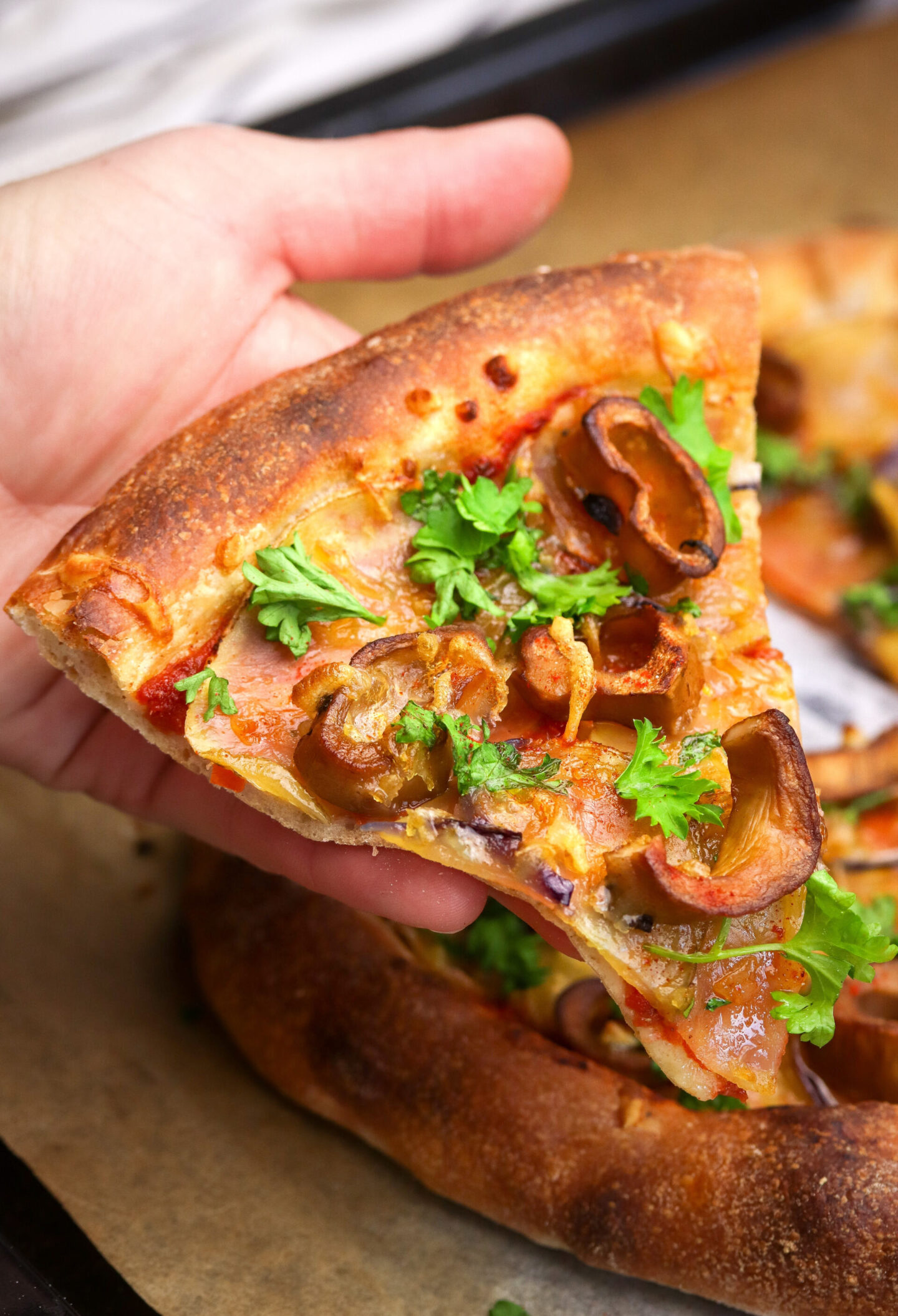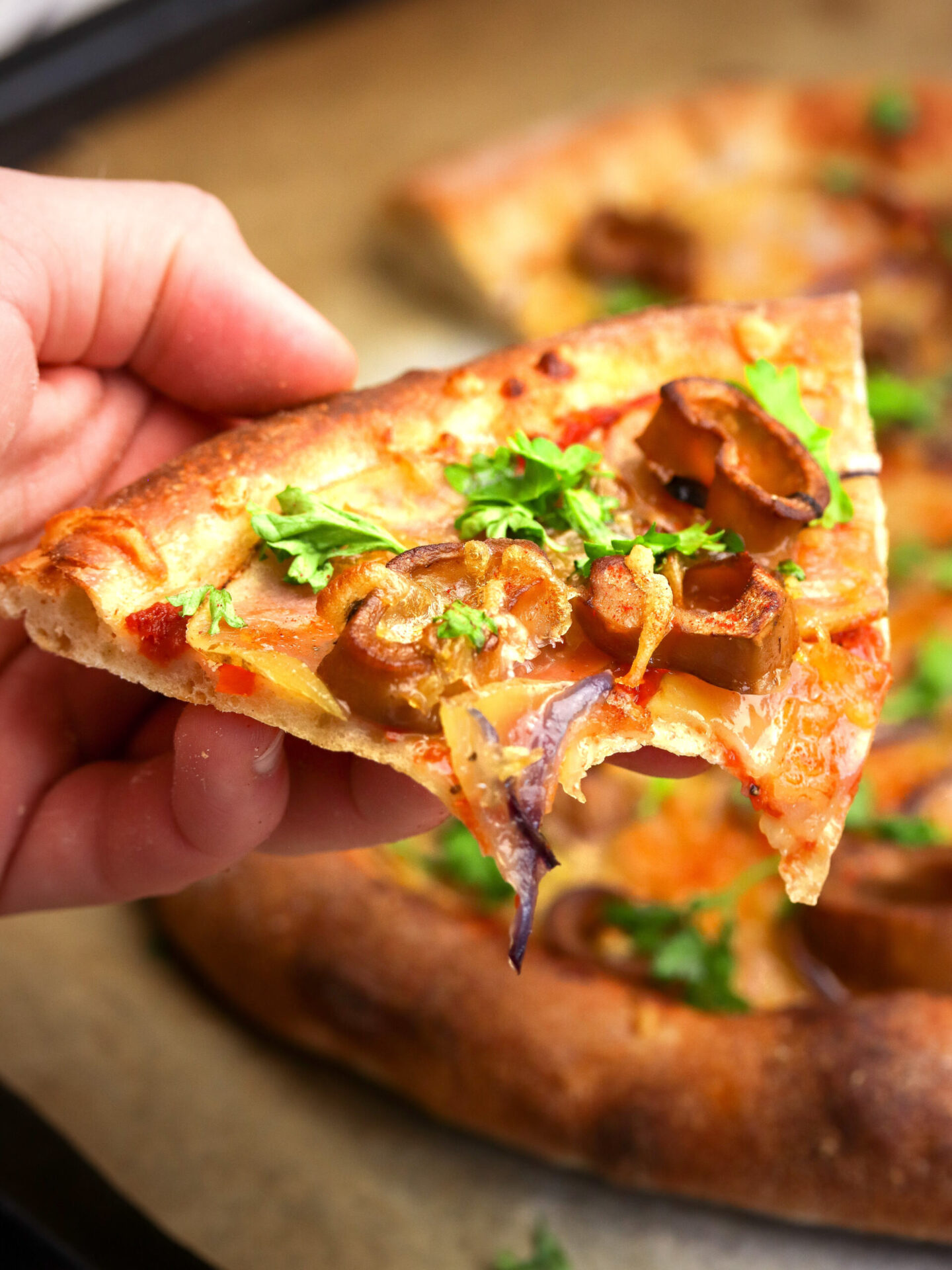 This is how I shaped the dough and then topped it!
Print
Epic Vegan Calamari Pizza
The dough is simply perfect! It's chewy, has a good airy crust, is easy to make and doesn't require any kneading, and great (even preferably) to make in advance. The toppings are to say the least epic with vegan calamari, thinly sliced potatoes, smoked paprika, and of course lots of cheese!
Author: Hanna
Yield:

2

larger pizzas

1

x
Pizza dough
3g

/ 0,1 oz fresh yeast

300

ml / 10,6 oz water

1 tbsp

olive oil

50g

/ 1,75 oz sourdough starter (can be omitted, for simple guide see this recipe)

420g

/ 15 oz high gluten flour, preferably Tipo 00

9g

/ 0,3 oz salt
Toppings
Tomato sauce
Finely sliced red onion
Thinly sliced potato
Cheese of choice
Nature's Charm's Vegan Calamari, pan fried in plenty of olive oil
Parsley, roughly chopped
Smoked paprika
Instructions
Start with the pizza dough. In a large bowl, stir together the yeast, water, oil, and sourdough starter.
Stir in the flour and salt. Let proof for 1 hour in room temp.
Divide the dough into two, and using floured hands, shape into two balls. Place on a large well oiled plate, tray or food container. Spread a little bit of oil on top of the dough balls and wrap with plastic wrap. Let proof in the fridge at least over night or preferably for 24-48 hours. Make sure to use a large plate, tray or food container since the dough will expand a lot.
Preheat the oven to 225C/450F.
On a well floured surface, place one of the dough pieces and start pressing and pushing the dough in a circle as shown in the video above. Before getting too thin, transfer the dough to a baking tray lined with parchment paper. Do the final stretching and shaping on the tray.
Evenly spread the tomato sauce on the pizza and top with your favourite toppings. For this recipe, I did thinly sliced tomato, red onion, Nature's Charm's vegan calamari, and vegan cheese.
Bake for 12-14 minutes or until golden and the toppings are cooked. Top with a drissle of olive oil, parsley, smoked paprika, and enjoy!
Keywords: vegan calamari, vegan, pizza, hemmagjord, homemade, vegansk, recipe, surdeg, sourdough, easy, dairy free, chese, enkel, nyttig