I have had the pleasure to again work with Nature's Charm and bring you two amazing recipes! This time, I'm starting with THESE BUNS OF HEAVEN! They're a version of a Swedish classic, cardamom buns, but made even better with the addition of a salted caramel filling using some of Nature's Charm's coconut based products. These buns are rich, moist, and melt in your mouth like a dream! Yes, they're on the decadent side, but you know by now it's all about that balance. Actually, I brought these to gym to eat during a long session with some friends. Afterwards, I got a message from one of them telling me it was a total power booster. Straight to the biceps!
Anyhow, I made my buns into knots for the classic Swedish bakery style look, but you can of course shape them like classic cinnamon buns. However, I'd definitely give making knots a go! I've included a link to a great video below that shows how to shape dough strips into knots. Really, don't be afraid of a homemade look and you'll get the hang of it! I almost forgot, these buns can be enjoyed by whoever since they're super easy to make vegan, by using dairy free alternatives, but still jam-packed with flavour!
I'll let the videos and photos do the rest of the talking, enjoy!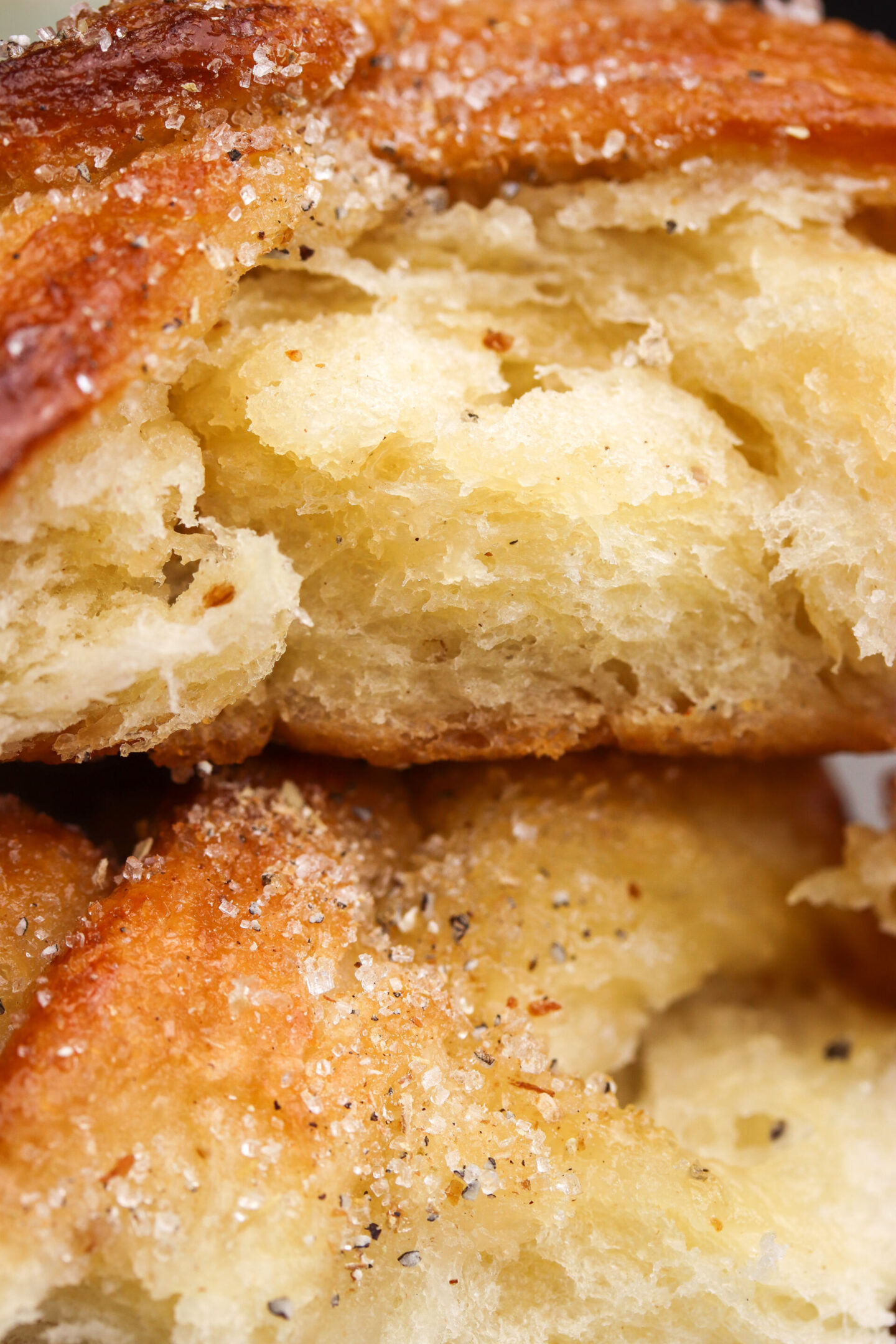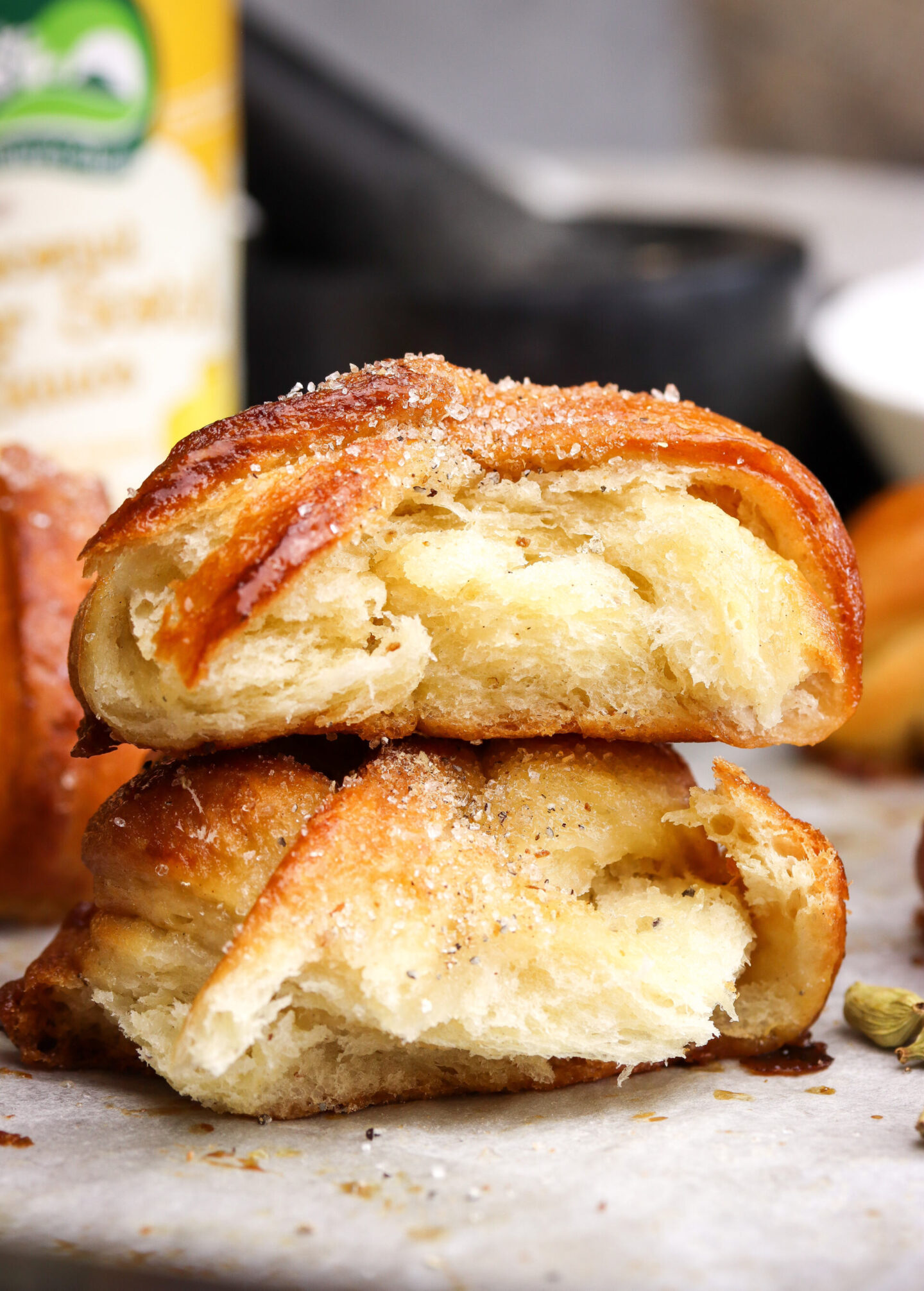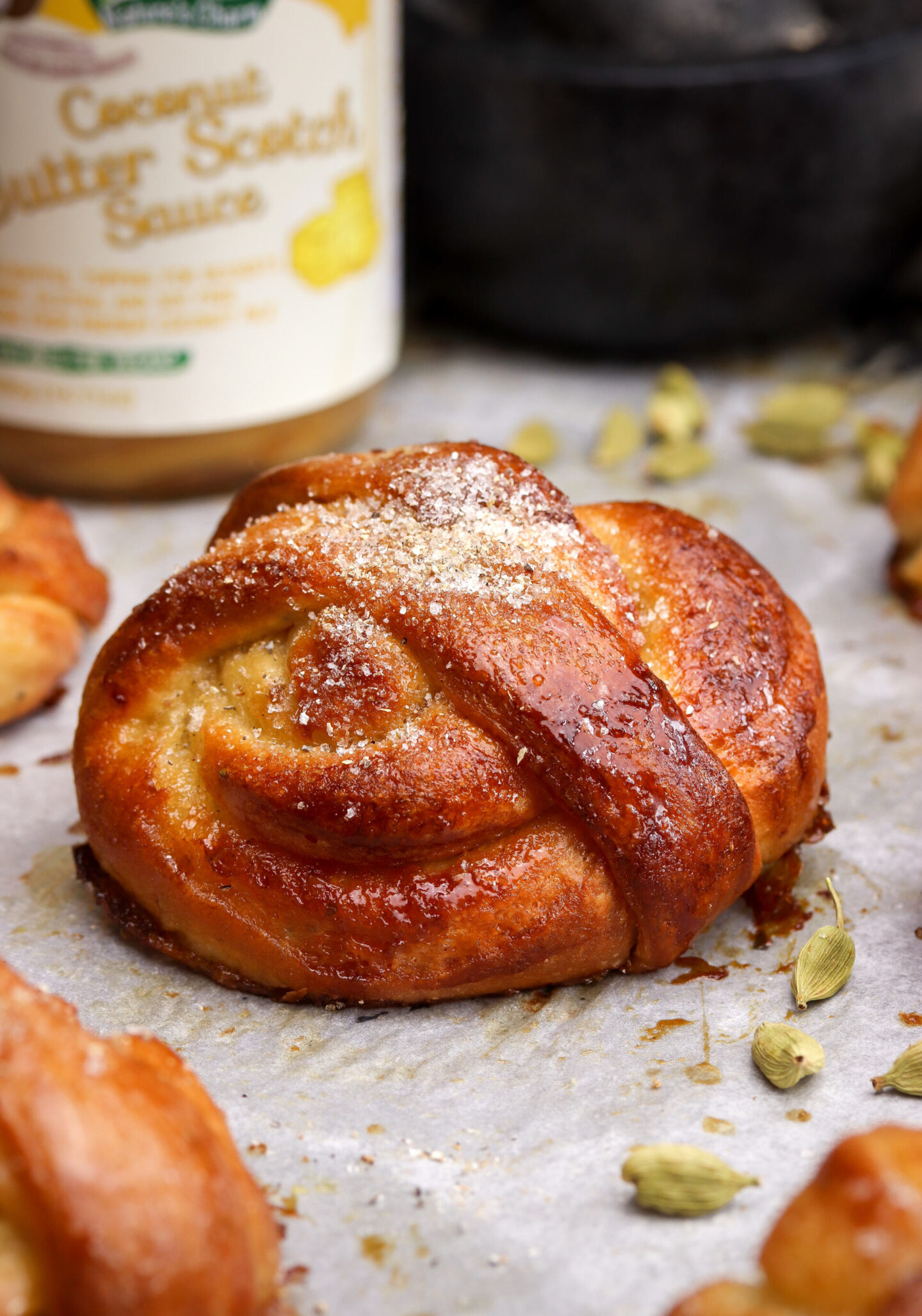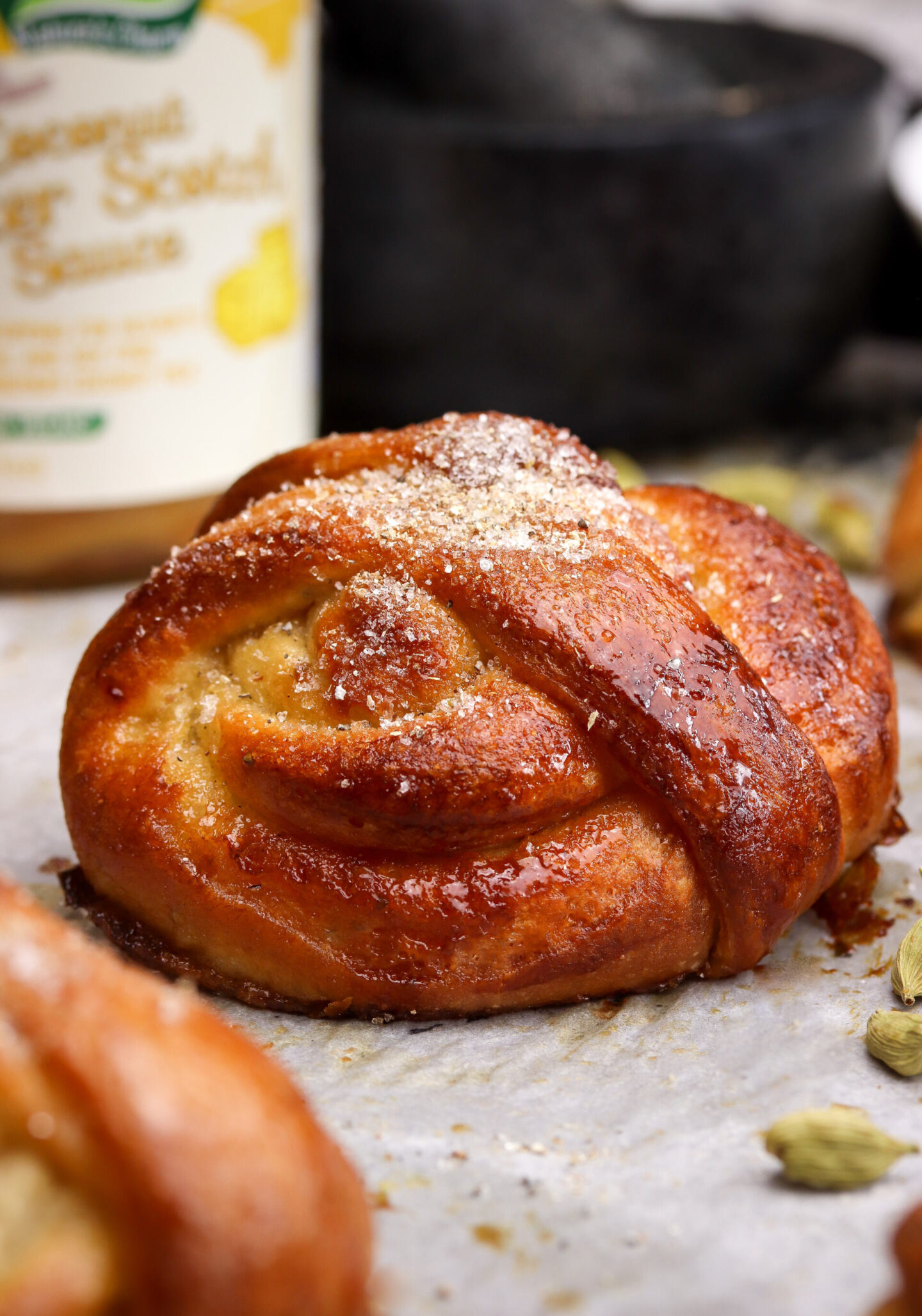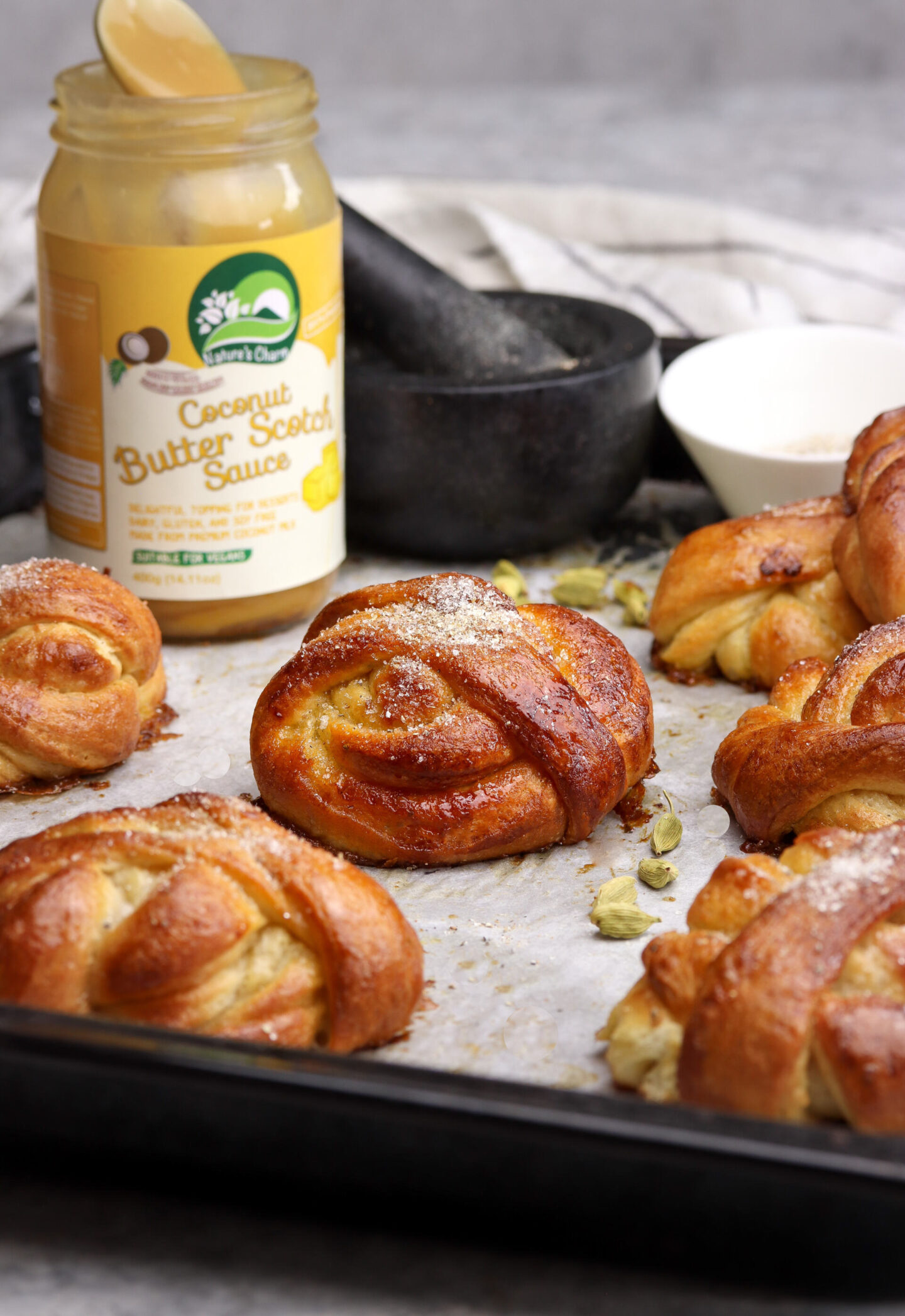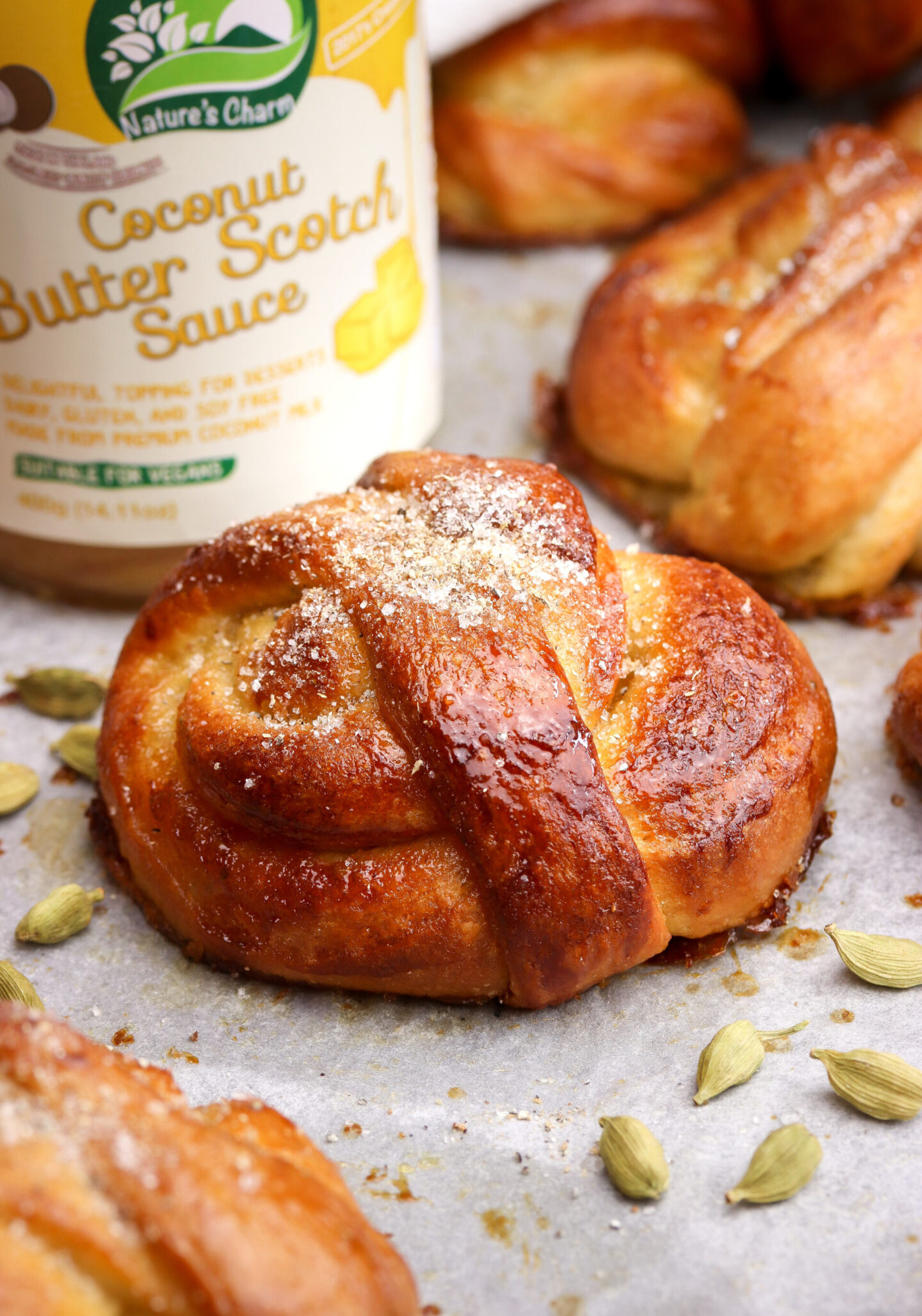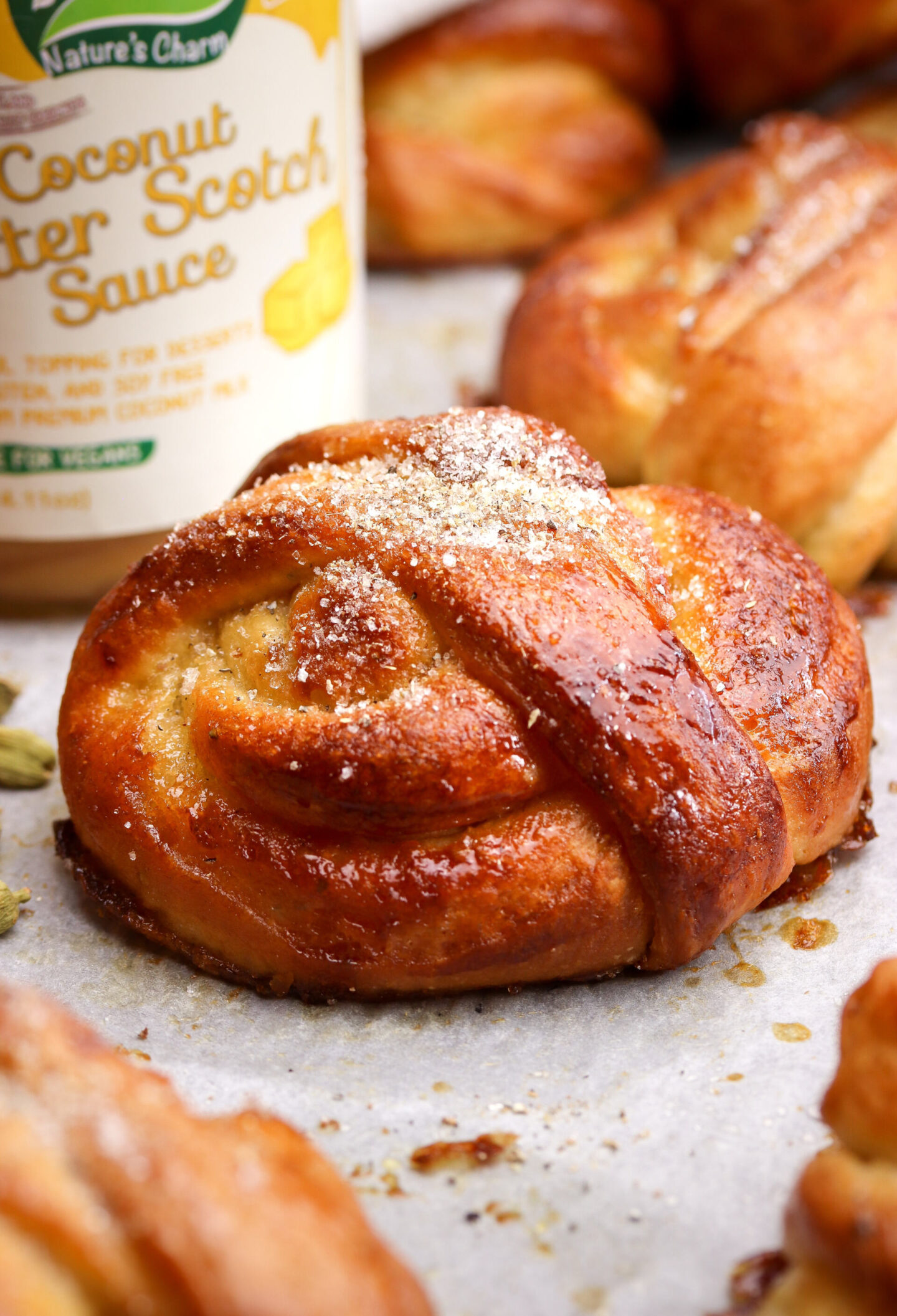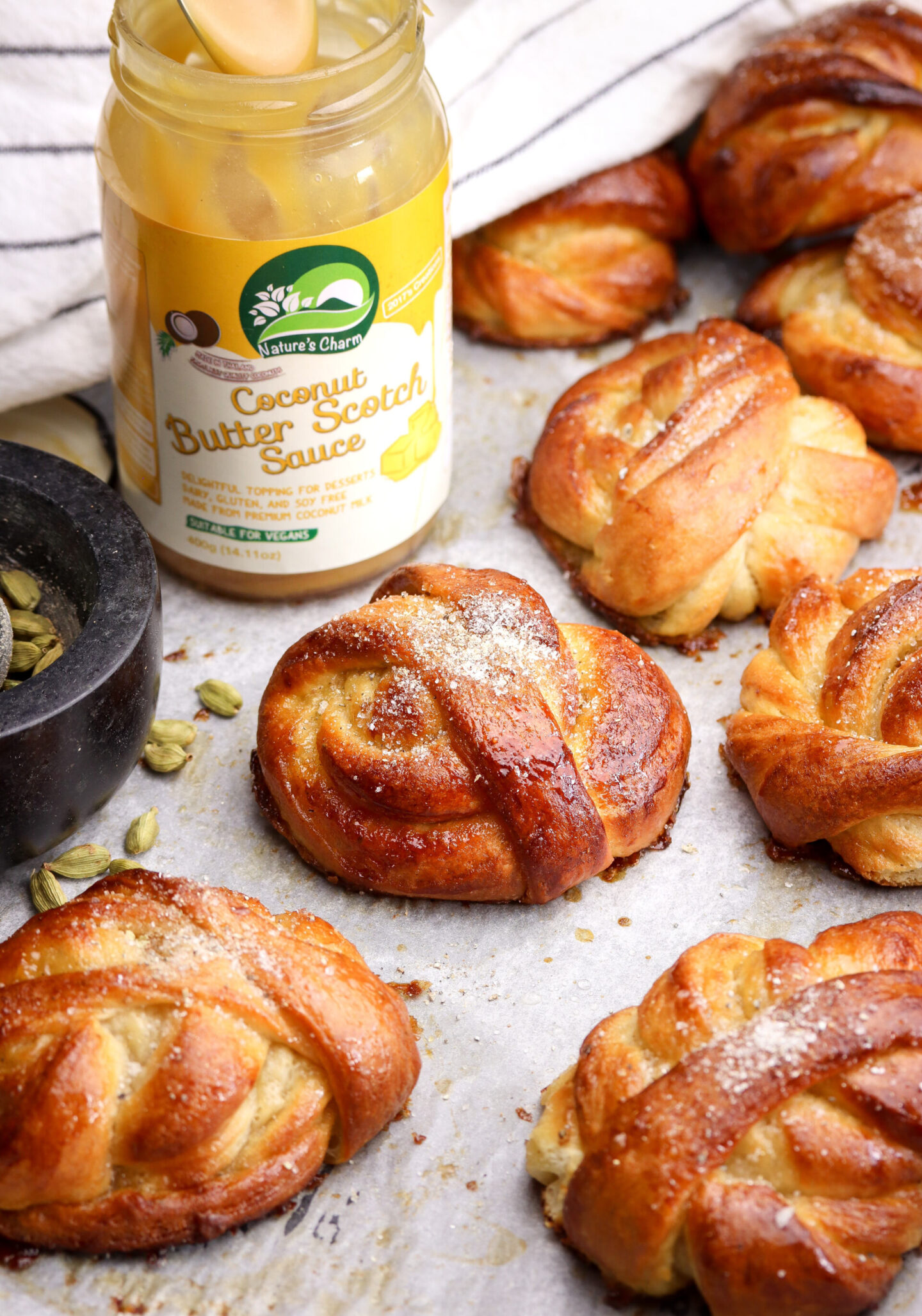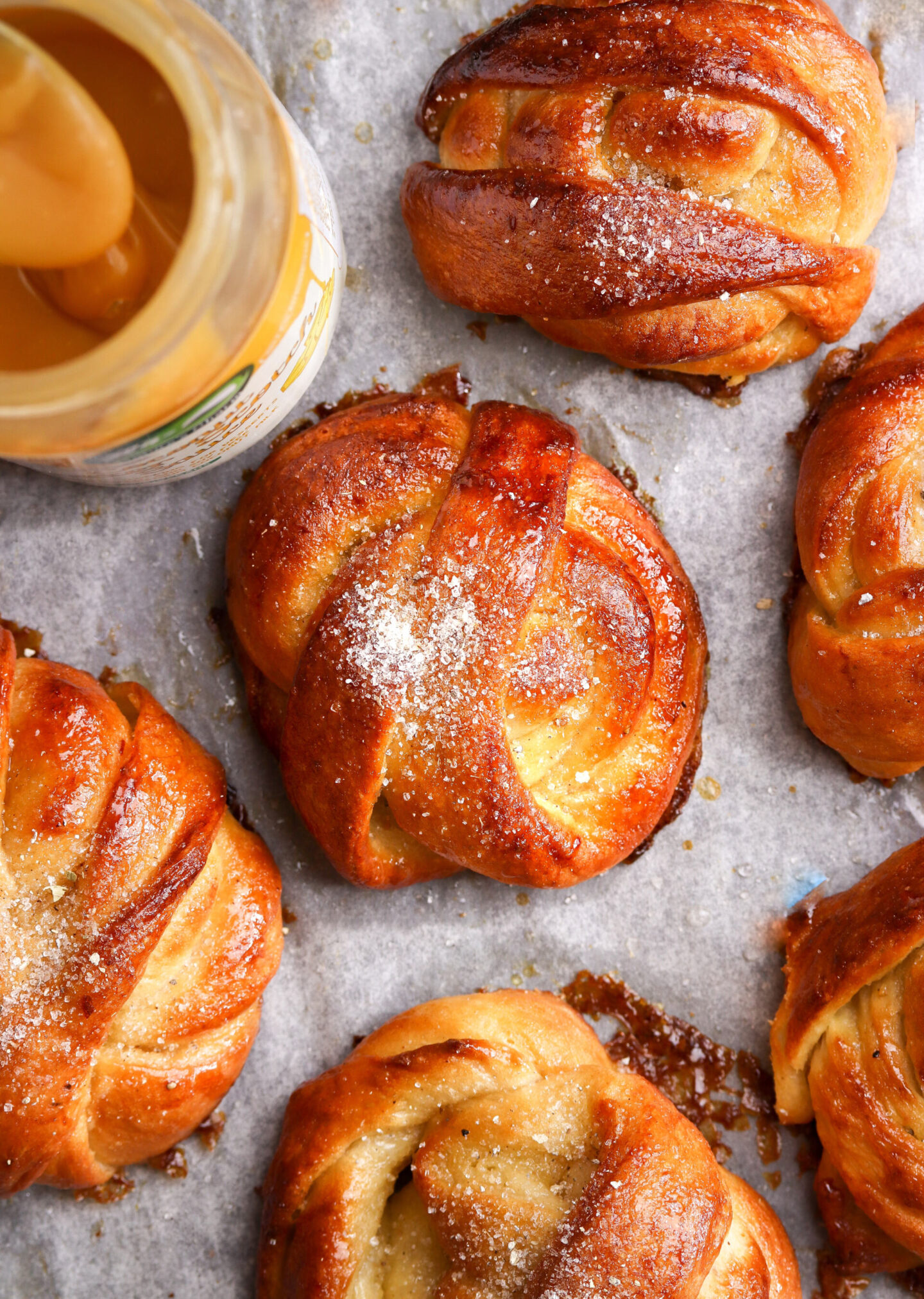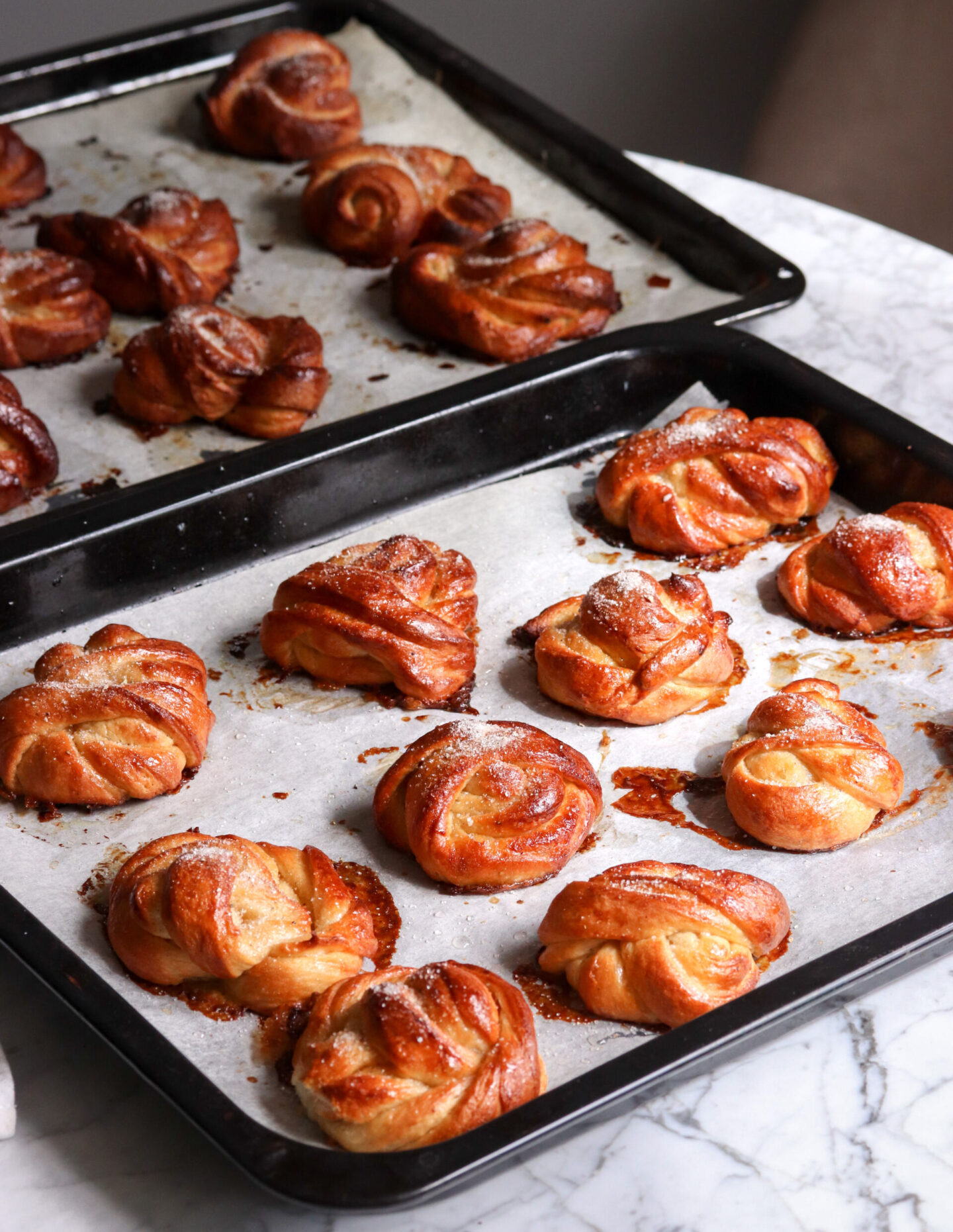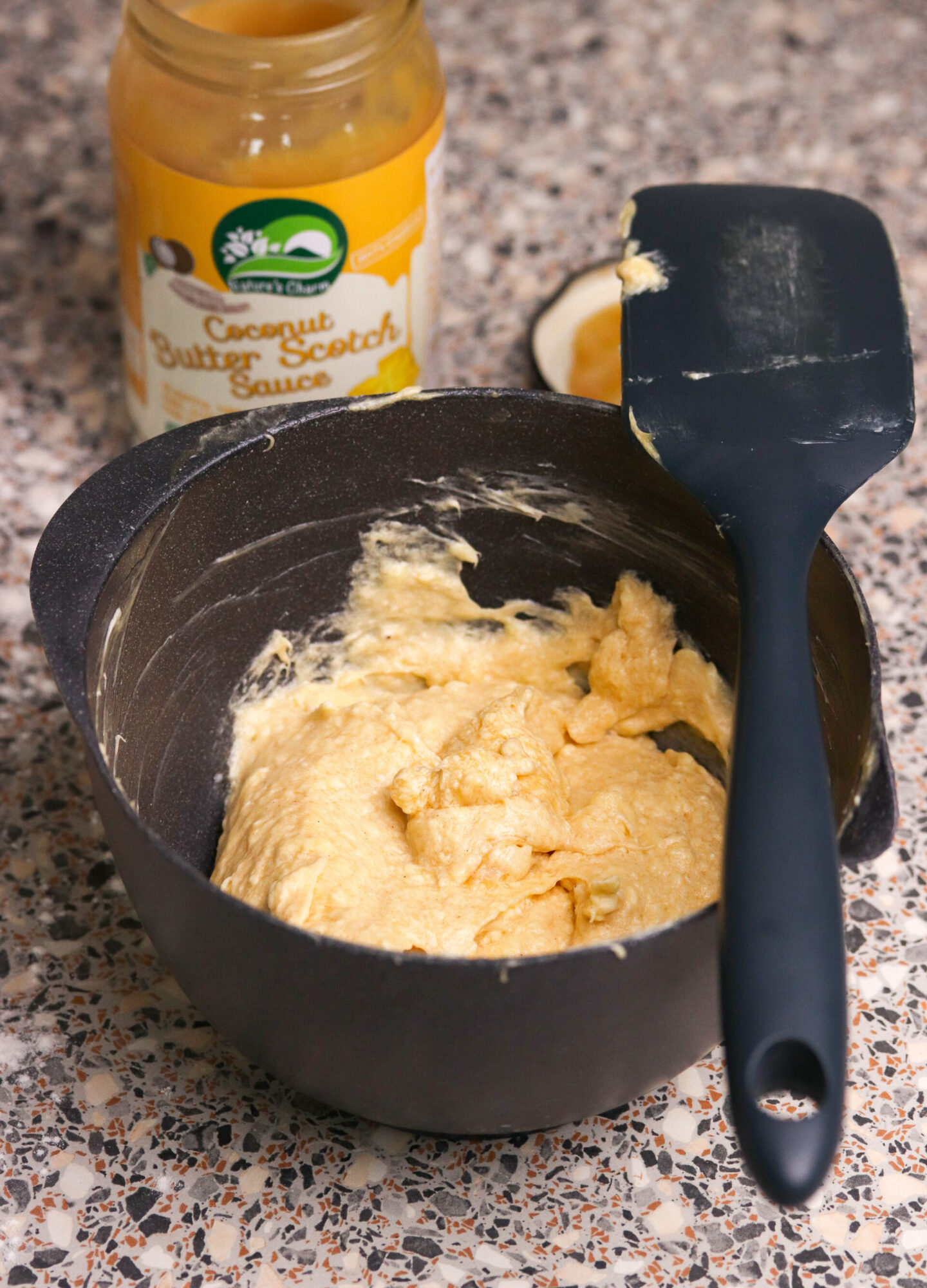 Print
Salted Caramel Cardamom Buns
These buns are rich, moist, and melt in your mouth like a dream! They're a Swedish classic with a salted caramel sticky twist, and using some super easy techniques to make them just like from a bakery or even better.
Author: Hanna
Yield:

20

medium buns

1

x
Filling
Dough
25g

/ 0,9 oz fresh yeast

250

ml / 8,8 oz milk of choice, luke warm

2 tsp

freshly ground cardamom

100g

/ 3,5 oz sugar

125g

/ 4,4 oz margarine or butter, cubed
Around

500g

/ 17,7 oz flour

1/2 tsp

salt
Topping
Some dairy-free cream or a beaten egg for egg wash
Optional sugar solution for a glossy finish, 50g / 1,75 oz dl sugar combined with 100ml / 3,5 oz water*
Optional cardamom sugar for decoration: 1/2 tbsp freshly ground cardamom + 2 tbsp sugar
Instructions
Mix together the ingredients for the filling, and set aside.
Dissolve the fresh yeast in the luke warm milk. Add the cardamom, sugar, margarine/butter.
Stir in half the flour and then add the salt and a few tablespoons at a time of the flour until you get a smooth, controllable but sticky dough.
Knead the dough for 10 minutes with a dough mixer or 15 minutes by hand. Promise the kneading is worth it.
Using a roller pin, roll the dough into a large rectangle, around 30x60cm / 12×24 inches. Evenly spread the filling on the rectangle. Now you can either make classic cinnamon buns style buns, or you can make knots by doing the following.
Start with folding the rectangle along the long side. Then cut into 1-2cm thick strip using a pizza cutter och dough scraper. Then knot the dough by following the technique in this video, or however you like of course. The homemade look is nothing bad! Place on two baking trays lined with parchment paper.
Let the buns proof for 2-3 hours. During the last 30 minutes, preheat your oven to 200°C / 400°F, and prepare a sugar solution by brining the sugar and water to a boil and the letting it cool.
Give your buns an egg wash and bake for 12-15 minutes or until golden. Straight of the oven, brush the buns with the sugar solution and decorate with cardamom sugar. Devour and enjoy!
Notes
*The sugar solution will not only boost your buns appearance and taste wise, but they're also keep way better and not get dry as quickly. It's a super common technique among Swedish bakeries.
Keywords: vegan salted caramel buns, sticky buns, healthy, vegan, veganska, nyttiga, kanelbullar, kardemummabullar, bullar, kolabullar, butter scotch, dulce de leche, kondenserad mjölk, kolasås