Okay, I have been super hesitant to whether or not I should post this recipe. These brownies are BEYOND delicious (honestly, one of my best recipes with the best flavour and texture combinations ever(!!)), but the pictures really did not turn out the way I wanted them to. I'll try to summarise the problems ,that occurred when I was trying to photograph these brownies, in a few word. Sun set = bad lighting, hard shadows, tries to put parchment paper on window to soften the shadows, the sun light still yellow, frozen banana start to melt, Hanna panics, ouch… Well, photographing the recipe certainly was a real hassle.
Anyhow, not only will I remake this recipe because of the bad photos, but also because it's simply so darn good! Just imagine, a perfectly chewy, chunky, decadent, chocolately raw brownie bottom topped with a thick layer of salted caramel, topped with banana slices, walnuts, and choooocolate. Can it get any better? It can! If you store these bad boys in the freezer the caramel will thicken up and become almost chewy and the banana will freeze into pieces of deliciousness. So basically, these brownies become ice cream bites/sandwiches when frozen. How delicious isn't that?!
I hope you're as excited to try this recipe as I am to remake them! Enough rambling by me, and enjoy!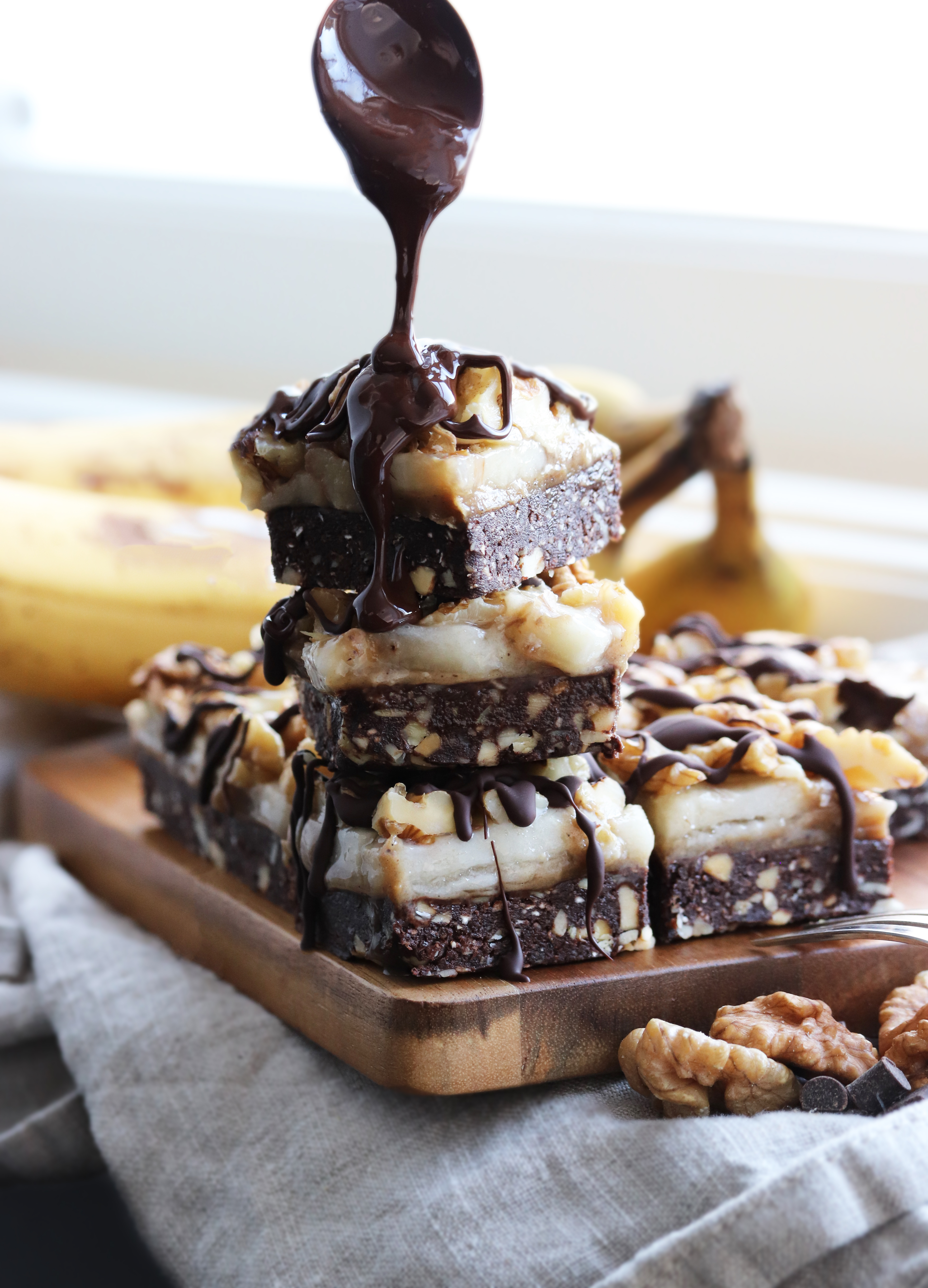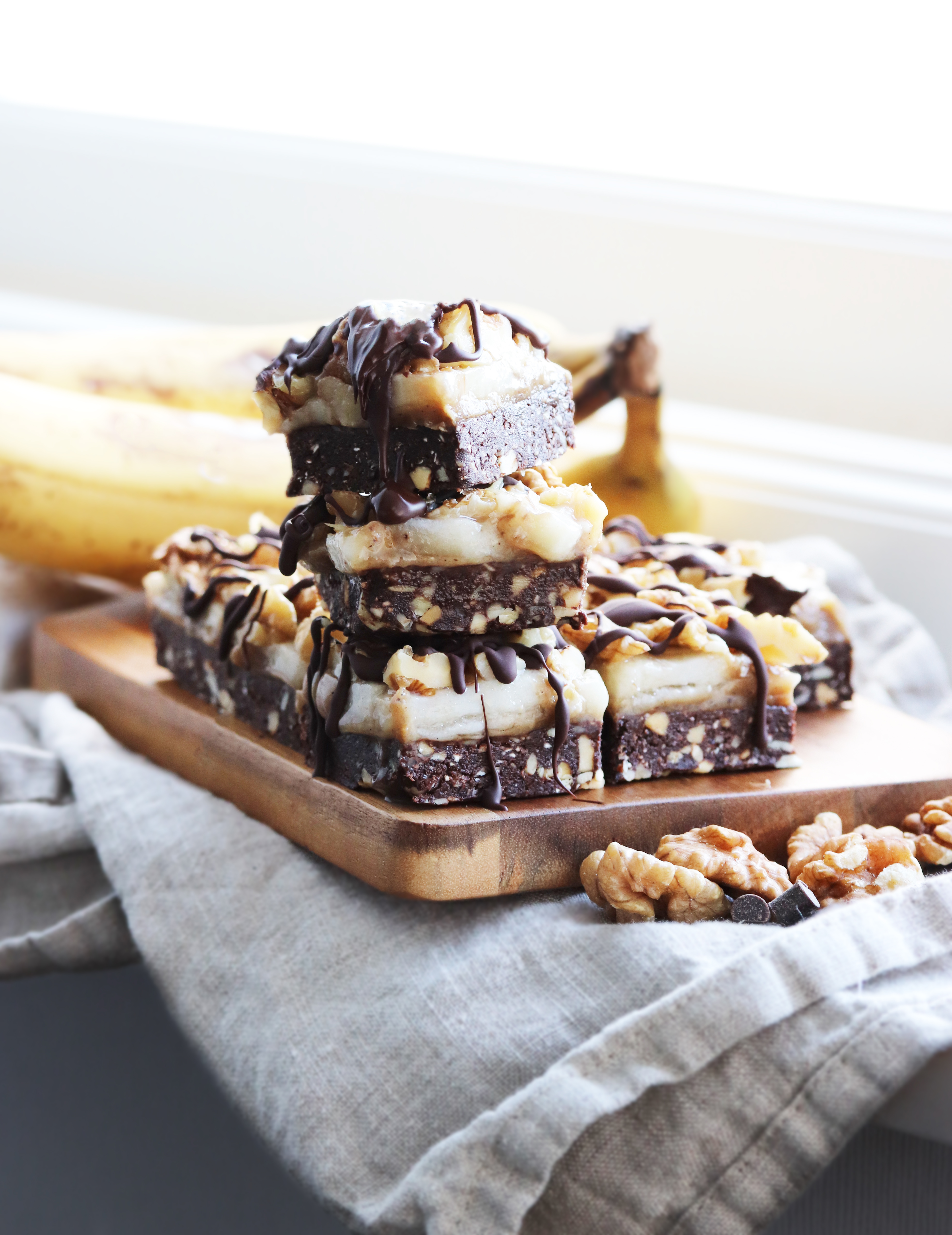 Print
Chunky Monkey Caramel No bake Brownies
The simple yet delicious combination of banana, salted caramel, and chocolate in the form of a no bake brownie treat.
Brownie
100g

/ 3,5 oz pitted dates

4 tbsp

rolled oats, oat flour, almond flour or such

4 tbsp

cocoa powder
A generous pinch of salt

1/2 tsp

vanilla essence or extract

60g

/ 2 oz nuts & seeds of choice
Caramel layer
80g

/ 2,8 oz pitted dates

2 tbsp

nut butter

3 tbsp

water
A generous pinch of salt

1/2 tsp

vanilla essence or extract
Topping
A small banana à 100g / 3,5 oz, sliced
A large handful, around 50g / 1,75 oz, walnuts

30g

/ 2 oz chocolate, melted
Instructions
Line a square baking pan with parchment paper or plastic wrap. My pan was 15 x 15 cm.
In a powerful food processor or blender, process the all the ingredients for the brownie, except for the nuts, as finely as possible. Add the nuts and process until you a nice chunky dough. Transfer, and firmly press the dough into the pan, taking a few minutes to work it into every corner and smooth it out.
Quickly clean the food processor/blender, and start making the caramel by mixing all it's ingredients completely smooth. Transfer onto the brownie base and spread out evenly.
Top the brownie first with the sliced banana, then walnuts, and end with drizzling the chocolate on top. Let set in the freezer over night or serve immediately. (It's extra good when frozen as the banana combined with the caramel becomes the most delicious ice cream texture)
Keywords: No bake brownies, chunky monkey, healthy, gluten free, vegan