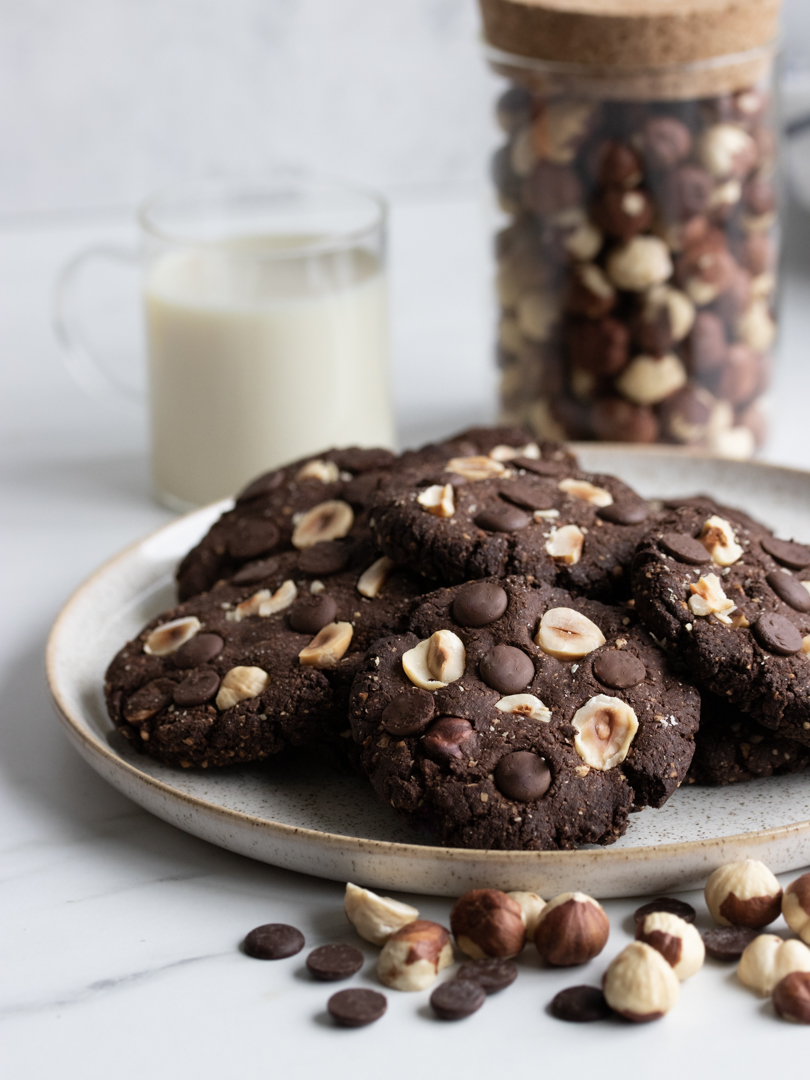 Do you see a theme in my recipes? Well, let me explain the theme I see I've going. Chocolate on top of chocolate on top of even more chocolate. But, hey, I shouldn't complain. Chocolate is love, chocolate is life! Or?
Anyhow, hazelnuts and chocolate is obviously one of the best combinations in the world. For example, Nutella, Ferraro Roche, nougat, and other treats loved by the entire world, are a great example of treats using the chocolate hazelnut flavour combination. I reckon, you've probably had chocolate and hazelnut treats before, so I don't think that topic needs any further explanation. However, I should touch on that I used rye flour for this recipe. You might think I'm crazy, but it gives the cookies an extra nutty heartiness, that I absolutely adore. Of course, you can substitute it for other flours of choice, but I definitely recommend at least trying my version.
As usual, enough rambling from my side! Enjoy!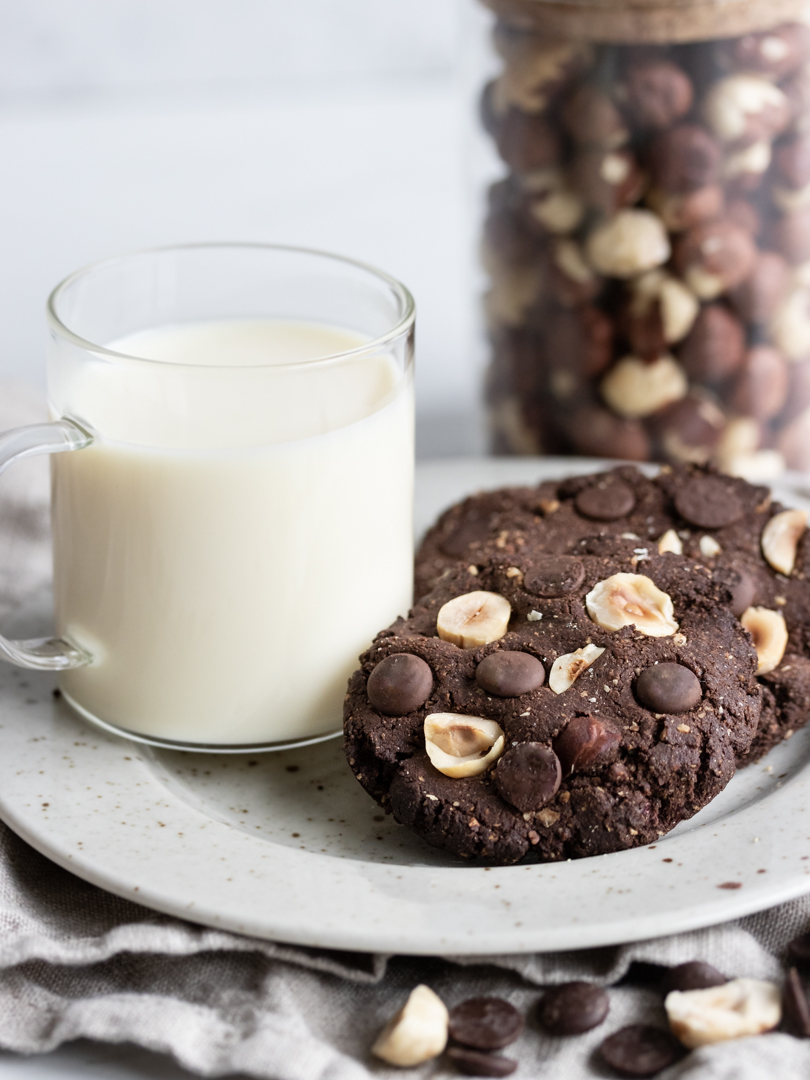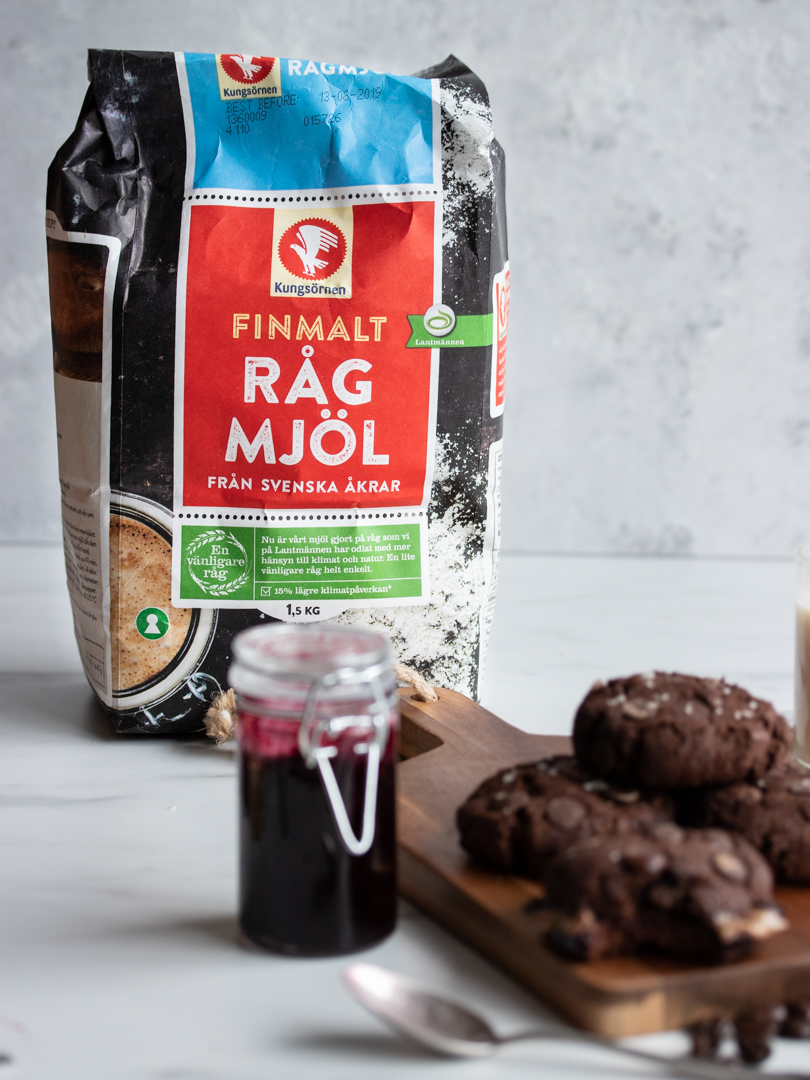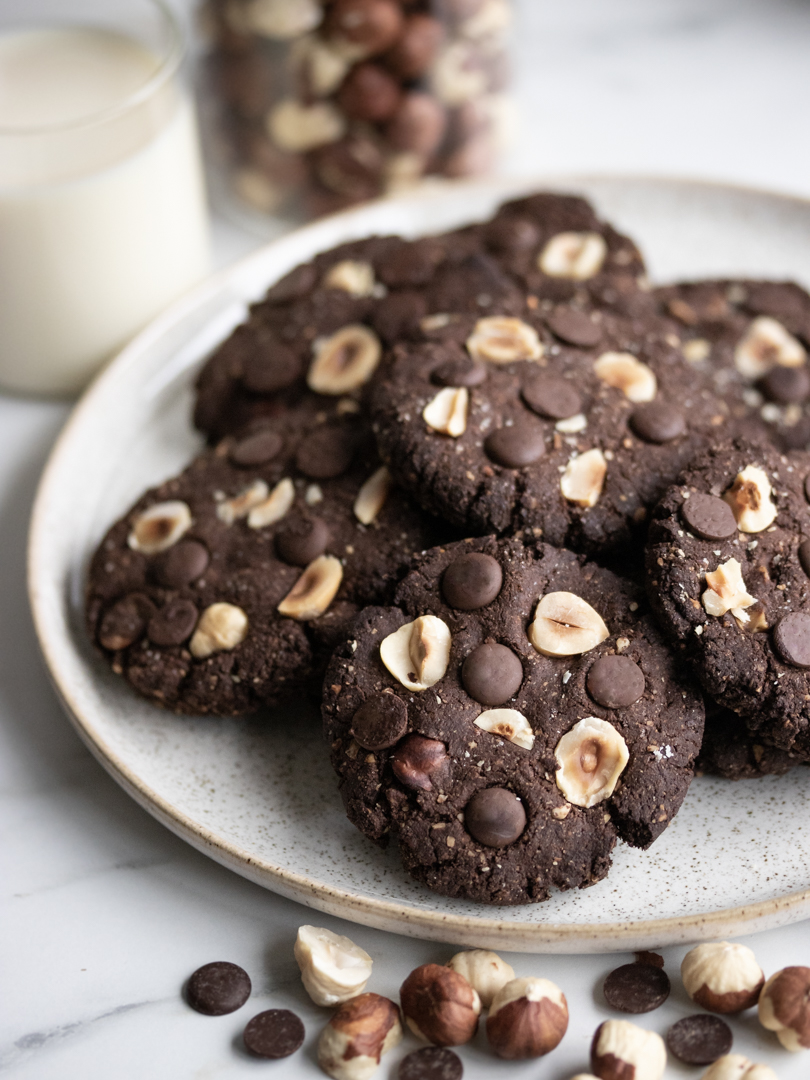 Print
Double Chocolate Hazelnut Rye Cookies
The addition of rye and hazelnut flour gives the cookies an extra oumph of beautiful nuttiness which is a dream come true in combination with chocolate.
60g

/ 2,1 oz finely ground rye flour

40g

/ 1,4 oz hazelnut (or other nut-) flour

1 tsp

baking powder

10g

/ 2 tbsp cocoa powder
A generous pinch of salt

30g

/ 1 oz coconut sugar or other granulated sweetener

30g

/ 1 oz dark chocolate

4 tbsp

milk of choice
A handful of chocolate chips or chopped chocolate (around 30g / 1 oz)
A handful of halved roasted hazelnut (around 20g / 0,7 oz)
Instructions
Preheat your  oven to 175ºC / 350ºF. In a large bowl, combine all the flours, baking powder, cocoa, salt, and sweetener.
Break apart the dark chocolate, and put it along with the milk, in a small microwave safe bowl. Microwave on low heat until the chocolate has melted, give it a stir until it has formed a chocolatey mixture.
Add the chocolate mixture to the dry. Using your hands or a wooden spoon stir/knead until you get a luxious dough. Add the chocolate chips/chunks and hazelnut, give it a stir, and divide the dough into 10 equally sized balls.
Line a cookie tray with parchment paper and place the balls of dough with enough room apart (they won't melt/expand as much regular cookies though). Flatten the cookies so they're as thick as a pinky finger. Bake for 18-25 minutes, or until crispy (and not burned!). Take out, let cool, serve and enjoy! ,