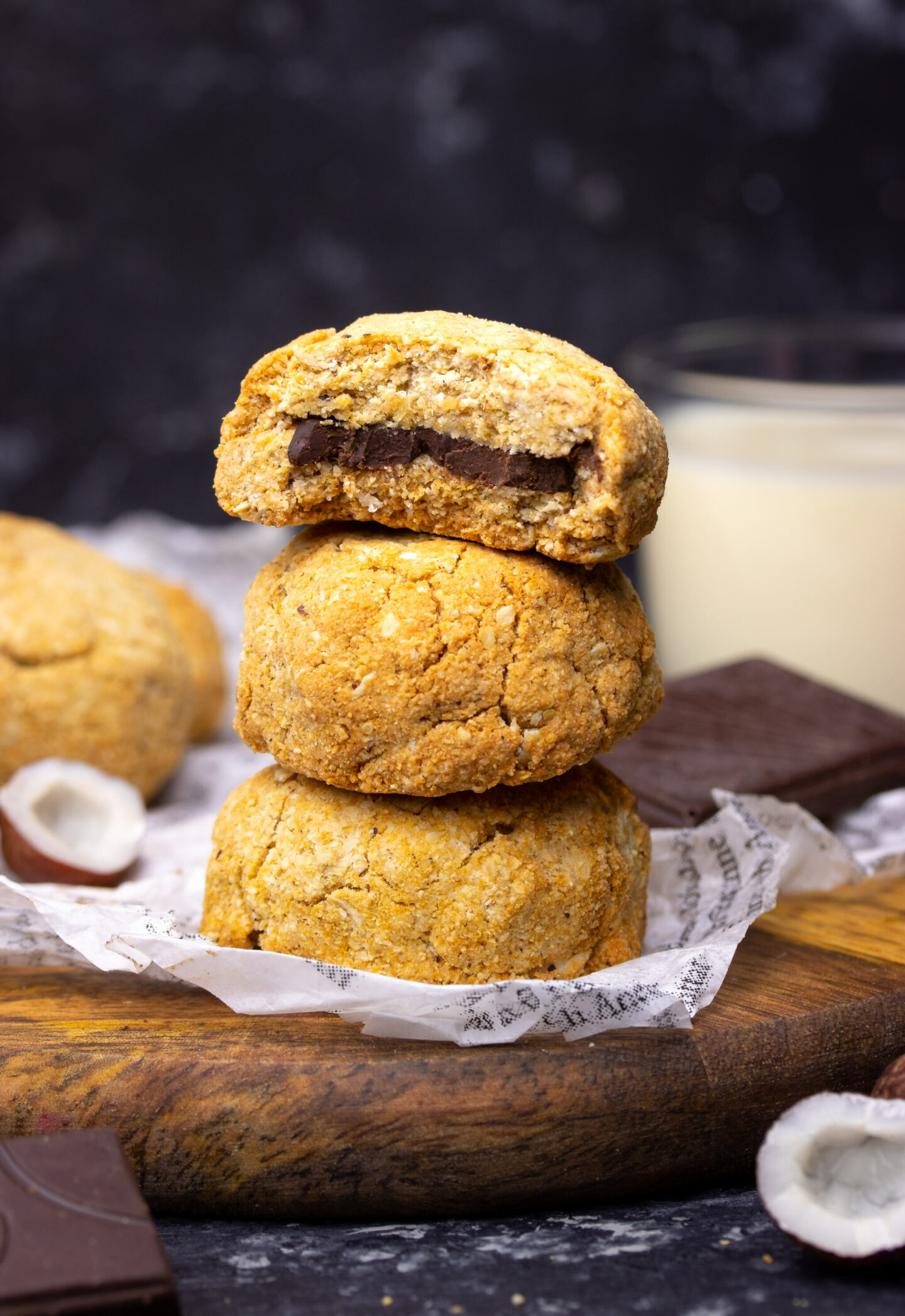 We all know by now how delicious the combination of coconut and chocolate is. These cookies combine those two ingredients in the most delicious way possible. The addition of delicious dark chocolate to perfectly crumbly, sweet, coconutty cookies tastes like all your dreams coming true. Imagine these almost straight out of the oven when the chocolate, unlike in the pictures sadly, is still gooey and delicious with a glass of cold milk of choice. Oh my gosh, how decadent and luscious!
As all my recipes, these are pretty darn wholesome as well as vegan. Plus, these are suitable for anyone who's from nut-allergic to gluten-intolerant. You can make these bad boys for any occasion for anyone regardless of allergy or such to enjoy. Pretty nice, huh? Not to forget, these are really easy to make honestly. The only step that may take some time is the stuffing and shaping of the cookies, but that is only if you're a bake blogger who wants everything to look perfect, haha. However, it was all worth it when you look at that choc' middle of the cookie.
Anyhow, I really hope you give these cookies a go since they really are scrumptious. If you do try them out, definitely let me know. In the meantime, enjoy!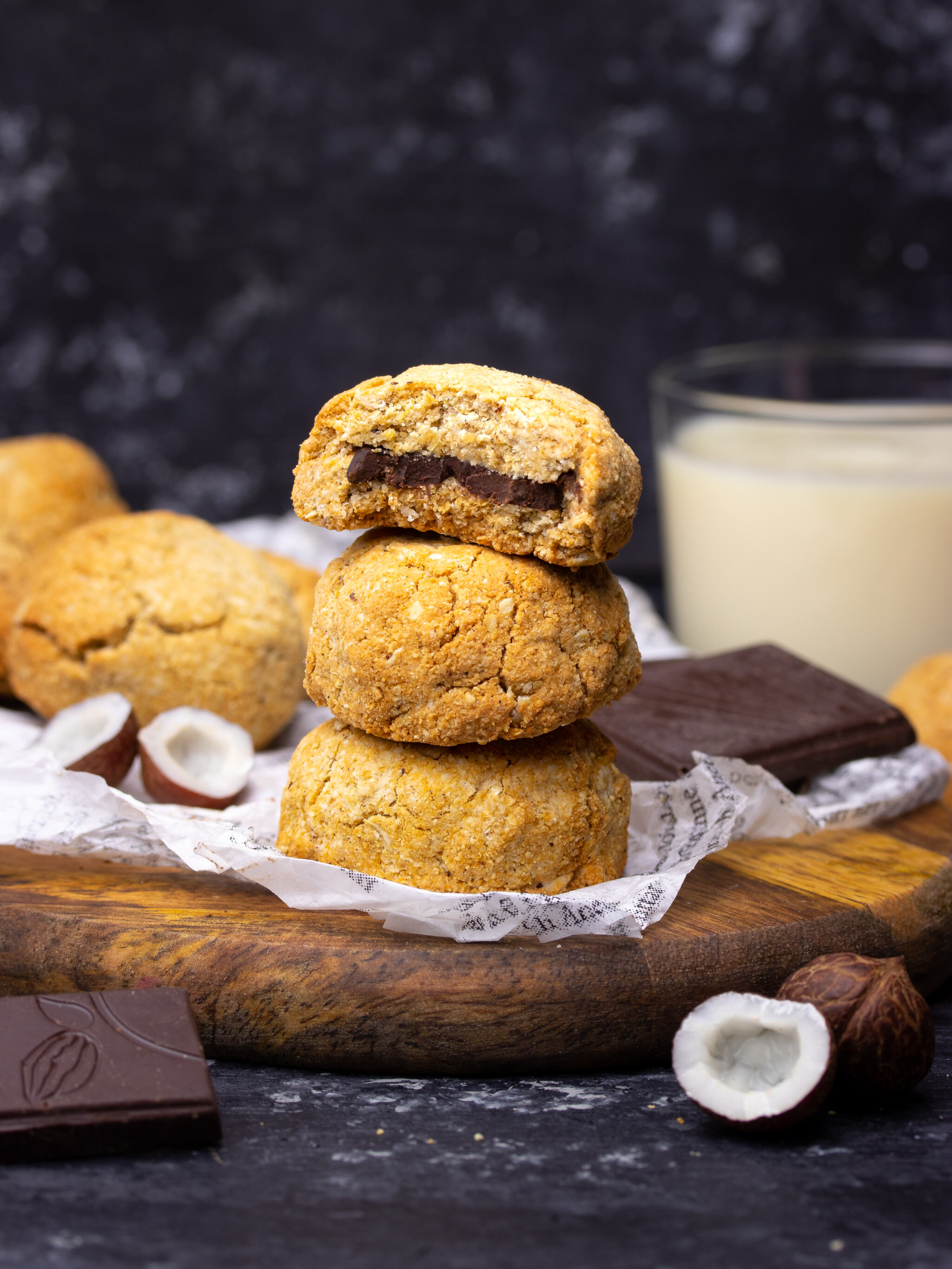 Who doens't like a GIF with some cookie milk dunking action? Yuuuum!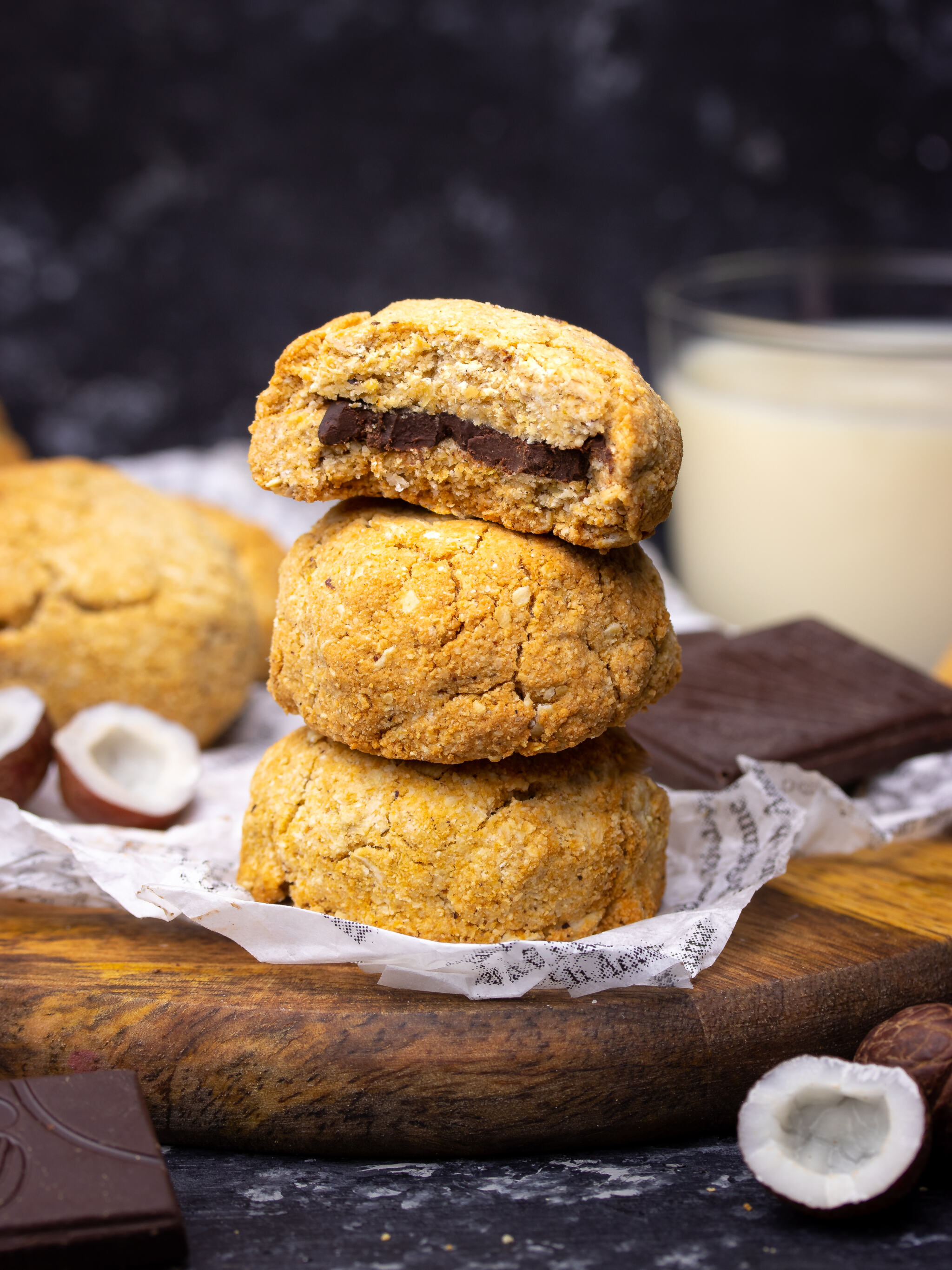 Also, sometimes I find that a recipe doesn't need a billion pictures but only a few showing off the best sides of the treat.
Print
Dark Chocolate Stuffed Coconut Cookies
The combination of gooey chocolate in the middle or a perfectly crumbly, nutty, sweet coconut cookies served with a cold glass of milk truly is pure bliss.
60g

/ 2,1 oz coconut flour (not the same as shredded coconut)

40g

/ 1,4 oz oat flour

40g

/ 1,4 oz rolled oats

1/2 tsp

baking soda

1/2 tsp

baking powder
A hearty pinch of salt

5 tbsp

liquid sweetener of choice

1 tbsp

water

2 tbsp

of nut or seed butter of choice (I used hazelnut)
A splash of vanilla essence
About

80g

/ 2,8 oz chocolate, broken into squares
Instructions
Preheat your oven to 150ºC / 300ºF. Line a cookie tray with parchment paper.
In a bowl, combine the dry ingredients.
Add the rest of the ingredients except for the chocolate and crumble together using your hands. The dough should keep it shape and be moist. If too dry add a splash of water.
Divide the dough into ten balls. Take on ball and "wrap" around a hearty square of chocolate. The chocolate need to be entirely covered. Place on the prepared cookie tray. Bake for 18-20 minutes or until golden. Take out, let cool slightly, and enjoy!
Keywords: Coconut cookies, dark chocolate, stuffed, filled, vegan, gluten free, easy, refined sugar free, healthy