Luscious
Decadent
Delicious
Mouth-watering
Moreish
Sophisticated
These are all words that describe this dessert perfectly. It's simple yet elegant, moreish yet sophisticated. It's simply all you will ever need in the form of a dessert.
This recipe is a decadent and filling one, but also perfect if you want to impress or convince someone that you can eat plant based without just eating salad. This is also very simple to make yet it has a beautiful contrast in textures and flavours. The combination of sweet, not over-powering coconut cream that melts in your mouth, unbeatable salted caramel sauce, and chewy chocolatey brownies truly is beyond delicious. Honestly, these trifles are pure perfection. Also, imagine having one of these trifles after dinner with some good friends while enjoying the mild, warm summer evening. Pure bliss!
I've created this recipe in collaboration with Nature's Charm who has a wide range of all vegan products including whipped coconut cream, condensed coconut milk, and lots of dessert toppings like salted caramel sauce. I just love new-thinking companies that try to improve the world by investing in delicious plant based food everyone can love and enjoy regardless if they don't like "healthy" food or have an allergy. That's why I'm mighty proud of partnering up with such a cool company.
Another recipe I think you'd like just as much is for the most mouth-watering Upside Down Banana Chocolate cake I also created in collaboration with Nature's Charm using their condensed coconut milk, which they were the first to introduce to the market. Anther cool thing about Nature's Charm is that they're broadly available online wherever you live. In Sweden you can find some of their products over at Good Store.
Oooh, if you want this dessert to be a bit more summery, the addition of fresh strawberries, raspberries, blueberries, or currants would be a perfect fresh element that also would balance out the sweetness beautifully. Mmmm… I think I'll leave you with that delicious thought in your mind and let the pictures take over from here. Enjoy!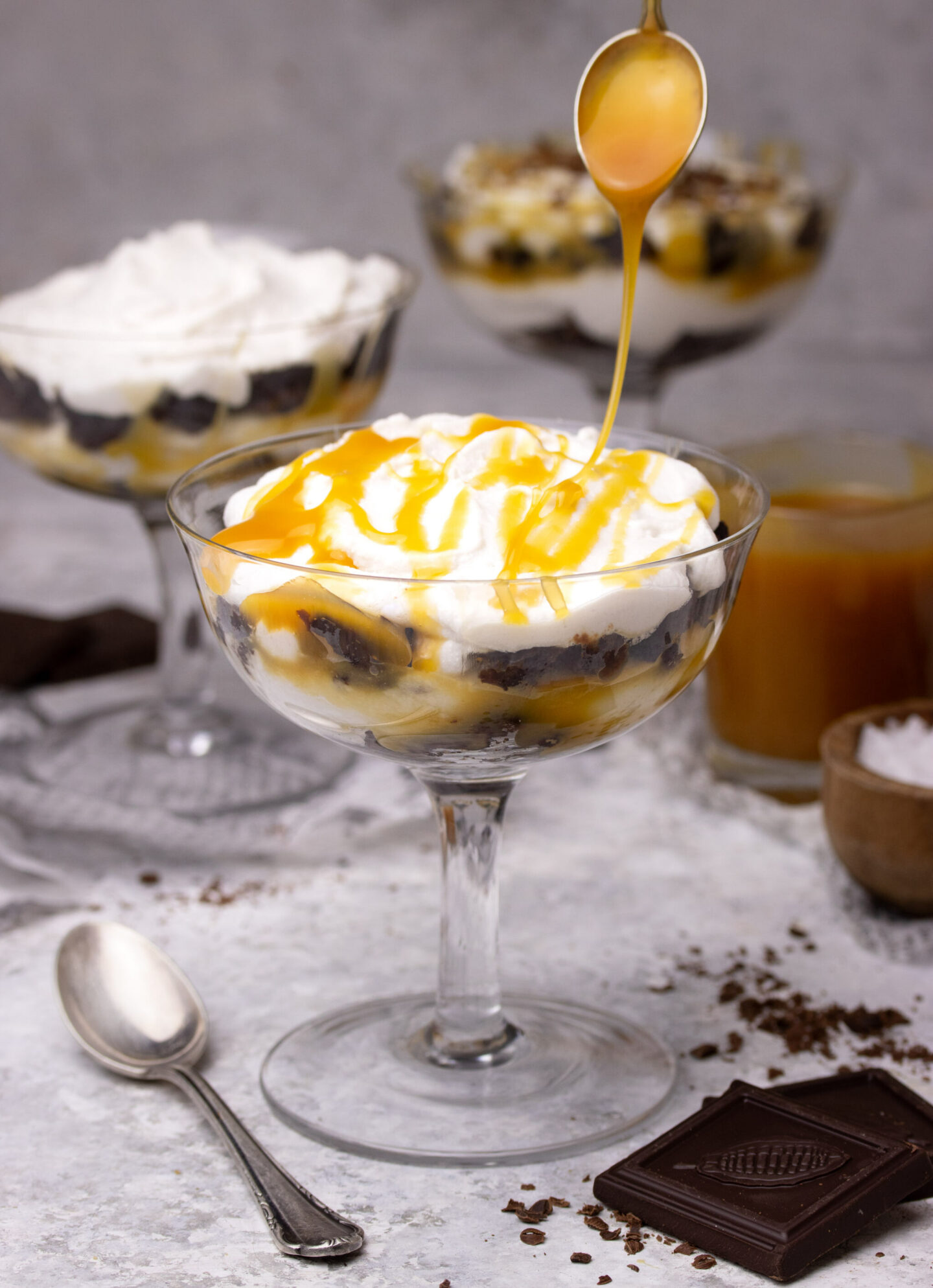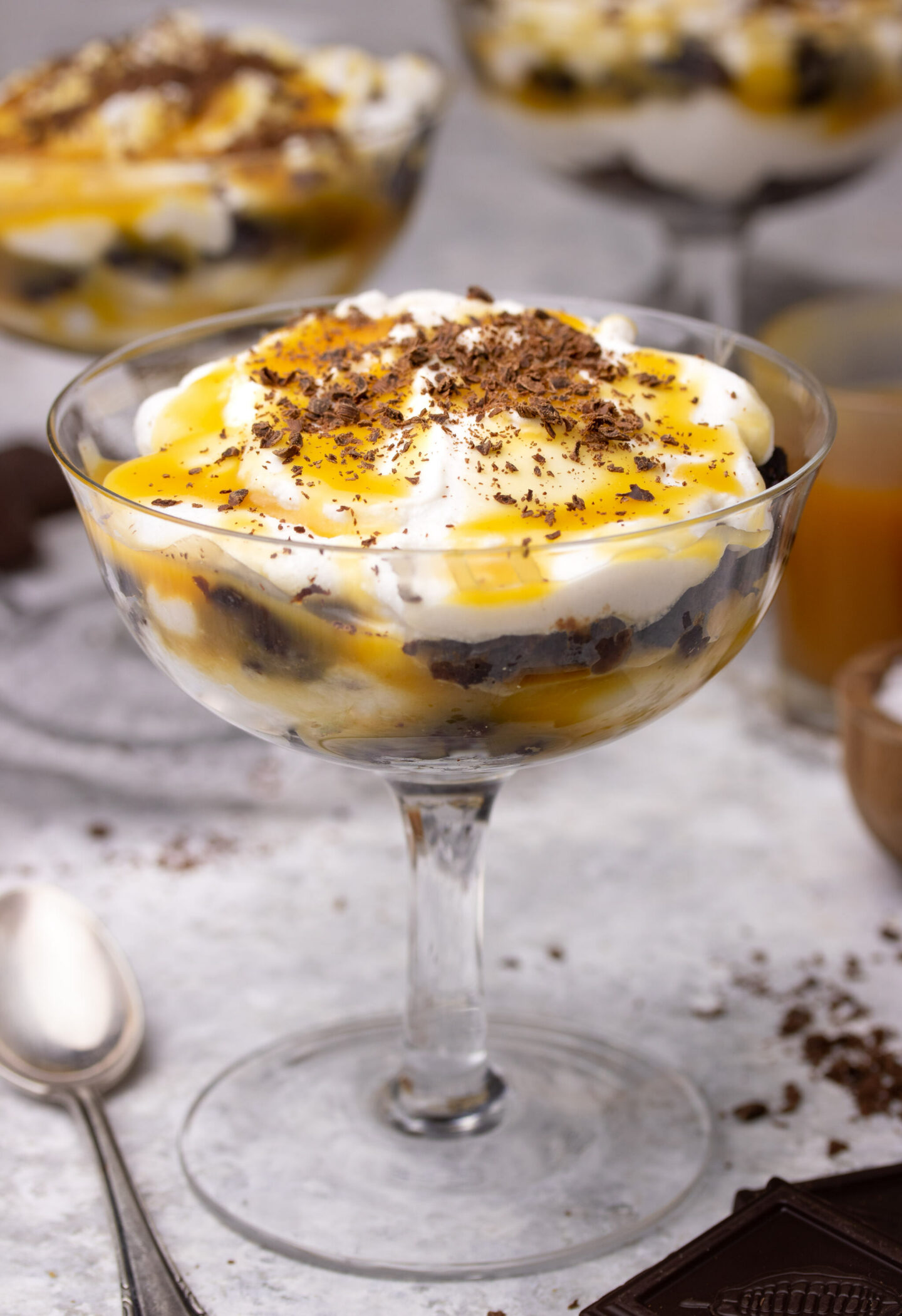 Can we just take a moment an appreciate the adorable packaging of Nature's Charm's products. I can not be the only one who sometimes basically only buys a product because of the packaging. Anyhow, this is so freaking cute!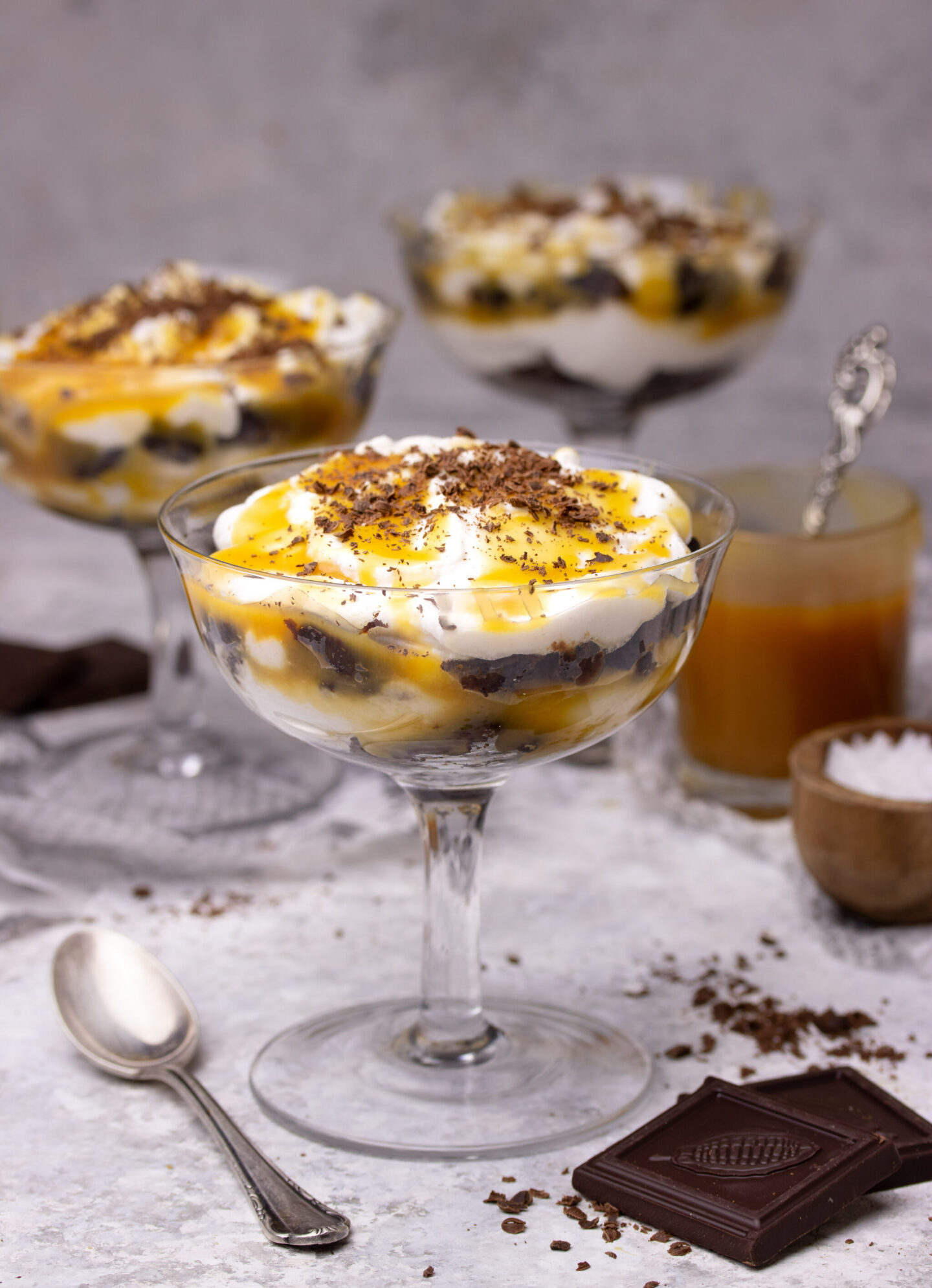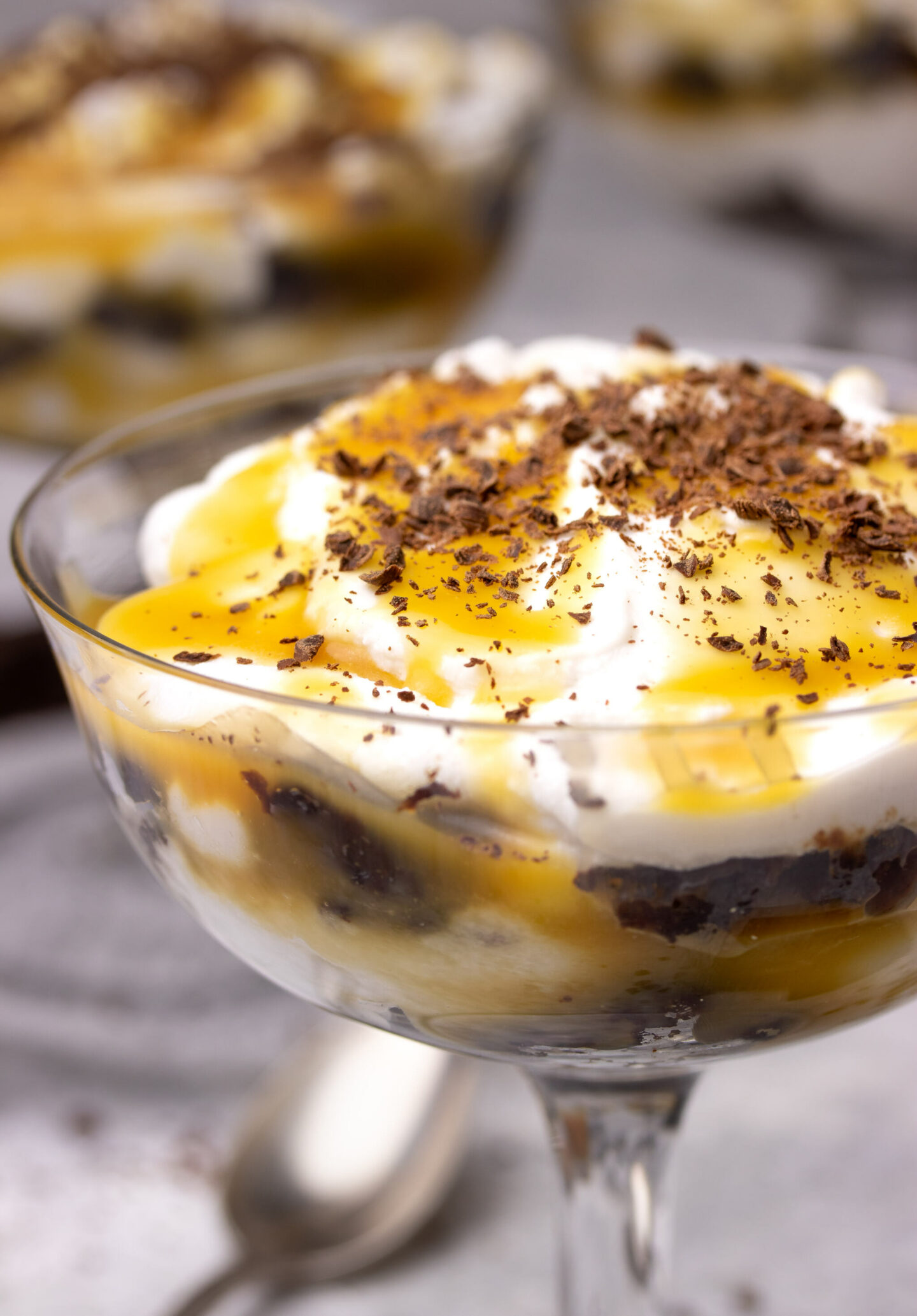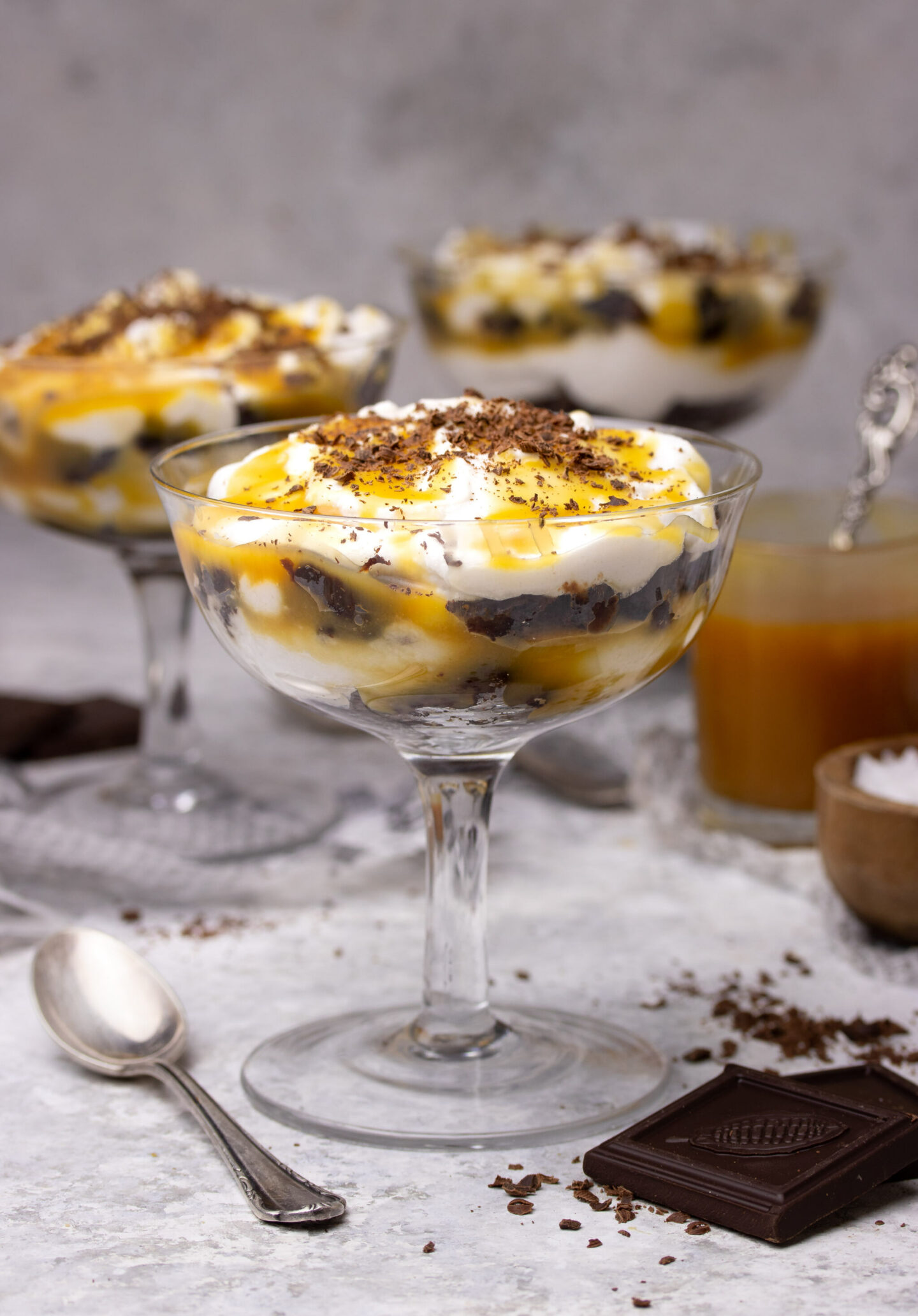 Print
Salted Caramel Brownie Trifle
The decadency of this recipe is unbeatable. Chewy brownies is combined with the perfect salted caramel sauce and whipped coconut cream. Heavenly!
Brownies
200g

/ 7 oz pitted dates

2 tbsp

nut or seed butter of choice

1/2 tsp

vanilla extract

30g

/ 1,1 oz cocoa powder

20g

/ 0,7 oz oat flour

1 tsp

baking soda

1/2 tsp

baking powder
A hearty pinch of salt

6 tbsp

salted caramel sauce*
Assemble
Instructions
Preheat the oven to 150ºC / 300ºF and prepare a brownie pan by greasing and lining it with parchment paper. My brownie pan was 13×13 cm / 5×5 inches.
In a food processor, process the dates, nut butter, and vanilla until smooth. Add the rest of the brownie ingredients and process until combined. If too dry, add a splash of water. Transfer to the prepared pan and flatten out using a wet spatula or your hands. 
Dollop and drizzle caramel sauce over the brownie. Create a swirly pattern by running a knife through the caramel and upper layer of the brownie. Bake for 35 to 40 minutes until firm and chewy.
While you let the brownies cool, whip the coconut cream according to instructions. Place a good amount of salted caramel sauce in a microwave safe bowl or glass and microwave on low effect for half a minute.
Cut up the brownies into small bite size pieces. To assemble simply layer the brownie, salted caramel sauce, and whipped coconut cream in small glasses or a large trifle bowl. Decorate with some chocolate shavings, serve, and devour.
Notes
*The recipe made four glasses as pictured for me, but each glass contained two servings.
This recipe was created in collaboration with Nature's Charm
Keywords: Chewy brownies, salted caramel, whipped coconut cream, vegan, dessert, gluten free