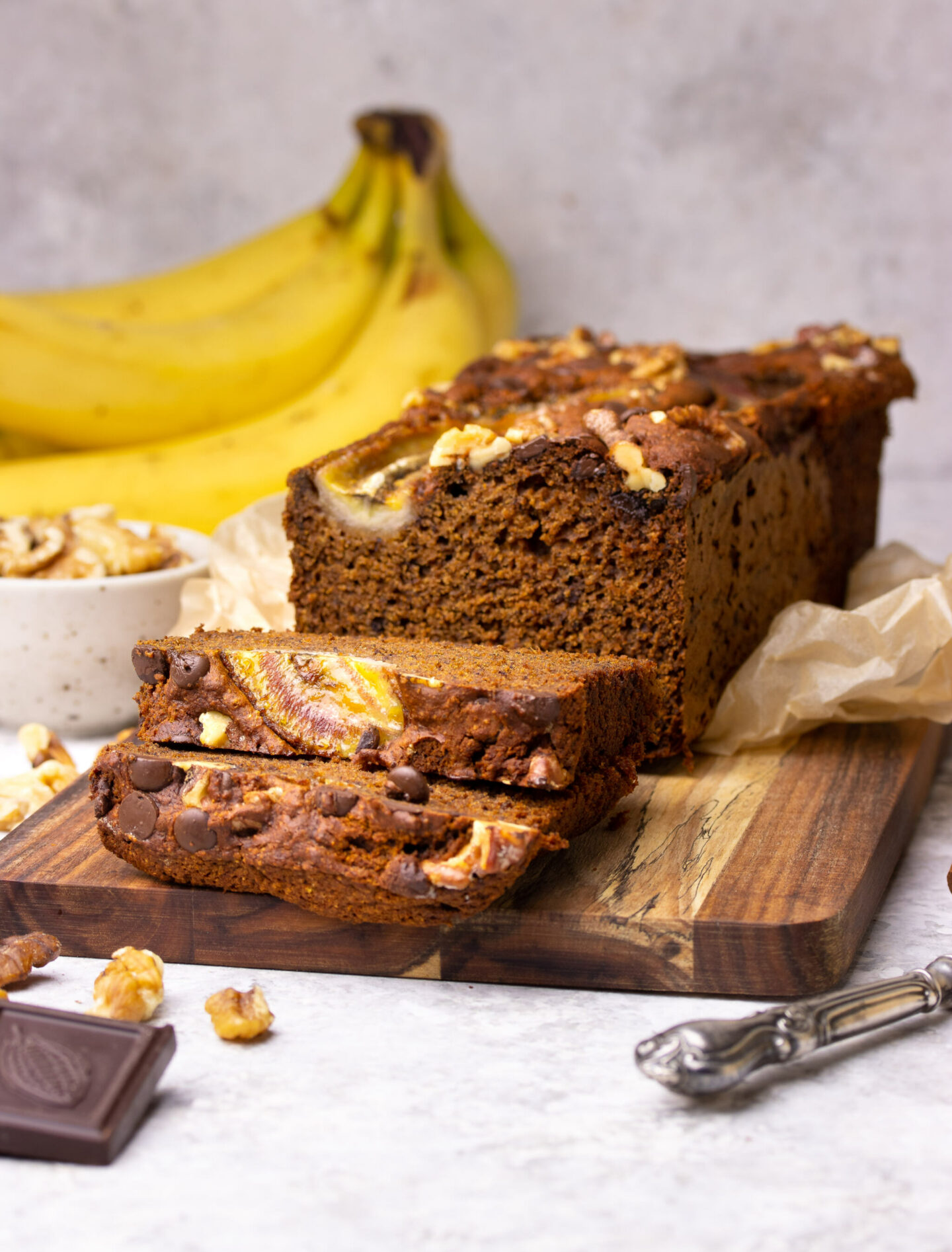 FINALLY have I perfect banana bread! Not only is this loaf of heaven fluffy, moist, perfectly sweet, and delicious but also vegan, gluten free, and wholesome. It has taken me MANY failed attempts throughout the years to perfect this recipe including many gooey uncooked batter kind of messes. All of you who have tried experimenting with cake recipes know the hassle I'm speaking of…
Anyhow, this bread really is spot on! I've added some more or less classic add in, walnuts, chocolate chips, cinnamon, and sliced banana on top, but that's all optional. Seriously, let your imagination run wild and add what ever your heart desires to be paired with some banana goodness. This banana bread isn't overly sweet, unlike the classic, but is still sweet and lovely. Likewise, the banana flavour is mild and not over powering. You guys must try toasted banana bread (preferably with choc' chips since they melt and go gooey) smothered in nut butter. That, ladies, gentlemen, and everyone in between, is a snack or breakfast of champions.
I seriously hope you give this recipe a go since it truly is one of my best ones yet. Finally perfecting it is as well a dream come true for me after so many years. Enjoy!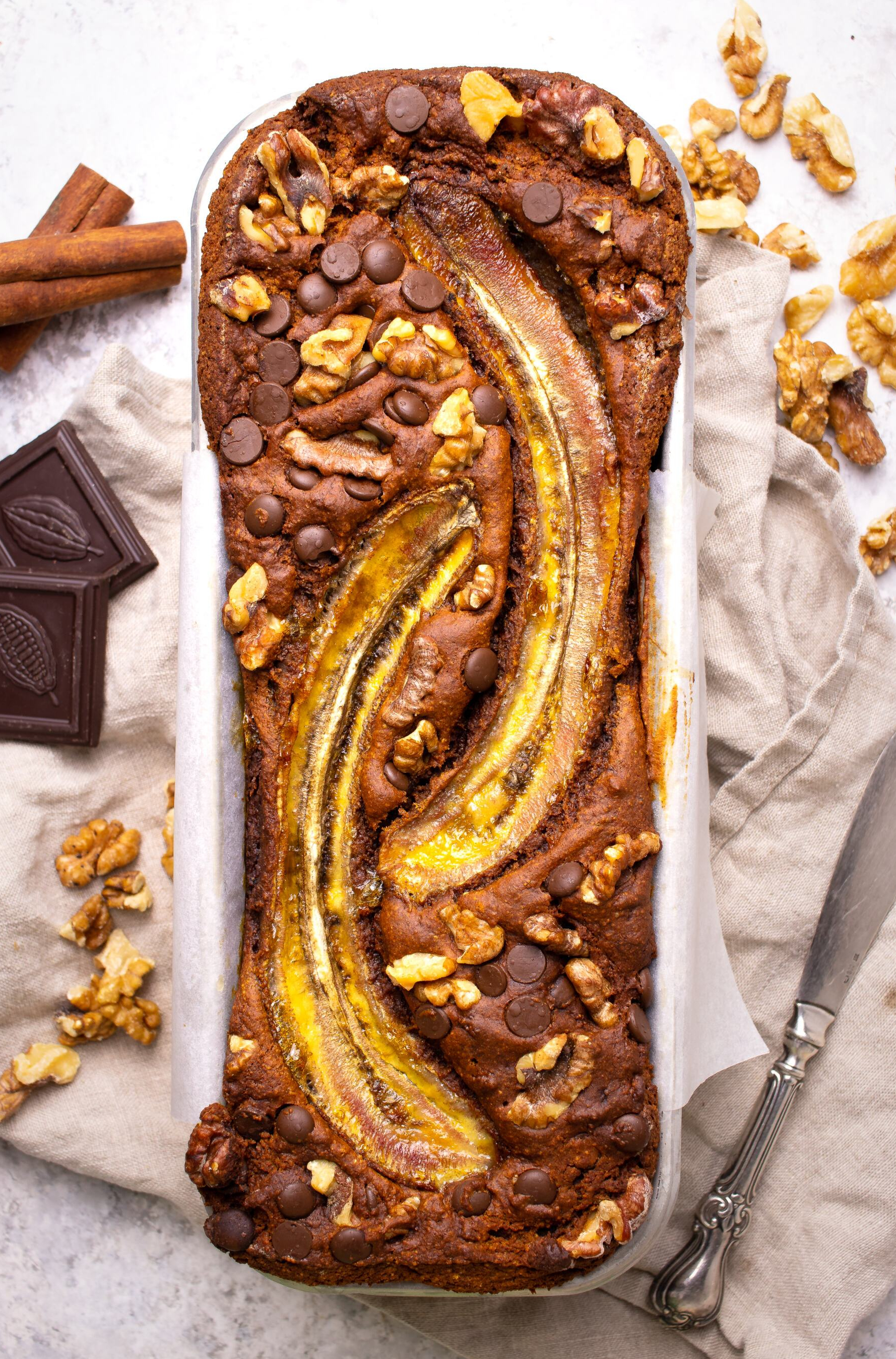 Even though the sliced banana on top is 100% optional, I must recommend topping your banana bread with it anyway. It gives the banana bread an extra boost of banana goodness. Plus, it's drop-dead-gorgeous.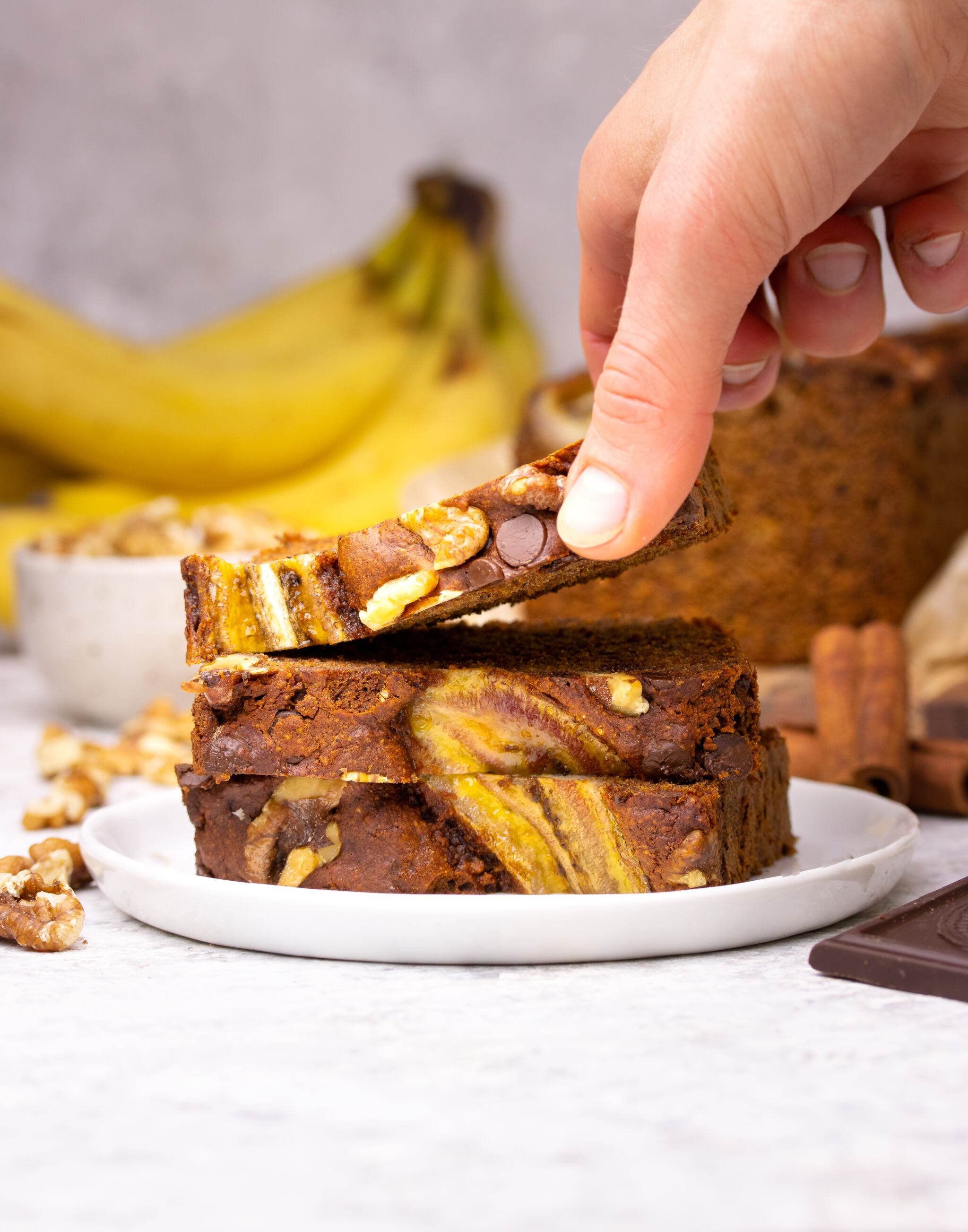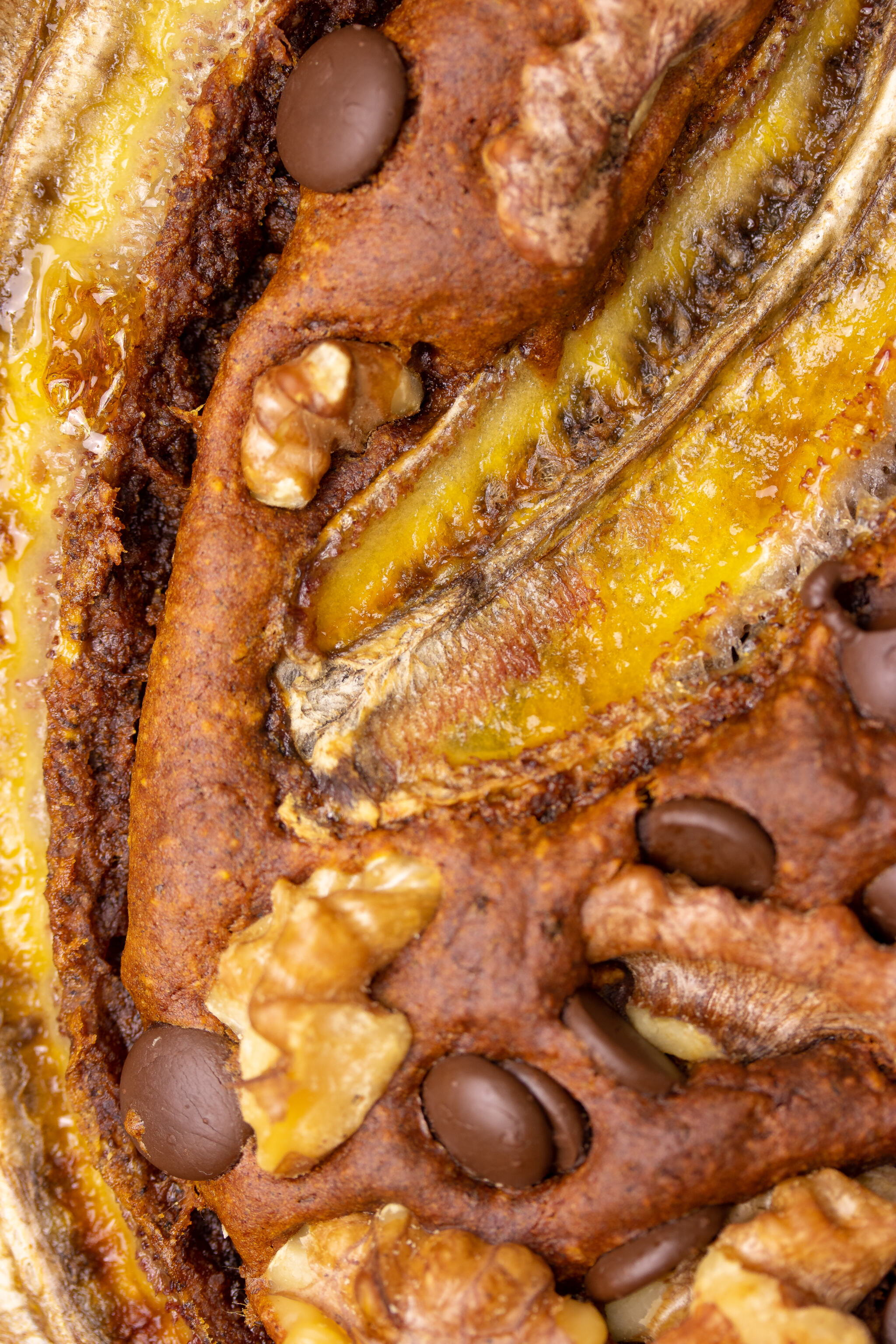 Seriously, who doesn't like a good close up of something as divine as this?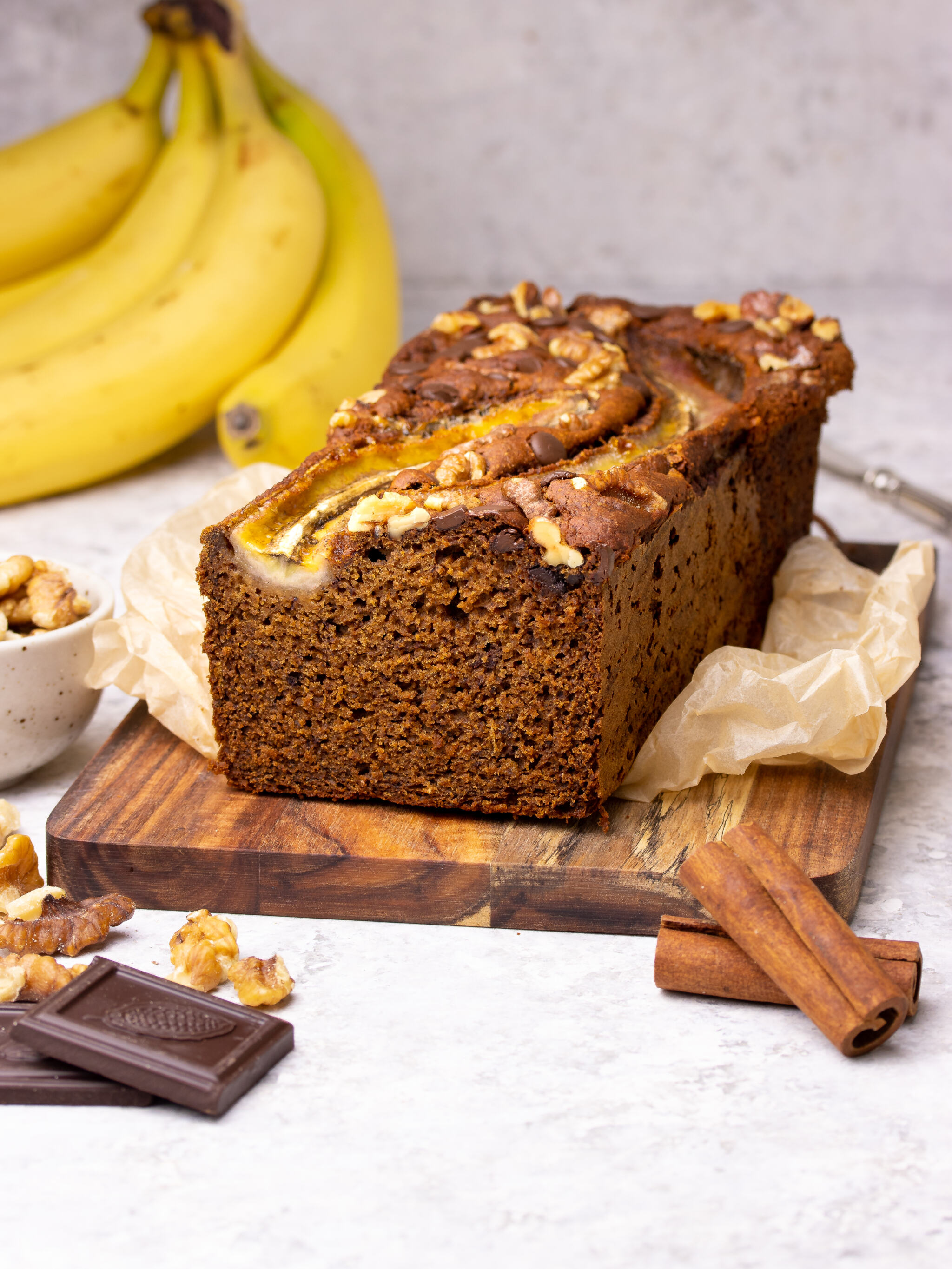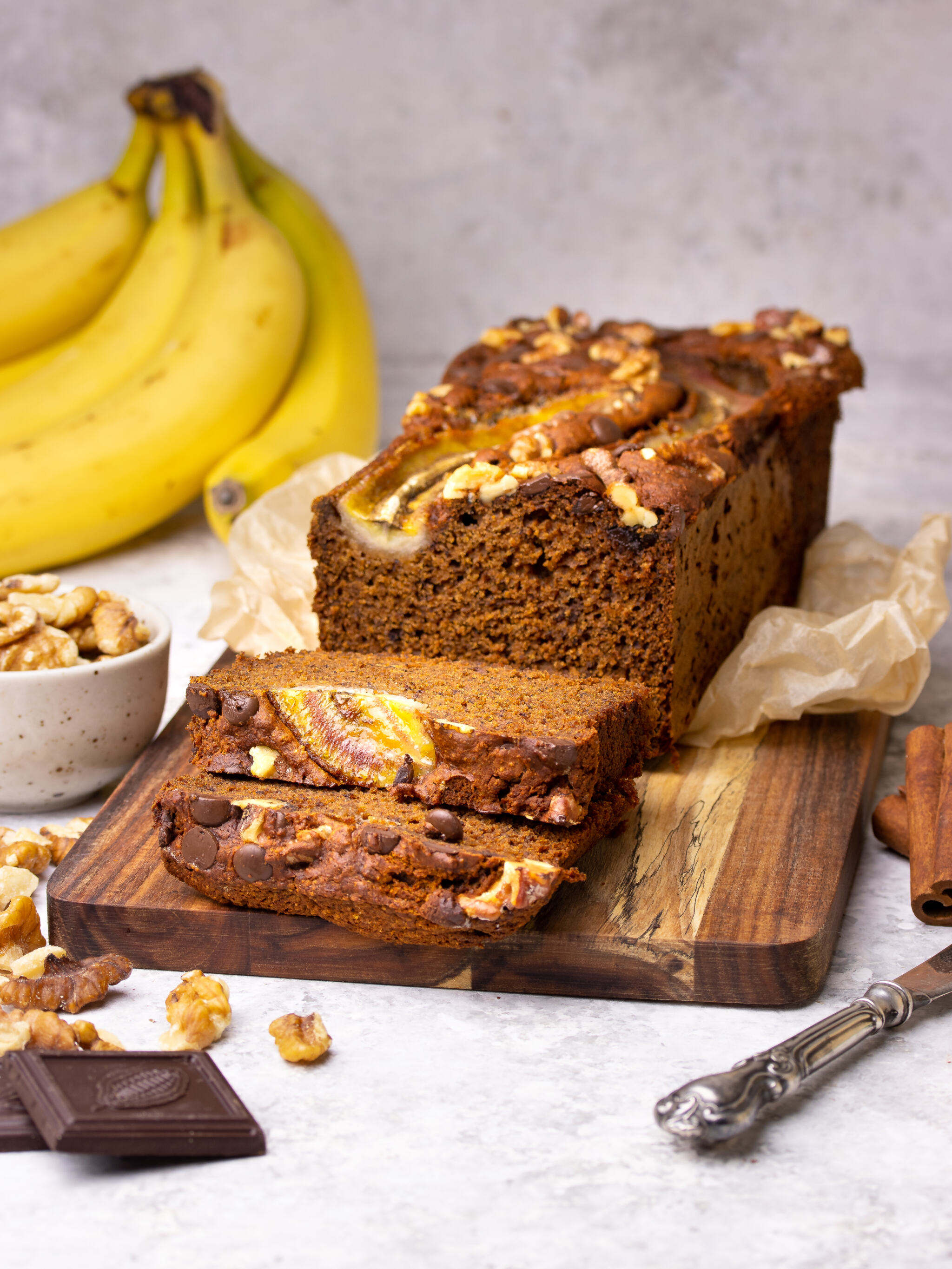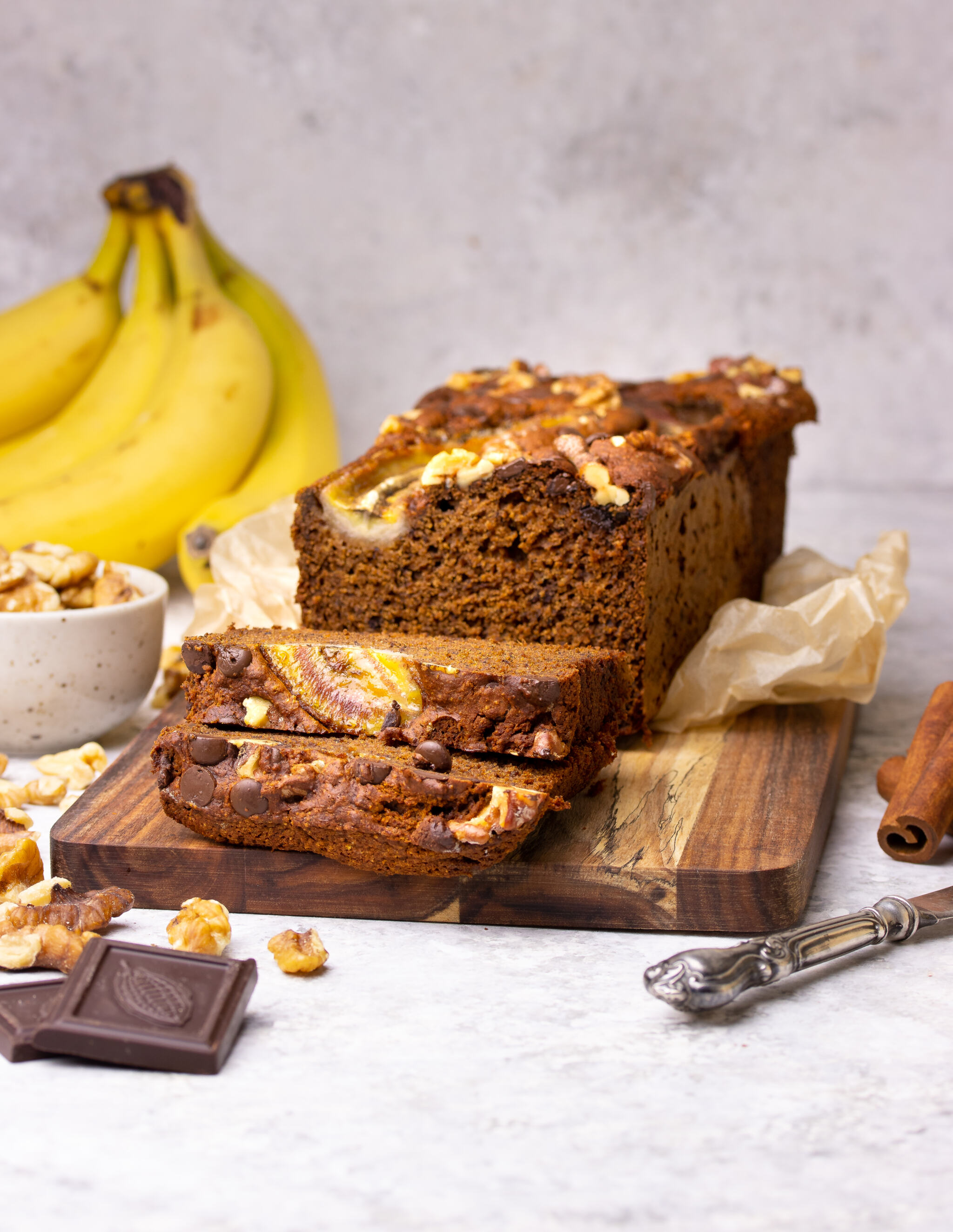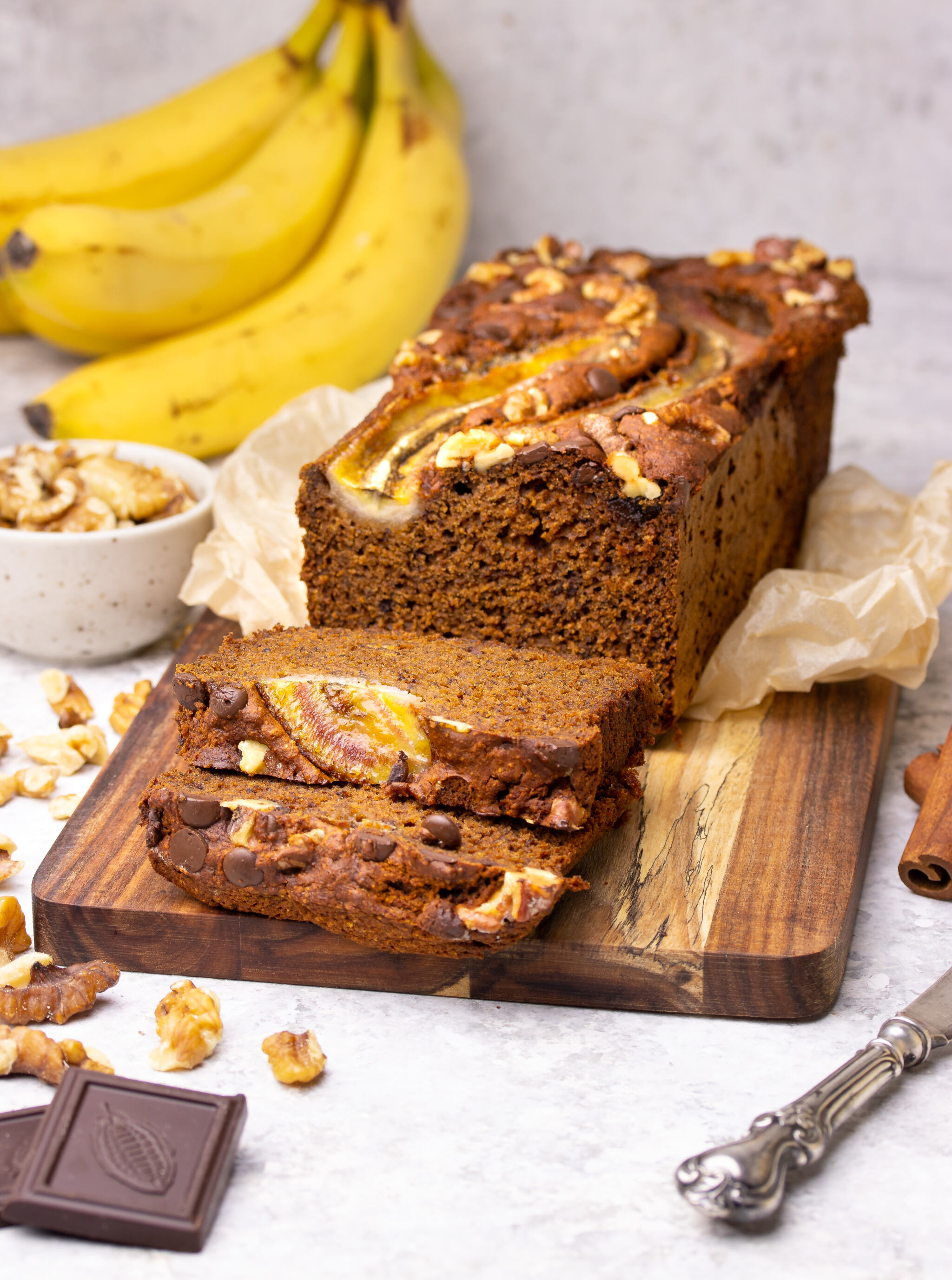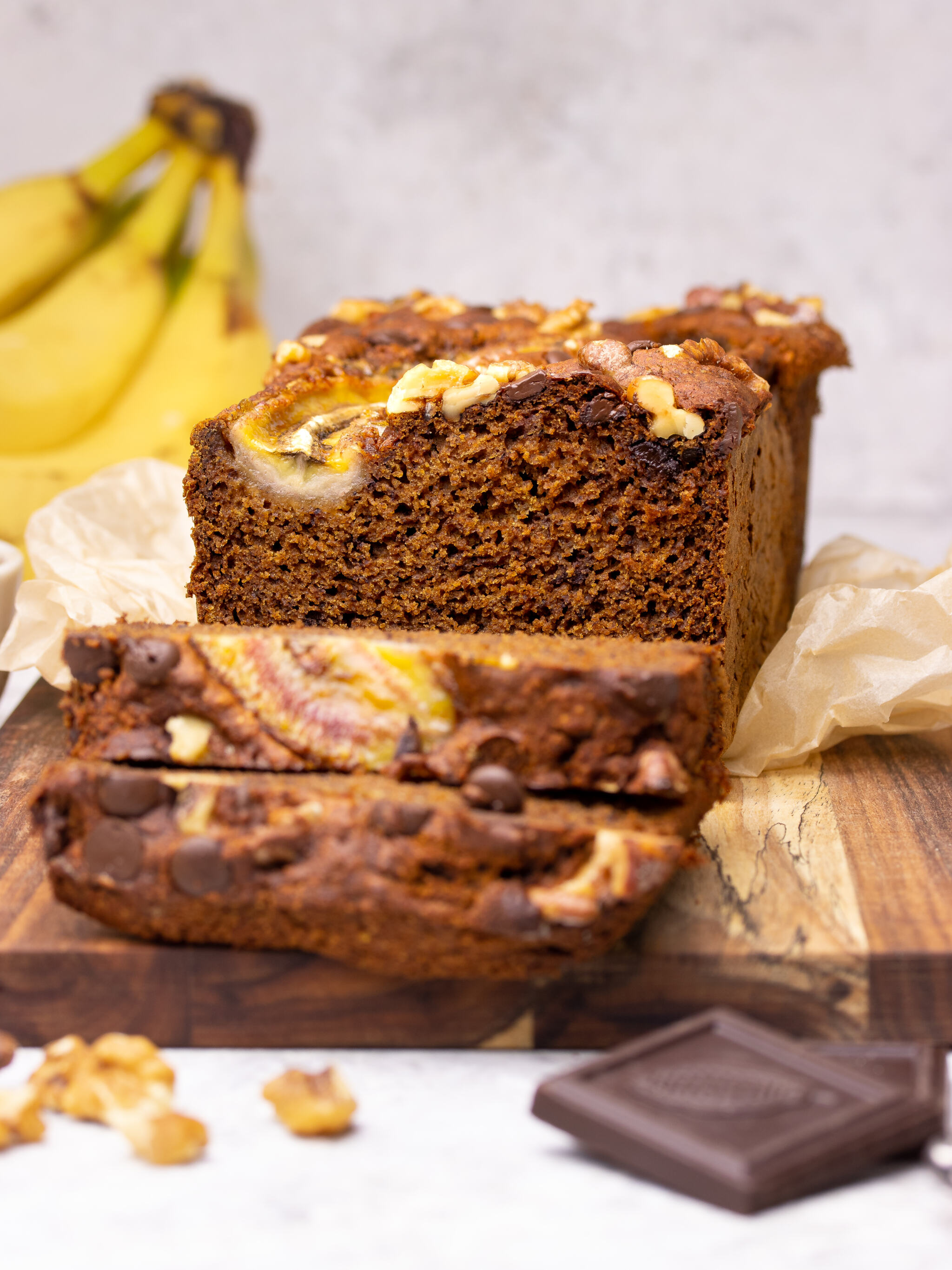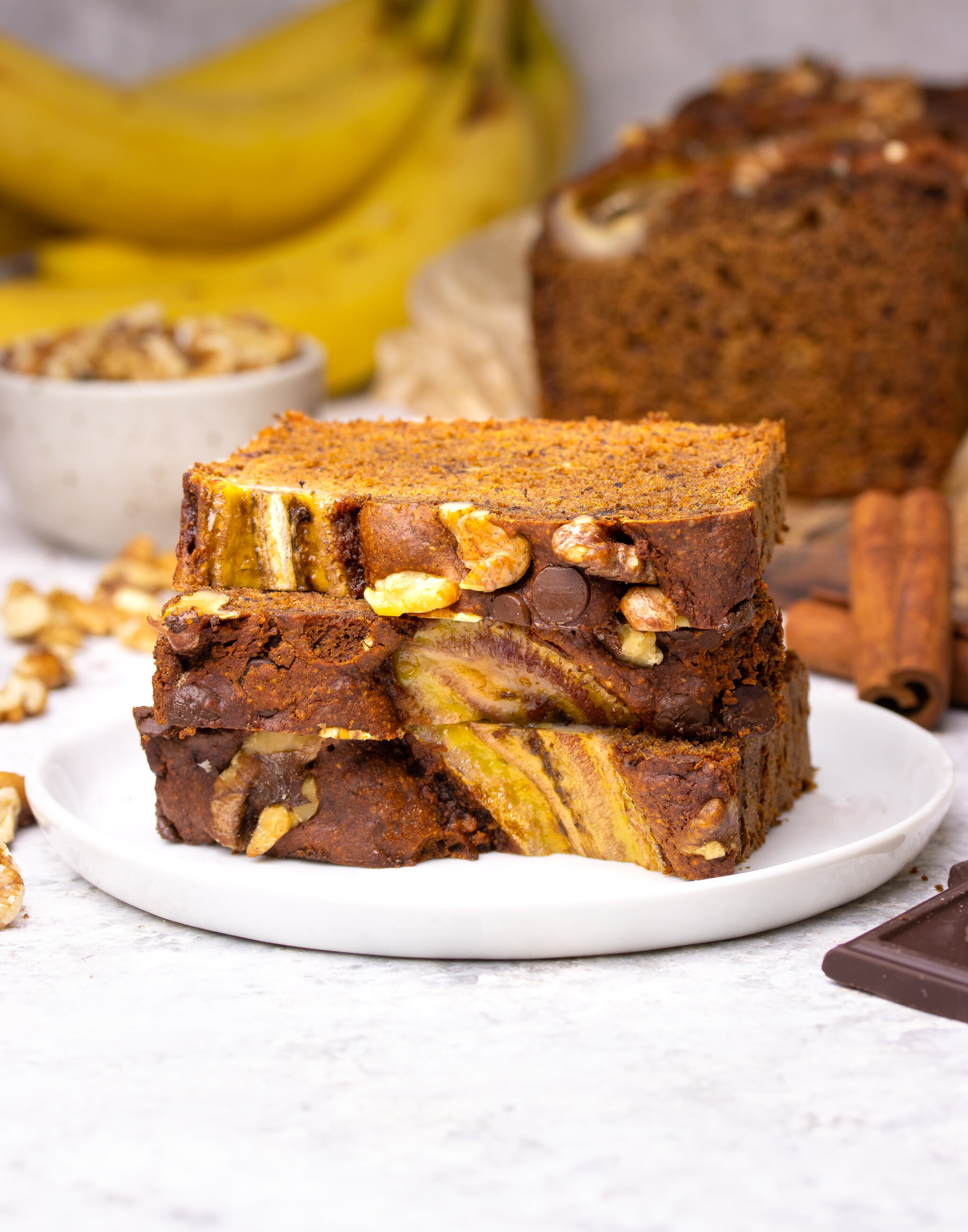 Print
The Perfect Vegan Banana Bread
Finally, you can now the recipe for the perfect fluffy, moist, and beautiful banana bread that is jam-packed with flavour yet vegan, gluten free and wholesome.
120

g / 4,2 oz buckwheat flour

100

g / 3,5 oz oat flour

1

,5 tbsp milled flax or chia seeds

2

,25 tsp baking powder

1 tbsp

 baking soda
A hearty pinch of salt

200

ml / 1 cup minus 3 tbsp milk of choice

60

g / 2,1 oz nut butter of choice

60

g / 2,1 oz coconut sugar or other granulated sweetener

100

g / 3,5 oz pitted dates (I peeled mine for looks)

1 tsp

vanilla extract

1

,5 tbsp white balsamic vinegar*

225g

/ 8 oz / around two medium, ripe bananas, mashed

1

extra banana sliced lengthwise for topping
A handful of walnuts and chocolate chips for topping
Instructions
Preheat the oven to 150ºC / 300ºF. Grease and line a one liter loaf tin with parchment paper.
In a large bowl, mix the buckwheat flour, oat flour, milled flax seeds, baking powder, baking soda, and salt.
In a blender, blend the milk, nut butter, sugar, dates, vanilla, and vinegar smooth.
Add the wet and the mashed banana to the dry and mix until combined.
Quickly transfer to the prepared loaf tin. Top with the sliced banana with its cut side up, walnuts, and chocolate chips. Push the toppings slightly into the batter. Bake for 60-75 minutes or until a toothpick runs clean. Let cool, slice, serve, and enjoy!
Notes
*You can probably use another kind of vinegar, but since I've not tried any other myself I can not promise the same results.
Keywords: Banana bread, chocolate, walnut, gluten free, vegan, healthy, whole grain, oil free, refined sugar free