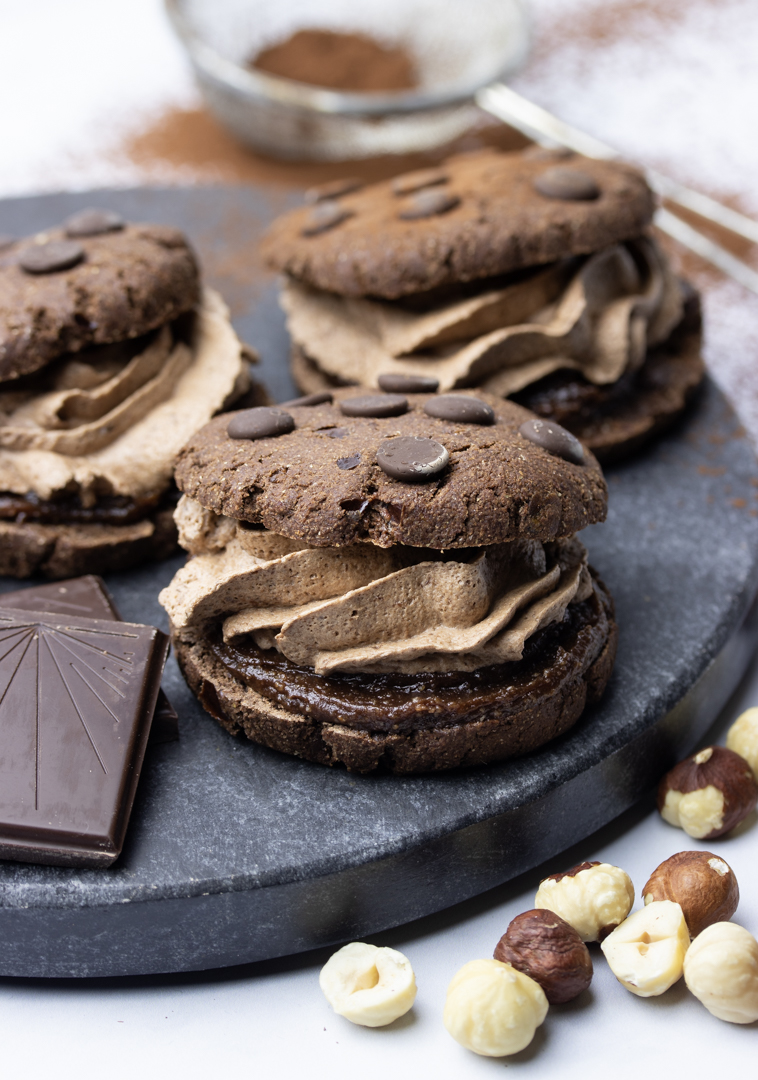 In Sweden, we have a special kind of treat called "semlor". Traditionally a semla is a sweet wheat bun filled with almond paste and whipped cream and is eaten to prepare for the Christian fast, however, this Chocolate scone version is not even easier and quicker (no proofing or such, yay!), but also even more delicious. Even though no one I at least know of fasts anymore, or has for the past 200 years, the tradition of eating semlor remains more than strong. Honestly, I have never been a big fan of semlor as I've not liked whipped cream since being a child, but I have always enjoyed eating the bun with almond paste. However, as the foodie and content creator I am, I had to contribute with my own actually super (I'm not exagerating) decadent and delicious tasting chocolate version of semlor because chocolate makes everything better.
In conclusion, skip the regular semlor and try these Chocolate Scone Semlor Deluxe with Nutella instead! Enjoy!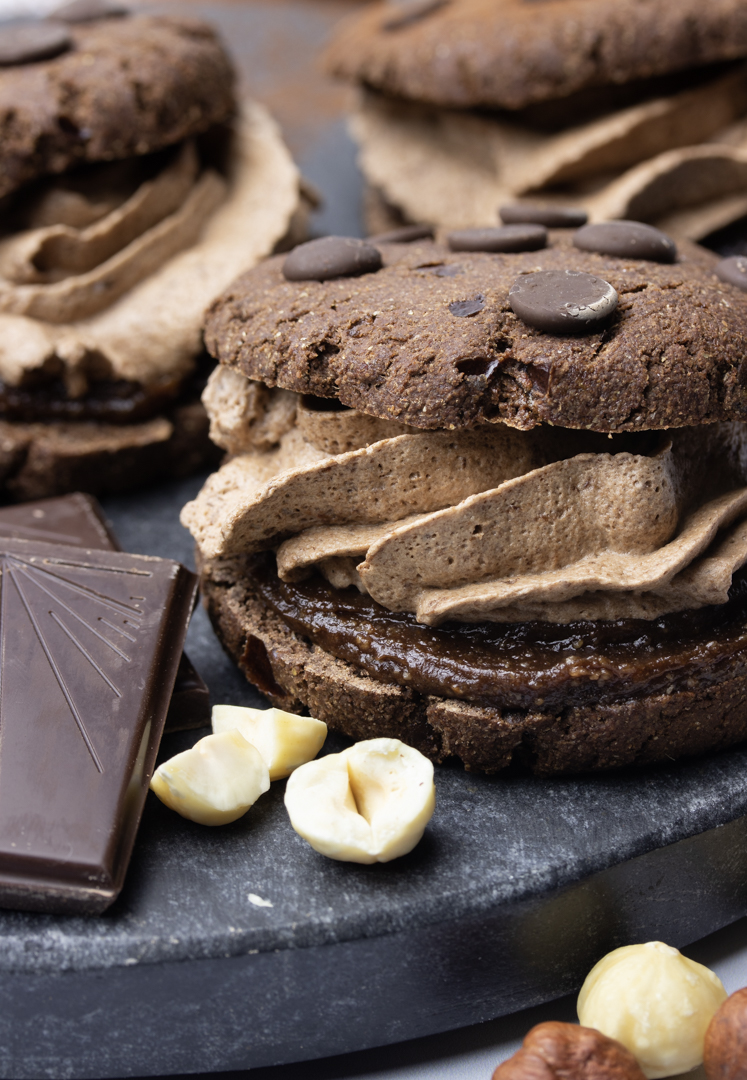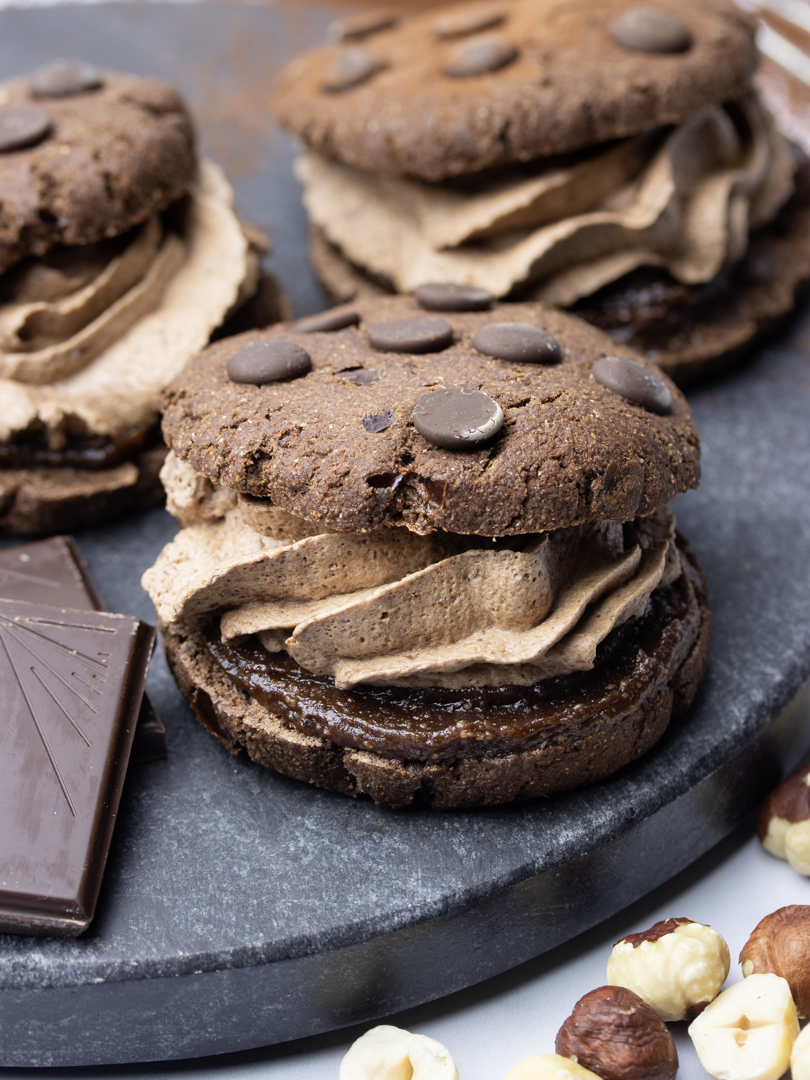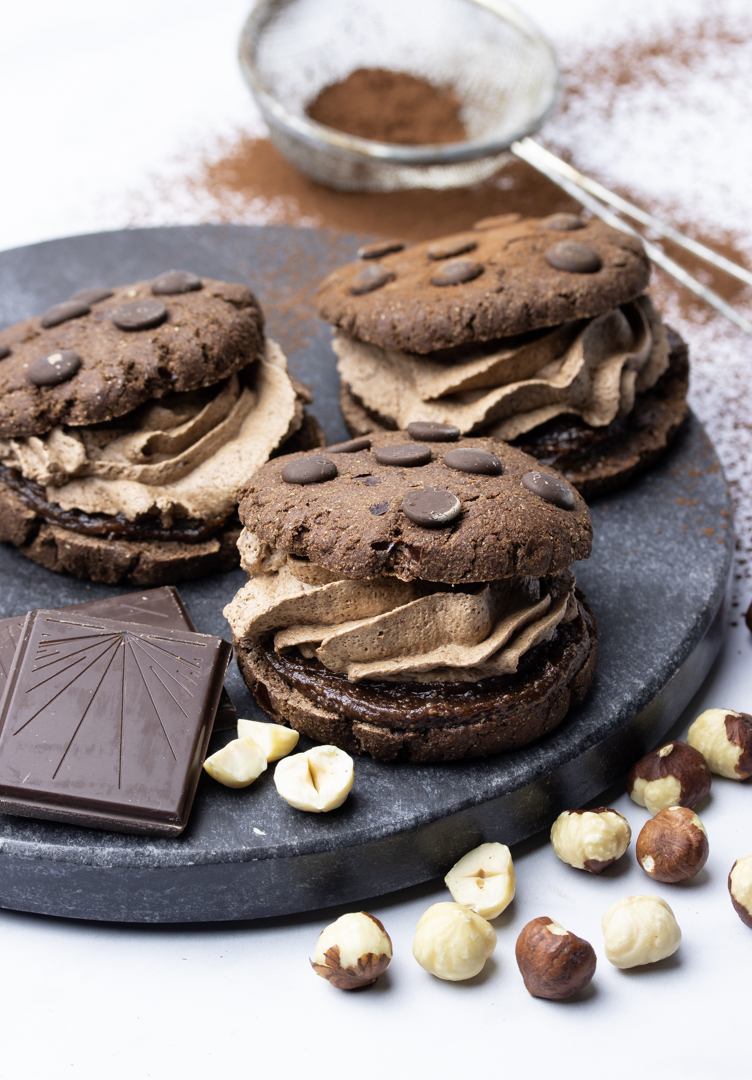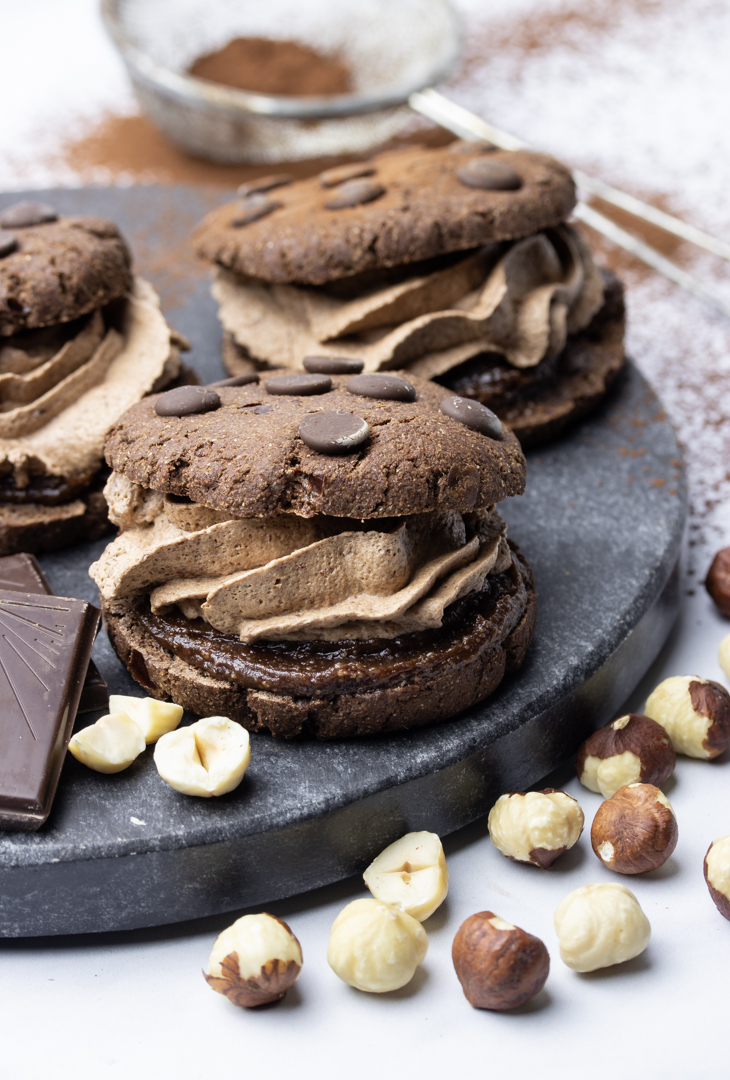 Print
Chocolate Cookie Scone Semlor Deluxe with Nutella
A decadent nutella and chocolate version of Swedish semlor with cookie scones instead of the wheat buns.
100g

/ 3,5 oz rye flour

1 tsp

baking powder

2 tbsp

cocoa powder

20g

/ 0,7 oz coconut sugar or other granulated sweetener
A generous pinch of salt

30g

/ 1 oz dark chocolate

4 tbsp

milk of choice

50g

dates, mashed with a fork more or less smooth (or equivalent amount liquid sweetener)
A handful of chopped chocolate or chocolate chips (around 30g / 1 oz)
Nutella (can be subbed for store bought hazelnut chocolate spread or such)
30g

/ 1 oz roasted hazelnuts (or nut butter)

10g

/ 1/3 oz dark chocolate, melted
A pinch of salt

1/2 tsp

of vanilla essence

40g

pitted dates

1 tbsp

milk of choice
Chocolate mousse
Instructions
Start with making the cookie scones. Preheat the oven to 150ºC / 300ºF and line a cookie tray with parchment paper.
In a large bowl mix together the rye flour, baking powder. cocoa, coconut sugar, and salt. In a separate bowl, put the chocolate, and milk. Melt in the microwave until the chocolate has melted, and mix together.
Add the dates and chocolate mixture to the dry and using a large spoon or your hands stir/knead together the ingredients. Add the chocolate chips and knead until folded in.
While the scones bake the cookie scones for 20-25 minutes make the nutella and chocolate mousse.
For the nutella simply mix the hazelnuts in a food processor into a fine powder or preferably nutter butter, then add the rest of the ingredients and mix until smooth.
Make the mousse simply by folding in the melted chocolate in the whipped cream.  If you want to pipe the mousse, then transfer it to a piping bag.
Assemble the "semlor" by cutting the cookie scones in half, take a nice half a tablespoon-sized dollop of the nutella, spread it on one of the halves of the cookie scones, pipe/spread a generous amount of chocolate mousse on top of the nutella, and to finish of simply place the other half of the cookie scone on top. If you'd like to store them do so in the fridge. Enjoy!
Keywords: Chokladsemlor, semla, vegan, veganska, choklad, chocolate, healthy