Okay guys,  PLEASE do not let the quality of the photos stop you from reading and checking out this recipe. My camera's colour correction went bananas so all the photos ended up dead-looking or purple. URGH! However, I decided to share the recipe anyway because YOU deserve to try these these pieces of absolute deliciousness. Oh my lord, they're good! The combination of my absolute favourite pie crust recipe, chewy date caramel, and salty nuts is beyond amazing. Yes, you've have to bake them for quite some times, but that's simply to obtain that chewiness from the date caramel, and it's 110% worth it. In conclusion, I will not only have remake these because the photos ended up shiet but also because they are so darn divine!
Enjoy!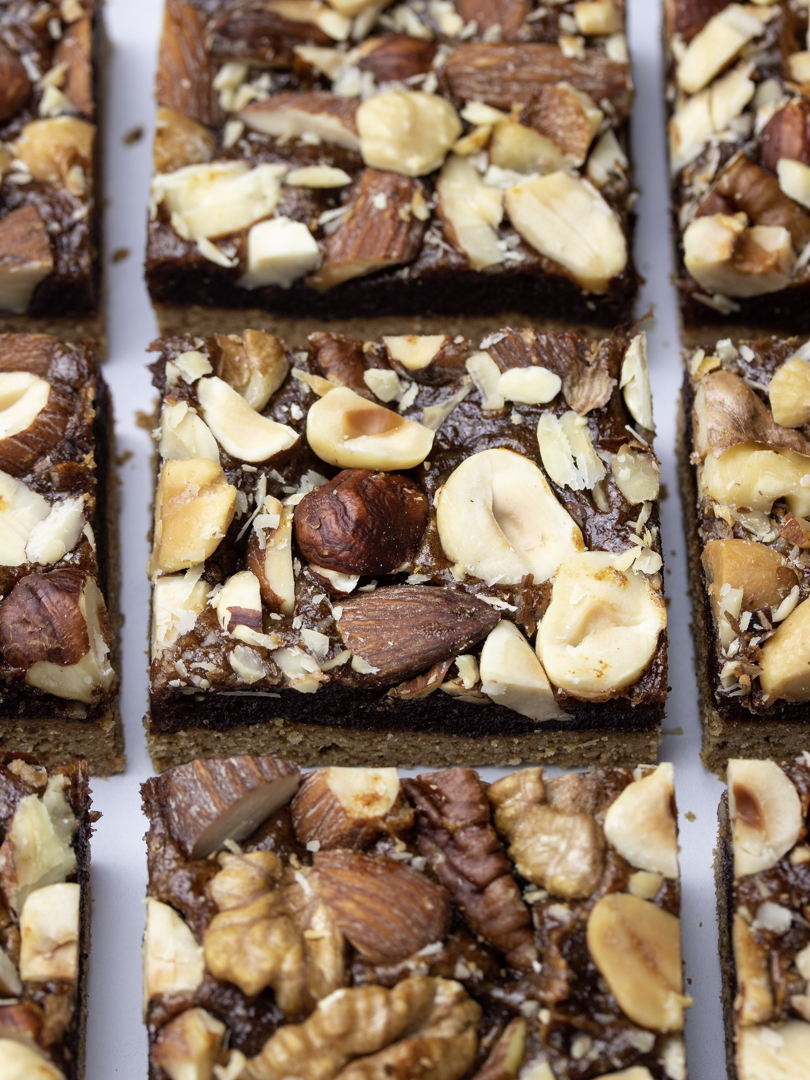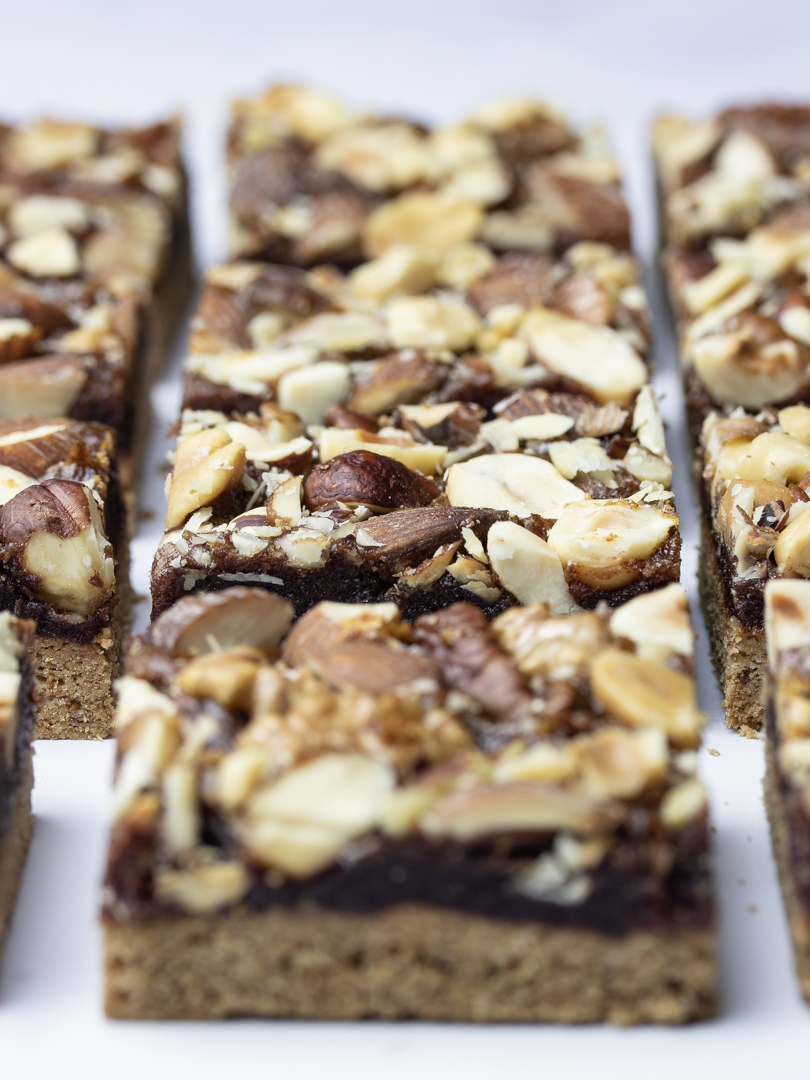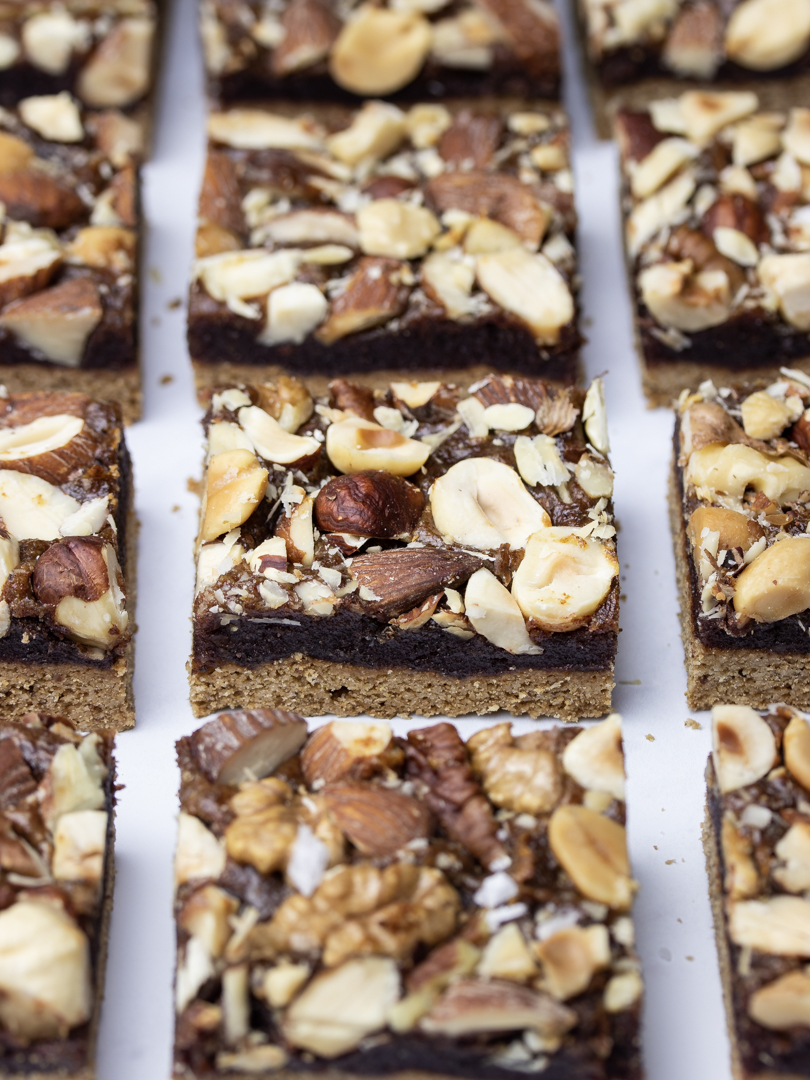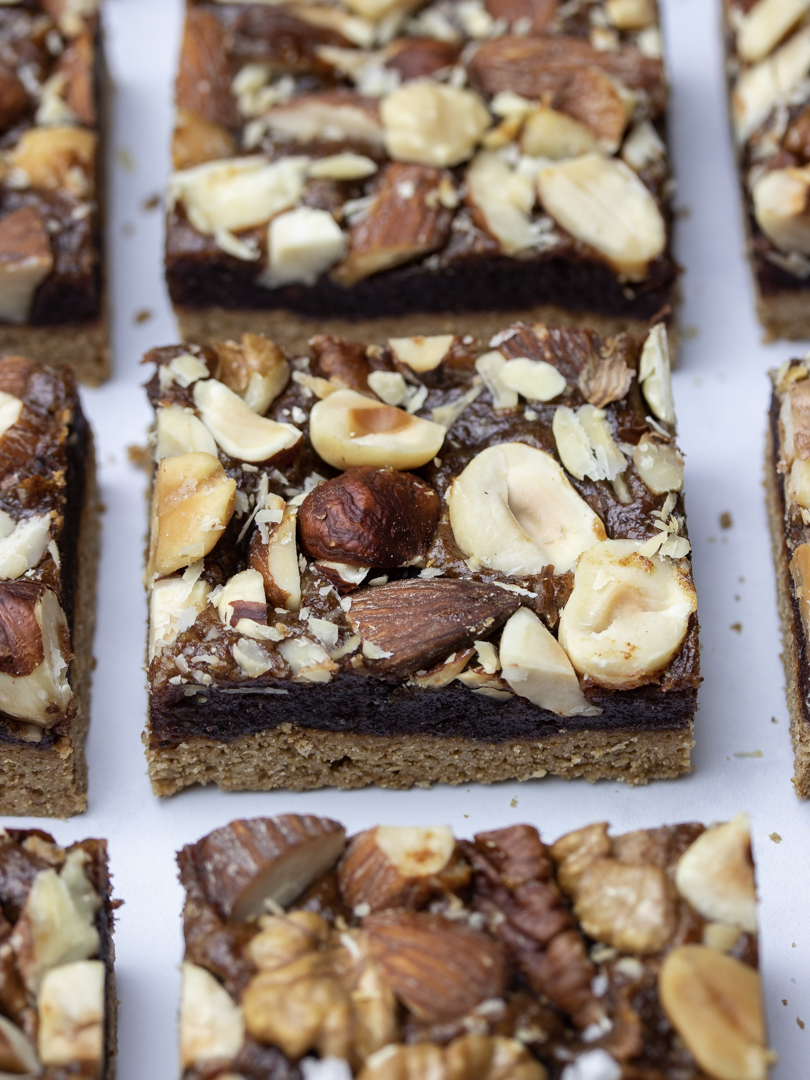 Print
Nutty Salted Caramel Pie Bars
Crunchy roasted nuts combined with a crumbly pie bottom and beautiful chewy salted caramel. Yum!
Pie crust bottom
100g

/ 3,9 oz flour (I used

50/50

almond- and oat flour)

1/2 tsp

baking soda
A pinch of salt

1/2 tsp

vanilla extract

2 tbsp

nut butter

4 tbsp

liquid sweetener
Salted Caramel filling
200g

/ 7 oz pitted dates

2 tbsp

nut butter

1/2 tsp

vanilla extract
A hearty pinch of salt
Two handfuls of assorted nuts and seeds of choice, very roughly chopped
Instructions
Preheat the oven to 150ºC / 300ºF and prepare a square pan by greasing and lining it with parchment paper. My pan was 18×18 cm / 7×7 inches.
In a medium bowl mix together the flour, baking soda, and salt. In a separate bowl combine the vanilla, nut butter, and liquid sweetener. Add the wet to the dry. Mix until you get a nice "dough". It should be quite moist and not crumbly.
Transfer the pie dough to the prepared pan. Press and spread out the dough evenly to all corner. Prick it all over with a fork and bake for 20 minutes or until golden.
In a food processor, powerful blender or mixer, process and mix the dates, nut butter, vanilla, and salt smooth.
Let the pie crust cool slightly, then transfer the caramel filling and spread out evenly. Top with the roughly chopped nuts and seeds, press them down slightly into the caramel, and and bake for another 25-30 minutes, depending on how thick, chewy, and firm you would like the filling to be. Take out, let cool and set slightly, cut up and enjoy.
Notes
You can of course make this recipe into a pie instead of squares. In that case, the baking time and such may need to adjusted.
Keywords: Pie bars, squares, gluten free, healthy, vegan, salted caramel, roasted nuts, dessert