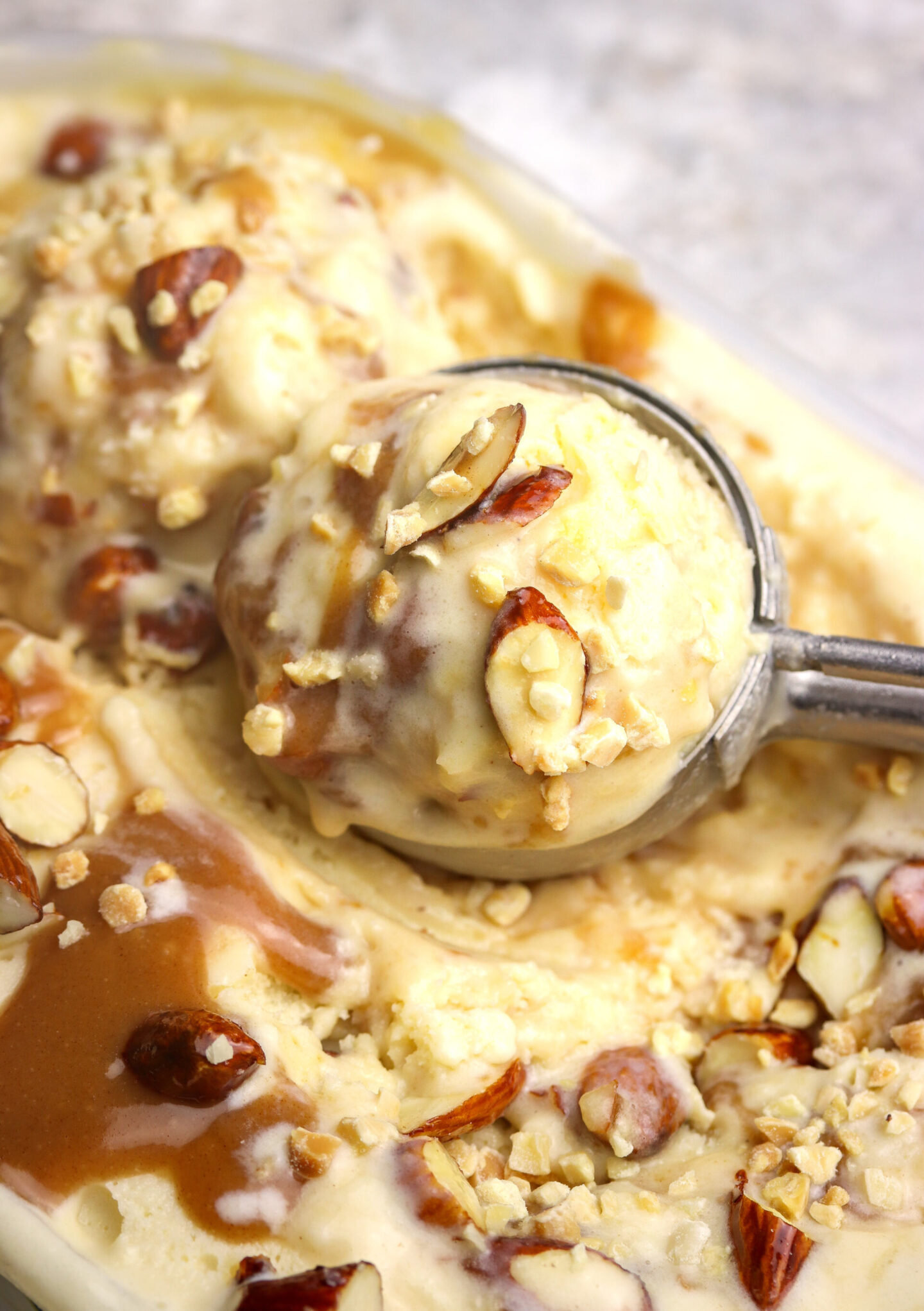 So not to long ago, I started eating diary products as a way to deal with the last demons I have left after beating anorexia many many years ago. By doing that, I've never felt more free, but I've also been able to have childhood favourites I've not had for up to 8 years. A whole new world of cooking, baking, and other foods, have also opened up for me. One of my new found loves is brown butter (!!!). Since being pitched the idea of browned butter ice cream back in December, when I didn't eat dairy, I've been curious about what it would taste like. And guys, it tastes like pure heavenly nutty goodness. To make this ice cream even more decadent, I've added a lovely caramel sauce and candied almonds for some texture and even more richness. This really is a treat, and perfect to make to impress whoever you want. Oh boy, am I proud of such a mighty treat as this!
Worth mentioning, I've used an ice cream machine to make this recipe. For me, as a foodie, it was a totally worth investment when buying a Wilfa ice cream maker. I've had it for two months when writing this, but have already made ice cream for various occasions a dozen times already. However, a less "try hard" version of an ice cream machine should definitely work too. However, I would not recommend not using an ice cream machine at all. A last note, this recipe uses glucose syrup, which may seem very odd and unnecessary. At least, I thought it was until I learned what its purpose was. The glucose syrup gives the ice cream the beautiful "sega" texture by preventing the sugar to crystalise and become gritty. I've made the chocolate sorbet using regular dark syrup (available in Sweden), and it worked out fine, but it is better with the glucose.
If you'd like to make a more plant full version of this ice cream, I'd recommend making a vanilla ice cream but adding almond butter and maple syrup, to achieved similar nutti-, rich-, and deliciousness. Making a vegan version is of course on my list, especially since I have a family member who's fully vegan, but for now I can recommend checking out my other ice cream recipes, that are mostly vegan and may be to your liking even though it's not brown butter.
Enough rambling, enjoy!!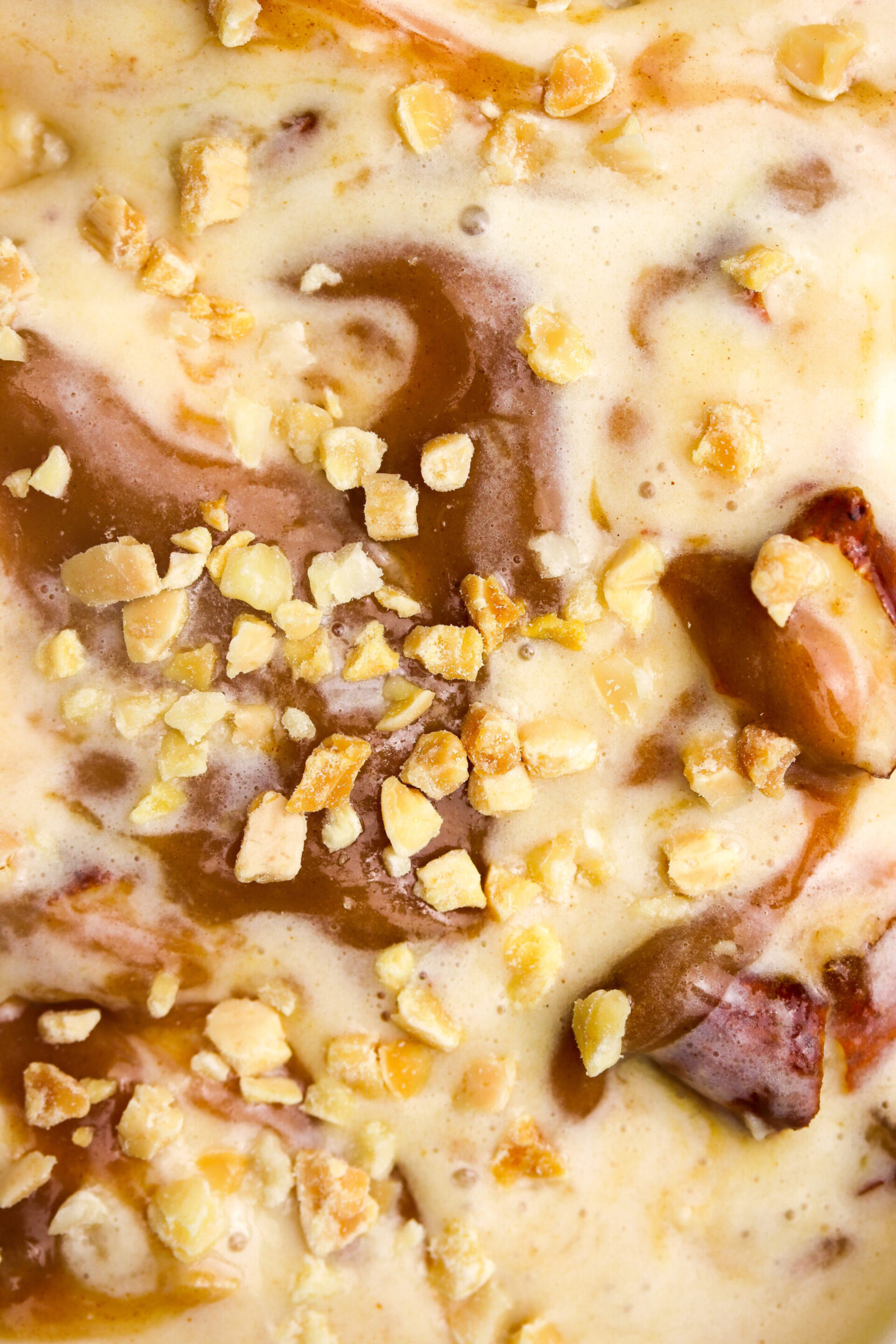 Print
Brown Butter Ice Cream with Salted Caramel & Candied Almonds
Creamy ice cream enriched with the deliciousness and nuttiness of brown butter combined with a swirl of smooth caramel sauce and candied almonds to make it even richer, more decadent, and absolutely delicious!
Author: Hanna
Yield: Almost

1

liter of ice cream o

1

x
150g

/ 5,3 oz butter

120g

/ 4,2 oz egg yolk

120g

/ 4,2 oz caster sugar

300g

/ 10,6 oz whipping cream, 40% fat

300g

/ 10,6 oz full fat milk

40g

/ 1,4 oz glucose syrup
A hearty pinch or two of salt

1 tbsp

vanilla sugar or

1/2 tsp

splash of vanilla essence
Caramel sauce, I've both used my own recipe and Nature's Charm Butter Scotch sauce
Candied almonds
About

60

–

120

g / 2,1-4,2 oz, or simply a couple of handfuls of almonds

30

–

60

g /1,1- 2,1 oz of regular light syrup, or maple syrup is also very nice
Two hearty pinches of flaky salt
Instructions
Start with browning the butter in a sauce pan. Do this by melting the butter on medium heat. Stir during the entire browning process and do not leave the pan unattended. Once the butter is melted, it will start to foam and the water content will evaporate. After a couple of minutes, the foam will calm down and golden brown milk solid will form in the bottom of the pan. It will start to smell extremely nutty and buttery. Once golden, immediately remove the pan from the heat to prevent burning, transfer the browned butter to a bowl, and let cool in the fridge while you prepare the rest of the ice cream components.
Using an electric mixer, whip the yolks and sugar until pale and fluffy.
Once the butter has cooled, fold in the rest of the ingredients, except for the caramel sauce.
In a large sauce pan, on medium heat heat up the mixture to about 85C/180-185F, until it starts to thicken.
Once thick, let cool in room temperature. Then cover the pan and let chill in the fridge over night for the flavours to evolve.
For the candied almonds, place the almonds in a small to medium pan. On medium heat, toast until starts to smell toasted and fragrant. Add the syrup and salt, and immediately stir to coat all almonds. On low heat, cook until the almonds start to get "dry" by the syrups water content evaporating. Transfer to a piece of parchment paper, and let cool. Then roughly chop into nice pieces.
Follow your ice cream machine instructions regarding freezing the ice cream. Once thick and creamy, transfer in batches to an air tight container, layering ice cream, caramel sauce, and almonds. Finish of with a swirl of caramel and extra much almonds.
Keywords: brown butter ice cream, brown butter, easy, ice cream machine, gluten free, almonds, salted caramel, sauce, glutenfri, glass, hemmagjord glass, hemmagjord, brynt smör, brynt smörglass, brynt, smör, glassmaskin, recept, recipe, gräddglass, ice cream, kolasås, mandlar, brända mandlar