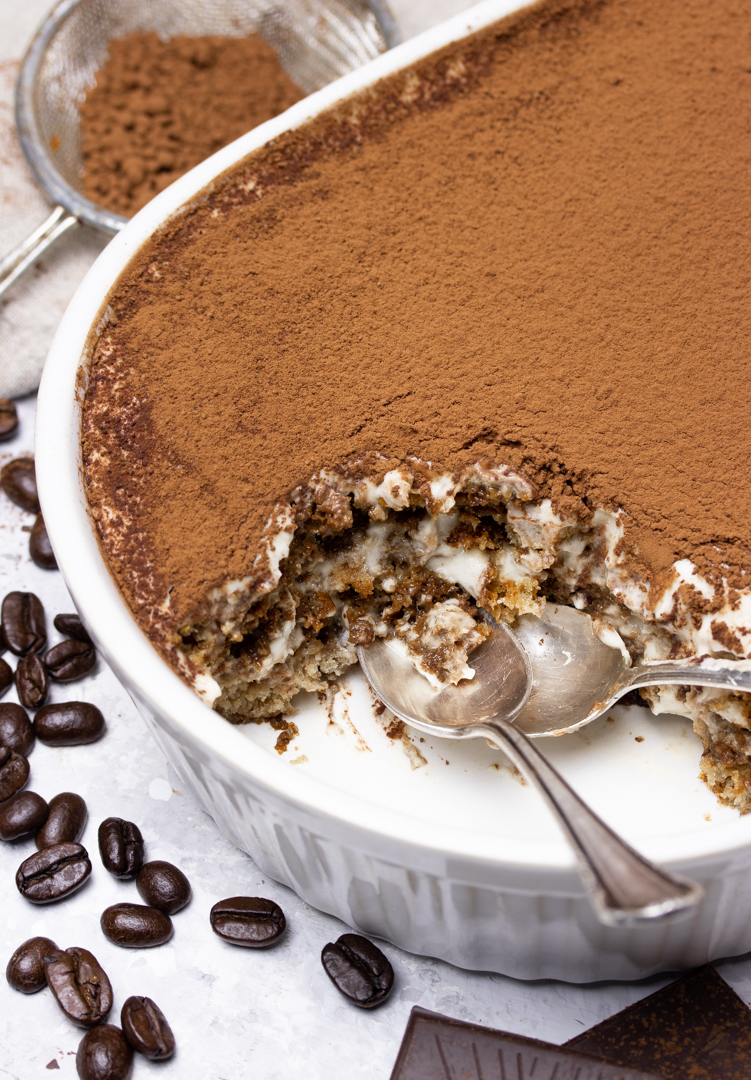 Raise your hand if you like tiramisu. Now, I assume you all raised your hands because why wouldn't you? What is there not to like about tiramisu? It's elegant, sophisticated, impressive, easy, delicious, moist (if I may use that word), and has lots of different elements. Not to forget, the flavours are simple yet complex. Heck yeah!
On another note, this is actually a remake of a VERY old recipe of mine (maybe two years old), but I changed the recipe quite a lot and it turned out so so darn delicious, it deserved a completely new post. However, there's one thing I'm slightly ashamed of. I added bitter almond aroma, which I found at my local supermarket, to the cream filling. Even though bitter almond is not a traditional flavour in tiramisu, it still was so gosh darn scrumptious in the cream, I just had to share my little experiment with you! Of course, it's not essential to the dish, however, if you have some bitter almond aroma laying around, try adding it to the cream. You will not be disappointed!
Hmmm… What more is there to say about this absolutely amazing recipe more than saying that it is simply and utterly divine? Well, I'll end with telling you that I made this for when my two older brothers, who don't live at home, came home over the weekend. Not only was it approved by everyone, even the slightly picky one of my brothers, it was basically devoured. Enough talking, I think you've gotten the idea. Enjoy!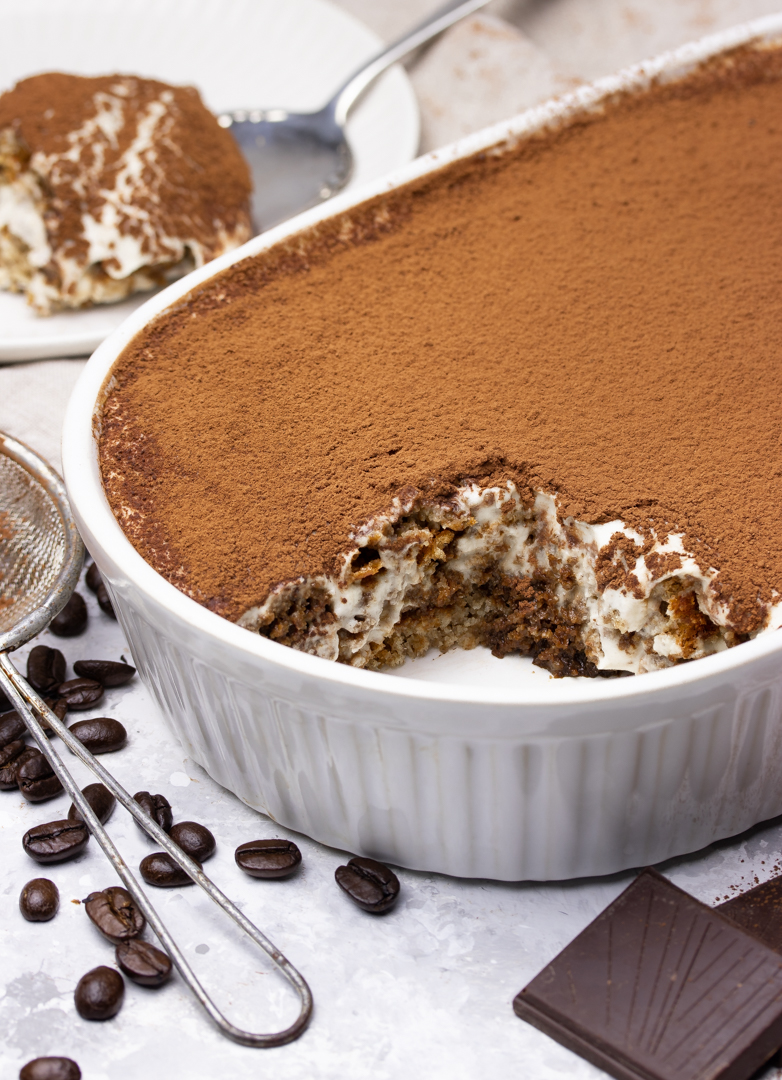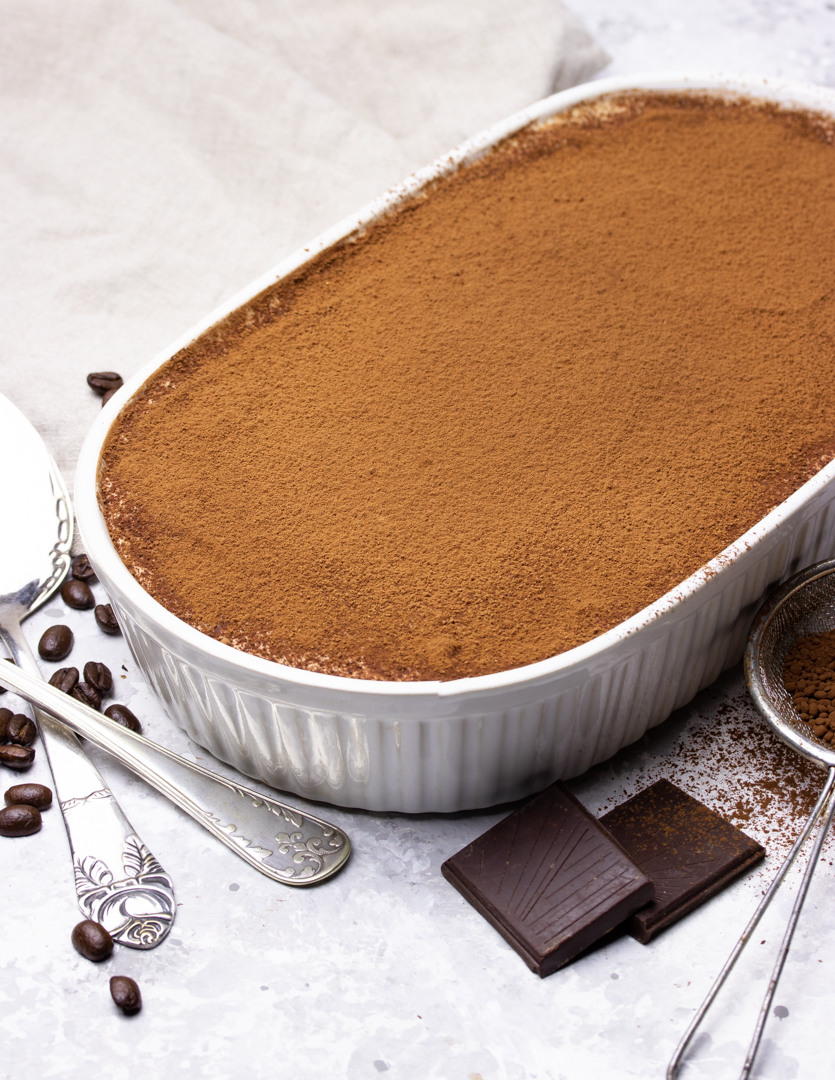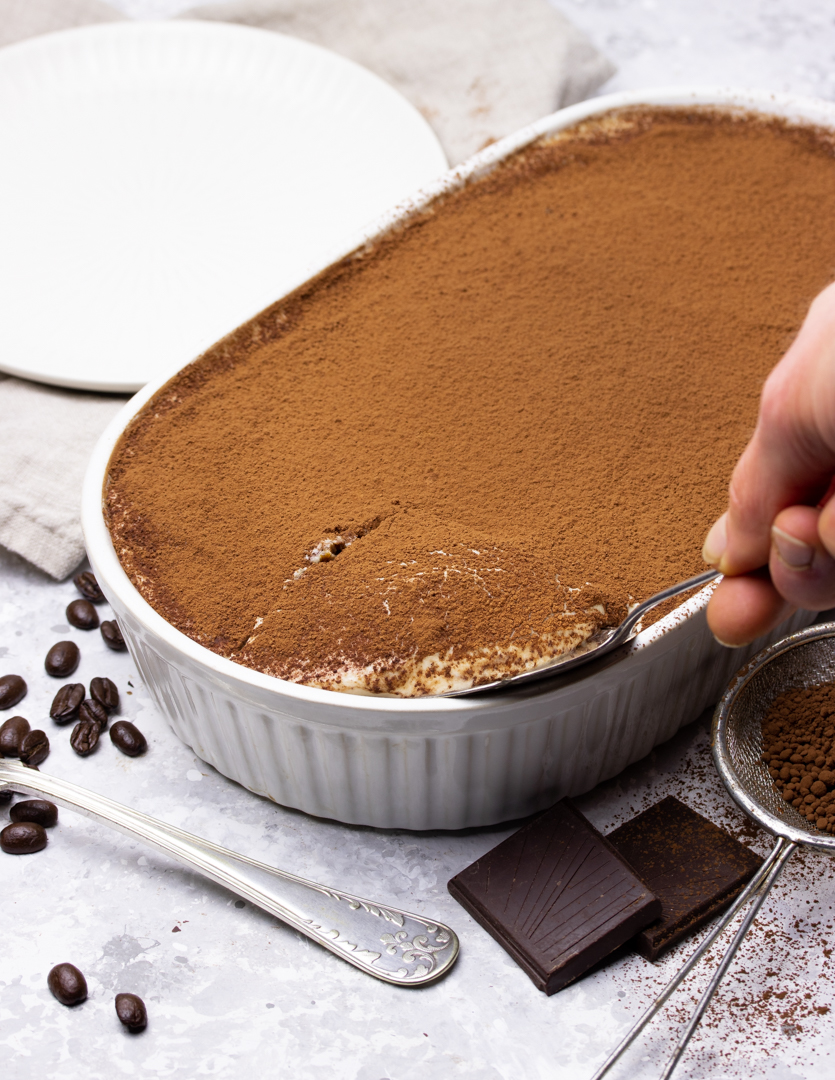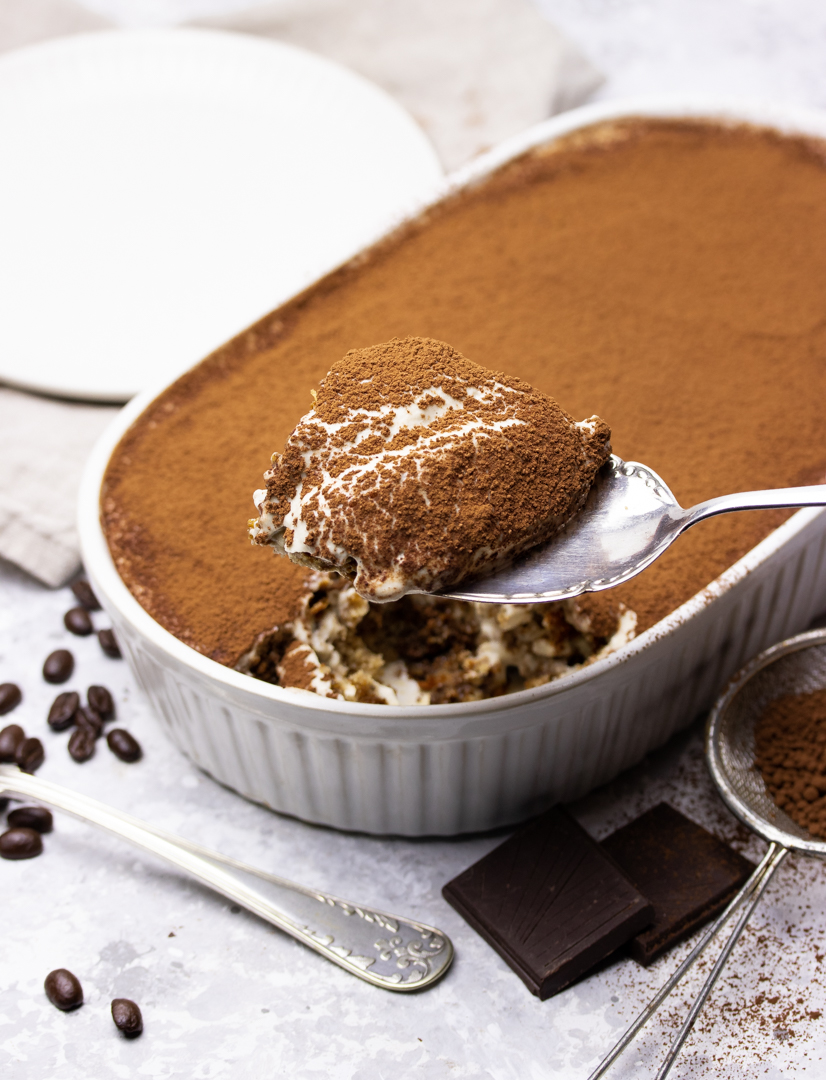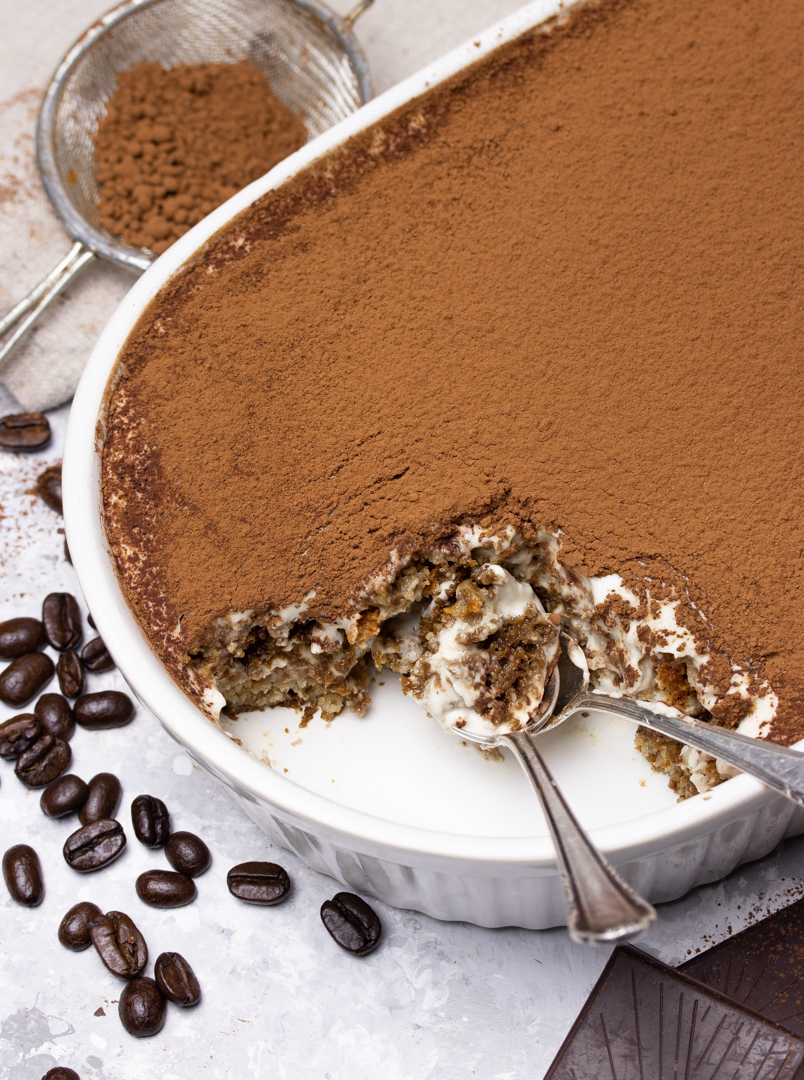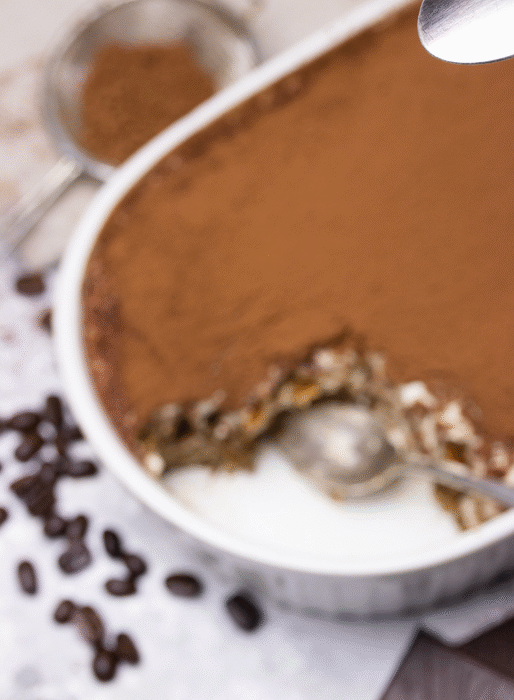 Of course, I made a GIF for this recipe. I don't know why I am so obsessed with making GIF:s, but hopefully you enjoy them as much as I enjoy making them.
Print
Authentic Vegan Tiramisu
Now you can make the classic Italian dessert vegan, gluten-free, more wholesome, but still jam-packed with divine flavour using a homemade cake instead of the classic ladyfinger cookies.
Cake
65

g / 2,3 oz oat flour

60

g / 2,1 oz buckwheat flour

1 tbsp

 milled flax or chia seeds

1

,5 tsp baking powder

2 tsp

 baking soda
A hearty pinch of salt

200

ml / 1 cups minus 3 tbsp milk of choice

40

g / 1,4 oz coconut sugar or other granulated sweetener

60

g / 2,1 oz pitted dates

40

g / 1,4 oz nut butter of choice

2 tsp

 white balsamic vinegar

1 tsp

 vanilla extract
Cream
200g

/ 7 oz cashews, soaked overnight or for at minimum two hours in warm water

2

dl / 3/4 cup milk of choice
A couple of pitted dates or other sweetener to taste

1/2 tsp

vanilla extract
A hearty pinch of salt
Optional and very non-traditional but delicious, a splash of bitter almond flavouring
Assemble
Approximately

2

,5 dl / 1 cup of SUPER strong brewed coffee (Don't skimp on the coffee, it's an essential part of the dish)
Cocoa powder for topping
Instructions
The cake
Preheat the oven to 160ºC / 320ºF, prepare and grease a square baking pan. My cake pan was 25x25cm / 10×10 inches.
In a large bowl, mix the oat flour, buckwheat flour, milled flax seeds, baking powder, baking soda, and salt.
In a blender, blend the milk, sugar, dates, nut butter, vinegar, and vanilla smooth.
Add the wet to the dry and mix until just combined. Quickly transfer to the cake pan. Bake for 20-23 minutes or until a toothpick runs clean. Let cool.
The "mascarpone" cream
Add all the ingredients except for only half the milk to a high speed blender. While slowly adding the rest of the milk a little bit at a time and stopping to scrape every once in a, mix until you get a completely smooth, nice, and thick cream.
The assemble
Chose a serving dish/dishes of choice. For example you could use a lasagne dish, casserole dish or small glasses for individual portions. Cut the cake into suitable shapes and sizes depending on your dish. I sliced my cake like bread into 2,5 cm / 1 inch thick slices.
Pour the coffee onto a medium-sized plate. Dip each side of your cake pieces for around 1-2 seconds, until fully soaked but not for so long the slices start to fall apart.
Line the bottom of your dish with coffee soaked cake. Spread a nice layer of cream onto the cake layer. Repeat until you've used all the cake and cream finish with a layer of cream. Lastly, dust cocoa powder on top until completely covered. Let set in the fridge for at least 1 hour to let the flavours set. Serve and enjoy!
Keywords: Tiramisu, vegan, gluten free, refined sugar free, healthy