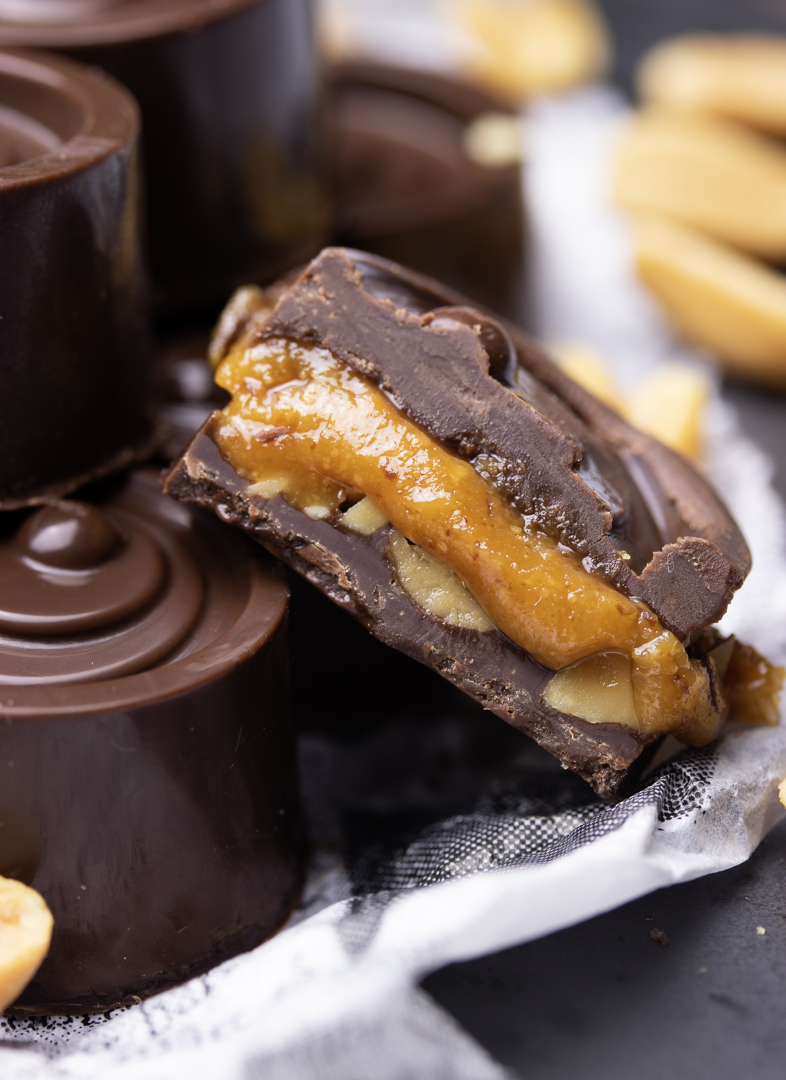 Do not let the fact that I used some fancy pancy silicone praline mold to make these scare you off from making them! These pralines can be made in anything from an ice cube tray to muffin liners. On another note, I truly never get bored of the combination of salted caramel and peanuts. No wonder why everyone loves Snickers! Hopefully, you feel the same as I do. I promise you, these are quick and easy to whip up, and will satisfy your sweet tooth in a heart beat. In contrary to some of my recipes, I could not get enough of these. Usually after standing in the kitchen, experimenting and tasting everything, I get bored of whatever I'm making, regardless of how delicious it actually is, but once I took a bite of one of these bad boys I immediately went: "MMMmmmMM".
Enough said, enjoy!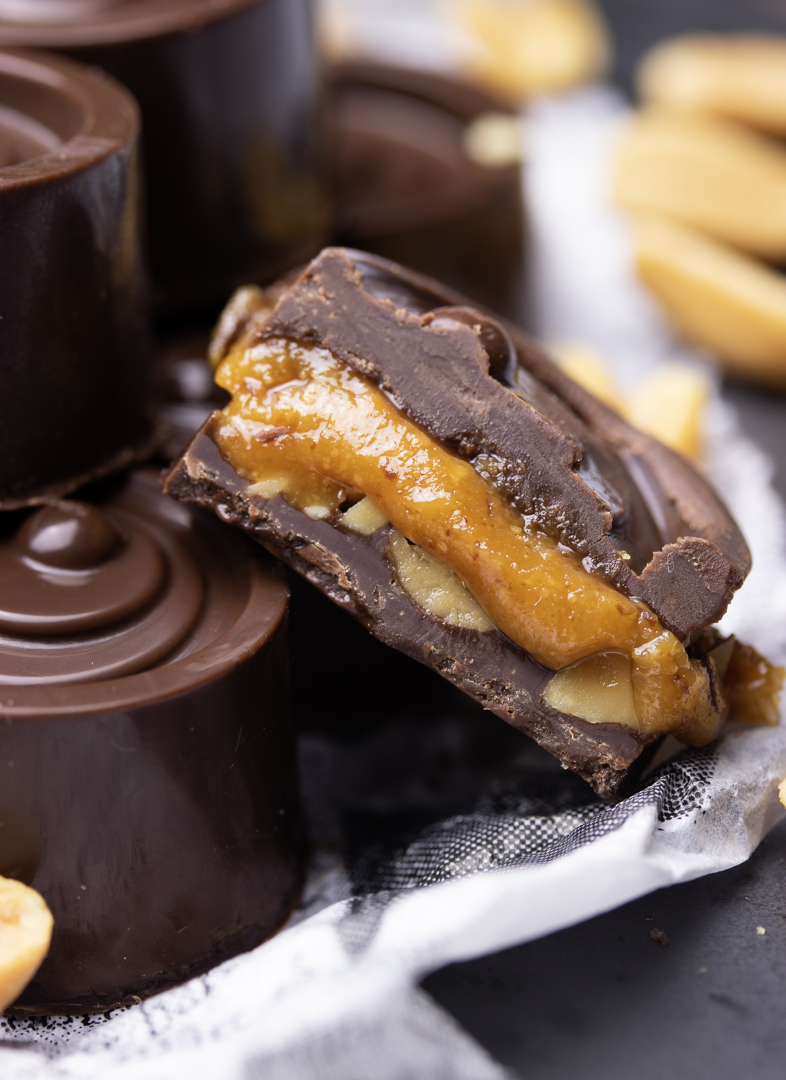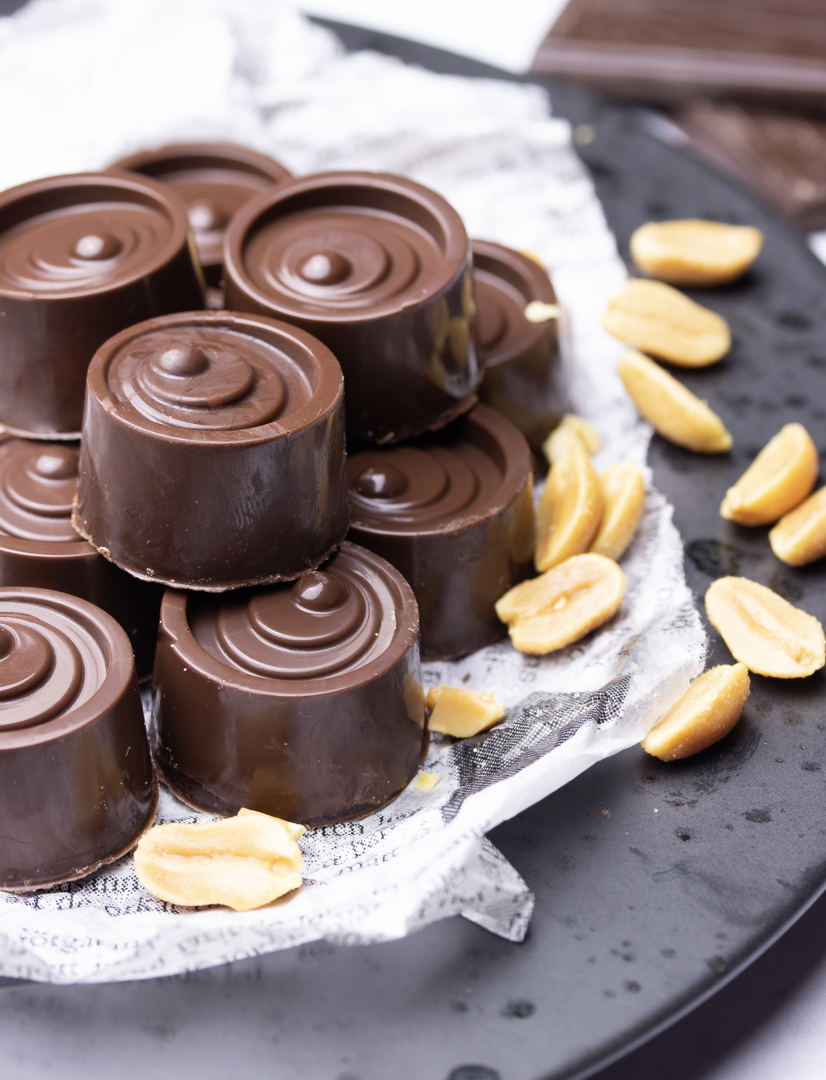 Who doesn't like a video of the reason why you should eat them in on delicious go?
Print
Peanut Salted Caramel Chocolate Pralines
The delicious combination of a simple caramel, peanuts, and chocolate in the form of a praline. Yum!
Author: Hanna Ekelund
Yield:

12

pralines (depending on the size of your mold)

1

x
75g

/ 26 oz melted chocolate of choice

2 tbsp

peanut butter

1 tbsp

liquid sweetener of choice
A pinch of salt
A splash of vanilla extract
A small handful of roughly chopped roasted peanuts
Instructions
I used a fancy praline silicone mold (this one), but you can also use an ice tray or muffin cups instead. Start with dividing half of the melted chocolate between the cavities of the praline mold (the number of pralines will depend on your mold). Using a small spoon or such make sure the sides or each cavity is coated with chocolate. Give the mold a tap and let set in the freezer or fridge.
In a small bowl, combine the peanut butter, liquid sweetener, salt, and vanilla.
Fill every chocolate covered cavity with around half a teaspoon or so of chopped peanuts then with some of the peanut caramel. Seal the deal by dividing the remaining melted chocolate between the cavities, smooth out, and let set in the fridge or freezer. Enjoy!