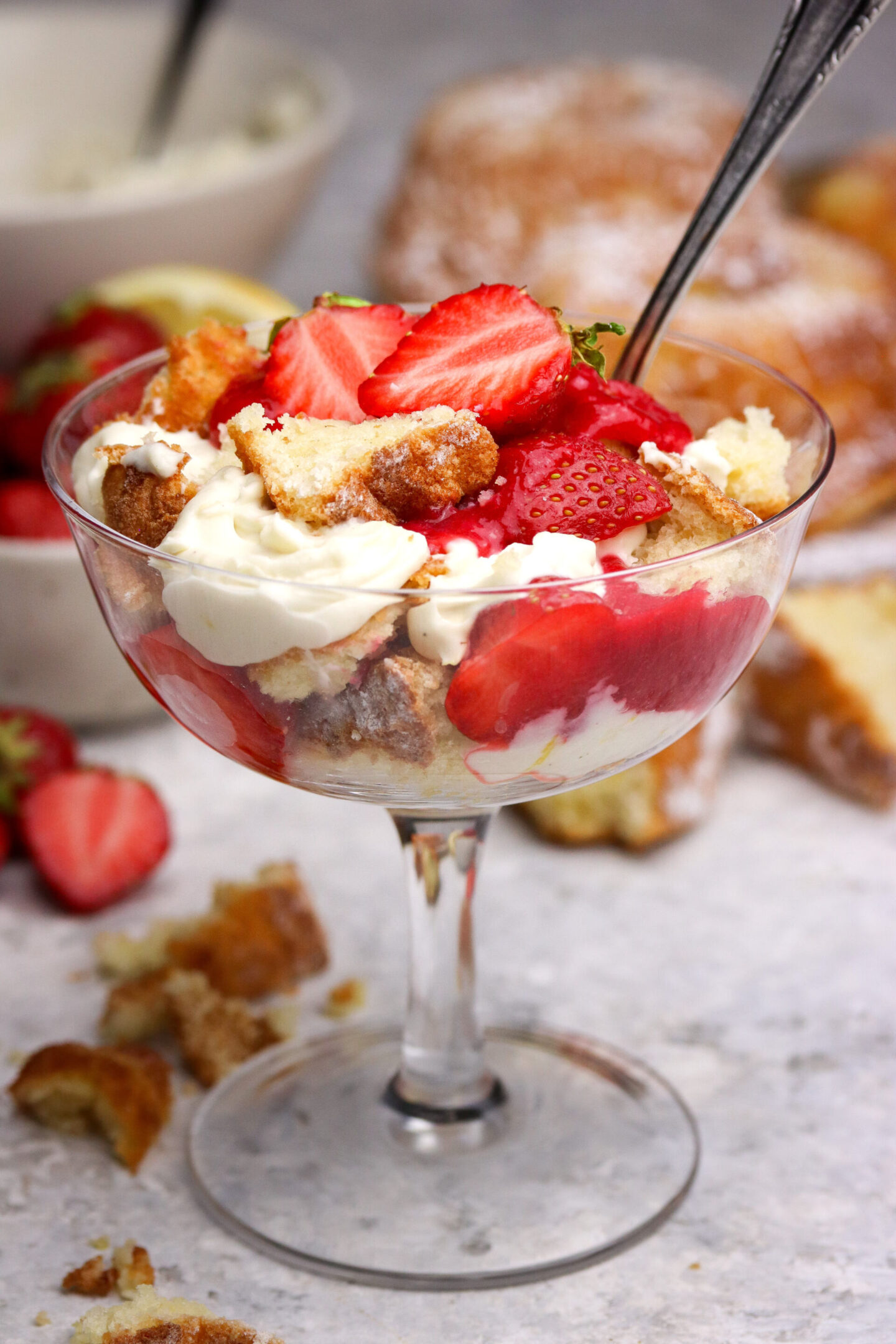 You know when you were a kid and you composed meals with the analogy that things you like can be put together. Well, this kind of is like that, but with a delicious, decadent, and amazing result! The combination of a smooth, rich and balanced white chocolate cheese cake filling, fluffy almond cake broken into pieces, flavourful rhubarb & strawberry compote, and fresh lovely strawberries is A DREAM COME TRUE! It's sweet, creamy, rich, fluffy, fresh, seasonal, and absolutely divine!
Worth mentioning, it is super easy to make in advance, vegan and gluten free friendly (just change the cake depending on preferences), and an elegant dessert that will impress anyone. A proper summery and delightful dessert for any occasion! If you'd like it even more simple, you could use a higher fat yoghurt to decrease the sweetness of the dessert, or use broken up biscuits instead of the cake. It won't be the same, but that's some ways to simplify the recipe if needed since I understand it's quite a few components.
Enjoy and hope you're having a lovely summer!
Heck yeahhhh to this GIF!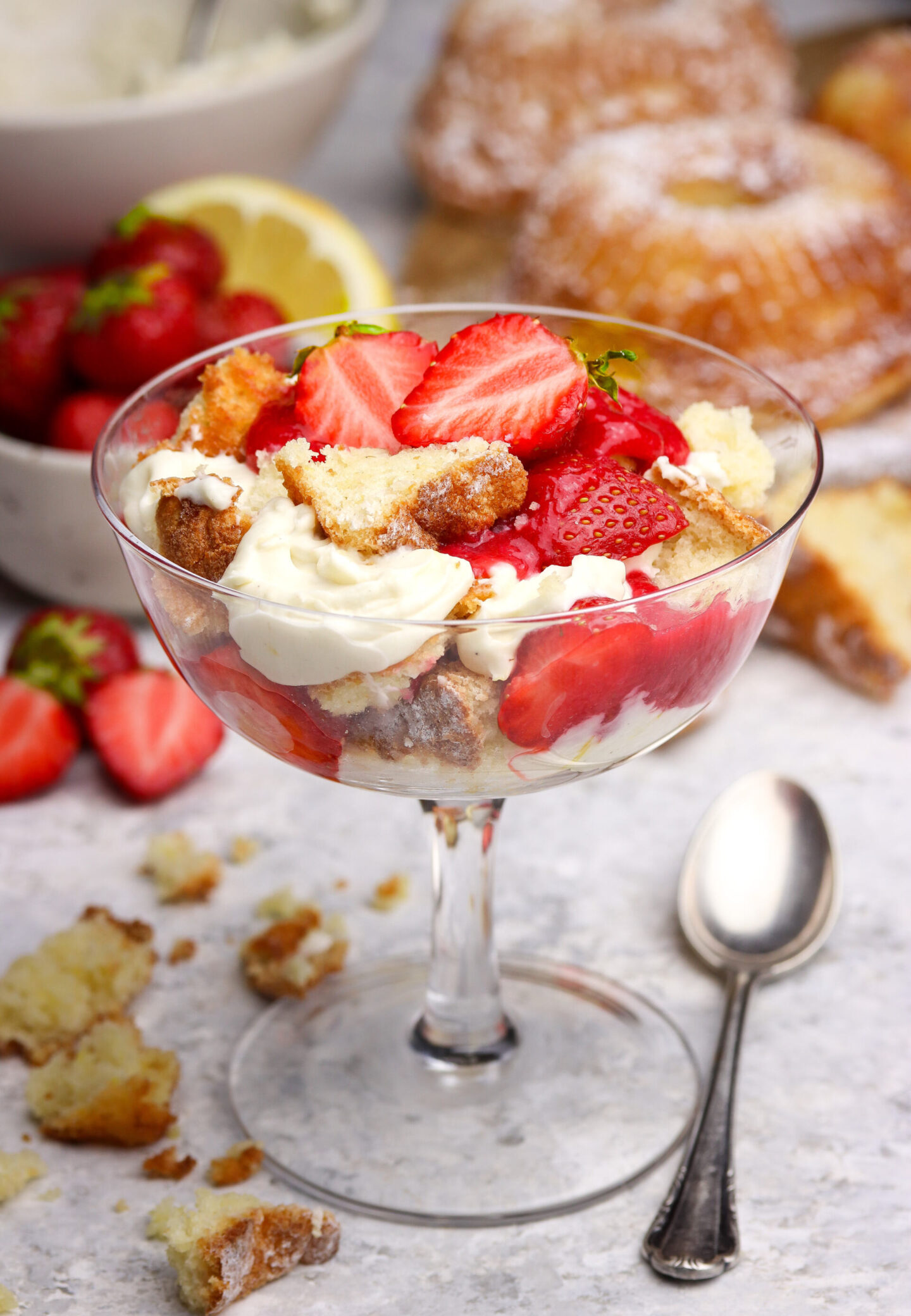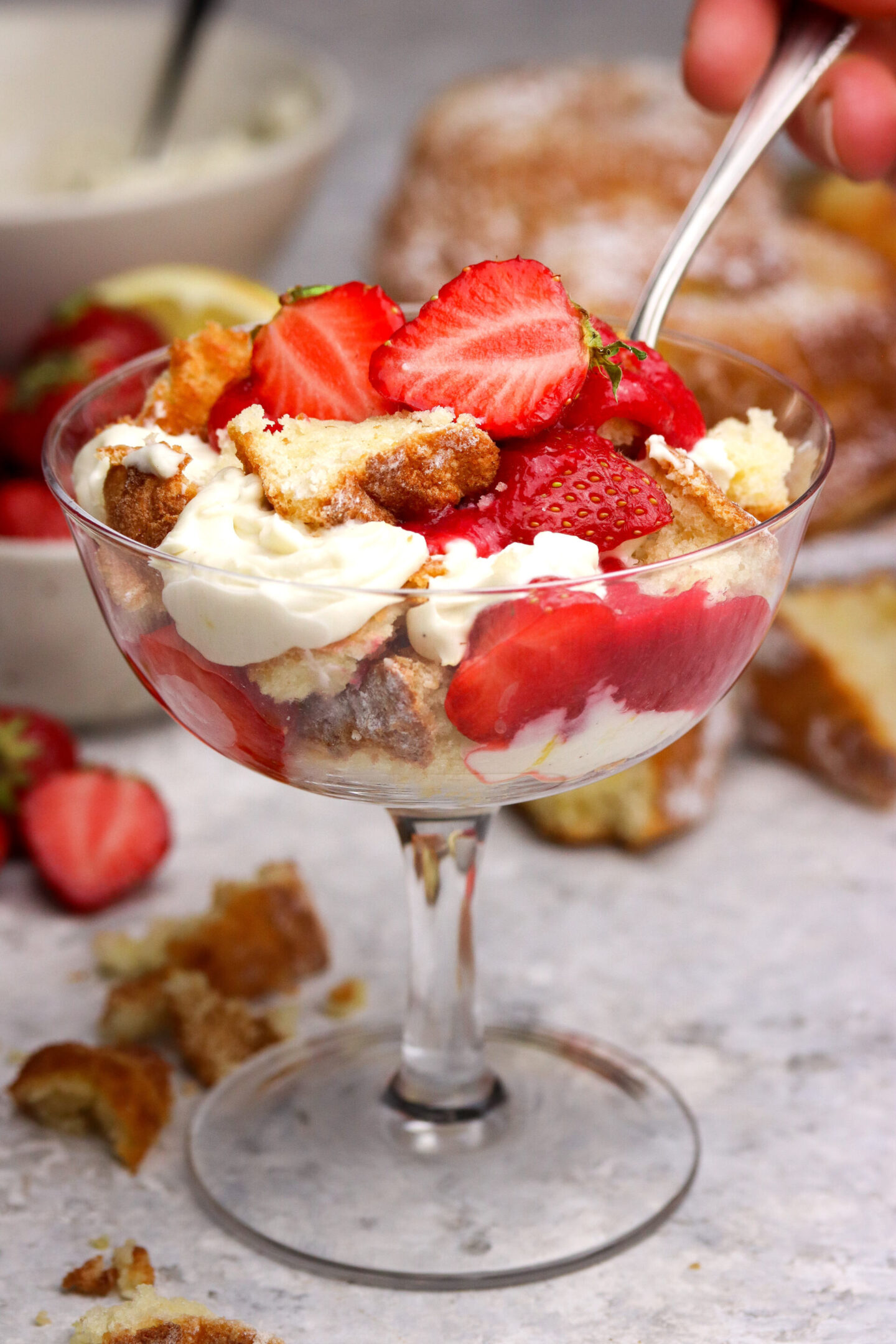 Print
White Chocolate Cheesecake in a Glass with Almond Cake, Strawberries & Rhubarb
The absolute perfect summer dessert! Fresh, sweet, citrusy, easy to make, vegan and allergy friendly, plus delicious! For a more seasonal version, switch the rhubarb and strawberries to perhaps lemon curd or other seasonal fruits. Delicious!
Author: Hanna
Yield:

4

hearty servings

1

x
White Chocolate Cheesecake
150g

/ 5,3 oz cream cheese of choice*

3

,5 tbsp whipping cream of choice*

15g

/ 0,5 oz powdered sugar

1/2 tbsp

vanilla sugar or a splash of vanilla essence
Zest and juice of 1/2 lemon

50g

/ 1,75 oz white chocolate of choice, melted
Rhubarb compote
100g

/ 3,5 oz rhubarb, roughly chopped
A couple strawberries, sliced

40g

/ 1,4 oz sugar
For assemble
1/4

of a vanilla cake recipe broken into pieces, I used this Mallorquin Almond Cake
A bunch of strawberries, topped and sliced
Instructions
Start with the cheese cake. In a large bowl, whip together the cream cheese and cream until fluffy.
Fold in the powdered sugar, vanilla, and lemon juice and zest.
Fold in the melted white chocolate, and let set in the fridge for a few hours.
For the compote, place all the ingredients in a sauce pan, bring to a simmer on medium heat, and let cook until desired thickness. Let cool completely.
When everything is cool and has set, just before serving, or just an hour or two before, dollop and layer the different components, cake, cheese cake filling, compote, and fresh strawberries, in four desired glasses or bowls. Serve, and enjoy!
Keywords: vegan, white chocolate cheesecake, in a glass, dessert, efterrätt, vitchoklad, vit choklad, vegansk, glutenfri, gluten free, strawberries, rhubarb, summer, sommar, sommarefterätt, sommardessert,, i ett glas