MY NEWEST CREATION!
Just kidding, this is a vegan version of a very traditional Swedish Christmas food. It took its spot on the Swedish Christmas "Smörgåsbord". It originally had a very vital importance for people who lived during the late 19th century as a staple food. All foods and dishes on the Swedish Christmas smorgåsbord actually, interestingly enough, have had an importance long ago but instead of being forgotten it is made and served during Christmas, as a tradition. Funny, right?
Anyway, this traditionally is made using mayonnaise and crème fraîche. I opted them for a simple plant-based crème fraîche, which give it a lovely not too fatty, slightly sweet flavour. My mum even hugged me when she ate it. (I had put extra mustard in and she loooves mustard) If that doesn't convince you I don't know what will.
Merry Christmas guys!
PS. This can easily be served during summer as a side to your favourite foods. Just mix in your favourite spices, maybe add some fresh, seasonal fruit. The possibilities are endless!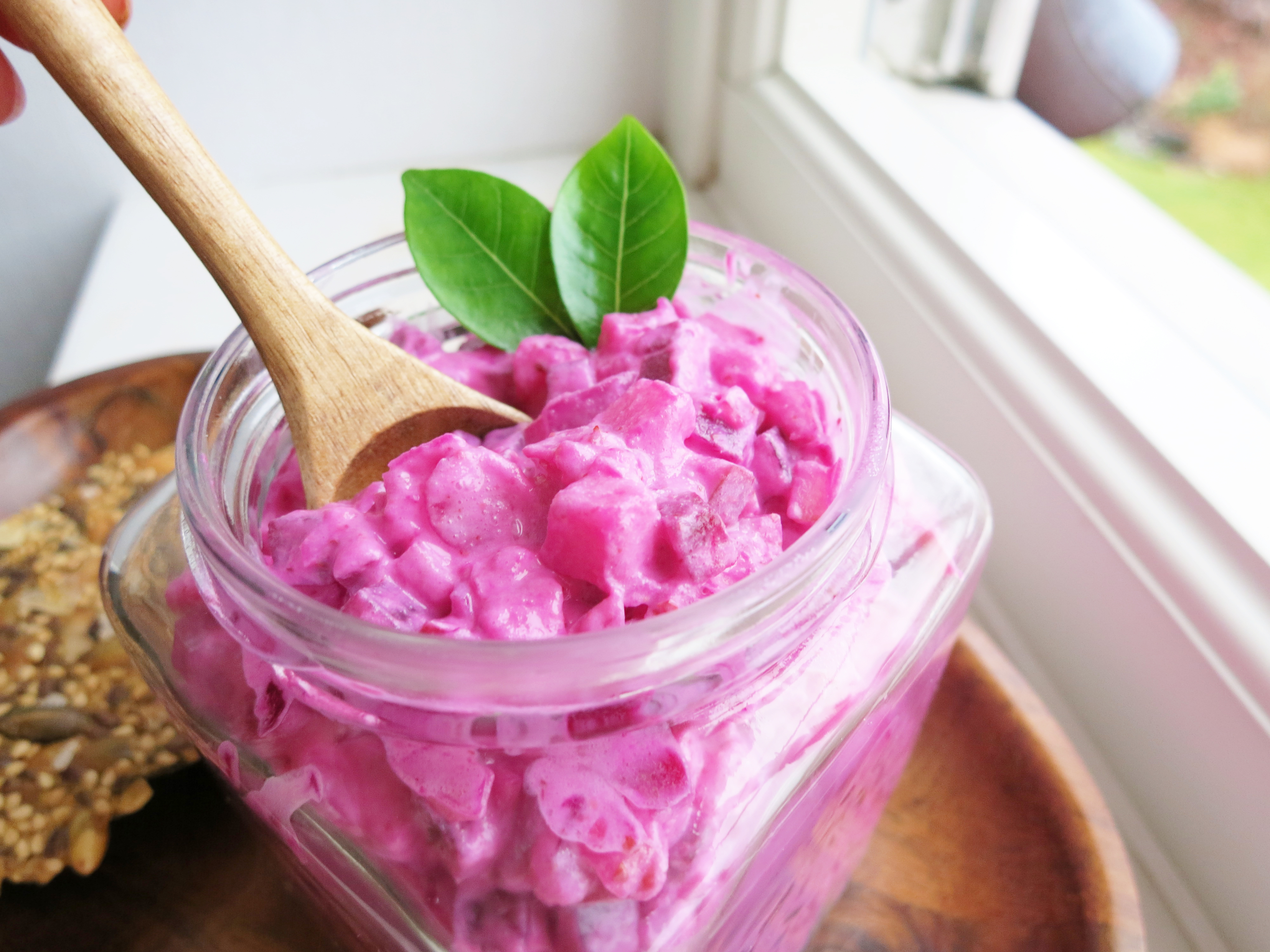 Print
Veganized Traditional Beetroot salad / Vegansk rödbetssallad
150g

 / 5oz pickled beet roots

1

small apple à 100g / 3,5 oz

1/2

small onion of choice (around

30g

/

1 oz

)

1

dl / heaping 1/3 cup plant-based crème fraîche, like iMat

1/2

–

1

tbsp sweet medium ground mustard
Salt and pepper to taste
Optionally

half a

handful of pickled small onions (just a personal favourite add in)
Instructions
Cut the beet root and apple into small, small cubes and finely, finely chop the onion.
In a bowl mix  together the rest of the ingredients. Add the prepared vegetables and give it a good churn. Eventually add some salt or pepper to taste. Enjoy chilled as a side dish or on crackers or crisp bread.
Keywords: Vegansk rödbetssallad, veganized