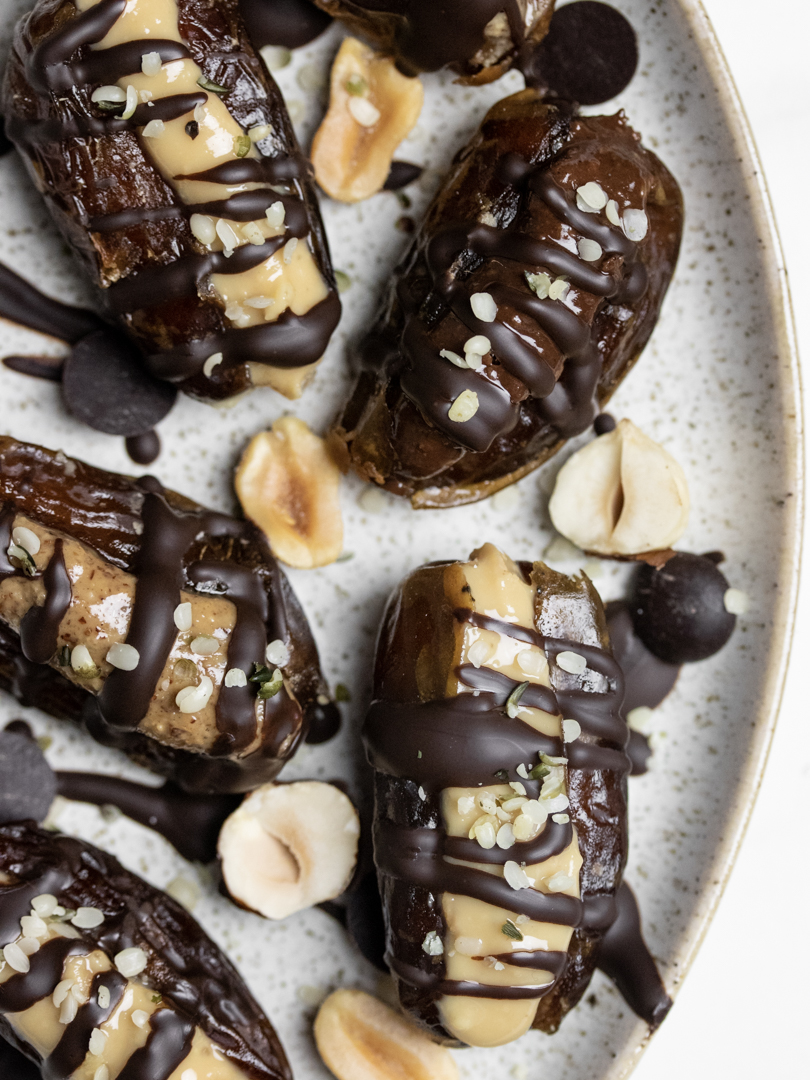 Stressed? In a rush? Or need something super simple and children friendly to make? This is the recipe for you!
I have always thought something as easy as this would be too simple. Silly, silly me. This is definitely my favourite treat that I am brining to the table during Christmas. So scroumptious and just complicated enough. At the same time as it is ridiculously easy it is a treat for everyone, refined sugar- and oil-free, depending on the chocolate, whole food, Paleo, Vegan as well as gluten-free!
Customizable to your liking in so many different ways. Switch up the nut butter, almond butter and hazelnut butter are my favourites but cashew and peanut butters bomb as well. Maybe tahini or sunflower butter for the ones who are allergic to nuts. Or fill the dates with some whole nuts or dried fruit with the nut butter. Dip in white, milk or super dark chocolate? The possibilities are endless!
Guys, just relax and try to enjoy life especially during such a stressful time like this. DO NOT put so much pressure on yourself. This comes from my own experience. Sending lots of warm holiday hugs!
Enjoy!
Print
Chocolate covered nut butter filled dates
20

dates
Around

75g

nut butter of choice

60g

chocolate + optionally 1 tbsp coconut oil to make the chocolate coating thinner
Instructions
Pit the dates if not already pitted. Fill eachone with around 1/2 tsp nut butter, place on a baking tray and cool in the freezer.
Melt the chocolate in a bowl, stir in the coconut oil and take the dates out. Cooling the dates makes it the chocolate to harden faster. Dip the dates in the chocolate with the help of a fork, scrape of the excess on the edge of the bowl and place on the baking tray. Let the chocolate harden in room temprature, the fridge or freezer and enjoy!
Keywords: Vegan, whole food, refined sugar-, gluten-, oil-free, fruit sweetened