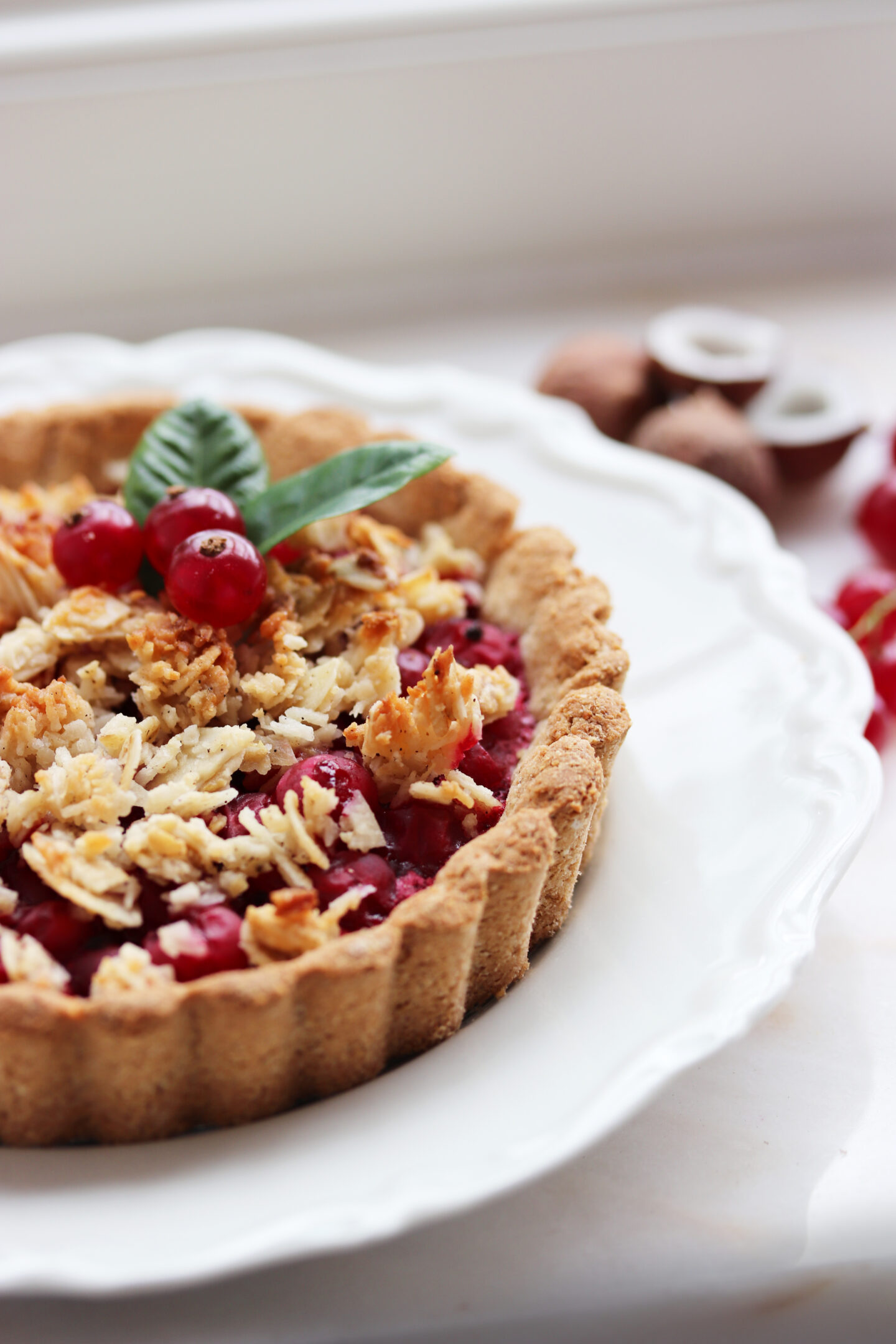 Crumble, an easy and nostalgia-filled dessert. You can make it more simple, with apple and cinnamon, or you can make more dine dining appropriate versions (that don't always have to be more complicated making, like my plum & balsamic hazelnut crumble tart).
Anyhow, every year we, my family and I, get tons and tons (more accurately kilograms and kilograms) of red currants from our garden. As you may have realised, I don't like wasting things, especially not nature's own candy, fruit. In an attempt to become more creative with how I use the berries (other than making the fab chutney I make every year), I did a heck ton of research. The internet told me that red currants go well with coconut, so naturally I had to try it myself. Well, the internet certainly did not lie. Before I wrap up this long and slightly boring introduction, let me tell you that this crumble is not, like some "healthy" recipes, solid and hard. This crumble is crumbly (!!!) and "airy", basically it has the perfect texture. Anyhow, enough rambling, onward to the recipe!
Enjoy!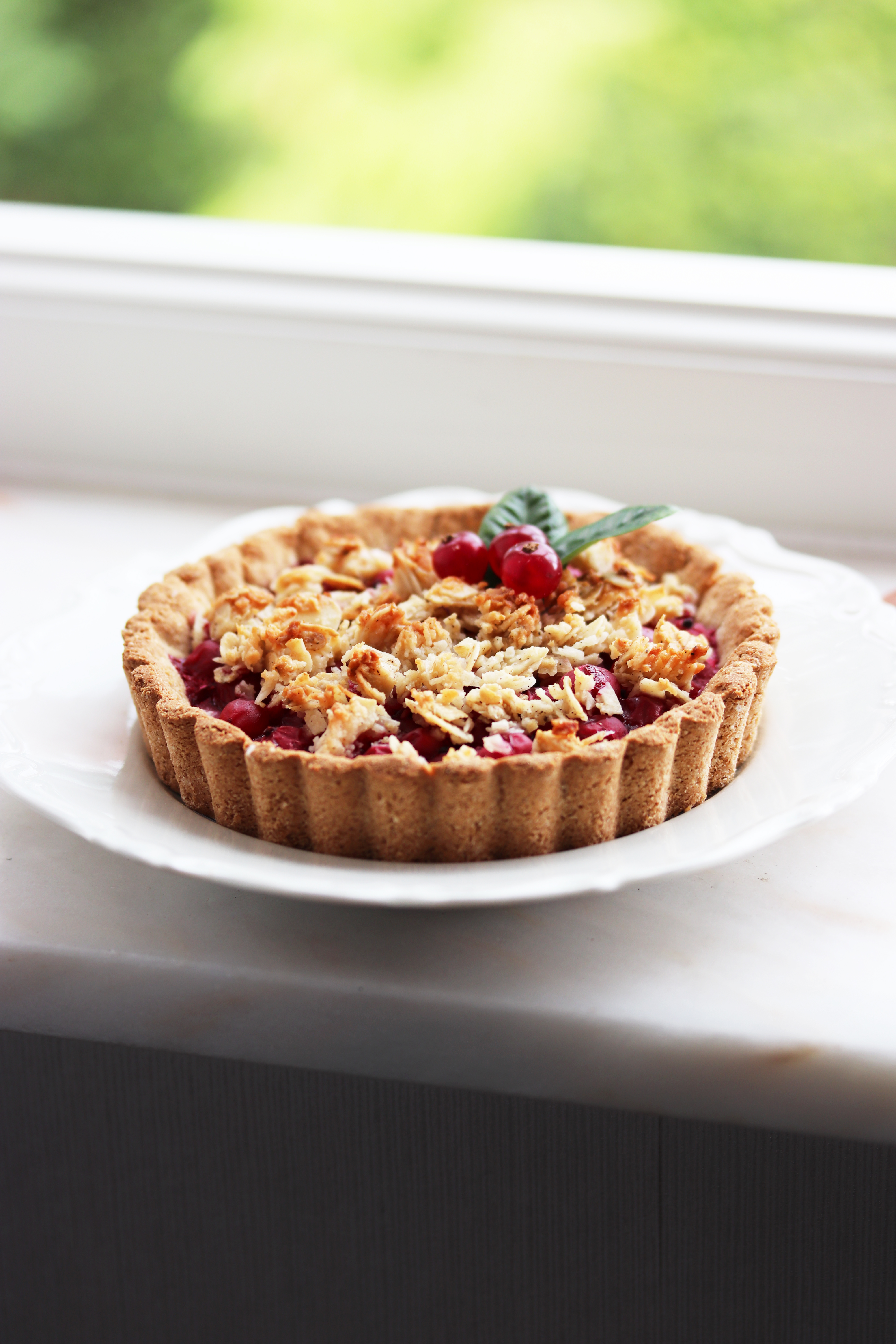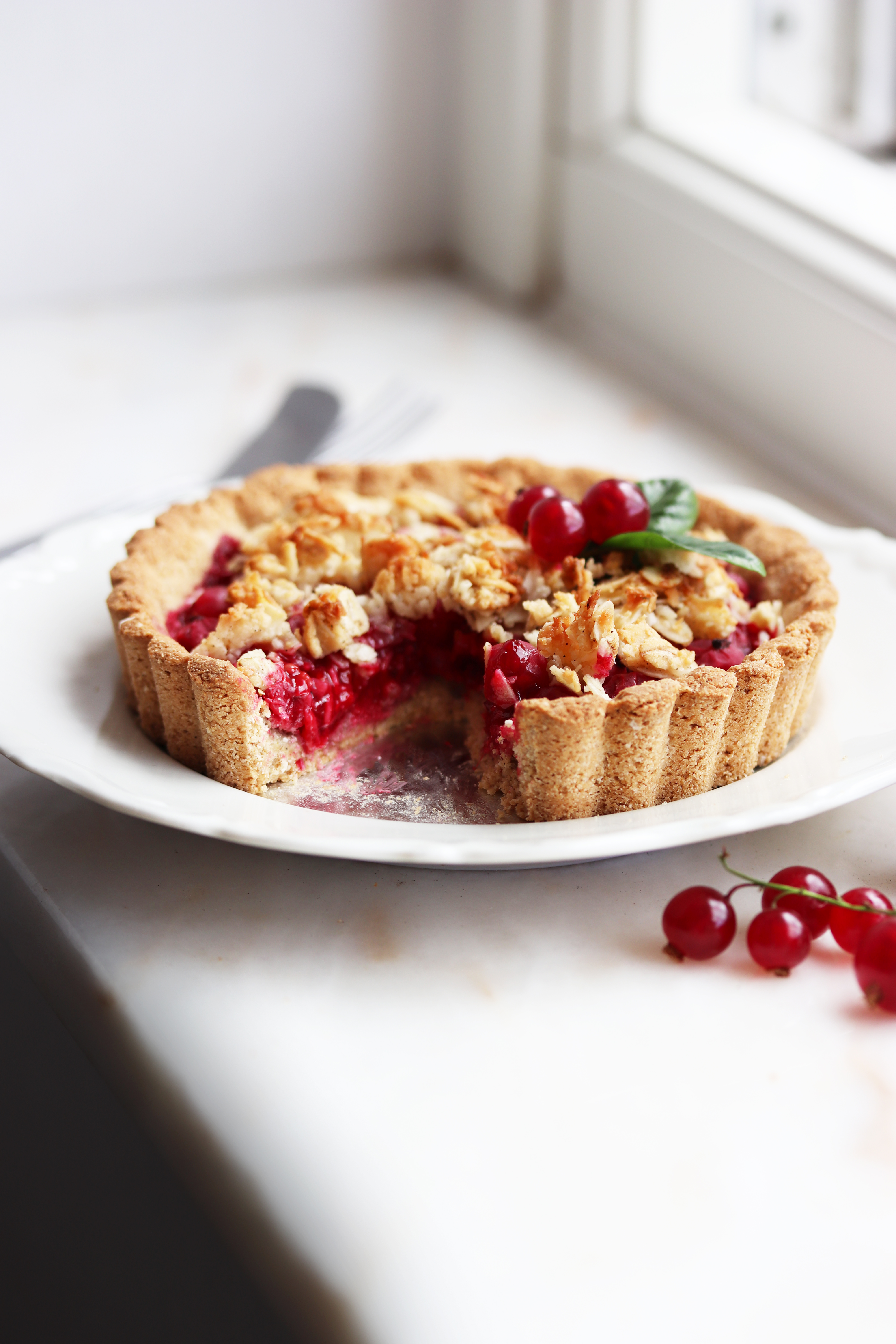 Print
Utterly Scrumptious Coconut & Red Currant Crumble Tart
The amazing combination of a soft, fresh, delicious red currant and a crumbly coconut pie crust.
Bottom
3 tbsp

coconut flour

3 tbsp

oat flour

1/4 tsp

baking soda

1/4 tsp

vanilla bean powder
A pinch of salt

1 tbsp

coconut butter

2 tbsp

liquid sweetener
Filling
A heaping

1/2

dl / 1/4 cup red currants, or fruit or berry of choice

1 tbsp

sweetener of choice

1 tbsp

potato starch
Crumble topping
3 tbsp

of shredded coconut, rolled oats, slivered almonds or such

1/2 tbsp

liquid sweetener

1/2 tbsp

coconut butter

1/4

 tsp vanilla bean powder
A pinch of salt
Instructions
Start with preheating the oven to 175ºC / 350ºF and grease a tart pan.
 In a small bowl mix all the ingredients for the bottom until it becomes a crumbly dough kind of texture. Transfer to the tart pan. Using your hands, flatten out the dough and make sure the crust is evenly thick. Pierce with a fork and bake for 8-10 minutes until golden. Take out and let cool.
While the crust is in the oven simply mix all the ingredients for the filling and crumble topping together in two separate bowls.
Once the crust has slightly cooled down, fill it with the filling and top with the crumble. Bake for 10-15 minutes until the crumble on top is golden.
Notes
I made a super small, mini tart, and I only used a tart pan with a 10 cm / 4 inch diameter. If you'd like a bigger tart simply multiply the recipe with at least two.
Keywords: Pie, vegan, red currant, healthy, gluten free