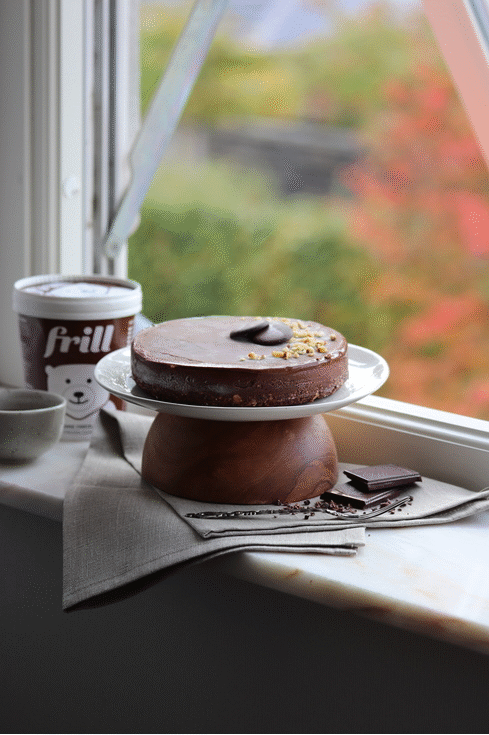 All of you who follow me on Instagram (@the_veggienator) know how addicted I am to Frill, you know the ice cream. Therefore, I couldn't say anything else than "HECK YEAH!" when Frill reached out to me and asked if I'd like to create a recipe for them and receive some coupons. In case you haven't heard of Frill before, it's this amazing UK-based ice cream company. They launched their products in Sweden, where I live, around two years ago or so, and I've been hooked since then. Anyhow, what makes them special is that all their ice creams are basically frozen smoothies in the form of scrumptious ice cream. How cool isn't that? Go and check them out now!
Anyway, let's talk about the recipe!! Okay, let me ask you a question. What makes chocolate even better? MORE CHOCOLATE! That's basically the analogy I went with with this recipe. Everything from the bottom layer (oh mama, it's just so deeply chocolately, chewy, nutty, and delish…) to the ice cream, and fab chocolate sauce is just on point! Also, like hello good loooking GIF!
NOTE! If you live in a country where you can't get Frill, just make or use your favourite ice cream instead. Nice cream would basically be just as fab in this recipe.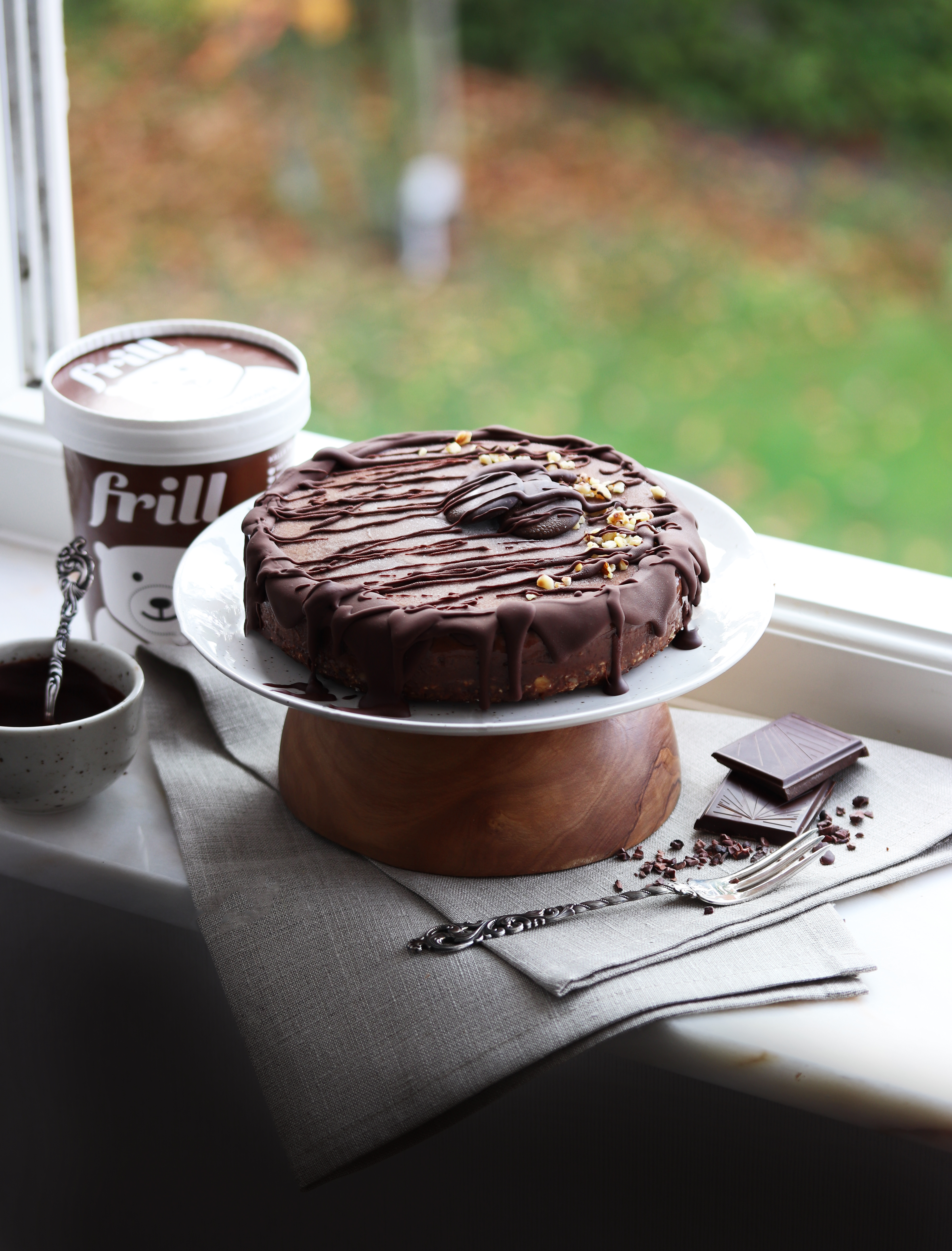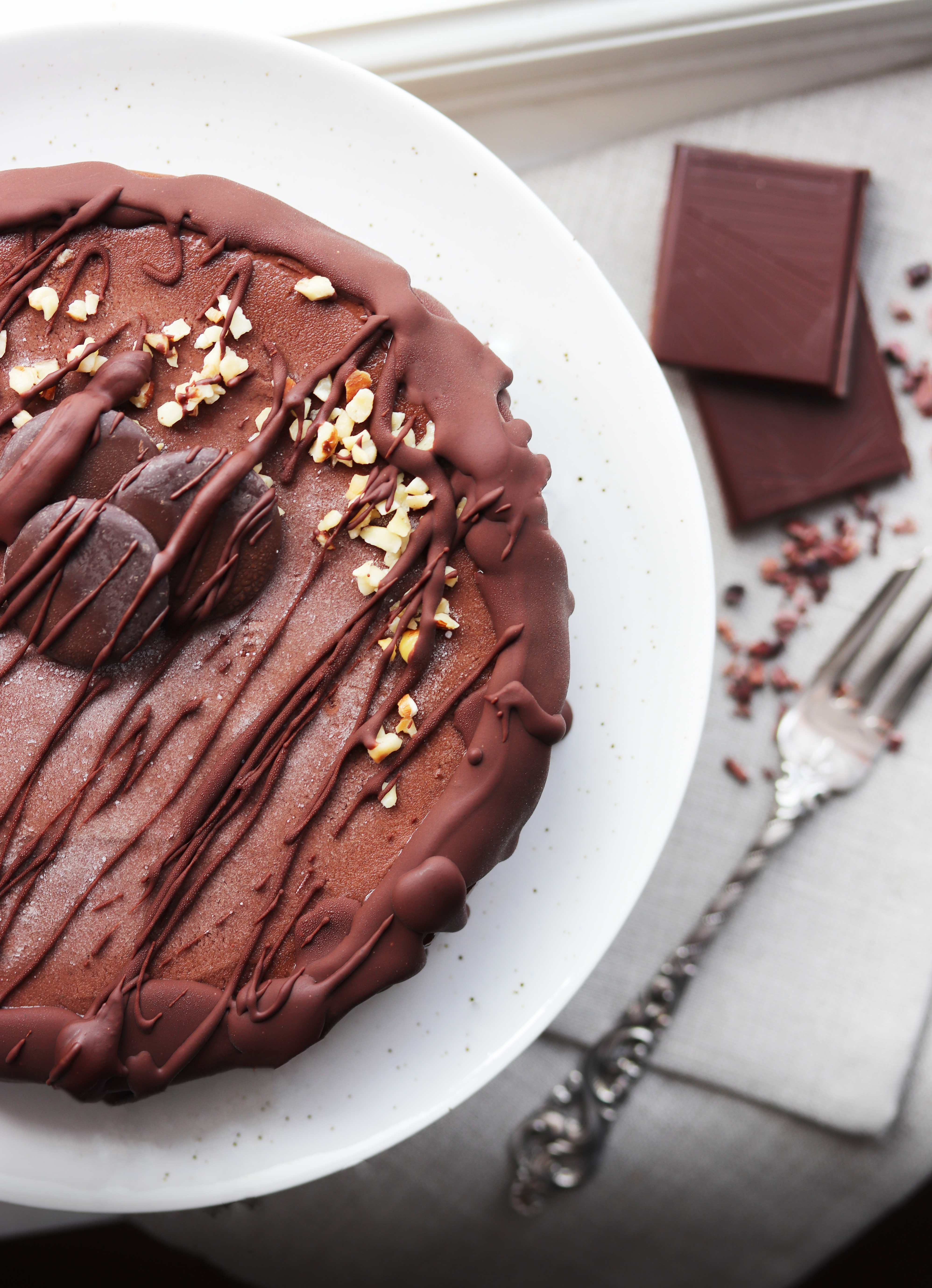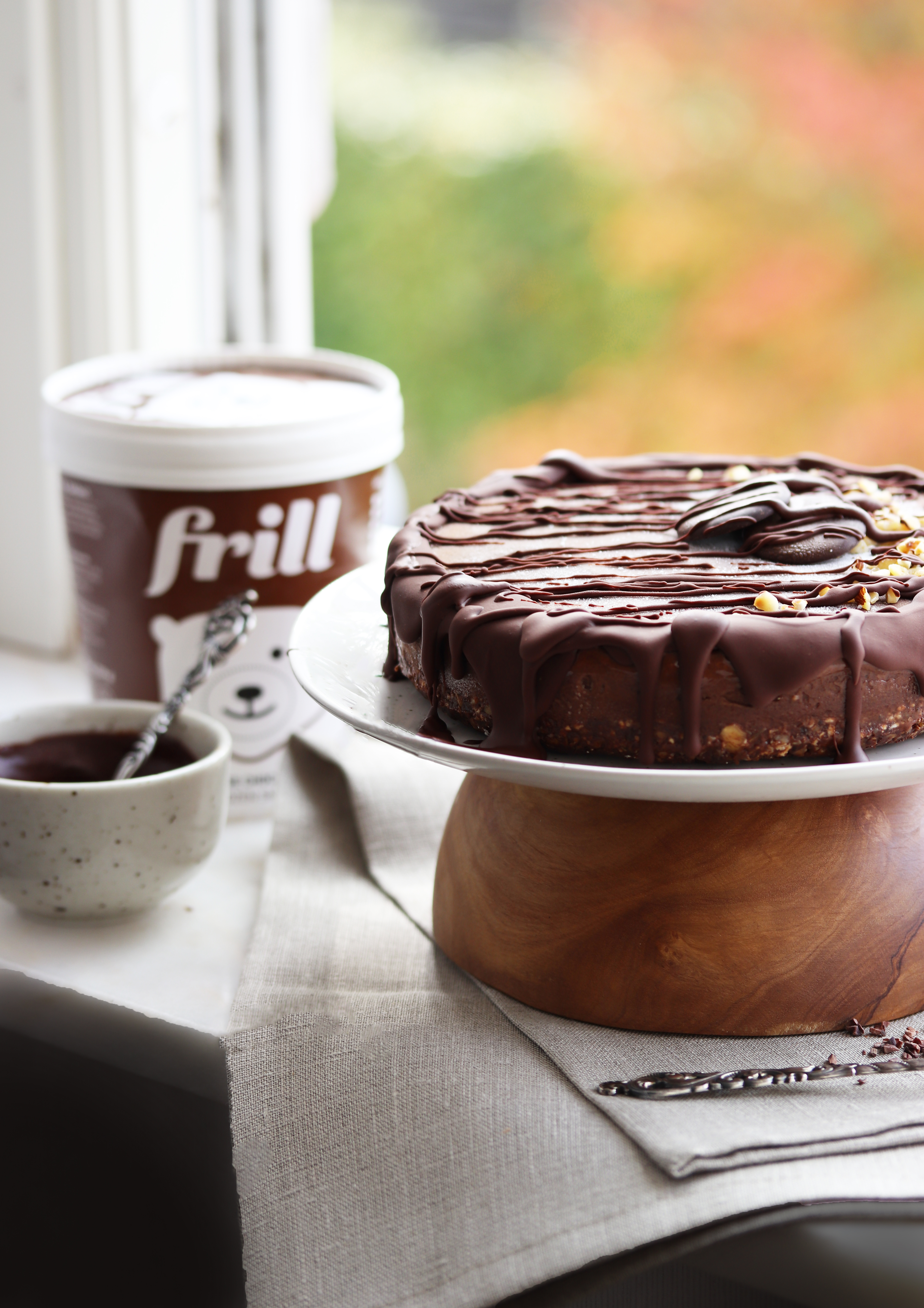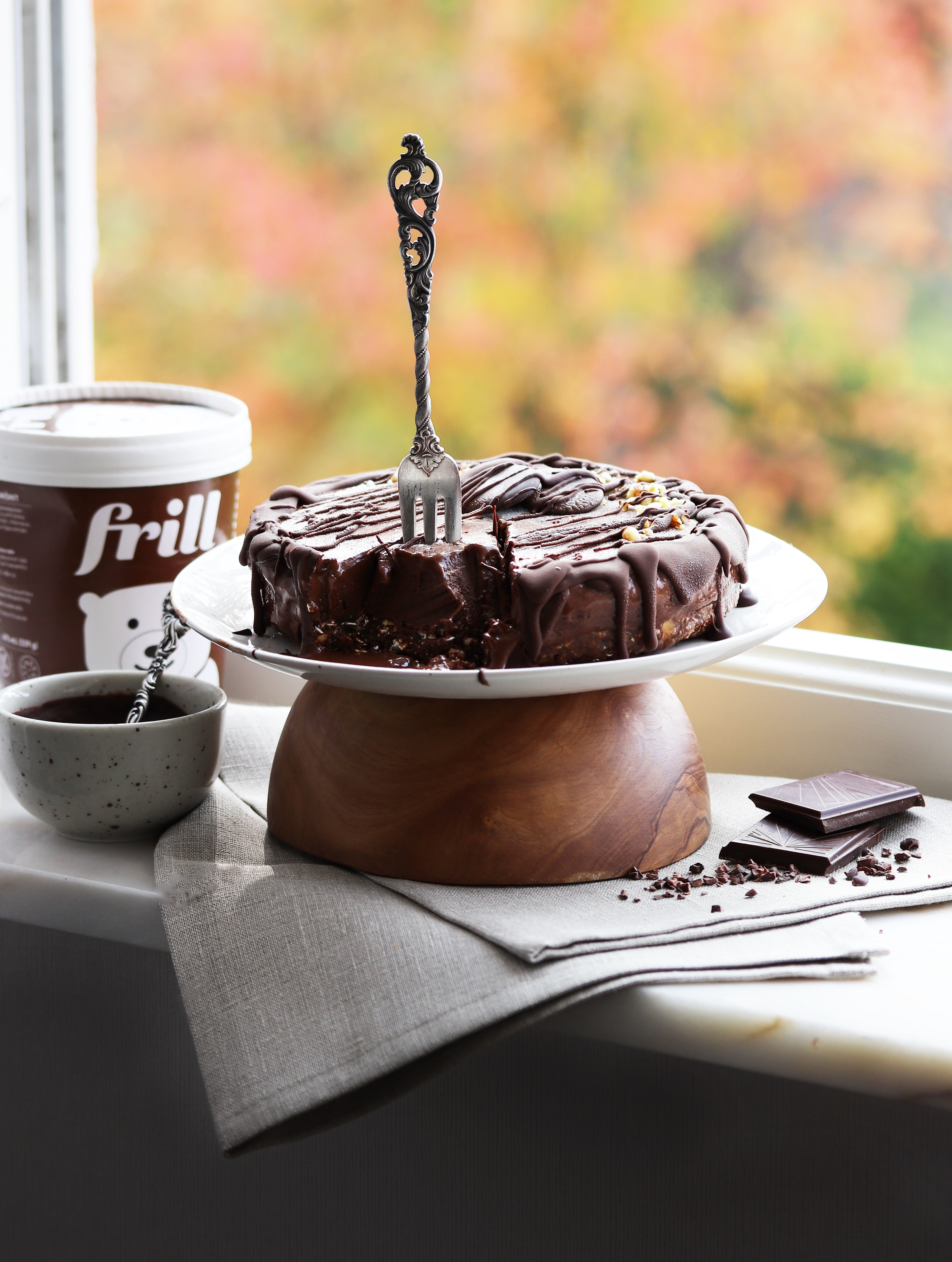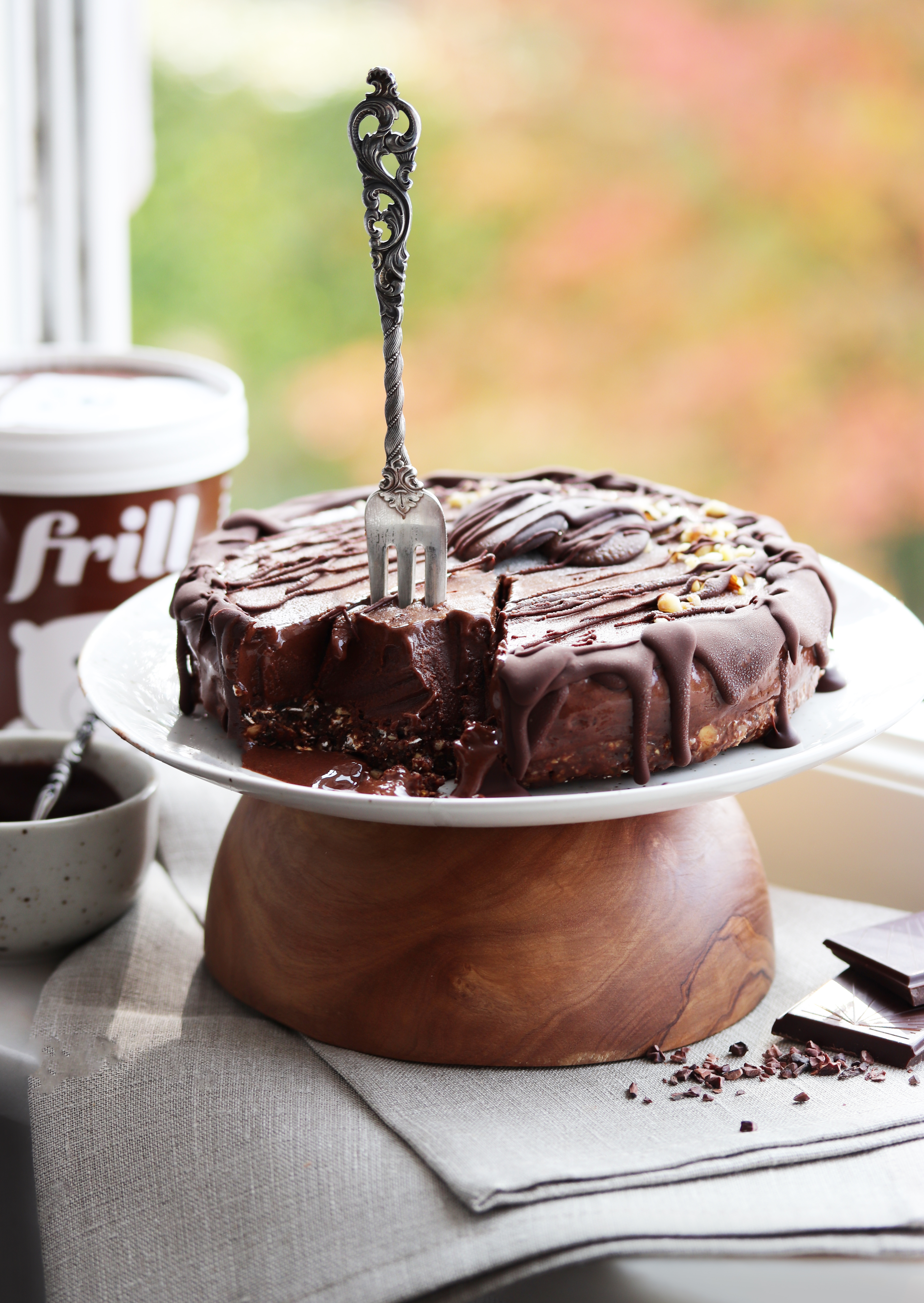 Print
Triple Chocolate Ice Cream Cake
Chocolate ice cream cake with a chocolate no bake bottom and lots of drizzled chocolate
Bottom
80g

pitted dates

60g

/ 2 oz assorted nuts & seeds of choice

1

dl / 1/2 cup minus rolled oats

2

–

3

tbsp water

3 tbsp

cocoa powder

1/2 tsp

vanilla essence orpowder
A generous pinch of salt
Ice cream
Topping
35g

/ 1,25oz melted chocolate of choice, melted

1 tsp

coconut oil

1 tsp

liquid sweetener of choice, room temperature
Instructions
Start with taking out your tub of Frill to thaw slightly in room temperature.
In a food processor, process the dates, nuts, seeds, rolled oats, water, cocoa, vanilla, and salt until you get "dough" of desired consistency. Transfer to a springform lined with parchment paper or plastic foil, press into an even bottom layer. My springform was 15cm / 6 inches in diameter
Scoop out the ice cream out of the tub and spread onto of the bottom layer into a smooth layer. Let set in the freezer at least for an hour. How long depends on how lon you're going to have it out when serving.
Just before serving, mix together the chocolate, coocnut oil, and sweetener into a slightly thicker chocolate sauce. Drizzle and decorate the cake with the sauce, cut up, serve and enjoy!
Keywords: Chocolate ice cream cake, vegan, gluten free, healthy