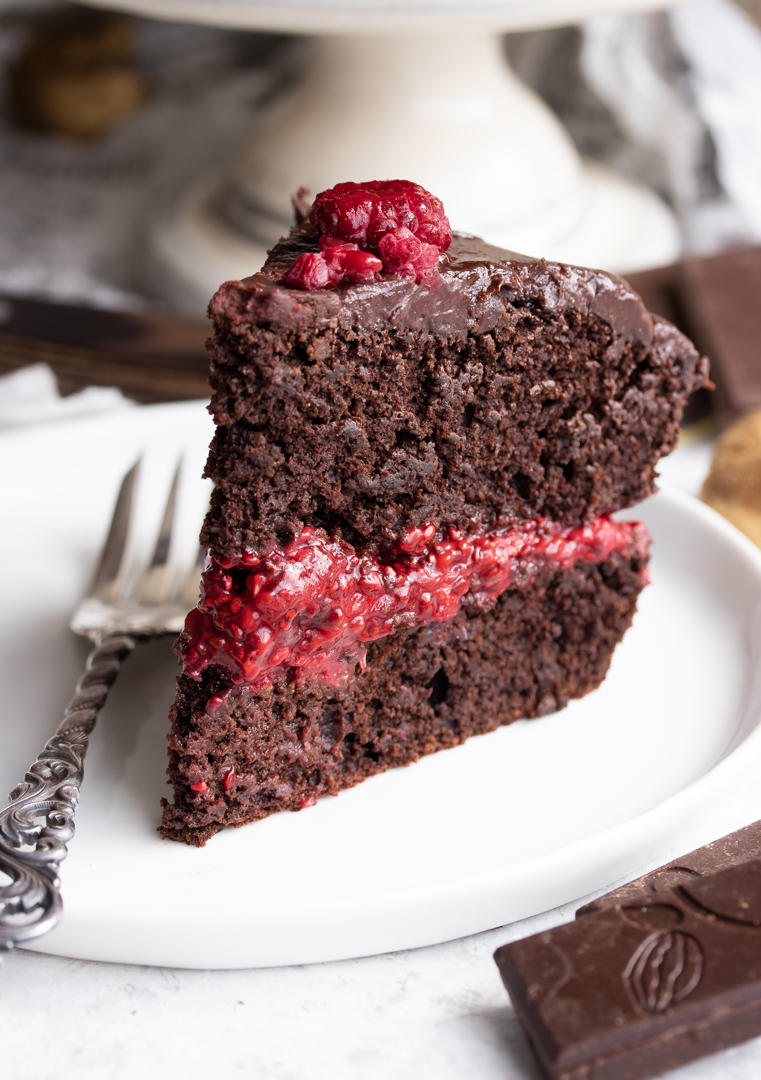 If you only knew how mighty proud I am to present this recipe. This cake is a dream of mine coming true. Honestly, I've been thinking about baking a cake like this for at least a solid month. For a ridiculous amount of time, I've wanted to create a recipe for a proper cake, a two tiered cake. So when I finally had the right occasion to make one for, one of my older brother's birthday, I was euphoric.
This cake is my version of my childhood's nostalgic ultra chocolatey, moist, perfectly rich, and decadent chocolate cake we used to make for Easter. Let me tell you, this version is just as absolutely scrumptious as the original, if not better. However, this version is still very filling and rather rich, but it doesn't leave you as sluggish afterwards as the classic version. Not to forget, the addition of fresh raspberry jam filling and rich chocolate glaze takes this cake to the next level. Guys, I'm beyond happy to present you a piece of my history and childhood; I am beyond happy to present you this cake. Enjoy!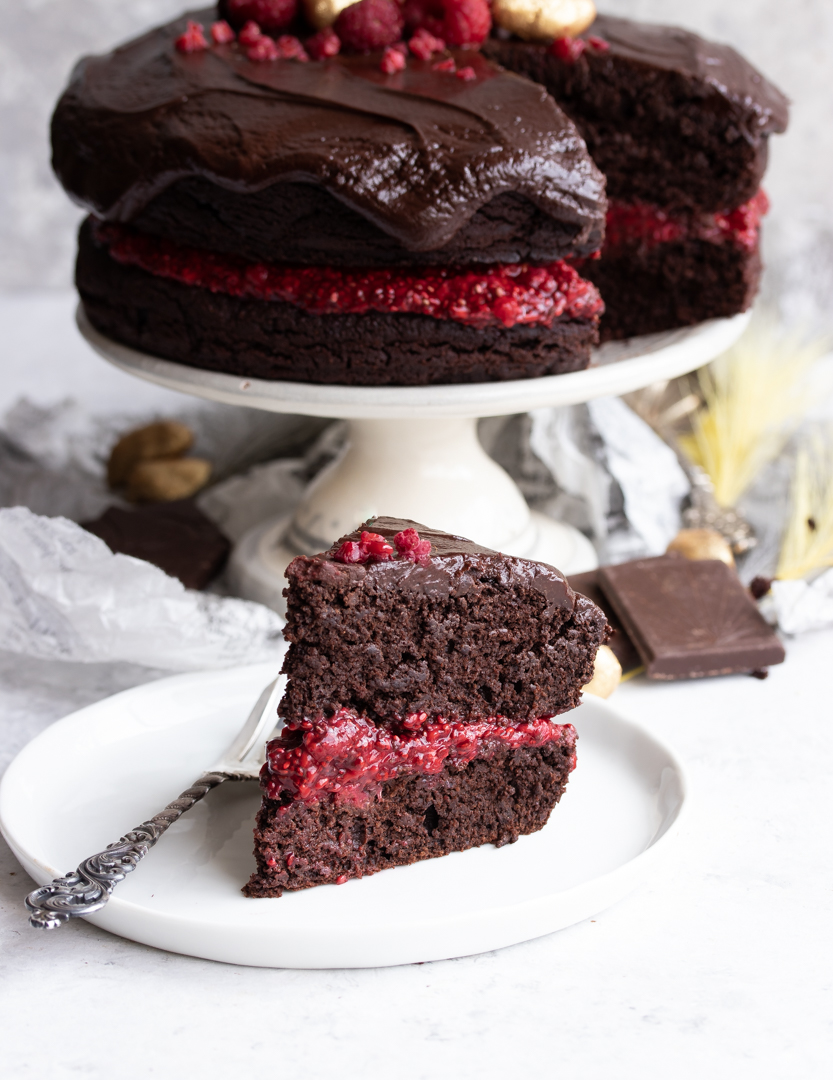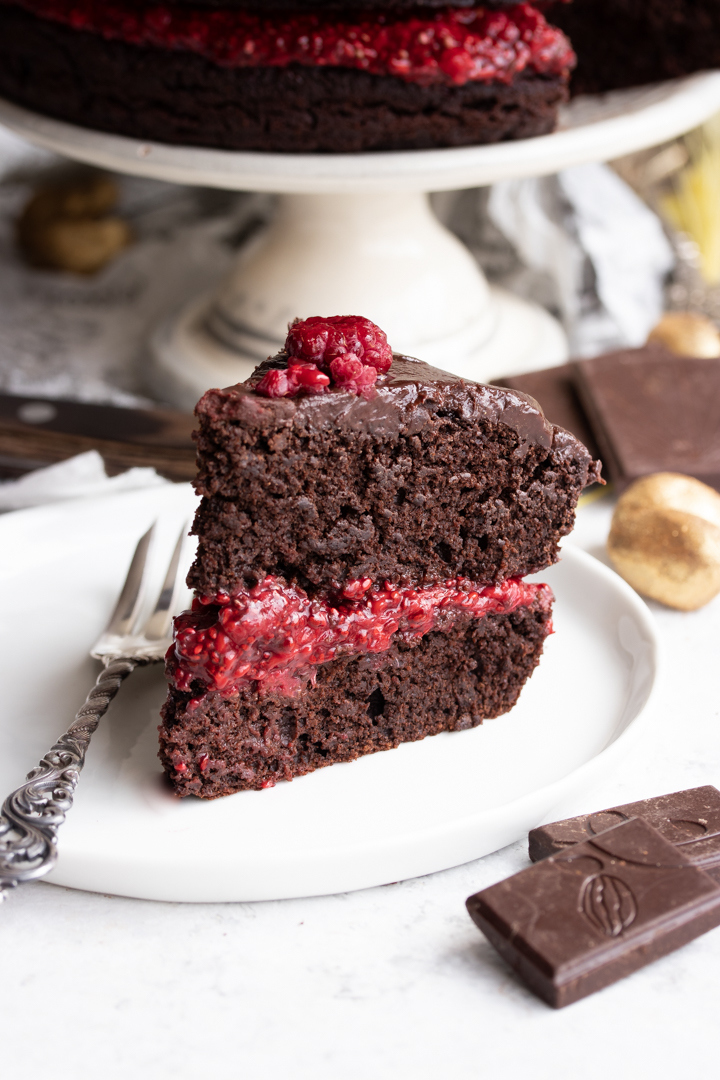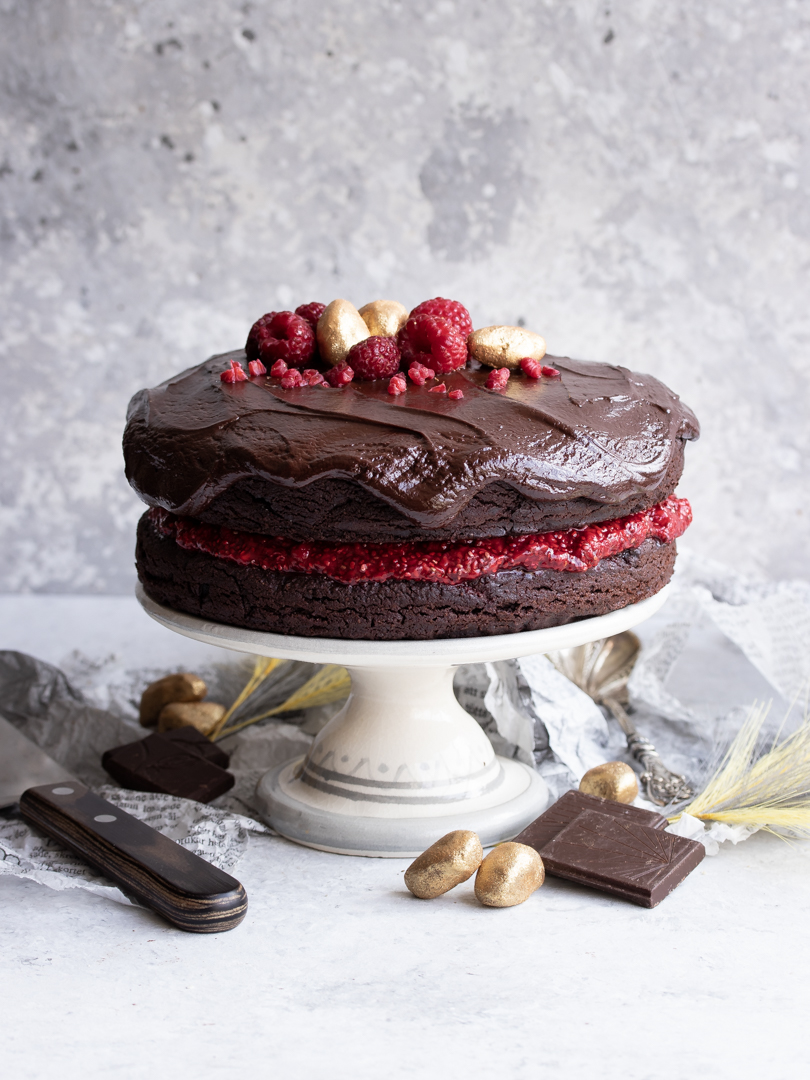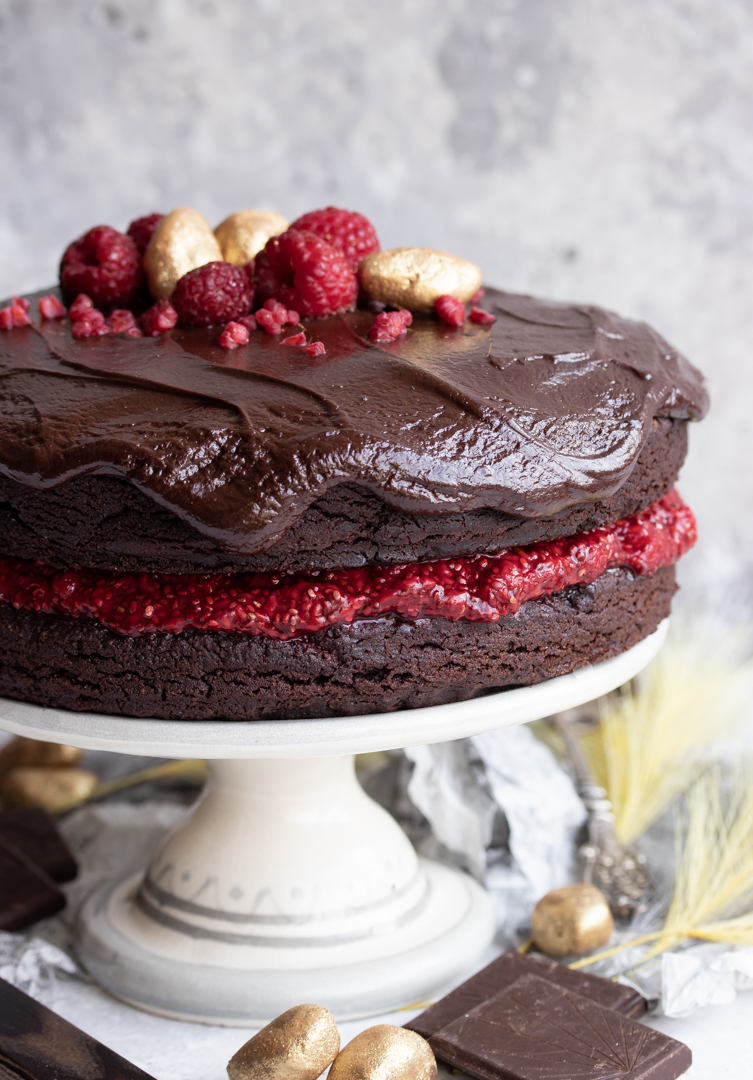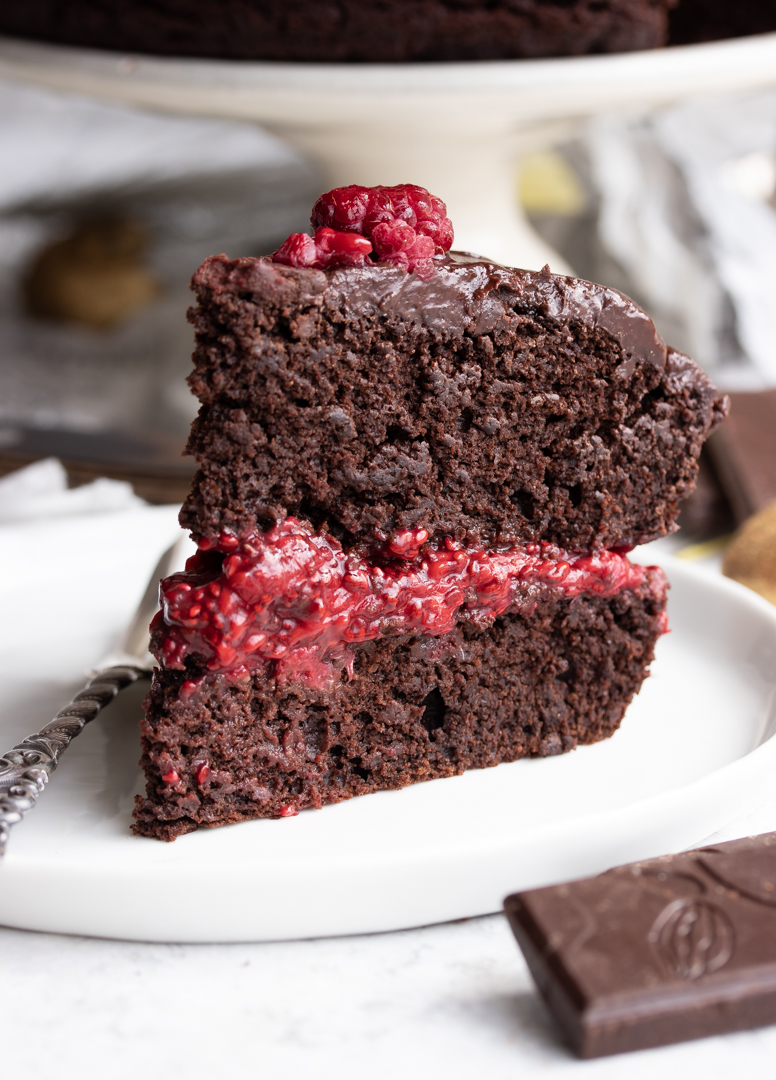 Just at that absolutely perfect texture! YUUUM!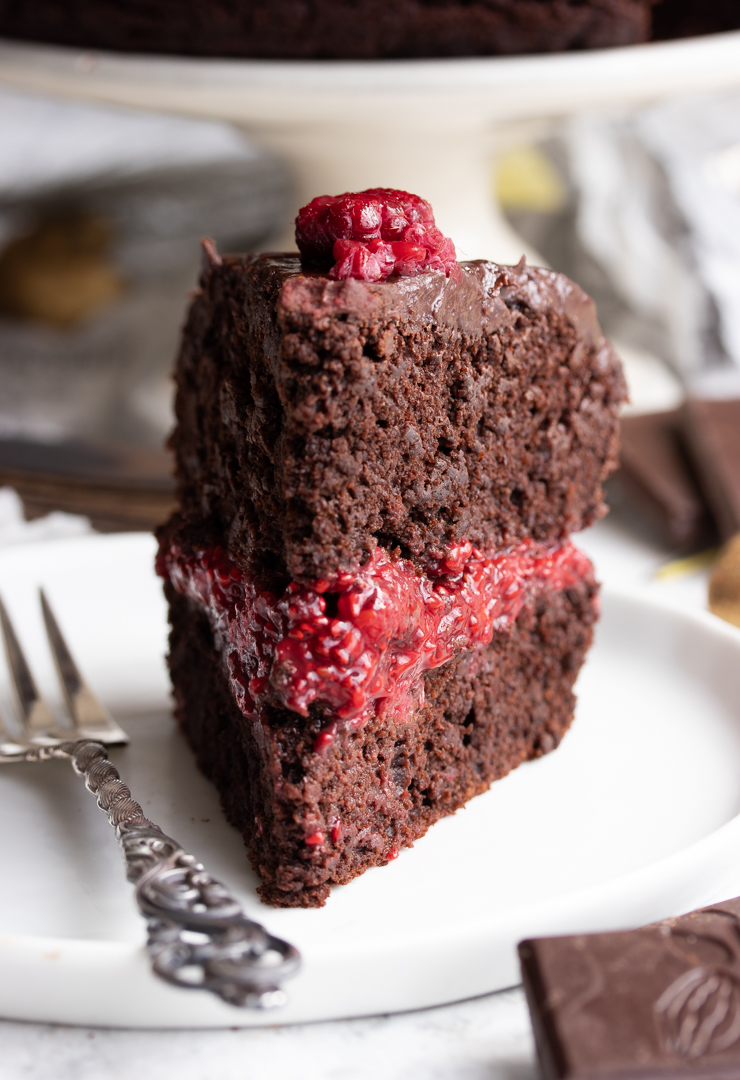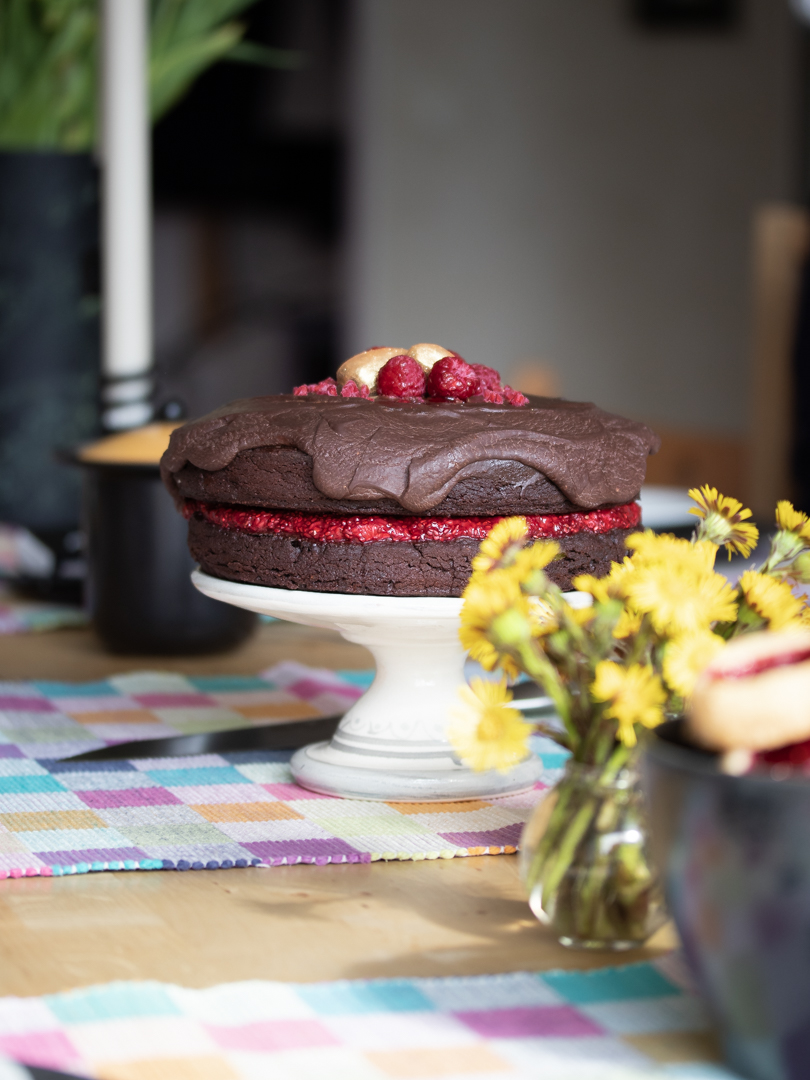 Here's a picture from when my grandparents, two older brothers, and grandmother came over to celebrate one of my older brother's birthdays where I served the cake.
Print
Ultimate Chocolate Cake with Raspberry Jam
A chocolate and raspberry cake with a mouth-drooling chocolate ganache perfect for any occasion from Easter to a birthday.
150g

/ 5,3 oz oat flour

100g

/ 3,5 oz cocoa powder

1

,5 tbsp milled flax or chia seeds

2 tsp

baking powder

1 tsp

baking soda
A hearty pinch of salt

400

ml / 1,75 cups minus 1 tbsp milk of choice

50g

/ 1,8 oz coconut sugar or other granulated sweetener

120g

/ 4,2 oz pitted dates

40g

/ 1,4 oz nut butter of choice

1 tsp

vanilla extract

40g

/ 1,4 oz dark chocolate, melted
Raspberry filling
250g

/ 8,8 defrosted or fresh raspberries

2 tbsp

chia seeds
Optional sweetener to taste
Ganache
100g

/ 3,5 oz dark chocolate

3 tbsp

water

1 tbsp

liquid sweetener of choice
A pinch of salt
Topping
Instructions
Preheat the oven to 175ºC / 350ºF and prepare and line two cake pans with parchment paper. My pans had a diameter of 18cm / 7 inches. You can also use a single cake pan and bake the batter in two batches.
In a large bowl mix the oat flour, cocoa, milled flax seeds, baking powder, baking soda, and salt.
In a blender, blend the milk, sugar, dates, nut butter, and vanilla smooth.
Add the wet to the dry and mix until just combined. Add the melted chocolate and mix until just incoperated.
Transfer half the batter to each cake pan and bake for 20-22 minutes or until a tooth pick runs clean. Let cool completely.
For the raspberry filling, using a fork, mash the raspberries together with the chia seeds and optional sweetener in a small bowl. Let sit and thicken for around 10-15 minutes.
For the gananche, put the dark chocolate, water, liquid sweetener, and salt in a small microwave-safe bowl. Microwave on low to medium effect for 30 second intervals until the chocolate has almost completely melted. Once melted enough, mix until you get a smooth ganache.
If your cakes' tops are very dome like, you can carefully trim the top if you want to. To assemble, start with one of the cakes and evenly spread all the raspberry jam on top. Lay the second cake on top and spread the ganache on top. Top with optional extra decorations. Serve and enjoy!
Notes
You can make this cake one day in advance as it actually gets even better after settling in the fridge over night. Furthermore, I do not recommend making one massive cake and then cut it in half instead of baking two bottom separably as it's a rather moist and slightly denser cake compared to regular Victorian sponge or such.
Keywords: Chocolate cake, easter cake, vegan, dessert, raspberry, ganache, gluten free, healthy