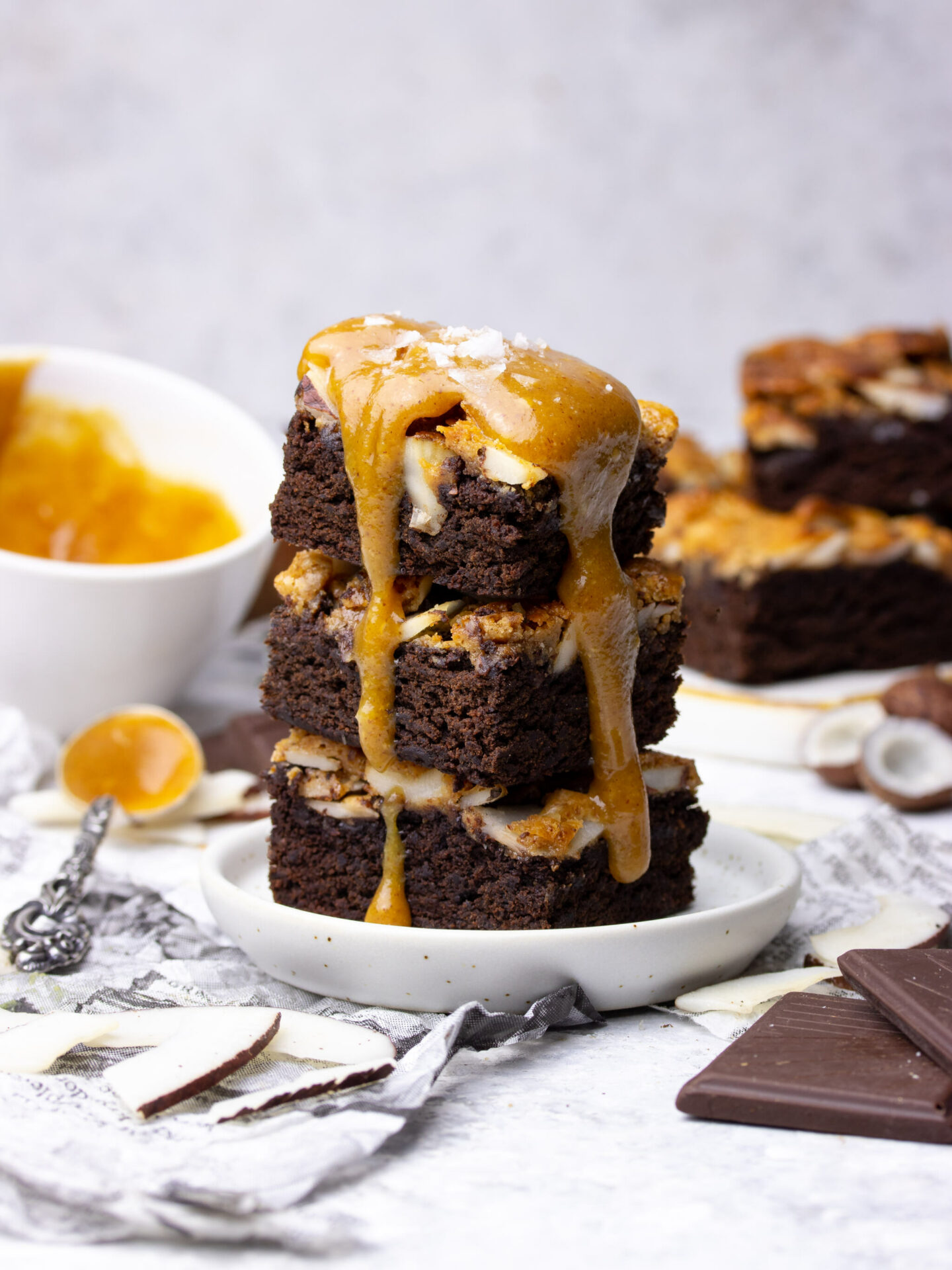 I feel like I am on a brownie roll! These brownies are like my Tahini Caramel Brownies perfectly chewy and scrumptious, but they're perhaps even slightly better because of to the addition of salted coconut chips. I was actually gifted some salted coconut chips from Smiling, a company who's amazing slogan is: "Good for you, good for the farmer". When I first tried them I knew I had to create something fantastic with them since they're that gosh darn delicious. I just love the simple combination of perfectly salty, rather thick, and sweet coconut chips. Yum!
Anyway, these brownies use my absolute favourite brownie recipe which is simple and pretty darn wholesome. The ingredients are basic and appropriate for everyone regardless of allergy. They're both gluten-, oil-, nut-, and refined sugar free (they're mostly sweetened with dates as well). As long as you're not allergic to delicious treats, this is something for you. Ooooh, I just thought of something! Imagine serving these with a scoop of vanilla ice cream. That would be a match made in heaven as the combination of vanilla, salted caramel, and brownies is just meant to be. I reckon I've rambled enough, so enjoy!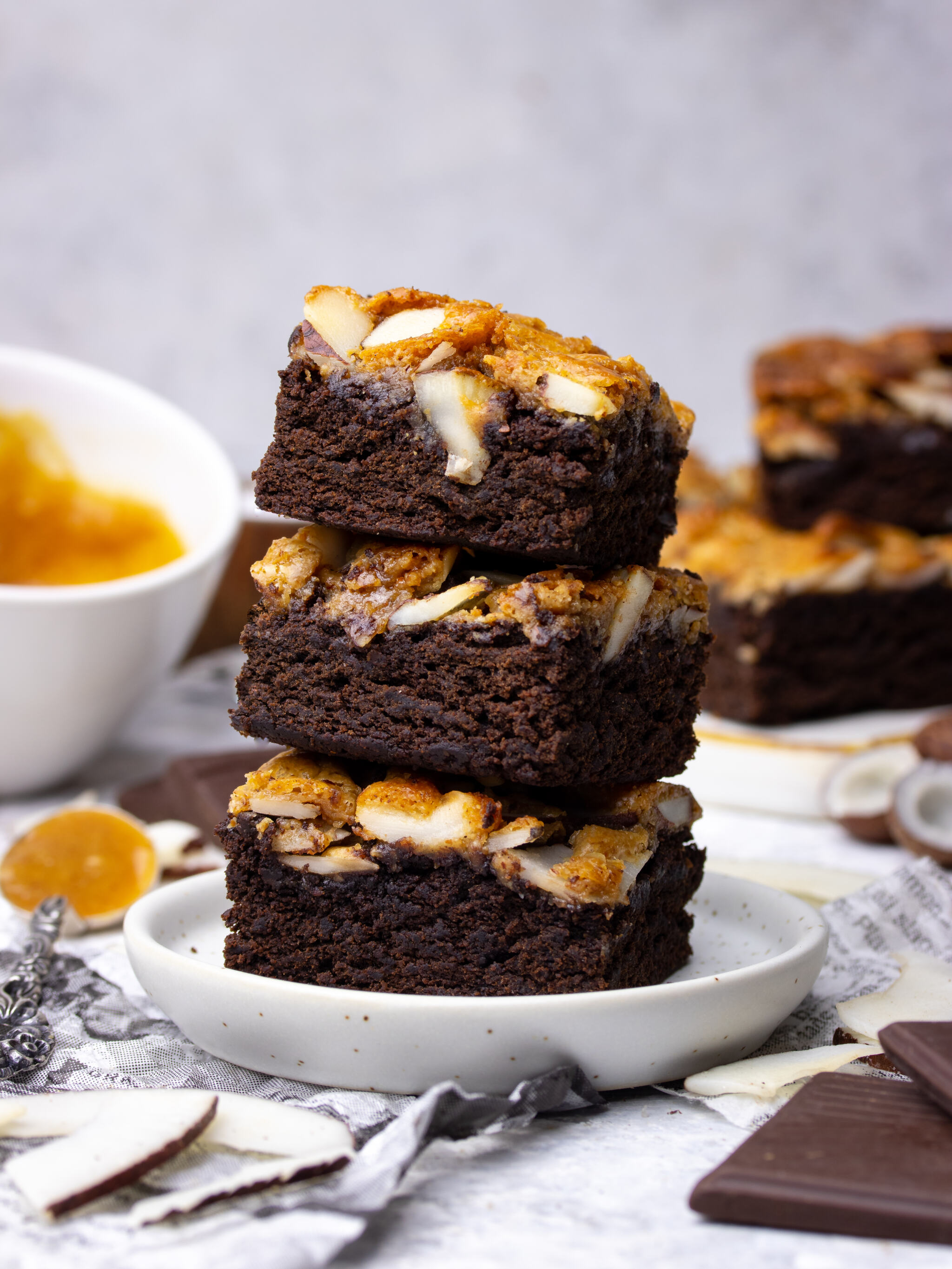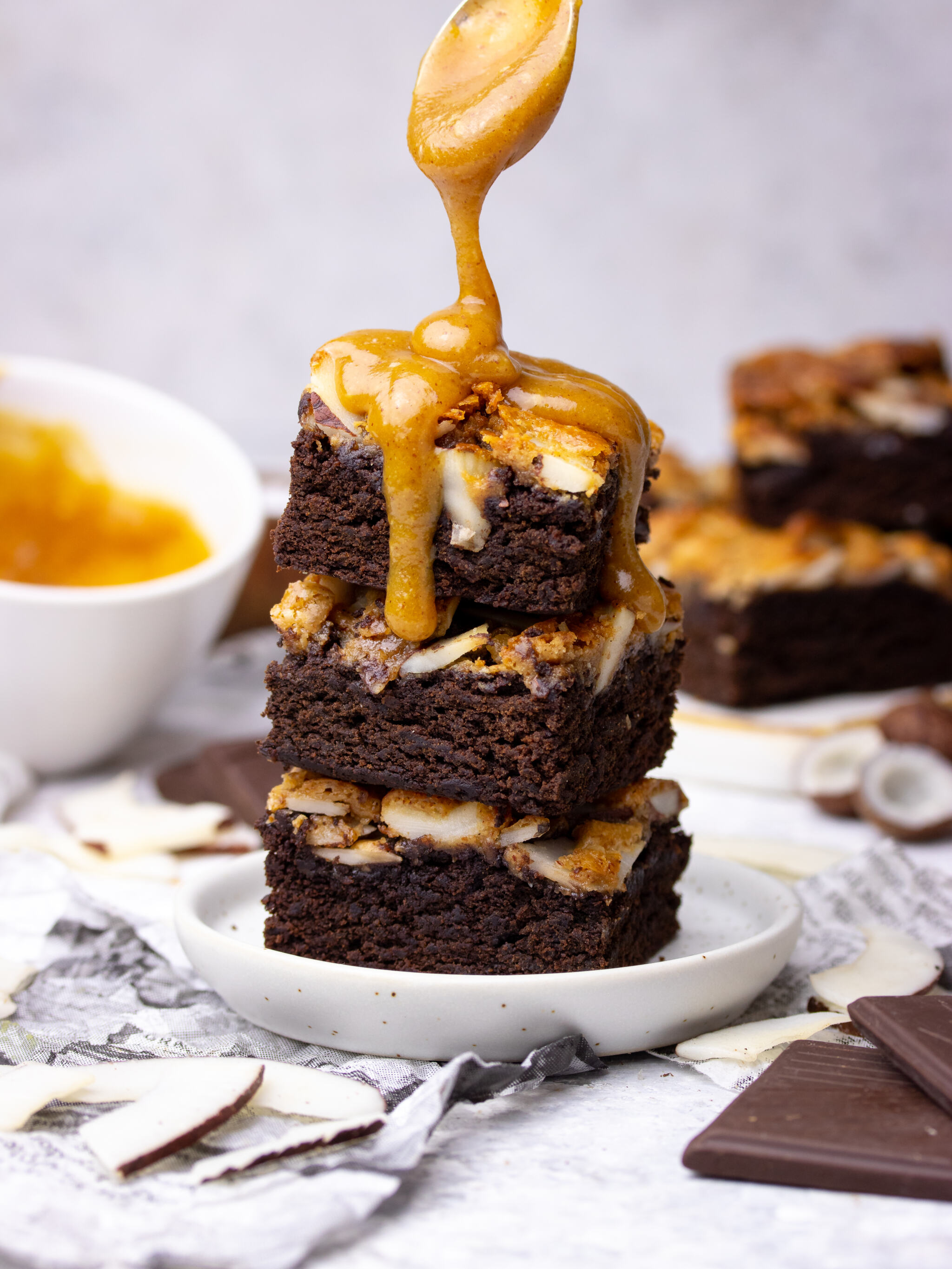 I made some extra caramel sauce simply for some epic, mouth-drooling drizzling action, but that is not necessary. However, if you'd like some extra unbaked caramel sauce, just make about half the amount of the caramel sauce in the recipe below.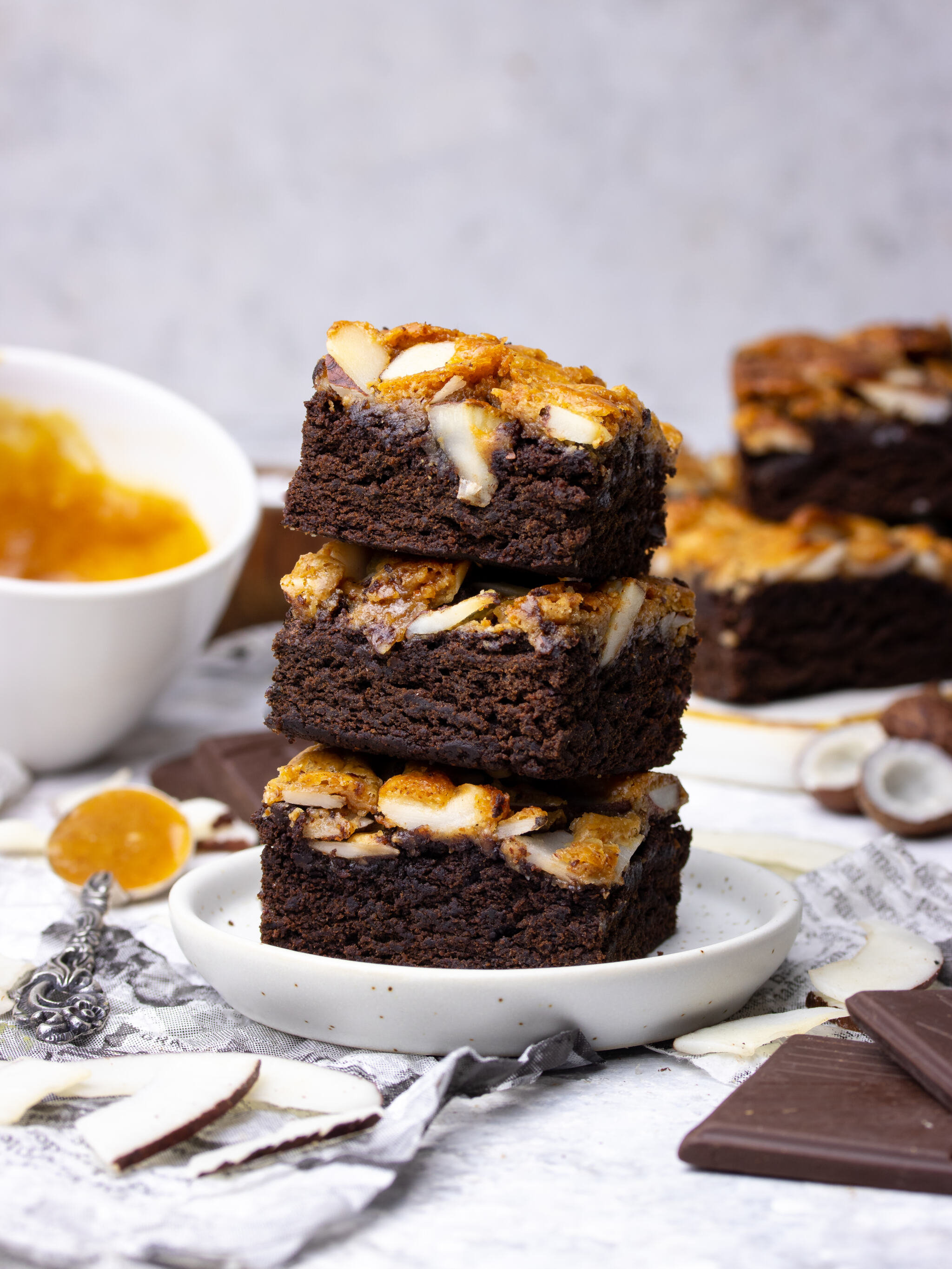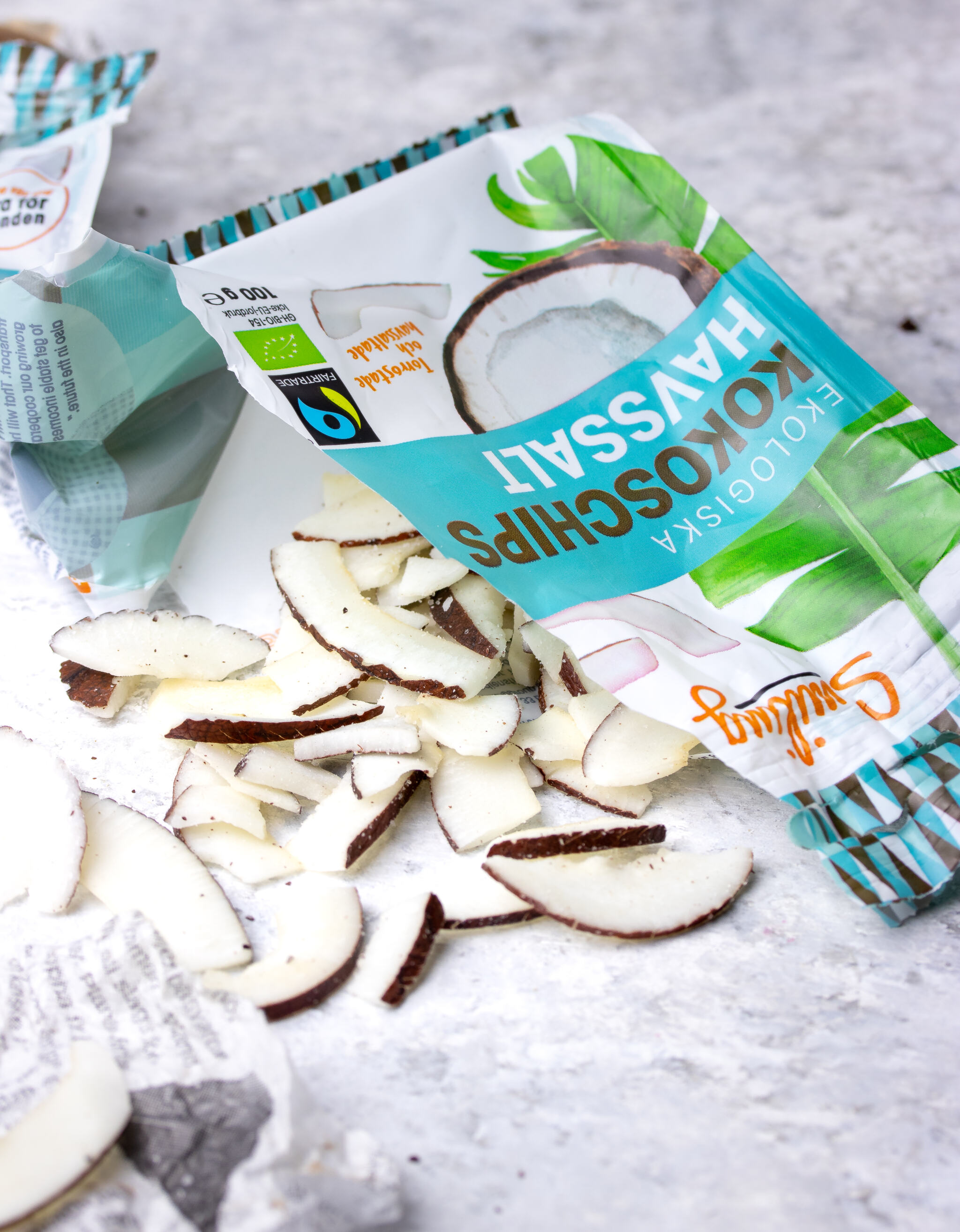 Of course, I had to take some messy trying to look appealing picture of the coconut chips. What I like about them, except for the taste, is that they have some of the "skin" left, which looks beautiful.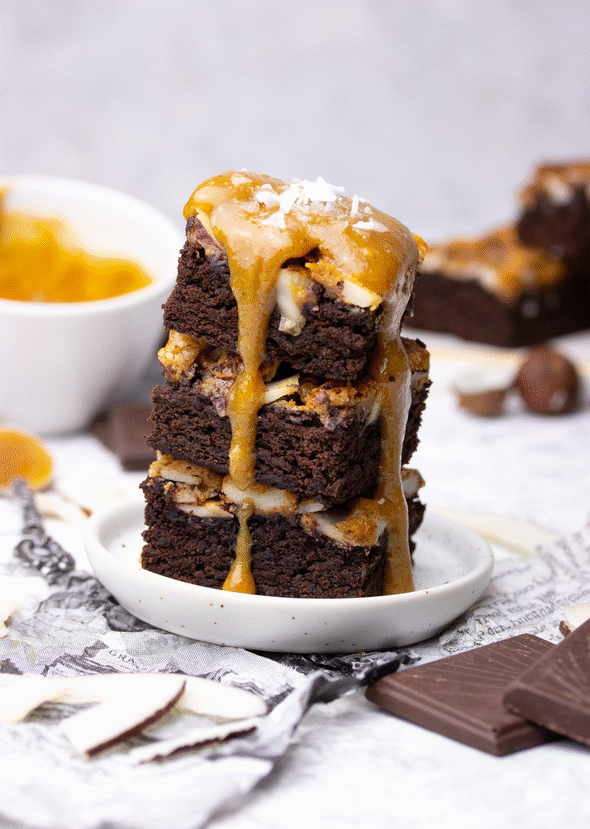 I'll only say it once. I do not recommend trying to eat three chewy brownies stacked on top of each other with a fork. It turned out to be very messy, haha.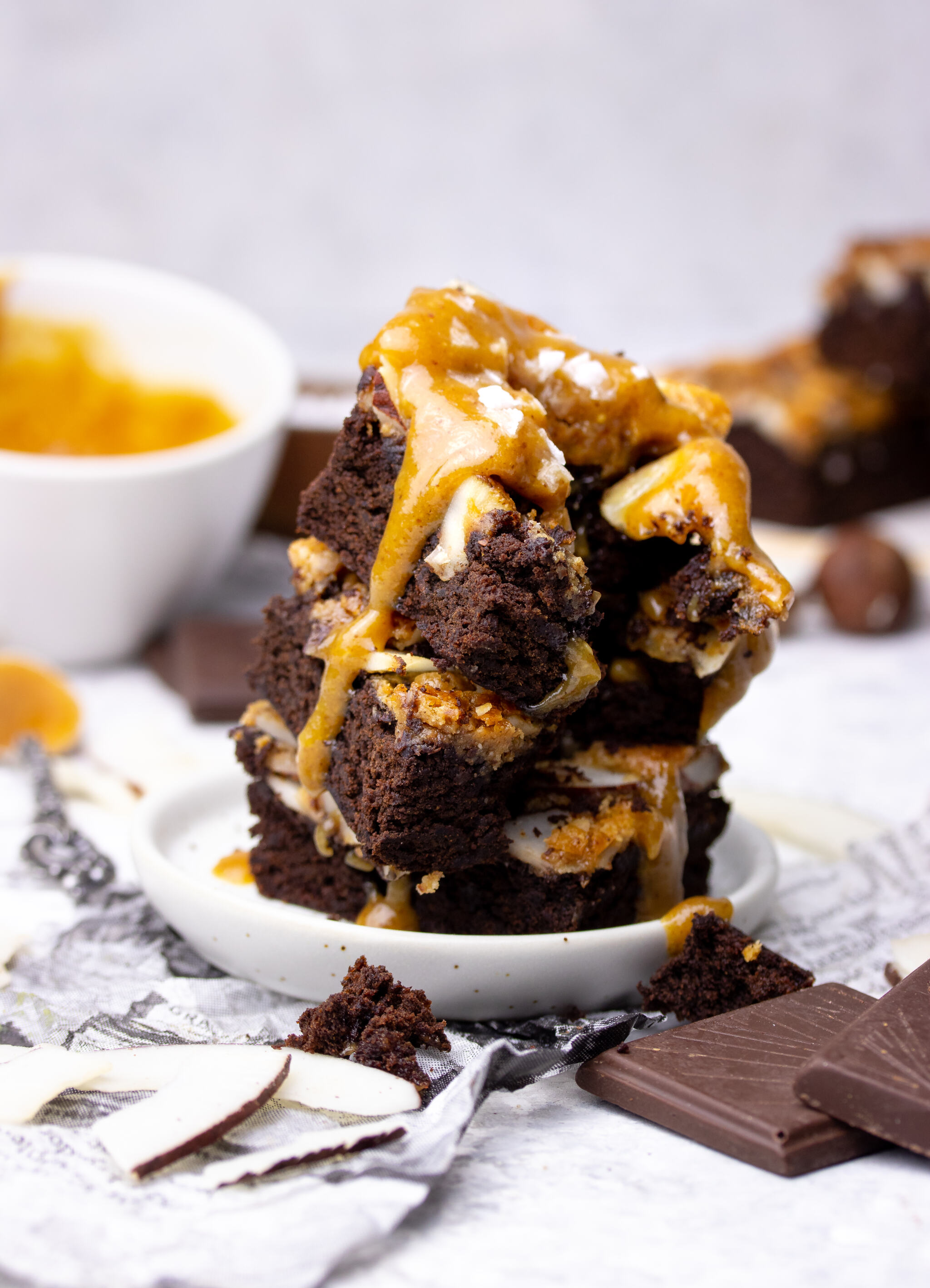 Print
Chewy Salted Caramel Coconut Brownies
In this recipe divine salted caramel meets sweet coconut and chewy, decadent brownies. What more can one ask for?
Brownies
200g

/ 7 oz pitted dates

2 tbsp

nut or seed butter of choice

1/2 tsp

vanilla extract

30g

/ 1,1 oz cocoa powder

20g

/ 0,7 oz oat flour

1 tsp

baking soda

1/2 tsp

baking powder
A hearty pinch of salt
Caramel sauce +  topping
3 tbsp

nut or seed butter of choice

3 tbsp

liquid sweetener of choice
A hearty pinch of salt

1/2 tsp

vanilla extract
Two large handfuls coconut chips (I used these ones from Smiling)
Instructions
Preheat the oven to 150ºC / 300ºF and prepare a brownie pan by greasing and lining it with parchment paper. My brownie pan was 15×15 cm / 6×6 inches.
In a food processor, start to process the dates, nut butter, and vanilla until smooth. Add the rest of the brownie ingredients and process until combined. If too dry, add a splash of water. Transfer to the prepared pan and flatten out using a wet spatula or your hands.
In a small bowl, combine all the ingredients for the caramel sauce except for the coconut chips. Dollop and drizzle half the caramel sauce onto the brownie. Create a swirly pattern by running a knife through the caramel and upper layer of the brownie. Top with the coconut chips and press slightly into the brownie. Top with the remaining caramel sauce. Bake for 30 to 35 minutes until firm and chewy. Let cool, cut up, and enjoy!