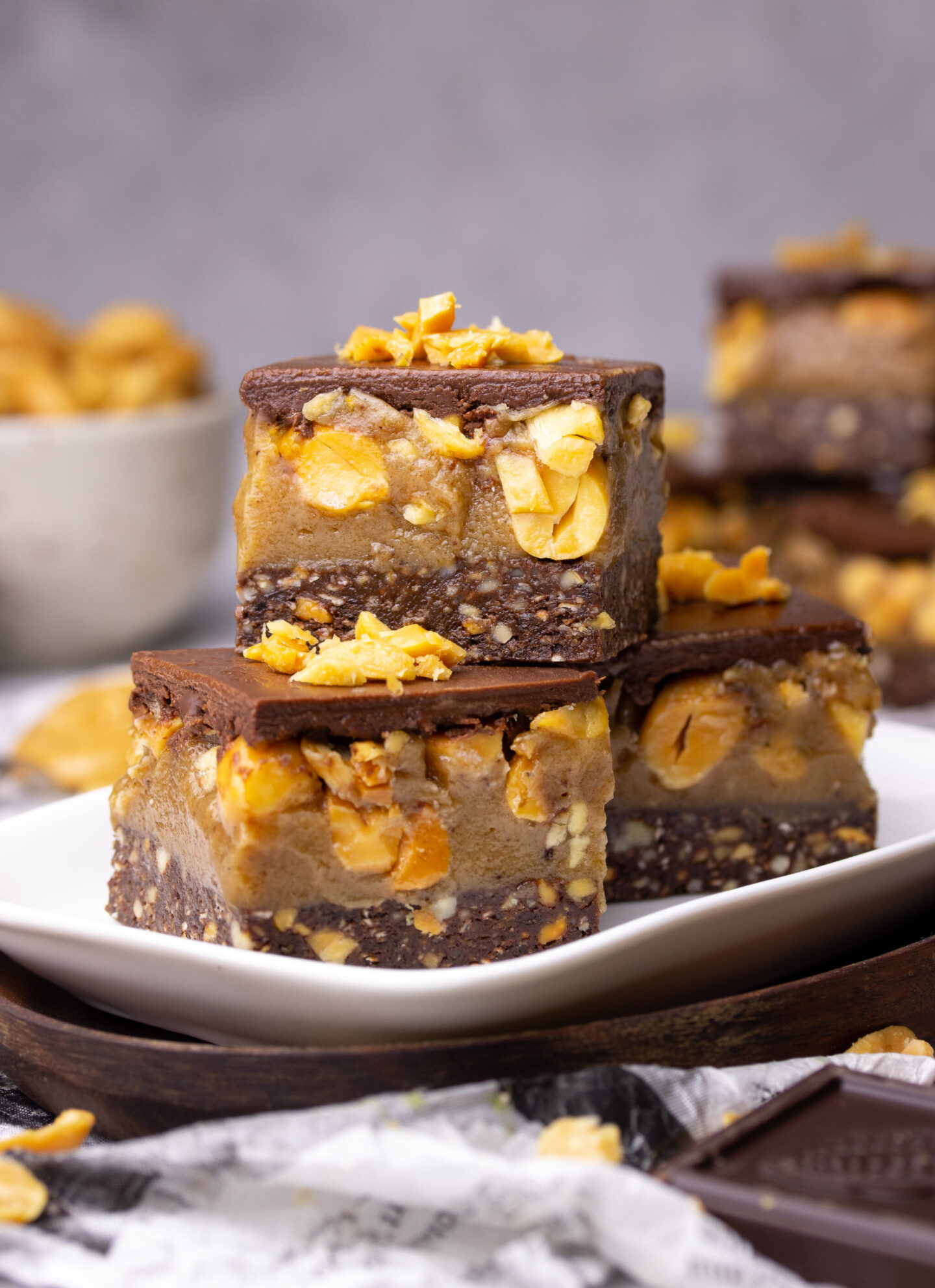 Despite that my favourite no bake brownies couldn't get any better, I present to you these cuties. I don't know about you, but I LOVE peanuts in all shapes and forms. Roasted peanuts, salted peanuts, peanut butter, peanut sauce, peanut anything including the classic Snicker. Also, who doesn't like salted caramel and chocolate?
Anyhow, these bites of heaven consist of:
Chewy, perfectly chunky no bake brownies
Smooth salted caramel sauce
All the peanuts
The most mouth-watering chocolate ganache
You may be thinking that this seems overly complicated since there are four layers, but you couldn't be more wrong. Plus, every second spent making these are worth it as long as you're not allergic to peanuts.  I personally love having some no bake treats in the freezer ready to be enjoyed whenever especially as they get beautifully chewy when frozen. I honestly don't have much more to say. I reckon the mouth-watering pictures below in combination with the simple concept of Snickers and no bake treat speak for themselves. Sooo enjoy!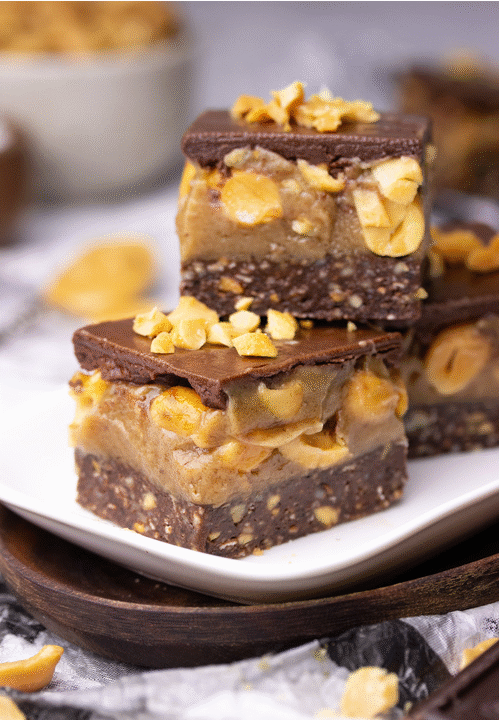 Seriously, look at all those textures! HEAVEN!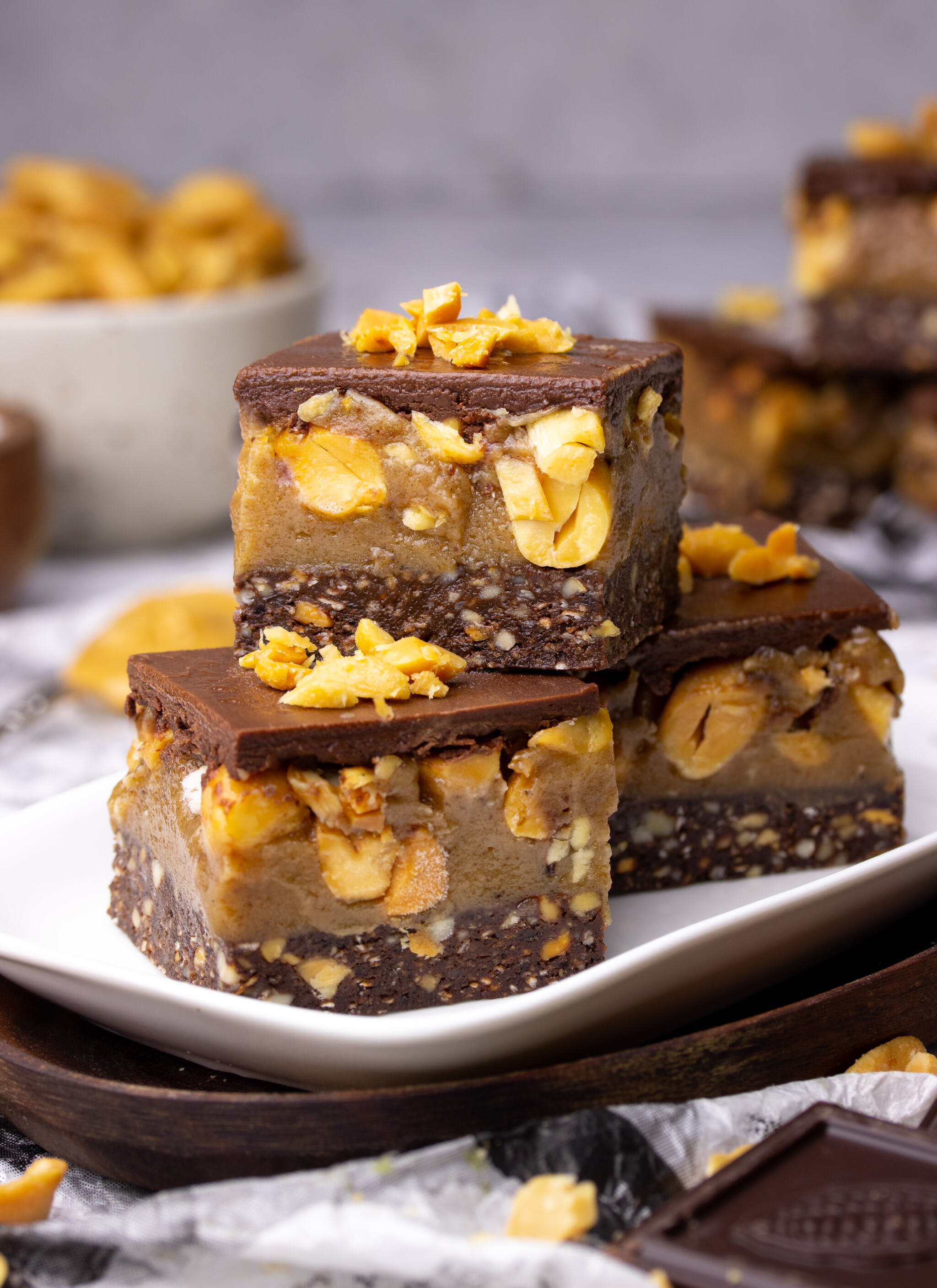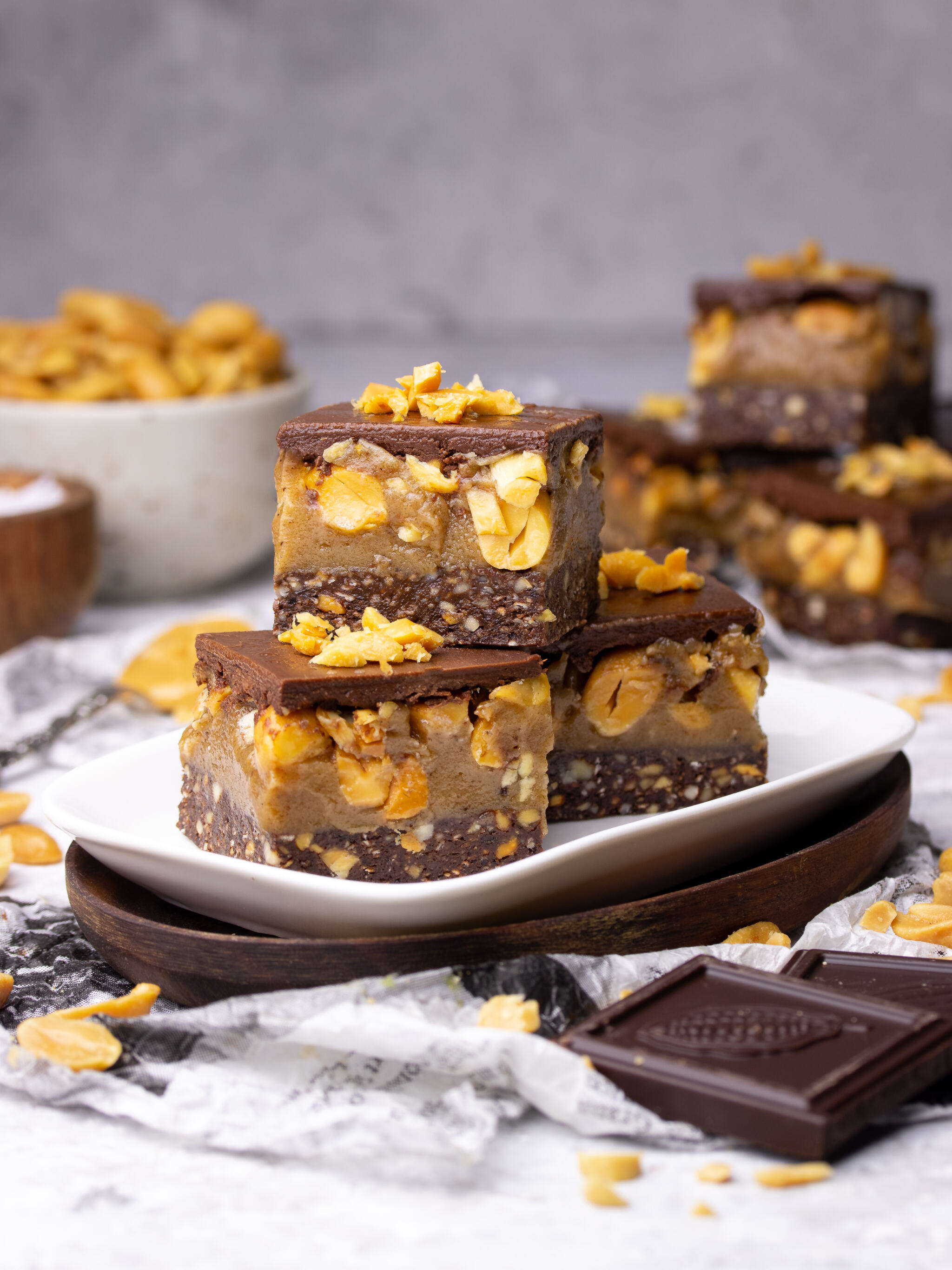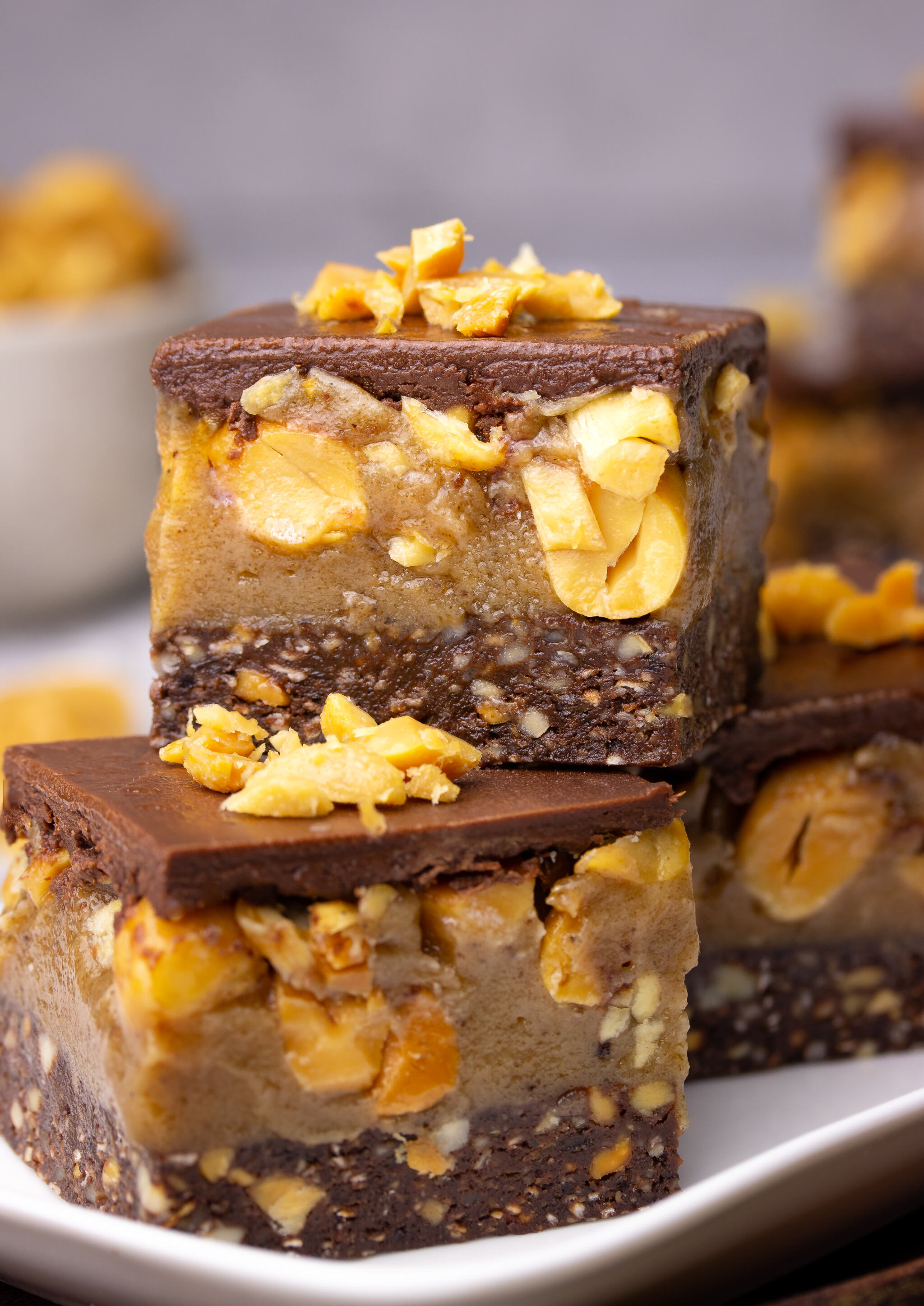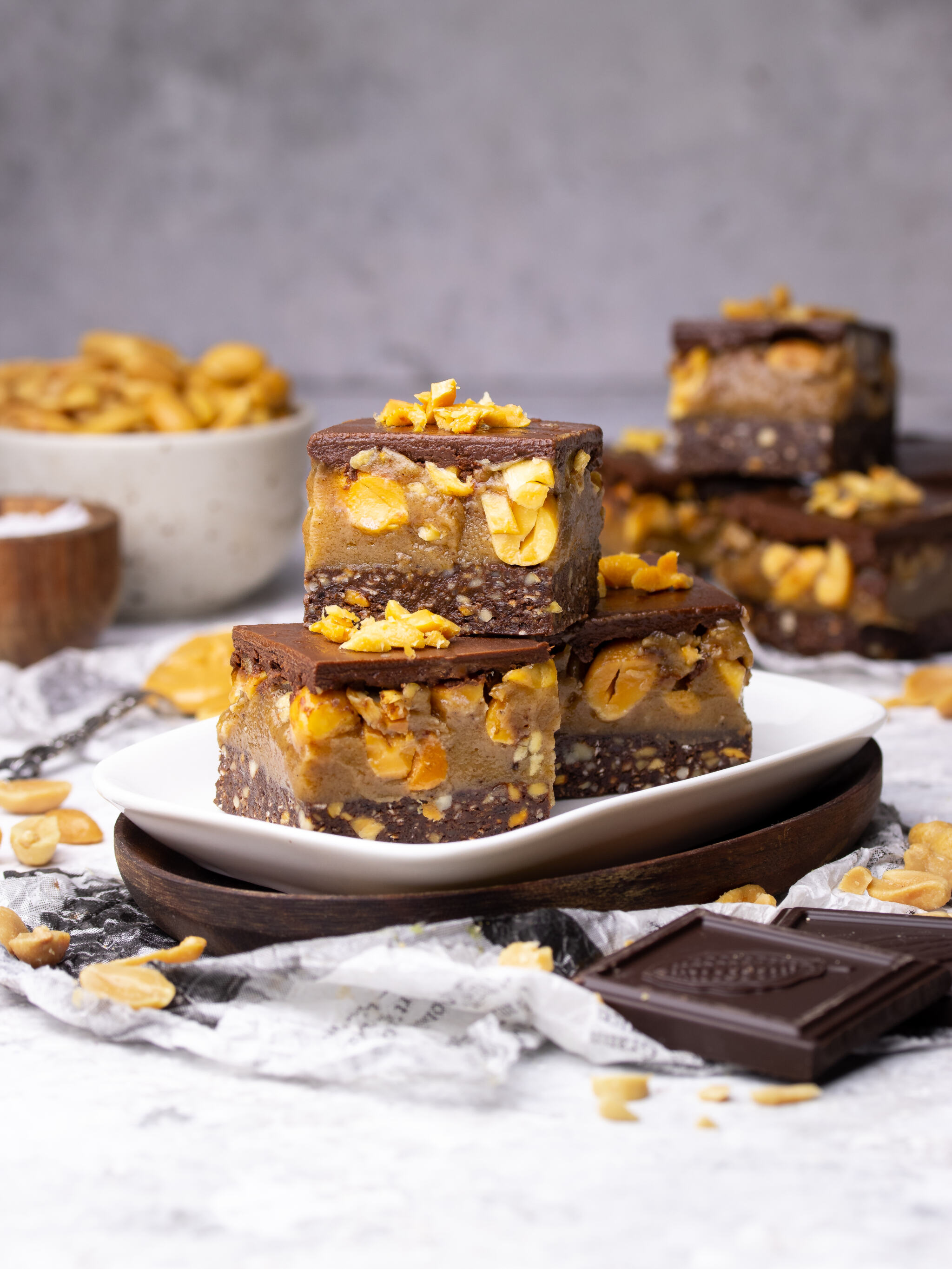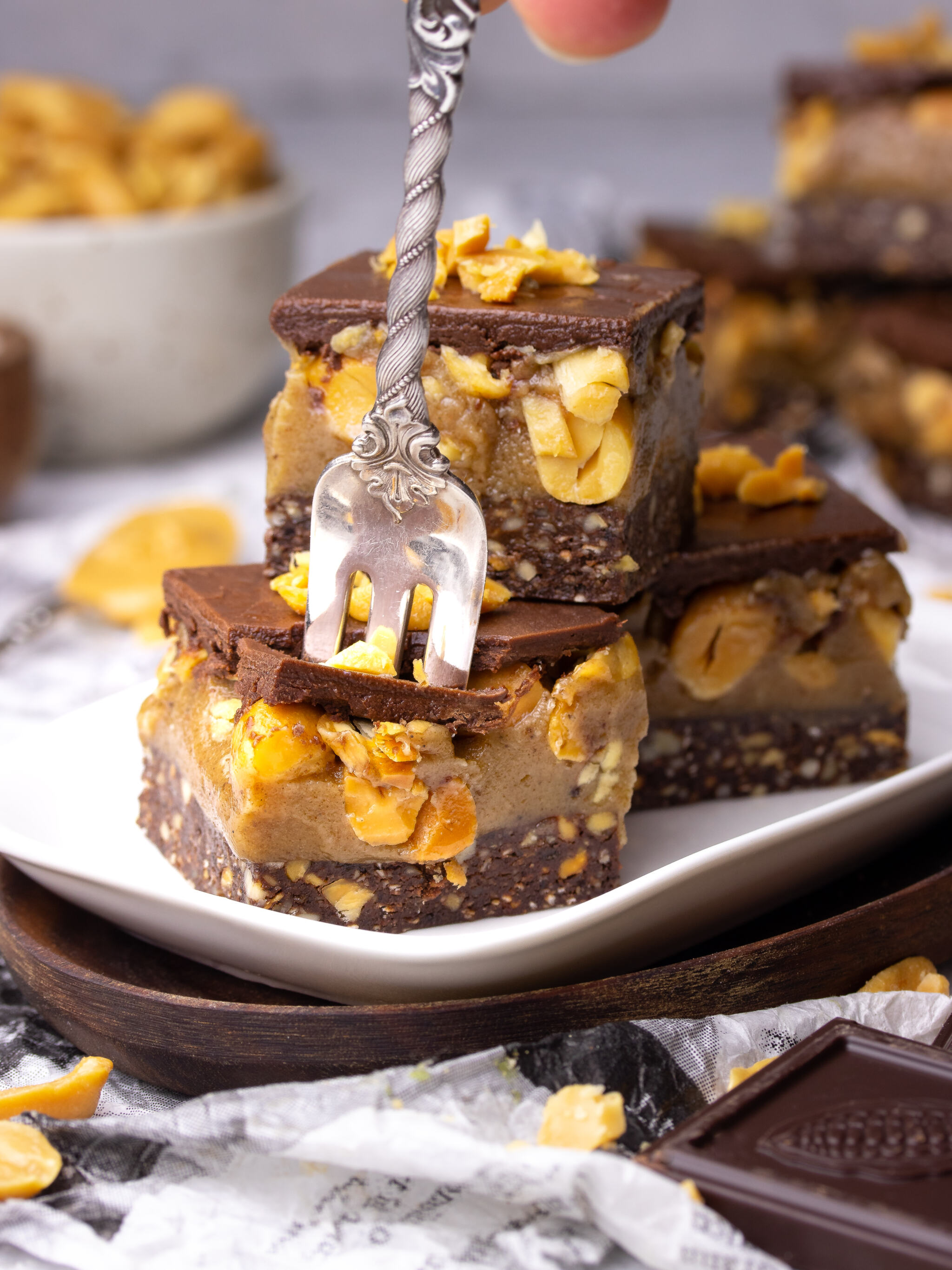 Print
No Bake Snickers Brownies
The Snicker combination of peanuts and chocolate simply is unbeatable especially when combined in a chewy, delicious, mouth-watering three layer no bake brownie. Yum!
Brownie layer
100g

/ 3,5 oz pitted dates

60g

/ 2 oz nuts and seeds of choice (I used walnuts, almond, and cashews)

3 tbsp

rolled oats

3 tbsp

cocoa powder
A generous pinch of salt
A splash of vanilla extract
Caramel peanut layer
150g

/ 5,3 oz pitted dates (I peeled the skin off mine for looks)

2 tbsp

peanut butter
A big pinch of salt

1/2 tsp

vanilla extract
About

1

,25 dl / 1/2 cup of roasted peanuts
Chocolate ganache
45g

/ 1,6 oz dark chocolate, broken up into pieces

1

,5 tbsp water

1

,5 tbsp liquid sweetener of choice
A pinch of salt
A splash of vanilla extract
Instructions
Start with lining a square or rectangular dish with plastic wrap or parchment paper. My dish was 12 x 16 cm / 5 x 6 inches.
Start with the brownie layer by processing the dates, nuts and seeds, rolled oats, cocoa, salt, and vanilla in a food processor or powerful blender into a nice slightly crumbly dough. It should easily keep it's shape squeezed in your hand. If too dry, add a splash of water.
Transfer the brownie "dough" to the prepped dish and press and flatten using your hands.
Move on to the caramel layer. Quickly rinse the food processer, and then process the pitted dates, peanut butter, salt, and vanilla smooth. Transfer and spread on top of the brownies layer. Evenly sprinkle the peanuts on top of the caramel layer and press them a little bit into the caramel.
In a small microwave-safe bowl, put the dark chocolate, water, liquid sweetener, salt, and vanilla. Microwave on low to medium effect for 30 second intervals until the chocolate has almost completely melted. Once melted enough, mix until you get a smooth ganache. Pour and spread the ganache on top of the caramel peanut layer. Put in the fridge or freezer until the ganache has set. Cut up, devour, and enjoy!
Keywords: No bake brownies, raw brownies, vegan, gluten free, date sweetened, refined sugar free, healthy