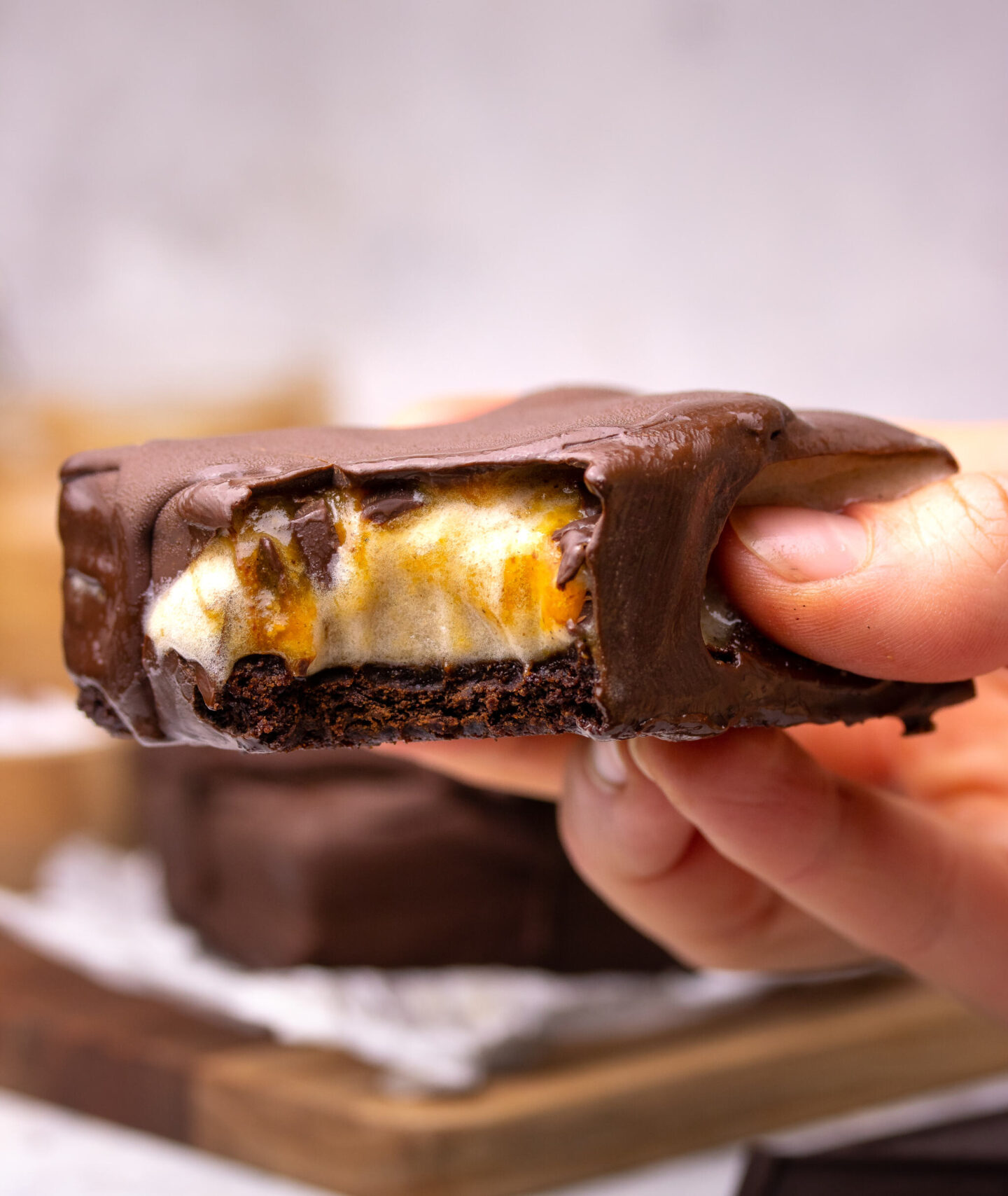 If your mouth doesn't water by the title of this recipe, then who are you? These cuties consist of:
A chewy brownie layer
Creamy & easy nice cream
Sweeeeeet Salted Caramel sauce
All enclosed in divine dark chocolate
Seriously, these babies are a master piece if I may say it myself. Just look at those caramel swirls in the picture below!
Anyhow, these are perfect to make a large batch of and store in the freezer for whenever you need a quick sweet treat or really need some cooling ice cream. That's especially great during summer if you ask me. Yuuum!
So making your own ice cream bars is more time consuming than store-bought, but these are worth every single second spent making them. Trust me, they really are worth it. Also, if you just skip the chocolate dipping process and instead drizzle chocolate on top, it's wayyyy easier. I'd only say that step is necessary if you're a food blogger, like myself, who wants extra pretty pictures.
What's also great about making your own ice cream bars is that you're the one that decides what to put in it! Do you want to use chocolate ice cream instead of vanilla? DO IT! Do you want to add peanuts or some other nuts to the ice cream? DO IT! Would you like to use white chocolate instead of dark? DO IT! You imagination is the only limit, guys!
Lastly, these are actually a copycat ish of the new Magnum Brownie but made sooooo much better since the brownie layer apparently is, pardon my french, dry and shiet. Honestly, I'm very pleased with the recipe and my efforts trying to photograph ice cream, which always is such a mess, was 113% worth it. Hopefully, I've now rambled enough to convince you to try it out. Enjoy!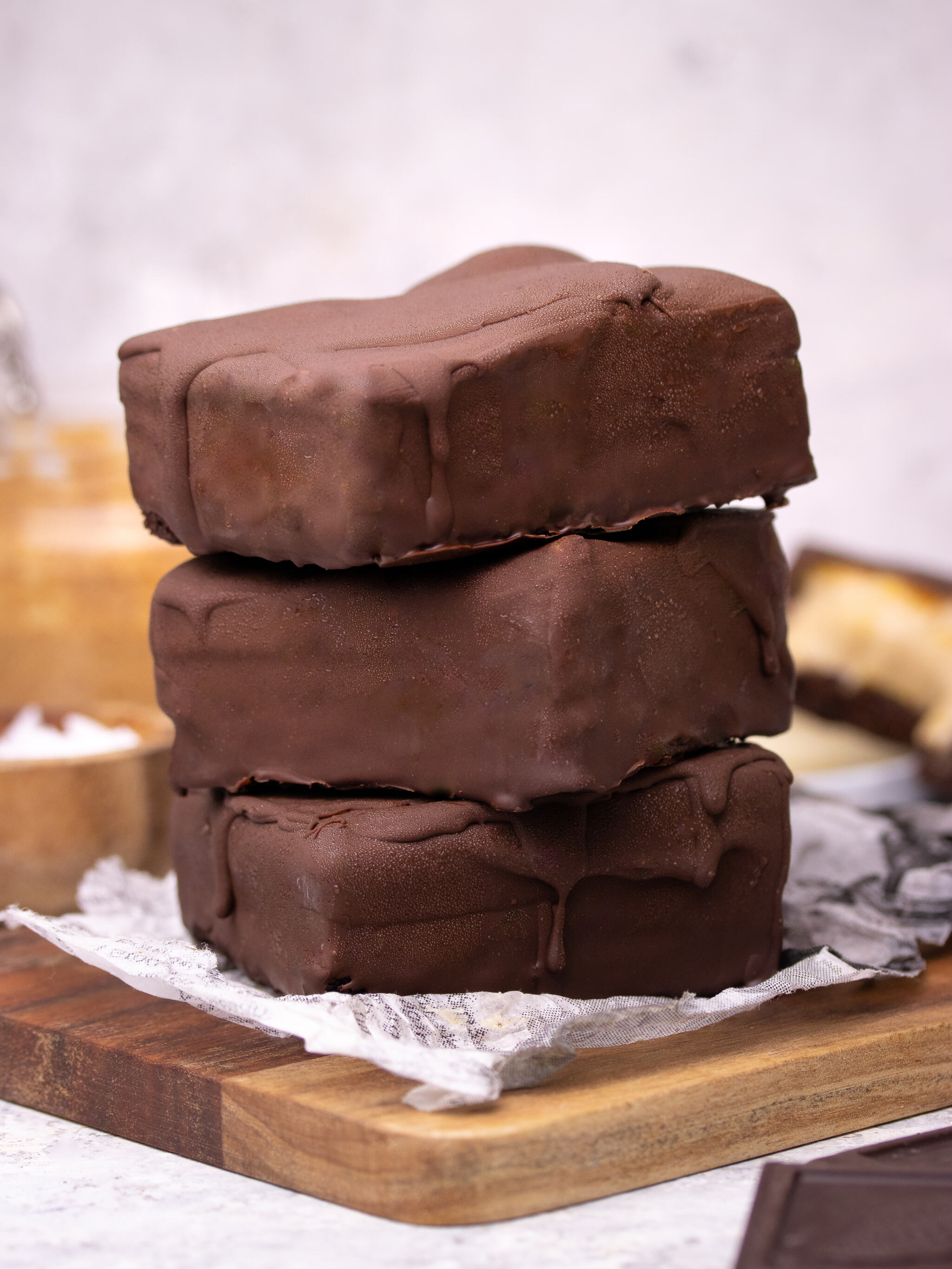 Print
Brownie Ice cream Bars with Salted Caramel Swirl
This is a copycat of Magnum's new Brownie ice cream bars, but these are more delicious, vegan, gluten free, and wholesome.
Author: Hanna
Yield:

8

large ice cream or

16

medium bars

1

x
Brownies
200

g / 7 oz pitted dates

2 tbsp

 nut or seed butter of choice

1/2 tsp

 vanilla extract

30

g / 1,1 oz cocoa powder

20

g / 0,7 oz oat flour

1 tsp

 baking soda

1/2 tsp

 baking powder
A hearty pinch of salt
Ice cream*
400g

frozen banana in chunks
Milk of choice
A pinch of salt

1/2 tsp

vanilla bean powder or extract
Caramel sauce
4 tbsp

liquid sweetener of choice

2

,5 tbsp nut butter of choice
A big pinch of salt
A splash of vanilla extract
Chocolate coating
Approximately

150g

/ 5,3 oz dark chocolate, melted**
Instructions
Preheat the oven to 150ºC / 300ºF and prepare a brownie pan by greasing and lining it with parchment paper. To make process of taking the bars out of the mold easier later, line all side of the pan with parchment paper. My brownie pan was 35×15 cm / 14×6 inches.
In a food processor, start to process the dates, nut butter, and vanilla until smooth. Add the rest of the brownie ingredients and process until combined. If too dry, add a splash of water. Transfer to the prepared pan and flatten out using a wet spatula or your hands. Bake for 20 to 25 minutes until firm and chewy. Let cool.
In a food processor or powerful blender, mix the frozen banana with a splash or two of milk until soft serve texture.
While the food processor is running, combine all the ingredients for the caramel sauce in a small bowl.
Transfer the ice cream to the brownie pan and smooth out. Dollop the caramel sauce on top and run a knife through to create a swirly pattern. Let set in the fridge for 6 hours or over night.
Take it out of the fridge, cut up into bars. Either you can dip the entire bar in melted chocolate or drizzle the chocolate on top. If you're not a food blogger who needs pretty photos like me, I'd recommend drizzling the chocolate. Serve and enjoy! Store in the freezer in an air tight container.
Notes
*You can substitute the nice cream with equivalent amount of ice cream of choice. Also, if you'd like the nice cream to be extra creamy, add around 3-5 tbsp of nut or seed butter. I'd recommend using cashew butter for most neutral taste, but any nut or seed butter should work.
**If you're going to dip your bars and want a thin chocolate coat, mix in 1 tbsp of coconut oil with your chocolate.
Keywords: Brownie ice cream bars, salted caramel sauce, healthy, gluten free, healthy, dairy free. vegan Magnum ice cream