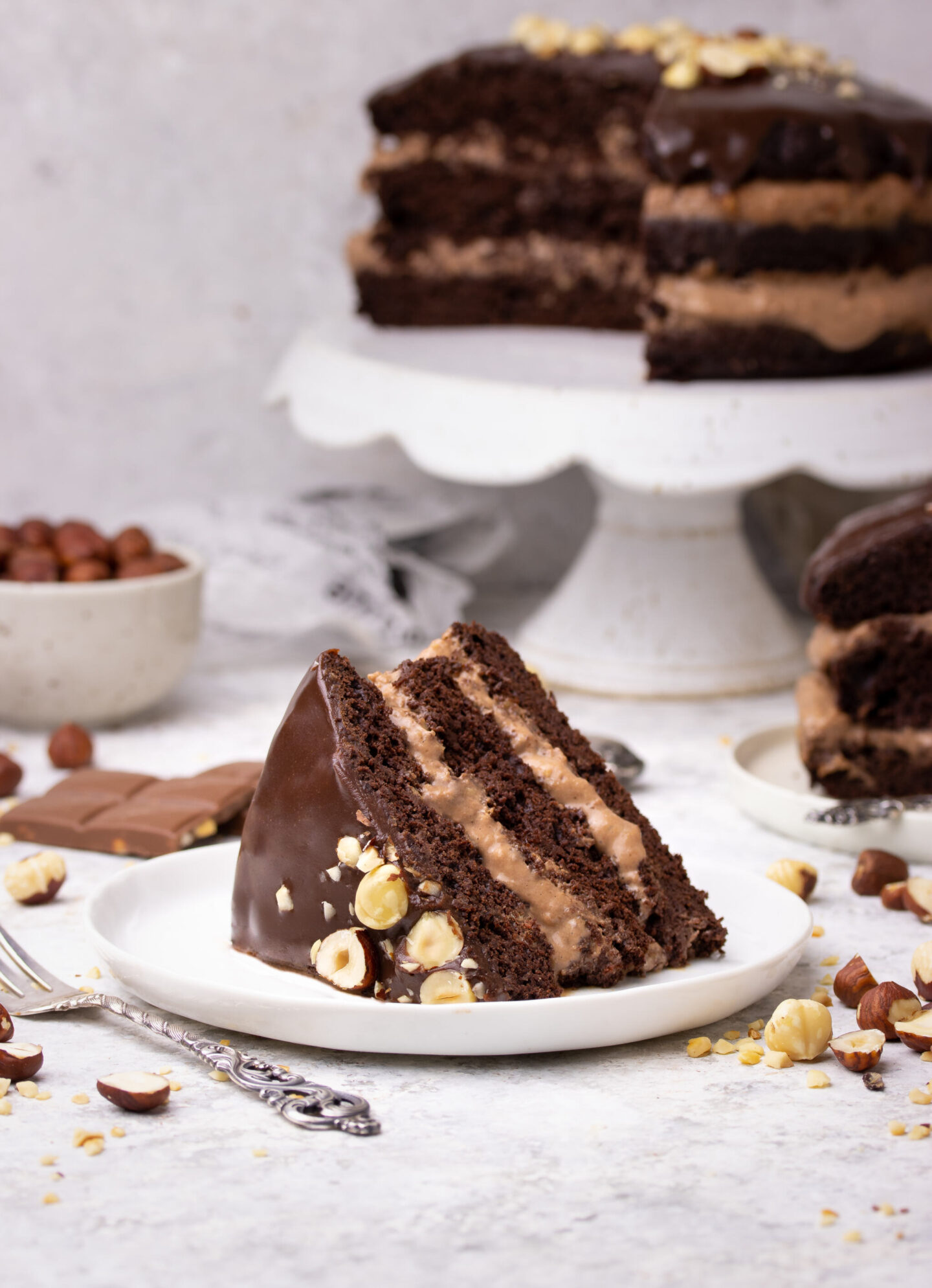 Holy moly! I can not believe I actually did it. This is the most outrageously delicious cake I have ever created. For so long, I've wanted to make one of those beautiful multi-layer cakes with a decadent filling and ganache that you often see on Instagram, and finally I've done it! As we all know, the combination of hazelnuts and chocolate is an absolute dream come true. Therefore, I couldn't be happier to collaborate with iChoc and use their amazing Super Nut chocolate that couldn't be more perfect for this recipe. This cake consist of:
Three delicious layer of moist & fluffy chocolate cake
Two layers of dreamy yet light chocolate mousse with lots of hazelnut bits
The most mouth-watering yet super simple smooth chocolate ganache
Seriously though, you can literally not ask for something better! Not to forget, that this cake can be enjoyed by everyone as long as they like delicious cake since this is both vegan, gluten-free, and on the wholesome side. More cake to the people!
Do not let the fact that this cake has multiple layers make you think this cake would be very time consuming to make. The amount of active time really isn't a lot. The only thing I can not stress enough is that you must let the cake rest and set in the fridge for at least an hour, preferably more, before serving. The mousse is quite loose, but when you let the cake set the cake layers absorb a lot of moisture and the mousse ends up at a perfect consistency. Also, if you'd prefer you can easily make only two cake layers instead of three. You could even make half a batch with one cake layer topped with lots of ganache and served with the mousse on the side. That would be quite something!
In conclusion, regardless if you need to make a birthday cake, want to impress someone or are just craving something delicious you need to try this cake. Enough said, enjoy!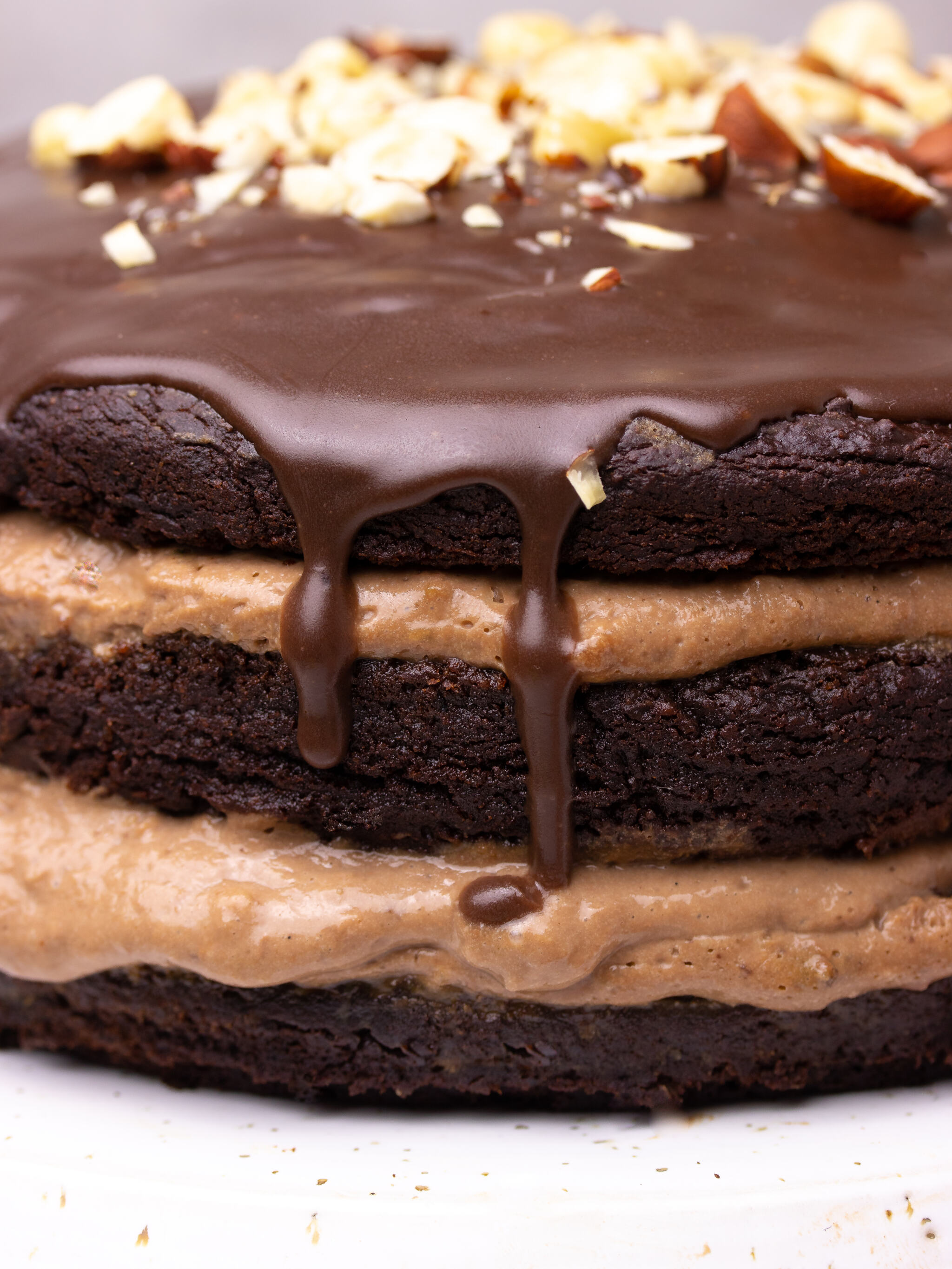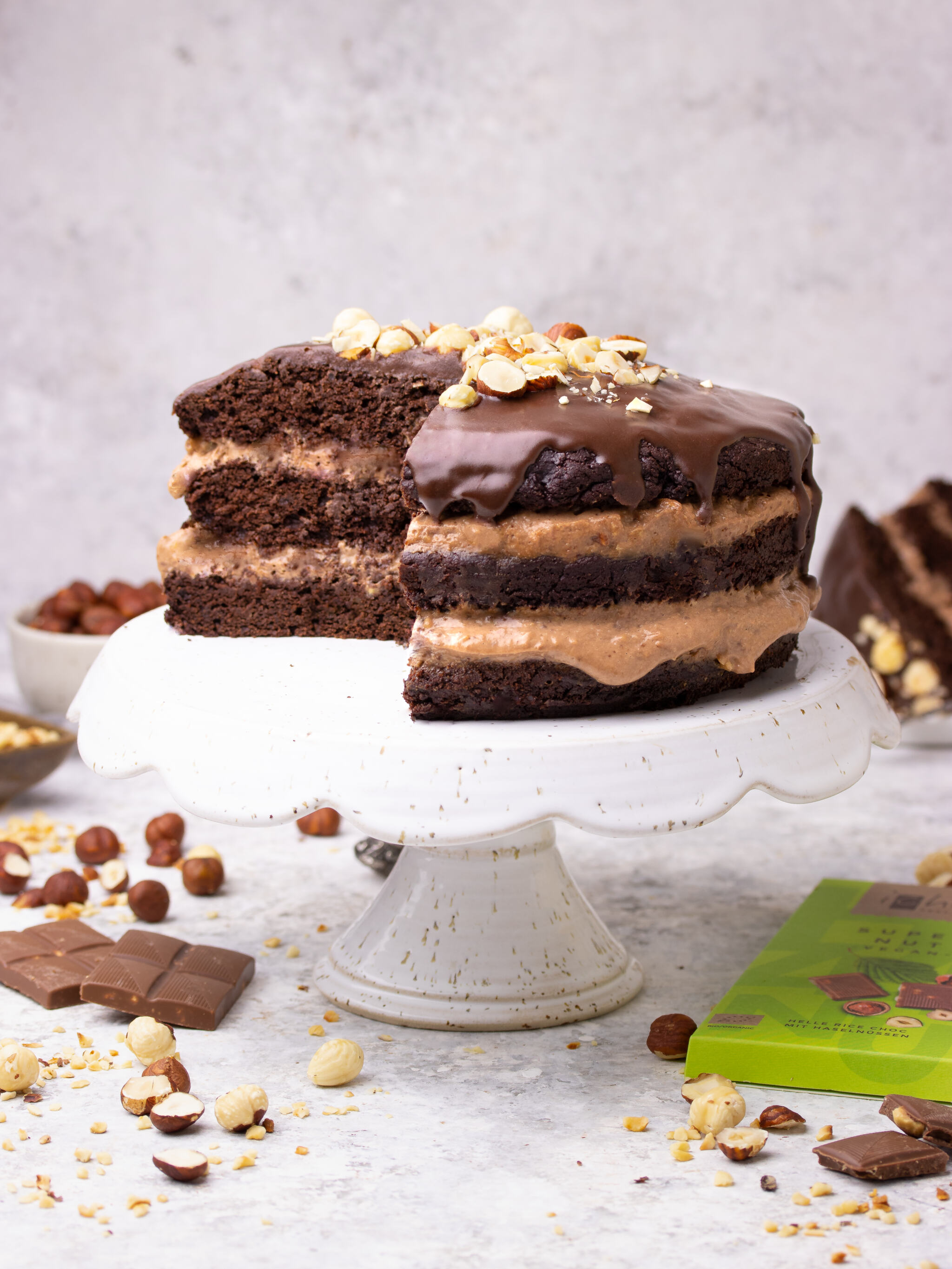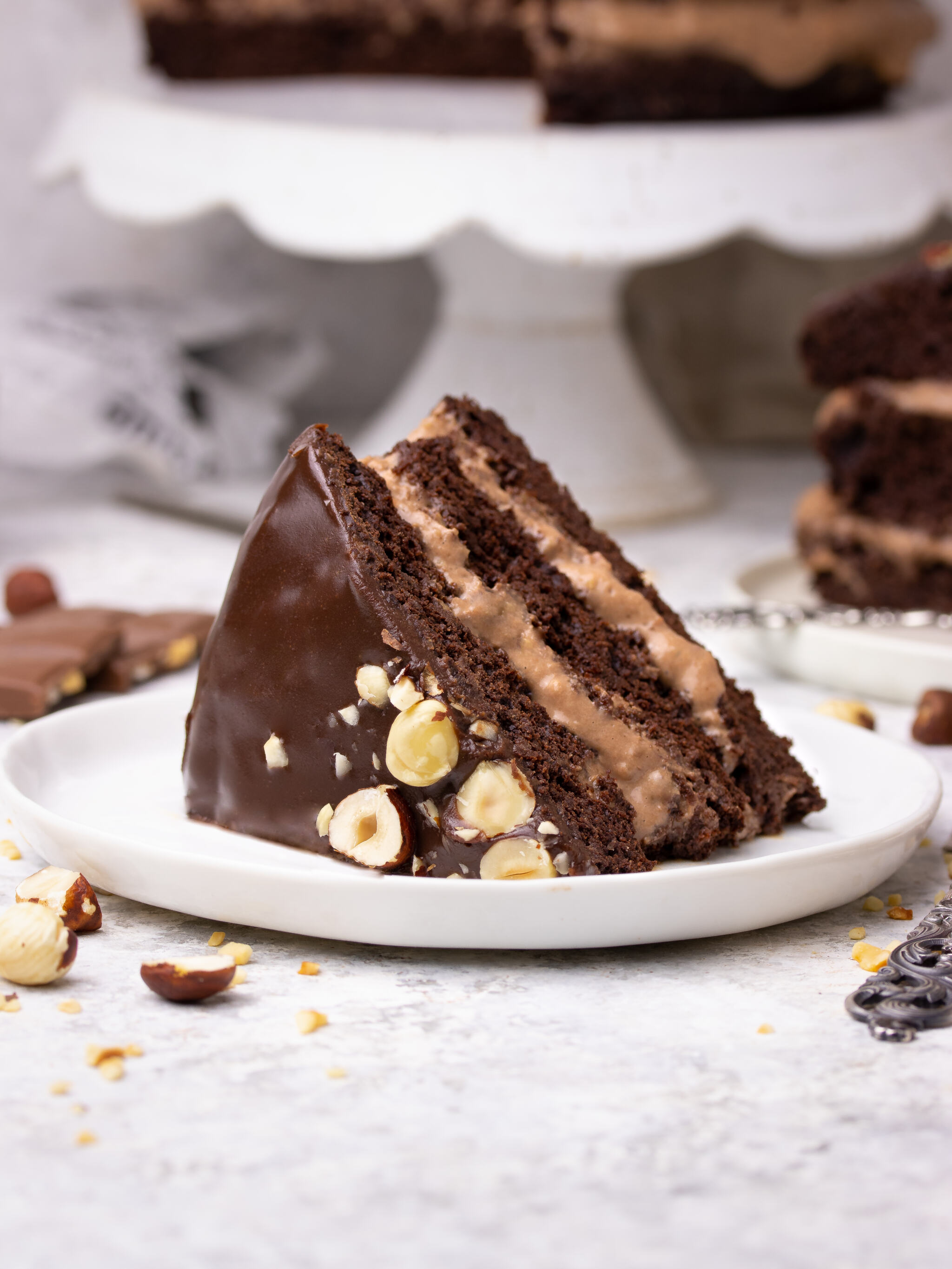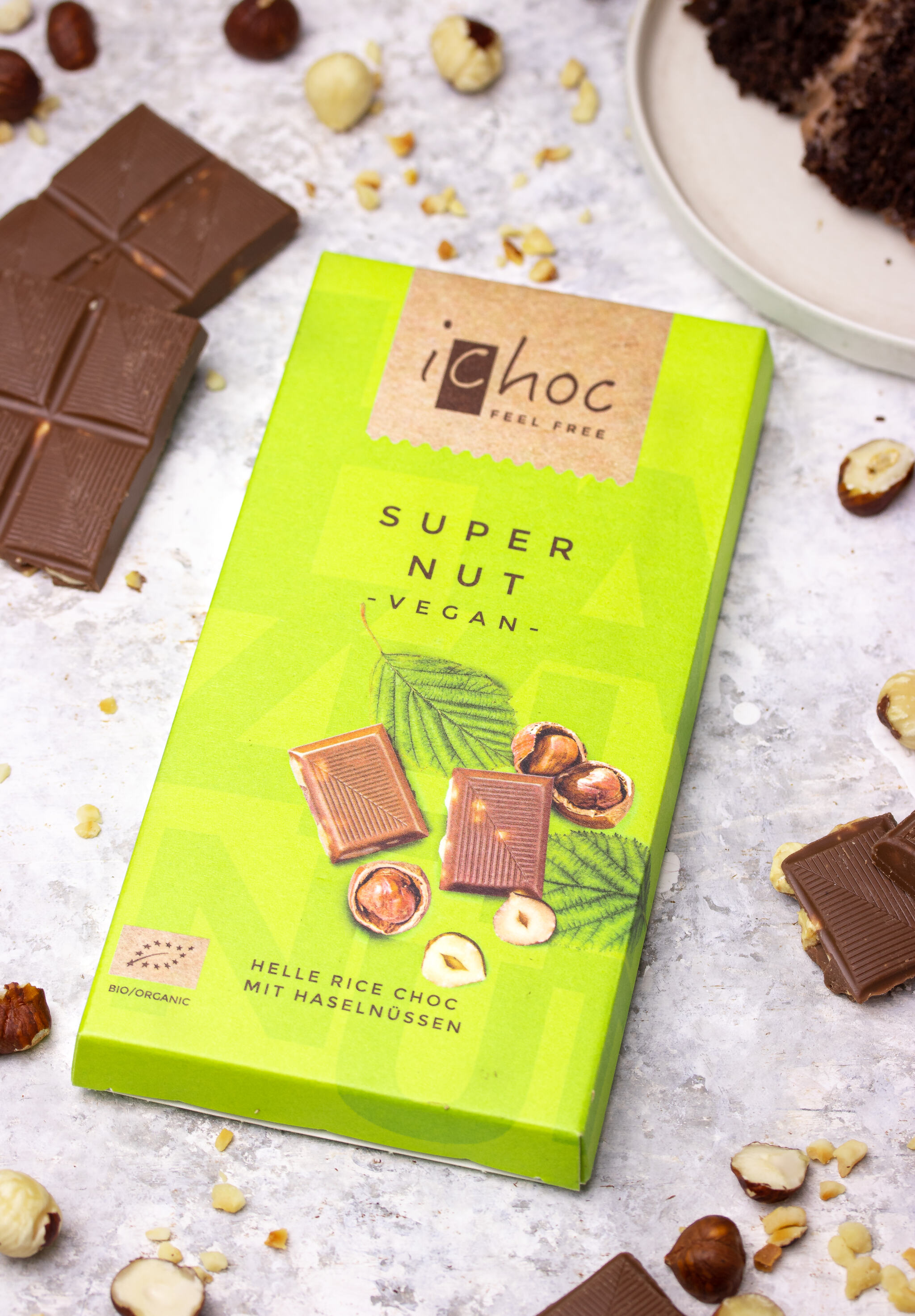 As you can see on the chocolate around the super cute chocolate bar, iChoc's Super Nut chocolate has lots and lots of gorgeous hazelnut bits and halves in it. The chocolate itself is a quite soft so melts beautifully in your mouth while  the hazelnut bits give it a bit of crunch. YUM!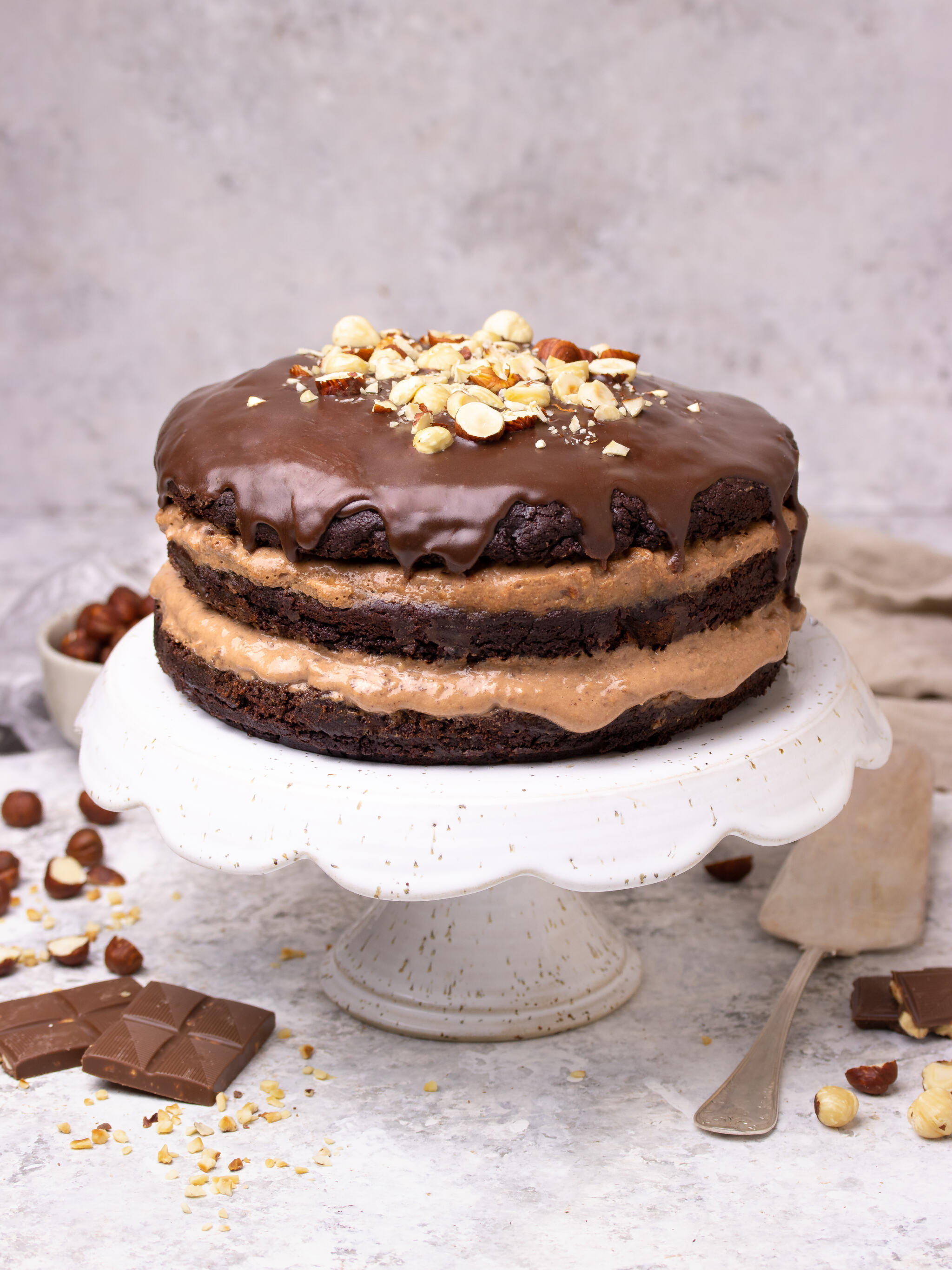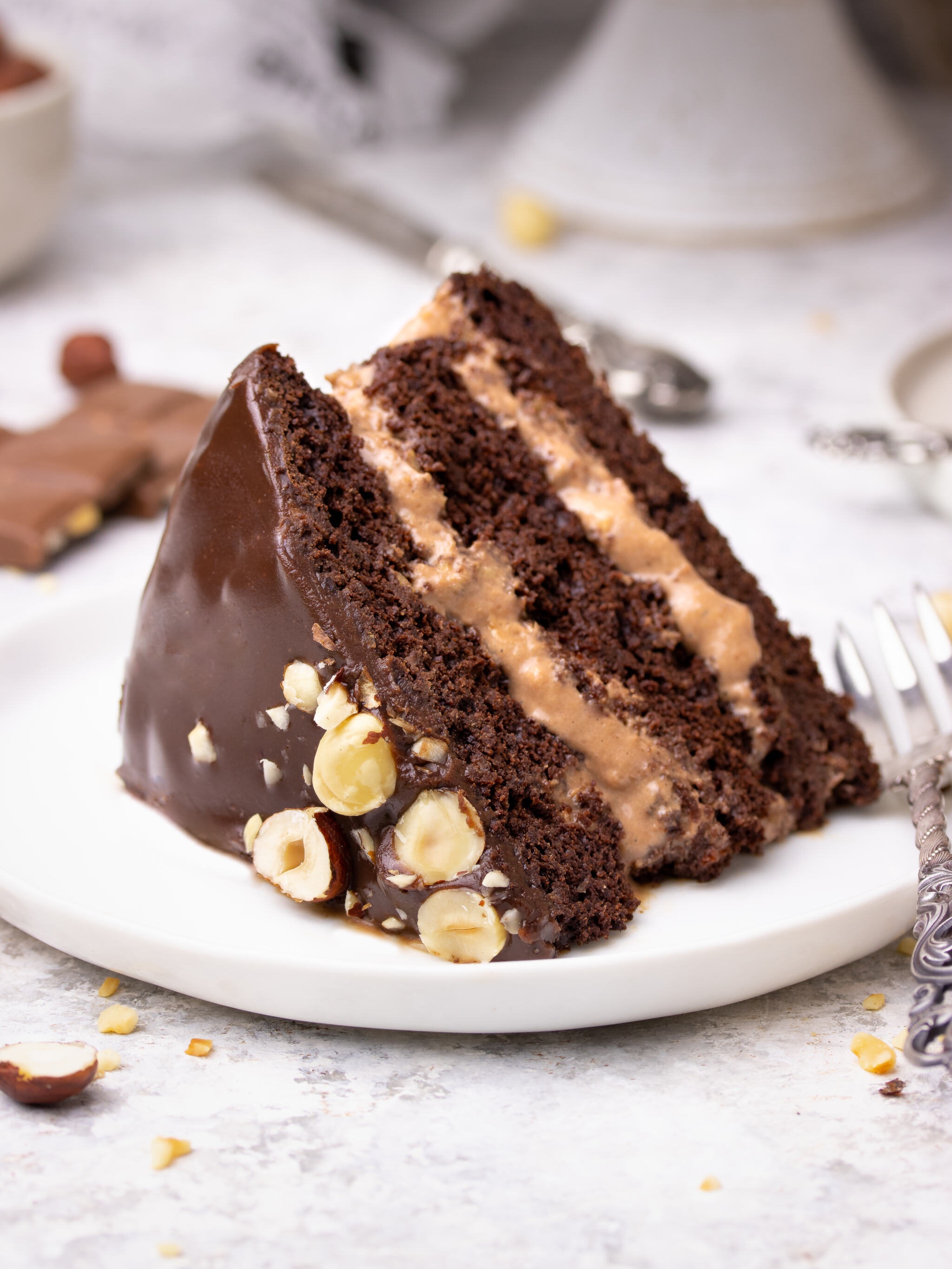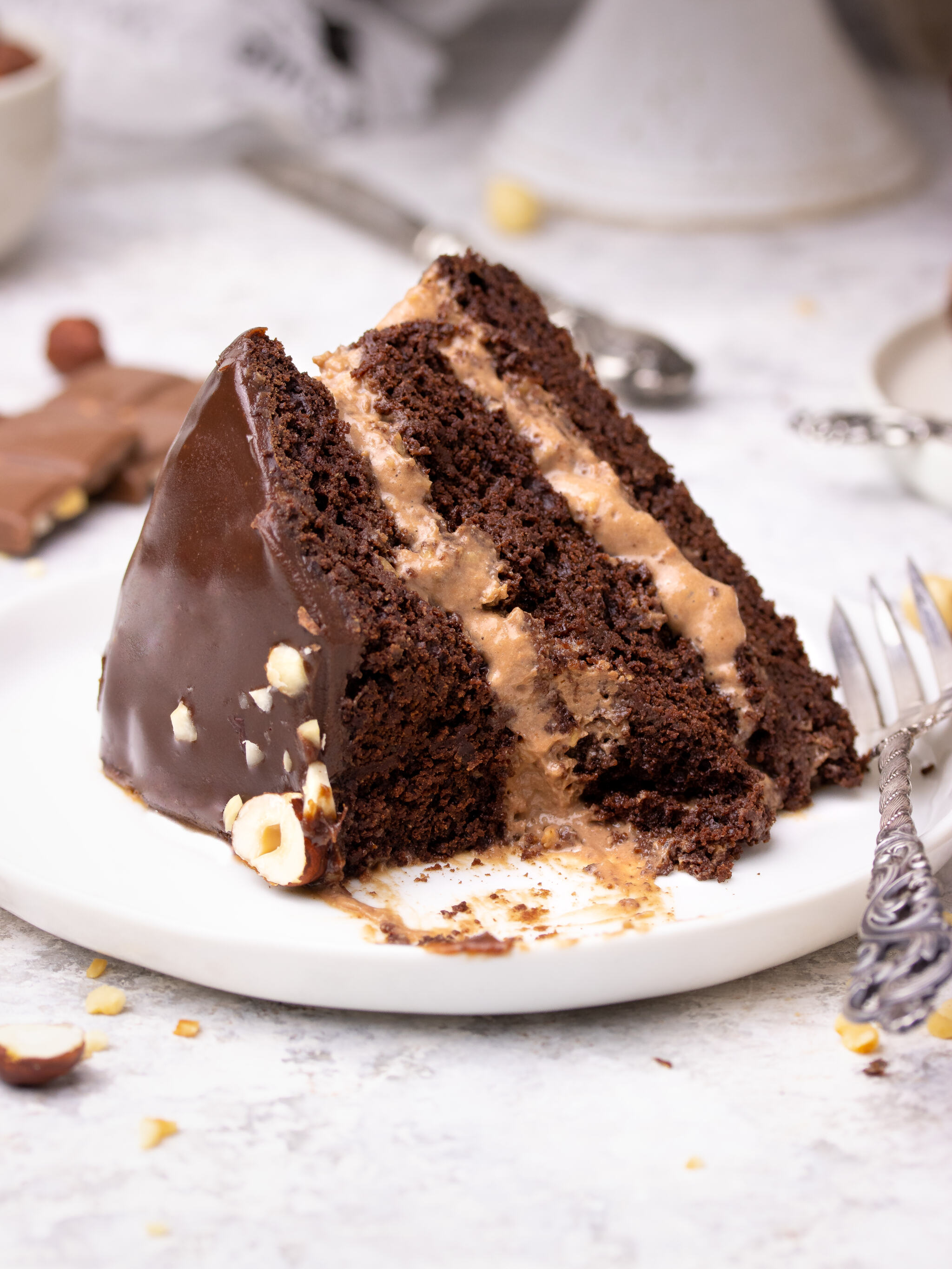 Print
Hazelnut Chocolate Mousse Cake
Hazelnut and chocolate is an universally loved combination. This cake combines the two in the form of a multi-layer, hazelnut chocolate mousse filled, and ganache covered cake.
Cake
150

g / 5,3 oz oat flour

100

g / 3,5 oz cocoa powder

1

,5 tbsp milled flax or chia seeds

2 tsp

 baking powder

1 tsp

 baking soda
A hearty pinch of salt

400

ml / 1,75 cups minus 1 tbsp milk of choice

50

g / 1,8 oz coconut sugar or other granulated sweetener

120

g / 4,2 oz pitted dates

40

g / 1,4 oz nut butter of choice

1 tsp

 vanilla extract

40

g / 1,4 oz iChoc Classic, melted
Hazelnut Chocolate Mousse
300g

/ 10,5 oz silken tofu

240g

/ 8,5 oz iChoc Super Nut, finely chopped

4 tbsp

aquafaba*
Ganache & topping
75g

/ 2,6 oz iChoc Classic, broken into pieces

1

,5 tbsp water
A pinch of salt
Roughly chopped and halved hazelnuts
Instructions
Preheat the oven to 160ºC / 320ºF. You can either make this cake with two or three layers. If you're good with knifes and have a sharp one , you can bake the batter all at once. If not, bake 1/3 of the batter in batches. Prepare and line a cake pan with parchment paper. My pan had a diameter of 18cm / 7 inches.
In a large bowl mix the oat flour, cocoa, milled flax seeds, baking powder, baking soda, and salt.
In a blender, blend the milk, sugar, dates, nut butter, and vanilla smooth.
Add the wet to the dry and mix until just combined. Add the melted chocolate and mix until just incoperated.
Transfer either 1/3 of the batter or all of it to each cake pan and bake until a tooth pick runs clean. If you bake all the batter at once, it will take around 45-60 minutes. If you bake in batches, about 20 minutes for each third.
While you let the cake bake and cool, prepare the hazelnut mousse. Melt the finely chopped Super Nut chocolate in the microwave on low effect or over a water bath.
In a food processor, mix the tofu completely smooth. While the food processor is still running, pour in the melted chocolate and mix until combined. Transfer to a bowl.
In a separate bowl, whip the aquafaba as hard and fluffy as possible. It may take a couple of minutes. Then transfer around half the whipped aquafaba to the chocolate mixture and carefully fold it together. Add the rest of the aquafaba and repeat the process. Let rest in the fridge for at least an hour.
Once the cake has cooled, either cut it into three layers or if you're baked it in batches carefully trip the dome top of your cakes.
Just before assembling make the ganache by putting the iChoc classic chocolate, water, and salt in a small microwave-safe bowl. Microwave on low to medium effect for 30 second intervals until the chocolate has almost completely melted. Once melted enough, mix with a spoon or fork until you get a smooth ganache.
To assemble, place the first cake layer on your serving plate, then evenly spread half of the mousse on top. Carefully lay the second cake on top and repeat the mousse spreading. Lay the last cake layer on top and finish with a layer of ganache. Optionally decorate with some halved hazelnuts. Let the cake set in the fridge for at least an hour before serving. Enjoy!
Notes
*Aquafaba is the cooking liquid from a can of chickpeas. Make sure to use the liquid from a brand without any added salt for best taste.
This recipe was created in collaboration with iChoc
Keywords: Chocolate layer cake, vegan, hazelnut, chocolate mousse, gluten free, healthy