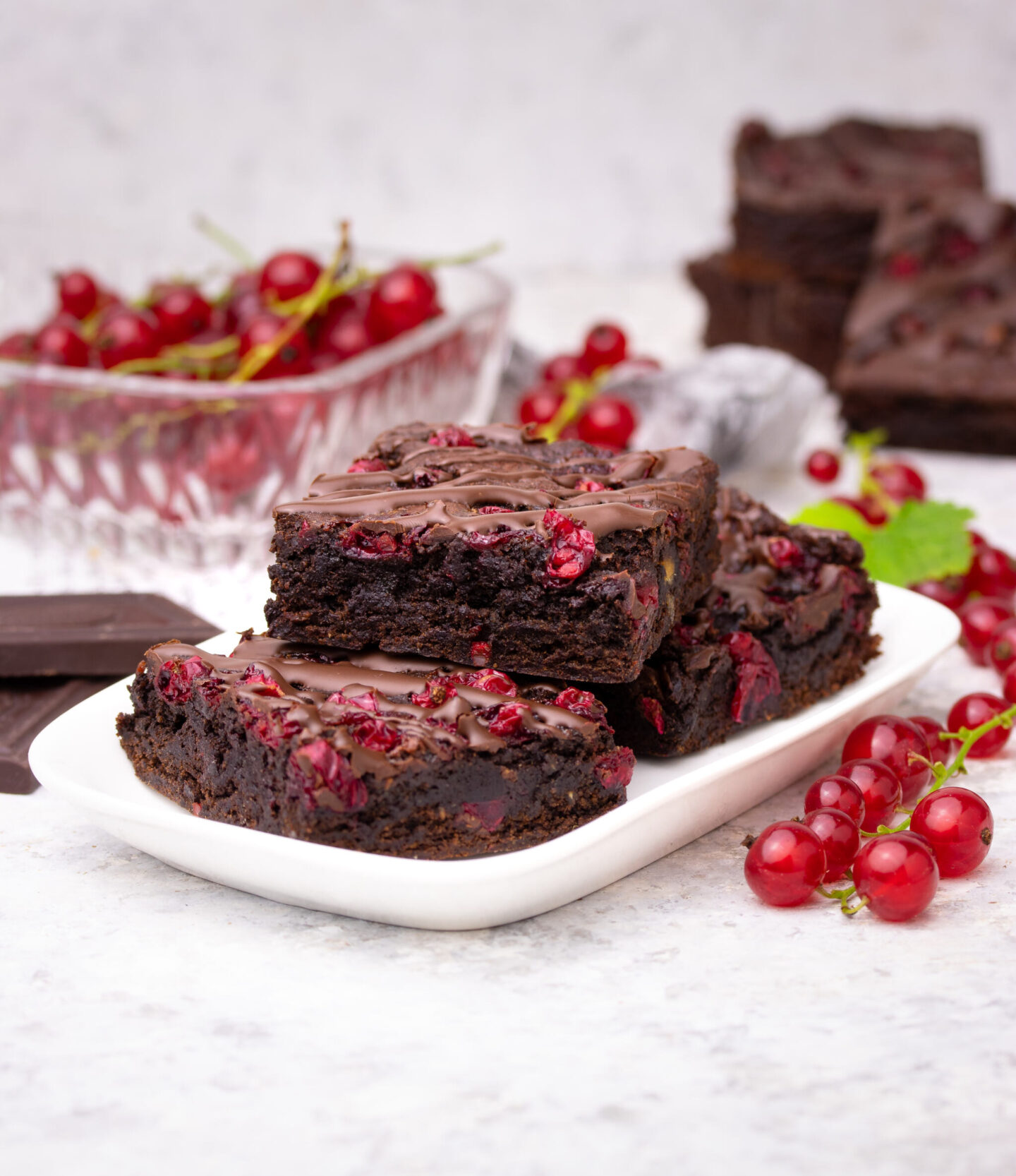 Red currants are such amazing yet underrated berries. They are indeed very sour, but combined with something sweeter they're simply refreshing and perfect when you want to balance out flavours. Also, red currants are absolutely wonderful paired with chocolate, hence, the creation of these brownies.
These brownies are wonderfully chewy, decadent, and luscious, but requires a minimal amount of time and the ingredients couldn't be better. Then when you add some delicious red currants and a drizzle of chocolate, damn, they're unbeatable. Whenever you get a red currant when eating one of these brownies, it's like a pop of heaven.
For me red currants are a strong part of my childhood. We have always had a red currant bush in our garden, and I remember picking and eating the sour berries as a child. Before I got really into cooking and baking, we often didn't know what to do with all the berries. Once my parents made jelly and another time we made squash/cordial that basically turned into jelly. To this day, I find that jelly squash hilarious. We had to use boiling water to try to make the squash pieces we had in the freezer "melt", haha.
Back to these brownies, they really are quite something. Chocolate cake with red currants is more common, but these cuties are next level. They're simply scrumptious, if I may say it myself. Anyhow, I could literally ramble about these being the kind of wholesome treat you can even have for breakfast or that they are suitable for everyone from vegans, gluten intolerant people to everyone who likes brownies, but I think I'll spare you that. Enjoy!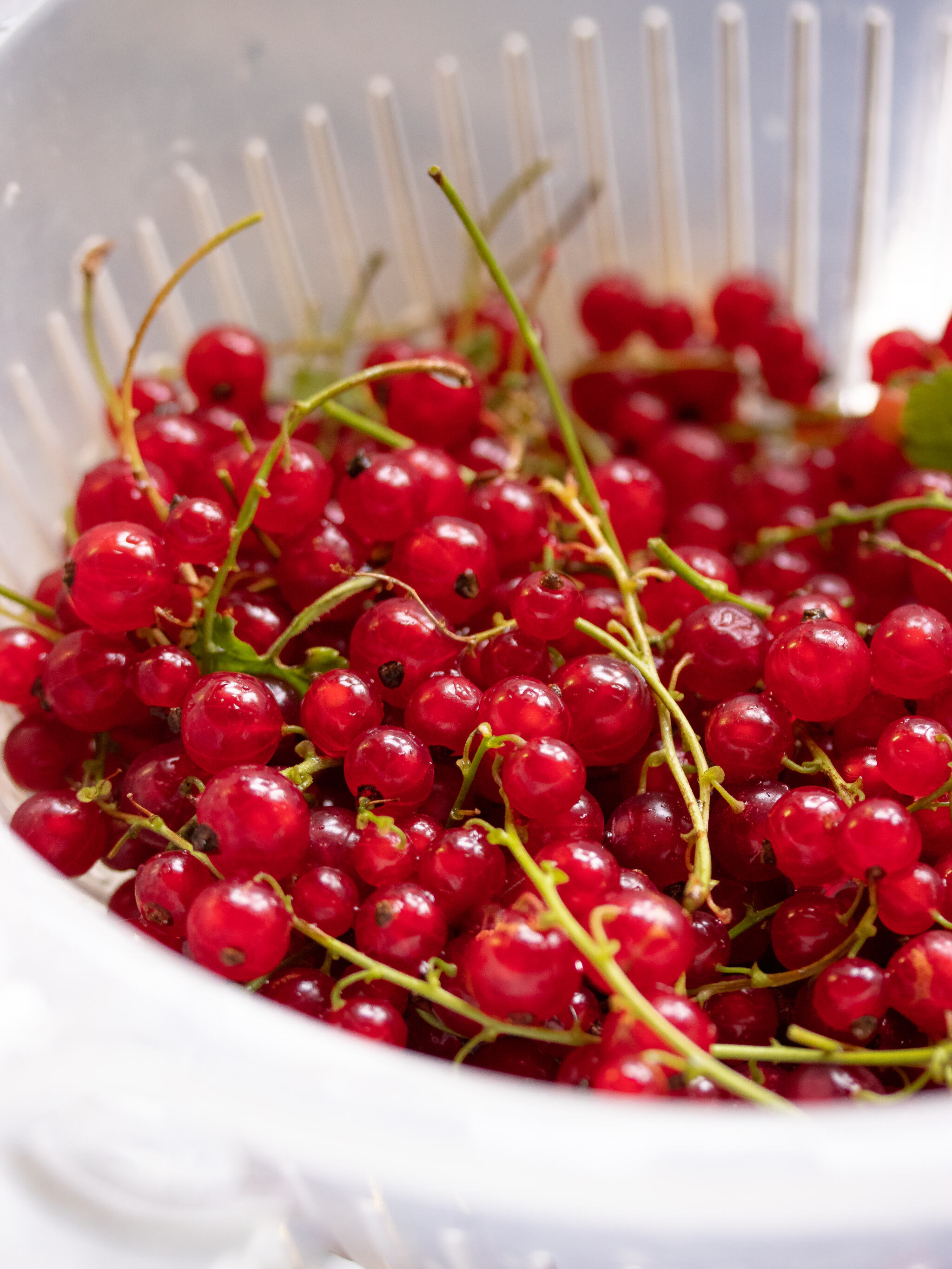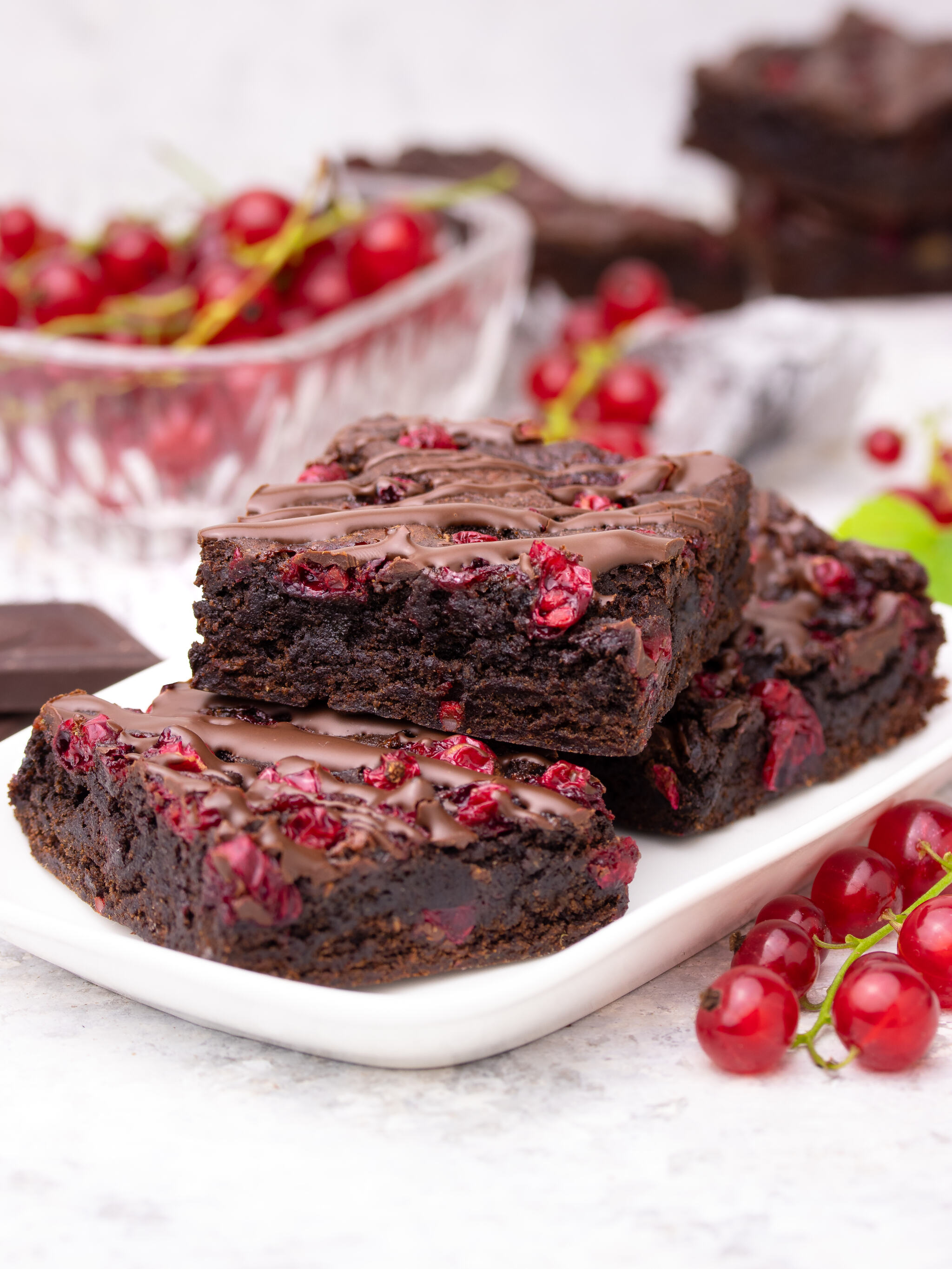 Print
Red Currant Brownies
A chewy, decadent, and luscious combined with fruity, seasonal red currants and chocolate drizzle. All made with pretty darn rad ingredients which makes them wholesome, gluten free, and vegan.
Author: Hanna
Yield:

9

large brownies

1

x
200

g / 7 oz pitted dates

2 tbsp

nut or seed butter of choice

1/2 tsp

 vanilla extract

30

g / 1,1 oz cocoa powder

20

g / 0,7 oz oat flour

1 tsp

 baking soda

1/2 tsp

 baking powder
A hearty pinch of salt
Around

100g

/ 3,5 oz fresh red currants or other fruit of choice
Optional melted chocolate for decorating
Instructions
Preheat the oven to 150ºC / 300ºF and prepare a brownie pan by greasing and lining it with parchment paper. My brownie pan was 15×15 cm / 6×6 inches.
In a food processor, process the dates, nut butter, and vanilla until smooth. Add the rest of the brownie ingredients and process until combined. If too dry, add a splash of water.
Transfer to the prepared pan and flatten out using a wet spatula or your hands. Top with the red currants and push them slightly into the batter.
Bake for 30 to 35 minutes until firm and chewy. Let cool, decorate with chocolate, cut up, and enjoy!
Keywords: Vegan brownies with red currants, healthy, gluten free, refined sugar free, oil free, wholesome