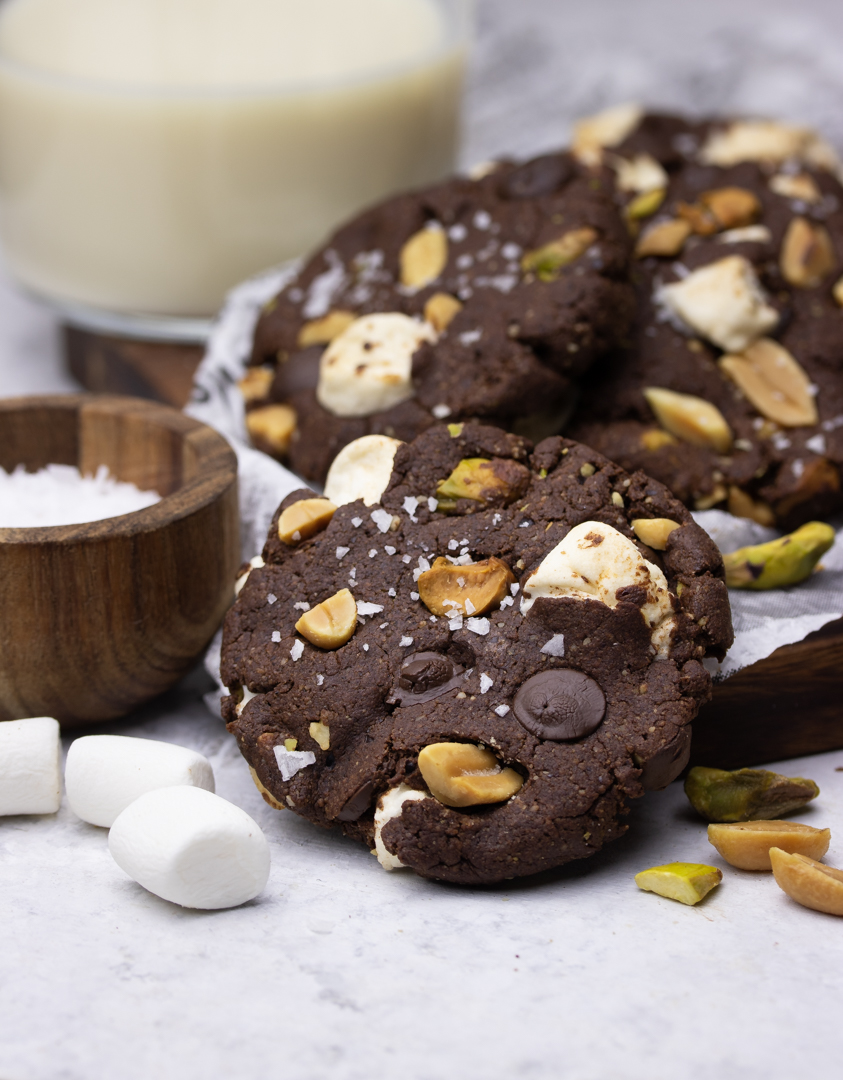 Let me ask you a question. What would make my so called Perfect Salted Double Chocolate Cookies even better? How about roasted peanuts, pistachios, and vegan marshmallows? Heck yeah, if you ask me. Hopefully, you think the same, otherwise this recipe is not for you.
The cookies are themselves perfectly balanced in flavour, chewy, crispy, and just gosh darn delicious. The addition of roasted peanuts, pistachios, chocolate chips, and marshmallows is truly a combination from the heavens. Plus, the marshmallows go a little bit chewy in the most decadent and delicious way when baked. If that doesn't make your mouth water, I don't know what will. Well, maybe you're thinking like I once did: "Well, this sounds good, but I don't like marshmallows". I'm not a big fan of marshmallows, but they truly do wonders together with the nuts and salt in this recipe. Worst case scenario, just omit them form the recipe.
Now on to the recipe, enjoy!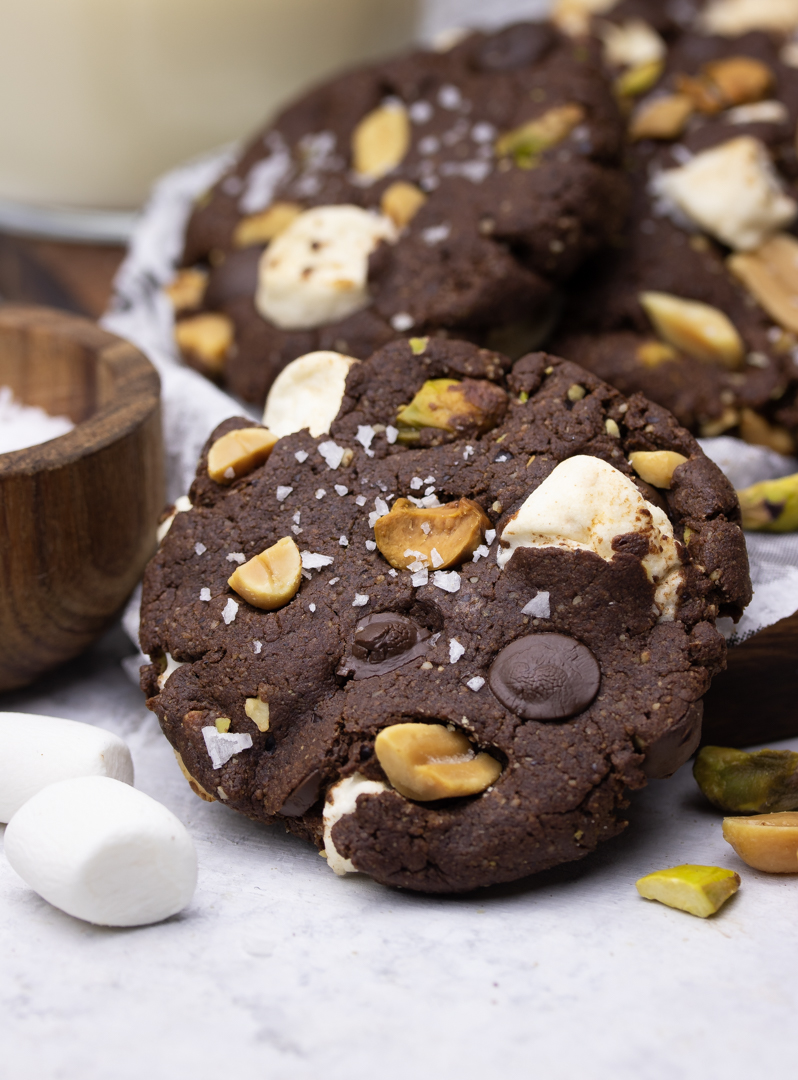 By now, you should know how much I adore making GIF:s. Cheers to that!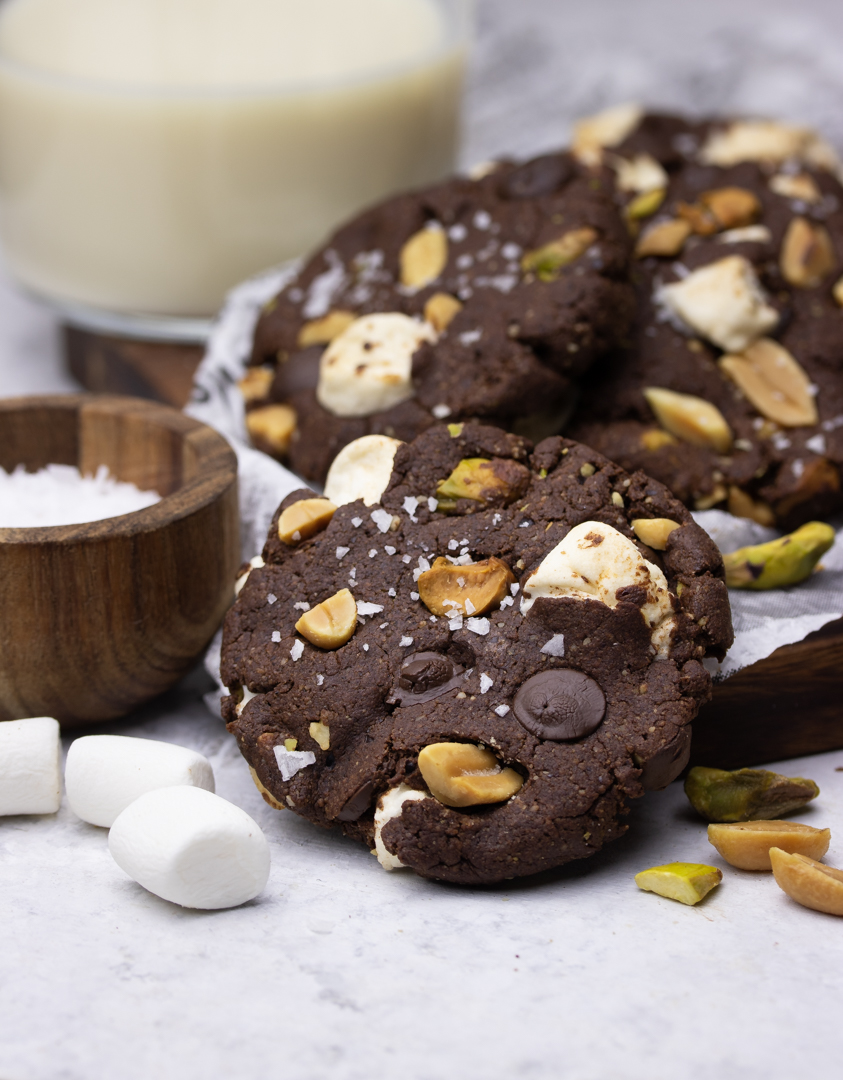 Print
Vegan Rocky Road Chocolate Cookies
The classic combination of peanuts, pistachios, marshmallows, chocolate couldn't be a better addition to the most perfect chocolate cookies.
Author: Hanna
Yield:

8

cookies

1

x
60g

/ 2,1 oz pitted dates

30g

/ 1 oz oat flour

30g

/ 1 oz nut flour of choice (I used almond & hazelnut) or more oat flour

1

,5 tbsp cocoa powder

1/2 tsp

baking soda
A hearty pinch of salt
A splash of vanilla extract

20g

/ 0,7 oz melted dark chocolate
A handfull of chocolate chips or roughly chopped chocolate
A handfull of roughly chopped salted roasted peanuts
A handfull of roughly chopped pistachios
A small handfull of vegan mini marshmallows (I used these)
Instructions
Preheat the oven to 150ºC / 300ºF and prepare a cookie pan by lining it with parchment paper.
In a food processor, blend the dates, flours, cocoa, baking soda, salt, and vanilla until you get a nice firm, moist but not sticky nor dry, dough. Then, while running the food processor, add the melted chocolate to the dough and mix until combined. If too dry, add a splash of water. Mix in the chocolate chips/chopped chocolate, peanuts, pistachios, and marshmallows to the dough.
Divide and shape the dough into eight balls and place on the prepared cookie pan. Using your hands, preferably slightly wet, shape the balls into around 1 cm / 1/3 inch thick cookies. Optionally top with a pinch of course salt. Bake for 12-16 minutes. Let cool and enjoy!
Keywords: Rocky road, vegan, cookies, chocolate, gluten free, healthy