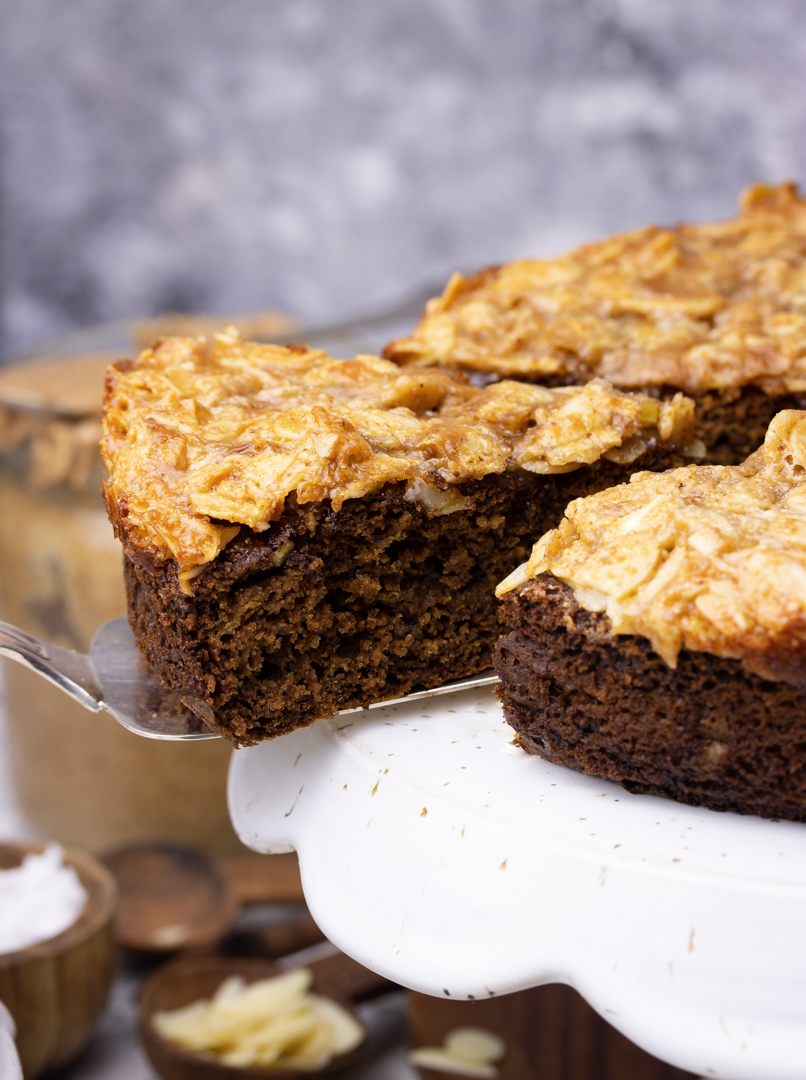 After creating the perfect chocolate cake recipe, I was determined to create the recipe I've been wanting to perfect since I started blogging three years ago. So, I am unbelievably proud of finally, FINALLY, creating the recipe for the perfect vegan vanilla cake. This cake is fluffy, moist, sweet but not too sweet, and just simply perfect. Do not get fooled by the very dark brown look of the cake, though. It is not chocolate, but the dates and coconut sugar has coloured the cake.
Moving on, you may be wondering what "toscakaka" is. From my own origin and he name, you can probably tell that it is Swedish. "Kaka" is just cake in Swedish, but the "tosca" part is the divine caramel topping with slivered almonds. Trust me, the tosca really really makes the cake beyond delicious. Toscakaka is one of those cakes that everyone loves especially for Swedish fika, but people forget that exists. So here I am, sharing it with you guys so you can make it yourself, and hopefully you'll love it as much as any other Swede. I reckon you most certainly will.
Don't forget to let me know if you try this out! Whenever you guys tell me that you have tried one of my recipes and maybe even send a photo, it puts a huge grin on my face whether I like it or not (which I do). Enough said, enjoy!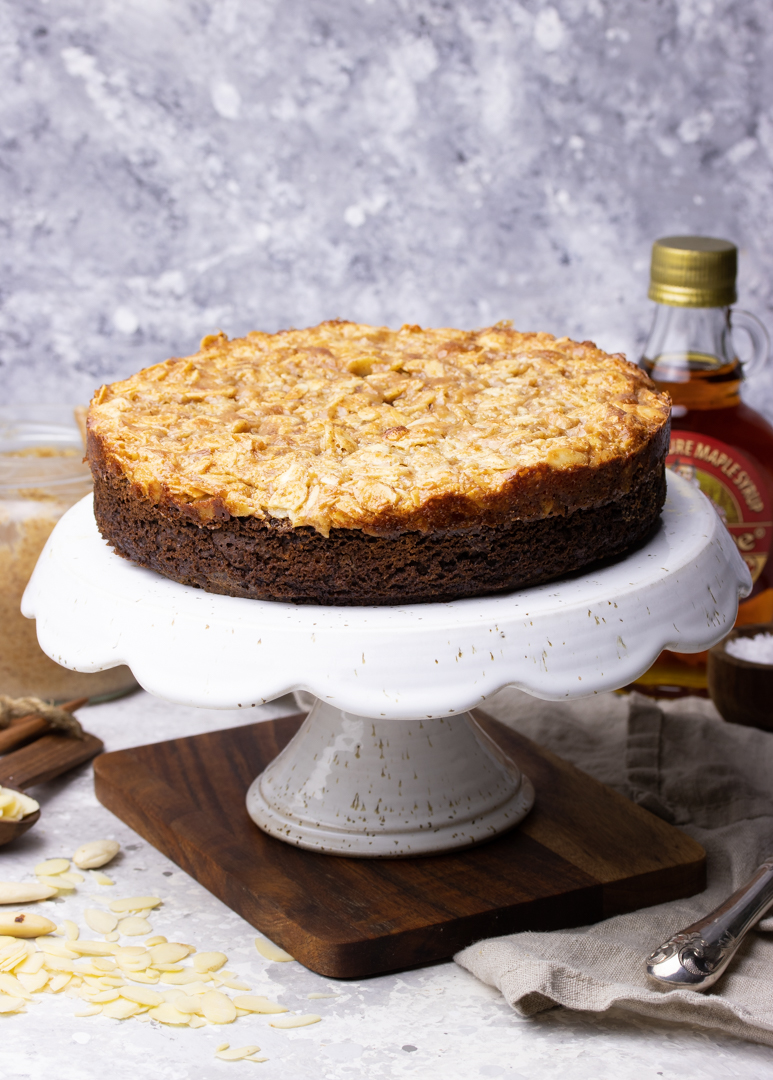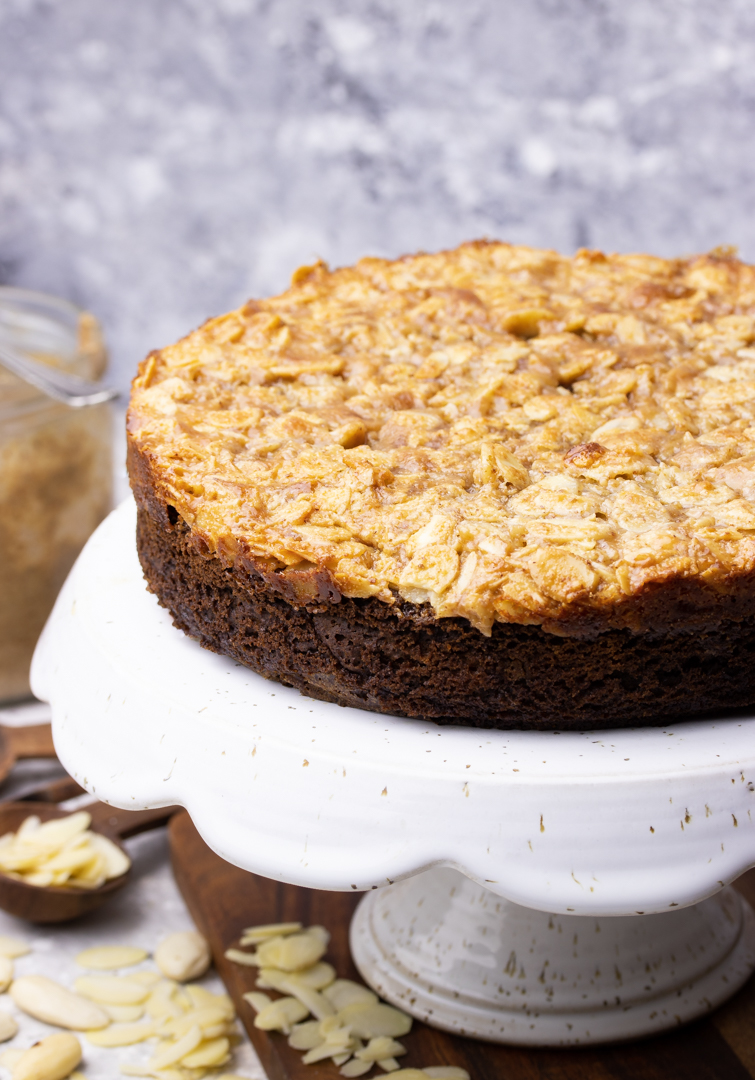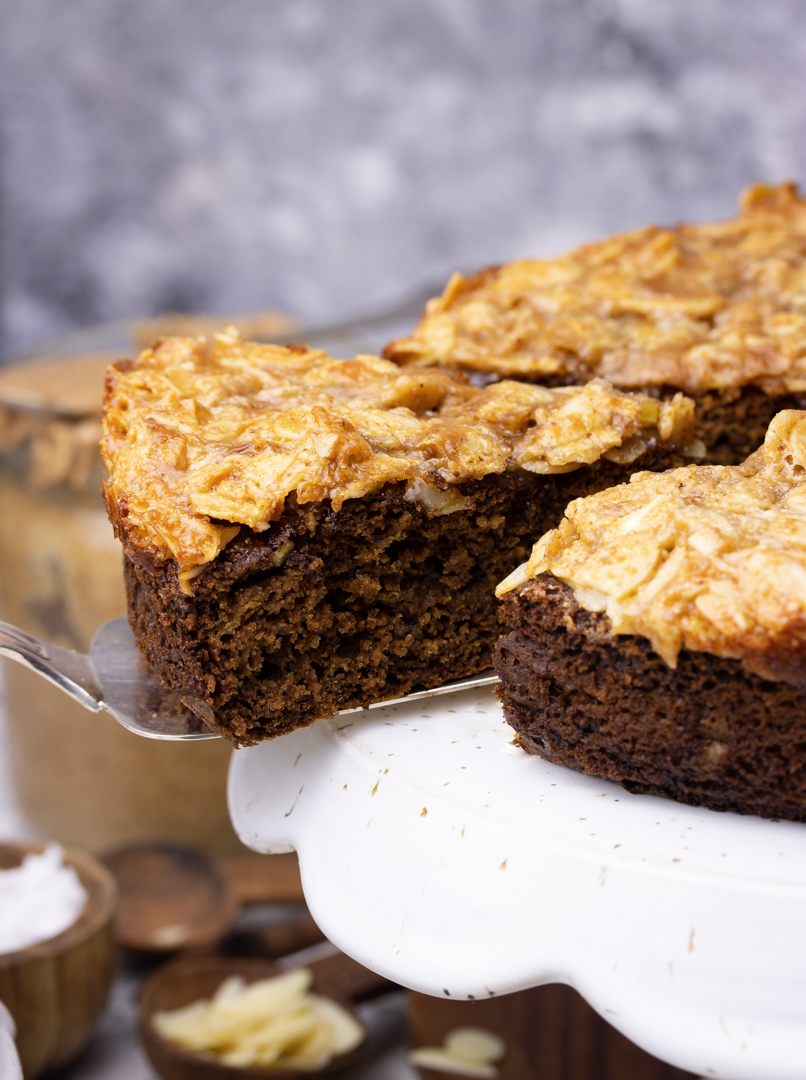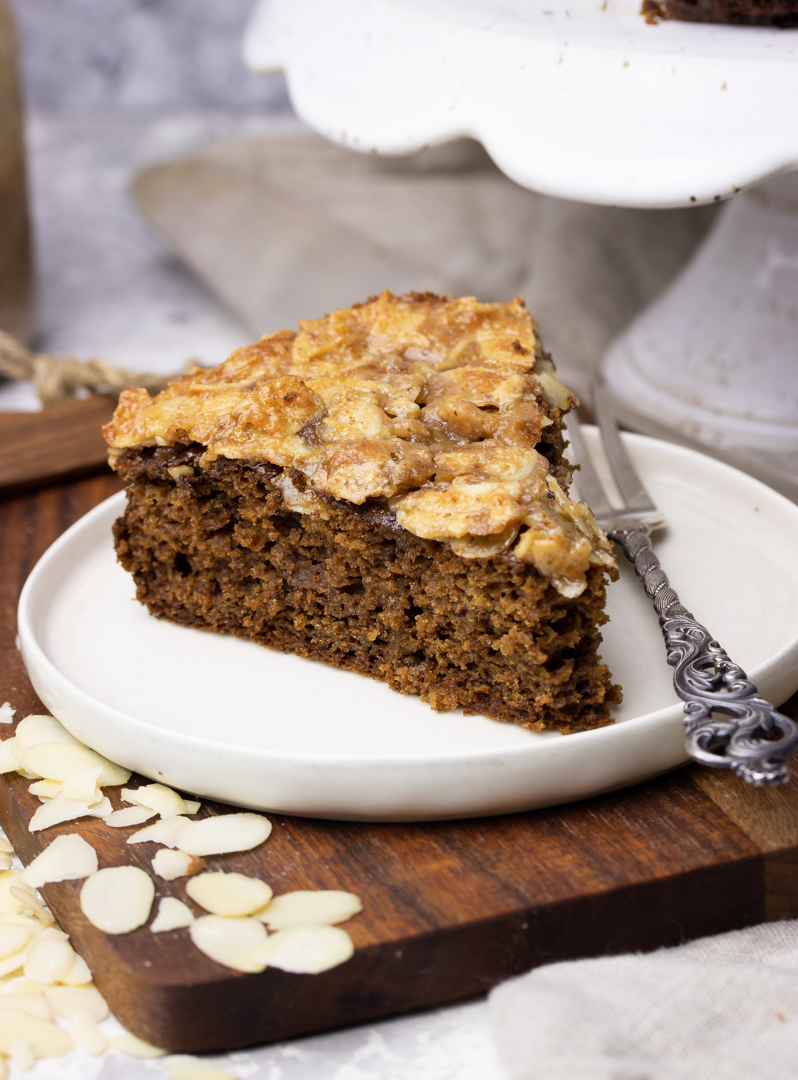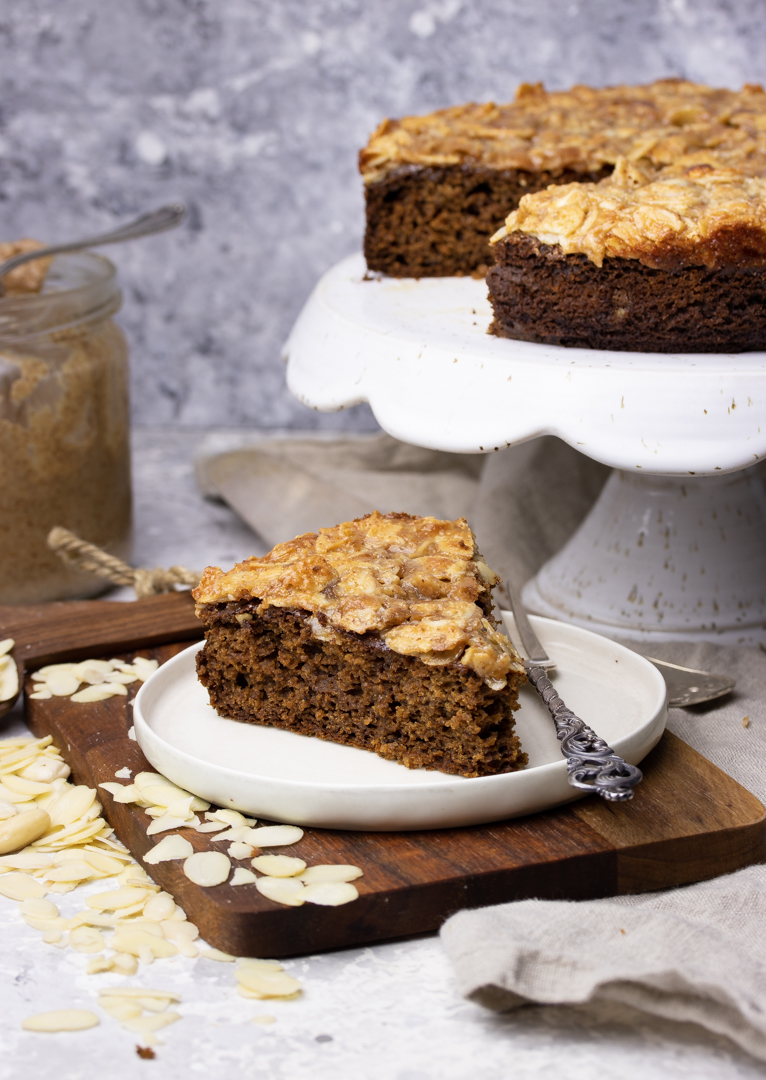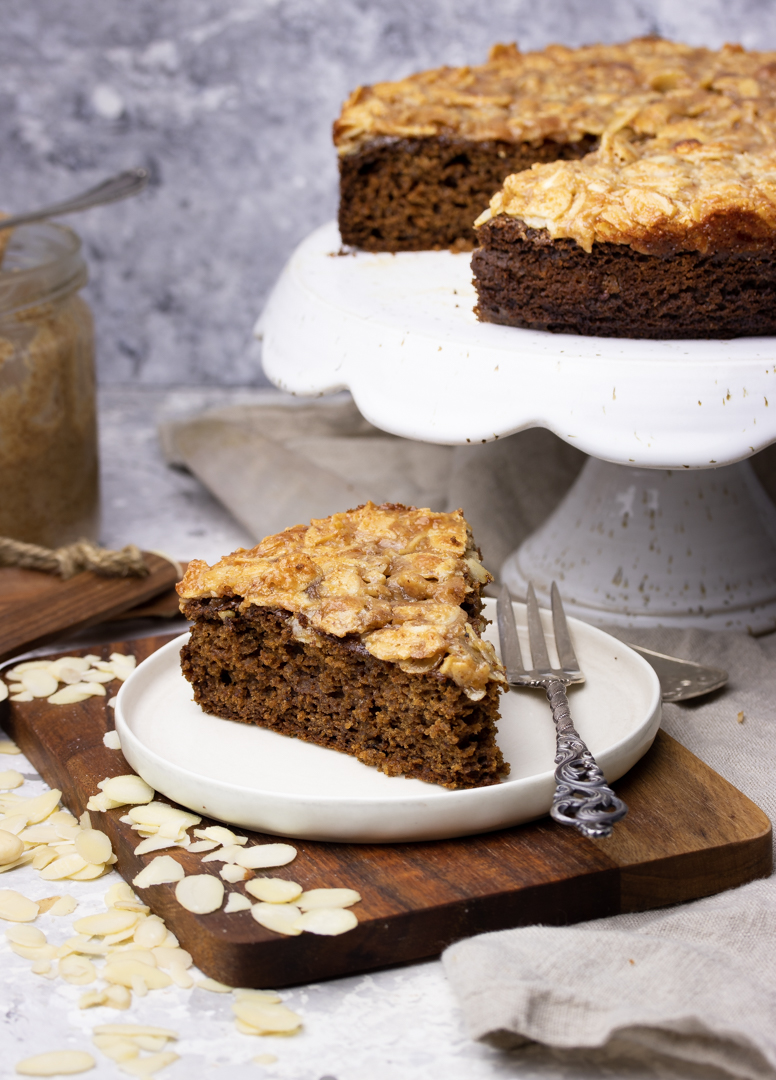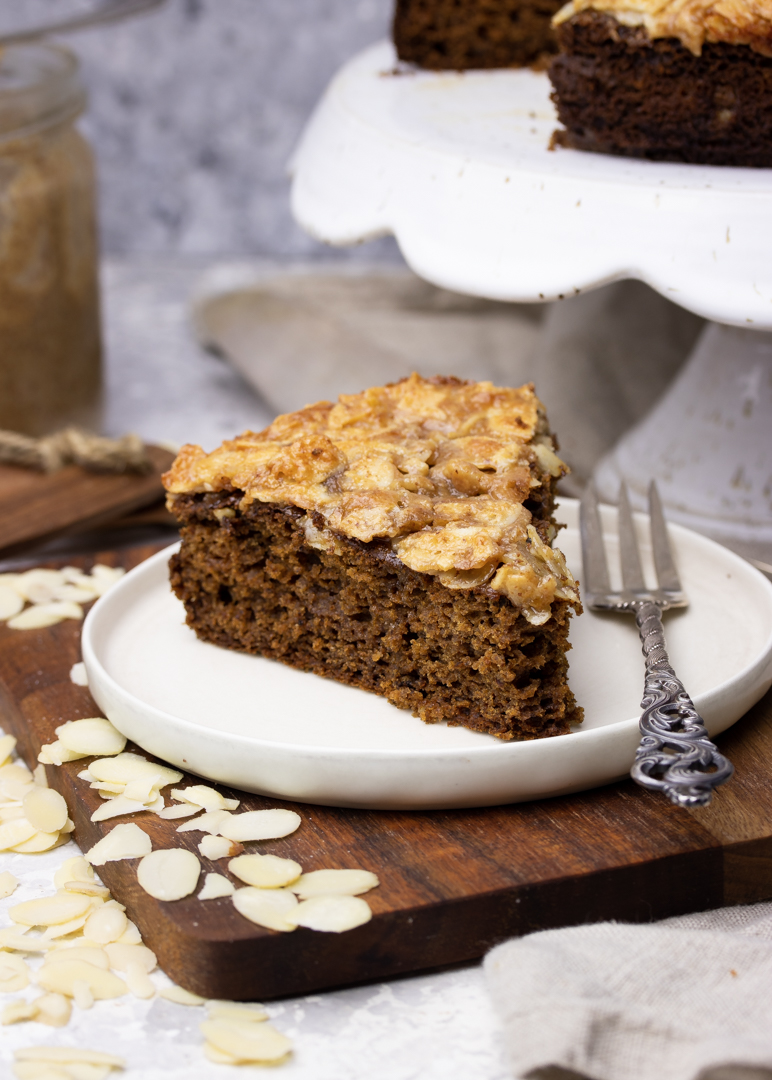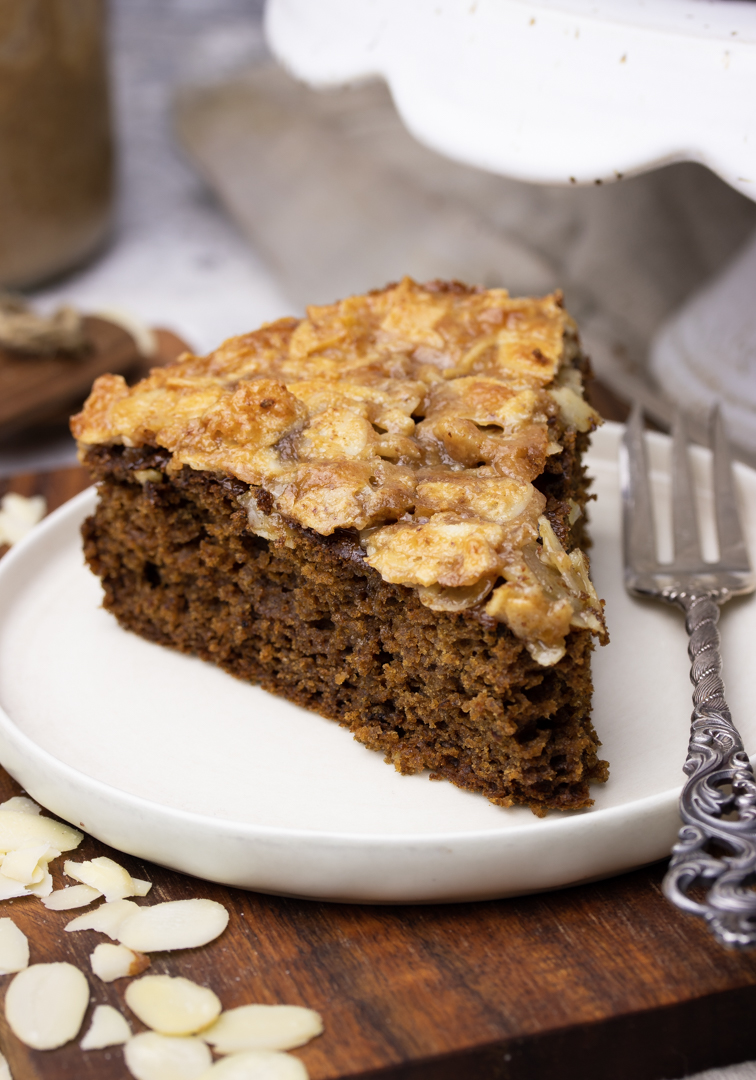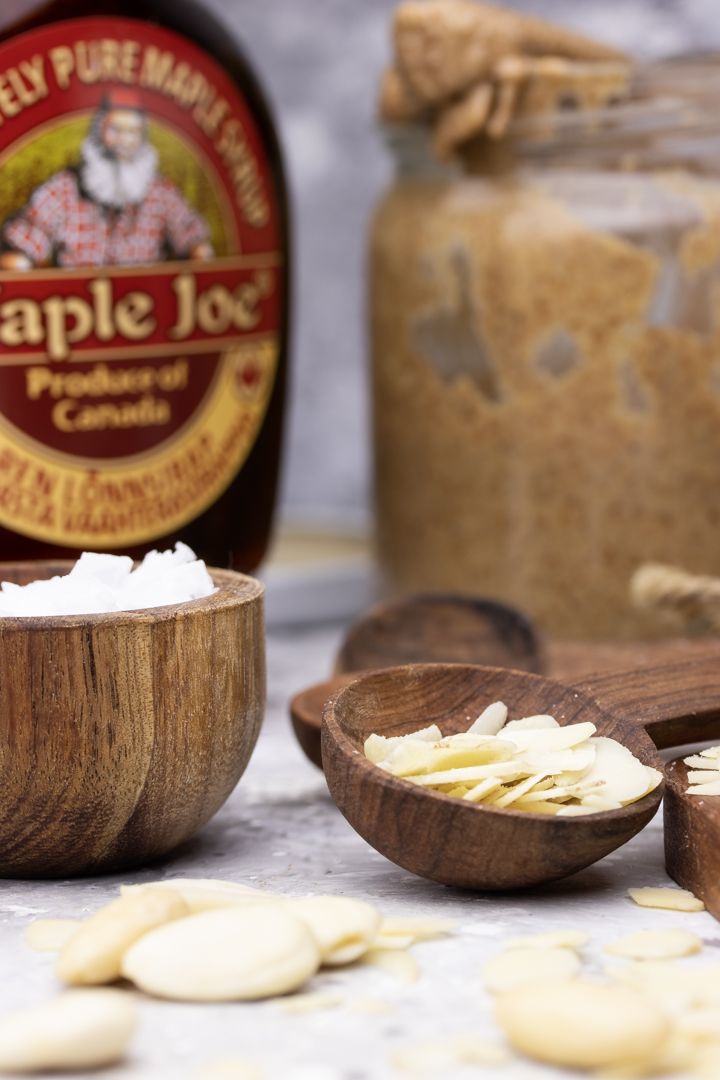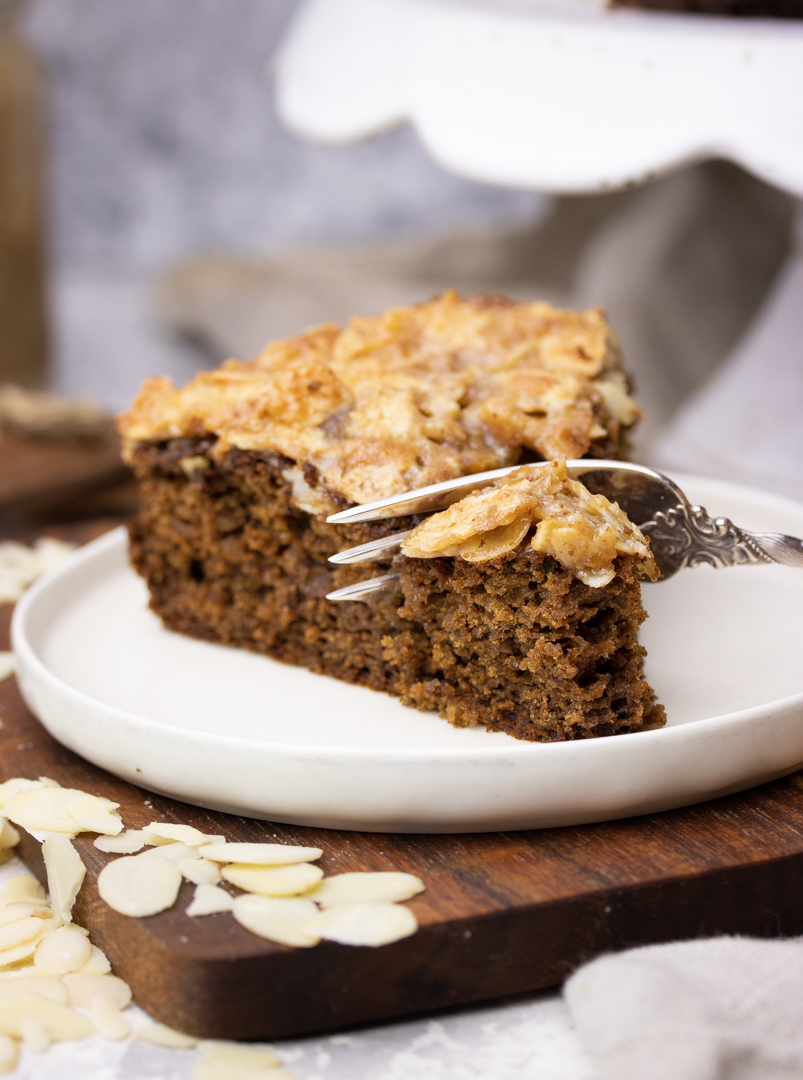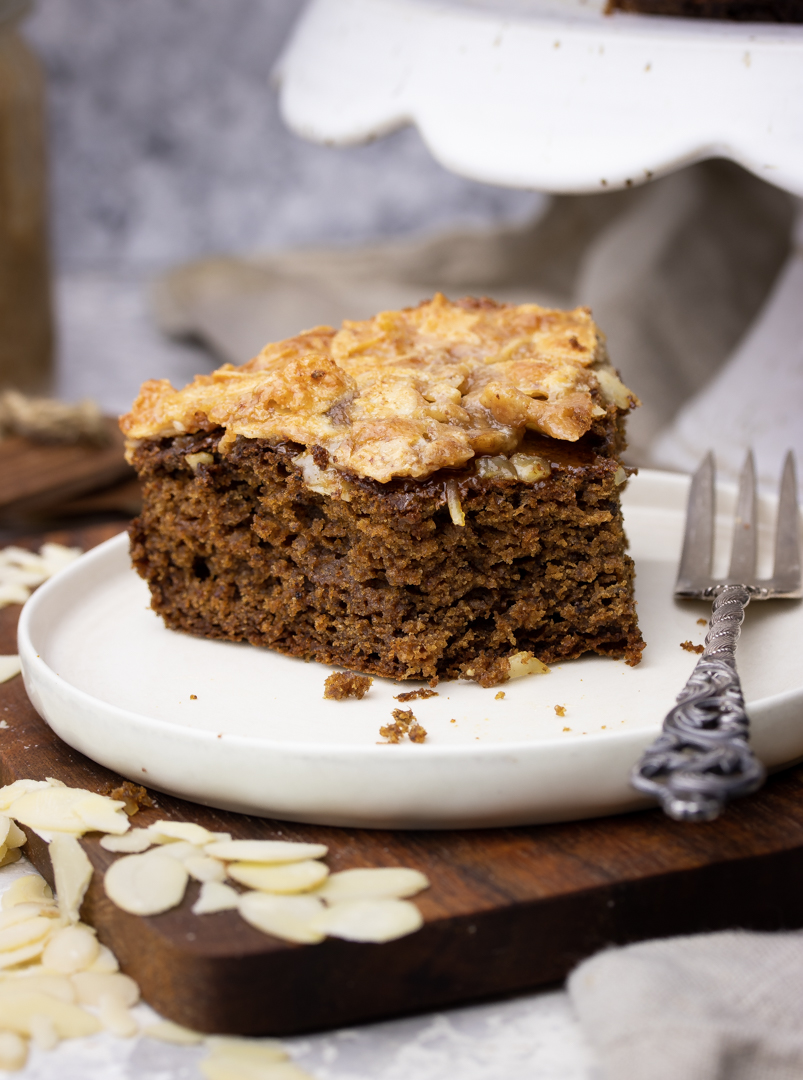 Print
Vegan Classic Toscakaka – Swedish Vanilla Cake with Caramelised Almonds
This classic Swedish cake combines delicious vanilla cake with a sweet caramel topping with lots of slivered almonds. It's simply a must to try it when visiting Sweden or  why not right now!
Caramelised Almond topping
2 tbsp

nut butter of choice

4 tbsp

liquid sweetener (I used maple syrup)
A hearty pinch of salt
A splash of vanilla essence

60g

/ 2,1 oz roughly 1,5 dl / a heaping 1/2 cup slivered almonds
Vanilla cake
65g

/ 2,3 oz oat flour

60g

/ 2,1 oz buckwheat flour

1 tbsp

milled flax or chia seeds

1

,5 tsp baking powder

2 tsp

baking soda
A hearty pinch of salt

200

ml / 1 cups minus 3 tbsp milk of choice

40g

/ 1,4 oz coconut sugar or other granulated sweetener

60g

/ 2,1 oz pitted dates

40g

/ 1,4 oz nut butter of choice

2 tsp

white balsamic vinegar*

1/2 tsp

vanilla extract
Instructions
Preheat the oven to 175ºC / 350ºF, prepare and grease a baking pan. My pan had a diameter of 22cm / 8,5 inches.
In a small bowl, combine the nut butter, liquid sweetener, salt, and vanilla essence into a smooth caramel sauce. Fold in the slivered almonds and set aside.
In a large bowl, mix the oat flour, buckwheat flour, milled flax seeds, baking powder, baking soda, and salt.
In a blender, blend the milk, sugar, dates, nut butter, vinegar, and vanilla smooth.
Add the wet to the dry and mix until just combined. Transfer to the batter, stir in and transfer to the cake pan. Bake for 20 minutes.
Do this step as quickly as you can. Take the cake out of the oven, evenly spread the caramel sauce onto the cake. Bake for an additional 9-12 minutes or until the caramel has turned golden and a toothpick runs clean. Take out, let cool, serve, and enjoy!
Notes
*You can probably use another kind of vinegar, but since I've not tried any other myself I can not promise the same results.
Keywords: Toscakaka, vanilla cake, vegan, healthy, gluten free, oil free, refined sugar free