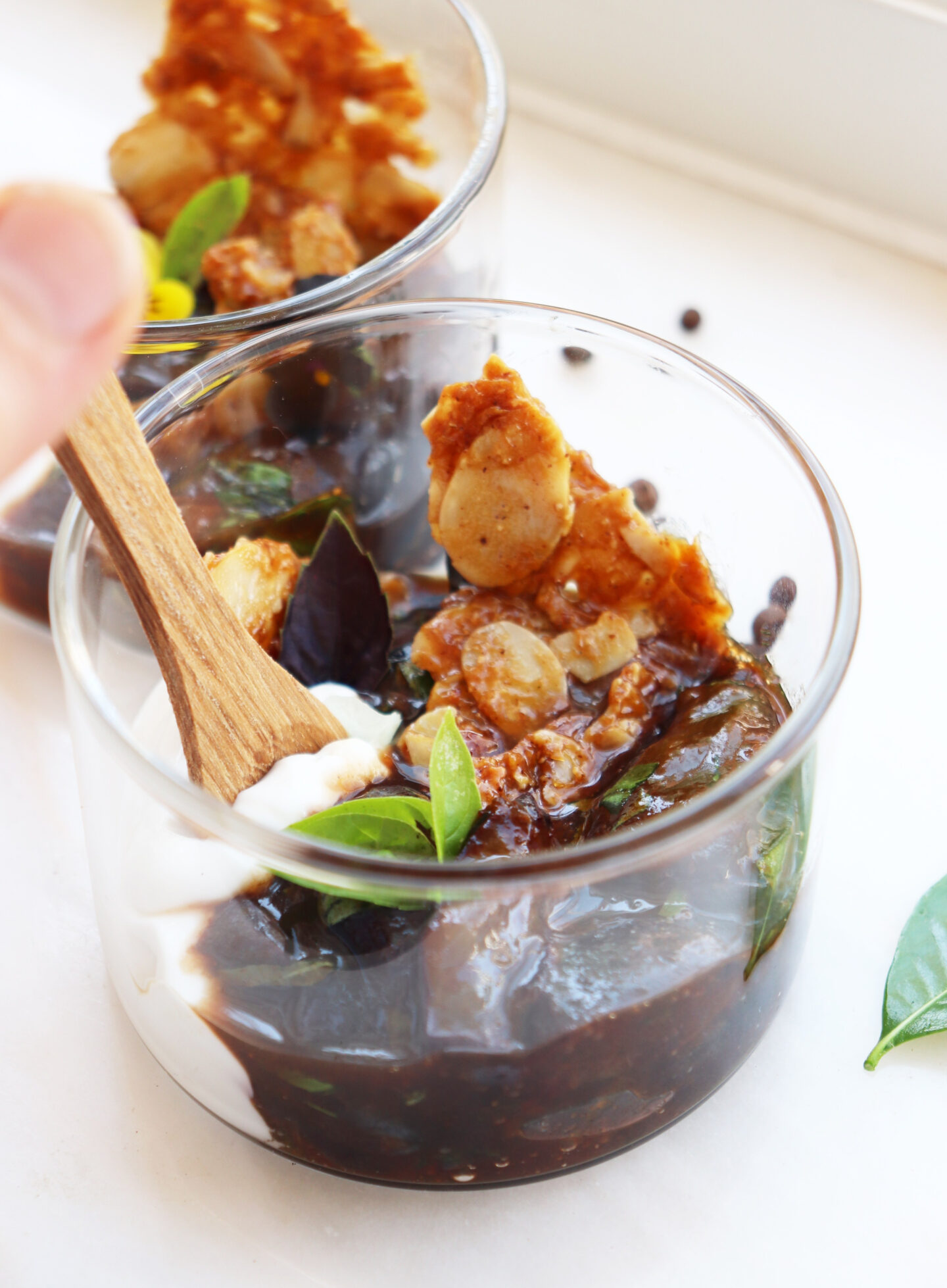 Honestly, I am a huge fan of simple flavour combinations, like peanut butter and chocolate or coconut and lemon. Sometimes I get this sudden inspiration boost when I just get some crazy recipe or flavour combination idea. This is the result of one of those boosts. I think this is the longest recipe description one of my recipes has ever had, haha. Well, the combination may sound over the top fancy and maybe even weird, but trust me, it's beyond fab. Even the most rustic-loving person will love this dessert. Also, if you don't have the time or can't be bothered to make the brittle, you can serve the salad with some crushed cookies or your favourite granola/müsli. Things don't always have to get over complicated, am I right?
Anyhow, challenge yourself and go out of your comfort zone and experiment! Or just try this recipe, maybe do both. Enjoy!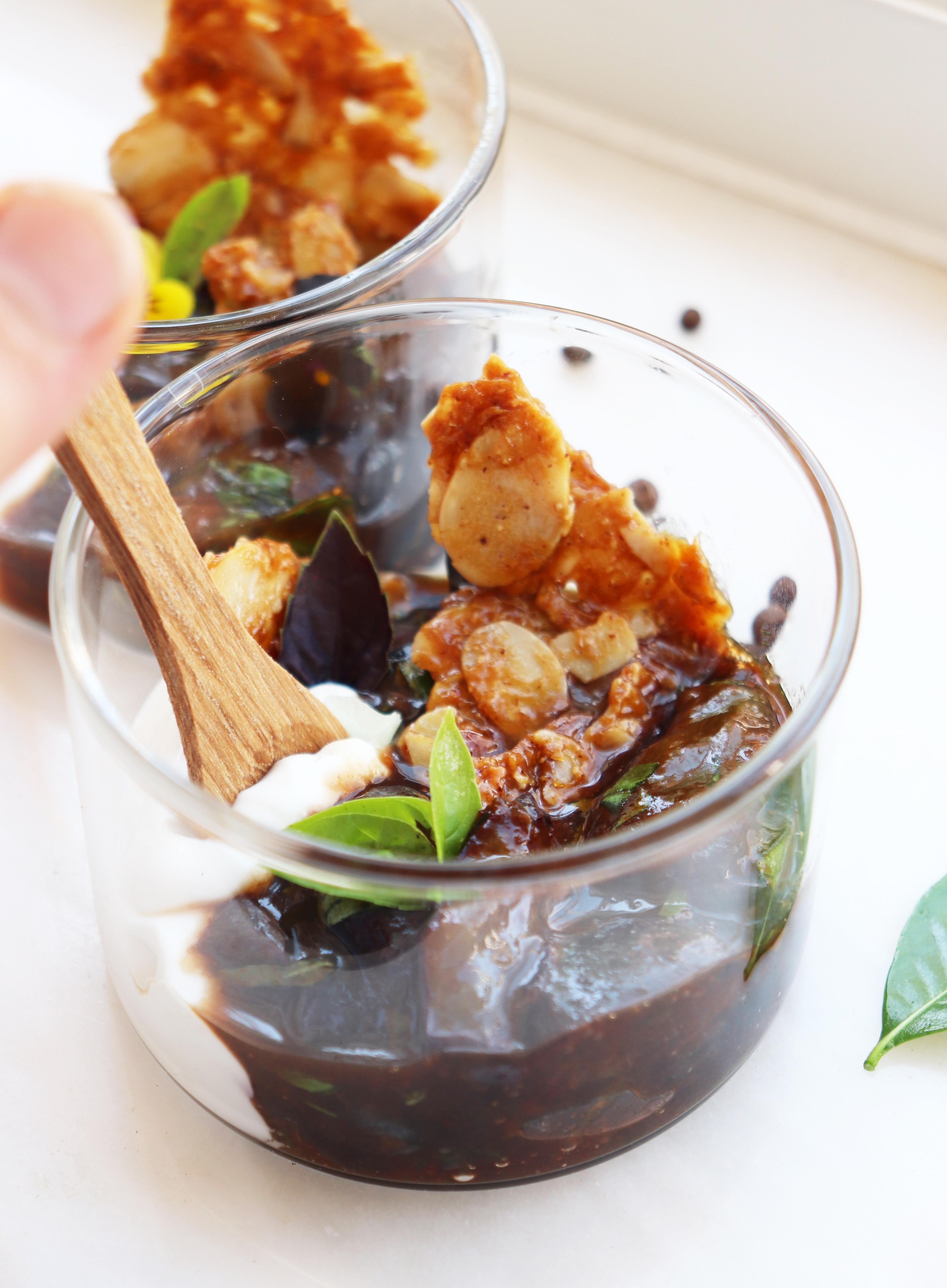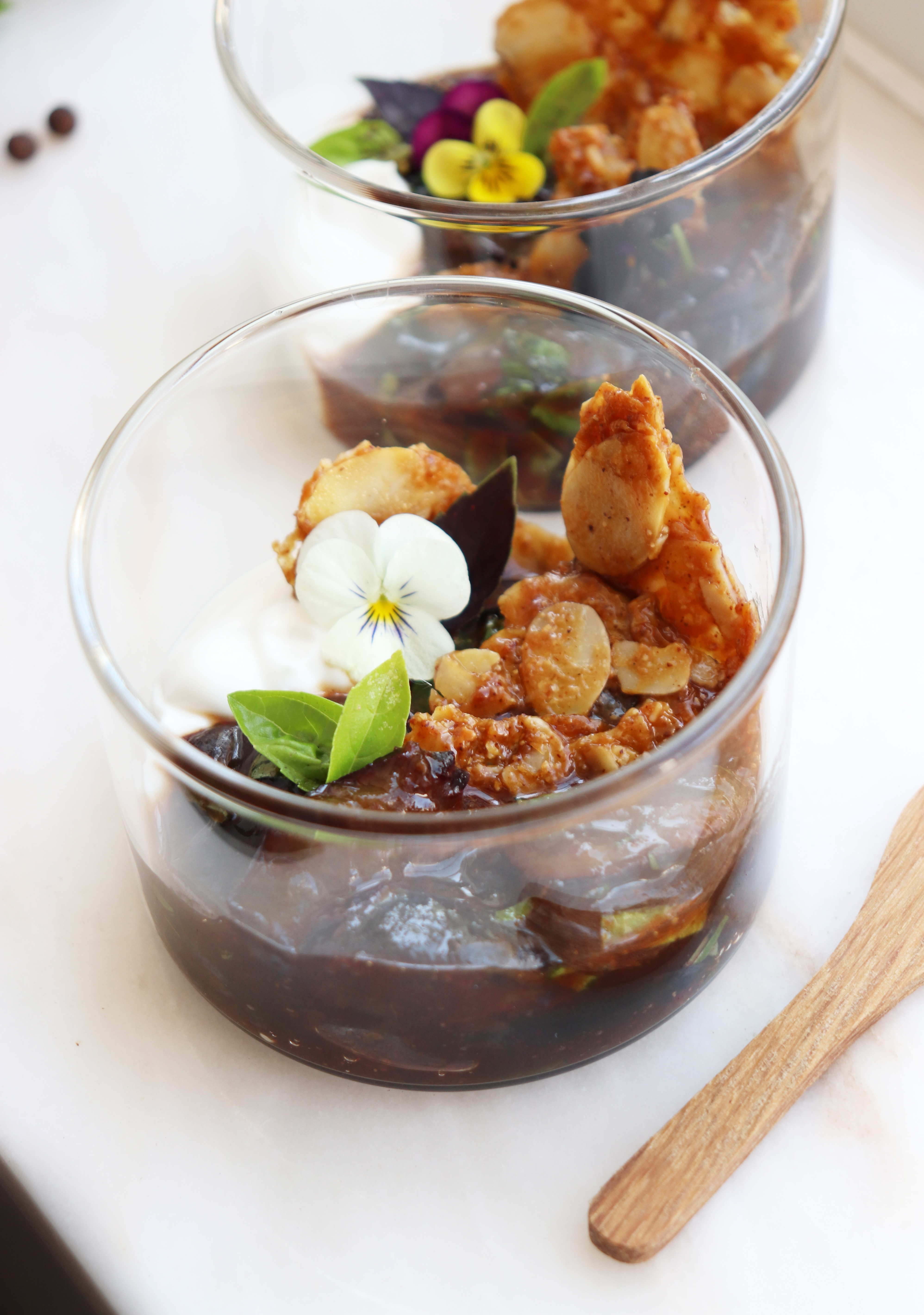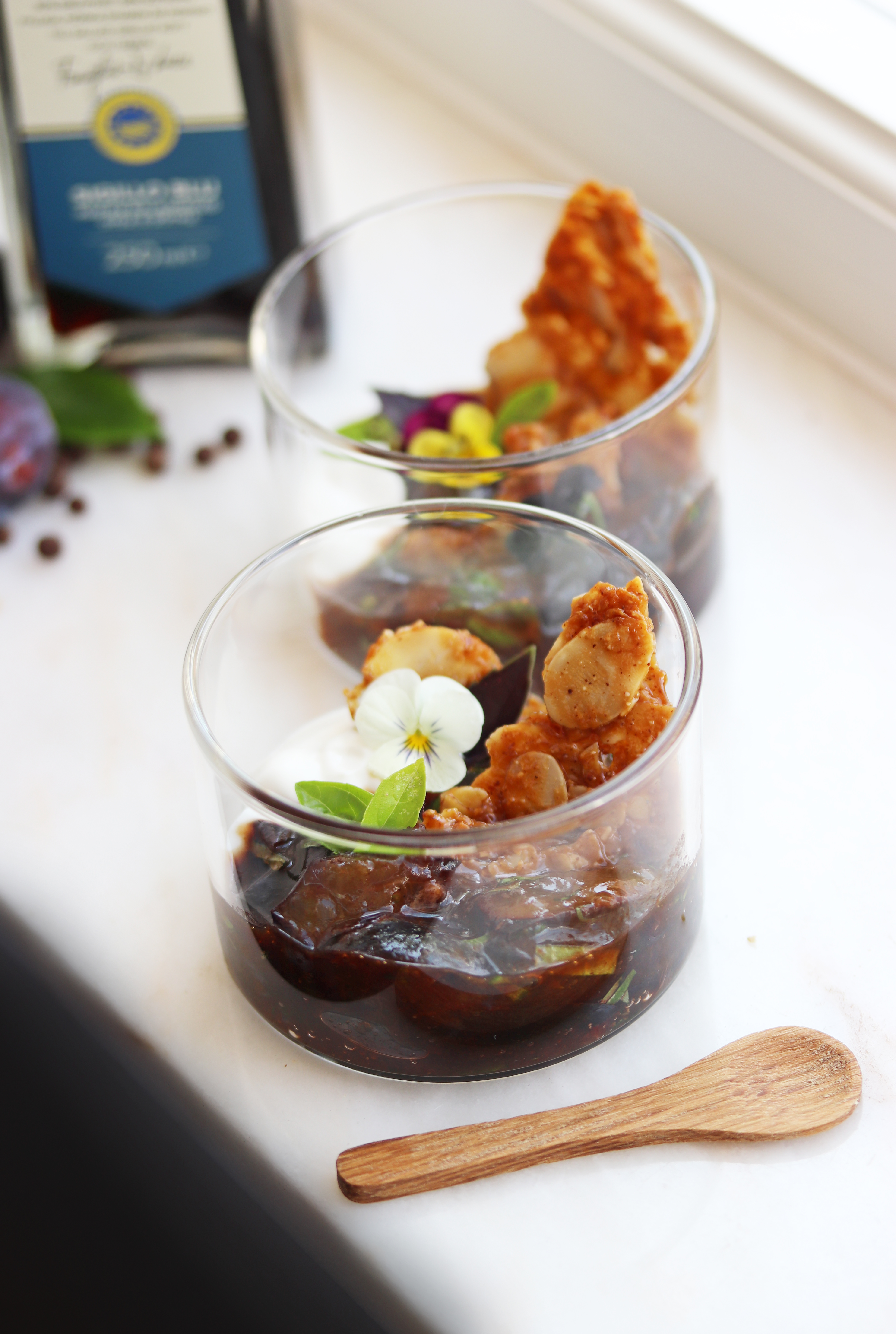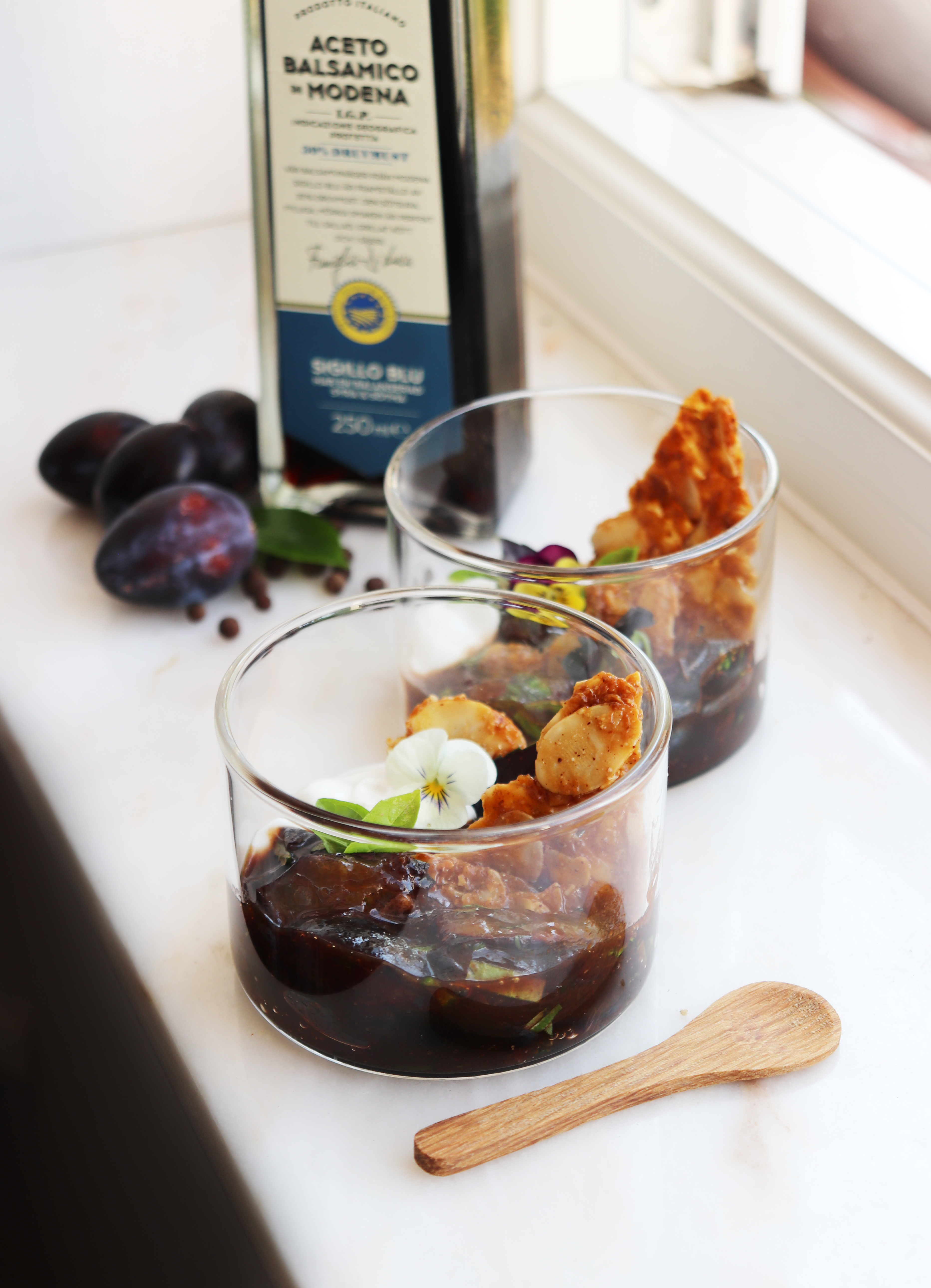 Print
Plum Salad with Crema di Balsimico, Basil, Black pepper served with Whipped Crème Fraiche and Almond Brittle
Plum salad
Around

40

/ 600g / 21 oz small plums

3

–

4

crema di baslimico or baslamic vinagear and some liquid sweetener
A pinch of black pepper
A large handful chopped basil
Almond brittle
1 tbsp

/ 30g nut butter of choice

3 tbsp

/ 25g coconut sugar

1/2 tbsp

/ 8g coconut syrup or other liquid sweetener

1/2 tbsp

milk of choice

1/2 tsp

vanilla essence/extract
A generous pinch of salt

1 tbsp

flour

1

,25 dl / 1/2 cup / 50g almonds, in chips or slivered
To serve
Crème fraiche (I used Oatly's) or cream of choice, whipped
Instructions
Pit the plums and cut in quarters. In a bowl gently mix all the ingredients, and set aside.
Preheat the oven to 150ºC / 300ºF, and line a baking pan with parchment paper.
In a small sauce pan over low to medium heat, combine the nut butter, coconut sugar, syrup, milk, vanilla, and salt. Once the sugar has dissolved, add the flour and cook for 2-3 more minutes. Add the almonds to the pan and stir until all coated with the caramel.
Take the pan of the heat and let the mixture cool for a minute or two. Quickly shape into 9 balls, place them on the baking tray and flatten out as much as possible. The brittle won't expand/flood out due to the lack of saturated fats in the nut butter. Bake for around 10 minutes, take out and let cool.
To assemble, portion the fruit salad between four bowl and serve with a dollop of crème fraiche and almond brittle. Enjoy!
Keywords: Plum fruit salad, vegan, balsamic, almond brittle, gluten free, healthy