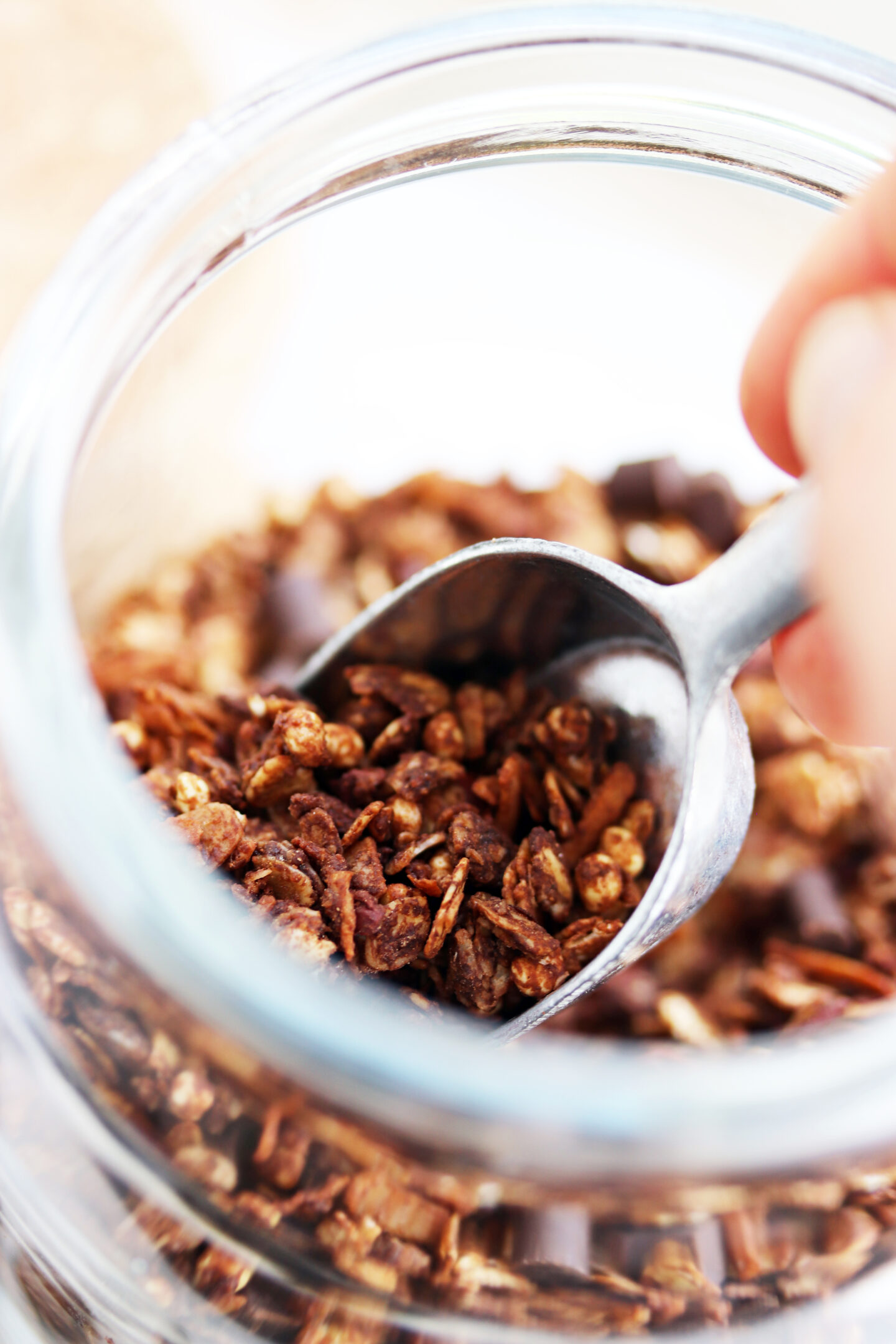 Granola is simply delicious! However, sometimes what you're eating with granola, like yoghurt or such, can overpower and mask the delicious flavour of the granola. In the contrary, this granola will not allow such silliness! It wants to shine and show the world how amazing it is! It is perfectly crunchy and delivers a fab salty chocolate flavour to any meal. Heck yeah! Also, if you add shredded coconut, the granola will taste like the Swedish treat "chokladbollar", which basically is a combination of coffee, cocoa, and coconut. Anyhow, I really don't know what more to say. Let me end with this: this is my absolute favourite granola recipe so far!
Enjoy!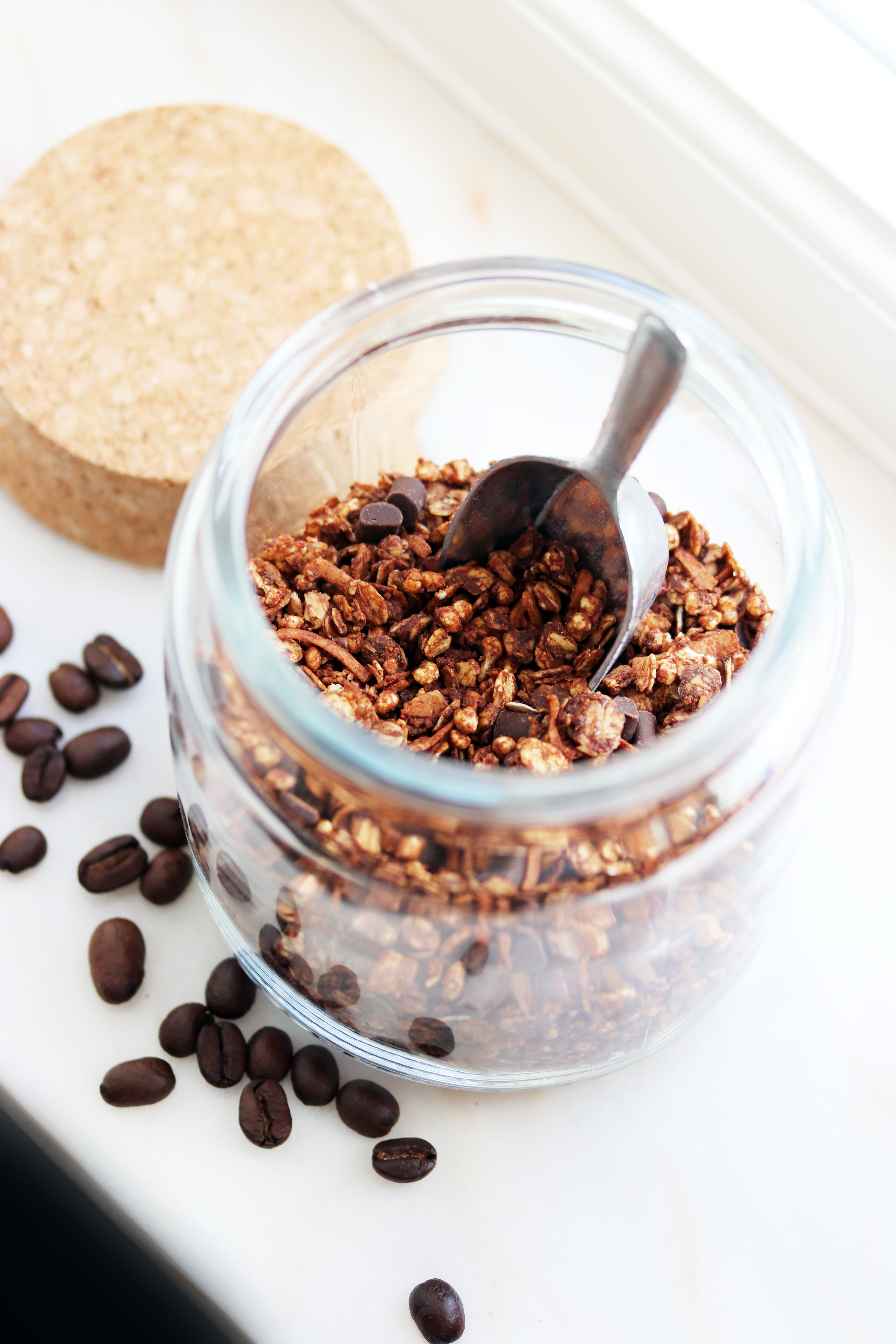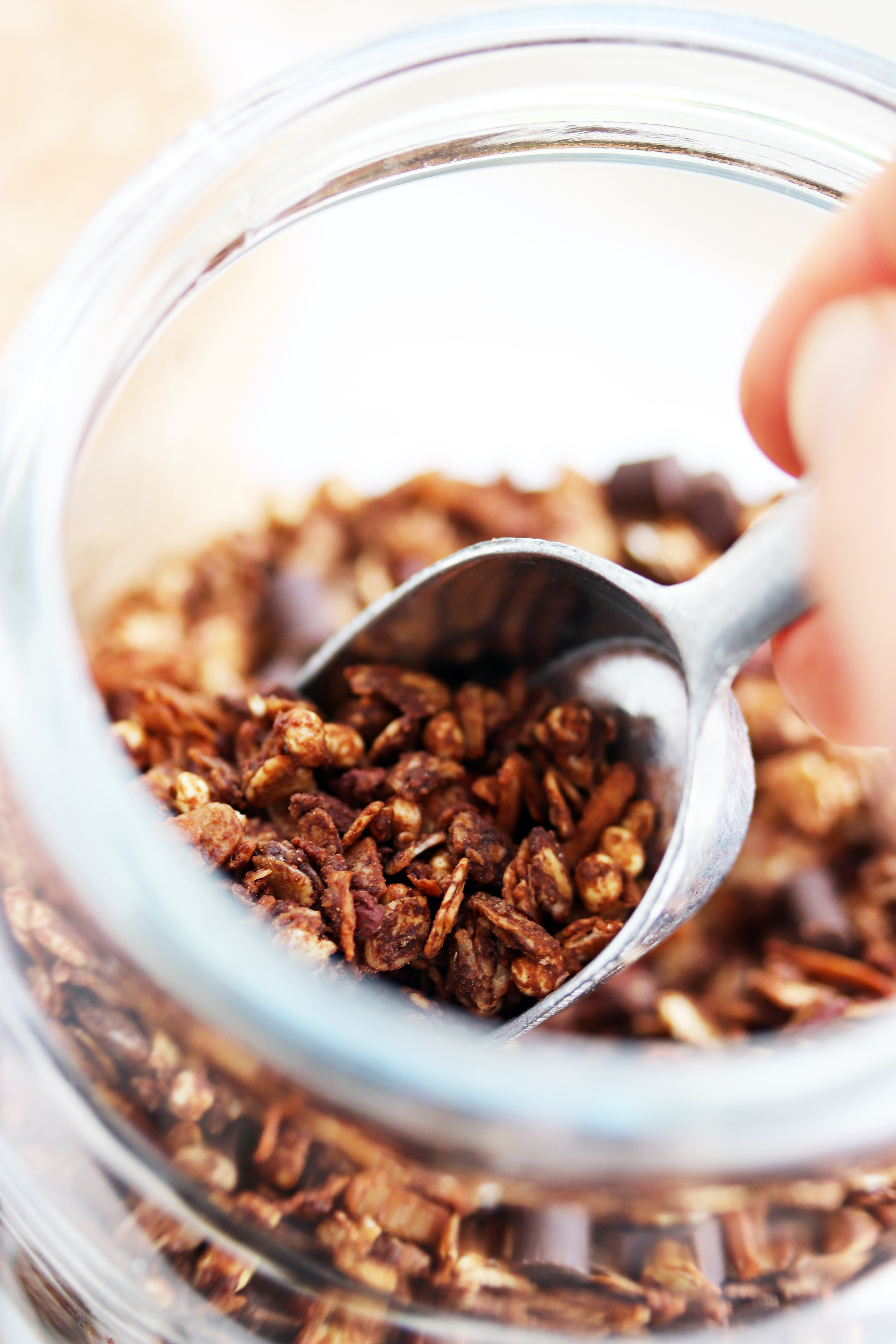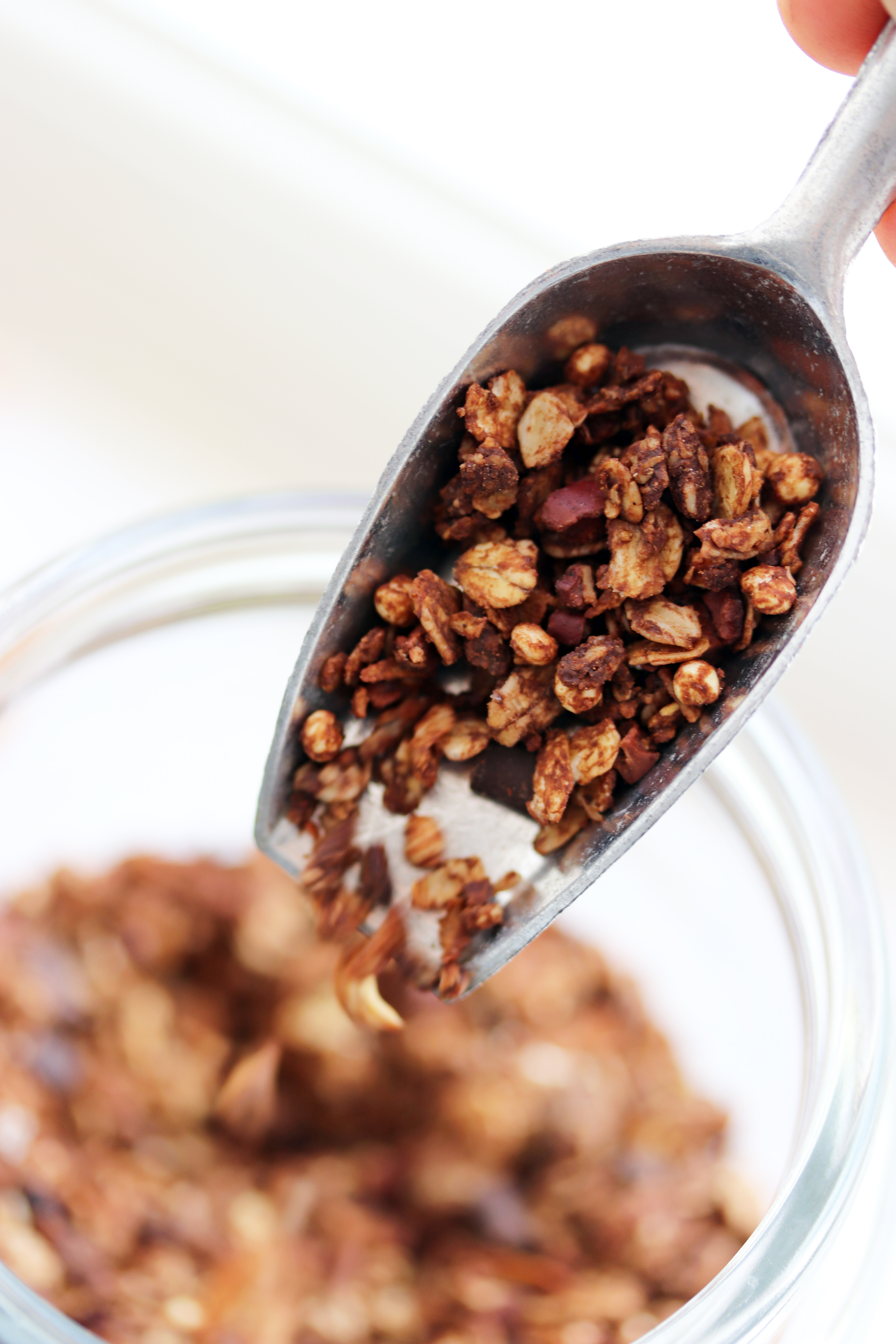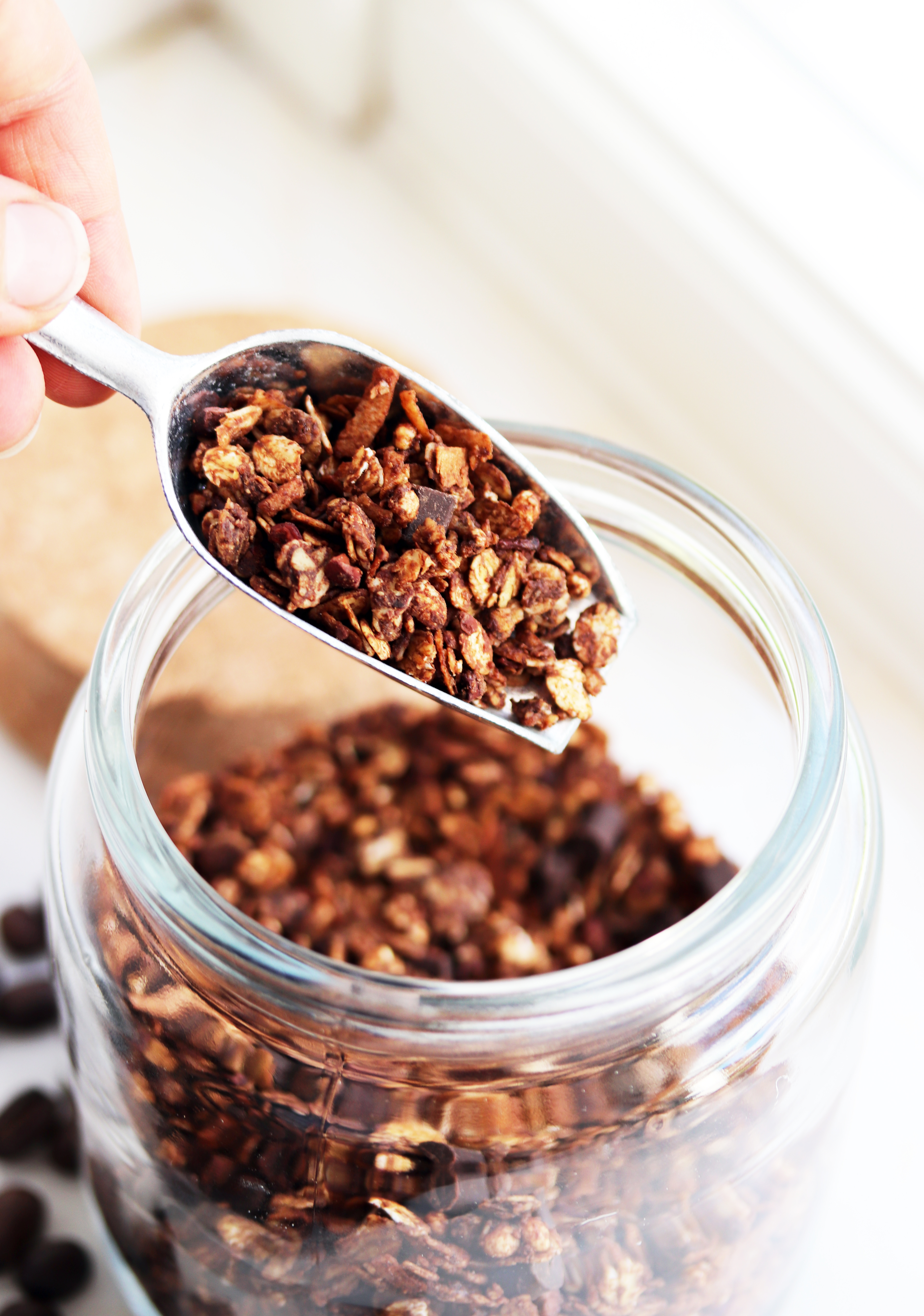 Print
The Perfect Decadent Salted Chocolate Mocca Granola
To this day, this is still my absolute favourite granola. It's ultra chocolatey yet perfectly sweet, crispy, and simply divine.
30g

dark chocolate

1 tbsp

/ 15g nut butter or oil of choice

2 tbsp

liquid sweetener of choice

1 tbsp

super strong coffee (or just water)

1/2 tsp

vanilla essence/extract
A pinch of salt

100g

/ 2,5 dl / 1 cup of rolled oats

10g

/ 3 tbsp puffed cereal of choice

3 tbsp

mixed chopped nuts and/or seeds

2 tbsp

cacao nibs or more nuts & seeds
Instructions
Line a baking tray with parchment paper. In a small bowl place the chocolate, nut butter/oil, sweetener, coffee, vanilla, and salt. Microwave on low, in 30-45 second intervalls until the chocolate has melted and it's a smooth "liquid".
Place the rest of the ingredients in a separate, larger bowl. Add the wet mixture to the dry and mix until fully coated. Transfer and spread out the mixture on the baking tray. If you'd like larger clusters you can pinch together small chunks/balls of the mixture. Set the oven to 175ºC / 350ºF and bake the granola, while the oven is still heating up, for around 12-15 minutes or until crispy. Be careful not to burn it. It's colour may deceive you. Let cool and enjoy!
Keywords: Healthy, oil free, chocolate, granola, coffee, vegan, refined sugar free