In celebration of national cinnamon bun day here in Sweden, I created these! Cinnamon swirl pancakes that I decided to pair with amazing nutty caramel ice cream by Frill. This recipe basically is me taking a the beloved combination of ice cream and pancakes and then upgrading it. The flavours are spot on, and it's a meal you can have whatever time of the day. It's a breakfast of champions, also the perfect meal to impress guests over for brunch, or to have for pancake Sunday lunch or indulgent dessert for dinner!
Not to forget, Frill is my absolute favourite ice cream. You could of course make nice cream or serve the pancakes with your favourite ice cream, but Frill's nutty caramel just compliments the pancakes like nothing else. Side note, this recipe is vegan, gluten-free, and utterly scrumptious! Perfect to serve fuzzy eaters, from children to people with allergies or dietary preferences.
Anyhow, I'd LOVE to know if you decide to try out these pancakes. Leave a comment bellow or message or tag me on Instagram. In the mean time, enjoy!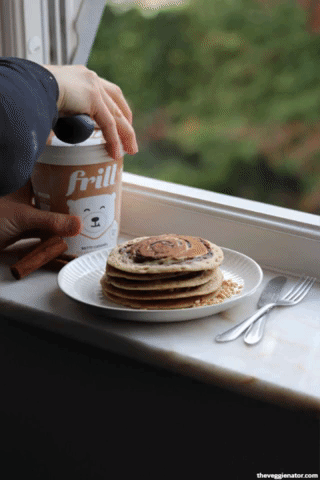 I have become slightly obsessed with making GIFs of my recipes. I know it's very wobbly and from now on I'll use my tripod next time, hehe.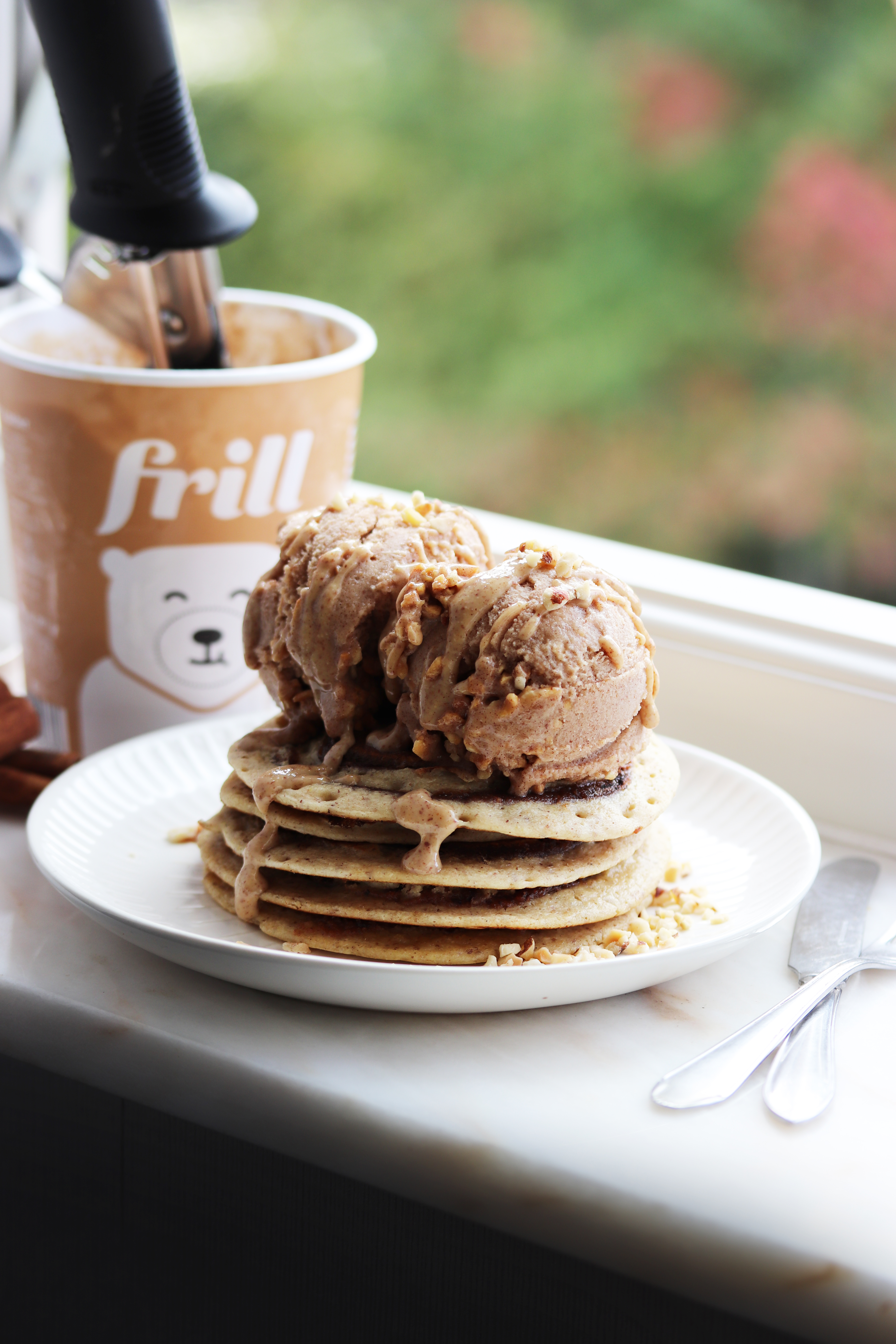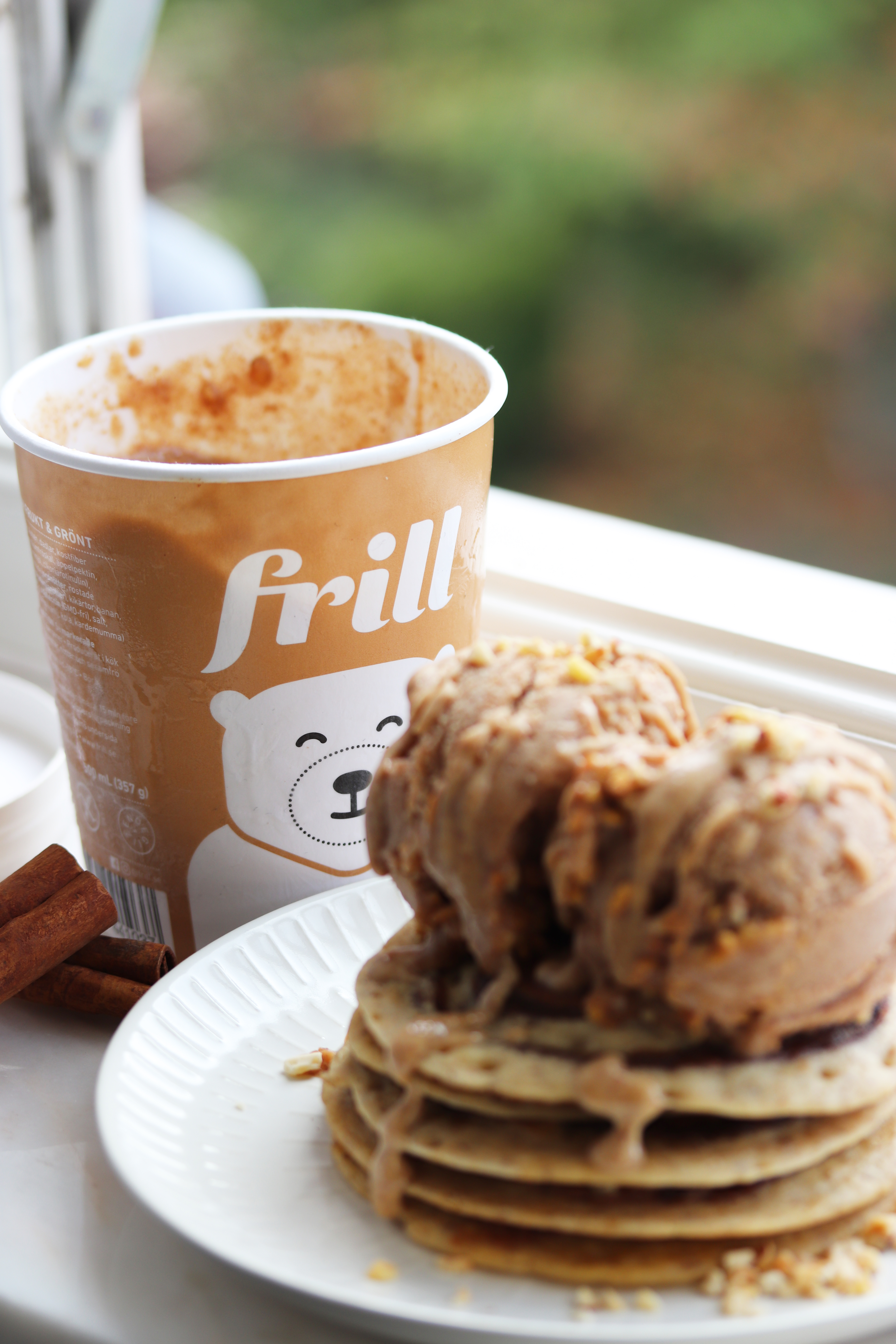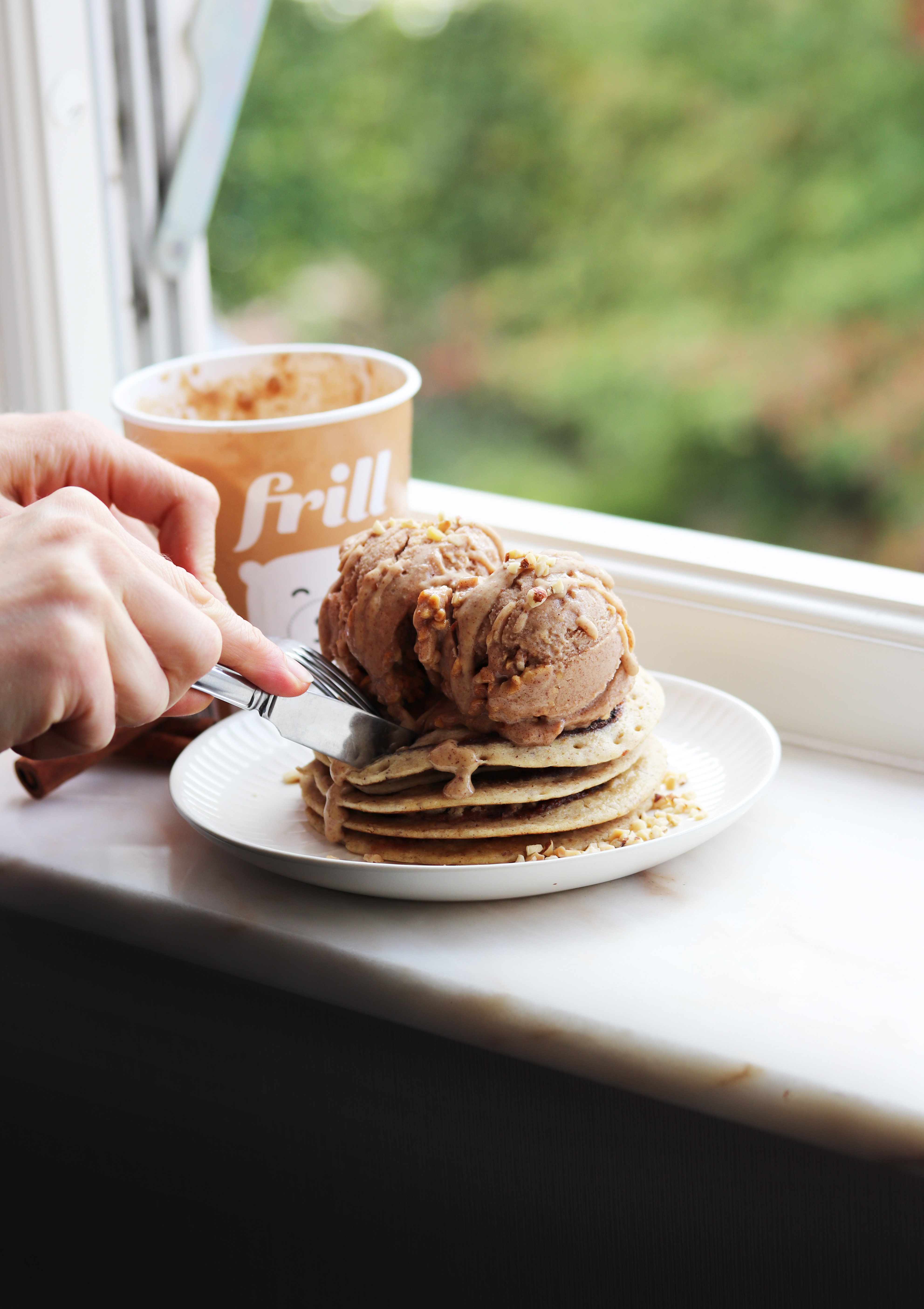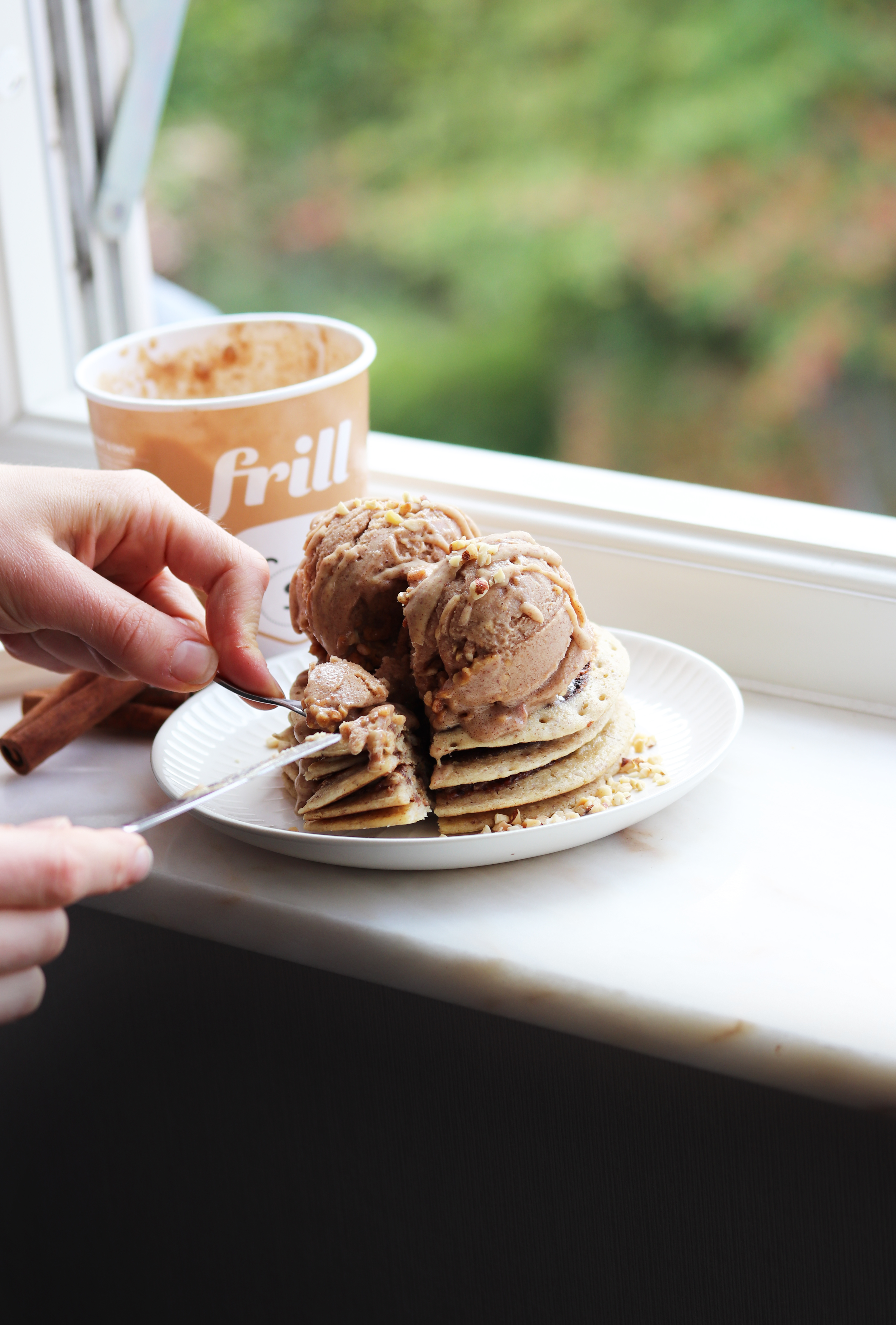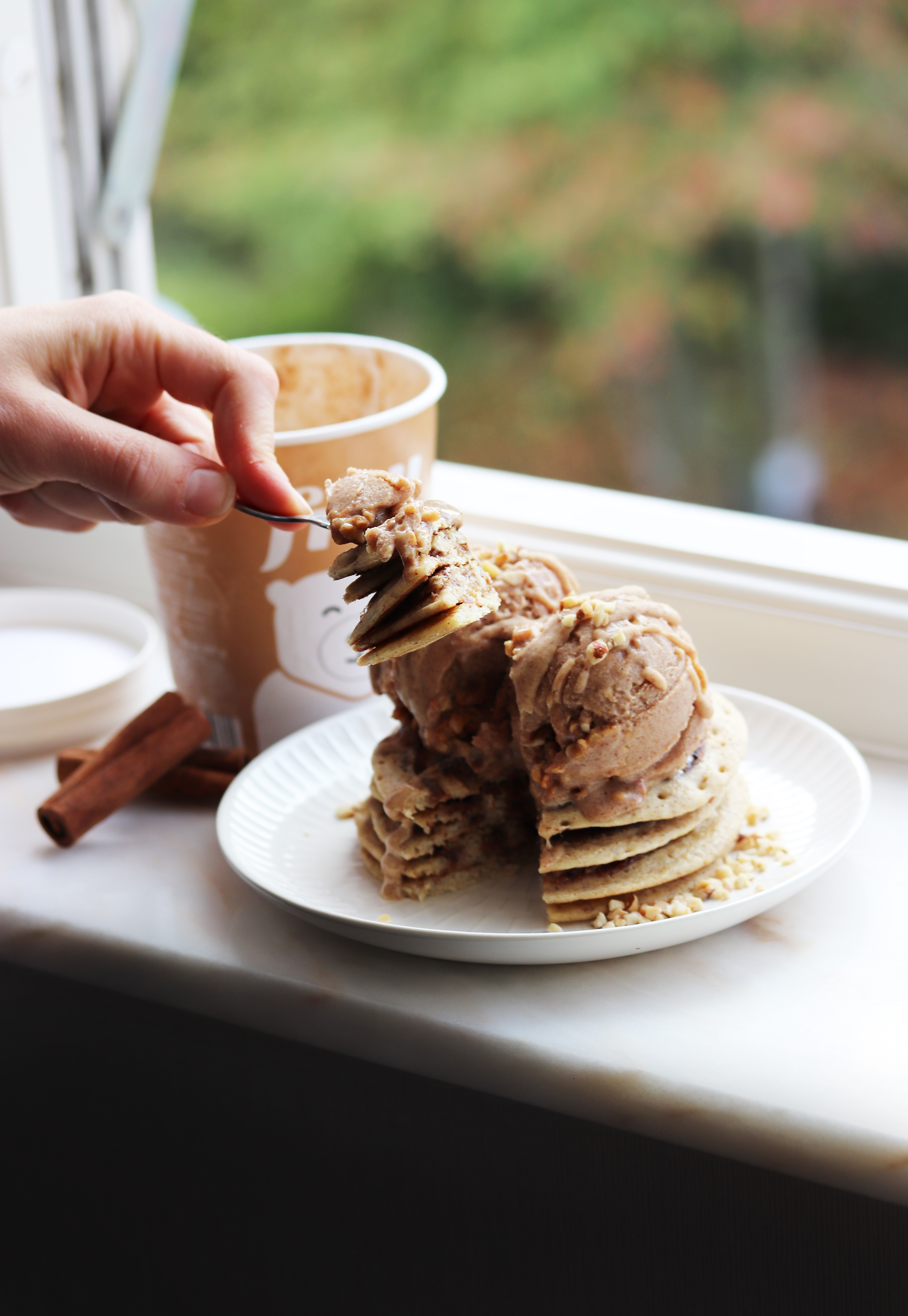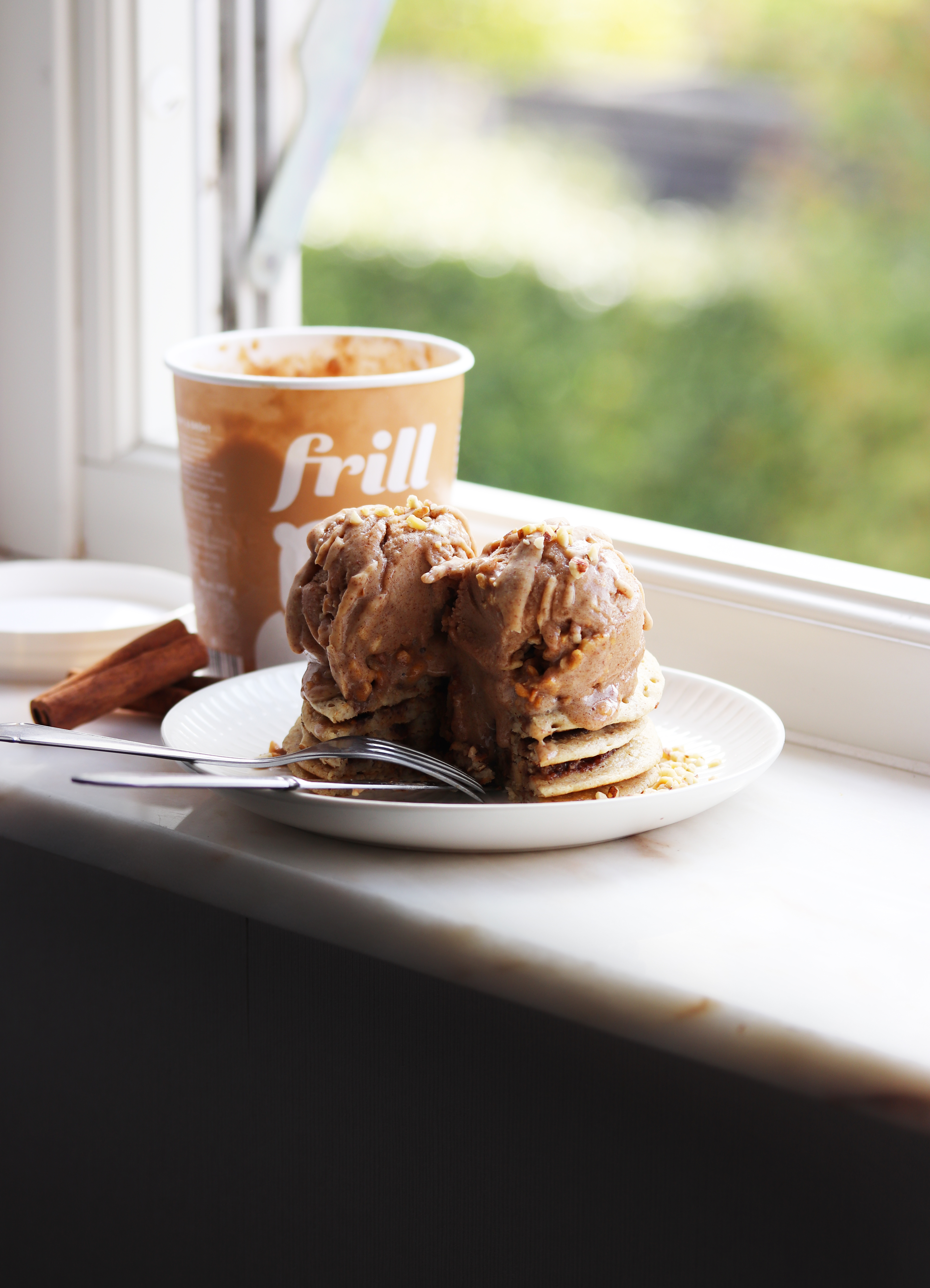 Print
Cinnamon Swirl Pancakes with Caramel Ice Cream
This is the perfect brunch, breakfast or even for lunch or dinner when you're craving something sweet and with lots of cinnamon.
Pancakes
2

,5 dl / 1 cup oat flour

1 tbsp

milled flax or chia seeds

1

,5 tsp baking powder
A pinch of salt
Optionally

1/2 tsp

cardamom
Optionally

1/2 tbsp

sweetener

2

,5 dl / 1 cup milk of choice

2 tbsp

margarine, oil or such for frying
Cinnamon filling
8

/ 80g / 2,8 oz pitted dates

1 tbsp

nut butter

2 tbsp

water

2

,5 tsp cinnamon

1/2 tsp

vanilla essence
A hearty pinch of salt
To serve
Instructions
In a bowl, mix together the dry pancake ingredients. While whisking start adding the milk until you get a nice smooth batter.
In a food processor, mixer or such, blend the ingredients for the filling completely smooth. Transfer the date mixture to a piping bag or a plastic bag. Make a small hole; its size depends on how thick of a cinnamon swirl you'd like.
Now about time to take your ice cream out of the freezer to thaw slightly.
Heat up 2 tbsp of fat in a pan on medium heat. Add the excess to the batter, and then start cooking your pancakes. I used around 2 tbsp batter per pancake. Immediately after pouring the batter in the pan, take your piping bag and pipe, slightly into the pancake, a swirl pattern. When still some of the batter hasn't fully cooked (let the pancakes cook less than you usually do) flip the pancake and let cook for another minute or two. The first one or two pancakes might be slightly difficult to make as you need to get the hang of when to flip your them. A little bit of filling may stick to the pan but just remove it before cooking the next one.
Stack your pancakes, top with some delicious Frill ice cream and drizzle some nut butter on top and voilà! Devour!
Keywords: Pancakes, cinnamon swirl, healthy, vegan, gluten free