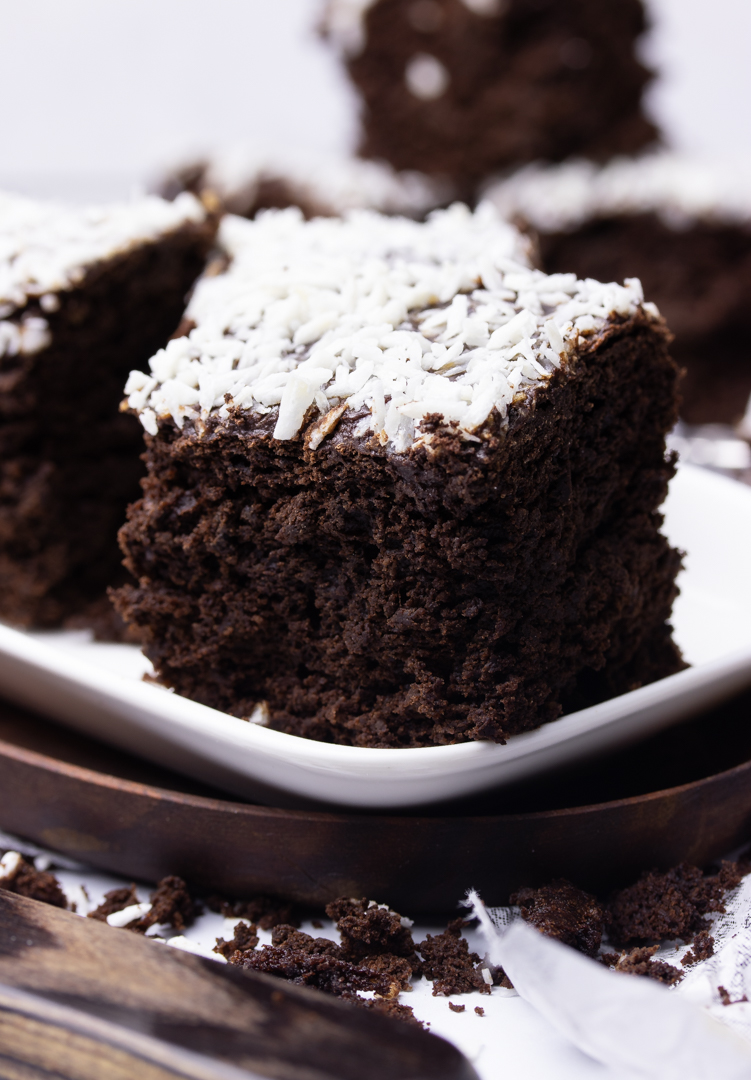 "Kärleksmums" is definitely one of Sweden's most loved but slightly underrated treats. It actually is a stable to make for Valentine's day here in Sweden most probably because "Kärlek" means love and "mums" is yum in Swedish. Not only is it ultra chocolately and decadent tasting but the name screams Valentine's day! However, you can obviously make these any time of the year for any occasion. Perhaps to bring to work, for your partner, family or why not yourself! Hey, remember to take care of yourselves, guys, because you deserve it.
In addition, this "kärleksmums" is both gluten free, vegan, and pretty darn wholesome/healthy. They're perfect for basically anyone regardless of allergy of preference as long as they like delicous food.
Enough rambling, enjoy!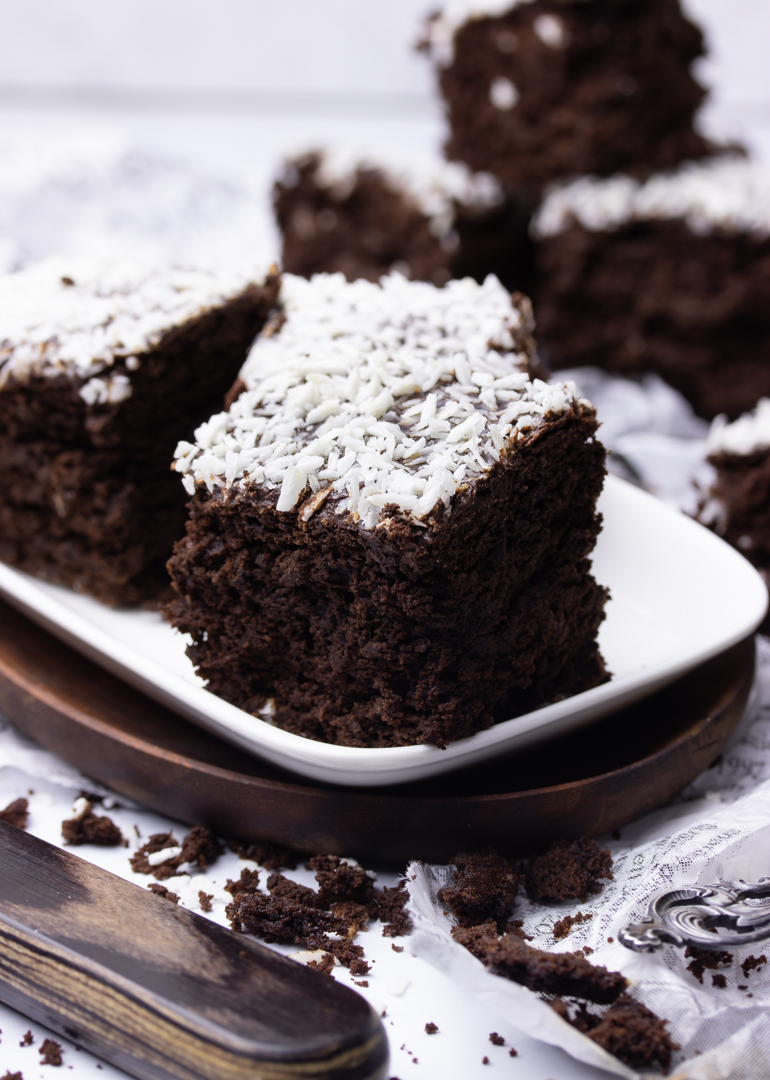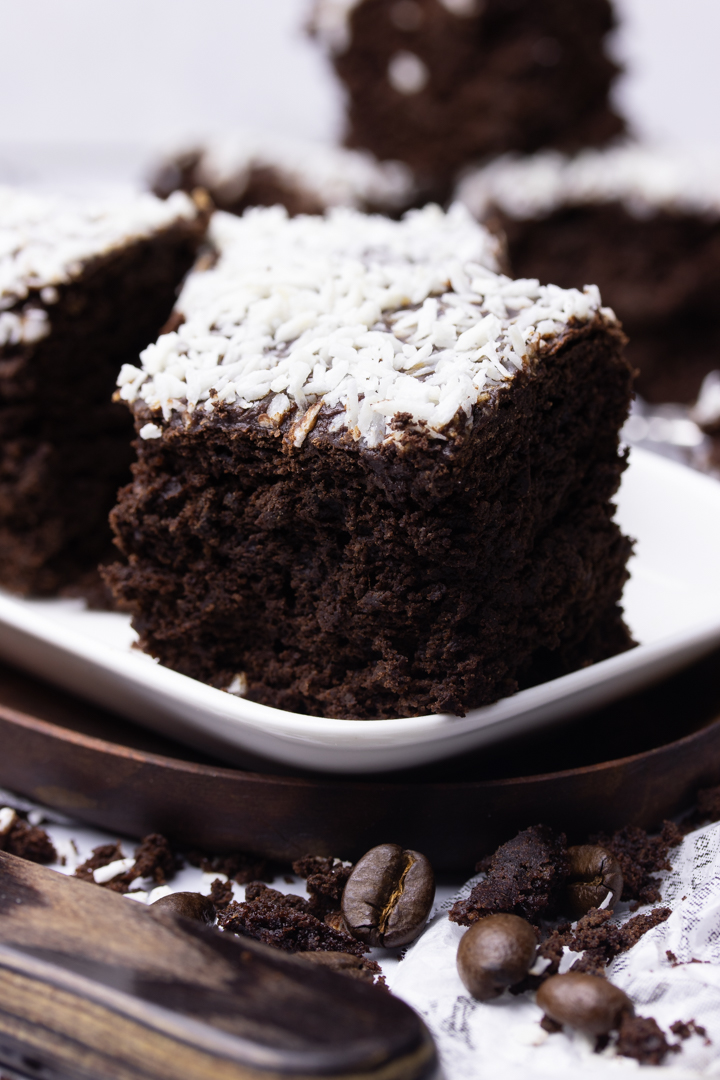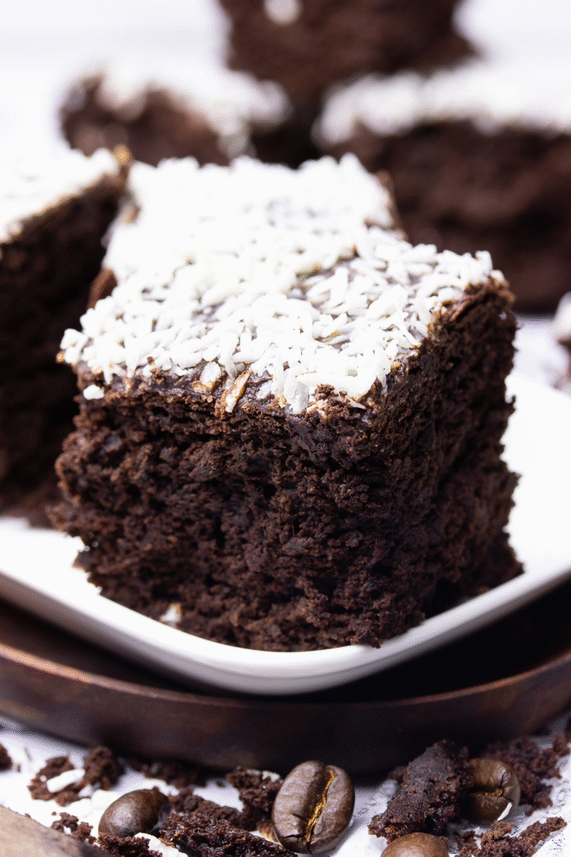 You know by now how much I love making GIFs, hehe. Just look at that texture!
Print
Kärleksmums A.K.A. Chocolate Cake with Chocolate Coffee Glaze and Shredded Coconut
Kärleksmums is a classic and nation wide loved Swedish treat consisting of a chocolate cake topped with a coffee chocolate glaze and shredded coconut. Kärleksmums directly translated even means "love yum" which implicates how delicious it is.
75g

/ 2,6 oz oat flour

50g

/ 1,75 oz cocoa powder

1 tbsp

milled flax or chia seeds

1 tsp

baking powder

1/2 tsp

baking soda
A pinch of salt

200

ml / 1 cup minus 3 tbsp milk of choice

25g

/ 0,9 oz coconut sugar or other granulated sweetener

60g

/ 2,1 oz pitted dates

20g

/ 0,7 oz nut butter of choice

1/2 tsp

vanilla extract

20g

/ 0,7 oz dark chocolate, melted
Glaze + topping
1 tbsp

strong coffee

30g

/ 1 oz dark chocolate, chopped

1 tbsp

liquid sweetener, room temperature
A pinch of salt
A handful of shredded coconut for topping
Instructions
Preheat the oven to 175ºC / 350ºF and prepare a brownie/cake pan. My brownie pan was 18 x 18 cm / 7 x 7 inches.
In a large bowl mix the oat flour, cocoa, milled seeds, baking powder, baking soda, and salt.
In a blender, blend the milk, sugar, dates, nut butter, and vanilla smooth.
Add the wet to the dry and mix until just combined. Add the melted chocolate and give another stir until incorporated.
Transfer the batter to the cake tin and bake for 18-21 minutes or until a tooth pick runs clean.
While you let the cake cool place the coffee and chopped chocolate in a microwave safe bowl. Microwave until the chocolate has melted, add the liquid sweetener and salt, and mix until you get a nice glaze.
Take a piece of cutlery and, using the end of it, poke small holes into the cake. Transfer and spread out the glaze on top of the cake, top with shredded coconut, and let set in the fridge or room temperature. Cut up and enjoy!
Notes
If you'd like the glaze layer to be thicker, just double the glaze measurements above.
Keywords: Kärleksmums, vegan, chocolate cake, gluten free, healthy, oil free, coffee