Guys, don't let the fact that this bread is bread and complicated-looking scare you off! Honestly, "braiding" is more like twisting and super easy. Before we move on, I must say I'm mighty proud of that side cut and all that marbling. Damn!
I'll keep this short as I for once actually believe that the pictures speak for themselves. This sweet yeast bread loaf is not only filled with love but also the most delicious chocolate filling. I used hazelnut butter in the filling to get some nutella feeling, but you can use whatever nut butter you prefer. I don't know what more than to say that this is to say the least an impressive piece of baking and absolutely delicious. It simply is scrumptious. Wow, I'm speechless, haha. Enough rambling, enjoy!
PS. If you try making this, try toasting a slice and spreading some nut butter on top for a mouth watering snack.
Pre- and post baking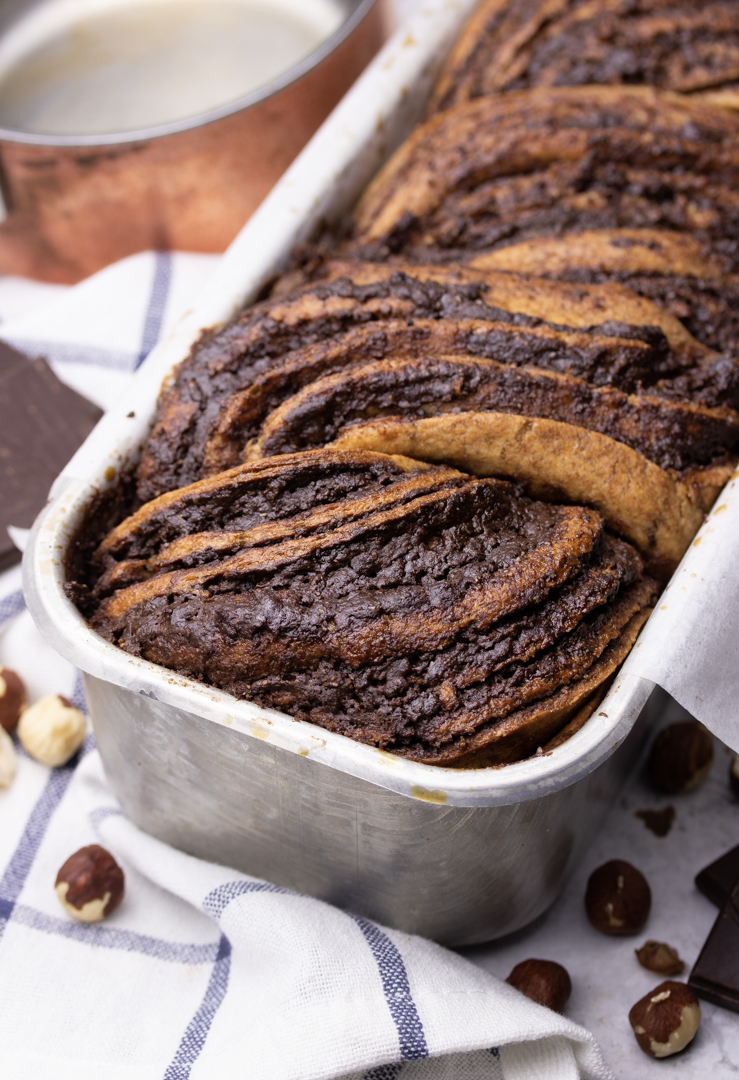 Also, here's a video showing what the braiding process looks like.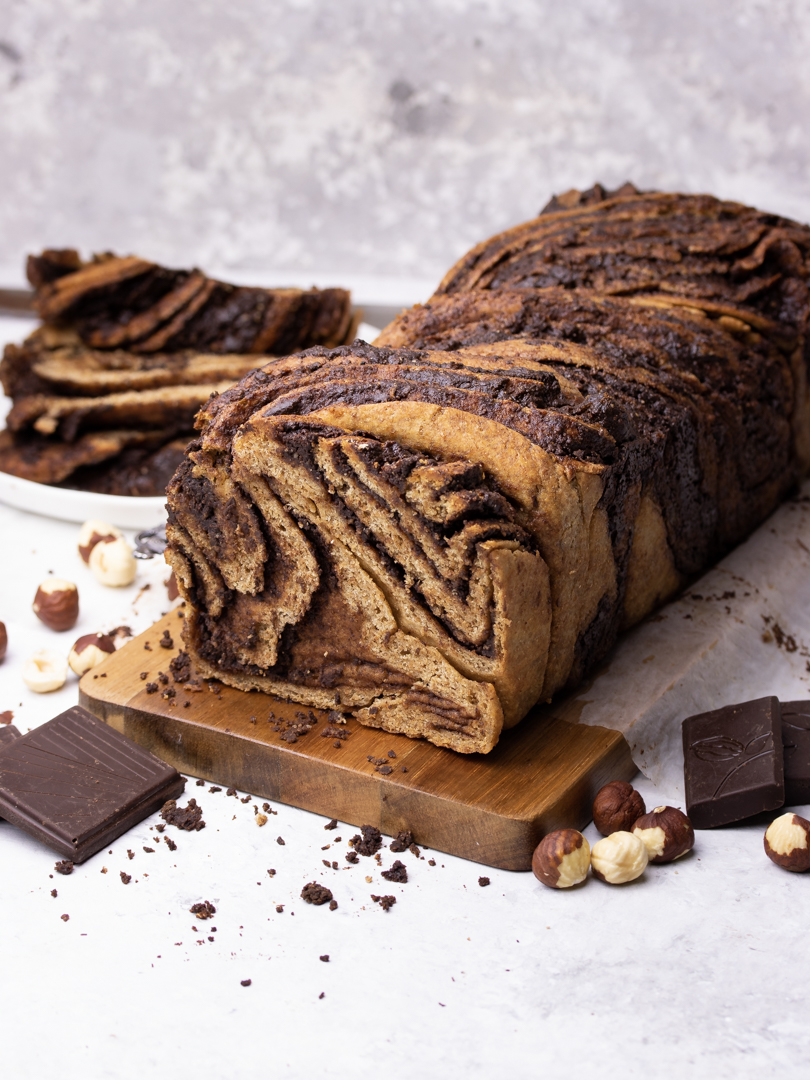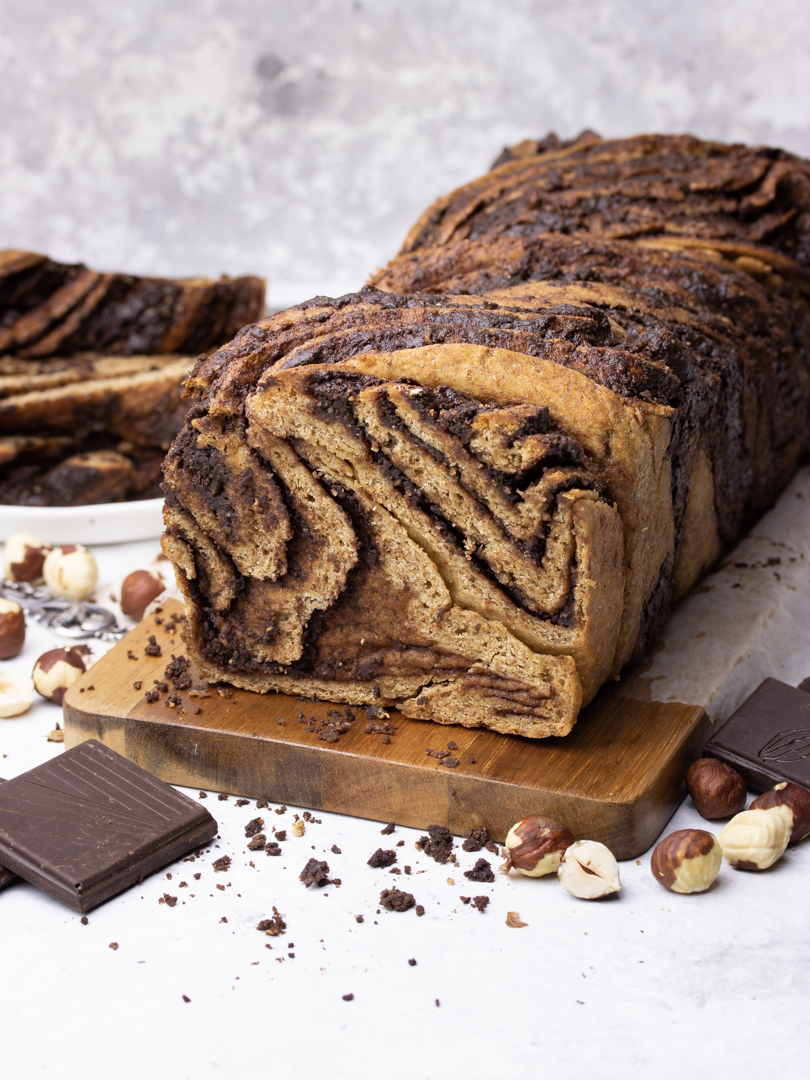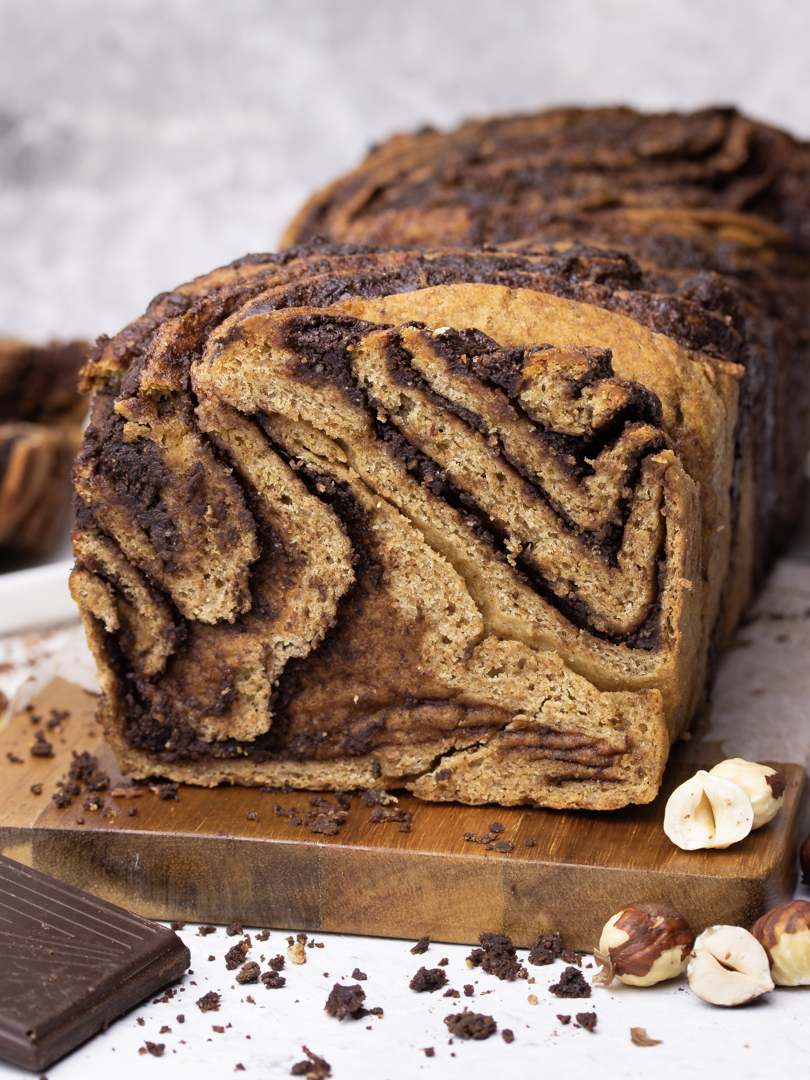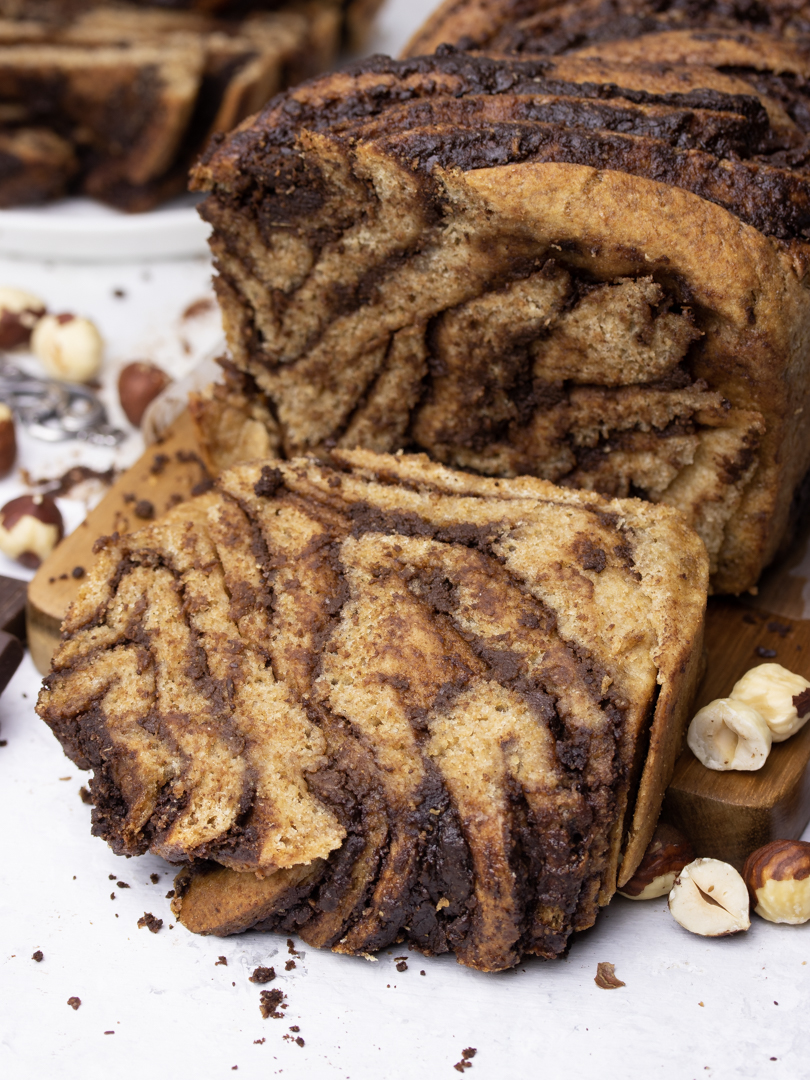 Print
Gorgeous Braided Chocolate Bread A.K.A. Babka
This is my version of the classic chocolate filled babka. It is beautifully braided showing off the amazing chocolate hazelnut filling and is best enjoyed with a glass a milk and a good friend (or yourself).
For the dough
4

dl / 1,75 cups luke warm milk of your choice

30g

/ 1 oz melted margarine or oil of choice

4 tbsp

liquid sweetener of choice

15g

/ 0,53 oz dried yeast or

50g

/ 1,75 oz fresh yeast, crumbled*
∼480g / 16,9 oz whole grain flour**
For the filling
200g

/ 7 oz dark chocolate, broken up into pieces

100g

nut butter (I used hazelnut butter)

4 tbsp

milk of choice

1/2 tsp

vanilla essence
A hearty pinch of salt
Sugar "syrup" for brushing***
2 tbsp

water

15g

/ 1/2 oz coconut sugar
Instructions
Grease and line a bread loaf tin with parchment paper.
In a large bowl mix the lukewarm milk, oil/margarine, sweetener, and fresh yeast*.
Start mixing in 3,5 dl / 1,5 cups flour, then continue adding a tablespoon of flour at a time until the dough starts to pull away from the bowl.
Form a ball out of the dough and flour well. Put it back in the bowl and let proof for 20-25 minutes.
In a large bowl, place chocolate, nut butter, milk, vanilla, and salt. Melt in the microwave on low to medium effect until the chocolate is completely melted. Mix into a thick nice chocolate filling.
Preheat the oven to 160°C / 320°F. On a well-floured surface (you need more flour than you think, trust me) roll the dough into a large rectangle, mine was 35 x 45 cm / 14 x 18 inches. Cover the rectangle with the chocolate filling leaving the edges, around 1,5 cm / 1/2 inch, clean. Tightly roll the rectangle into a thick log. Trim of about 1,5 cm / 1/2 inch of each end. You can bake the ends separately from the bread in a muffin liner or such. Cut the log lengthwise and lay the halves cut side up. Start to twirl together by lifting one side over the other, to form a twist/braid. Always keeping the cut sides facing up. Pinch and twirl the bottom end together to keep the dough in place. Then carefully transfer the bread into the prepared bread tin and let proof under a tea towel for 60-90 minutes.
For the sugar syrup, place the water and coconut sugar in a small sauce pan and heat on the stove over medium heat until the sugar is dissolved.
Bake the bread in the oven until nice and golden for 40-45 minutes. The inner temperature of my loaf was 90ºC / 195ºF once done. Take out of the oven and brush on all the sugar syrup. Let cool before slicing and serving. Enjoy!
Notes
*If you use dried yeast, mix and let it sit and active with the flour for ten minutes before mixing the wet and dry. **As the gluten is a vital part of the bread, I do not and can not recommend using gluten-free flour in this recipe. ***You could skip the sugar "syrup", but then you'd miss out on how much prettier and slightly sweeter it makes the loaf.
Keywords: Babka, chocolate, hazelnut, nougat, baking, vegan, healthy