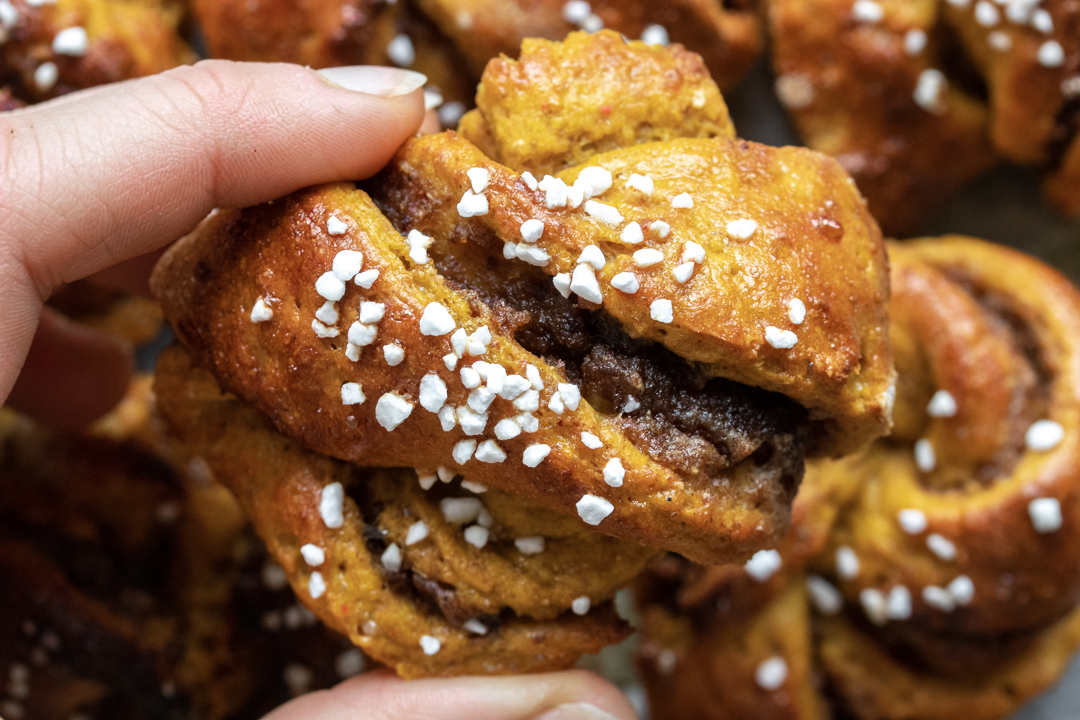 Christmas is approaching, and so is the Swedish Lucia celebrations. If you'd like to know more about Lucia, or what actually traditionally is eaten during the celebration, check our my traditional saffron bun recipe to read more. Moreover, these are a classic with a delicious, spiced twist. These are classic Swedish Saffron buns filled with ginger bread spiced caramel filling, so basically, the Christmas cousin to cinnamon rolls. How about that? Let me end with telling you that even my brother, who doesn't like saffron nor saffron buns, loved these. If you ask me making someone to liking something that they usually don't like is the best kind of feedback.
Enjoy!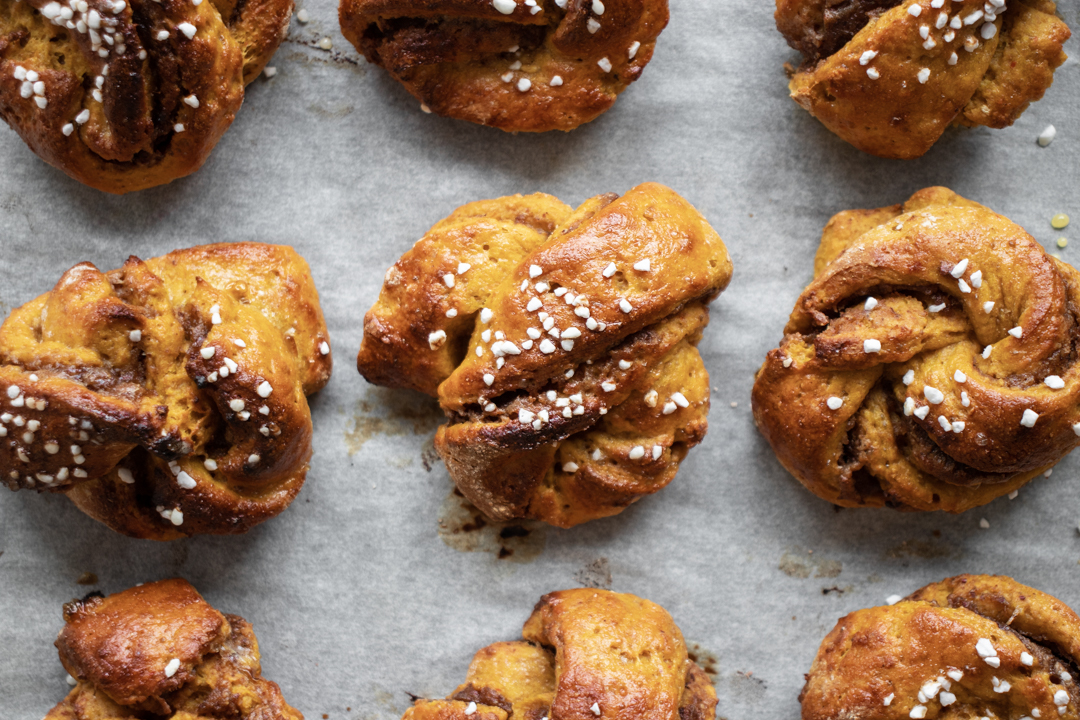 This is a little video I made to show you guys how I shaped my buns into knots. I hope you find it helpful! XO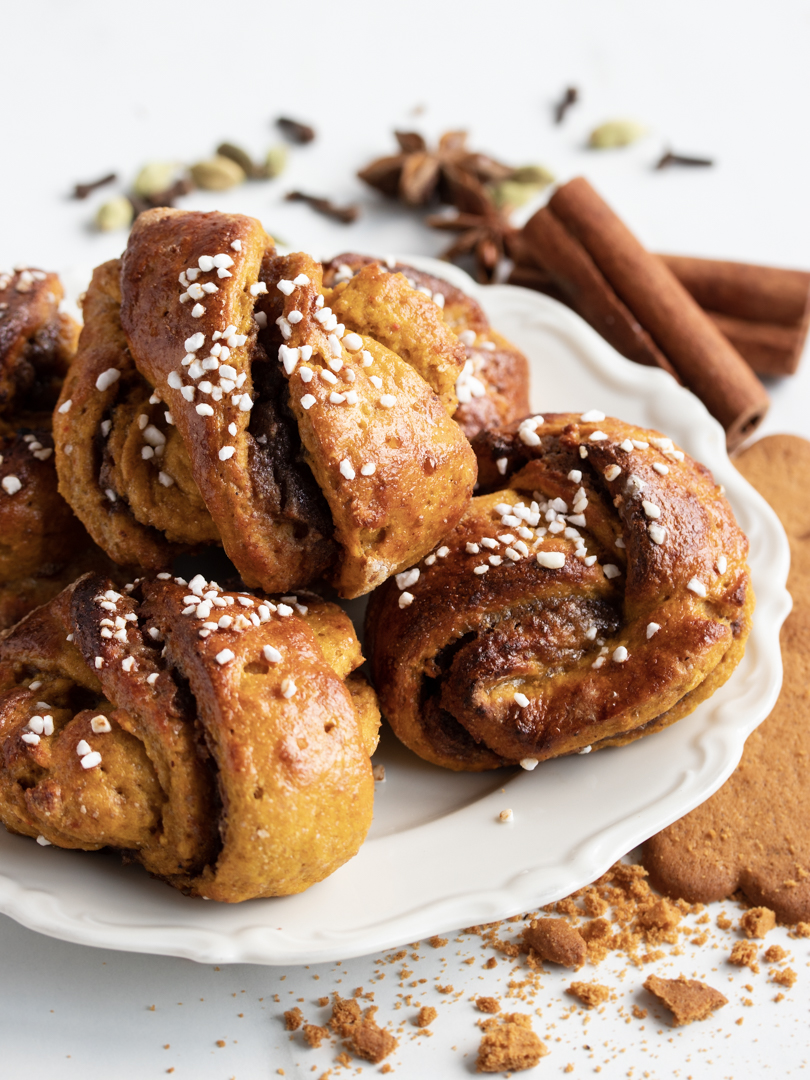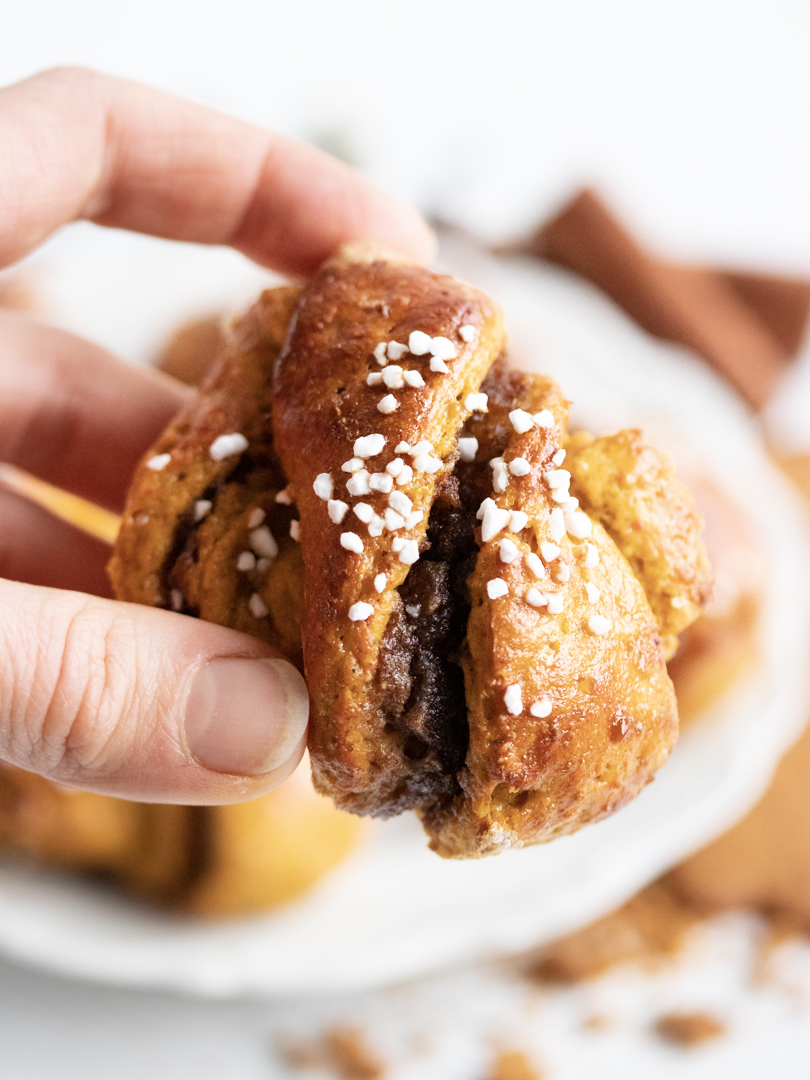 Saffron Buns with Gingerbread Spiced Caramel Filling
Serving 20 buns
Ingredients
For the filling
200g / 7 oz dates
2 tbsp nut butter
4-6 tbsp water
1 tsp ground cinnamon
1 tsp ground ginger
3/4 tsp ground cardamom
3/4 tsp ground cloves
A pinch of salt
A splash of vanilla essence
For the dough
4 dl / 1,75 cups milk of your choice
30g / 1 oz melted margarine or oil of choice
4 tbsp liquid sweetener of choice
1 g / 1/2 tsp ground saffron
15g / 1/2 oz dried yeast or 50g / 1,75 oz fresh yeast, crumbled*
∼450g / 15,9 oz whole grain flour**
Plant milk or cream or such for brushing
Pearl sugar for decorating
Directions
Start with the filling. In a food processor, blender, or using a hand mixer, mix all the ingredients for the filling completely smooth.
Continue with the dough. In a microwave safe bowl or in a medium sauce pan, combine the milk, oil/margarine, liquid sweetener, and saffron. Warm in the microwave or on the stove until luke warm.
In a large bowl mix together the luke warm liquid and fresh yeast*.
Start mixing in 2 dl / 0,75 cups flour, then continue adding a tablespoon of flour at a time until the dough starts to pull away from the bowl.
Form a ball out of the dough and flour well.
Preheat the oven to 225°C / 450°F. Transfer the dough to a well floured surface and knead for a couple of minutes. You can shape the buns two ways, into the classic cinnamon bun or a twisted knot shape. The following instructions is for how to make the buns into knots, but you can find how to shape your buns the other way in my cinnamon bun recipe.
Divide the dough into two equal pieces. Using a rolling pin, roll one of the pieces of dough into a 30×30 cm / 12×12 inch square. Transfer and spread out the half of ginger spread filling onto half of the rolled out square. Fold the square, the half without filling on to the one with, and slice into 10 strips. Repeat and do the same to the other half of the dough.
Take the strips and twist and fold them together (see video above). Place buns, well spaced apart, on 2 baking sheets, cover with a cloth and set aside in a warm spot to rise for at least 30 minutes.
Brush the buns with a plant milk or plant cream and decorate with pearl sugar. Bake the buns for 7-9 minutes, until golden brown on top. Transfer to a wire rack to let cool slightly. Enjoy!
NOTE *If you use dried yeast, mix and let it sit and active with the first 2 dl / 0,75 cups of flour for ten minutes before mixing the wet and dry. **As the gluten is a vital part of the bread, I do not and can not recommend using gluten-free flour.