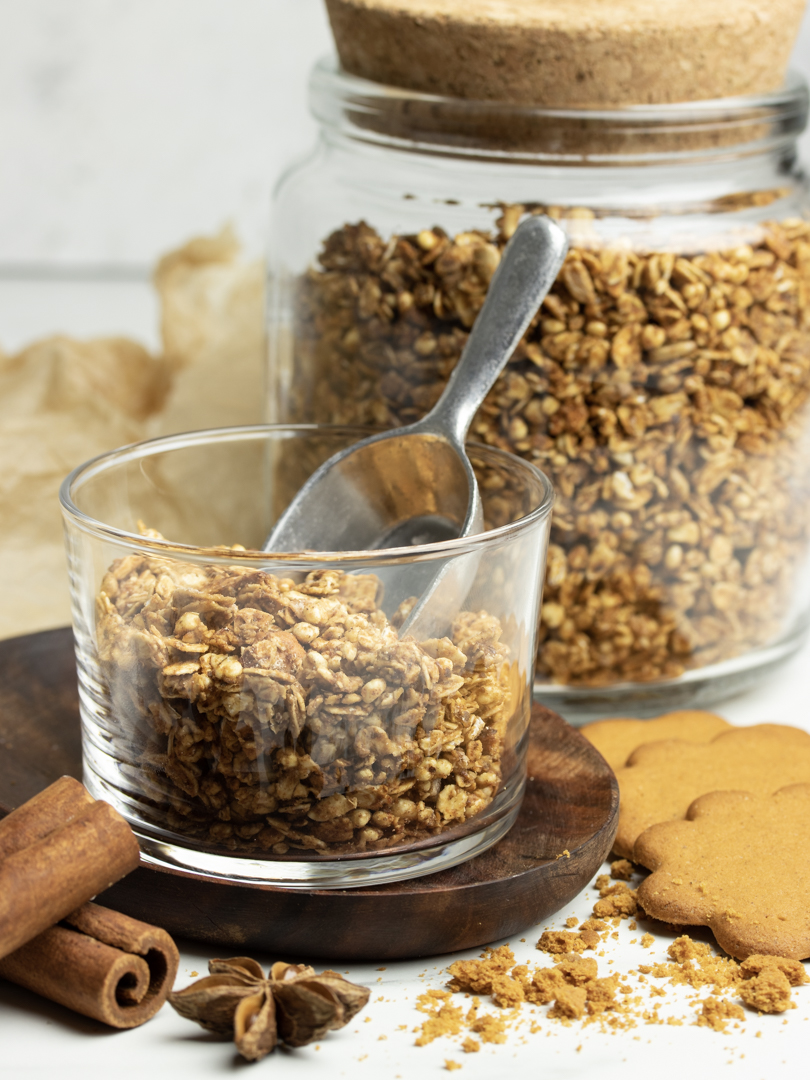 Guys, I have a problem. My problem, almost addiction, is that I am making everything I bake ginger bread or saffron spiced… I don't know what you think, but I think it's a wonderful problem to have! Well, at least it is in December. In result, I of course had to make some fabulous ginger bread spiced granola once I ran out of my favourite chocolate granola, which happened a couple of days ago. And voilà! Here you have the recipe for the most delicious, decadent tasting, nutty, perfectly sweet and crispy ginger bread granola. Eating this granola basically is like eating mouth fulls of heavenly Christmas spirit. Who can deny something as delicious and wonderful like eating something that gives you the joyful festive feeling? I certainly can not!
As always, sending lots of love you guys, and enjoy!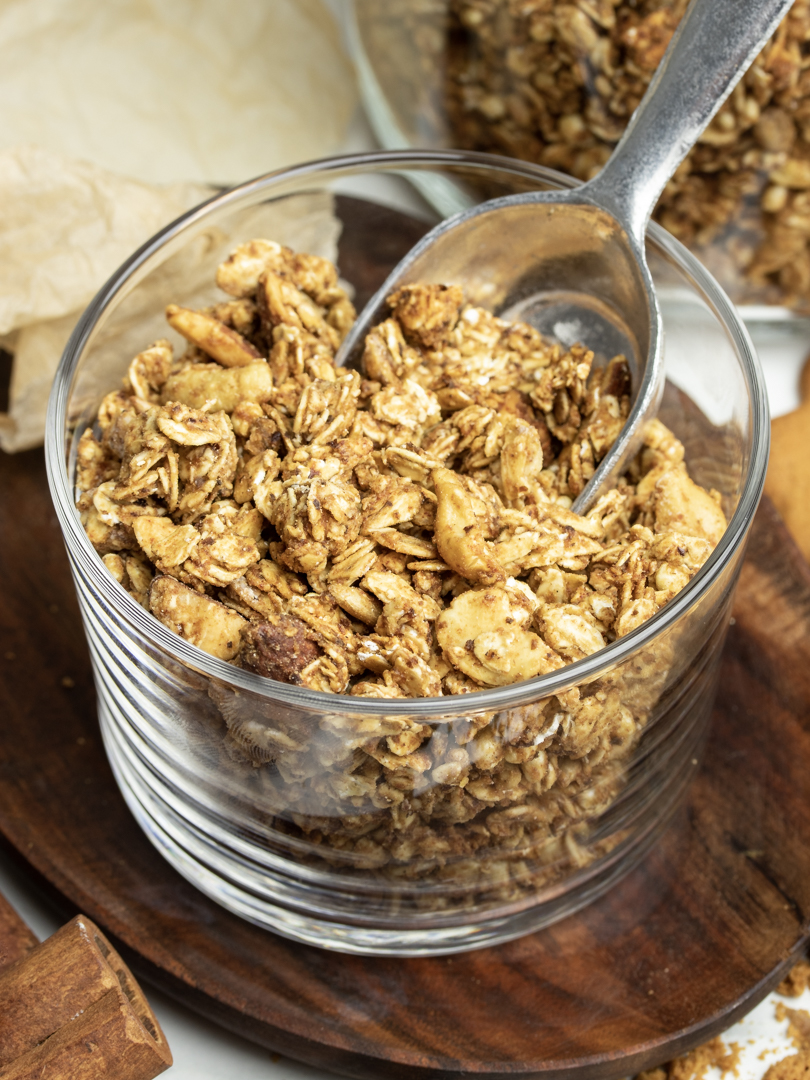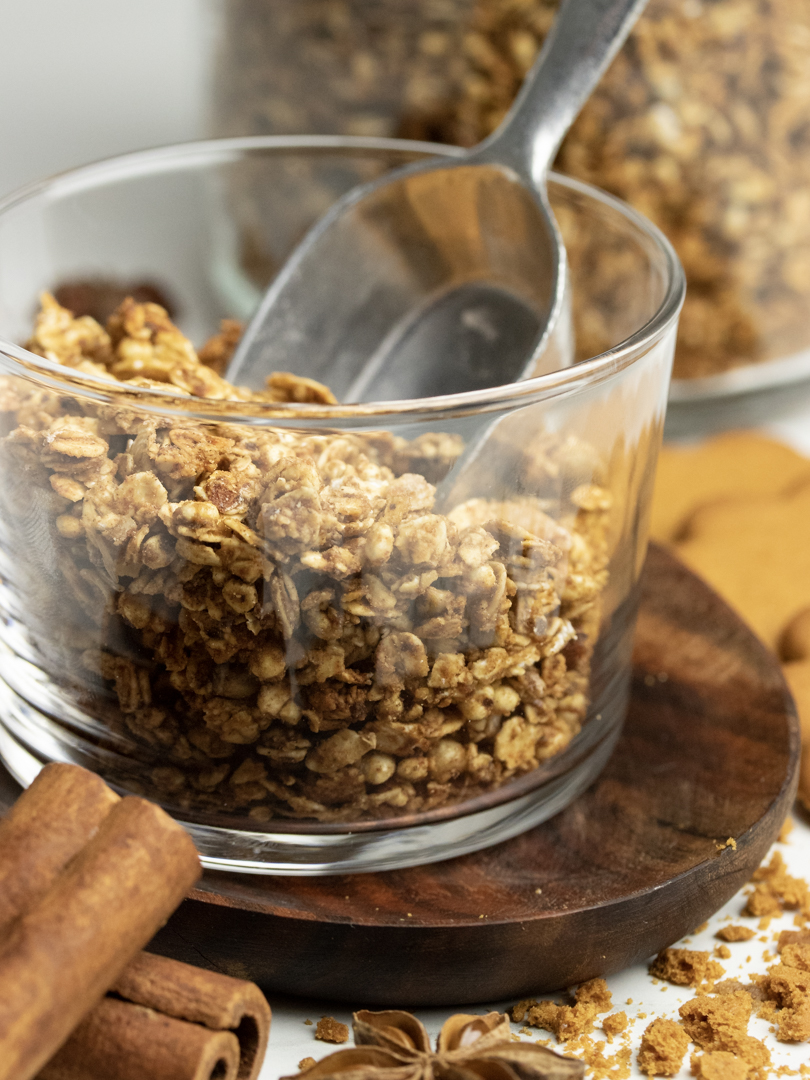 Print
Perfectly Crispy Nutty Gingerbread Granola
Now you can enjoy the flavour of ginger bread for breakfast!
200g

/ 7 oz pitted dates

3 tbsp

nut butter of choice

1

,25 dl / 1/2 cup water
A pinch of salt
A splash of vanilla extract

1 tsp

cinnamon

1 tsp

ground dried ginger

3/4 tsp

ground cardamom

3/4 tsp

ground cloves

7

,5 dl / 3 cups rolled oats

1

,25 dl / 1/2 cup mixed nut and seeds of choice

1

,25 dl / 1/2 cup puffed cereal, buckwheat, or more nuts and seeds

3 tbsp

coconut sugar
Instructions
Preheat the oven to 150ºC / 300ºF.
In a food processor or blender, mix the dates, nut butter, water, cinnamon, ginger, cardamom, cloves, salt, and vanilla extract until completely smooth.
In a large bowl, stir together the oats, puffed cereal, and nuts . Add the date paste, and give the mixture a toss until everything's coated. Add the coconut sugar, and give the granola another toss. Do not knead or mush together the mixture, otherwise the granola won't bake properly.
Spread the granola evenly on two baking trays. Bake for 20-25 minutes, until crispy, and stir half way through.
Let cool, and enjoy!
Keywords: Ginger bread, granola, Vegan, whole food, refined sugar-, gluten-, oil-free, fruit sweetened