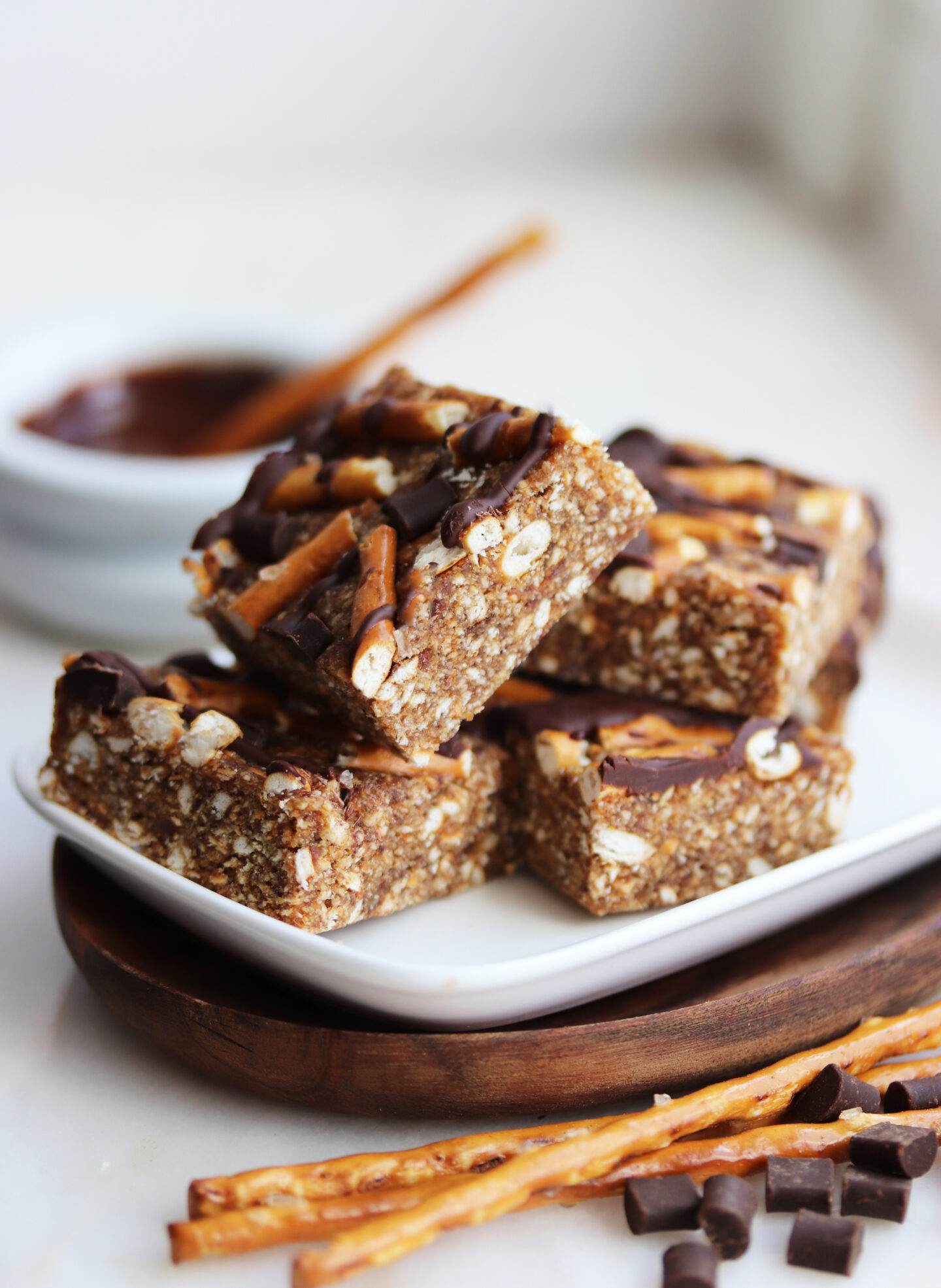 CRACK?! WHAT?! Yes, these bad boys are literally like crack to me. Once you pop you can't stop, kinda. Freshly made, these are crunchy, sweet, salty, nutty, just utterly delicious squares from heaven. Do you like pretzels? Yah, nah, nyah? Well, I wasn't a big fan of them before this recipes, or, well, at least I am a big fan of this recipe! Note that they do go slightly soggy after one to two days, so make them the same day you're planning to eat them. They don't go bad, but they're just not quite as delicious, that's all.
Enough talking! I think this recipe really speaks for itself.  Enjoy!





Print
Four ingredient Salted Caramel Pretzel Squares
Salty and crunchy pretzels meet soft and sweet dates in the shape of a delicious chewy bar
120g

pitted dates

2 tbsp

nut butter
A pinch of salt

1 tsp

vanilla essence

60g

pretzel sticks, pretzels or such*
A handful of chopped chocolate or chocolate chips
Instructions
In a food processor, process the first four ingredients into a smooth "dough". Add around half the pretzels, process a little bit more, then add the remaining pretzels and chocolate.
Transfer to a square baking pan lined with parchment paper or plastic wrap. My pan was 15 x 15 cm. Let firm in the fridge before cutting. Enjoy!
Notes
The pretzels in the bars do absorb moisture and will soften rather quickly. The bars stay good for long, but after the first day they'll be more soft and not as texturally exciting.
*In Sweden, you can't really find regular pretzel. What we do have, which you can find in any store, is "salta pinnar", which basically are pretzels in the shape of a twig/stick.
Keywords: Vegan, healthy, whole food, refined sugar-, gluten-, oil-free, fruit sweetened, pretzel, crack bars, easy